Toronto is one of the most known places in Canada because if it's relatively large and diverse population. Many races share different cultures in the area and one beautiful example of this is the variation of food available. One example of this is pastry. There are tons of delicious and extraordinary cakes that you can find in the entire area of Toronto and to save your time we have listed 6 of them for your best options
1.      ECAKES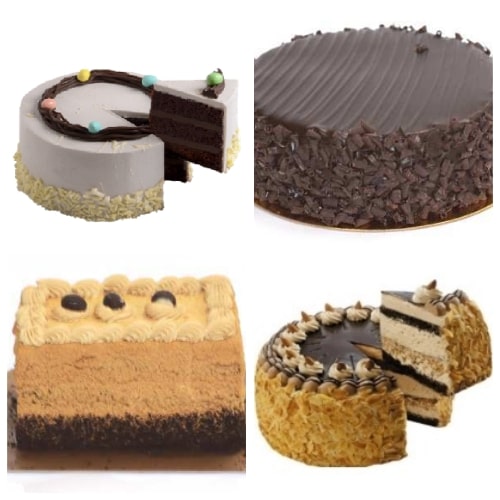 The management and team of culinary experts of ECakes have 60 years of experience combined that is why they can assure you that all of their cake products are always kept in best quality. The shop' personal commitment to making sure that their clients are satisfied with the taste and presentation of cakes delivered to them.
| | |
| --- | --- |
| SPECIALTY | Cheesecakes |
| SELECTION SIZE | Large |
| STARTING PRICE | Contact the shop for the price list |
| DELIVERY FEE | Calculated at checkout |
| WEBSITE | https://www.ecakes.ca/ |
| SOCIAL MEDIA |   |
| CONTACT DETAILS | 1-416-888-0209 |
WHAT PEOPLE LIKE
RELIABLE DELIVERY.  Aside from making sure that their cakes will arrive at your doorstep at the agreed date and time, they also guarantees that they come in best quality. With this, they are proud to say that all of their delivery trucks are refrigerated so your cakes will arrive fresh.
ALLERGY WARNING. If you would visit the website of ECakes, you will notice that they include a portion of allergy warning indicating what kind of ingredients are included in their cakes to avoid unfortunate events.
PRODUCTS
Cheesecakes
Celebration Cakes
DELIVERY AND PAYMENT
VISA, Master Card, American Express and Discover
2.      HARBORD BAKERY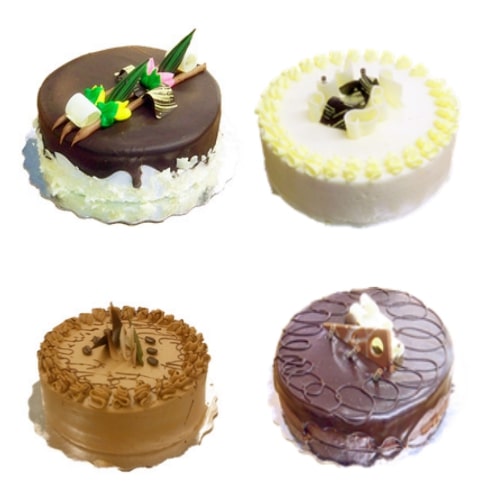 Harbord Bakery has long been established by a small family. It started as a simple bakery but not they have expanded the business until it was able to dominate the online shop community. Through the efforts and skills brought by generations to generations, the shop was able to establish itself as one of the most prominent bakeshops in Toronto that offers premium quality cakes and other pastries.
| | |
| --- | --- |
| SPECIALTY | Chocolate cakes |
| SELECTION SIZE | Large |
| STARTING PRICE | Starts at $19 |
| DELIVERY FEE | Starts at @12 |
| WEBSITE | http://www.harbordbakery.ca |
| SOCIAL MEDIA |   |
| CONTACT DETAILS | 416-922-5767 |
WHAT PEOPLE LIKE
AFFORDABLE CAKES. Who would have thought that a bakeshop that offers delicious and premium cakes can actually offer their products at very affordable prices? If you get to taste their creations, you will think that they are very luxurious but surprisingly budget friendly.
CUSTOMISABLE. Upon adding your order to cart, you have the option to choose what size and what kind of packaging you want.
PRODUCTS
Chocolate Cakes – $19 to $30
DELIVERY AND PAYMENT
For delivery and payment queries, you may contact the shop.
3.      SWEET FLOUR BAKE SHOP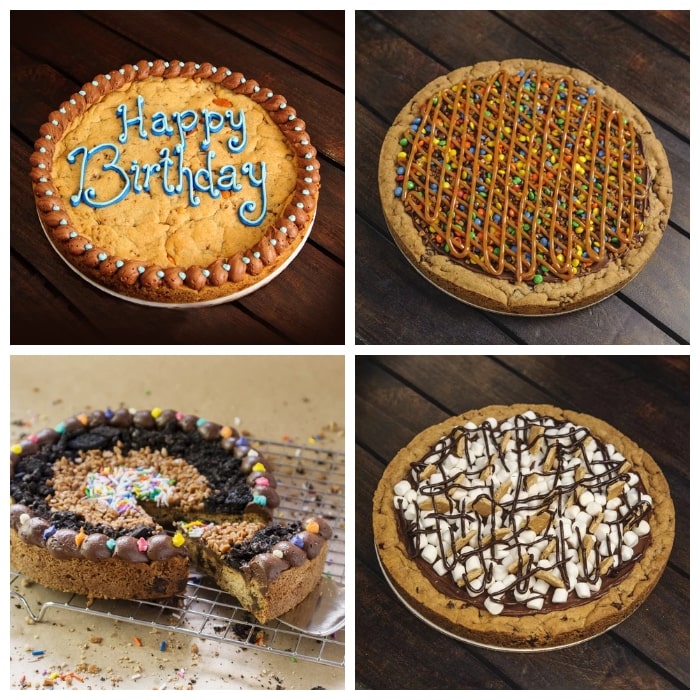 Sweet Flour Bake Shop wants their clients to experience the warmth of freshly baked cookies and the heaven-sent taste of creamy filled cupcakes solely created by their talented staff. They believe that sweet goodies such as cakes and cookies should be eaten not only when there is a special event. It is a dessert that will make the day special.
WHAT PEOPLE LIKE
100% CUSTOMER SATISFACTION. All of their customers always go home with big smiles on their faces because of how tasteful their pastries are. They always make sure that their products will arrive at your door steps fresh and warm.
PRODUCTS
Cookie Cakes – $32 to $52
DELIVERY AND PAYMENT
Products are shipped via Canada Post, FedEx or Purolator
4.      DESSERT LADY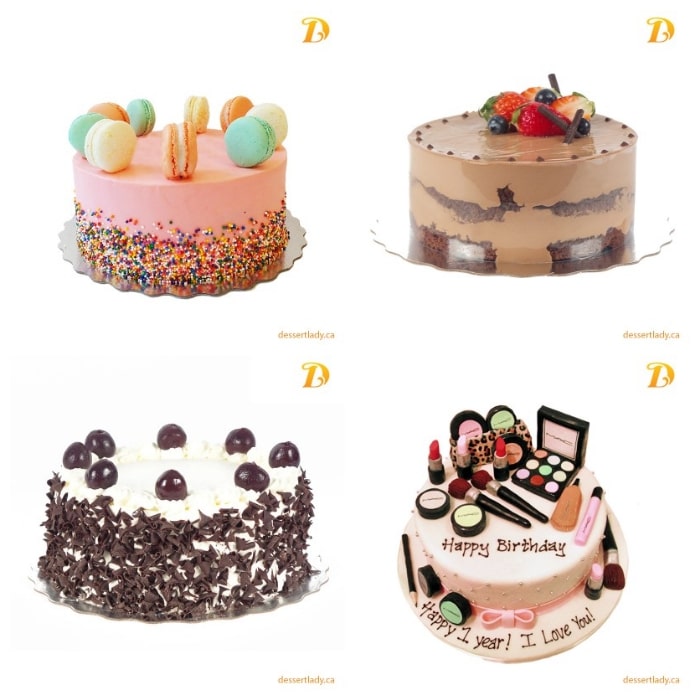 Desert Lady lives by their vision, "Great People, Great Products, Great Service, and Great Results!" True enough, the shop satisfies their customers with their great products and services. Since the business started in 2005, Dessert Lady has provided delicious desserts and currently they have over 350 menu items including Gourmet Cakes, Handmade Chocolate Truffles, French Macarons, Cupcakes, and much more.
WHAT PEOPLE LIKE
CREATIVE CAKES. If you want to make your cake orders extra special, Dessert Lady can definitely help you with that. They create 3D cakes that are truly out of this world and other cake designs that are truly incomparable.
ALLERGY ALERT. The shop does not guarantee that they can offer you products that are allergy-free but what they can guarantee is that they will inform you beforehand what kind of ingredients are included in their products.
PRODUCTS
Gourmet Cakes – $27 to $40
3D Cakes – $85 to $250
DELIVERY AND PAYMENT
All orders placed online must be placed at least three days in advance. If ordering exactly three days in advance, the order must be placed before 5:00pm.
5.      SURPRISE GIFTS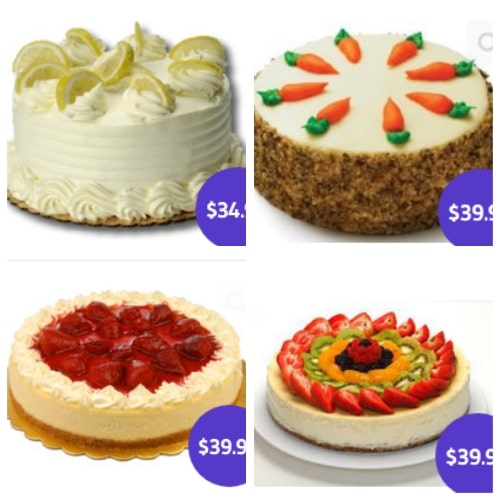 Surprise Gifts has a large collection of cakes that vary in flavours and sizes. The balance of sweetness and crumbiness makes the perfect taste of cake that the people in Toronto fall in love with. If you want a cake shop that does not only bake delicious cakes but also offers reliable delivery, make sure to buy one from Surprise Gifts.
| | |
| --- | --- |
| SPECIALTY | Chiffon Cakes |
| SELECTION SIZE | Large |
| STARTING PRICE | Starts $34 |
| DELIVERY FEE | Starts at $20 |
| WEBSITE | https://surprisegift.ca/ |
| SOCIAL MEDIA |   |
| CONTACT DETAILS | +1-289-233-6818 |
WHAT PEOPLE LIKE
SAME DAY DELIVERY. Got some last minute party to organize? Do you need a cake shop that can deliver on the same day? Surprise Gift has got your back. As long as you place your order before 4pm, guaranteed your cake will be delivered to you as fast as they could.
PRODUCTS
Seasonal Cakes – $34 to $39
DELIVERY AND PAYMENT
The shop runs delivery 7 days a week.
6.      FOR THE LOVE OF CAKE
Genevieve Finley started the shop in 2008 in a small studio loft in Toronto. With her passion and perseverance, as well as the support that she is getting from her beloved customers he was able to expand her business and serve a large range of clients. For premium cakes, make sure to contact For the Love of Cake.
WHAT PEOPLE LIKE
CUSTOM MADE CAKES. If you are looking for a cake shop that can accommodate your design requests according to the theme of your event, especially corporate one, For The Love of Cake has reliable staff that can help you achieve that. They are most famous for their customized corporate cakes so you might want to try one now.
PRODUCTS
Wedding Cakes
Occasion Cakes
DELIVERY AND PAYMENT
Visa, Mastercard, AMEX