Every year, billions of dollars are spent for flowers. Some of these are spent for personal use, others are intended as thoughtful gifts to loved ones. In the United States, floral spending peaks on 5 popular holidays–Mother's Day, Valentine's Day, Easter, Thanksgiving, and Christmas. These holidays account for nearly 33% of annual floral sales, according to Nielsen.
Most people might guess that Valentine's Day is the busiest holiday for florists. It's certainly one of the peak seasons, but only after Mother's Day. The National National Retail Federation reported $25 billion in estimated spending this year for Mother's Day; $2.6 billion of that is for flowers. In comparison, the estimated spending on Valentine's Day is at $20.7 billion of which 35% or $1.9 billion is intended for flowers. But even though less people are inclined to celebrate Valentine's Day, 51% in 2019 versus 55% in 2018, the spending trend is actually up.
Here are more facts about flower statistics during these busy occasions:
Consumer spending on Mother's Day has been consistently increasing over the years. In 2019, The National Retail Federation reported a record $25 billion in expected spending, $2.6 billion of that are reserved for flowers. From 2009, floral spending has increased by more than 20%.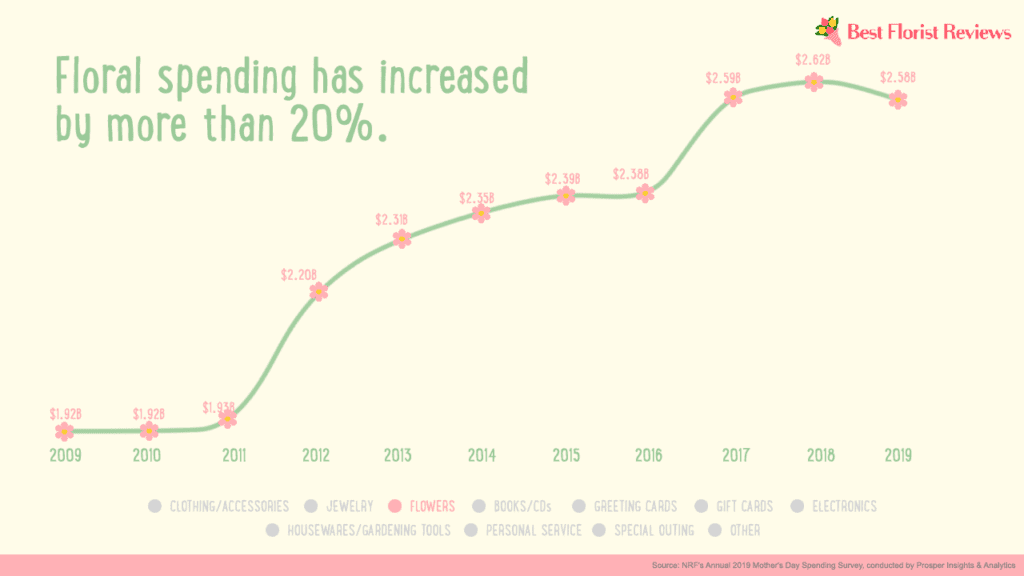 The tradition of giving flowers to mothers has endured over the years, so the outlook for future floral spending on Mother's Day remain strong.
Click here to read more about floral trends and statistics on Mother's Day.
Flowers is a staple gift on Valentine's Day. Apart from the chocolates and the fancy dinners, a bouquet is usually part of the experience for consumers. This is why about 4 out of 10 buyers purchase fresh flowers on this romantic occasion. Interestingly, fewer people are actually celebrating Valentine's Day, yet spending is up. This is according to the latest data from the NRF.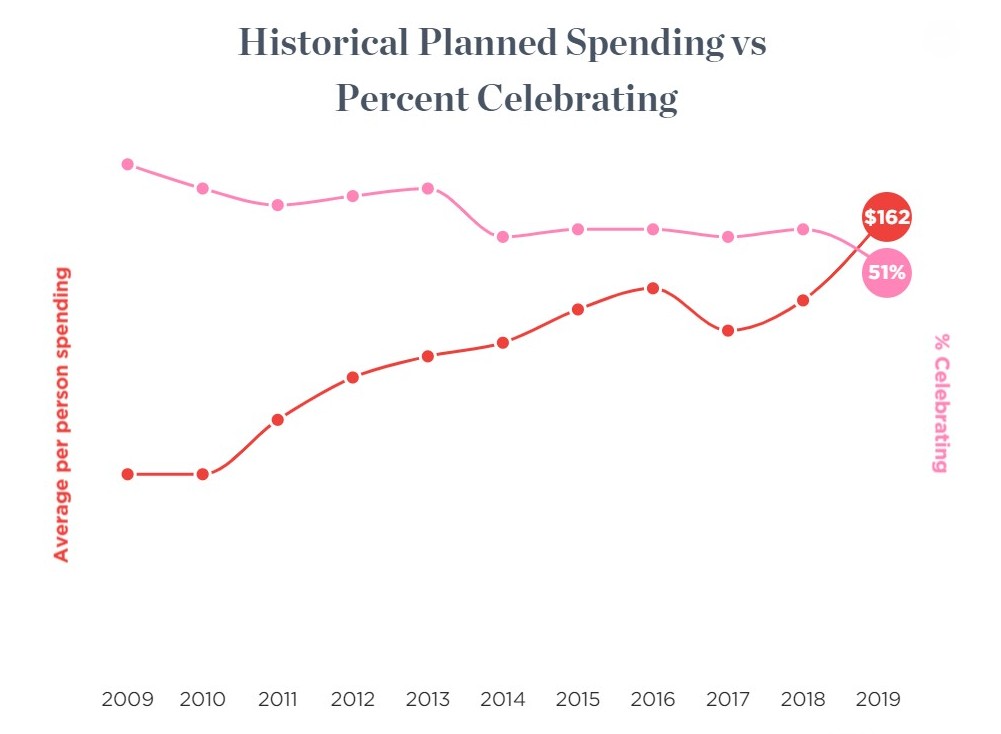 In a MarketWatch report, it appears consumers are put off by the overcommercialization of Valentine's Day. According to NRF director of industry and consumer insights Katherine Cullen said, "We did some surveying to understand why people might choose not to participate, and three overwhelming reasons were that: there was a sense of feeling among some consumers that Valentine's Day is over-commercialized; people also tend not to participate if they do not have a significant other; and then they just weren't interested anymore."
Click here to find out more trends and statistics about Valentine's Day floral spending.
More people below the age of 35 plan on celebrating Easter, they're also spending more than their elders. A decade ago, only 12% of consumers under 35 years said they planned to increase their Easter spending. In 2019, that number has more than doubled, according to the NRF. Floral spending for Easter has also been trending up overall, from $1.26 billion last year to $1.29 this year.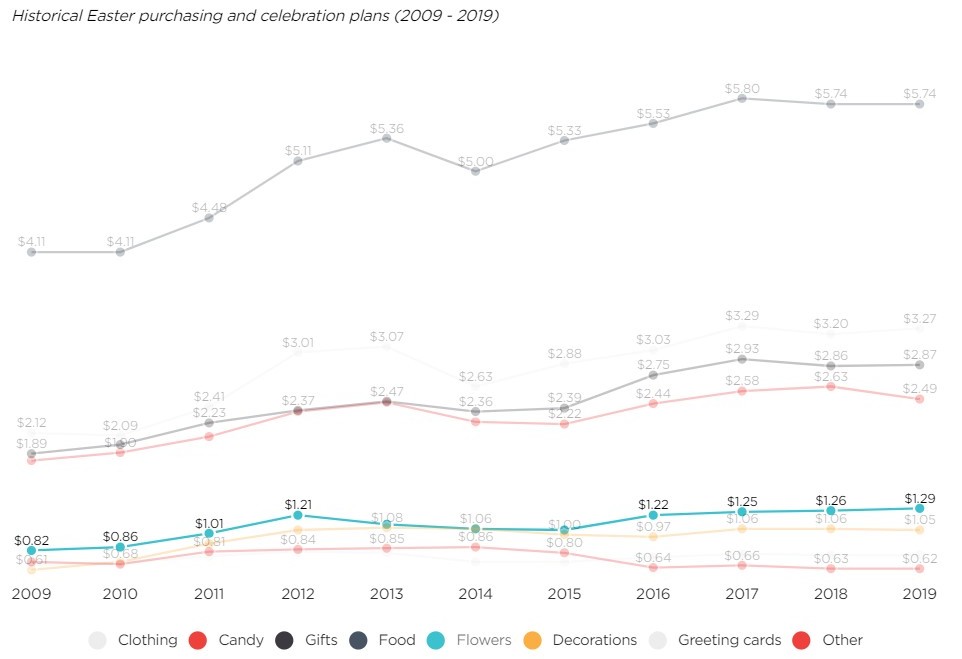 Check out other facts and statistics about floral spending on Easter.
There are typically tons of deals and promotions during the Thanksgiving season, including Black Friday and Cyber Monday, so it's no surprise that people are glued to their devices to scope out the best deals on social media. Floral sales are usually linked to personal use for Thanksgiving dinner and decorative purposes.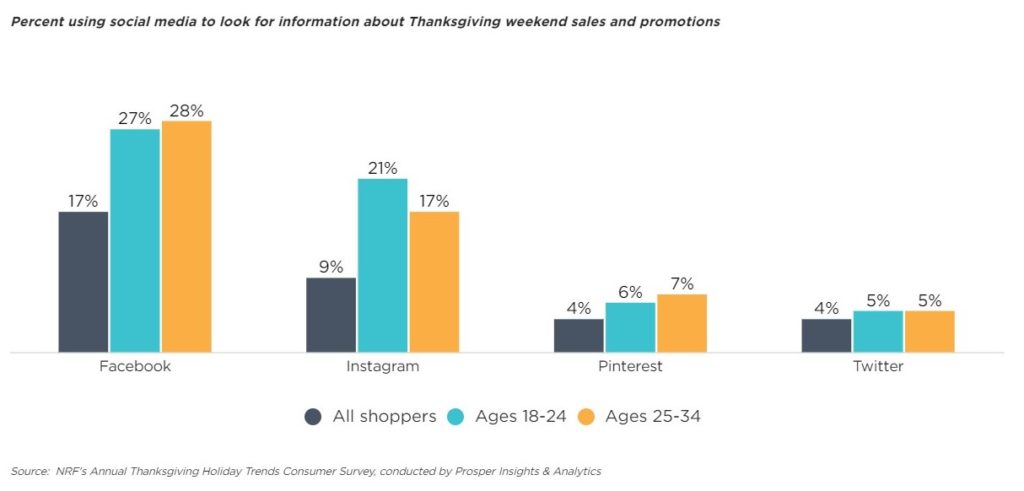 Read more about Thanksgiving trends and floral statistics.
In terms of consumer spending, Christmas is definitely one of the busiest holidays. For flowers, there's a bit of a debate. Some consider Christmas as the top floral holiday, while others credit Mother's Day as the best for floral sales. The Prince & Prince Market report considers poinsettia purchases as double holiday purchases, Thanksgiving and Christmas, since the Christmas season tend to be pushed earlier hence the overlap in holiday spending. The same team also only consider fresh florals for their data on floral spending, non-flowering plants and faux flowers are not counted. 
Here's the breakdown of floral purchases during Christmas:
Here are more fun, festive facts about floral spending during Christmas.