Big celebrations like weddings, birthdays, debut and others might just be one of the best days of one's life. However, all the activities before the special event could be really exhausting. We have to pick the best food, dresses, venue, guest list and flowers that fit our liking.
Good thing you don't have to worry about what kind of gift to give because we've listed down eight of the best shops in Hong Kong that offers truly magnificent hampers perfect for any occasion and event that you may be celebrating.
1.      ROSEWOOD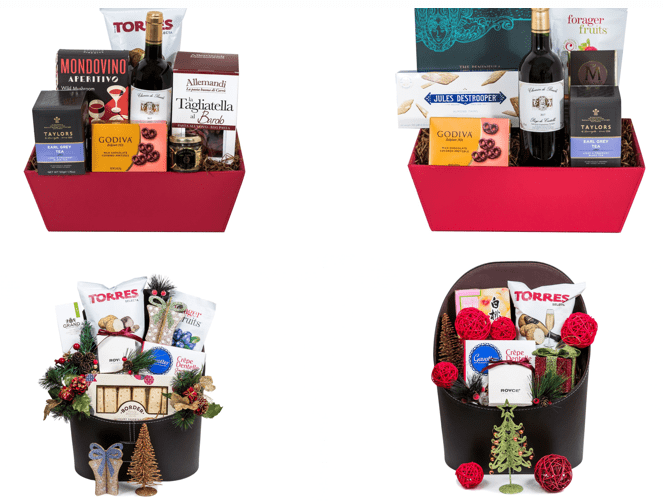 Are you attending a family dinner or maybe invited as a guest in one of your friends' festive parties? Why not bring a simple yet thoughtful gift to make the evening warmer? Rosewood offers different kinds of gift hampers but they are more particularly known for their festive ones. You might want to check out their collection.
| | |
| --- | --- |
| SPECIALTY | Festive hampers |
| SELECTION SIZE | Large |
| STARTING PRICE | Starts at $400 |
| DELIVERY FEE | Starts at $80 |
| WEBSITE | http://www.rosewood.hk/ |
| SOCIAL MEDIA | |
| CONTACT DETAILS |  2165 4707 |
WHAT PEOPLE LIKE
LARGE COLLECTION. Rosewood has a ton of hamper collections that vary in content, size, design, and style. They offer affordable and luxurious hampers that are all appropriate for any kind of occasions and events.
RELIABLE SERVICE. Still don't know what to purchase? You might consider calling their staff for a couple of suggestions or questions/queries on what gift hampers to give or not to give. They would be very happy to be of service to you.
PRODUCTS
Business Hampers – $800 to $2800
Christmas Hampers – $400 to $4000
DELIVERY AND PAYMENT
Delivery starts at $80.
2.      GIFT HAMPERS HK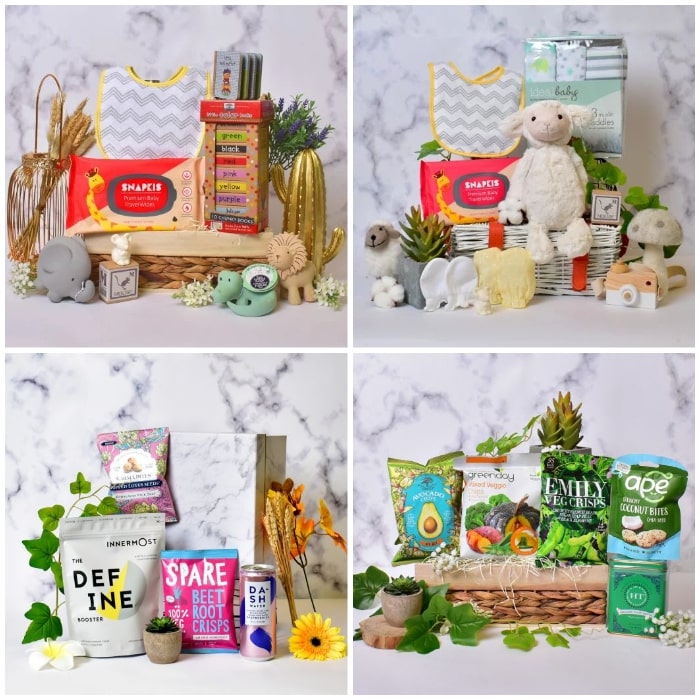 Lose your pocket a little and make a purchase at Gift Hampers HK. They have tons of luxurious hampers to offer that would be perfect as a gift to a special someone. These hampers may include fresh fruits, wines, or even baby products that they guarantee to be all in high quality.
WHAT PEOPLE LIKE
CUSTOMIZED ORDER. Requests coming from their clients are gratefully accommodated by their highly accommodating staff. Whatever you prefer, they can handle your order and they'll make sure that you'll be satisfied with the end result.
PRODUCTS
Baby Hamper – $600 to $3000
Gourmet Hamper – $300 to $2000
DELIVERY AND PAYMENT
PayPal, Visa, Mastercard, AMEX
3.      GIVE GIFT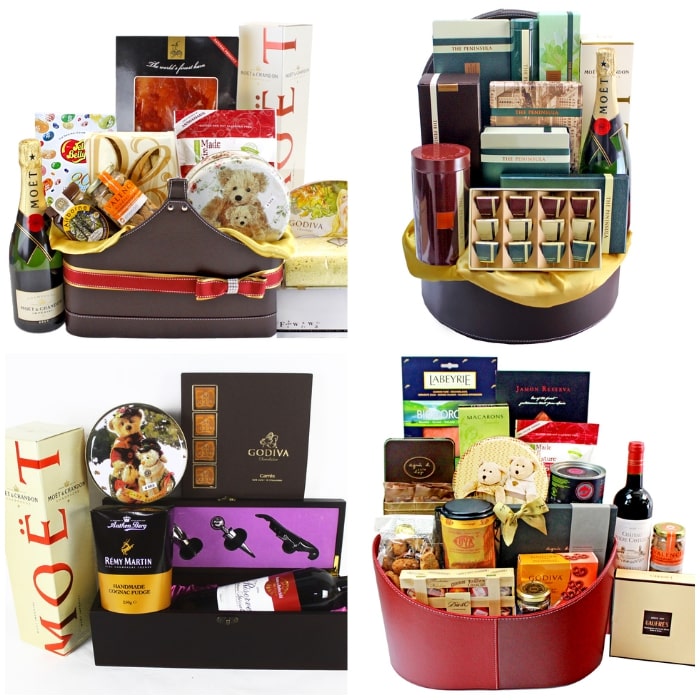 Like what the business name suggests, Give Gift! With the shop's very huge collection of gift hampers there really is no reason left for you to not buy one from them. Whatever and whoever the recipient may be, they can assure you that they have everything you need to make that someone's day so special.
WHAT PEOPLE LIKE
FAST AND EFFICIENT SERVICE. The shop is composed of a team which is not only talented but can also work under pressure. In such short notice, they can produce premium quality of gift hampers on regular days.
FRIENDLY STAFF. Whether you visit their shop or make a call, you will be attended by friendly and approachable staff. They promised to provide its customers with utmost respect and consideration.
PRODUCTS
Gourmet Hampers – $500 to $2500
DELIVERY AND PAYMENT
Visa, Mastercard, AMEX, Discover, PayPal, Unionpay, Discover
4.      LA MAISON DU CHOCOLAT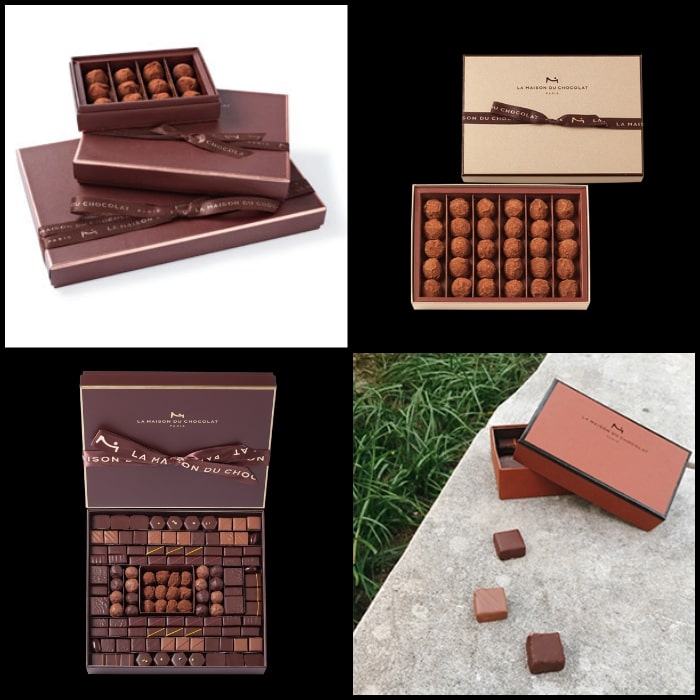 La Maison Du Chocolat is a french translation for House of Chocolates. Having said that, this shop sure is heaven for those who have a sweet tooth. They have all kinds of chocolates and food items that are chocolate-based. Not only this, they also make other sweet pastries such as macarons and ganache.
| | |
| --- | --- |
| SPECIALTY | Premium chocolate hampers |
| SELECTION SIZE | Large |
| STARTING PRICE | Contact the shop for the price list |
| DELIVERY FEE | Calculated at checkout |
| WEBSITE | http://www.lamaisonduchocolat.hk/ |
| SOCIAL MEDIA | |
| CONTACT DETAILS | (852) 2343 3331 |
WHAT PEOPLE LIKE
SIGNATURE BOXES. The shop guarantees their customers of premium quality of products most particularly chocolates. Their iconic chocolates and truffles are the most sought after products in their shop that is why they make sure to always have thousands of supply for their clients.
COMPLIMENTARY DELIVERY. For orders amounting to HKD 1500, complimentary delivery service will be offered to ensure that you fully enjoy the shopping experience with them.
PRODUCTS
DELIVERY AND PAYMENT
Contact the shop for delivery and payment queries.
5.      AMBASSADOR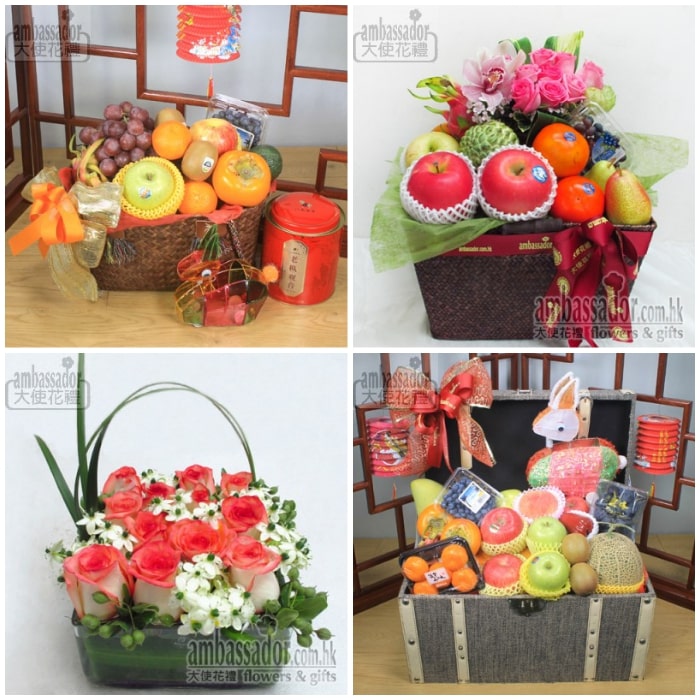 Ambassador is an online shop that not only serves the area of Hongkong but also does international shipping. They have a large collection of various items ranging from flower arrangements to gift hampers. The shop guarantees that every product coming out of their shop undergone tight quality control process so you are assured that everything that you order from them are in best quality.
| | |
| --- | --- |
| SPECIALTY | Gift hampers and bouquets |
| SELECTION SIZE | Large |
| STARTING PRICE | Starts at $500 |
| DELIVERY FEE | Starts at $80 |
| WEBSITE | http://www.ambassador.com.hk/ |
| SOCIAL MEDIA | |
| CONTACT DETAILS | (852) 2861 1111 |
WHAT PEOPLE LIKE
GREAT STAFF. Aside from their place, the staff are really friendly too. They cater to every customer's needs and help each one find the best flower for their occasion.
VALUE FOR MONEY. The shop makes sure that their clients get what they truly pay for so they always secure the quality of the products and services that they offer. They show their appreciation to them by providing them the best that they deserve.
PRODUCTS
Fruit Hampers – $500 to $1300
DELIVERY AND PAYMENT
PayPal, Visa, Mastercard, AMEX, UnionPay