Did you know that there are nearly 400,000 different flowers that scatter love and joy around the world? They come in different colour, size, shape, scent, and meaning. Whatever the type is, their bright colours and fragrant scent could turn a frown upside down. So, if a special someone is feeling a little gloomy or you hit a little bump in a relationship, let them know you are always there. Here are eight of the best flower deliveries in Taiwan.
1. TAIWAN FLOWERS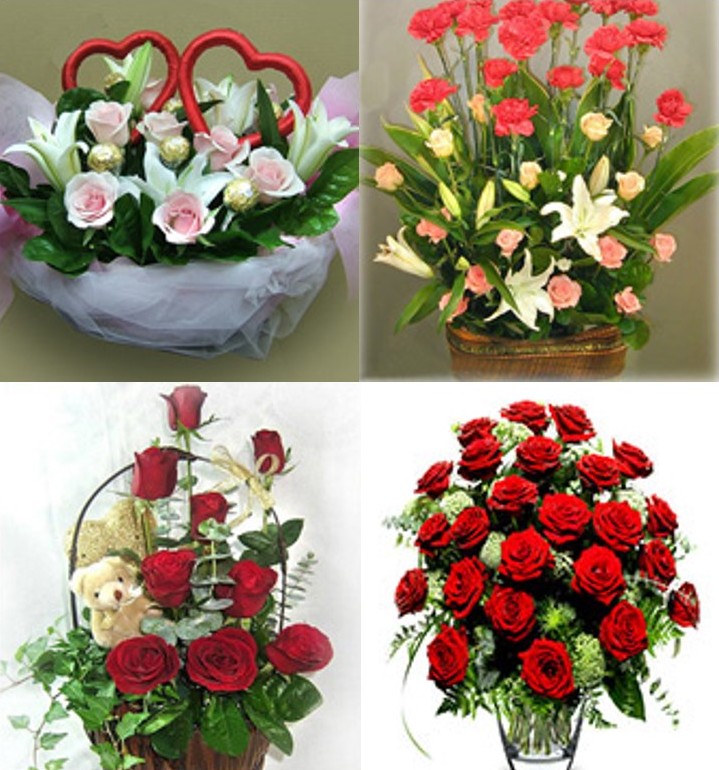 Taiwan Flowers pride themselves with their incredible expertise when it comes to flower arranging. Their team if composed of professional florists that are truly passionate about combining art and flowers, thus resulting to their beautiful collection of flowers that perfectly suited for all kinds of occasions and seasons. They promise that wherever you are in the country, they will find a way to reach you for you to experience the beauty that their flower products elicit.
| | |
| --- | --- |
| SPECIALTY | Fresh flower bouquets |
| SELECTION SIZE | Large |
| STARTING PRICE | Starts at $64.99 |
| DELIVERY FEE | Calculated at checkout |
| WEBSITE | https://www.taiwanflowers.com.tw/ |
| SOCIAL MEDIA |   |
| CONTACT DETAILS |   |
WHAT PEOPLE LIKE
LARGE SELECTION. Taiwan Flowers has a large inventory of fresh flowers that they turn into wonderful arrangements perfectly suited for all kinds of events and season. Whether you want something simple for a random day gift or maybe something grand for a romantic dinner, they can guarantee that they will provide you with the best products and services that they could offer.
EXTENSIVE ADD ONS. Aside from arranging beautiful fresh flowers, the shop also offers fruit baskets that they guarantee to be always fresh and tasty. These fruit baskets may be combined with your choice of flowers to complete your gift package, and you can even have them delivered altogether.
AFFORDABLE ITEMS. Taiwan Flowers wants to expand its reach to the entire country of Taiwan and with that they make sure that their flower arrangements are sold at very affordable prices so money could not hinder anyone from buying one. Rest assured that the quality of their products is not compromised.
PRODUCTS
Arrangements – $65 to $205
Vases Arrangements – $91 to $150
DELIVERY AND PAYMENT
Accepted mode of payments are PayPal, Visa, Mastercard, American Express, Discover and RMB.
2. ALICE FLOWER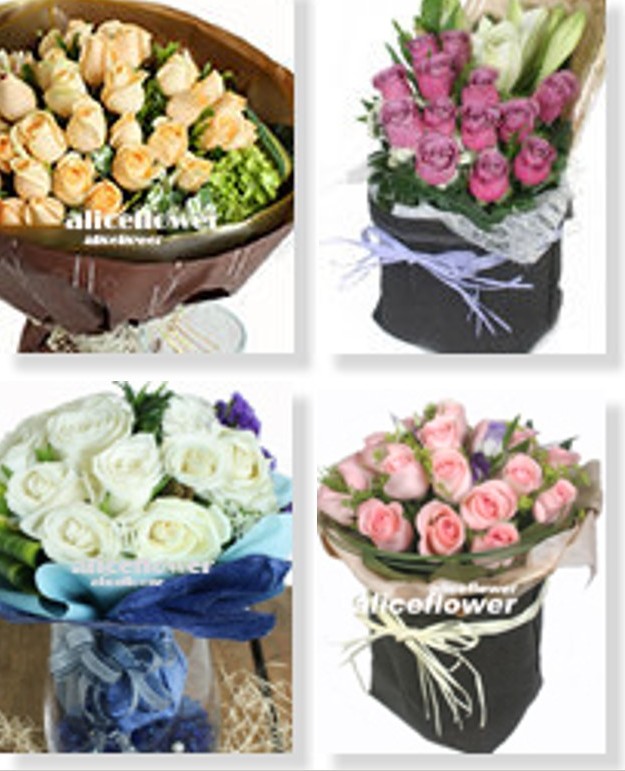 Alice Flowers was established in 1987 by a professional florist named Ms. Yang Huei-ching. Over the years the shop has evolved from being a simple flower shop that creates different kinds of arrangements to an online business that has credible order tracking system to ensure that the orders arrive safely and on time. The shop caters to all kinds of flower needs, may it be for a birthday, wedding, or funeral.
| | |
| --- | --- |
| SPECIALTY | Stunning hand tied bouquets |
| SELECTION SIZE | Large |
| STARTING PRICE | Starts at $65 |
| DELIVERY FEE | Starts at $7 |
| WEBSITE | https://www.aliceflower.com.tw/en/ |
| SOCIAL MEDIA |   |
| CONTACT DETAILS | 886-2-25456537 |
WHAT PEOPLE LIKE
ENGAGING IDEAS FOR FLOWERS. If you are fond of zodiac signs and you constantly check your fate according to your sign, then this feature is perfect for you. The shop creates a list of all zodiacs and match them with flower arrangements that they believe will bring you luck and truly matches your personality.
SAME DAY DELIVERY. Alice Flowers offers not just high quality of delivery service, but also an efficient one. They make sure that all their customers are satisfied with their orders and they don't them wait for long hours or long nights so they offer same day delivery and they guarantee that your orders will arrive in best condition and with no delay.
INTERNATIONAL DELIVERY. Wherever you are across the globe, Alice Flower can send you their freshest flowers. They have now opened their shop to international delivery because they want to share to the world the love and joy that their flower products bring to whoever receives it.
PRODUCTS
Occasional Bouquets – $65 to $250
DELIVERY AND PAYMENT
Payment options are Visa, Mastercard, American Express, and PayPal.
3. AVIGNON FLORIST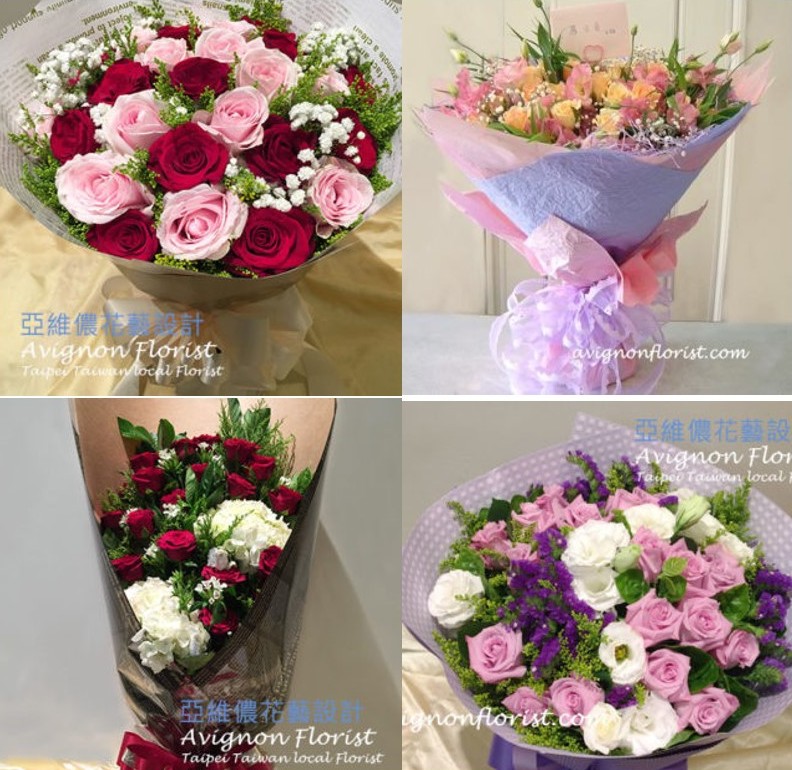 Avignon Florist in a family owned and operated business that has started in 2006. Although they have been running their business for more than 10 years, they are just quite expanding their shop online. Nonetheless, they guarantee that they can provide you with excellent quality of service through their credible expertise in arranging and delivering flowers within the area of Taiwan.
| | |
| --- | --- |
| SPECIALTY | Stunning flower basket arrangements |
| SELECTION SIZE | Large |
| STARTING PRICE | Starts at NT $1,700 |
| DELIVERY FEE | Starts at $300 |
| WEBSITE | https://avignonflorist.com/ |
| SOCIAL MEDIA |   |
| CONTACT DETAILS | (02) 8792-6740 |
WHAT PEOPLE LIKE
DIVERSE COLLECTION. While the shop proudly offers stunning flower arrangements of their unique and original designs, they also offer other items that they believe will give extra impact to the total package of your choice of flowers. They have gift baskets, party decorations, funeral arrangements, potted plants, and many more.
HELPFUL PUBLICATIONS. The shop claims that they are just starting to introduce their business online but if you will scan their website, you would see that they give more than what their customers ask for. Aside from posting their product collections, they also allotted a space for their blogs that talks about essential topics about flower arrangements and its benefits.
CUSTOM DESIGNS. Of course, they understand that each of their customer has their own preferences and style when it comes to flowers that is why they allow them to dictate exactly what they want, and they make custom designs the best that they can.
PRODUCTS
Table-top – $2,600 to $16,800
Wrapped Bouquets – $2,100 to $4,000
Gift Baskets – $2,800 to $7,000
Free Standing Arrangement
Orchids – $1,500 to $11,500
DELIVERY AND PAYMENT
The shop only accepts these specific payment methods: PayPal, Mastercard, Visa, American Express, and Discover.
4. YAO FLOWERS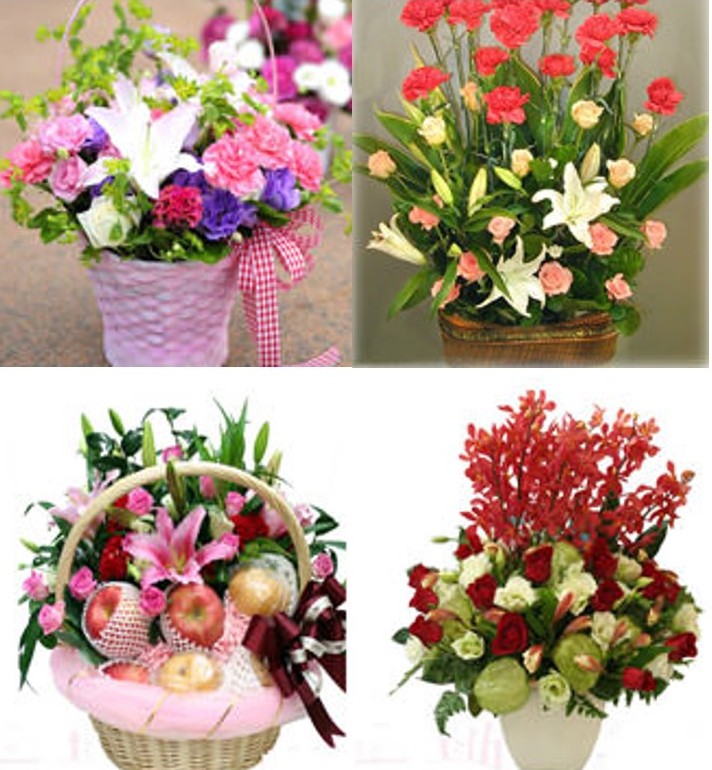 Yao Flowers is one of the best online flower shops in Taiwan. Their large collection of fresh flowers is comprised with different kinds of arrangements starting from the simple vase arrangements to unique and dazzling wrapped bouquets. The team is composed of professional florists that truly create incredibly wonderful flower arrangements for all kinds of occasions.
| | |
| --- | --- |
| SPECIALTY | Originally designed wrapped bouquets |
| SELECTION SIZE | Large |
| STARTING PRICE | Starts at $68 |
| DELIVERY FEE | Calculated at checkout |
| WEBSITE | https://www.yaoflowers.com/tw/ |
| SOCIAL MEDIA |   |
| CONTACT DETAILS |   |
WHAT PEOPLE LIKE
AFFORDABLE ITEMS. If you want to avail high quality of flower products but also having problems in terms of budget, you don't have to worry because there are flower shops that offer the finest flower arrangements at very reasonable prices and of them is Yao Flowers.For under $50, you can already have a decent set of flowers for yourself or your loved ones.
LARGE SELECTION. The shop has all kinds of flowers readily available for purchase. They understand that one occasion is different from the other so they make sure to create theme-appropriate flowers to make sure that they can cater to whatever kind of flower needs you may have.
PRODUCTS
Vase Arrangements – $68 to $150
Table Flowers – $81 to $99
Arrangements Flowers – $68 to $150
DELIVERY AND PAYMENT
Accepted mode of payments are PayPal, Visa, Mastercard, American Express, Discover and RMB.
5. MONDIAL FLORIST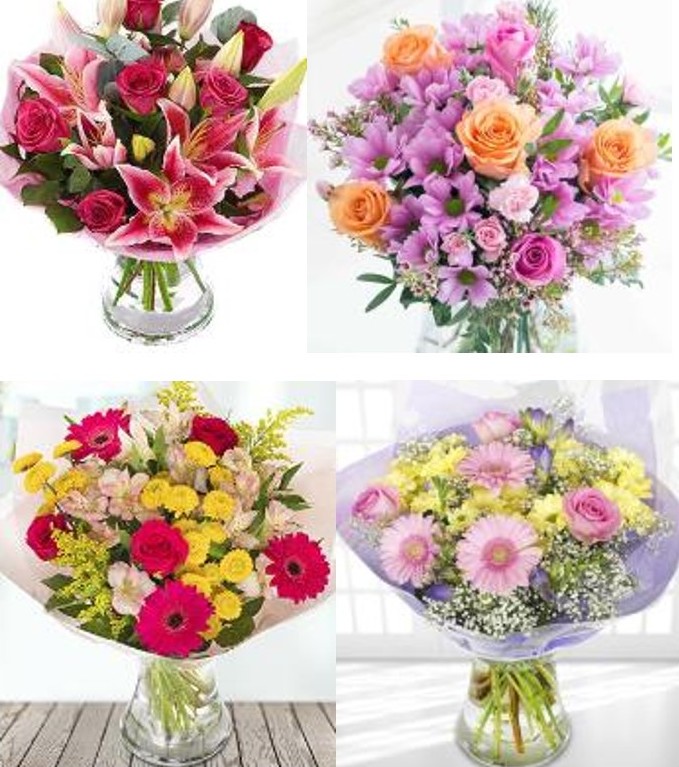 Mondial Florist promise to deliver only the finest quality of flowers and provide the best service that they can offer. With their careful combination and balance of colour, style, and texture, they were able to create beautiful flower arrangements that will truly bring a smile to whoever receives them. They have a large collection of flowers which you can browse through their online network.
WHAT PEOPLE LIKE
AFFORDABLE PRICES. Having a large budget is not required if you decide to send someone a beautiful set of flowers. All you need is the heart to do it and you will be good to go. Especially with flower shops like Mondial Flowers where they strive to offer flower products at low prices but still keeps a high quality of items.
ORIGINAL DESIGN. The creative team of Mondial Flowers always refreshes their flower designs and consistently come up with new, more sophisticated designs that matches the trend. While they keep the classics, they also aim for modern designs that definitely go with any occasion or theme of events.
PRODUCTS
Bouquets – $64 to $86
Vase Arrangements – $74 to $102
Spring – $64 to $80
Roses – $56 to $150
Classic Flowers – $67 to $120
DELIVERY AND PAYMENT
Visa, American Express, Mastercard, and PayPal are the accepted payment methods.
6. WORLD PETALS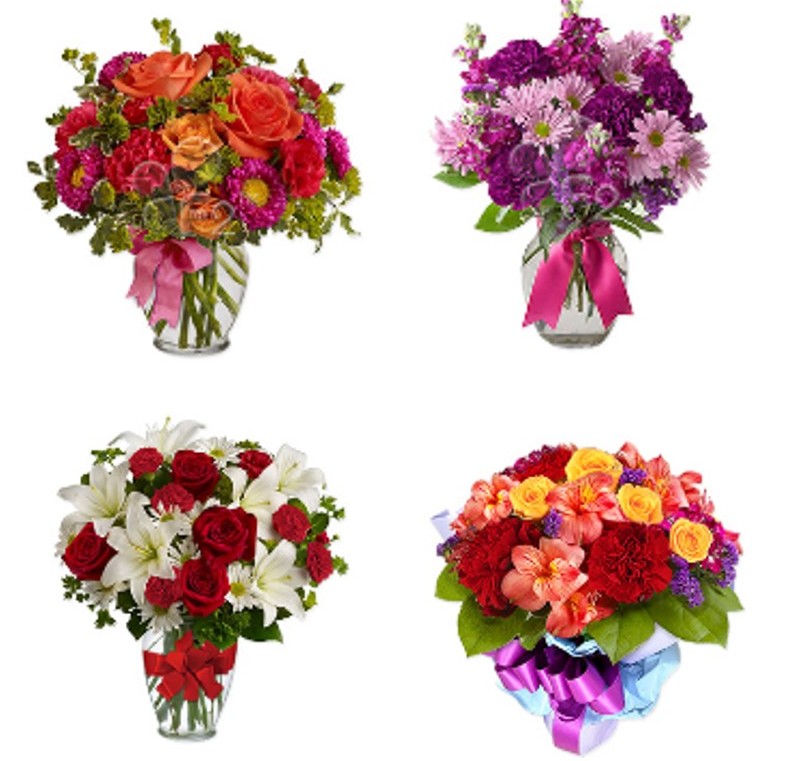 World Petals started in the year 2000 with the goal of turning their passion for arts and flowers into a rather wonderful business. They aim to share the happiness that flowers bring to all their beloved customers as they firmly believe that there are just words, we cannot speak that flowers can. If you have your flower arrangements made by them, they promise to keep them fresh and the best.
WHAT PEOPLE LIKE
AFFORDABLE PRICES. You would not expect that for the kinds of products that they create, knowing that they are all of high quality and best materials, that the shop would offer them at very affordable prices. This is really perfect for those who want excellent quality of products but are sort of having some troubles when it comes to the budget.
GREAT SERVICE. Aside from making sure that their flower products are made from fresh and high-quality materials, they also maintain a good relationship with their customers. They want them to know that they value them, and they will strive to always do their best to make sure that their beloved customers are always satisfied with their service.
LARGE SELECTION. Whether you need a flower arrangement for your romantic anniversary dinner, or a stand flower for your newly opened bakeshop, all these are always available at the shop. They have hundreds of fresh flowers available and they are more than willing to create more for you that vary in design, colour, and sizes.
PRODUCTS
Carnations – USD 93 to USD 160
Mix Flowers – USD 93 to USD 160
Lilies – USD 93 to USD 160
DELIVERY AND PAYMENT
World Petals offer delivery services from Mondays to Sundays, except for Public Holidays.
7. 1ST IN FLOWERS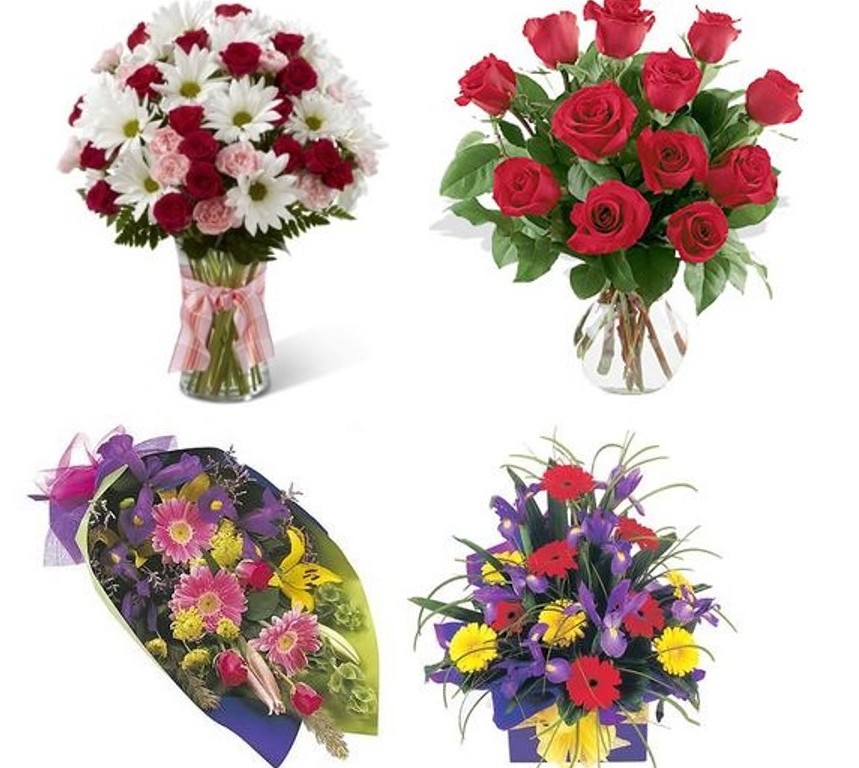 1st In Flowers is an online shop that primarily sells flowers to any point in Taiwan. The shop has made shopping easy through their website because all you have to do is visit their website, browse through their collection, place your order, settle your payment, and voila, you would just have to wait for your orders to delivered. They made the whole process very convenient because they believe that customer comfort and satisfaction must always come first.
| | |
| --- | --- |
| SPECIALTY | Fresh, colourful local and exotic flowers |
| SELECTION SIZE | Medium |
| STARTING PRICE | Starts at $93.95 |
| DELIVERY FEE | Calculated at checkout |
| WEBSITE | https://www.1stinflowers.com/taiwan/ |
| SOCIAL MEDIA |   |
| CONTACT DETAILS | 1-800-266-0452 |
WHAT PEOPLE LIKE
VARIETY OF OPTIONS. The shop does not only categorize their products according to what specific event they are more appropriate, but they also created a page featuring birth month flowers. This is perfect for those who are highly into zodiacs, horoscopes, birth month items, etc.
INTERNATIONAL DELIVERY. Even if your target recipient is out of the country, rest assured that they will still be able to receive the stunning flower arrangements originally made by the incredible florists of 1st in Flowers. The shop offers its service abroad and they guarantee that they keep a high quality of service even if it crosses borders.
PRODUCTS
DELIVERY AND PAYMENT
For inquiries regarding their delivery schedules and payment, you may contact them through customer service.
8. Squirrel Flower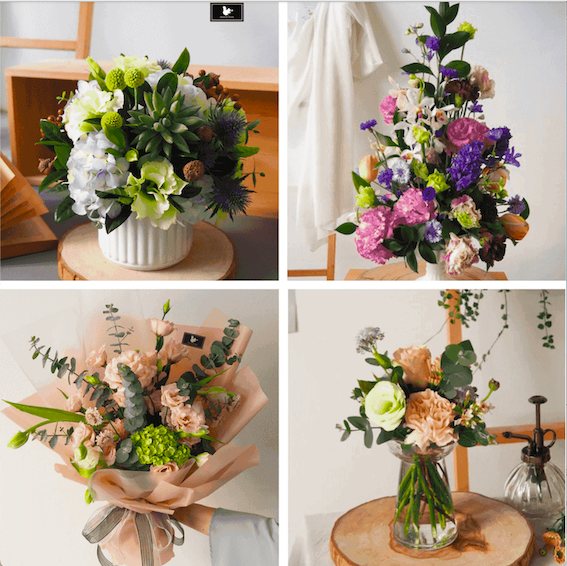 Squirrel Flower specializes in European-style flower arrangements. What's great about them is their openness to work closely with you to tailor your orders to your needs, although these can take around 5 working days to be ready. If you need something right away, they also have ready-made arrangements you can opt for. This is a great option if you want to send a customized and quality gift!
WHAT PEOPLE LIKE
WIDE SELECTION OF PRODUCTS. They offer products like bouquets, potted flowers, gift box flowers, dry flowers, and various plantings. All of these are perfect if you simply want to give someone a gift or for special occasions like weddings or corporate events. They've also collaborated with a dessert studio, so you can send a dessert along with the flowers.
CUSTOMIZABLE ARRANGEMENTS. If you want custom flowers, you've come to the right shop. They only ask you to tell them your preferred style, colors, gift object, and budget then they'll come up with a design for you. They give you a lot of say in the arrangement, so your gift will surely be unique and personal!
EXCELLENT SERVICE. Customers are not only raving about the quality of their products—since they also only use the freshest flowers of the season—but they've also been praised for their excellent service. Testimonials say that the florists are very accommodating with regard to requests, respond quickly, and even send a photo before delivery.
PRODUCTS
Bouquets – NT$1,800 to NT$4,200
Potted flowers – NT$1,700 to NT$2,500
Gift box flowers – NT$1,500 to NT$2,500
Dry flowers – Contact for prices
Various plantings (moss balls, orchids, succulents, etc.) – Contact for prices
Custom flowers – From NT$1,500
DELIVERY AND PAYMENT
You may contact them for inquiries regarding delivery and payment.
---
Images taken from each company's official websites/social media.