Who says you need to compromise quality for more affordable prices? Check out these local Cairo florists who continue to prove that budget flowers don't mean tacky products. These flower delivery shops enable everyone's access to quality yet affordable products. Now go and pick the perfect gift for your loved one. We promise it won't break the bank! If you're interested, here are eight of the most budget friendly flower delivery services in Cairo.
1. FLOWER POWER DESIGN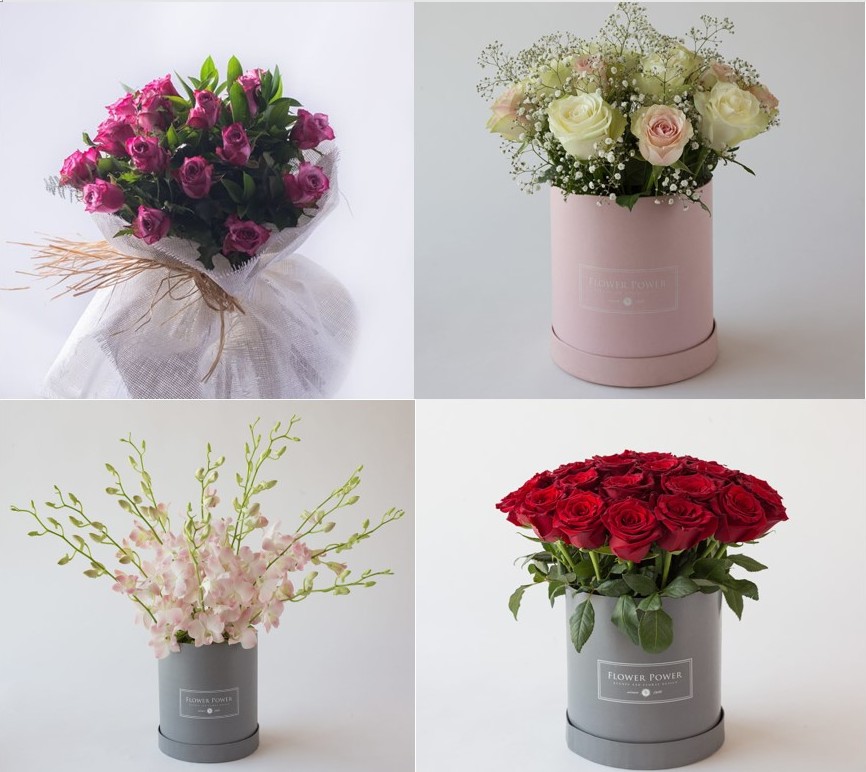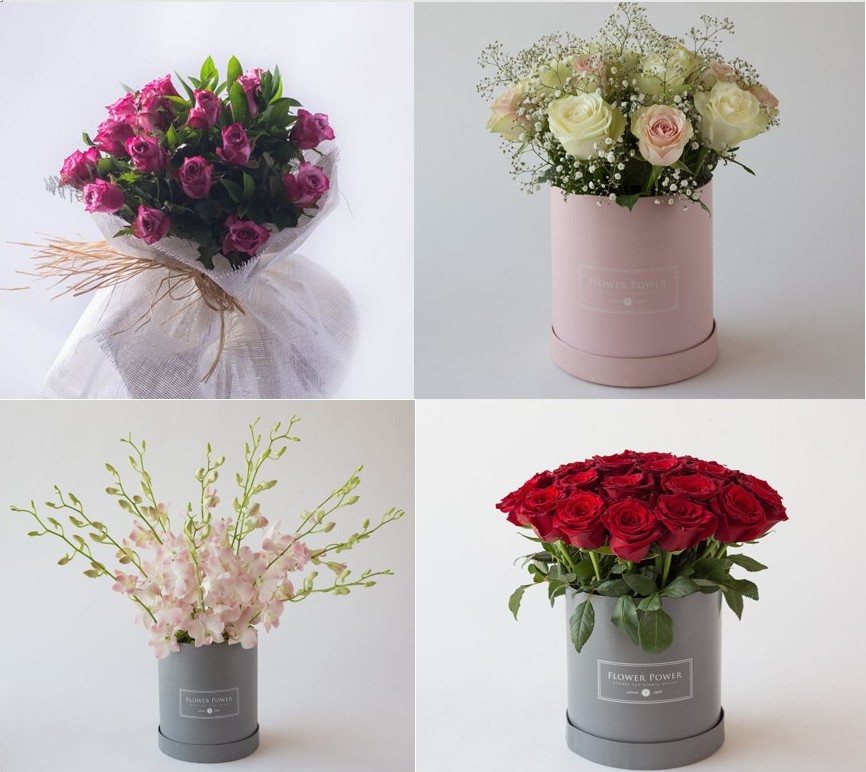 Known for their creative display of floral designs fit for all events, Flower Design Company continues to lead the flower service business in Cairo. As a design house, this company treats each flower arrangement as one does a painting – 'each stroke with care and affection.'
SPECIALTY
Simple and Luxurious-like Flower Box-Bouquets
SELECTION SIZE
Curated
STARTING PRICE
$30.49
DELIVERY FEE
$10 (Flat Rate)
WEBSITE
www.flowerpowerdesign.com
SOCIAL MEDIA
Instagram: @flowerpowerdesign
Facebook: /FlowerPowerEG
CONTACT DETAILS
[email protected]/ (+2) 02-33048000/ (+20)12 7770 5777
WHAT PEOPLE LIKE
ROMANTIC FLOWER ARRANGEMENTS. Though the company houses a very small curated selection of flowers, each one possesses a well thought out design. You might be tempted to buy their whole collection once you see just how perfectly simple, they all are.
DESIGNER PACKAGING. Flower Power Design products are easily recognized by their minimalistic packaging. The circular box of the flower bouquet is very on-brand – simple yet boutique-looking.
PRODUCTS
HAND BOUQUETS: $30.49 – $32.84
BOX BOUQUETS: $32.25 – $52.70
DELIVERY & PAYMENT
Payment will be accepted in US Dollars or Egyptian Pounds. Order before 11 am for same-day delivery. For next-day deliveries and any other pre-orders, order anytime. Billing options available after checkout.
2. SALLY HELMY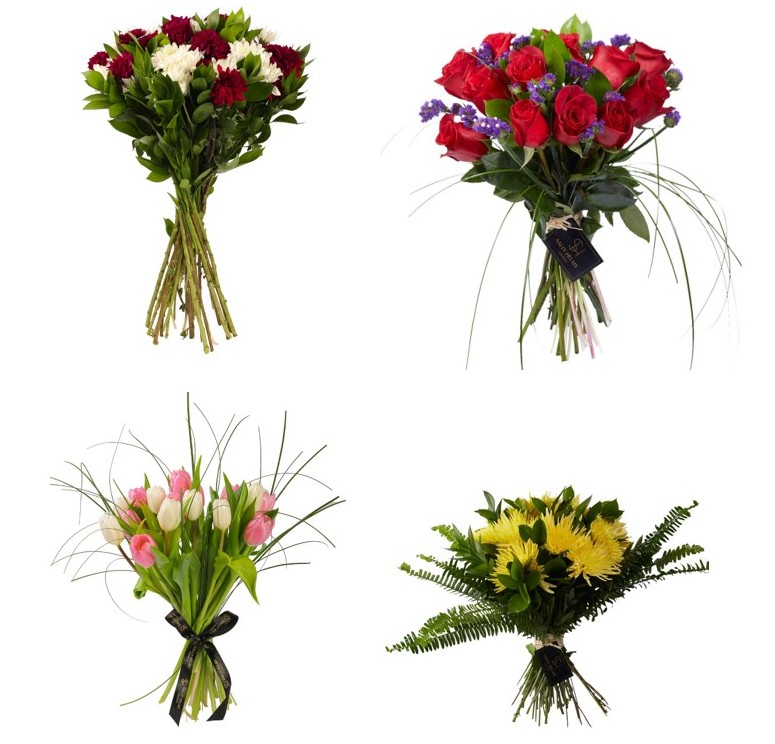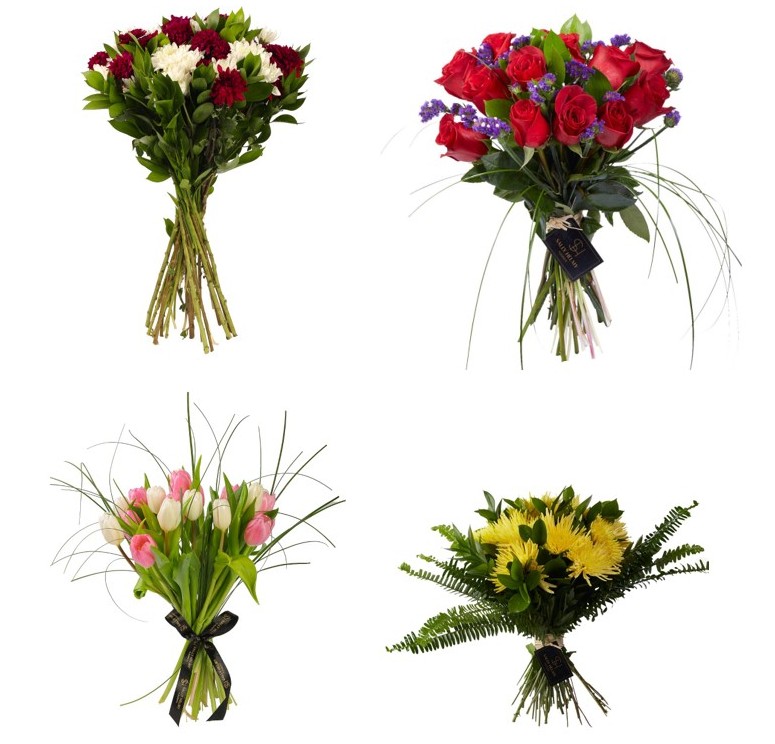 Don't let these expensive looking flowers fool you, Sally Helmy is another example of a budget-friendly flower company! Though Sally Helmy is a relatively young company, they've steadily amassed loyal customers at Cairo due to their masterful and inexpensive flower arrangements.
SPECIALTY
Affordable lush bouquets
SELECTION SIZE
Curated
STARTING PRICE
$17.59
DELIVERY FEE
From $2.64
WEBSITE
www.sallyhelmy.com
SOCIAL MEDIA
Instagram: @herflowerssg
Facebook: sallyhelmyfleuriste
CONTACT DETAILS
[email protected] / +20127 706 0790
Contact Form
WHAT PEOPLE LIKE
LUSH HAND BOUQUETS. Sally Helmy's floricultural products always end up looking very natural and fresh. Some companies overdo their packaging, making it look too 'commercial', but this company is confident that their flowers can shine on their own. Look for example at their 'California Dreaming' item. It's as if someone just freshly picked these flowers and foliage and put it in a black box, before giving it to you.
CUSTOMISABLE BOUQUETS. In order to create a more personalized gift, you can work with the florists at Sally Helmy by choosing the flowers, foliage, and packaging that would most suit the recipient and occasion.
LARGE COLLECTION OF AFFORDABLE FLOWERS. The selection of flowers at this company ranges from occasions, types, and colours. Each having a number of inexpensive pieces. Check their easy to navigate site for more choices.
PRODUCTS
HAND BOUQUETS: Starts at $17.59
BOX BOUQUETS: Starts at $21.11
DELIVERY & PAYMENT
Order before 5 pm for same-day delivery. For next-day deliveries and any other pre-orders, order anytime. They accept VISA and Mastercard. AAIB is also available.
3. HOPE FLOWERS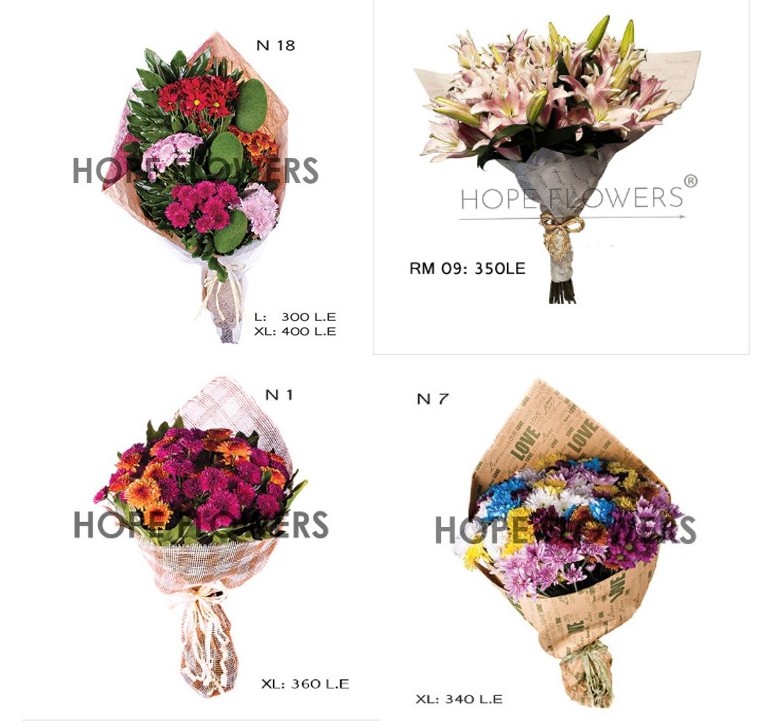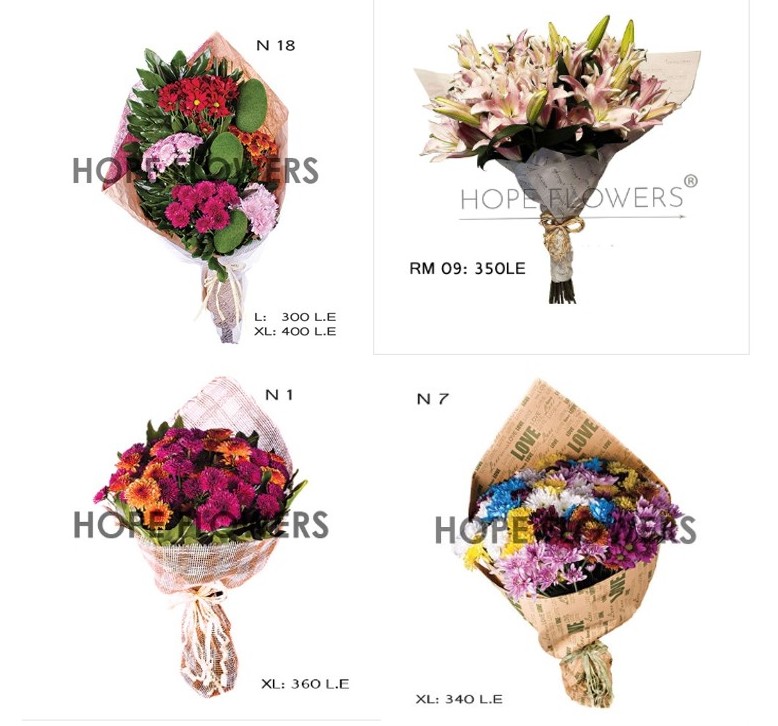 Since 1998, Hope Flowers has been preparing and delivering flowers for the good people at Cairo. Guided by the belief that flowers aren't just simple gift but a message that transfer feelings, wishes, and hopes – the company continues to flourish up to this day.
SPECIALTY
Colourful Bouquets
SELECTION SIZE
Large
STARTING PRICE
$17.59
DELIVERY FEE
Flat Rate of $1.47
WEBSITE
https://hopeflowers.net/
SOCIAL MEDIA
Instagram: @hopeflowerscairo
Facebook: /hopeflowerscairo
CONTACT DETAILS
[email protected] / +(2) 01225588000
WHAT PEOPLE LIKE
LONG HISTORY. Established in 1998, Hope Flowers actually came to existence by the idea of marrying soft corals and flowers. They've recognized the beauty of the elements in the 'gardens that exist above and under water.' Up 'till now, you can see the influence of corals in their design – always colourful with elements of curious shapes. Check out item N18 to see what we're talking about.
SKILLFUL HANDS AT WORK. As one of the oldest flower service providers in Cairo, Hope Flowers has mastered the process of flower delivery – from preparation to the final product. Only quality flowers will be put in your hands.
CHARMING PACKAGING. Their wrapped bouquet items are simply adorable. They've found the perfect wrapping that best complements each bouquet.
PRODUCTS
HAND BOUQUETS: Starts at $17.59
DELIVERY & PAYMENT
Order before 5 pm for same-day delivery. For next-day deliveries and any other pre-orders, order anytime. They accept VISA, American Express, and Mastercard. AAIB and PayPal are also available.
4. FLOWERS FOR CAIRO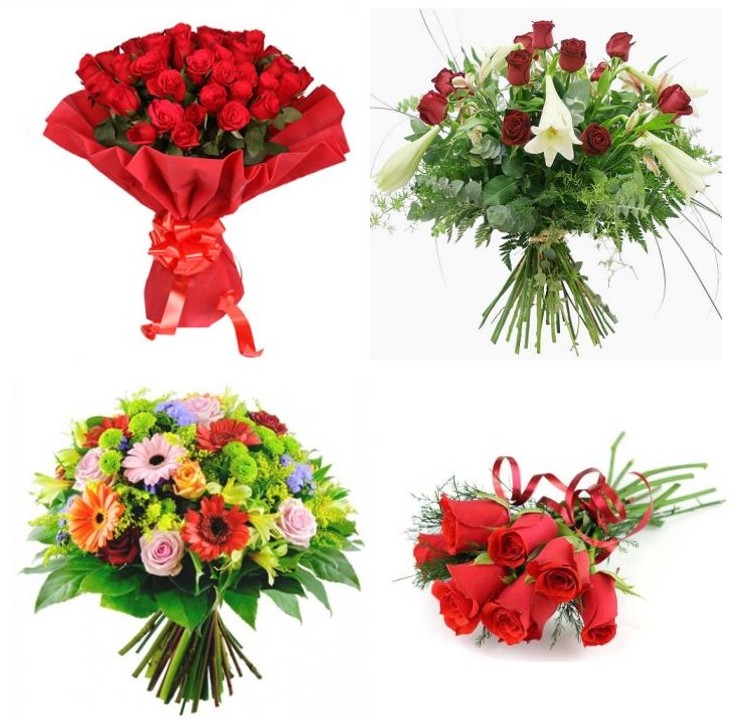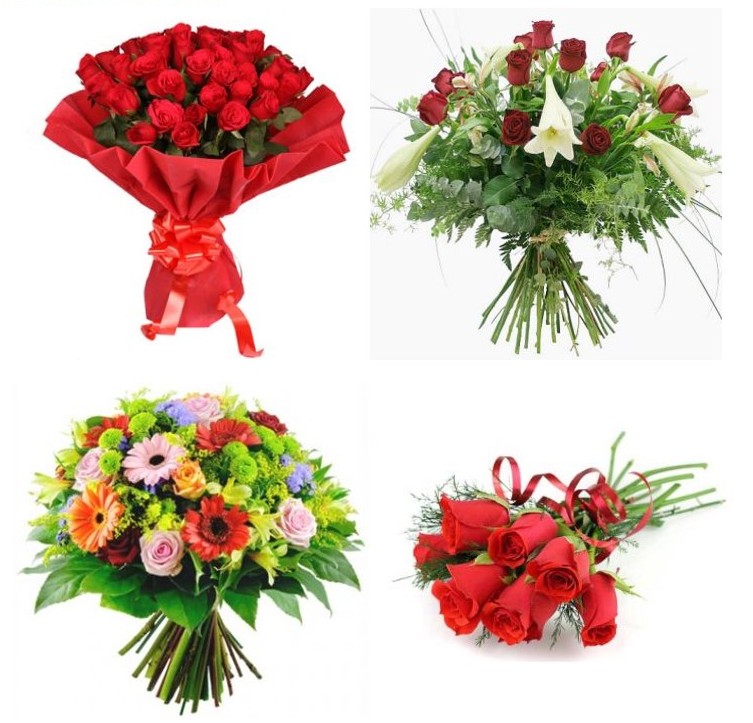 Since 2006, Flowers for Cairo has strived to give their utmost professional attention to every order. From their customer service to floral consultants and finally to the delivery team – the entire staff is dedicated to bringing satisfaction from the clients.
| | |
| --- | --- |
| SPECIALTY | Hand-Tied Rose Bouquets |
| SELECTION SIZE | Large |
| STARTING PRICE | $33.52 |
| DELIVERY FEE | The information is available upon billing |
| WEBSITE | https://www.flowers4cairo.com/ |
| SOCIAL MEDIA | Facebook: /Internetflorist |
| CONTACT DETAILS | Contact Form United States: ++1 877 753 8216 United Kingdom:++44 (0)20 31090569 Germany:++49 (0)69 2222 20283 |
WHAT PEOPLE LIKE
LARGE SELECTION. Their catalogue contains various floral arrangements, ranging from popular to exotic ones. Customers won't have a problem in choosing the perfect item that would suit the recipient or the occasion itself.
FRIENDLY STAFF. Customer Care is in their top priority so it's no surprise that the staff is very attentive, patient and helpful during transactions.
PRODUCTS
HAND-TIED RED ROSE BOUQUETS: From $33.52
HAND-TIED WHITE ROSE BOUQUETS: From $39.11
HAND-TIED MIXED FLOWERS BOUQUETS: From $39.11
DELIVERY & PAYMENT
Delivery charges depend on the area and the availability of their florist. They do not offer same day delivery. Major credit cards and PayPal are accepted.
5. FLEURINJY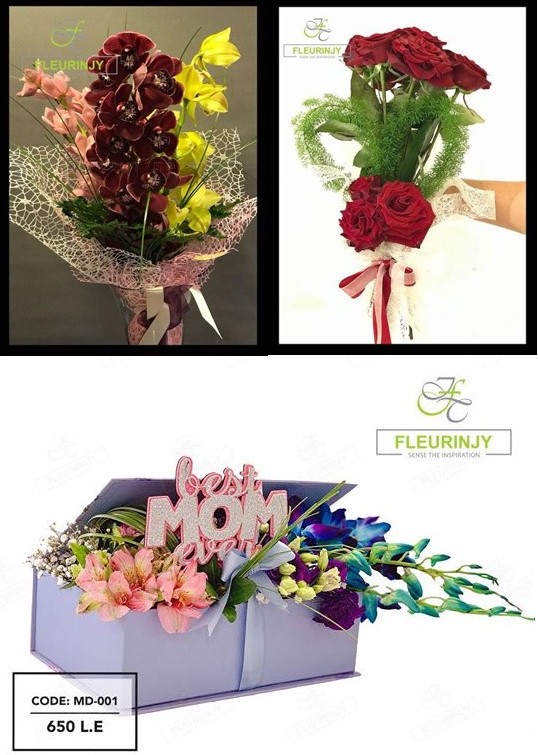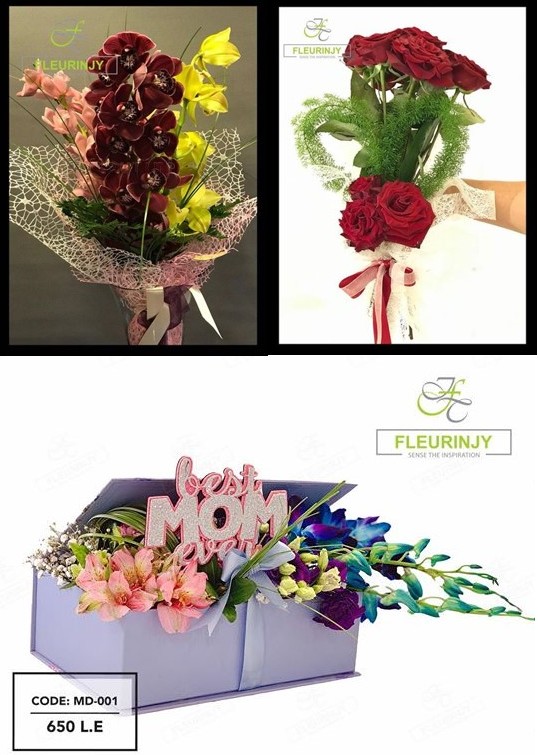 Fleurinjy's design is always refreshing to look at. As an expert in both flower arrangement and decoration, the company gives attention to details in each flower piece they make.
SPECIALTY
Mother's Day Flower Collection
SELECTION SIZE
Curated
STARTING PRICE
$16.42
DELIVERY FEE
Calculated at checkout
WEBSITE
http://www.fleurinjy.com
SOCIAL MEDIA
Facebook: /fleurinjy/
CONTACT DETAILS
+20225250135 / 01222369774
[email protected]
WHAT PEOPLE LIKE
FLOURISHING COMPANY. What started out as a small flower shop, is now a well-established business that even branched out to more corporate floral decorations, weddings and finally a school. Injy Teymour, School of Flower Design is the brainchild of the Fleurinjy company. We're excited to see what's next for this company.
MOTHER'S DAY-THEMED COLLECTION. Though the company only has a carefully curated selection, they've dedicated a collection for Mothers everywhere. This gift would surely make any Mom happy and grateful.
PRODUCTS
RED ROSE BOUQUETS: Starts at $29.32
BOX BOUQUETS: Starts at $32.26
MOTHER'S DAY FLOWERS: $16.42 – $46.92
BIG ORCHID BOUQUETS: Starts at $99.70
DELIVERY & PAYMENT
The delivery fee will be calculated at checkout, subject to the delivery location. Delivery and payment information available upon checkout.
6. FLOWERS IN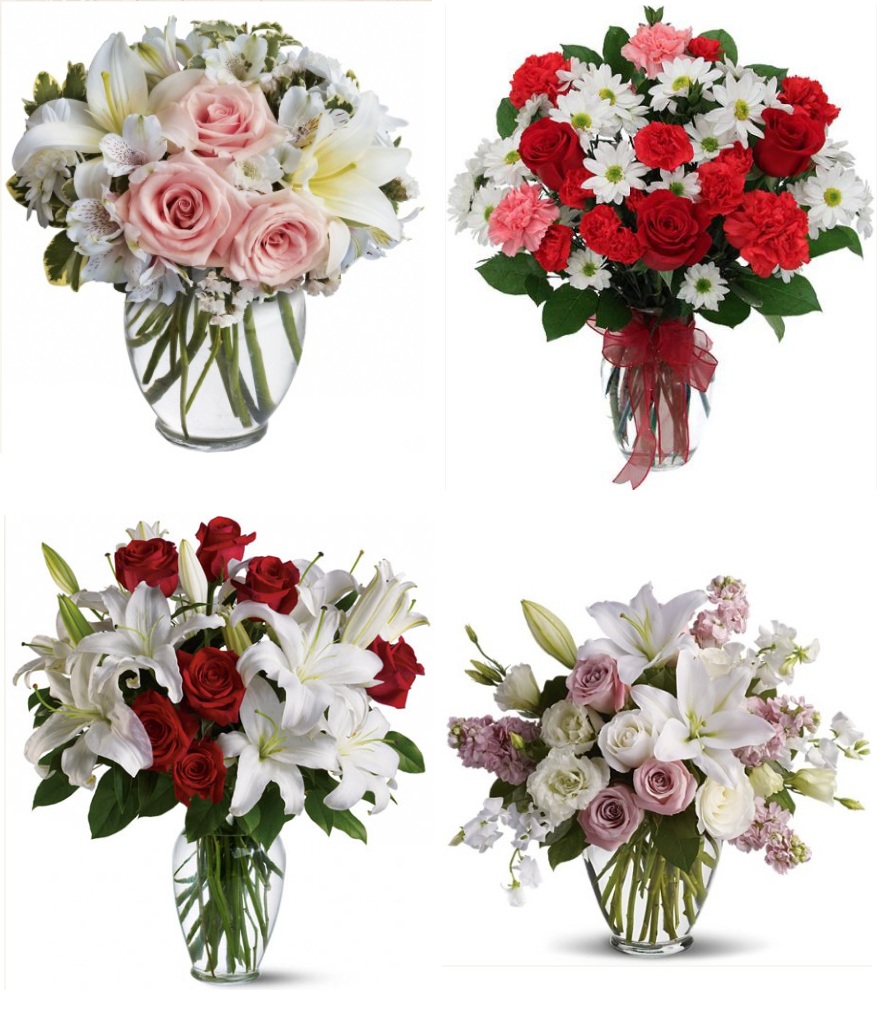 Flowers In provides their customers with their accessible and convenient online shop that contains all their fresh flower collections as well as their stunning arrangements that vary from traditional, to modern, and even contemporary designs. 
The premium bouquets that they offer are guaranteed to be prepared only by their finest and most creative staff. From planting, to harvesting, to arranging, they make sure that their products are well taken care of to provide the best floral arrangements for their beloved customers.
| | |
| --- | --- |
| SPECIALTY | Flower arrangements for all occasions |
| SELECTION SIZE | Large |
| STARTING PRICE | From $45.60 |
| DELIVERY FEE | Calculated at checkout |
| WEBSITE | |
| SOCIAL MEDIA |   |
| CONTACT DETAILS | +44 (0) 20 3287 9257 | [email protected] |
WHAT PEOPLE LIKE
LARGE SELECTION.

Flowers In is your one-stop shop when it comes to top quality flower arrangements.The shop has a collection of thousands of flower arrangements that vary in kind, color, texture, and style but are guaranteed to be equally fresh and stunning.
RELIABLE DELIVERY.

Wherever you are, even outside of Cairo, you can entrust Flowers In to deliver your orders on time while keeping the products in their best qualities. The shop also ships internationally.
PRODUCTS
VASE ARRANGEMENTS
WRAPPED BOUQUETS
HAND-TIED BOUQUETS
CENTERPIECES
DELIVERY AND PAYMENT
The shop accepts payment thru Mastercard, Visa, PayPal, and Maestro
7) DAISY FLOWER

Daisy Flower endeavours to be one of the best flower delivery in all of Cairo and Egypt. One of the things the shop does to achieve such a feat is by offering a wide array of flower arrangements, most of which are created with the freshest and most vibrant blooms available in the season.
We like the fact that each arrangement has been carefully and tastefully created, with colours and meaning in mind. 
Aside from its offerings, Daisy Flower has cemented its spot on this list by offering accessibility and convenience to its client base. The shop's website is easy to navigate through and contains all the necessary information to place orders online.
WHAT PEOPLE LIKE
CUSTOMER SERVICE. Daisy Flower endeavours to attain the most coveted 100% customer satisfaction. This is why the shop constantly makes an effort to be prompt and polite, and to have every order out and ready for delivery on time.
FLOWER SELECTION. If there's one thing that Daisy Flower never skimps on, it's flowers. The shops has numerous selections available, either made with fresh blooms or artificial flowers. 
PRODUCTS
FRESH FLOWER ARRANGEMENTS
ARTIFICIAL FLOWERS
DELIVERY AND PAYMENT
The shop accepts payment thru Mastercard and Visa
8) FLOWRISTA
Flowrista, a full-fledged e-commerce solution launched in early 2021, offers premium fresh-cut imported flowers arranged by a professional team of florists and designers. Flowrista is Egypt's first platform to sell special flowers, chocolates, perfumes, and mixed bundles via its virtual and physical store in Al-Rehab City, New Cairo.
Flowrista delivers premium fresh-cut flowers to Egypt from the best farms in Kenya, Ecuador, and the Netherlands. Through its partnership with trendy and luxury brands in Egypt, it also offers flower-based bundles to meet clients' fine taste.
Flowrista provides more than just flowers. With just a few clicks, they always hope to provide their customers with a one-of-a-kind shopping experience!
WHAT PEOPLE LIKE
QUALITY OF PRODUCTS. Flowrista's clients and returning clients have been amazed of the freshness of the flowers that this flower shop provides when delivering their flowers
PRODUCTS
DELIVERY AND PAYMENT
The shop accepts payment thru Mastercard, Visa, Cairo International Bank 
9) PETALS & LEAVES
Petals and Leaves offers customized gifting and event planning services, so that you can have the most memorable moments without stress. With their dedicated and passionate team that has many years of experience, they're sure to give you the best quality of service and products. What's more is that they also have workshops available where you can learn new skills! 
WHAT PEOPLE LIKE
OPEN DAILY. Customers are ecstatic about the fact that Petals and Leaves is open everyday from 9:00 AM to 11:00 PM! 
AMAZING SERVICE. Petals and Leaves' customers can't help but gush about the service they provide. Their team is very professional and communicate very well. They surely know what they're doing! 
HIGH QUALITY PRODUCTS. True to their promise, Petal and Leaves delivers very high quality arrangements that customers adore! Even when a few days have passed, their flowers still remain fresh and beautiful. 
PRODUCTS
FLOWER ARRANGEMENTS FOR VARIOUS OCCASIONS
WORKSHOPS
EVENT PLANNING SERVICES
DELIVERY AND PAYMENT
Contact Petals and Leaves for more information on delivery and payment. 
---
Images taken from each company's official websites/social media.