Sending someone a gift does not always have to be as extravagant and expensive. As the old phrase says, it is the thought that counts. There are lots of other ways to show someone how important they are to us without having to spend too much money. One idea for you is to send them fresh flowers; it is affordable, a rather sweet gesture, and not too extravagant yet will definitely melt their hearts.
1.      BLOOMSBURY FLOWERS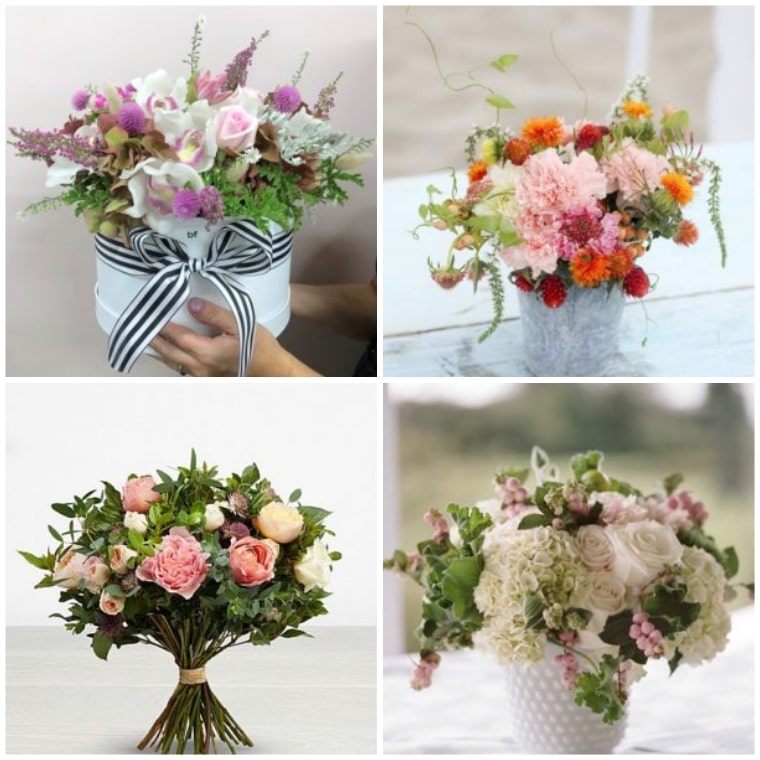 Bloomsbury Flowers always makes sure to use fresh and the best kind of flowers in their collection. Not only they can provide products in retail, the shop also caters big events, weddings in particular. With the team's effort to provide excellent quality of service, they are able to fulfill their promise of creating one the finest floral designs there is.
| | |
| --- | --- |
| SPECIALTY | Fresh bouquets |
| SELECTION SIZE | Medium |
| STARTING PRICE | Starts at $75 |
| DELIVERY FEE | Calulated at checkout |
| WEBSITE | https://www.bloomsburyflowers.co.nz/ |
| SOCIAL MEDIA | |
| CONTACT DETAILS | (09) 535 6503 |
WHAT PEOPLE LIKE
ORIGINAL DESIGN. The shop believes that their clients deserve only the best that is why they strive to create not only stunning flower arrangements but original designs that they aim to awe their clients with. Their creative and professional florists always keep up with current style and color trends to be able to come up with magnificent original floral designs.
SAME AND NEXT DAY DELIVERY. Urgency is also one of the priorities of the shop so they promise to deliver your orders as soon as possible. Whether you want a same day or next day delivery, the shop guarantees that your orders will always be kept fresh and handled with care.
PRODUCTS
Arrangements – $85 to $125
Blooms – $75 to $200
DELIVERY AND PAYMENT
Delivery runs from Mondays to Saturdays.
2.      BEST BLOOMS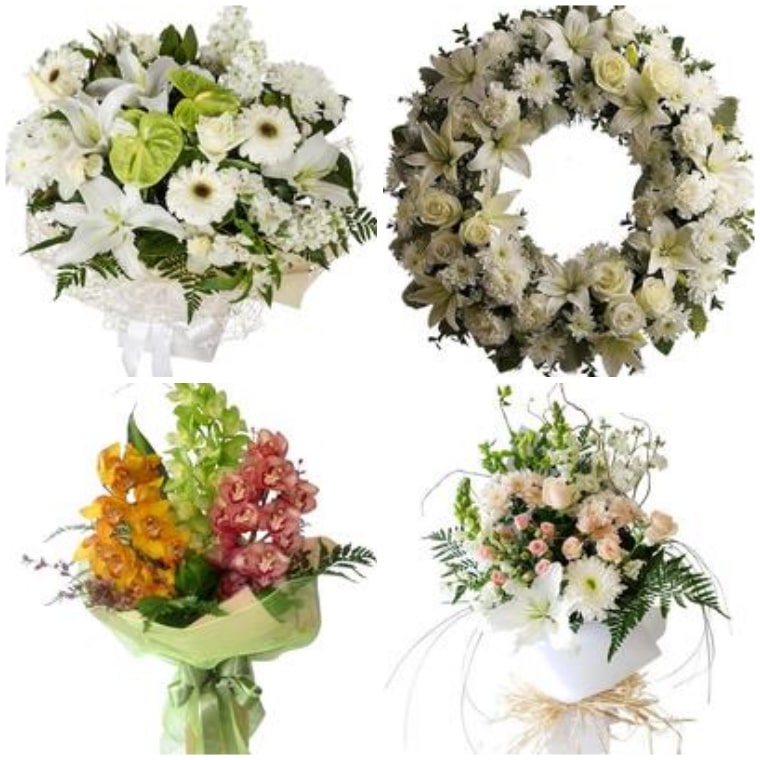 Best Blooms is a family-owned business comprised of ultimately creative individuals that aim to provide excellent quality of service and flower products in the entire area of Auckland. Best Blooms is an award-winning flower shop that houses hundreds of different flower arrangements that they guarantee to be always fresh and grown by local growers.
WHAT PEOPLE LIKE
SAFE ONLINE TRANSACTIONS. To make their clients' lives easier, Best Blooms offered to create online shop that allows online payment transaction. With this, they guarantee that every single detail process online is protected with strong online security system.
LARGE INVENTORY. The shop is one of the trusted flower shops in Auckland having accepted over 50,000 online orders. They have lots of flower types and arrangements that are certainly appropriate with any kind of events and occasions.
FREE DELIVERY. With every order purchased, you are able to save money because the shop offers free delivery service that are of highest quality  and 100% guaranteed no delay.
PRODUCTS
Sympathy Flower – $49 to $365
Red Roses – $59 to $199
DELIVERY AND PAYMENT
To know more about the payment details, you can directly coordinate with the shop.
3.      WILD POPPIES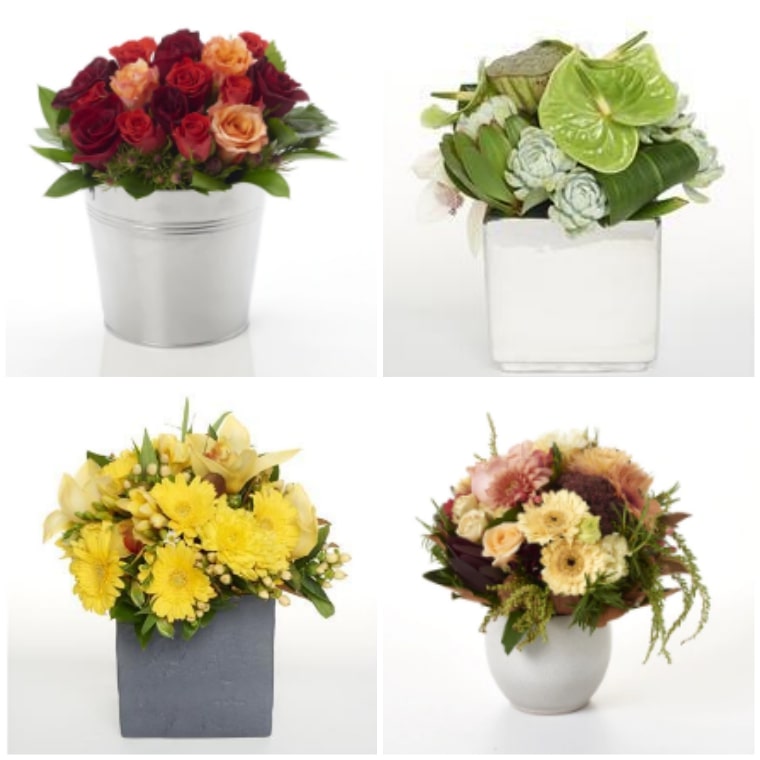 Wild Poppies is one of the best flower and gift shops in Auckland. Not only do they design their original and posh flower arrangements, they also offer gifts that are packaged beautifully making all their items your best options for stunning presents. They also cater to corporate events for flower arrangements and gift ideas.
| | |
| --- | --- |
| SPECIALTY | Designer bouquets |
| SELECTION SIZE | Large |
| STARTING PRICE | Starts at $30 |
| DELIVERY FEE | Starts at $12 |
| WEBSITE | https://wildpoppies.co.nz/ |
| SOCIAL MEDIA | IG:@wildpoppiesnz |
| CONTACT DETAILS | 0800 809 453 |
WHAT PEOPLE LIKE
EXTENSIVE COLLECTION. Wild Poppies wants you to experience the best gift-giving experience that is why they always strive to create a collection that can cater to all kinds of needs. May it be for birthdays, anniversaries, or corporate events, Wild Poppies is always ready to serve you.
ORIGINAL DESIGNS. WIld Poppies is comprised of truly creative and talented individuals that always strive to create stunning flower arrangements. They make sure to even out color, style, and texture in all their flower products to come up with beautiful yet unique designs.
LARGE DELIVERY COVERAGE. Whether you want to send flowers at the heart of Auckland or in its suburb areas, guaranteed that Wild Poppies will be able to deliver your orders at these locations with a promise of keeping the products in best quality.
PRODUCTS
Arrangements – $89 to $289
Bouquets – $99 to $199
Roses – $30 to $239
DELIVERY AND PAYMENT
Delivery service is not available on Sundays. Payment methods are Visa, Mastercard, PayPal, and American Express
4. BROOKLYN FLOWERS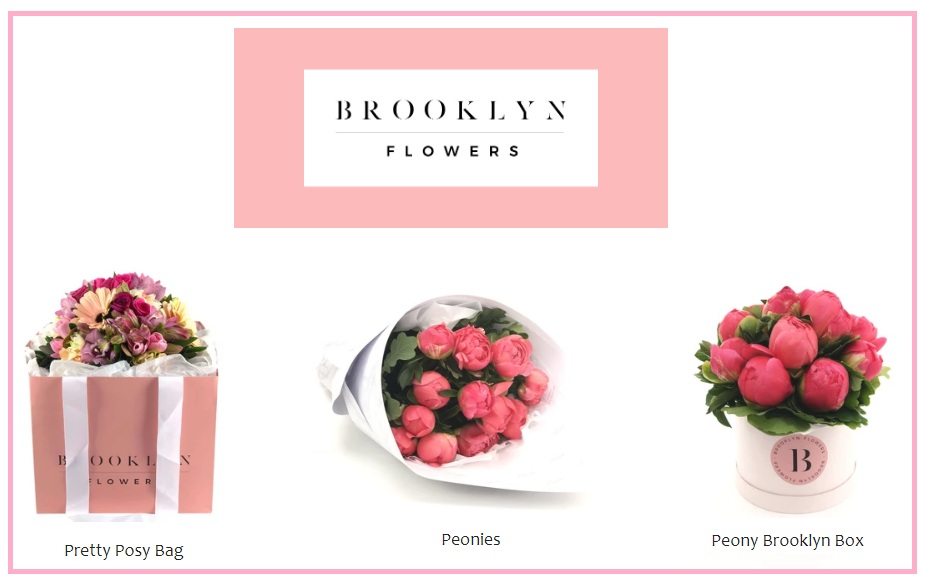 Brooklyn Flowers provides delivery in all areas in Auckland for 7 days a week. This means that every day of the week, customers will be able to send out blooms for their loved ones.  
The shop has a good collection of floral arrangement which are perfect in any occasion so to speak. They have bouquets, ponies, roses, and corporate flowers.
Their team offers their services when it comes to their flower needs. Thus, you may ask the shop for its assistance. 
Specialty

Corporate Flowers

Selection Size

Moderate

Starting Price

$15

Delivery Fee

$10

Website

Social Media

Instagram: @brooklynflowersnz

Facebook: /brooklynflowersnz

Contact Details

09 218 9846 | [email protected]
WHAT PEOPLE LIKE
OFFERS WEDDING AND EVENTS SERVICE

. If you have an upcoming event and you need someone to design your venue, then you may ask the florists from Brooklyn Flowers. They will gladly assist you in decorating the venue in accordance with the motif and theme of your occasion.  

SAME DAY DELIVERY

. For those who want to have their blooms delivered on the day it has been ordered, Brooklyn Flowers offered same day delivery. However, this service is subject to some conditions such as ordering within the cutoff time. 
PRODUCTS
FLOWER ARRANGEMENT:

$15 – $150
DELIVERY AND PAYMENT
Same day delivery applies to orders placed before 2:00 pm. The shop accepts VISA, American Express, and MasterCard.
5.      ROSES FLORIST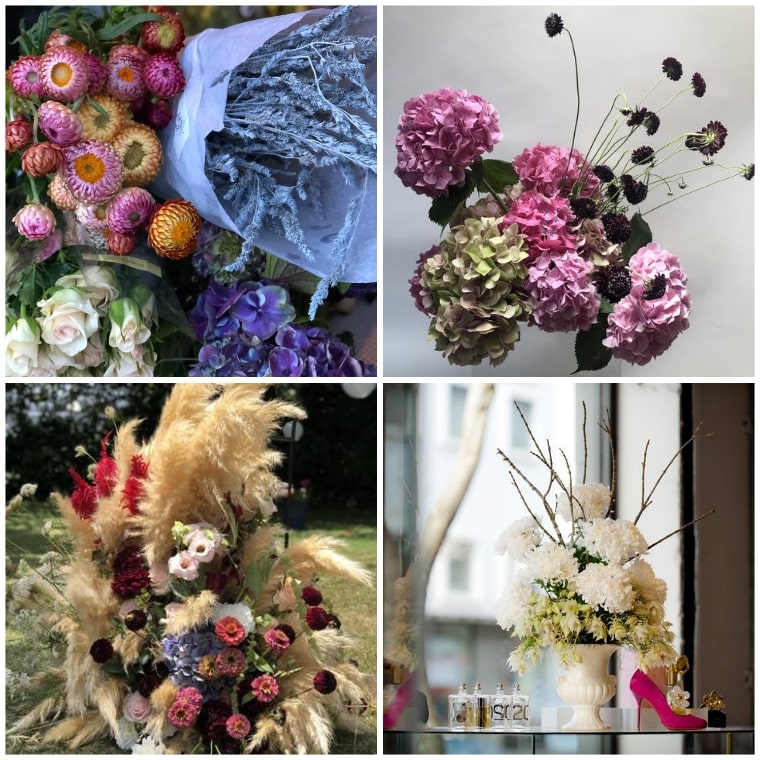 Roses Florist is a boutique style flower shop that was established in 1998 specializing in fashionable flowers. The shop always makes sure to use premium flowers in all their floral designs and see to it that they keep their team updated with all the current trends in the industry like the colors, style, texture, and designs.
WHAT PEOPLE LIKE
WEDDING FLOWERS. The clients of Roses Florist does not only trust them with their retails flower products but they also adore their wedding arrangement designs. Their amazing floral designs can make your wedding even more beautiful giving color and vibrance to the event.
POSH DESIGNS. The shop aims to make their clients' eyes sparkle every time they see the shop's flower products. The team is very strict when it comes to the details of the designs because they want to make sure that their clients always get the best that they deserve.
PRODUCTS
Wedding Flowers
Corporate Flowers
DELIVERY AND PAYMENT
After placement of order, you can expect your order to be delivered within 2 days.
6.      FLOWERS AFTER HOURS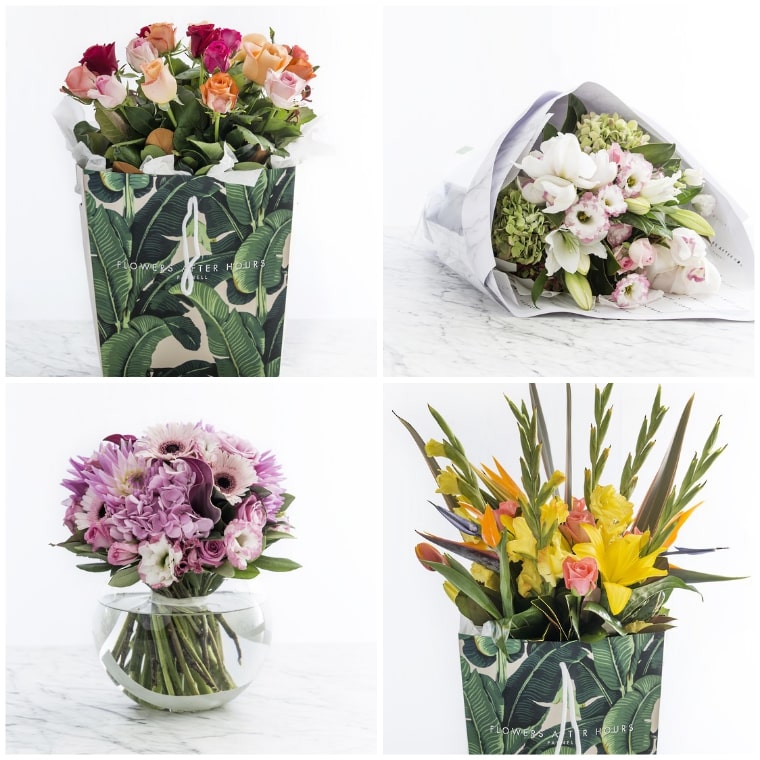 Flowers After Hours was established in 1990 with a heart to continuously spread beauty in the entire city with colorful flowers. Their collection is undeniably gorgeous and very much appropriate for chic style events such as formal dinners, intimate parties, or as gift ideas.
WHAT PEOPLE LIKE
BEAUTIFUL PACKAGING. The shop aims to create unique flower arrangements that is why they created palm bags that will add to the total look of the flower products. Flowers arranged in these palm bags do not only come in handy but also in affordable prices.
VALUE FOR MONEY. Flowers after hours believe that their customers deserve only the best quality of products and services, so all the money spent on their orders are truly appreciated by the team. With this, they strive to create flower arrangements that will provide the best value for money.
PRODUCTS
Bouquets – $50 to $75
Poises – $60 to $80
DELIVERY AND PAYMENT
Delivery rates starts at $10.
7. White Tree Floral Design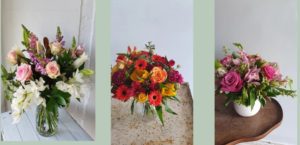 Got many events in your hand that you need to find appropriate flowers for? Don't you worry because White Tree Floral Design got everything that you need. They have a huge collection of different kinds of flowers and floral design that will definitely match the ones that you are imagining. So, what are you waiting for? Give them a call or visit their website for previews.
WHAT PEOPLE LIKE
FRESH FLOWERS.

White Tree Floral Design guarantees that all flowers that are coming in and out of their shop are always fresh and premium quality and you will never regret ordering one from them.

SPECIAL EVENTS.

The shop does not only offer retail products or mere delivery services but they also cater to special events like birthdays, corporate parties, weddings, etc.

CUSTOMER SATISFACTION.

The happiness and satisfaction of their customers is the priority of White Tree Floral Design above anything else that is why they make sure that they address all your needs and inquiries starting from the ordering system up until the delivery.
PRODUCTS
CERAMIC POT ARRANGEMENTS:

Starts at $59

VASE ARRANGEMENTS:

Starts at $59
DELIVERY AND PAYMENT
All delivery information can be found here.
8. The Wild Bunch

Whether you need big bouquets or cute posies, you can never go wrong with The Wild Bunch. This Auckland flower studio has been supplying the locals with beautifully arranged flowers since 1999. 
Stylish arrangements in designs ranging from your everyday flowers to special occasions—their capable team of in-house florists will be more than happy to fix you up the bouquet that would suit your taste. 
SPECIALTY

Mixed Posies

SELECTION SIZE

Large

STARTING PRICE

Starts at $55

DELIVERY FEE

Calculated at checkout

WEBSITE

SOCIAL MEDIA

Facebook: @thewildbunchremuera

Instagram: @thewildbunchflorist

CONTACT DETAILS

Tel: +64 (09) 529-9547

Fax: +64 (09) 529-9549
WHAT PEOPLE LIKE
EXPERTLY-ARRANGED POSIES.

We really recommend checking out their collection of posies. These little bouquets are just as beautiful as the standard-sized ones. Plus they're cheaper too!

WIDE RANGE OF GIFTS FOR MOM AND BABY.

Show how you appreciate and love all the new moms in your life by surprising them with any of the items under this collection. We especially like the

Blushing Mum and Bubs

and we know they'll like it too!

TOPNOTCH GIFT BOXES.

Go for the overkill and pick one of their gift boxes to send to your loved one. These are gorgeous bouquets paired with the loveliest scented candles you know they'd appreciated after a long stressful day. 
PRODUCTS
POSIES:

$52.00 – $70.00

BOUQUETS

$55.00 – $90.00

ROSES ONLY:

$20.00 – $80.00
DELIVERY & PAYMENT
Same-day business delivery within the greater Auckland area is guaranteed for orders received by 9.30 am and same-day residential delivery is guaranteed for orders received by 1.30 pm. Payment options include VISA, MasterCard and AmEx. 
9. Devonport Flowers

| | |
| --- | --- |
| SPECIALTY | Elegant flower arrangements |
| SELECTION SIZE | Moderate |
| STARTING PRICE | $50.00 |
| DELIVERY FEE | Available at checkout  |
| WEBSITE | |
| SOCIAL MEDIA | Facebook:@DevonportFlowers |
| CONTACT DETAILS | +64 9 445 8350 |
Devonport Flowers is an Auckland favorite that specializes in effortless-looking bouquets you'd want for yourself. Their in-house florists manage to create minimalistic-style bouquets that remain classic and sophisticated and not at all generic. 
This company offers designer level floral creations good for every occasion you can think of. Be it Sympathy, Mother's Day or Valentine's Day, their elegant bouquets will fit right in. 
Good thing they deliver all throughout Auckland. 
WHAT PEOPLE LIKE
CLASSIC BOUQUETS.

Though fairly limited in number, their collection of bouquets is still something we really love. There's just enough hint of romantic without being too sweet. To see what we mean, check out their

Absolute Vintage

bouquet. 

WEDDINGS.

Devonport Flowers takes great pride in the way they handle each of their clients when it comes to weddings. They understand the importance of the event and will really take the time to collaborate with you and your partner for the perfect wedding flower arrangements. 

SYMPATHY FLOWERS.

This impressive collection of sympathy flowers is made up of your classic wreaths, bouquets, sprays and coffin displays. Though limited in the number of designs, each arrangement is expertly made with simplicity and sophistication in mind. 
PRODUCTS
BOUQUETS:

From $50.00

POSIES:

From $60.00

SYMPATHY:

From $60.00
DELIVERY & PAYMENT
Payment options include credit and debit card payments via their payment gateway, Paypal. 
10. Flourish Floral Designs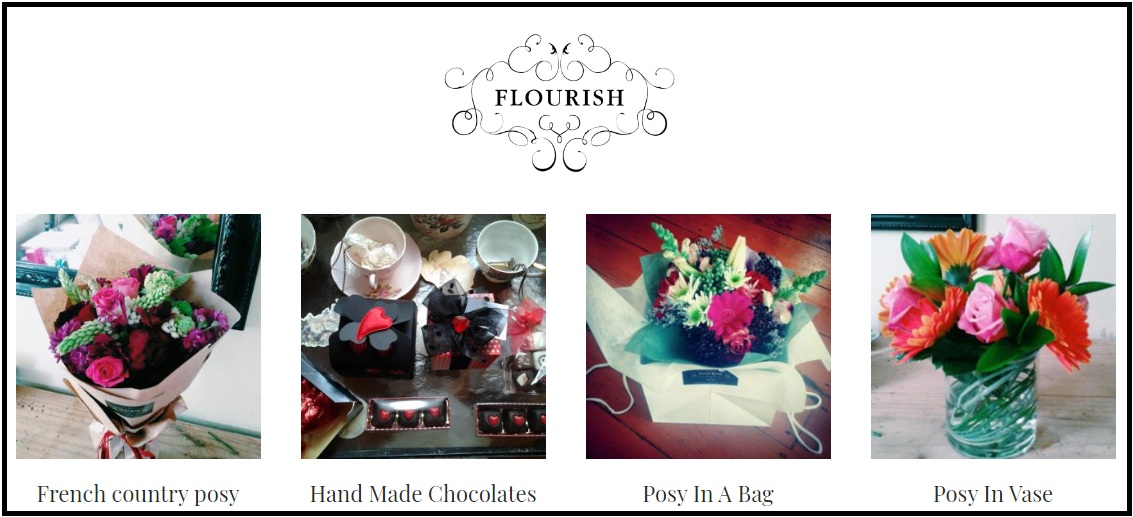 SPECIALTY

Simple Romantic Flower Arrangements

SELECTION SIZE

Moderate

STARTING PRICE

$45

DELIVERY FEE

From $15

WEBSITE

SOCIAL MEDIA

Facebook: @Flourishfloraldesigns

Instagram: @richelleflourish

CONTACT DETAILS

[P] 09 522-2351

[M] 021 626 267
Flourish Floral Designs is a French-inspired boutique floral design studio stituated at  Epsom, Auckland. Headed by Richelle Leahy-Mullins, a master florist who studied the French style of floristry in Paris, Flourish Floral Designs continues to practice minimalistic flower arrangement embracing the flowers' natural 'wild' beauty. 
WHAT PEOPLE LIKE
ROMANTIC FLOWER ARRANGEMENT.

Flourish Floral Design's style is very simple and rustic. This is evident in the French Country Bouquet, a mixed floral posy bunched somewhat ruggedly wrapped in brown paper or white paper with stripes. 

GIFTS.

Flourish Floral Design offers a humble range of gifts including chocolates, plants and gift boxes you can pair with your chosen bouquet. Among these choices we actually like the vintage terrarium priced at $25. 
PRODUCTS
ARRANGEMENTS:

$45 – $80

BASKETS:

$45 – $95

BOUQUETS:

$60 – $90

ROSES:

$50 – $70
DELIVERY & PAYMENT
Click here for delivery information.  Payment options include VISA, MasterCard and AmEx through PayPal. 
 11. Windsor Florist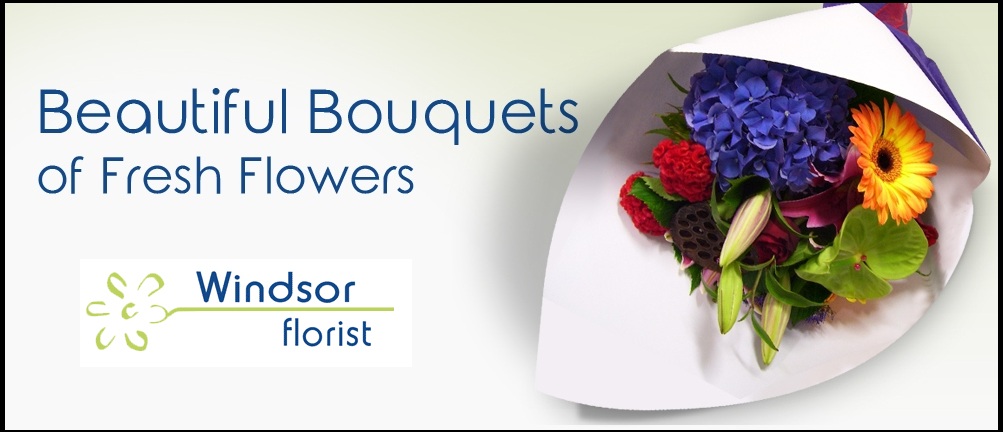 SPECIALTY

Mixed Posies

SELECTION SIZE

Large

STARTING PRICE

$20

DELIVERY FEE

to be calculated at checkout,

WEBSITE

SOCIAL MEDIA

Facebook: @WindsorFlorist.Papakura

IG: Windsor_florist_papakura

CONTACT DETAILS

Phone: +64 (09) 298-9883
Windsor Florist is a long-running florist studio at Papakura, Auckland offering a wide range of flowers perfect for every occassion. Their expertise in floristry is clearly recognised having won multiple competitions like Interflora Designer of the Year, The Ellerslie Flower Show, and The NZ Flower and Garden Show.
WHAT PEOPLE LIKE
FLOWERS IN A CONTAINER.

Classic bouquets made even more beautiful by pairing with a number of stunning packaging like their own vase, vox, carrybag, basket, box or kete bag. All of these of course include their own water source

EVERLASTING FLOWERS.

This made to order service is available at their shop. Windsor Florist encourages you to drop by their physical store to commision your very own everlasting flowers that can be made from dried flowers or artificial ones. 

CURATED GALLERY. The shop also prides itself with their gallery of beautiful weddings and lovely sympathy tributes. So, you may freely browse through their wonderful collection of flowers for these events.
PRODUCTS
BOUQUETS:

$20 – $330

IN A CONTAINER

$45 – $195

ROMANCE:

$16 – $300
DELIVERY & PAYMENT
Order by 9 am for same-day delivery. Payment options available by checkout.
 12. Flowers by Clareville

Flowers by Clareville is one of the most recognized florists in the country. They have vibrant and colourful arrangements which make their bouquets lively and refreshing. Their florists are well-trained and professional in dealing with your orders. They create handcrafted flowers imbibing the seasons of spring and autumn. With the service they provide, you cannot imagine that their blooms are low-cost. Surprisingly, they have cheap items that you can order.
| | |
| --- | --- |
| SPECIALTY | Stunning floral |
| SELECTION SIZE | Large |
| STARTING PRICE | |
| DELIVERY FEE | Calculated at checkout |
| WEBSITE | |
| SOCIAL MEDIA | |
| CONTACT DETAILS | 09 600 2205 |
WHAT PEOPLE LIKE
BEAUTIFUL FLOWER BOUQUETS.

Always going the extra mile, the florists at Flowers by Clareville provides its customers with gorgeous flower arrangements that are worthy of their price. They cater to the needs of their clients and listen to some suggestions to improve such arrangements. 

FAST AND RELIABLE DELIVERY SERVICE.

They make sure that your orders will arrive on time without compromising the quality of their blooms. Their delivery service is reliable and efficient. 
PRODUCTS
BOUQUETS
FLOWERS AND GIFTS
PLANTS
DELIVERY AND PAYMENT
Contact shop for details.
13. SNICKEL LANE FLORIST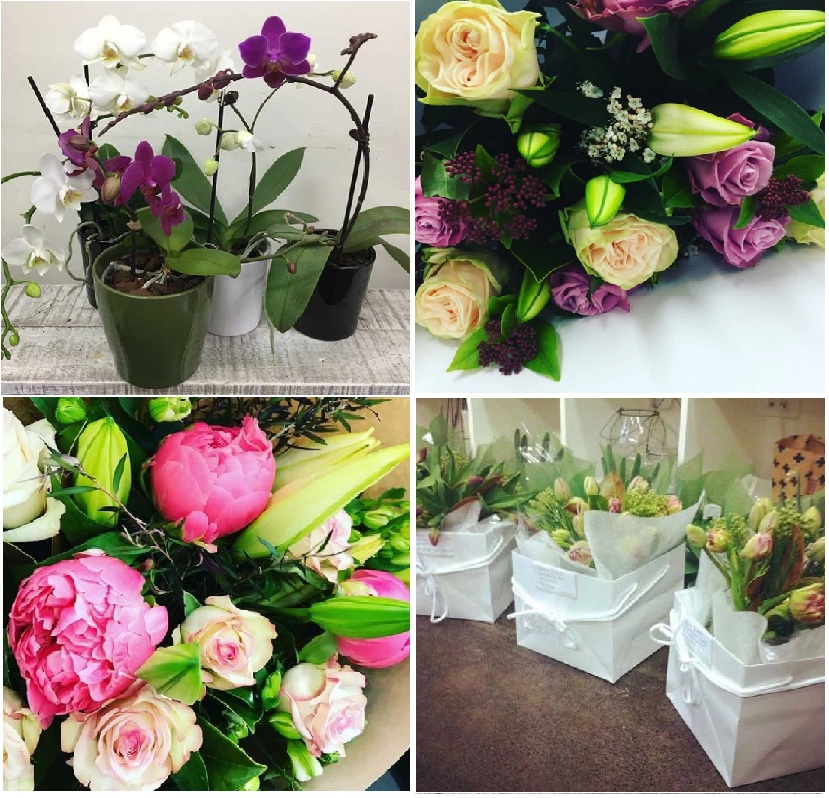 Snickel Lane Florist is a flower shop that does not merely sell fresh flowers; they also incorporate their passion in art by playing with color, style, and texture and applying it to all their bloom products.
The shop always makes sure that they create unique and stunning arrangements so they make it a point to never lose their artistic touch. 
In fact, they offer to provide your offices or business spaces stunning and fresh floral arrangements every week. By availing this service, your area will always be refreshed and have that weekly glow that can help you set up a good working vibe.
WHAT PEOPLE LIKE
STYLISH ARRANGEMENTS.

The shop promises that their artistic touch to your flower arrangements will make your business spaces more vibrant and lively as they design each product uniquely to perfectly suit your office spaces,

 CUSTOMER SATISFACTION.

Nothing is more important than knowing that your customers are satisfied with your work, that is why Snickel Lane Florist strives to create flower arrangements that are truly amazing and a service that is incomparable.
PRODUCTS
Bouquets

Romantic arrangements

Plants

Corporate arrangements
DELIVERY AND PAYMENT
Payments can be made through AMEX, Mastercard, Visa, and Apple Pay
14. IAIN STEPHEN FLORAL DESIGN

With over 20 years of experience, Iain Stephen Floral Designs is your go-to for high quality fresh blooms. The talented team behind the brand has great attention to detail and offers each and every customer the ability to customise their orders.
SPECIALTY

Fresh flower bouquets

SELECTION SIZE

Small

STARTING PRICE

From $75

DELIVERY FEE

Calculated at checkout

WEBSITE

https://www.nzflowers.co.nz/

SOCIAL MEDIA

https://www.facebook.com/Iain-Stephens-Floral-Design-155011557916352/

https://www.instagram.com/iainstephensfloral/

CONTACT DETAILS

 +64 (09) 5222960  | [email protected]
WHAT PEOPLE LIKE
INTERNATIONAL ORDERS. Are you from somewhere outside Aucland? Drawn to one of Iain Stephen Floral Design's bouquets or arrangements? There's no reason to fret, since the shop is a member of Interflora, a network that allows flower shops to cater to residents outside their locations.
SEASONAL EXCLUSIVES. Flowers bloom and wilt. Not only that, but not every flower is available all year round. Hence, seasonal exclusives at Iain Stephen Floral Design. Need some holiday decor? They're small catalogue has got your back.
PRODUCTS
Fresh Flowers
Potted Plants
Posies
Wedding Flowers
Event Design
DELIVERY AND PAYMENT
Payments can be made through AMEX, Mastercard, and Visa.
15. THE FLOWER VAULT

With their blooms coming from their local flower market, The Flower Vault not only creates arrangements for any occasion, they also do it in style! With their great artists, they always muster up intricate designs that would always leave customers happy and satisfied.For whatever event you may need their services for, rest assured that they would deliver whatever you ask of them, and more.
| | |
| --- | --- |
| SPECIALTY | Seasonal Bouquets |
| SELECTION SIZE | Small |
| STARTING PRICE | Starts at $10 |
| DELIVERY FEE | Standard $12 |
| WEBSITE | |
| SOCIAL MEDIA | IG: @theflowervaultnz |
| CONTACT DETAILS | (09) 212 1242 |
WHAT PEOPLE LIKE
UNMATCHED QUALITY. Known in all of Auckland, The Flower Vault makes only the best of flower arrangements and has been trusted by many of their previous clients in creating what they want for them.
FREE LOCAL DELIVERY. Enjoy free delivery wherever you are in Auckland, as they bring your blossoms to your front step!
PRODUCTS
Boxed Flowers start at $40
Bouquets start at $40
Vased Flowers start at $40
Single Stem Flowers start at $10
DELIVERY AND PAYMENT
Details given at checkout
16.      THE FLOWER PROJECT

The Flower Project aspires to make a difference, and is all about cultivating creativity. They offer a wide selection of fresh, quality, and beautiful arrangements. With their Flower and Gift Subscription, you can receive fresh flowers at your door once a week, fortnight, or 3 weekly. They deliver in all areas of Auckland– from the market directly to your door.
WHAT PEOPLE LIKE
FLOWER SUBSCRIPTION. The Flower Project will regular deliver fresh flowers from the morning's market to your door. You can have these delivered on a market day of your choice– Monday or Friday.
GIFT SUBSCRIPTION. Their regular deliveries come with a personalised card to let the lucky recipient know about the subscription gifted to them– along with the details of said subscription. If you would like to include a special message, you can let them know via the Notes section at checkout
PRODUCTS
Flower Subscription: $45.00-$85.00
Gift Subscription: $45.00-$85.00
Other floral arrangements: $55.00-$99.00
DELIVERY AND PAYMENT
Same Day Delivery for orders before 9:30AM. 
VISA, MasterCard
17. Bouqo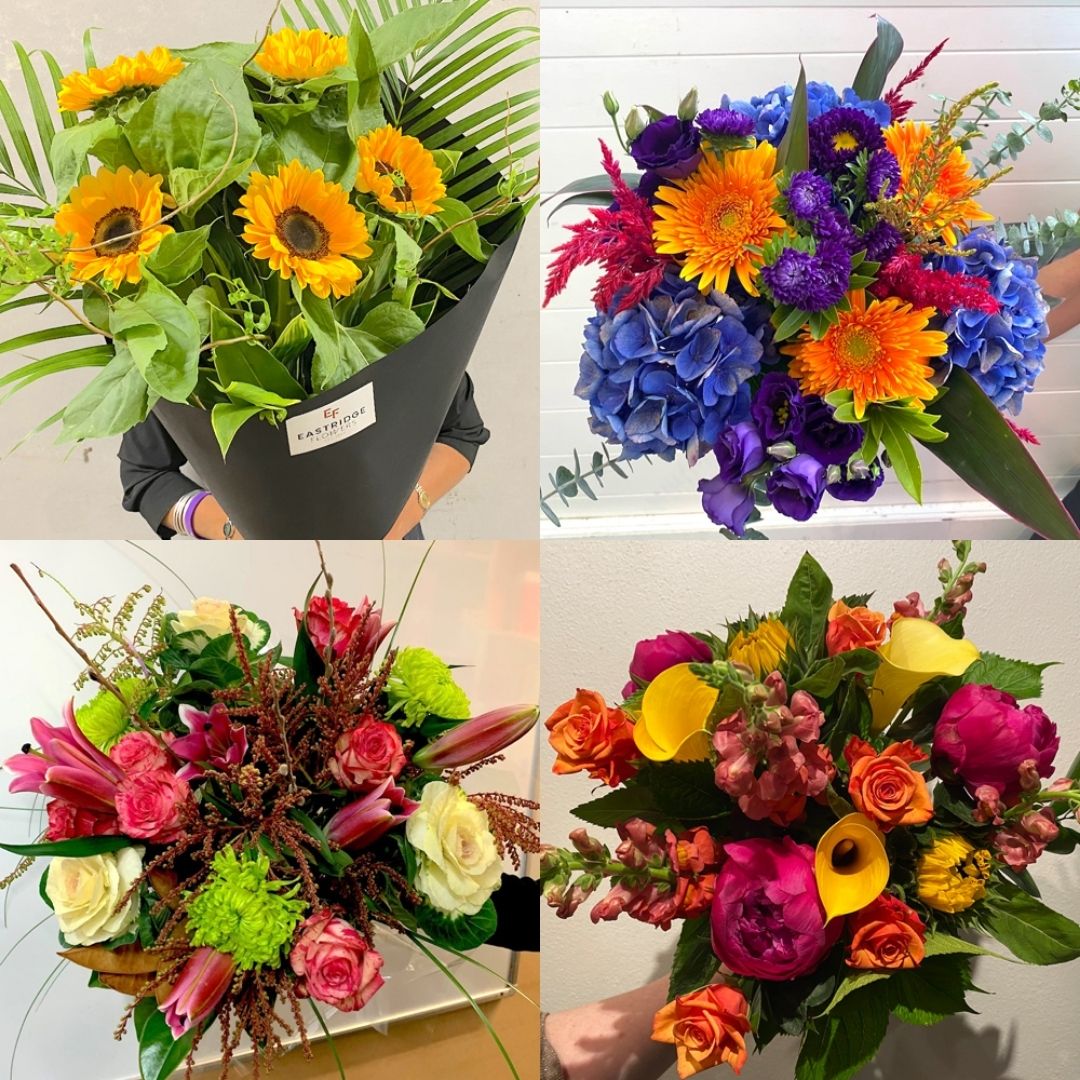 Bouqo helps you find the perfect arrangement for any occasion. With only a few clicks in their website, Bouqo can actually curate you a few listings from the initial questions.
What's more, is that through their talented and amazing florists, you're guaranteed to get your needed flower bouquet in premium quality, at its best price.
WHAT PEOPLE LIKE
Same Day Delivery – Bouqo is the place to check if ever you're in need of gifts that can be delivered quickly. With their same day delivery, you can order on their website and receive it the same day. Just make sure to order before 1pm on weekdays, and before 9am on a Saturday.
Anonymous Flowers – If you're too shy to give your bouquet and gifts to your crush upfront, have Bouqo send them anonymously! They're sworn to secrecy, and just as long as you input your recipient's correct details, then rest assured they'll be able to receive them and enjoy the blooms you've bought.
PRODUCTS
Hand-tied flowers
Flowers in Vase
Floral Bouquet
DELIVERY AND PAYMENT
Payment details are given upon checking out.