If you think of Middle East, the piping hot yellow sand will probably first come into your mind. But did you know that it's not only the great sight you will see in that place. In Riyadh, you will find various shops that sell blooms. They are around the corner and everywhere you look, you'll find one. So, we narrow down the list to save you from wasting time browsing in Google. What are you waiting for? Let's find out the best flower delivery services in Riyadh with affordable bouquets.
Note: Since lockdown in Saudi Arabia has been lifted, most of the flower shops in our list have returned to normal operations, although with strict implementation of safety measure. Most of the ones featured here are already accepting orders, unless otherwise stated.
We've noted the ones with relevant policy adjustments in dealing with the pandemic.
1. LITTLE FLORA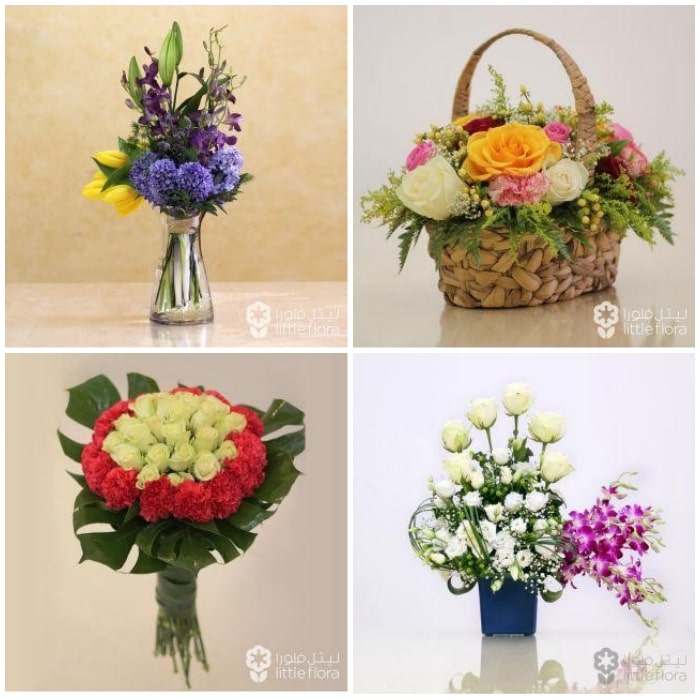 Little Flora is one of those first flower shops that introduced online shopping in Riyadh. It came into being in February 2014 and has continued to serve the public with their floral arrangement. The online shop aims to provide convenience without compensating the quality of the product. As such, they have gorgeous flower designs and styles. You may easily browse through their catalog and select your preferred blooms.
WHAT PEOPLE LIKE
TRACK ORDER. Little Flora partners with reliable network of shipping courier like UPS, FedEx, and DHL. Thus, you may track your orders from time to time. Details of how you can update the status of your flower will be sent to your email or order page.
SECURE PAYMENT. The shop knows the anxiety of those who transact online. The fear of getting your card information by a stranger and being used by them. So, they take the necessary measure to secure your personal data as well as your card. In fact, they have SSL certificate which means that all date are encrypted in their website.
24/7 CUSTOMER SERVICE SUPPORT. Since their goal is 100% customer satisfaction, their customer support is online 24 hours a day. Thus, if you experienced technical problems while processing your order, you may contact their staff to seek help. Also, this is a relief if you're a night person.
PRODUCTS
FLOWER BOUQUET: SAR250 – SAR500
FLOWER BASKET: SAR220 – SAR500
VASE ARRANGEMENT: SAR 200 – SAR500
DELIVERY & PAYMENT
Payments may be made through VISA, MasterCard, PayPal, Discover, and Stripe.
2. SPRINGROSE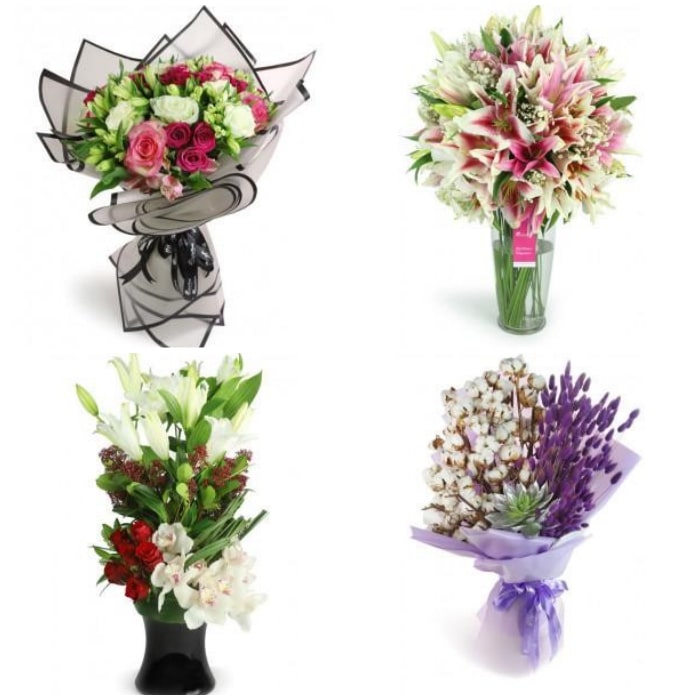 Another well-known flower shop in Saudi is Spring Rose. They offer various high-quality flowers especially those in season for spring. You may buy from their collections of floral arrangement curated by their qualified and experienced florists. Aside from their very talented florists, the shop has a team of professional designers which are responsible in arranging flowers during occasion.
| | |
| --- | --- |
| SPECIALTY | Bouquets for any occasion |
| SELECTION SIZE | Small |
| STARTING PRICE | SAR350 |
| DELIVERY FEE | Free |
| WEBSITE | https://www.springrose.com.sa |
| SOCIAL MEDIA | Instagram: @springroseshop Snapchat: @springroseshop Twitter: @springroseshop |
| CONTACT DETAILS | Contact Form |
WHAT PEOPLE LIKE
MOBILE APPLICATION. If you're someone who doesn't like scrolling on your browser, then Spring Rose has a solution for you. And that's their mobile application. This means that you may download their app and browse through their catalogue just like how you do with your social media. It relieves the buyer for they can easily open the app and order from there instead of dialing a phone number or going to a particular site.    
ORDER TRACKING. Tracking your order is also possible with them. You just need to enter the order number indicated in your form and the site will update you. Thus, you will know the status of your flower—whether it's already in transit or not yet up for delivery.  
PRODUCTS
FLOWERS FOR ANY OCCASION: SAR350 – SAR823
ARTIFICIAL FLOWERS: SAR340 – SAR700
DELIVERY & PAYMENT
Orders are delivered from 9:00 am to 10:00 pm, Saturday to Thursday, and at 4pm to 10pm on Fridays.
3. RIYADH GIFT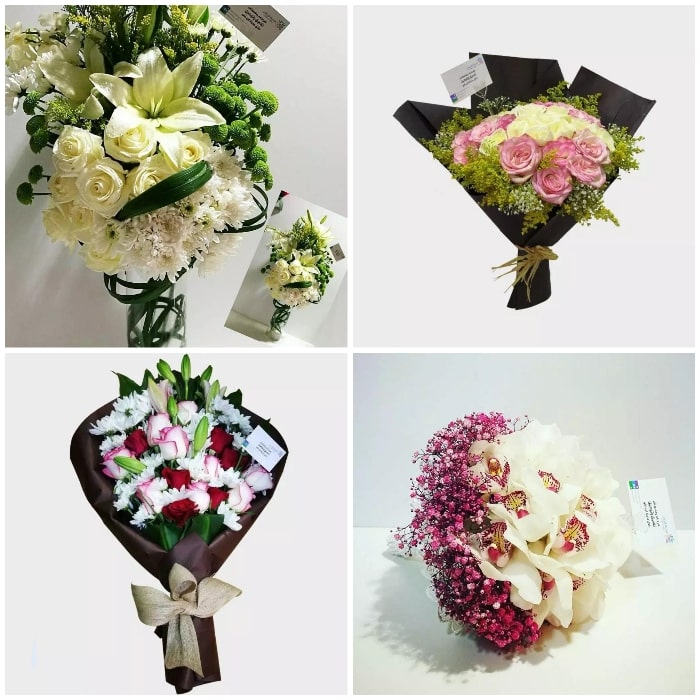 Riyadh Gift is not your one-stop shop when it comes to gift items. They have wide selection of blooms as well as other products that are perfect for any occasion. What makes them stood out among its competitor is their flower box. You may select from their gift items which include watch, perfume, pouch, and mobile phone.  After choosing, they will enclose it in a box filled with complementary flowers.
SPECIALTY
Custom-made gift box
SELECTION SIZE
Moderate
STARTING PRICE
SAR140
DELIVERY FEE
Free
WEBSITE
https://www.riyadhgift.com/
SOCIAL MEDIA
Instagram: @riyadh_gift Facebook: /riyadhgift1 Twitter: @riyadh_gift  
CONTACT DETAILS
0565 086417 |

[email protected]
WHAT PEOPLE LIKE
PERSONALIZED GIFT BOX. Want other gift items aside from flowers? Flower Riyadh is here for you! They have different products that you may select and include in your order. As such, your recipient will not only adore the beauty of the blooms but also be in awe with your gift.   
SMARTPHONE APPLICATION. Similar to Spring Rose, they also introduce mobile application as a way to ease the process of shopping flowers. In fact, the app has a message feature allowing clients to communicate with their staff.
PRODUCTS
FLOWER BOUQUET: SAR140 – SAR1,000
FLOWER BASKET: SAR150 – SAR500
GIFT BOX: SAR280 – SAR650
CAKE: SAR350
DELIVERY & PAYMENT
They accept mada, VISA, MasterCard, and PayPal.
Note: One of the few flower shops that continue to deliver flowers despite the pandemic. Customers may place their orders on the website.
4. GARDENIA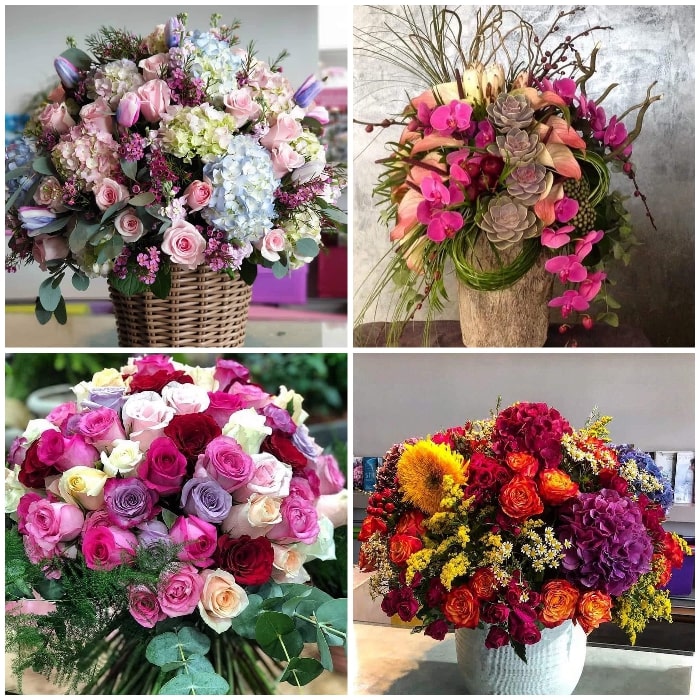 You may also buy your flower bouquets from Gardenia. They are recognized by the locals for having stunning floral arrangement and good service. As of now, their online shop can be found as a Facebook page. But sooner, they will have their own site which you can access to order blooms. Going back, their page contains useful information about flowers that are included in their bouquet or box.
| | |
| --- | --- |
| SPECIALTY | Fresh flowers |
| SELECTION SIZE | Moderate |
| STARTING PRICE | Inquire for cost |
| DELIVERY FEE |   |
| WEBSITE | https://www.facebook.com/gardeniaonline.com |
| SOCIAL MEDIA | Instagram: @gardenia.online |
| CONTACT DETAILS | +966 126606162/ +966 11216686/ [email protected] |
WHAT PEOPLE LIKE
GORGEOUS FLOWER BOUQUETS. Their products are considered to be one of the most beautiful floral arrangements in the local. They have florists which are all dedicated in creating stunning bouquets and vase arrangements. You may contact them for queries and questions.
PROMPT DELIVERY. The shop values time and customer satisfaction. Thus, their staff makes sure that all the orders will be delivered on time. They have efficient delivery system which allows them to satisfy their customers.
PRODUCTS
FLOWER BOUQUETS: Inquire for cost
DELIVERY & PAYMENT
5. LARES FLOWERS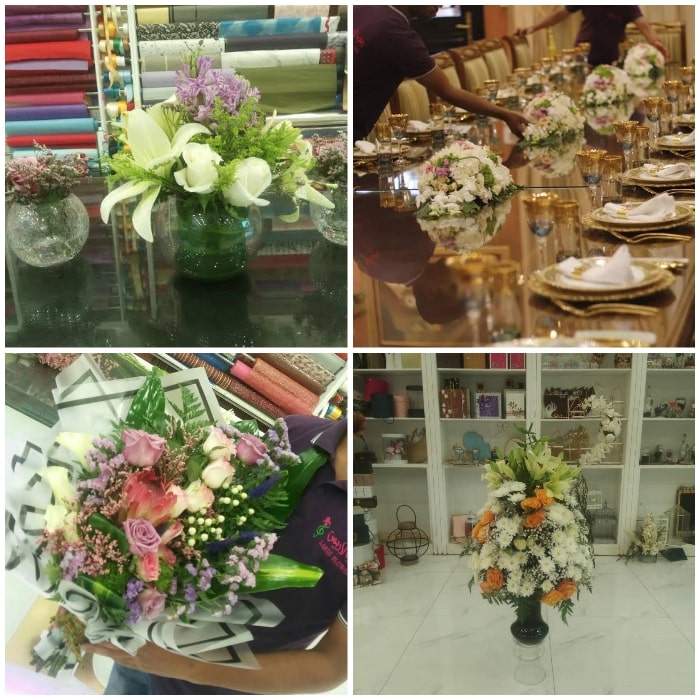 Laris Flowers is a flower shop that operates from Monday to Sunday. They also have a physical store which you can visit to see the blooms personally. They take pride on their gift box with a video display. Customers can choose from the available videos that will complement their order. Aside from that, the shop accepts services of flower needs during occasion.
| | |
| --- | --- |
| SPECIALTY | Gift box with videos |
| SELECTION SIZE | Moderate |
| STARTING PRICE | Inquire for cost |
| DELIVERY FEE | Calculated upon checkout |
| WEBSITE | https://www.lares-flowers.business.site |
| SOCIAL MEDIA |   |
| CONTACT DETAILS | 053 779 9766 |
WHAT PEOPLE LIKE
MIDNIGHT SHOP. Not only Laris Flowers opens their shop 7 days a week, they also serve their customers during wee hours. Their shop begins to operate at 9 in the morning until 12 in the midnight. As such, customers don't need to rush just to buy a good bouquet.
AFFORDABLE BOUQUET. Customers love the budget-friendly flower bouquets and vase arrangement of the shop. You may inquire from them to know how cheap their products are.
PRODUCTS
FLOWER BOUQUET: Inquire for price
DELIVERY & PAYMENT
6. GIFT GATE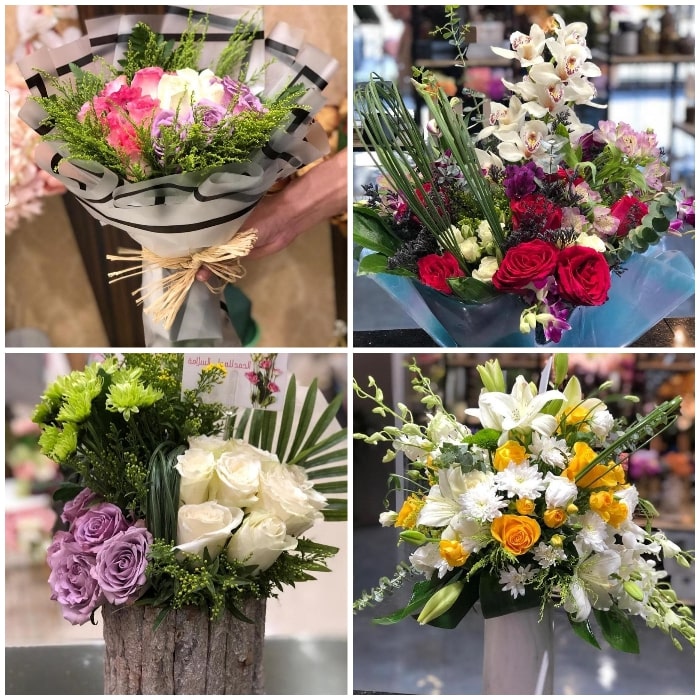 Next on the list is Gift Gate. They are made up of professional florists which craft unique and stylish flower arrangements. They combine different kinds and colors of flowers to create one stunning arrangement. You may choose from bouquets, vase arrangements, or flower boxes.
| | |
| --- | --- |
| SPECIALTY | Flower boxes |
| SELECTION SIZE | Enormous |
| STARTING PRICE | Inquire for cost |
| DELIVERY FEE |   |
| WEBSITE | https://www.instagram.com/giftgate22 |
| SOCIAL MEDIA |   |
| CONTACT DETAILS | 0564 049 711 | 0542 511 833 |
WHAT PEOPLE LIKE
EXCELLENT CUSTOMER SERVICE. Customer is their number one priority. Thus, they ensure that all clients will be provided with prompt and good customer support. Their staff are friendly and accommodating—everyone gets their chance of asking question or recommendation.  
UNQUE FLOWER ARRANGEMENT. Their florists are armed with knowledge and skills when it comes to arranging flowers. You will see beautifully combined blooms hand tied in a bouquet, vase, or box. Their creations are not boring and is not classic. They don't offer the typical style and design of flowers.
PRODUCTS
FLOWER BOUQUET/VASE ARRANGEMENT/FLOWER BOX: Inquire for price
DELIVERY & PAYMENT
Note: It's currently accepting orders for both pick up and delivery. Customers may check the website to know which flowers are available as of the moment.
7. FLOWER LONGING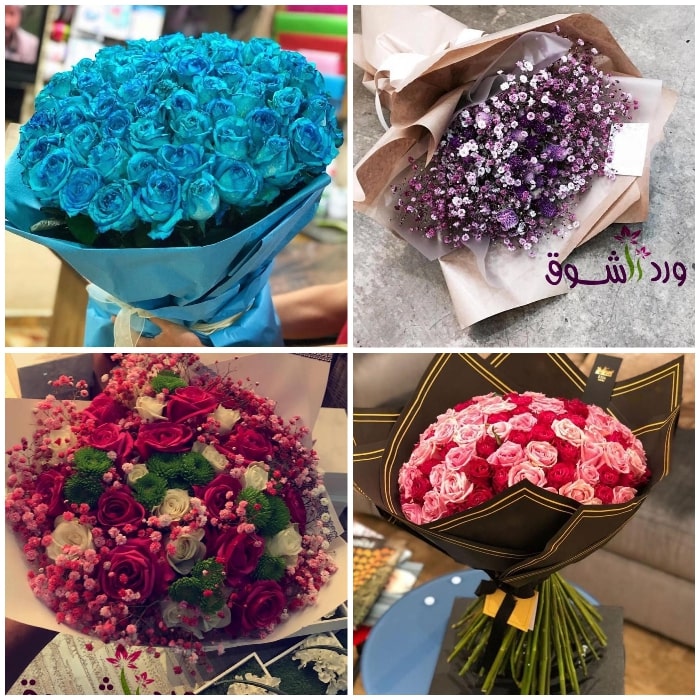 If you love roses, Flower Longing is the shop for you! They have wide variety of flower arrangement with rose as the main bloom. There's a large blue rose bouquet, classic red roses, and a combination of white and pink roses. You may also find tulips, baby's breath, and other seasonal flowers. Their design is perfect for any occasion—may it be wedding, graduation, or corporate events.
| | |
| --- | --- |
| SPECIALTY | Rose bouquets |
| SELECTION SIZE | Moderate |
| STARTING PRICE | Inquire for cost |
| DELIVERY FEE |   |
| WEBSITE | https://www.instagram.com/wardalshoq.com |
| SOCIAL MEDIA |   |
| CONTACT DETAILS | 056 111 2769 |
WHAT PEOPLE LIKE
LONG BUSINESS HOURS. To accommodate more customers, the shop operates until 11 in the evening. This is a great help to those who work in the morning and go home late at night. They can easily drop a call or visit the store to place orders.
FRIENDLY STAFF. All their staffs are helpful to the client. Their workers entertain questions and recommendations from their buyers. So, if you're having problems with placing an order, just approach their staff or ring their phone.
LONG LASTING FLOWERS. Customers also loved how the blooms stay longer than the usual. One noted that his order lasted for about 1 week. This is only possible because they use fresh flowers and premium one from their supplier.
PRODUCTS
FLOWERS: Inquire for price
DELIVERY DETAILS
8. FLORIST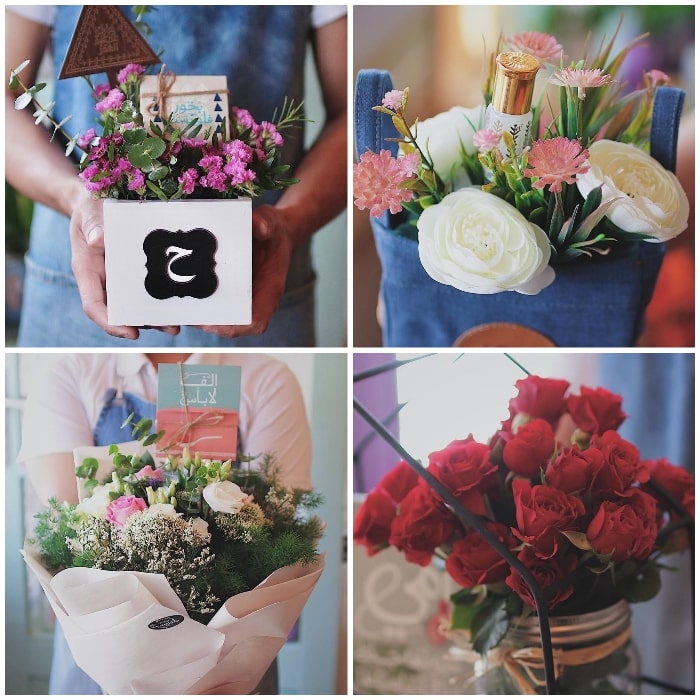 Florist is also one of the best online digital florists which offer quality bouquets. They have over 137,000 followers in the Instagram. So, you're sure that their products are well-loved by the public. The shop sells blooms stored in classy and cool containers. There are also those wrapped in their signature white paper with their logo. Small gifts can also be bought from their store.
| | |
| --- | --- |
| SPECIALTY | Unique flower arrangements |
| SELECTION SIZE | Large |
| STARTING PRICE | See Instagram photos for prices |
| DELIVERY FEE |   |
| WEBSITE | https://www.instagram.com/florist_sa |
| SOCIAL MEDIA |   |
| CONTACT DETAILS | 056 158 5074 |
WHAT PEOPLE LIKE
UNIQUE AND FUN GIFT ITEMS. If you're running out of ideas when it comes to gift, don't worry because Florist will save your day. They have various gift items which are playful yet classy. For instance, they have a small tote bag with flowers and bottle design inside.    
REFRESHING FLOWER ARRANGEMENT. Tired of classic arrangement? Then, this is the shop for you. Their florists shy away from the traditional style of blooms. As such, they create floral arrangements with modern and contemporary design. You will surely love it!
PRODUCTS
FLOWER ARRANGEMENT: Inquire for cost
DELIVERY DETAILS
Images were taken from each company's official websites/social media.