Green flowers are a bit more unusual than the rest, given this is the color of the stem and grass already. Still, it makes for a unique and serene gift or addition to your garden or dining table.
Now, if you're ready to start, here are some of the most popular green flowers. We will discuss each of them here, particularly their looks, special meanings, and more!
1) Greensleeves Rose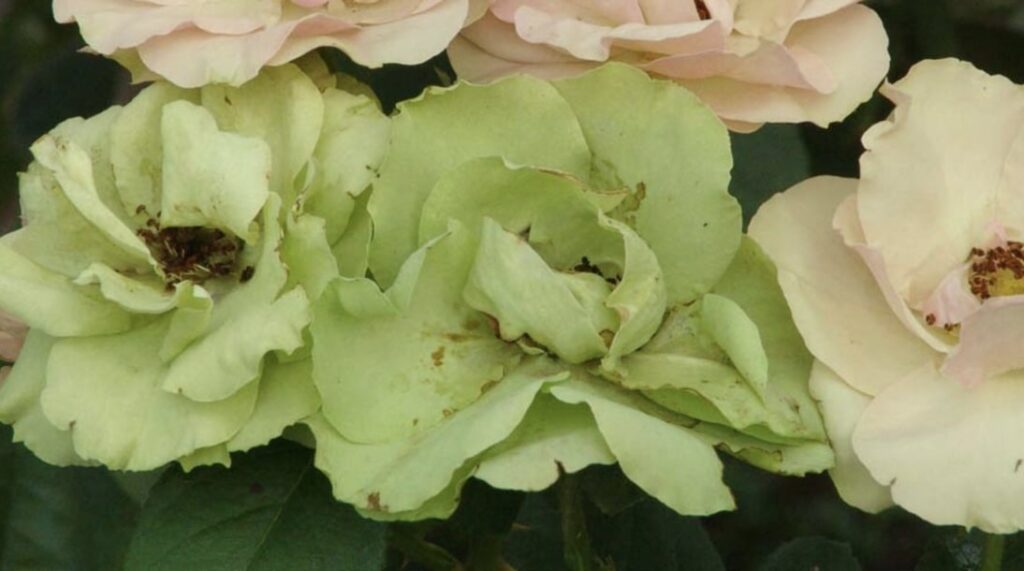 Greensleeves rose are a special kind of rose bred in 1980 in the United Kingdom. It starts from pink, fades and turns into white, and then finally, into green.
Belonging to the Floribunda flower category, it contains more than one flower in a single stem. Also, it has 15 to 20 petals—double that of ordinary roses, which only have 5 to 10 petals.
Their color can range from sea green to lime green, which are all majestic and distinct. However, Greensleeves roses only have pale colors as opposed to artificially dyed green roses.
The meanings of this popular flower are beautiful and aplenty such as perfect and eternal love. It can also be taken to mean a fresh start, new opportunities, a long life, and prosperous ideas.
2) Chrysanthemum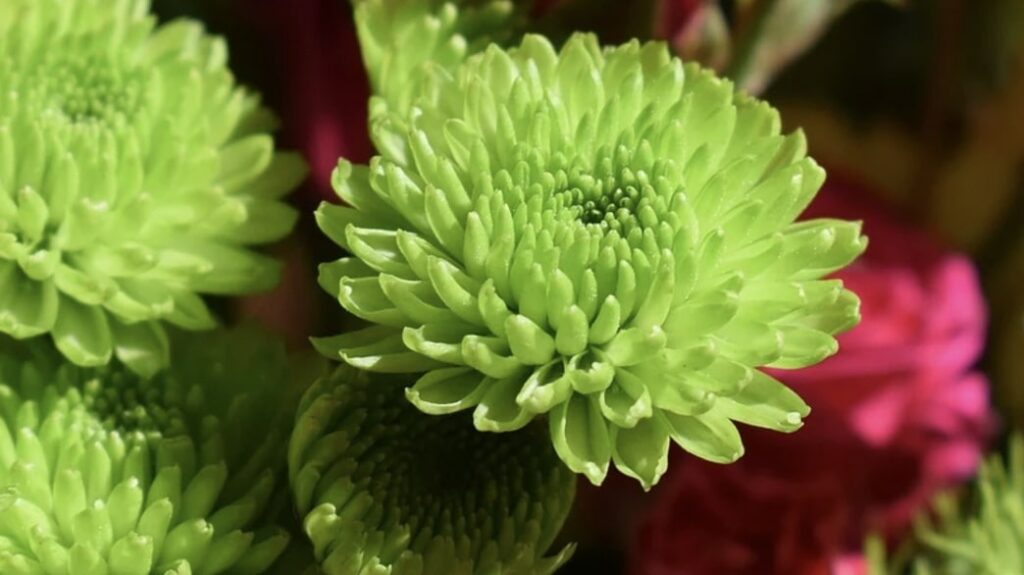 Also called mums, chrysanthemums are annual and perennial plants. They come in a wide range of varieties, shades, and sizes.
Its notable bright green types are the Shamrock whose row upon row of petals look like spider fangs and small button pompons which look amazing to arrange on a vase.
Now, these flowers have different meanings around the world. But, in general, they represent jolliness, optimism, good fortune, longevity, and youthfulness.
3) Bells of Ireland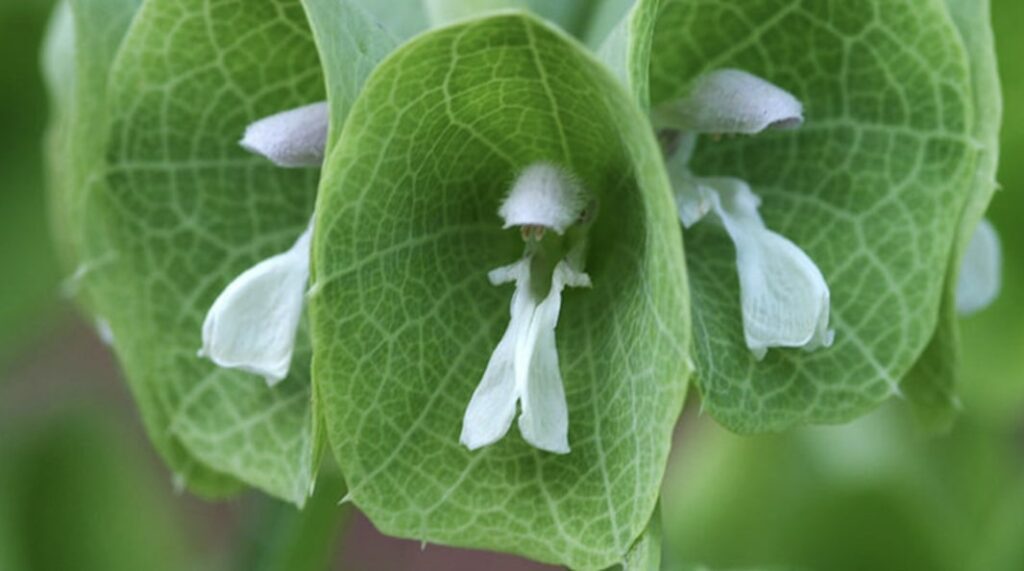 Bells of Ireland comprises bell-shaped blossoms proudly standing on a single stalk. As the flowers bloom, they reveal a small white flower in the center.
Like gladioluses, these flowers can add height to your fresh bouquet or arrangement. You can also dry them yourself by picking them in the morning before they bloom and hanging them in a cool and dry place for two or three weeks.
As for their meaning, they are a symbol of good luck on your present undertaking or for the future. And so, they make for a great gift for birthdays, graduations, New Year's Day, overseas trips, etc.
4) Tulip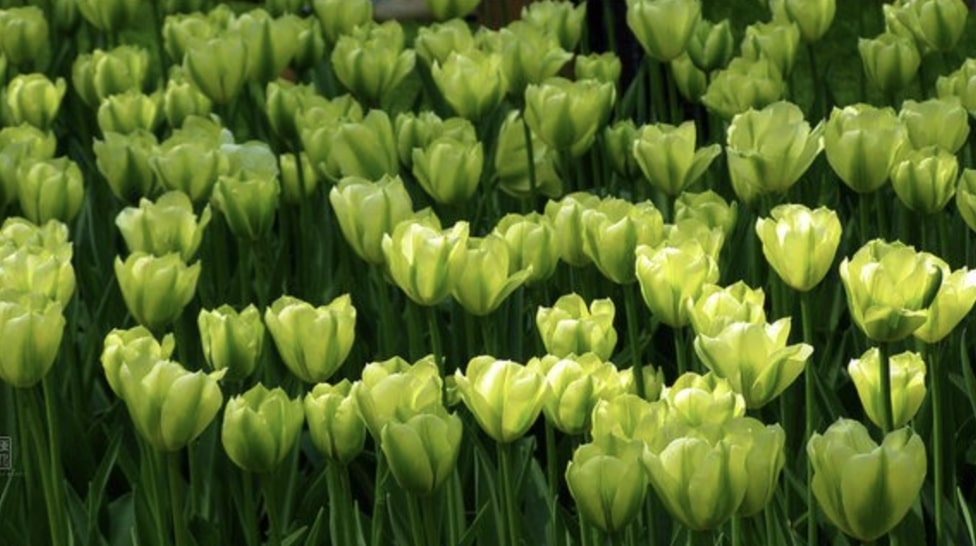 If you look closely in the picture above, these tulips are mostly of a yellow shade with the green color accenting them lightly.
This gives them a glowing, magical look that rivals other tulip colors. These blooms aren't only striking but they also bloom for a longer period compared to other flowers.
Tulips are one of the first flowers that grow during spring. For that reason, you can associate green tulips with growth, renewal, and rebirth.
5) Ranunculus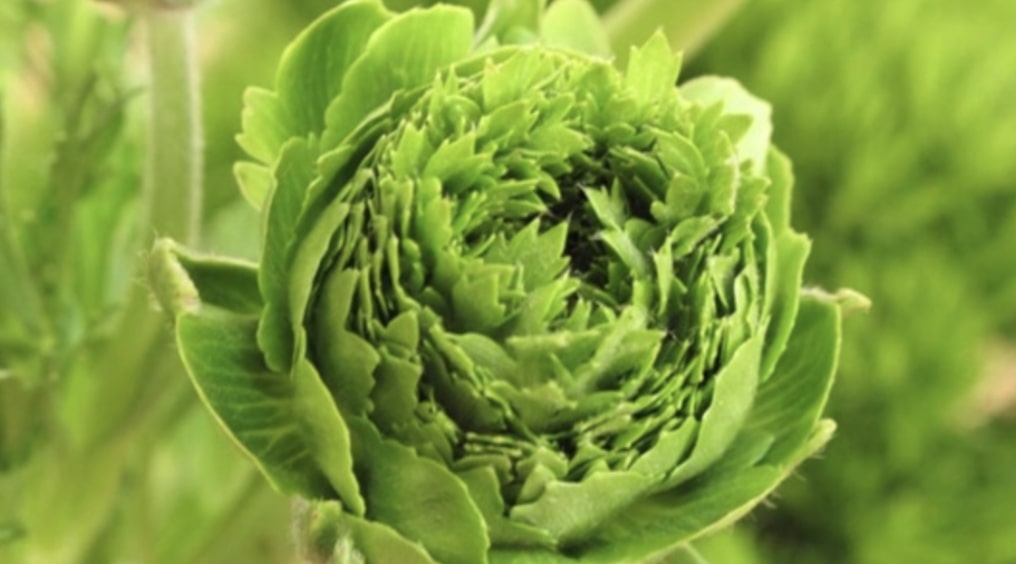 A ranunculus a.k.a. buttercup has mesmerizing beauty owing to its sophisticated petals. It resembles a peony or rose and is mostly used for luxurious flower displays and weddings.
This flower in green brings a whole new touch, expressing charm and calmness in one. Certainly, it will be loved by nature and peace lovers alike whether they will use it as cut or dried flowers.
Also, they thrive in cool temperatures of around 55℉. They usually bloom 90 days after you have planted them and you can already pick the beautiful buttercups in 4 to 6 weeks thereafter.
More Resources on Green Flowers