Every day we have lots of reasons to celebrate; it may be your parents' anniversary, the birthday of your pet, a promotion at work, or just simply waking up and moving on with your life. These celebrations may be simple or grand, but what is important is you celebrate appropriately. One thing that you can start with is choosing the right flower for each occasion. It may not be an easy task, but with some professional help, you will be guaranteed with a memorable experience that you will treasure for a lifetime.
To help you start with your planning phase, we have listed some of the best florists that you can find in KL.
1. PURE SEED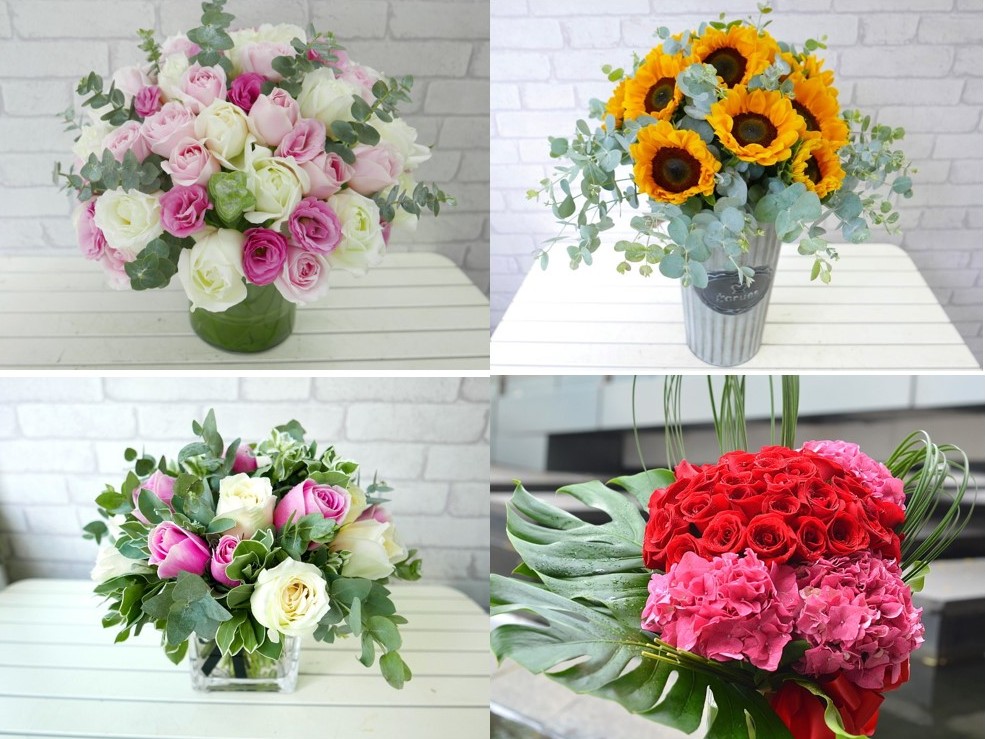 Since 1998, Pure Seed has been providing excellent quality service to the entire area of Kuala Lumpur. Their collection of flower arrangements is originally designed by their creative professional florists. Over the years, Pure Seed has gained experiences in coordinating with clients, handling orders, and delivering orders that made them one of the most credible and trustworthy flower shops in the area.
WHAT PEOPLE LIKE
OFFERS STORE CREDIT. Every purchase that you make in the store comes with reward points that you may save and eventually use for future purchases. Through this feature, all the money that you put in will be used in many sorts and the more you buy flower products from them, the more perks you get in the long run.
FRESH DEALS EVERY MONTH. While the shop receives daily supply of fresh flowers from their farm suppliers to make sure that all their products are in best condition, the shop make it to a point to feature certain products every month that they think would be best to feature depending on the season and occasion. So, if you are uncertain on what type of flower arrangement to buy, you may use their monthly deals as your guide.
SAME DAY DELIVERY. This offer is suited best for those who have busy schedules and do not have the time to place their orders ahead of time. The shop offers same day delivery to any point in Kuala Lumpur, with specific delivery charges, depending on the distance of delivery address from the shop or from the centre of KL.
PRODUCTS
Flower Vase – MYR 185.00 to MYR 700.00
Flower Box arrangement – MYR 95.00 to MYR 500.00
Hand Bouquet – MYR 70.00 to MYR 400.00
DELIVERY AND PAYMENT
Delivery charge start at RM 10. Meanwhile, the payment methods accepted are any major credit and debit cards and money remittance centres.
2. BLOOMTHIS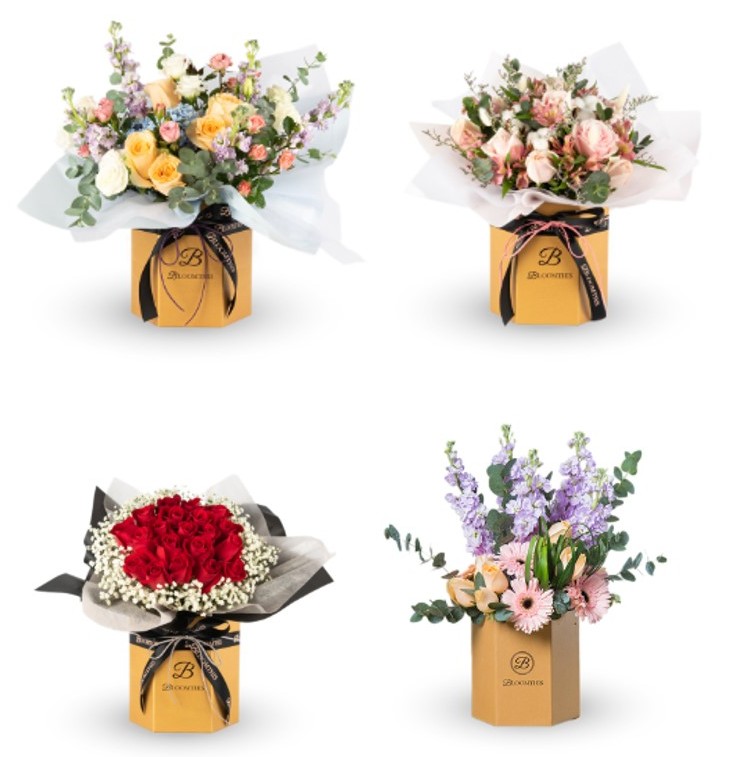 Bloomthis was founded on love and passion. Together, the founders elevated the industry of floral arrangements and added e-commerce and personalized delivery services. With this, many customers claim to be 100% satisfied and amazed by how the shop is able to handle all orders with utmost care. For the team of Bloomthis, flowers are more than pretty creations; they are means to express our feelings and emotions that we cannot put into words.
SPECIALTY
Unique boxed arrangements
SELECTION SIZE
Large
STARTING PRICE
Starts at Rm 99.00
DELIVERY FEE
Calculated at checkout
WEBSITE
https://bloomthis.co/
SOCIAL MEDIA
FB:http://facebook.com/bloomthis IG:@bloomthis YT:https://www.youtube.com/channel/UCbJINtwDRB-0lvaqJFH7L_g
CONTACT DETAILS

Email: [email protected]

Tel: +60126890215
WHAT PEOPLE LIKE
DRIED FLOWER COLLECTION. If you are a fan of preserved flowers that are usually made as home or office decor, then this collection of Bloomthis is perfect for you. The shop does not want to waste any product as they see them as really precious creations that is why they make the most out of their flowers by creating dried flower collections of bouquets, flower baskets, box arrangements, etc.
FLORAL SUBSCRIPTION. The shop offers Weekly, Bi-Weekly, & Monthly Subscription of flower arrangements which is best for corporate groups who are constantly in need of flower arrangement supply. This subscription is a win-win for you because it comes with perks and privileges that only the subscribers can avail.
CUSTOMER-FRIENDLY. One of the most applaud qualities of Bloomthis is their good relationship with their customers. They are able to attend to all their customers' concern and they give utmost priority to their comfort and satisfaction that is they their loyal clients constantly place their orders to them.
PRODUCTS
Designer Flower – RM 99.00 to RM 200.00
Hari Raya Flowers – RM 79.00 to RM 200.00
Luxurious Flowers – RM 239.00 to RM 300.00
Condolence Flowers – RM 209 to RM 600
DELIVERY AND PAYMENT
Standard delivery service runs from 10am-6pm and the accepted payment methods are Visa and Mastercard.
3. HEVA GIFTS
Make every occasion more special with Heva Gift's flower and gift collection. Every bouquet and arrangement is made with only the best and brightest blooms, making them one of the greatest presents you can possibly give someone. 
SPECIALTY

Hand bouquets

SELECTION SIZE

Large

STARTING PRICE

RM 88

DELIVERY FEE

Free Delivery to KL, PJ and Kepong (11:00 – 6pm)
Free Delivery to whole Klang Valley for all orders above RM350
06:00am – 10:30am – RM20 + Fees according to the Location
07PM – 10:PM – RM30+ Fees according to the Location

WEBSITE

SOCIAL MEDIA

IG: @hevagifts.com.my
Facebook: https://www.facebook.com/HEVAGifts/

CONTACT DETAILS

Landline: +6 03 7620 1735

Mobile / WhatsApp / Telegram:
+6 017 33 03 914
WHAT PEOPLE LIKE
FLOWER CARE. Worried about your precious fresh flowers drooping so soon? Don't know what to do to make them last longer? Heva Gifts has the perfect free gift for you: an in-depth flower care guide that will help you make those blooms stay vibrant for a while.
EXCLUSIVE GIFTS. What's better than gifting flowers? Gifting flowers with chocolates, of course! At Heva Gifts, you can take your pick from their exclusive catalogue which features their best blooms, accompanied by some scrumptious sweets. 
PRODUCTS
FLOWER BOUQUETS
CHOCO BERRIES BOUQUETS
FLOWER ARRANGEMENTS
FLOWER COMBINATIONS
CAKES AND CUPCAKES
DELIVERY AND PAYMENT
Same day delivery is available for orders placed before 1:00 pm. Delivery is 100 % Free within the KL City, Petaling Jaya, and Kepong for all orders (11:00 – 6pm). Delivery is 100% Free within the Klang Valley for all Orders from RM250 and above.
4. GIFLORIST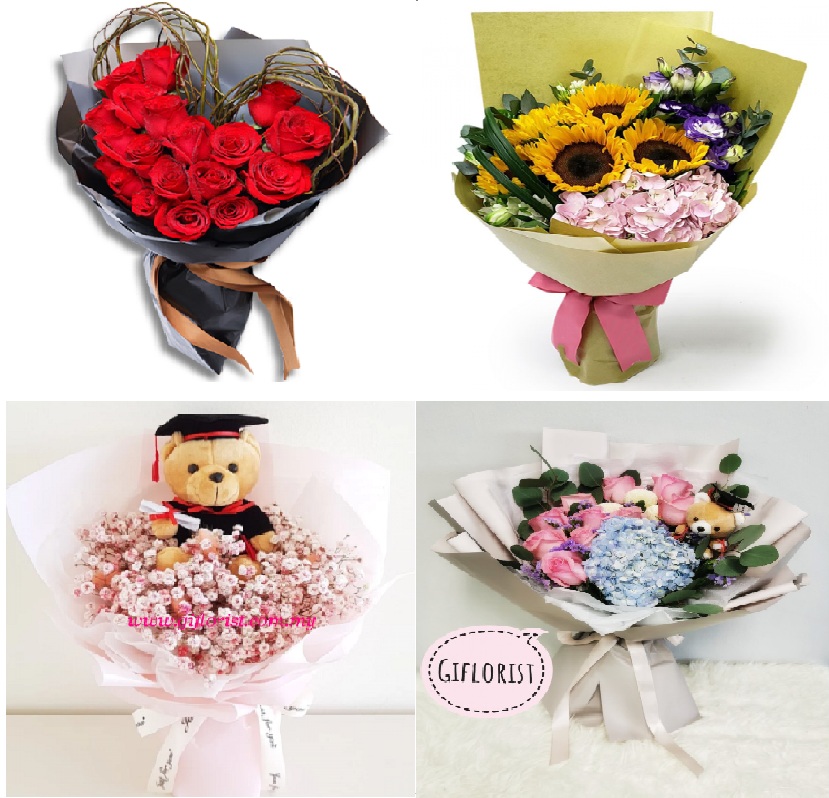 Giflorist provides unique yet distinctive designs that are perfect for all kinds of occasions and celebrations. They have a team of committed florists who create your bouquets and floral arrangements. 
They always thrive to create the best floral arrangements that you deserve as they aim for you to be 100% satisfied with their work. Since their customers are of prime importance as flowers, their professional staff guides you on whatever transaction you would like with them.
| | |
| --- | --- |
| SPECIALTY | Wrapped bouquets |
| SELECTION SIZE | Large |
| STARTING PRICE | From RM 109 |
| DELIVERY FEE | Calculated at checkout |
| WEBSITE | |
| SOCIAL MEDIA | https://www.facebook.com/Giflorist |
| CONTACT DETAILS | 011-34774499 |
WHAT PEOPLE LIKE
TALENTED STAFF.

They are equipped with not just knowledgeable staff, but also with the most talented ones. Their creative hands are the reason behind the shop's success. Order now and enjoy the beauty that is exclusively from Giflorist.

AMAZING SELECTION OF FLOWERS.

 Due to the talented staff, they have earned great portfolio of products that are one of a kind and gorgeous. These distinctive designs set them apart from their competitors.
DELIVERY AND PAYMENT
Delivery runs from 9am-6pm and they also provide express delivery only within Klang Valley area.
5. TheFloristMarket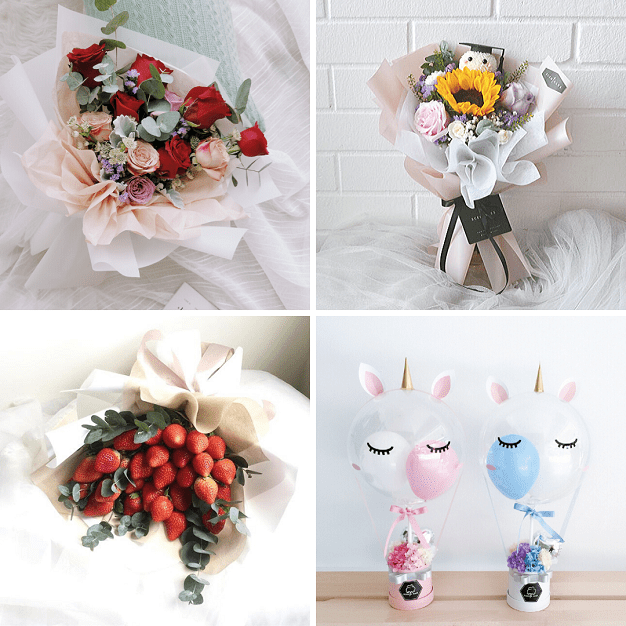 The Florist Market started in 2016 as an online marketplace where you can find listings of local florist that offers flower delivery services within the city of KL as well as in Selangor, Malacca, and Johor Bahru,. It is registered under TheFloristMarket Enterprise (JM0807764-A). 
By availing The Florist Market's service, you can easily discover which store you can contact if you are in need of the finest and freshest flowers in the area. It can also easily provide you with a collection of products to choose from for a seamless shopping experience.
| | |
| --- | --- |
| SPECIALTY | Elegant wrapped bouquets |
| SELECTION SIZE | Large |
| STARTING PRICE | From RM 29 |
| DELIVERY FEE | Calculated at checkout |
| WEBSITE | |
| SOCIAL MEDIA | https://www.facebook.com/thefloristmarket/ |
| CONTACT DETAILS | WHATSAPP VIA 011-59401990 |
WHAT PEOPLE LIKE
USER-FRIENDLY.

Free yourself from the hassle of jumping from one online shop to another and enjoy the perks of having The Florist Market on your browser bookmark. By just visiting their website, you will be presented with tons of options of flower arrangements and local florists so you can save some time looking for the best one that fits your needs.

SAFE PAYMENT.

The team guarantees that any transaction with them, especially payments are highly secured and safe. All of your details are kept in high confidentiality you can trust that you are billed accordingly.

E-GREETING CARD. The Florist Market improve the greeting message experience by including a video/audio/photo uploaded by sender. The receiver can just scan the QR code in the greeting card to view the video together with the message
PRODUCTS
Hand tied bouquets
Wrapped bouquets
Centerpieces
Wedding flowers
Sympathy flowers
Grand opening flowers
Balloon Flower Box
Graduation  Bouquets
Chocolate Bouquets
DELIVERY AND PAYMENT
The payment methods accepted are PayPal, Mastercard, Bank Transfer, 7 Eleven
6. BLOOMSHOP FLORIST 
Bloomshop wants to provide the people of KL a set of affordable yet stunning flower arrangements that are suited for all kinds of season and occasion. With their careful attention to details and proper combination of colour, style, and texture, they are able to showcase their wonderful flower products that truly express beauty, love, and joy.
WHAT PEOPLE LIKE
AFFORDABLE ITEMS. Sending flowers does not have to be expensive and this is always the idea of Bloomshop. They want to reach all the people of KL that is why they make an effort of creating high quality of flower arrangements without having to spend too much money. Whether you want a bouquet for your special someone or a basket of fresh flowers, guaranteed that you can get all of those at fair amount.
LARGE SELECTION. It is always nice to have lots of options especially when it comes to choosing the best and most appropriate flower arrangement for a specific event or recipient. Whatever flower arrangement you may need, Bloomshop is always ready to provide you with tons of options that vary in size, colour, and style.
PRODUCTS
Hand Bouquet
Korean Style
Flowers Basket
Graduation Bouquet
DELIVERY AND PAYMENT
The shop offers free delivery service while payment method includes Visa, Mastercard, Western Union, PayPal, and bank transfers.
7. PETALBEES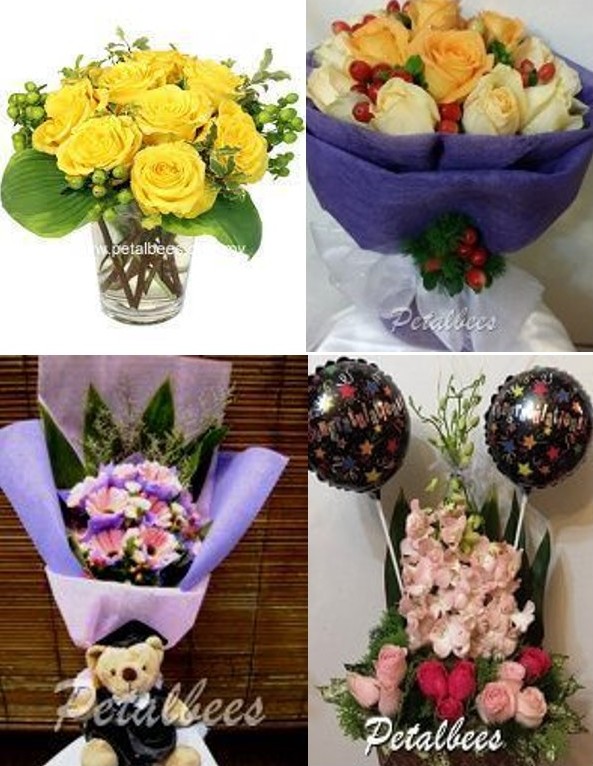 With the intention of delivering sincerest wishes and thoughtful gifts, Petalbees makes an effort to create stunning flower arrangements and provide excellent delivery services to their beloved customers. They believe that through their flower products, any message and emotions that a person is having a hard time to communicate will be properly expressed.
WHAT PEOPLE LIKE
EXCELLENT OVERALL SERVICE. One of the reasons why their customers keep coming back to them is the fact that they maintain a good relationship with their clients by providing them with excellent quality of service starting from receiving their orders to delivering them. Their efficiency is truly one of their greatest assets that make them one of the best.
FLOWER TALK. If you do not typically go flower shopping or it is literally your first time to send someone flowers, you might need some professional assistance to help you choose the best and most appropriate flower for a specific event or recipient. Through Flower Talk which can be found in their website, you will able to know what message a specific flower brings and to what kind of occasion or season it is more appropriate to give.
PRODUCTS
Hand Bouquet – MYR 200 to MYR 1000
Flower Baskets – MYR 79.00 to MYR 500.00
Box Flower Arrangement – MYR 69.00 to MYR 500.00
Vase Arrangement – MYR 79.00 to MYR 700.00
DELIVERY AND PAYMENT
The accepted payment methods are Visa, Mastercard, PayPal, and bank transfers.
8. GARDEN SCENTS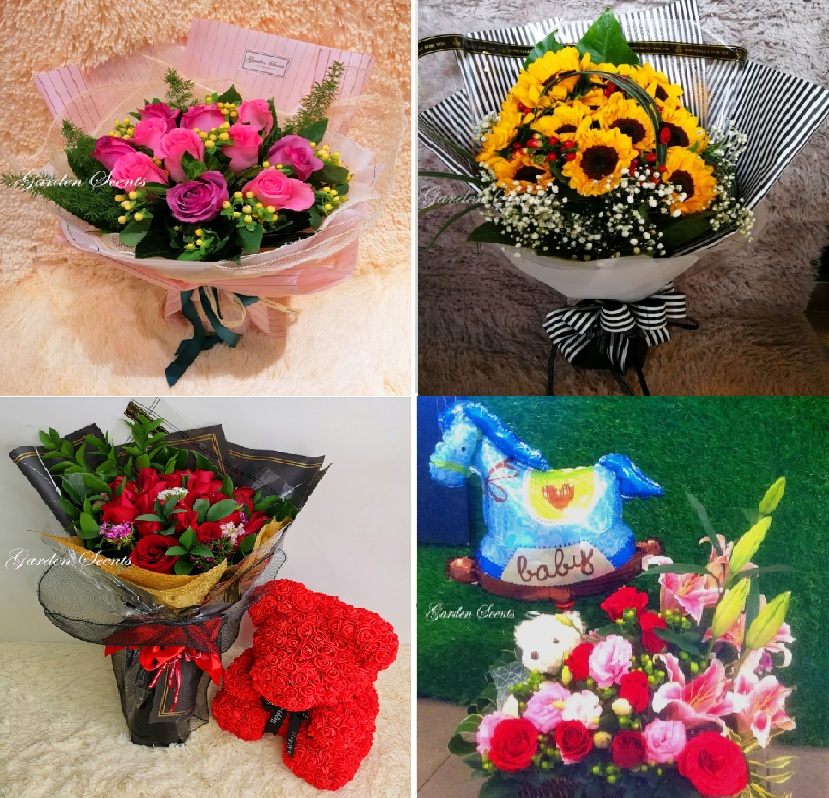 Garden Scents is best known for their unique floral arrangements which was inspired by Pretty Little Things. 
They are firm that through their handcrafted floral arrangements, they will be able to help their beloved clients express their genuine feelings. The shop truly invests in good relationship with their customers that is why they always prioritize them, aiming for a 100% customer satisfaction.
If you want to see what else they can offer, you are always welcome to visit their webshop for a hassle-free shopping.
WHAT PEOPLE LIKE
FLOWER SUBSCRIPTION.

Can't get enough of their stunning floral arrangements? Then you should subscribe now to their weekly or monthly flower delivery so you will never run out of their precious collection of fresh blooms.

FREE DELIVERY.

Don't miss the chance to avail their delivery services free of charge if you purchase a total amount of RM 450 or above.
PRODUCTS
Bouquets

Wedding flowers

Vase arrangements

Flower fruit baskets

Wreaths
DELIVERY AND PAYMENT
Payment methods accepted are PayPal, Visa, Mastercard, Maestro, AMEX
 9. OLEA FLORIST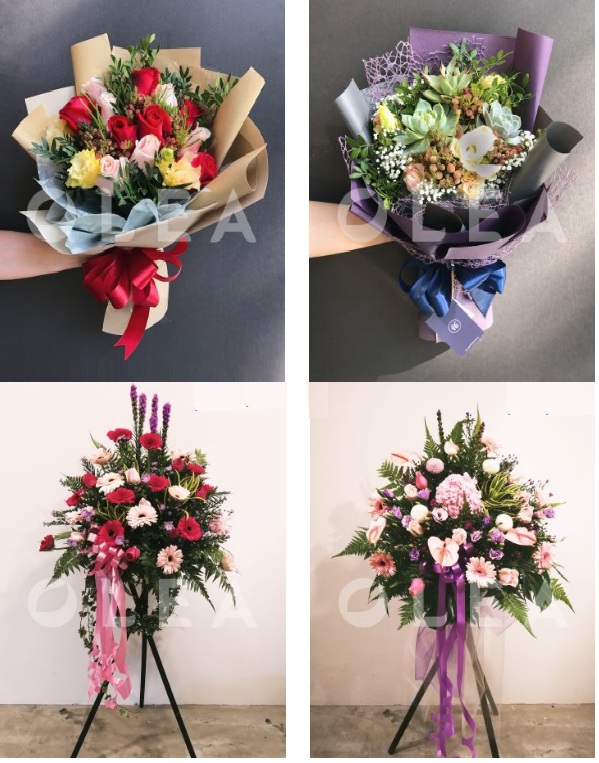 Orea Florist is a local flower studio located in Taman Desa, Kuala Lumpur that is highly known for providing exquisite floral designs to make your events and home spaces look more stunningly beautiful. 
Aside from offering these beautiful collection of fresh blooms, they also specialize in conceptualizing and creating wedding decorations and corporate flowers. With their team a florist, an event manager and a designer, you know that your flower needs are in good hands.
WHAT PEOPLE LIKE
BEAUTIFUL FLORAL DESIGNS.

It is without a doubt that the shop creates some of the most beautiful flower arrangements that you can find in the city and with that, their clients always show satisfaction for both the products and services that they receive from the team.

CUSTOM MADE.

The shop does not limit their products with their own ideas and creations alone, should you wish you have a specific floral arrangements made aside from the ones available in their shop, you can always reach out to the team and they will gladly do it for you.
PRODUCTS
Bridal bouquet
Hand bouquet
Opening flowers
Sympathy flowers
Graduation flowers
DELIVERY AND PAYMENT
Order made before 12pm, will receive on the same day before 5pm. Order made after 12pm, will receive the next day before 5pm. They also deliver on weekends and public holidays.
The shop accepts direct bank transfer for payment.
10. PASTEL FLORIST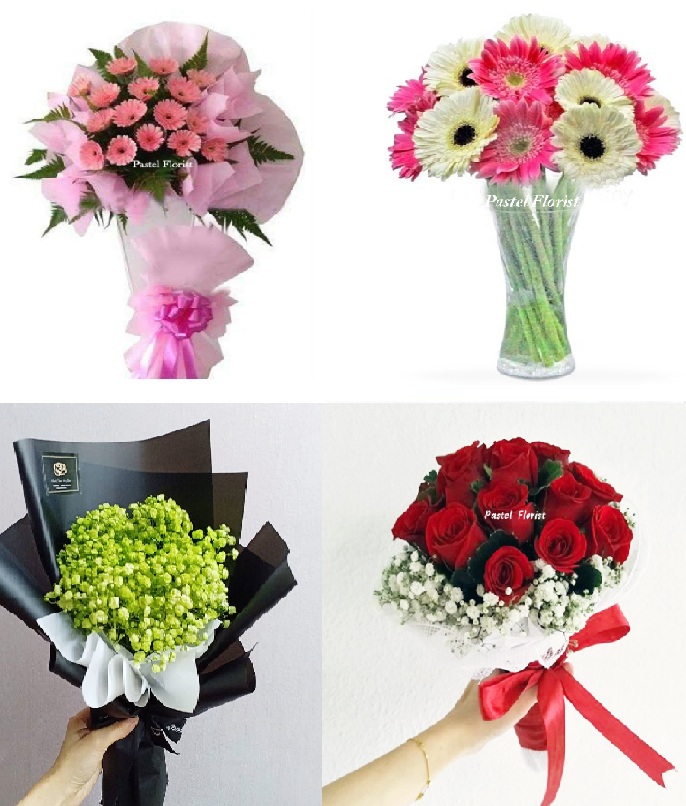 Got tons of flower arrangements in your shopping list but comes in different type of flower, color, and design? Relax, take a deep breath and visit the shop of Pastel Florist. 
When you browse through their website, you will be greeted with thousands of different floral arrangements in almost all kinds of flowers and in varying styles. 
Just select the ones that appeal to you the most and you can even have them delivered on the same day—for free even—for as long as your delivery address is within KL.
WHAT PEOPLE LIKE
LARGE SELECTION.

Whether you need a flower arrangement for a birthday, anniversary dinner, grand opening of a business, even weddings, the shop is equipped with tons of flower arrangement options to offer you.

EVERLASTING FLOWERS.

Aside from fresh blooms, the shop also extended their collection to preserved, artificial, and dried flowers so you will have plenty of options when you visit their shop.
PRODUCTS
Flower bouquets
Flower basket
Vase arrangements
Preserved flowers
Artificial flowers
Box arrangements
Chocolate flowers
Opening stand
Condolence stand
Bridal bouquet
Proposal bouquet
DELIVERY AND PAYMENT
*Free delivery within KL and PJ, and do delivery within klang valley with special delivery price.
*Same day delivery available
11. ORCHID CULTURE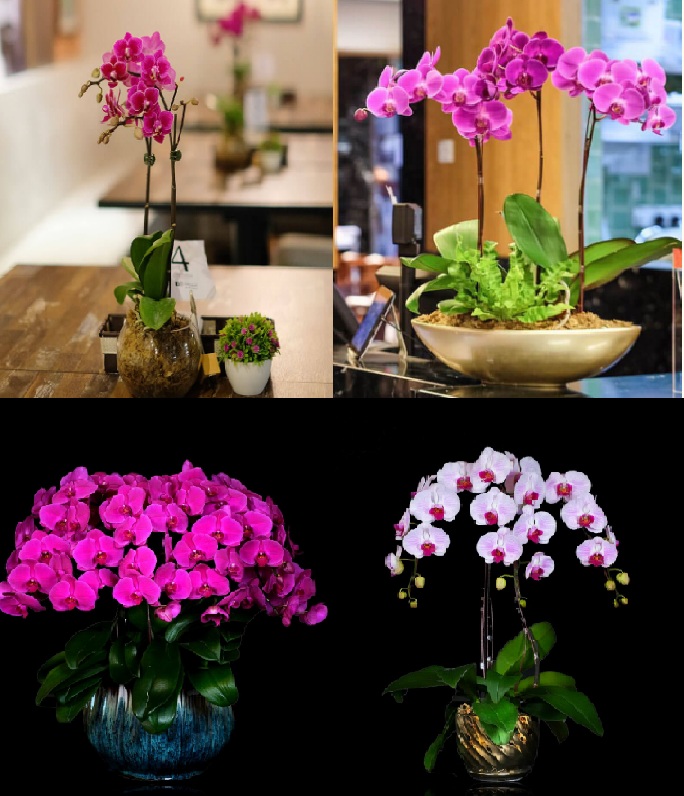 In 2013, Orchid Culture sprouted in Bangsar Shopping Centre showcasing their premium class orchids made of exquisite craftsmanship. 
Due to the team's exemplary skills and effort, they eventually managed to branch out and they are now operating 4 outlets across Klang Valley.
Depending on the seasons and planting periods, the shop typically replenish their stocks weekly to make sure that you are always presented with only the freshest and finest orchids.
WHAT PEOPLE LIKE
WELL GROWN PLANTS.

The orchids that they sell typically last up to a month, most especially if they are well taken care of. On the other hand, they also intentionally offer promotional plants which last shorter than usual which is perfect for short-term events.

LOW MAINTENANCE.

For those who would love to have their own pots of orchids but have little to no idea how to properly take care of them, the shop has a short and quick instruction on their

FAQs

page to show you how easy and simple it is to grow an orchid.
PRODUCTS
Phalaenopsis orchids
Promotional plants
Doritaenopsis plants
DELIVERY AND PAYMENT
Specific requests for delivery times require a minimum of 24 hours' notice prior to delivery. Same day delivery orders must be placed no later than 11am.
12. VISAGE DAWSON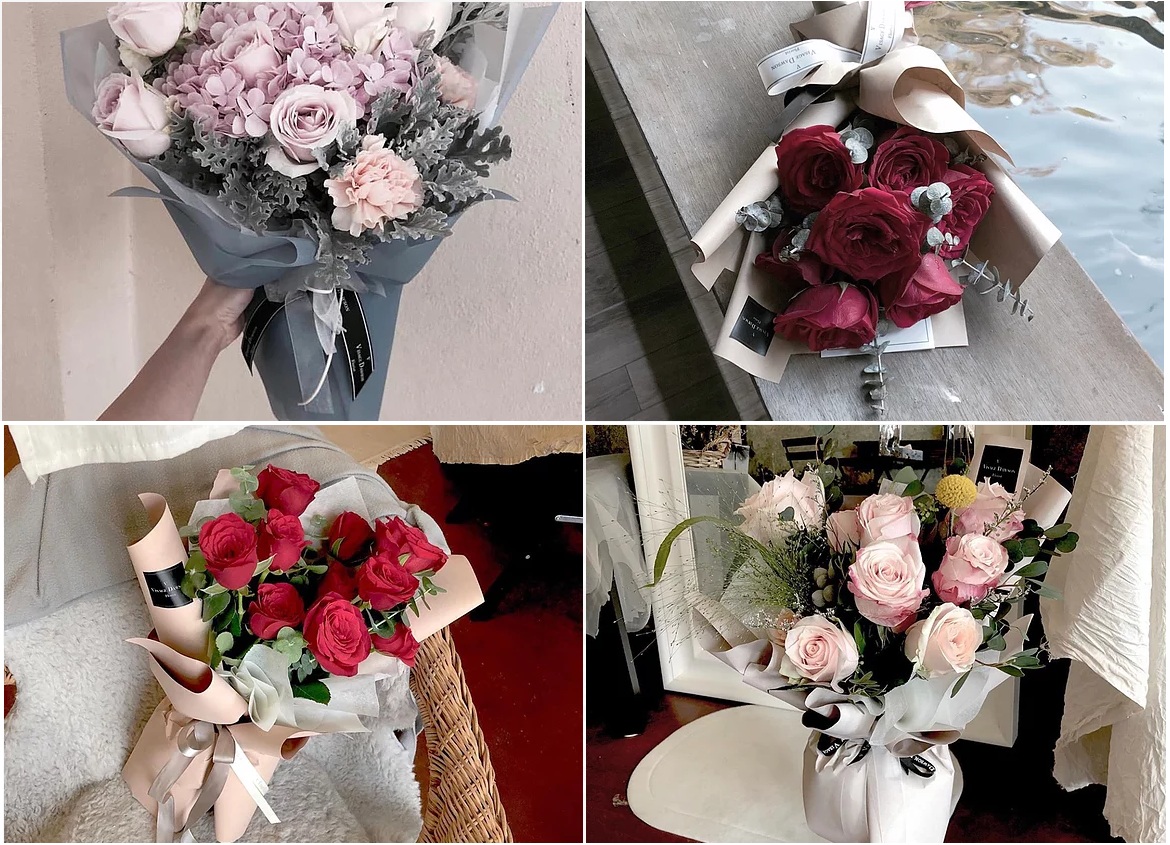 Looking for elegant flower designs at an affordable price? Visage Dawson could be the right florist for you. 
They have an exquisite taste on flower designs and they are very artistic. This in turn results in sophisticated and impeccable flower designs which are perfect for a date or for centerpiece on weddings. 
The team also holds workshops for those who are as passionate as them when it comes to combining arts and flowers. For schedules, make sure to frequently visit their website for announcements.
SPECIALTY

Sophisticated flower designs

SELECTION SIZE

Medium

STARTING PRICE

RM 18

DELIVERY FEE

Free

WEBSITE

SOCIAL MEDIA

Facebook:Visagedawson

Instagram: @visagedawson

CONTACT DETAILS

+6017-524 7057

+6016-427 7057

+05-255 7057

 
WHAT PEOPLE LIKE
SOPHISTICATED FLOWER DESIGN:

Elegant flower designs are their specialty. Their creations are not just chic in appearance, but also impeccable in quality. If you visit their site, you'll be surprised to see this beautiful design come into one. 
CUSTOMIZED FLOWER ARRANGEMENT:

If you can't find what you're looking for on their website, just send them a message. They are open to customized flower arrangements and they would be more than happy to assist you. 
FULL FLOWER DELIVERY SERVICE:

Planning for a big event? They'll be here to help. They also offer full flower service for big events like weddings, grand openings, and funerals. 
PRODUCTS
HAND BOUQUET:

RM 30 – RM 550

BRIDAL BOUQUET:

RM 18 – RM 468

PRESERVED FLOWER:

RM 358

MINI BOUQUETS:

RM 18 – RM 75

CONGRATULATORY:

RM 155 – RM 688
DELIVERY & PAYMENT
They deliver from 10:30 am to 7:00 pm. They also accommodate specific time frame of delivery, just send them an email.
13. BLOEM DESIGN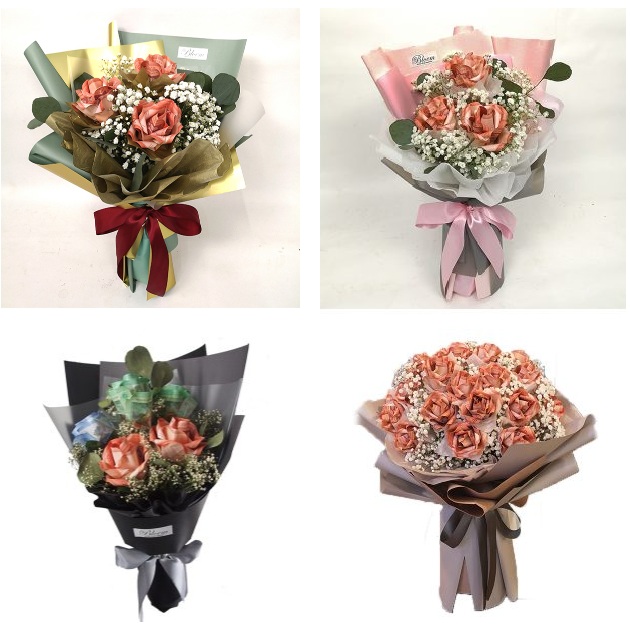 A floral arrangement that would be best anytime of the day and any season of the year is what Bloem Design is best at. The shop has a wide range of options for flower arrangements that are guaranteed to be consistently fresh and stunning, thus making them one of the top rated flower shops serving the areas of KL and Selangor.
Aside from offering fresh flowers, the shop also provides gifts and hampers that are designed to fit most celebrations and occasions.
WHAT PEOPLE LIKE
FLOWERS FOR ALL OCCASIONS.

Whether you need floral arrangements for your business' grand opening, a romantic anniversary dinner, a simple thank you flowers, or as grand as wedding flowers, Bloem Design promises to address all of your flower needs.
SAME DAY DELIVERY.

Forgot to place your orders ahead of time and badly need to send one within the day? Don't you worry because the shop offers same day flower delivery services! Just remember to not miss the cut this time at 2pm.
PRODUCTS
Rose bouquets
Money bouquets
Box arrangements
Flower stands
Sympathy flowers
Wedding flowers
Gifts and Hampers
DELIVERY AND PAYMENT
The shop offers same day delivery. Delivery on Sunday is on a case by case basis. For details regarding payment options, you may directly contact the shop.
14. SUMMER POTS FLORIST
Summer Pots Florist owns some of the most elegant and stunning floral arrangements suited perfectly for any occasions and celebrations. The shop showcases their curated collection of fresh flowers originally handcrafted by their team of talented and professional florists and designers.
Aside from fresh blooms. Summer Pots Florist also offer edible products like fruit baskets, chocolates, and wines that they believe would best complement your choice of flower arrangements.
WHAT PEOPLE LIKE
SAME DAY DELIVERY.

The shop always gives their best effort to make sure that their clients are satisfied with their work and they get the best value for money. With this, the shop included same day delivery in their services so you won't have to bother placing your orders ahead of time and you will have plenty of time to decide which one appeals to you the most.

LARGE SELECTION.

Whatever occasion it is that you may need some fresh flowers, the shop guarantees that they can provide you with the perfect flower arrangements as it houses thousands of different floral designs in varying colors and style.
PRODUCTS
OPENING STANDS
SYMPATHY FLOWERS
HAND BOUQUETS
FLOWER BOXES
WRAPPED BOUQUETS
SOAP FLOWERS
DELIVERY AND PAYMENT
Delivery is available 7 days a week. Same day deliveries order must be received by 12noon (Malaysian time – GMT+8.00).
15. ESSENCE OF FLORA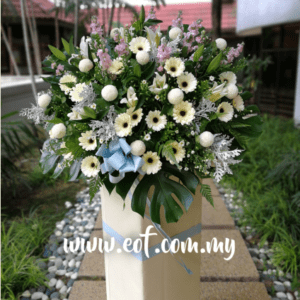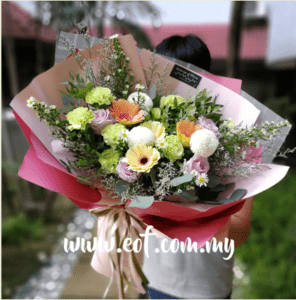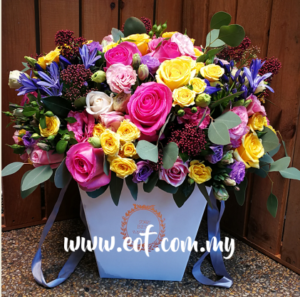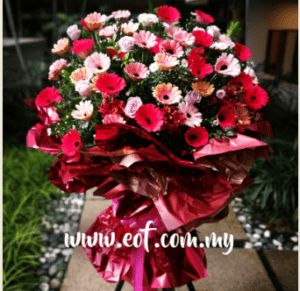 Essence of Flora is committed to providing you with exceptionally beautiful flower arrangements that will not only paint smiles to the recipients but will also be able to bring light and color to your homes and offices. 
The team makes sure that they have every kind of floral arrangement that you may need. That is why they constantly fill their collection with flower arrangements that vary in kind, color, style, and texture.
The shop never fails to go the extra mile when creating your orders so you are always guaranteed with high quality products and services.
| | |
| --- | --- |
| SPECIALTY | Trendy flower arrangement for stand of all occasions and bouquet |
| SELECTION SIZE | Large |
| STARTING PRICE | Contact the shop for the price list |
| DELIVERY FEE | FREE for selected area |
| WEBSITE | |
| SOCIAL MEDIA |  https://www.facebook.com/essence.of.flora/ |
| CONTACT DETAILS | 012-231 6177 | 012-304 6670 | [email protected] |
WHAT PEOPLE LIKE
100% CUSTOMER SATISFACTION.

The shop makes sure that their clients always get the best that they deserve and with that, they strive to provide the best quality flowers and excellent services. Their customers' 5.0 rating on Google evidently shows how satisfied their Essence of Flora's clients are.
STUNNING DESIGNS.

If you are looking for a shop that can provide you with sophisticated floral designs, Essence of Flora is the perfect one for you because they have a large collection of flowers that are all equally stunning.
PRODUCTS
HAND BOUQUETS
CONGRATULATORY FLOWERS
SYMPATHY FLOWERS
BASKET ARRANGEMENTS
WEDDING AND COOPERATE DECO
DELIVERY AND PAYMENT
Delivery is available 7 days a week; please contact the shop for more details and also the payment options.
16. FLORISM DE ART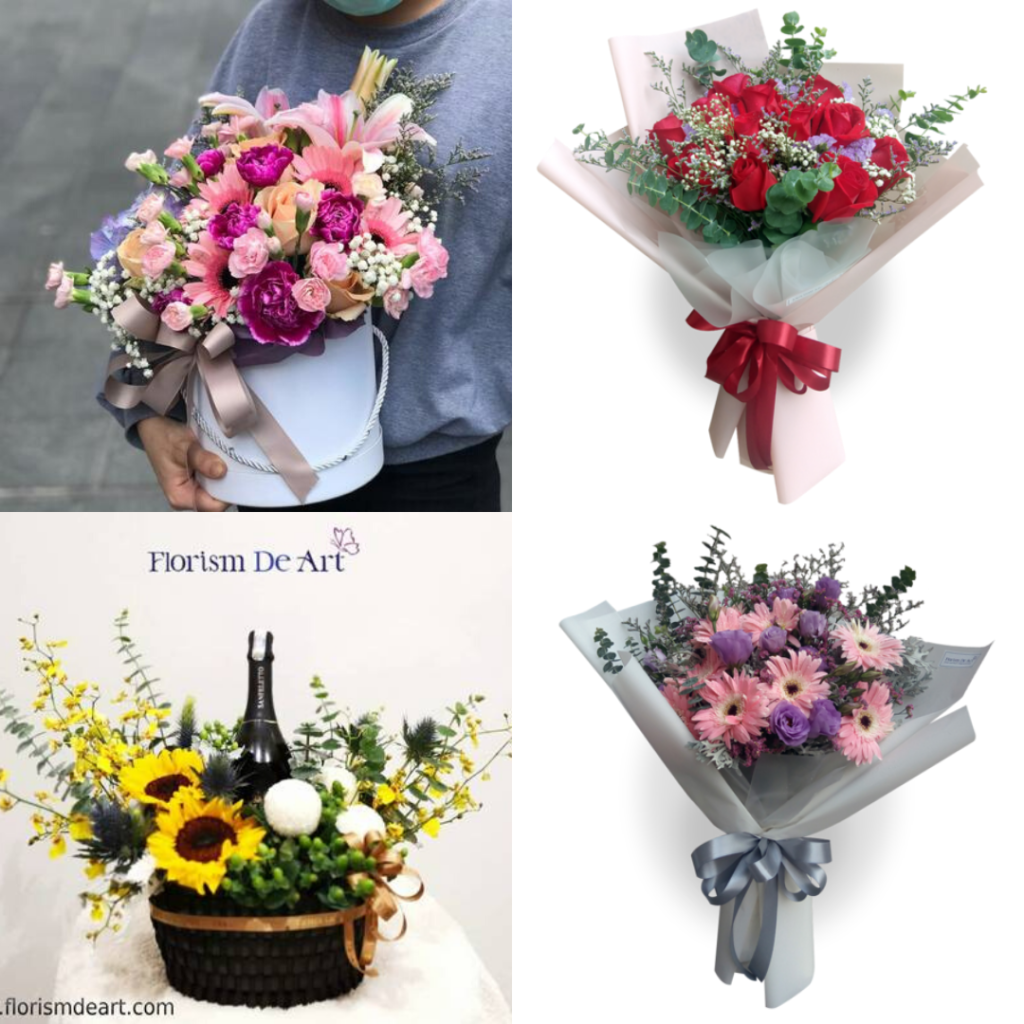 Florism De Art is a flower shop that promises to deliver excellent customer service and high quality flower products. They only use the best blooms available during a given season, and their physical shop alongside their online store makes it so every order is handled in a prompt and efficient manner. 
SPECIALTY

Flowers for any occasion

SELECTION SIZE

Moderate

STARTING PRICE

From RM 15

DELIVERY FEE

Calculated upon checkout

WEBSITE

SOCIAL MEDIA

https://www.facebook.com/florism.de.art

https://instagram.com/florism_de_art

CONTACT DETAILS

Tel / Fax:

03-2142 3855

Email:
WHAT PEOPLE LIKE
WEDDING FLOWERS. While Florism is most known for their handcrafted bouquets for any occasion, their expertise in Floristry doesn't stop there. The shop also caters to all wedding flower needs, from the bride's bouquet to the corsages and arrangements.
FLOWER CARE. Flowers are expected to wither in due time, but it doesn't mean that you can't do anything to prolong the lifespan of your orders. On Florism's website is a detailed guide on how to care for your flowers so they don't start drooping immediately. 
PRODUCTS
FLOWER BOUQUETS
FLOWER ARRANGEMENTS
FLOWER BOXES
WEDDING & PERSONAL PARTY DECORATION
OPENING & PRODUCTS LAUNCHING SETUP
WHOLESALES ARTIFICIAL FLOWER, VAST & SEASONAL ITEMS
DELIVERY AND PAYMENT
The shop accepts Visa and Mastercard for payments. 
17. Aliice Art Florist Shop
Aliice Art Florist Shop offers over 45 years of experience in flower care and arrangement. Through them, you'll be able to purchase the finest quality of blooms for a more competitive price.
Check out their listings and choose among many of their selection.
WHAT PEOPLE LIKE
Same Day Delivery – Orders can be delivered immediately the moment you checkout your floral arrangements. The shop makes sure that even last minute gifts are available for them to provide.
Fresh Flowers – Have yourself, or a special someone, be sent with the freshest flowers in town! With Aliice Art Florist Shop, you're sure to receive freshly cut blooms from local flower farms, arranged the same day it gets delivered, to have you enjoy it in its optimal condition.
PRODUCTS
HAND BOUQUET starts at RM8

FLOWERS BASKET/ VASE/BOX starts at RM60

CONDOLENCES WREATHS starts at RM80

GRAND OPENING starts at RM100

ARTIFICIAL FLOWER ARRANGEMENT starts at RM90

BRIDAL HAND TIE starts at RM50

CORSAGES/ WRISTHAND starts at RM4

WEDDING CAR DECO DESIGN starts at RM350
DELIVERY AND PAYMENT
VISA, MasterCard, FPX, MayBank, PayPal, etc.
18. Buds N Blooms Florist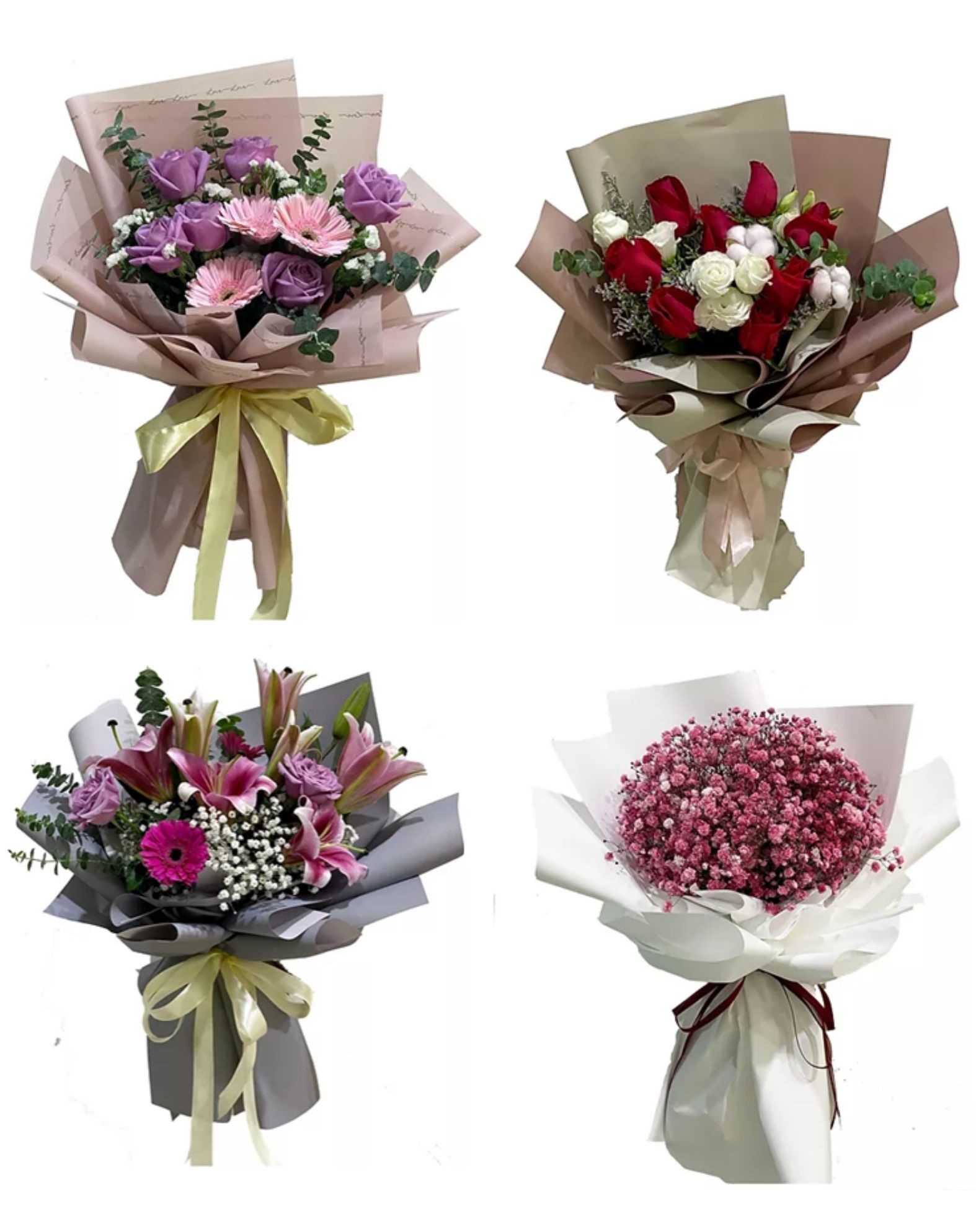 Buds N Blooms Florist caters to customers looking for flowers fit for any occasion. You may choose among many of their designs and styles available.
Crafted bouquets, baskets and stands are some of the options you can decide on.
SPECIALTY
English flower arrangements
SELECTION SIZE
Large
STARTING PRICE
starts at RM118
DELIVERY FEE
Fee is calculated upon checkout
WEBSITE
http://www.budsnblooms2u.com/
SOCIAL MEDIA
CONTACT DETAILS
+6011 – 2154 1769
+603 – 62012713
+603 – 6201 3943 (f)
[email protected]
WHAT PEOPLE LIKE
Amazing variety of flowers – Have the privilege of choosing among the beautiful blooms Buds N Blooms Florist has to offer. Rest assured that every stem is at its utmost of quality before they're let off the shop, so you know you only get the very best.
Fresh Flowers – Buds N Blooms Florist imports the best quality of buds and flowers and lets them grow in a nice environment, ensuring that your bouquet gets delivered in its freshest quality and lasts longer than common arrangements.
PRODUCTS
Bouquet
Box/Baskets
Orchids
Grand Opening
Condolence
Anniversary
Birthday
Get well/fruits"
DELIVERY AND PAYMENT
Payment methods include online and ATM banking, credit card payment, and cash payment at Buds N Blooms Florist's outlet.
19.

My Flower Florist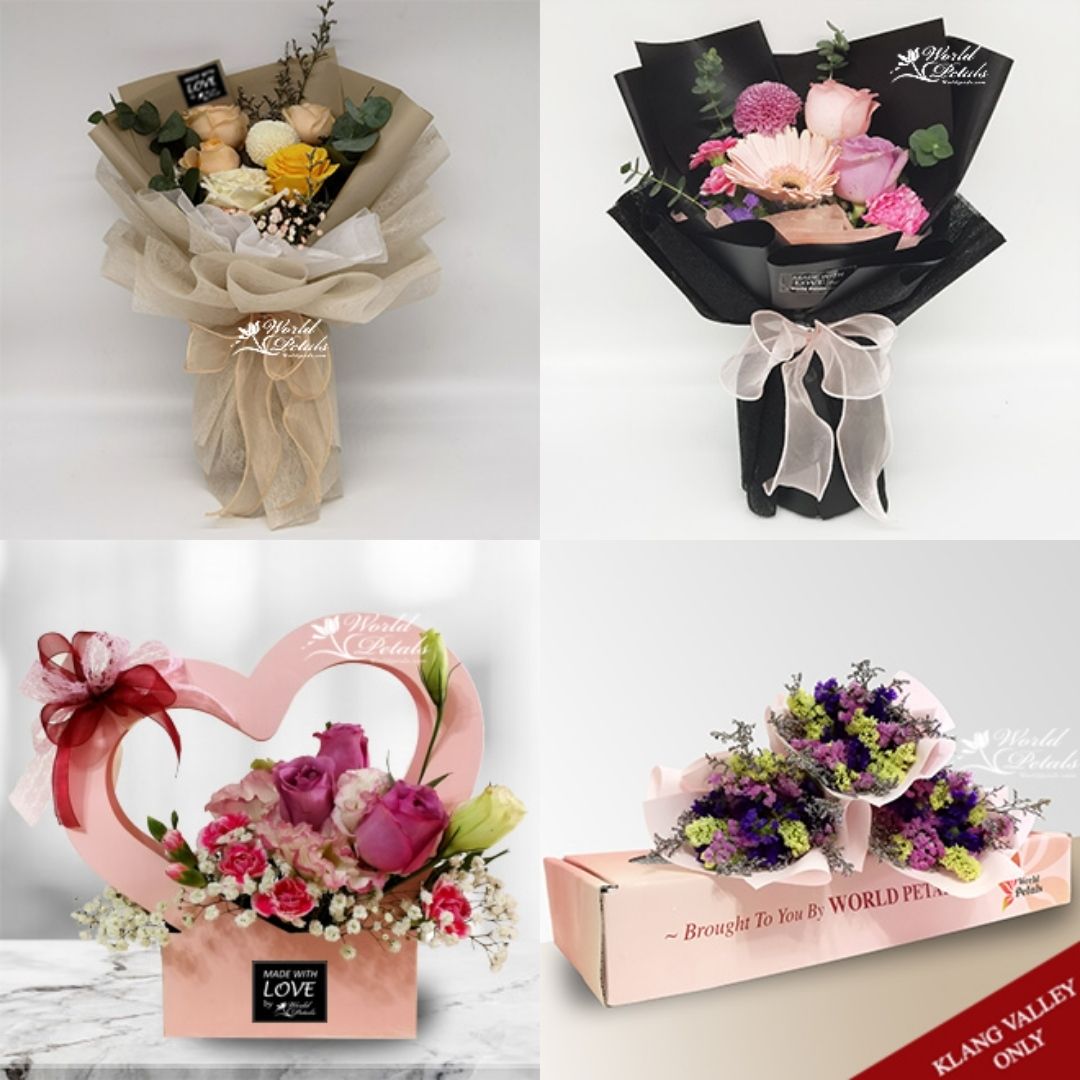 My Flower Florist is a shop to check out if you're looking for one that sends in Kuala Lumpur! They're fast and efficient, proving to be reliable in all things you may need for gifts, especially bouquets!
From anniversary arrangements, to father's day gifts, you can definitely count on them on whatever event you may need presents for.
WHAT PEOPLE LIKE
Wide Selection of Designs – My Flower Florist offers a lot of bouquet styles to choose from, ensuring you get an arrangement fit for the occasion or fit for your loved one to give! You may choose to check out the site by event or by the color scheme needed.
Nationwide Delivery – Wherever you are, My Flower Florist is sure to be able to reach you. With their nationwide delivery, they are able to send off beautiful arrangements no matter the location, and as fast as they can. Opt for same day delivery or next day delivery, and whichever you choose, they'll handle your order with care.
Membership Reward Program – My Flower Florist offers a point-system rewards program for members to accumulate and redeem! Each purchase has specific points earned and a certain number of points are equal to rewards from the shop! So the more you order from My Flower Florist, the more discounts you can get in the future.
PRODUCTS
Petite Blooms
Signature Bouquet
Black Luxe Collection
Big Bouquet
Fun Bouquet
Snack Bouquet
Wine with Flowers
Gifting with Flowers
Cakes & Delicacies
Succulents & Plants
Designer Fruit Box
Terrarium Collection
Wines & Spirits
Dried & Scented Flowers
Other
DELIVERY AND PAYMENT
VISA, MasterCard, eGHL, FPX, GrabPay, Boost, GooglePay, PayPal, Maybank
20. WengHoa

Named after the Chinese translation of Bright Flower, WengHoa is one of Malaysia's finest online delivery boutique. 
The shop endeavours to provide gift options for all occasions, offering fresh flowers, fruits, plants, cakes, and chocolates. Flower pieces from WengHoa are typically made with the freshest blooms available in the current season.
Aside from the sizable catalogue, WengHoa is also commendable for its customer service. The boutique is always quick to respond to inquiries, and strives to get everything out for delivery on time. 
WHAT PEOPLE LIKE
Delivery Services – WengHoa prides itself on being on time for every delivery. The shop carefully and quickly puts together each order and usually has them out within the day. It's also worth noting that deliveries are ongoing, no matter if it's the weekend or a Public Holiday.
Special Additions – Aside from fresh flowers and plants, WengHoa carries other gift options, such as premium cakes, regular cakes, and chocolates — perfect additions to sweeten up any gift idea.
Specialised Services – While WengHoa is known for its flower delivery services, the boutique also accepts large scale orders for corporate events, weddings, and engagement parties.
PRODUCTS
Rose
Spray Rose (Baby Rose)
Lily
Tulip
Orchid
Hydrangea
Peonies
Calla Lily
Cymbidium
Chrysanthemum
Lisianthus
DELIVERY AND PAYMENT
The shop accepts major credit cards and bank deposits. 
21. Yoake Florist Studio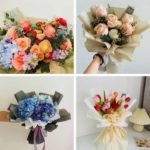 Yoake Florist Studio got its name from the Japanese word yoake, meaning breaking dawn. Their name symbolizes the hope and happiness they want to bring to everyone. 
They want to give their customers the most fitting arrangement for them, so they'd like to hear your story and requirements and they'll suggest the best option for you. 
If you're looking for beautiful and reasonably priced bouquets to surprise someone you love, Yoake Florist Studio is definitely a great choice!
| | |
| --- | --- |
| SPECIALTY | Online-based Flower Delivery |
| SELECTION SIZE | Large |
| STARTING PRICE | RM 38 |
| DELIVERY FEE | Contact for more information |
| WEBSITE | https://yoakeflorist.com/ |
| SOCIAL MEDIA | |
| CONTACT DETAILS | WhatsApp: 018-9176839 |
WHAT PEOPLE LIKE
WIDE SELECTION. Yoake Florist Studio has a wide variety of beautiful and creative bouquets to choose from. They also have different themed collections for their different arrangements and options for different budgets. Whatever your reason for sending flowers, they'd have something for you!
REASONABLE PRICES. Something their customers constantly mention is how reasonable their flowers are, and they agree that what you get is worth its cost.
GREAT SERVICE. One thing common among their customers is that all of them highly recommend Yoake Florist Studio and would surely buy from them again. From choosing which flowers to get up to its prompt delivery, you'll receive great customer service.
PRODUCTS
Hand Bouquets
Preserved Flowers
Bridal Bouquets
Flowers Stand
Dried Flowers and Soap Flowers 
Snacks Bouquet 
DELIVERY AND PAYMENT
Yoake Florist Studio accepts payments via Visa, MasterCard, IPay88 and Stripe. Contact for more information on payment and delivery. 
22. White On White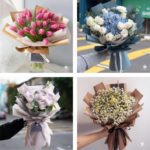 Since their establishment in 2018, White On White has helped their customers make others happy with their unique handcrafted flower bouquets no matter the occasion. 
They design arrangements specially for their customers to meet their expectations using only the freshest blooms. We think you won't go wrong with them for your floral needs!
WHAT PEOPLE LIKE
BESPOKE BOUQUETS. They want to be able to make meaningful connections with their customers through their arrangements, and this is why they will craft a unique one just for you. 
GREAT SERVICE. True to their "customer first" company value, they ensure that they deal with each customer with care and professionalism, and this is something their customers appreciate. 
PRODUCTS
Premium roses
Flower bouquets
Condolence flowers
Artificial flowers
Chocolate bouquet
Graduation bouquet
Bridal bouquet
Floral box & basket
Floral fruit basket
DELIVERY AND PAYMENT
Contact for more information on payment and delivery. 
---
Images taken from each company's official websites/social media.