Wsugahen you see a cake, you usually think of a celebrant blowing off the candle for his birthday. Cakes usually signifies celebration and you're right! They are often used for birthdays, but they could also be used for weddings and other personal events. If you are planning for a big celebration coming up, here are six of the best cake deliveries in Wellington.
1. STILETTO STUDIO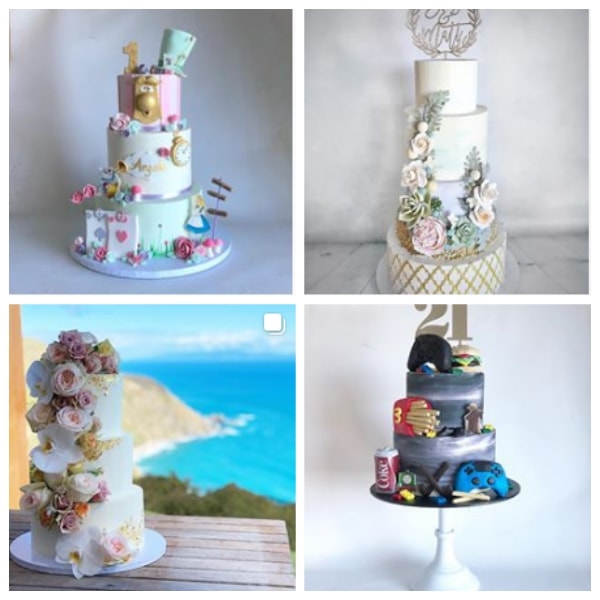 SPECIALTY
Themed cakes
SELECTION SIZE
Large
STARTING PRICE
For inquiry
DELIVERY FEE
Calculated upon checkout
WEBSITE
https://www.stilettostudio.co.nz/
SOCIAL MEDIA
Facebook: @stilettostudio

Instagram: @stilettostudiocakes

Twitter: @Stiletto_Studio

CONTACT DETAILS
[email protected]
This business started as a hobby and went on to become a full time cake business with other baking goodies. They do everything that involves cakes like events and classes. Also, they offer beautiful themed cakes for your celebration or your preference. They will let you in the process of cake making to fit your cake needs.
WHAT PEOPLE LIKE
CLASSES: They have different classes provided for people who are in need of additional knowledge about cakes. They offer, regular, private, fundraising, and Christmas classes.
PARTIES: They also conduct parties with cake decoration and baking involved. If you want, they would be happy to host the whole party for you. 
PRODUCTS
CAKES: Please inquire
CUPCAKES: $3.50
COOKIES: $ 3.50
CAKEPOPS: $ 4.00
MINI CUPCAKES: $ 2.50
DELIVERY & PAYMENT
Visa, MasterCard & PayPal accepted here.
2. SWEET BAKERY AND CAKERY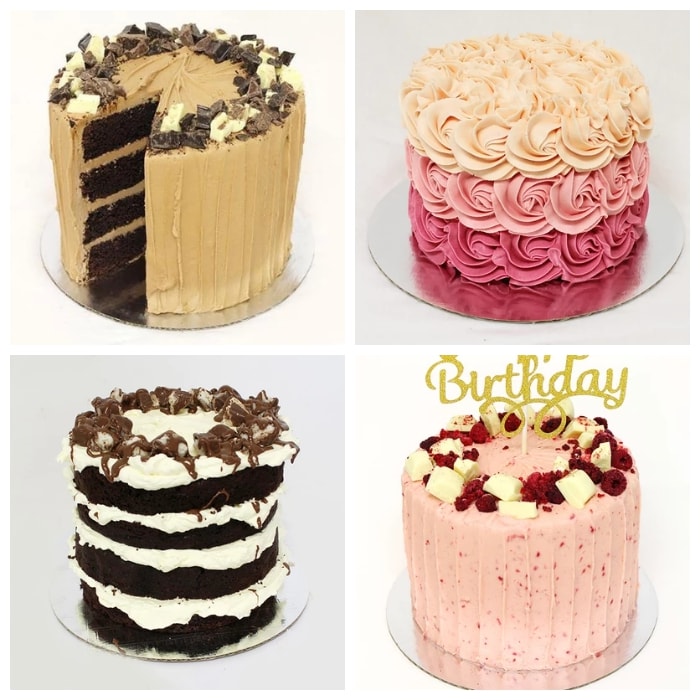 SPECIALTY
Personalized cakes
SELECTION SIZE
Medium
STARTING PRICE
$60
DELIVERY FEE
Calculated upon checkout
WEBSITE
http://www.sweetbakery.co.nz/
SOCIAL MEDIA
Facebook: @sweetbakerynz

Instagram: @sweetbakerynz

CONTACT DETAILS
[email protected]
Delicious and fun design – these are the top ways to describe the cakes from Sweet Bakery. They have an excellent team of designers, bakers, clerks, and others. They make sure that their customers are receiving excellent quality products and excellent quality service.
WHAT PEOPLE LIKE
MODERN DESIGN: They have a modern take on the cake designs. As you browse through their catalogue, you'll see the unconventional yet beautiful cake designs that are truly mouthwatering.
QUALITY INGREDIENTS: They only use quality ingredients on their designs. And the best part of that would be their use of natural ingredients for their cakes. 
PRODUCTS
CLASSIC CAKES: for inquiry
NAKED CAKES: for inquiry
DELIVERY & PAYMENT
Delivery is from 10 am to 12 nn.
3. THE CHOCOLATE COMPANY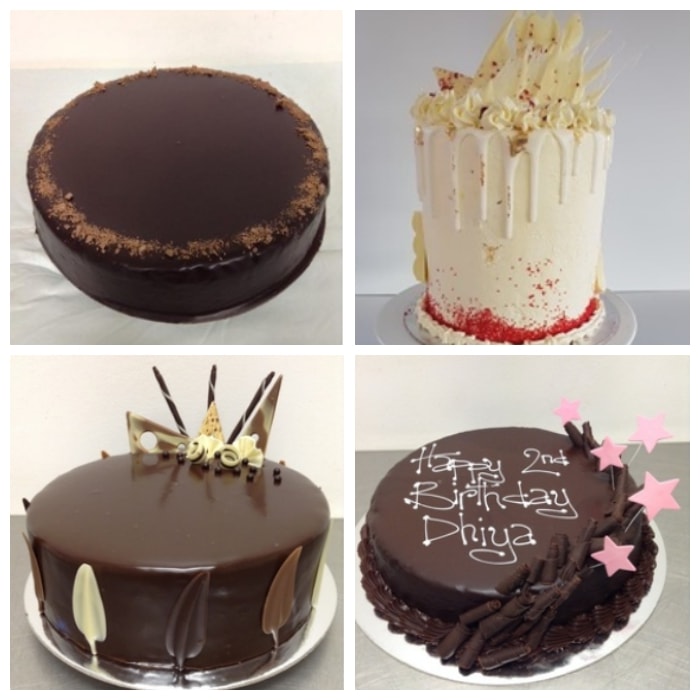 SPECIALTY
Traditional cake design
SELECTION SIZE
Medium
STARTING PRICE
Starts at $50
DELIVERY FEE
$10
WEBSITE
https://thechocolatecakecompany.co.nz/
SOCIAL MEDIA
Facebook: @TheChocolateCakeCompany

Instagram: @thechocolatecakecompany

CONTACT DETAILS
0508 2462 2253 / [email protected]
The Chocolate Company specializes on chocolate flavored cakes. These classic chocolate cakes are also designed classically. You'll love their chocolate cakes as it comes with their signature chocolate ganache and mud cake.
WHAT PEOPLE LIKE
CHOCOLATE CAKE: Their customers are raving about the signature chocolate cakes of this pastry shop. They even hail this cakeshop as the best chocolate cake in town.
WONDERFUL SERVICE: Their customers also love the wonderful services that this cakeshop provides. They could offer their services even during rush hours. 
PRODUCTS
BUTTERCREAM CAKE: $ 70
ELEGANT CHOCOLATE CAKES: $ 85
DECORATED CAKES: $60 – $ 85
NAKED CAKES: $ 50
TRADITIONAL CAKES: $ 50
DELIVERY & PAYMENT
Delivers from Monday to Saturday.
4. TOMBOY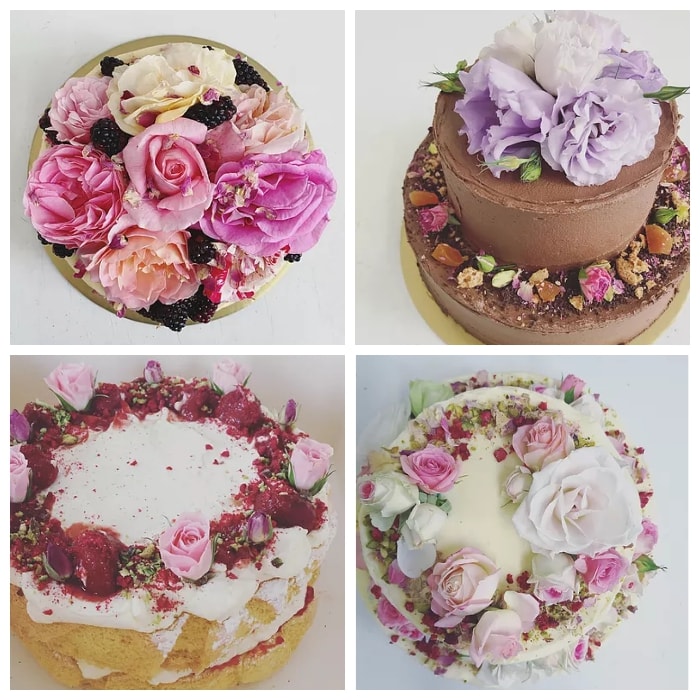 | | |
| --- | --- |
| SPECIALTY | Chic cake design |
| SELECTION SIZE | Curated |
| STARTING PRICE | $ 45 |
| DELIVERY FEE | Calculated upon checkout |
| WEBSITE | https://www.tomboy.nz/ |
| SOCIAL MEDIA | Instagram: @tomboy.cake |
| CONTACT DETAILS | 0211500082 |
This cake shop has mesmerizing cakes that would surely capture your eyes and heart. They have such creative products that you might choose not to eat the cakes instead. Even how tempting that seems, you should definitely try the best tasting cakes here.
WHAT PEOPLE LIKE
SIGNATURE CAKE: They have a unique sense of styling their cakes. It is usually chic refreshing and easy to nimble. All the designs were intricately made.
CUSTOMIZED CAKES: They also make customized cakes to meet their customer's needs. So if you're planning a party with a specific theme, head down to this cakeshop. 
PRODUCTS
DELIVERY & PAYMENT
Order cake one day prior date needed.
5. AROBAKE
SPECIALTY
Simple and delicious cake
SELECTION SIZE
Curated
STARTING PRICE
$20
DELIVERY FEE
$ 12
WEBSITE
https://www.arobake.co.nz/
SOCIAL MEDIA
Facebook: @arobake

Instagram: @arobakearostreet

CONTACT DETAILS
04 384 5473 / [email protected]
Arobake is a full time bakery. More than the cakes, they offer a wide array of breads for snacking or dinner. This bakery started small in 1989 wherein their very own multigrain bread gained the nod and applause of the people in Wellington.
WHAT PEOPLE LIKE
WHOLESALE: They offer wholesale services for their customers who are in need of bread in bulk number. They offer these services to special accounts.
AMAZING TEAM OF BAKERS: Breads and cakes here are made by the best from their team. They make beautiful and tasty bread out of high quality ingredients. 
PRODUCTS
DELIVERY & PAYMENT
Monday to Friday delivery
6. SWEET RELEASE CAKES AND TREATS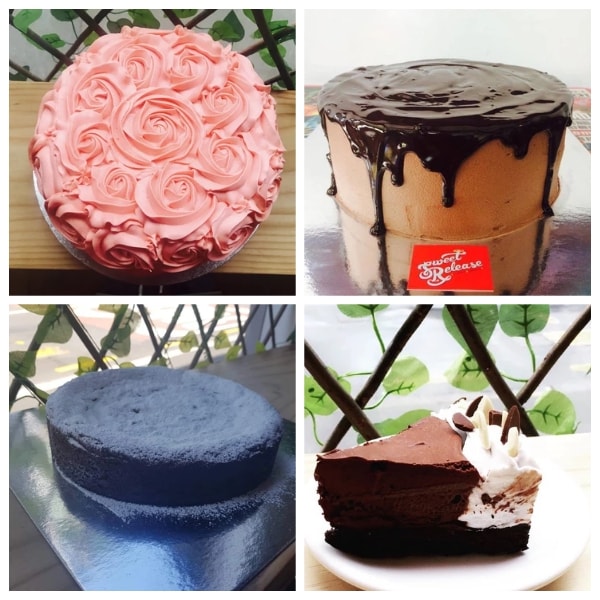 SPECIALTY
Vegetarian selection
SELECTION SIZE
Curated
STARTING PRICE
Starts at $ 55
DELIVERY FEE
$ 10
WEBSITE
https://www.sweetreleasecakesandtreats.co.nz/
SOCIAL MEDIA
Facebook: @SweetReleaseCakesandTreats

Instagram:@sweetreleasecakesandtreats

Twitter: @SweetReleaseWLG

CONTACT DETAILS
0508 2462 2253 / [email protected] treatz.co.nz
Have you seen a vegan cake? Well, you just scrolled down from it. Started in 2017, Sweet Release Cakes and Treats are making vegan cakes and they are known as one of the best vegan cafe in Wellington.
WHAT PEOPLE LIKE
VEGETARIAN SELECTION: This cakeshop is surprisingly vegan. This means that they do not use any meat products to the food that they serve. How do they do that? You should really visit their site and physical store.
RECIPES: They also offer recipes in their website for all their vegan friends. 
PRODUCTS
DELIVERY & PAYMENT
Credit card and PayPal accepted here.
7. SUGAR SISTERS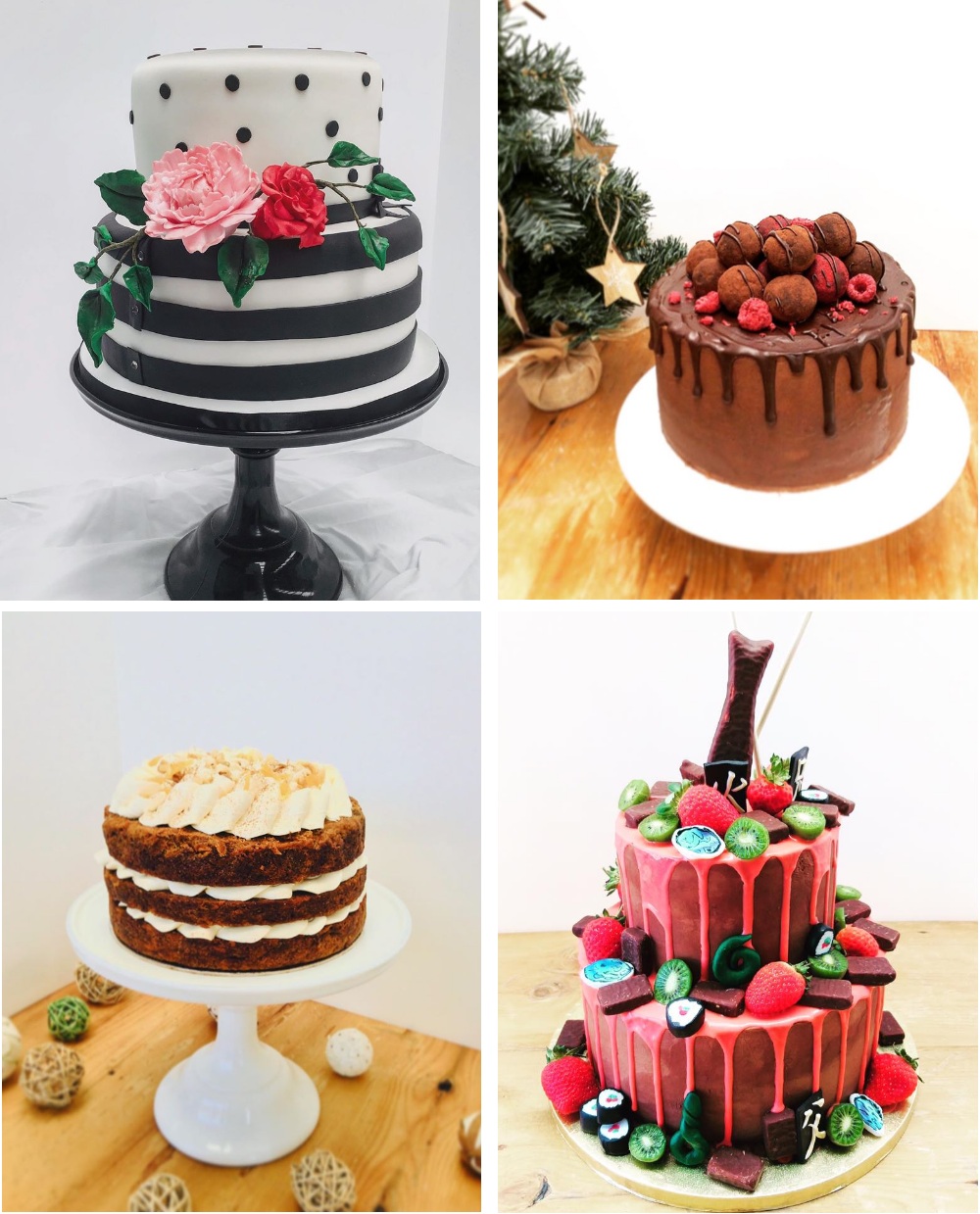 Treat yourself on your most special day, may it be your birthday or your wedding by having your cake customized by Sugar Sisters. The business specializes in multi-tier celebration cakes, designed according to clients' preferences or theme of the event.
They have a huge selection of cake bases and flavors so you'd have plenty of combinations to choose from. If you are looking for a healthier option, you may opt to avail their vegan or gluten-free cakes.
To achieve a full elegant look of your cake, they recommend you to use cake stands which they also offer.
WHAT PEOPLE LIKE
STUNNING DESIGNS.

Sugar Sisters does not only pride themselves with their tasty products but they also showcase their creativity and skills in the field of cake designs as they create only original pastry arts.

CUSTOM MADE CAKES.

A cake is an important item especially during parties and celebrations. Without it, the occasion would be dull and lack sweetness. Good thing Sugar Sisters offers to customize your cake orders you would be able to fully match it with the theme especially for birthday parties and weddings.
PRODUCTS
MULTI-TIER CAKES
VEGAN CAKES
GLUTEN-FREE CAKES
GANACHE
BUTTERCREAM CAKES
CAKE STANDS
DELIVERY AND PAYMENT
Contact shop for more details.
8. CUPCAKE SWEETIES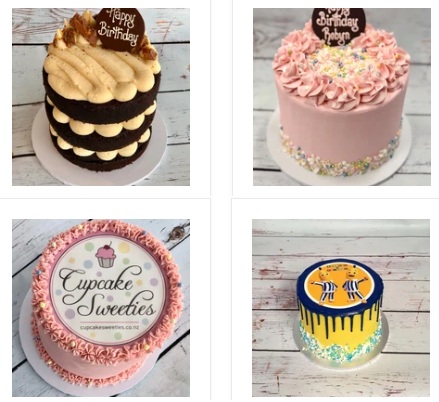 If you're craving some sweets, you can get them at Cupcake Sweeties. This is an online shop which offers different kinds of sweets to their buyers. They have a team which is passionate in creating delicacies and sharing it with others. 
With their wide range of decorating supplies—both edible and not—their pastry looks elegant and at the same time, delicious. You can choose from their collection of cakes, cupcakes, macarons, and brownies.
SPECIALTY

Funky and playful design

SELECTION SIZE

Small

STARTING PRICE

$65

DELIVERY FEE

$15 – Standard delivery

$25 – Saturday delivery

WEBSITE

https://cupcakesweeties.co.nz/

SOCIAL MEDIA

Instagram: @cupcakesweeties_nz

Facebook: /CupcakeSweeties.co.nz

Pinterest: @csweeties

CONTACT DETAILS

04 577 2962 |

[email protected]
WHAT PEOPLE LIKE
CAKE DECORATING CLASSES.

If you love designing or decorating, you might want to join their decorating classes. You can find various plans and pricing on their site which can help you in creating your own style or discovering your hidden talent. There is a beginner's lesson which costs $40, a class for license to ice decoration which is around $150, and a unicorn class decoration at $20. Proceed to the site to know more about these classes.

RUSH DELIVERY.

The shop accepts rush delivery for their sweets and delicacies. However, there is an additional charge for such. Obviously, the delivery fee is higher than the normal or standard delivery fee. So, make sure to have extra money when you ask for rush delivery. 
PRODUCTS
Cakes

– $65 to $125

Cupcakes

– $4.50 to $42

Macarons

– $20

Brownies

– $38
DELIVERY AND PAYMENT
The earliest delivery time for Cupcake Sweeties is 12:30. In case you want to have the sweets delivered earlier, you have to pay the delivery fee of $30 instead of their standard delivery fee. As for payment, the shop accepts VISA, MasterCard, PayPal, and Bank Deposit.
9. THE BAKER'S WHISK
With a dream that started with her very own wedding cake, Emily Byrne established The Baker's Whisk after she designed most of her wedding. Seeing how beautiful it was, she;s then decided to extend her talent with other people who would need help with their events.
In 2012, her shop was established and was named as The Baker's Whisk. Now, the boutique is well-known to provide the best-tasting and beautifully designed delicacies.
WHAT PEOPLE LIKE
CUSTOM MADE CAKES. From different cake flavors, to ganache and frosting/fillings, you can create your very own masterpiece that would best suit your taste!
GREAT CUSTOMER SERVICE. No matter how detailed your order ma ybe, or how hard it is to do, the shop prides themselves in making sure that you only receive the best service. Your satisfaction is their utmost priority.
PRODUCTS
Cakes
Cupcakes
Sweet Treats
DELIVERY AND PAYMENT
Internet Banking, Visa or Mastercard