Can't find the right gift for your upcoming wedding anniversary? Or maybe you want to send some love to your long-distance family? Whichever it is, giving them a bouquet of flowers from a shop that offers the best flower delivery in Hawaii would be a great way to show your sincere appreciation to your loved ones!
If you're not sure which florist shop to visit or to order from, don't worry because we've already picked the most recommended stores on the island providing the best flower delivery in Hawaii!
1.  Beretania Florist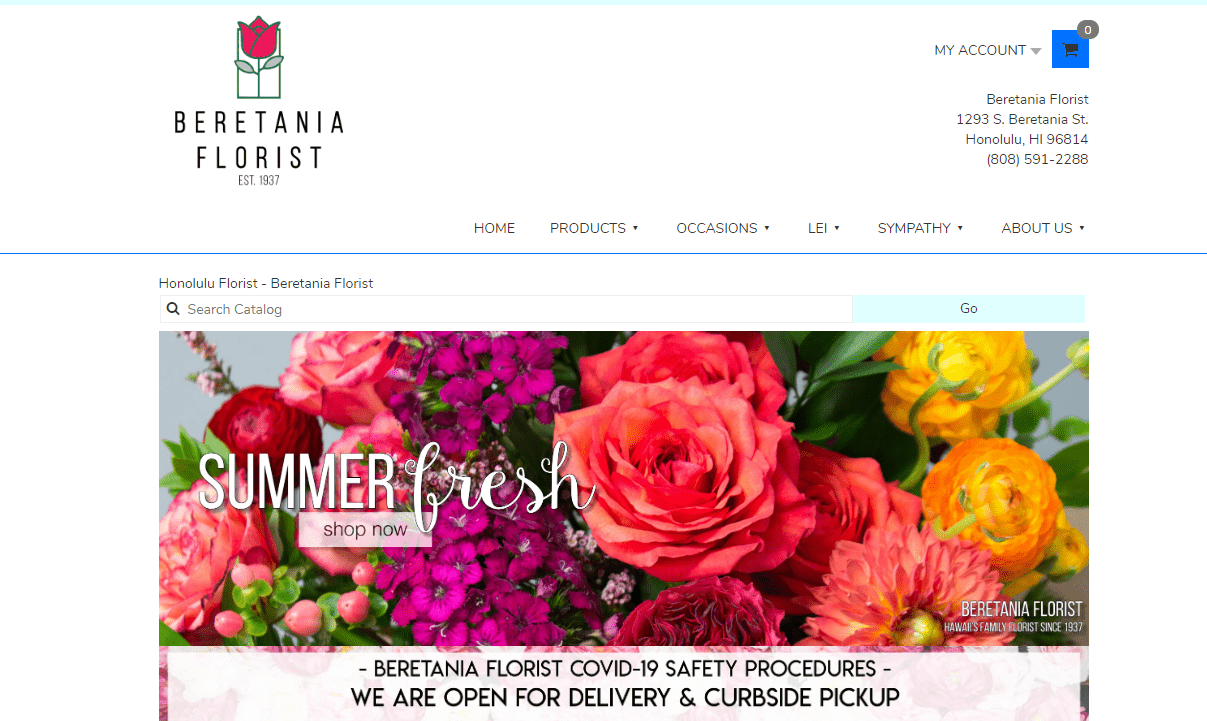 | | |
| --- | --- |
| SPECIALTY | Traditional, modern, and grand arrangement styles, Seasonal floral collections |
| SELECTION SIZE     | Large |
| STARTING PRICE | $74.99 |
| DELIVERY FEE         | $55.00 |
| WEBSITE       | https://beretaniaflorist.com/ |
| CONTACT DETAILS | (808) 591-2288 |
Being one of the oldest florist shops in Hawaii, Beretania Florist has always been the go-to shop for many locals. They're also an award-winning establishment recognised for their gorgeous floral designs that are personalised based on the occasion.
Whether you need flowers for a birthday, grand opening event, Valentine's, or even a get-well-soon gift, they have a variety of selections for any occasion. This includes rose collections, tropical arrangements, orchid plants, centrepieces, and even lei designs!
What makes them different from most flower shops is that they have seasonal collections, including ones for summer, fall, and winter! So if you find it hard to choose which one is the best, then you can just pick based on the current season.
Beautifully arranged sympathy flowers are also part of their catalogues. Their skilled florists will help you find the right set of flowers to honour the memories of your loved ones.
This shop offers gift sets through which you can add some stuffed toys to a bouquet or basket of flowers. Moreover, with their premium set, there'll be more blooms and higher quality in your gift.
When it comes to their delivery service, they provide the best flower delivery in Hawaii through which you can schedule a future delivery. This is a good choice if you want to ensure that your gift will be delivered on time.
WHAT PEOPLE LIKE
Innovative floral designs – Just from a glance at their floral arrangements, you can immediately see that each design is carefully made. They pay attention to every single detail of the flower bouquet and they also make sure to include the special requests of customers.
Same-day Delivery – For those who are searching for a shop that can take last-minute orders, Beretania Florist offers same-day delivery service. The slots are limited for each day but they always try to accommodate delivery requests.
PRODUCTS
Daisies
Hydrangeas
Lilies
Cymbidium Orchid
Phalaenopsis Orchids
Peonies
Roses
Sunflowers
DELIVERY AND PAYMENT
Credit Card
2.  Watanabe Floral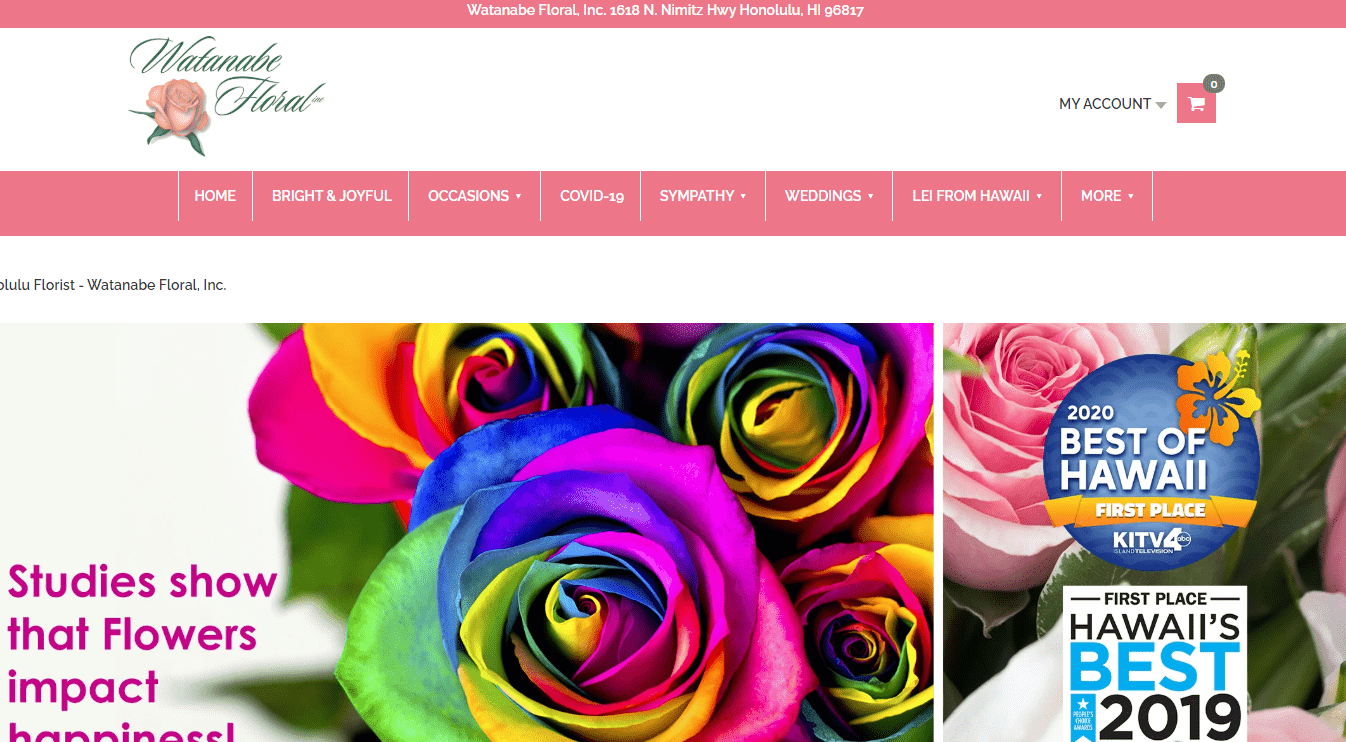 | | |
| --- | --- |
| SPECIALTY | Tinted rose collection |
| SELECTION SIZE     | Large |
| STARTING PRICE | $49.99 |
| DELIVERY FEE         | $30 |
| WEBSITE       | https://watanabefloral.com/ |
| CONTACT DETAILS | 808-832-9360 |
Watanabe Floral has been listed as the top Hawaiian florist shop on various sites, proving that they indeed provide a premium and high-quality set of flowers. They're also the city's largest retail florist and a well-known wholesale flower resource.
With their experienced and award-winning florists, they help make any event worth remembering through aesthetic and magical floral arrangements. They specialise in weddings, sympathy, prom, conventions/events, and other important events.
Unlike most stores, they have their own special catalogue, which consists of vivid and colourful floral designs. Each set of flowers in this collection features at least one premium tinted rose item, making the arrangement unique and attractive.
Their flower selections come from around the world; they also accept specific order requests based on availability. Take note that special orders must be placed with a minimum of 1-2 weeks advance so they can have enough time for preparation.
Rest assured that their delivery service comes with transparent pricing, giving you high-quality bouquets at the lowest price possible. They also provide same-day delivery but with limited slots only and orders must be made before 2 pm, from Monday to Saturday.
WHAT PEOPLE LIKE
Tinted Roses – Many customers loved the bright colours in the shop's special collection. They said that their family and friends were delighted and impressed with the gift.
Specified Time Delivery – They accommodate guest requests with a specific time of delivery so you don't forget to send in your gift.
PRODUCTS
Delphinium
Daisies
Freesia
Hydrangeas
Iris
Succulents
Lilies
Calla Lilies
Cymbidium Orchid
Phalaenopsis Orchids
DELIVERY AND PAYMENT
Visa, American Express, Discover, or MasterCard
3.  Waipahu Florist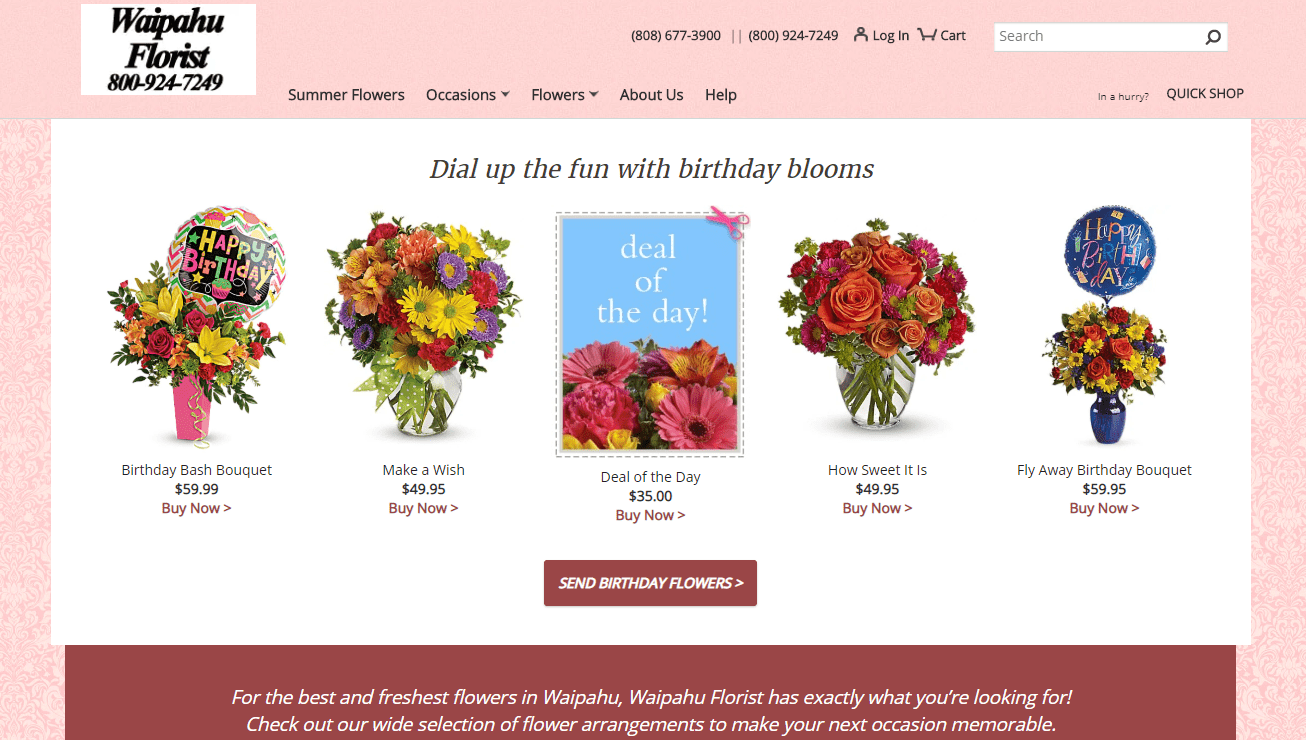 | | |
| --- | --- |
| SPECIALTY | Positive and vibrant floral arrangements, Gift basket |
| SELECTION SIZE     | Large |
| STARTING PRICE | $45 |
| DELIVERY FEE         | $15 |
| WEBSITE       | https://www.waipahufloristhi.com/ |
| CONTACT DETAILS | (808) 677-3900 | (800) 924-7249 |
At Waipahu Florist, you can find a one-of-a-kind collection with their so-called "Make Someone Smile" selections. This catalogue features the freshest sunflowers: every basket has a yellow-themed design, a positive and vibrant floral arrangement that can cheer someone up.
So if you want to send a get-well-soon bouquet, they might have the best choices for you. Their other selections include tropicals, European/dish gardens, dried florals, fruit baskets, and more.
Aside from this, they can also customise a floral design and a gift basket for certain occasions. You can put in some gourmet and fruit sets, greeting cards, and even candles!
WHAT PEOPLE LIKE
Nationwide Delivery – With their best flower delivery in Hawaii, you can send flowers to your loved ones no matter how far they are. This is because they provide nationwide delivery through their network of trusted florists.
PRODUCTS
Alstroemeria
Carnations
Chrysanthemums
Dahlias
Daisies
Gerbera Daisies
Hydrangea
Lilies
DELIVERY AND PAYMENT
Visa, MasterCard
4.  The Picket Fence Florist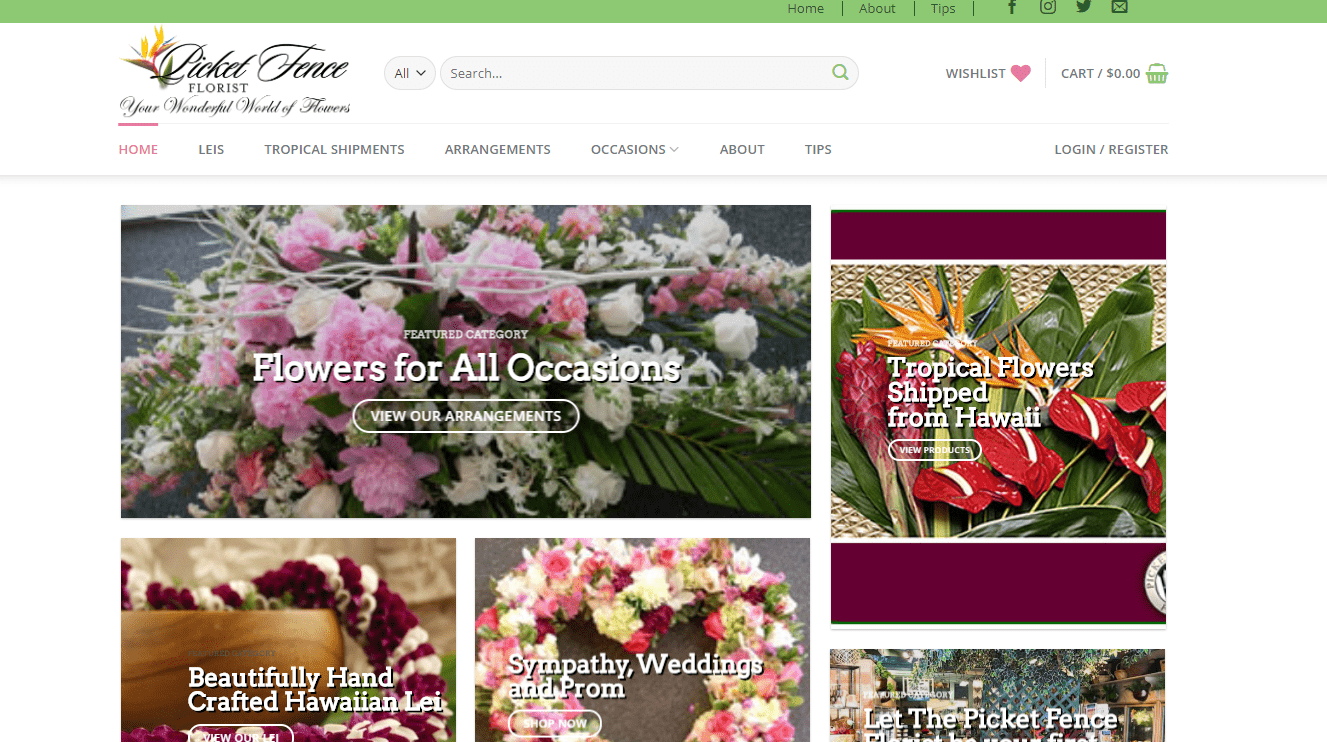 | | |
| --- | --- |
| SPECIALTY | Tropical flowers, Unique vases |
| SELECTION SIZE     | Large |
| STARTING PRICE | $39.95 |
| DELIVERY FEE         | $10 to $15 |
| WEBSITE       | https://www.picketfenceflorist.net/ |
| CONTACT DETAILS | (808) 262-7727 |
All flower bouquet arrangements at The Picket Fence Florist are hand-crafted with detailed designs. Their collections mainly consist of tropical flowers, featuring vibrant and aesthetic arrangements.
Some of their designs come with unique casing like an elephant or boat-shaped vase. They also have traditional leis with a festive look, perfect for summer celebrations.
Apart from these, they curate wedding bouquets, corsages, boutonnieres, centrepieces, and any floral arrangements needed for the event. Prom and sympathy flowers are also part of their collections.
Their best flower delivery in Hawaii only costs $10 to $15, which is much cheaper than most shops. Moreover, they accept international orders — but only through phone calls.
WHAT PEOPLE LIKE
Friendly Staff – They have a dedicated team that can give you good recommendations if you're not familiar with flower selections and they make sure that you'll get your order without delay. 
PRODUCTS
Tropicals
Plants
European/dish gardens
Dried floral
Wedding bouquets
DELIVERY AND PAYMENT
Credit Card
5.  Pali Florist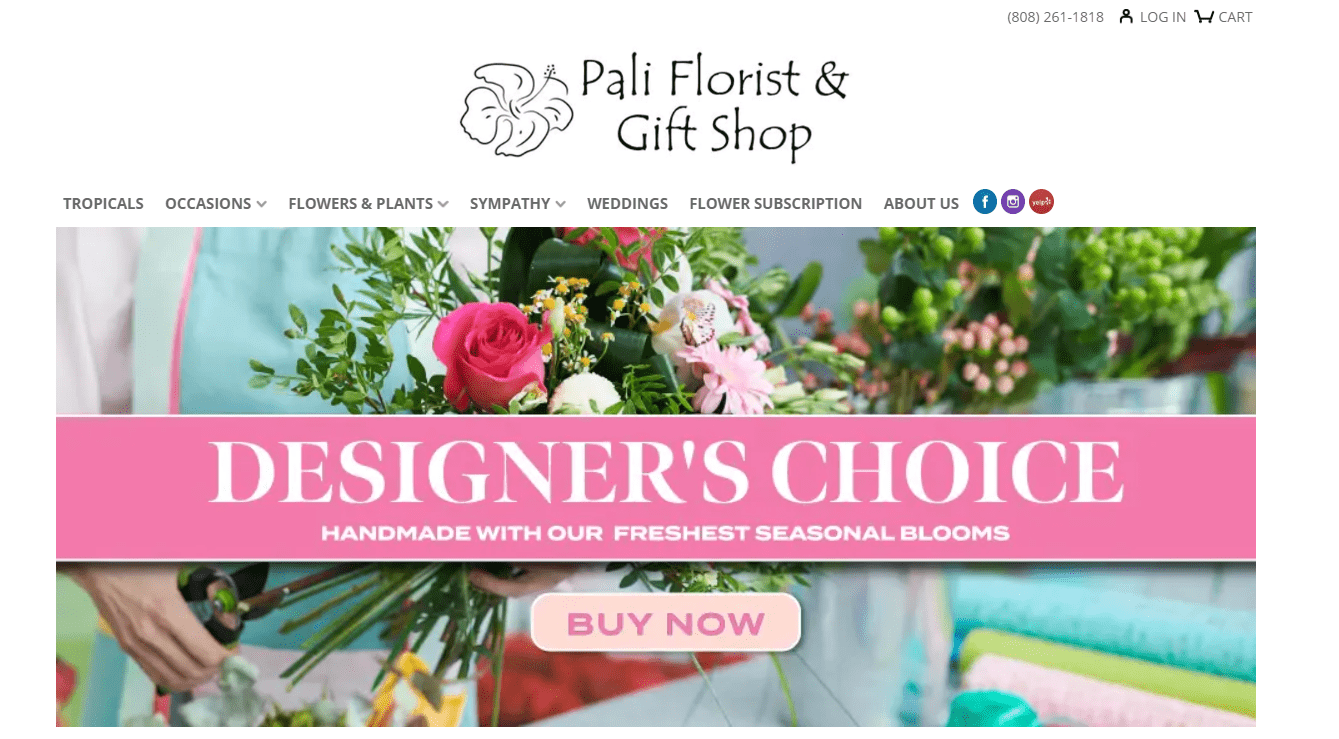 | | |
| --- | --- |
| SPECIALTY | Flower subscription delivery |
| SELECTION SIZE     | Large |
| STARTING PRICE | $55 |
| DELIVERY FEE         | $15 |
| WEBSITE       | https://www.paliflorist.com/ |
| CONTACT DETAILS | (808) 261-1818 |
Pali Florist has been providing an extensive range of flowers for several decades, which is why many locals keep coming back for their services. They have specially curated collections for birthdays, newborn celebrations, events meriting sympathy, anniversaries, and many more.
They also offer a range of flowers for certain celebrations — like Women's Equality Day, Grandparents' Day, and even Labour Day.
If you already have an ideal floral arrangement in mind, you can order a customised design. They use the freshest flowers with some sweets, balloons, as well as greeting cards.
They even have a flower subscription service where they'll create a unique design for the recipient every month. The bouquet will be designed with hand-selected seasonal flowers and arranged by creative florists, then it'll be delivered on your chosen date for the next months.
WHAT PEOPLE LIKE
Customised Design – This florist shop offers different kinds of custom flower services. You can choose your preferred flower type, include some treats and gifts, or use seasonal arrangements.
PRODUCTS
Roses
Sunflowers
Tropical flowers
Lilies
Chrysanthemums
DELIVERY AND PAYMENT
Visa, MasterCard, Discover Network, American Express
6.  Lahaina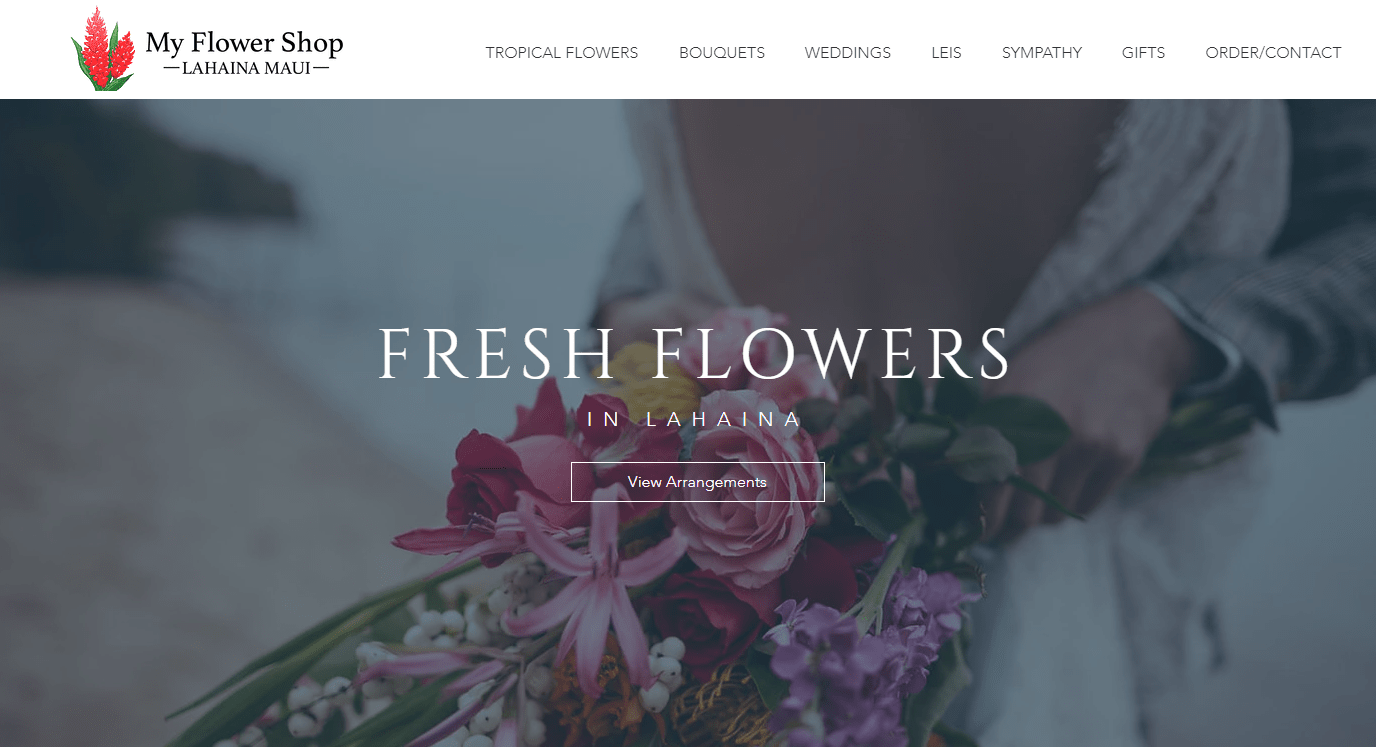 | | |
| --- | --- |
| SPECIALTY | Tropical Hawaiian flowers, Handcrafted Leis, Wedding Bouquets |
| SELECTION SIZE     | Large |
| WEBSITE       | https://www.lahainaflowers.com/ |
| CONTACT DETAILS | 1.808.661.4457 |
Lahaina features a wonderful series of flower bouquets from the heart of Maui. They specialise in providing tropical Hawaiian flowers, showcasing a vibrant and diverse collection that can brighten up anyone's day!
For their bouquets, they offer a variety of styles, ranging from simple to grand floral arrangements. They properly maintain the freshness of their flower selections so they're always ready for in-store pickup or delivery.
They also make hand-crafted leis for special occasions as well as sympathy flowers to help express sincerest condolences during difficult times.
WHAT PEOPLE LIKE
Gift Baskets – At Lahaina, you can also find impressive gift baskets filled with healthy foods or self-care essentials. Additional treats will depend on the customer's requests.
PRODUCTS
Tropical flowers
Wedding flowers
Leis
Sympathy
Gifts
DELIVERY AND PAYMENT
Credit Card
7.  Qina Girl Floral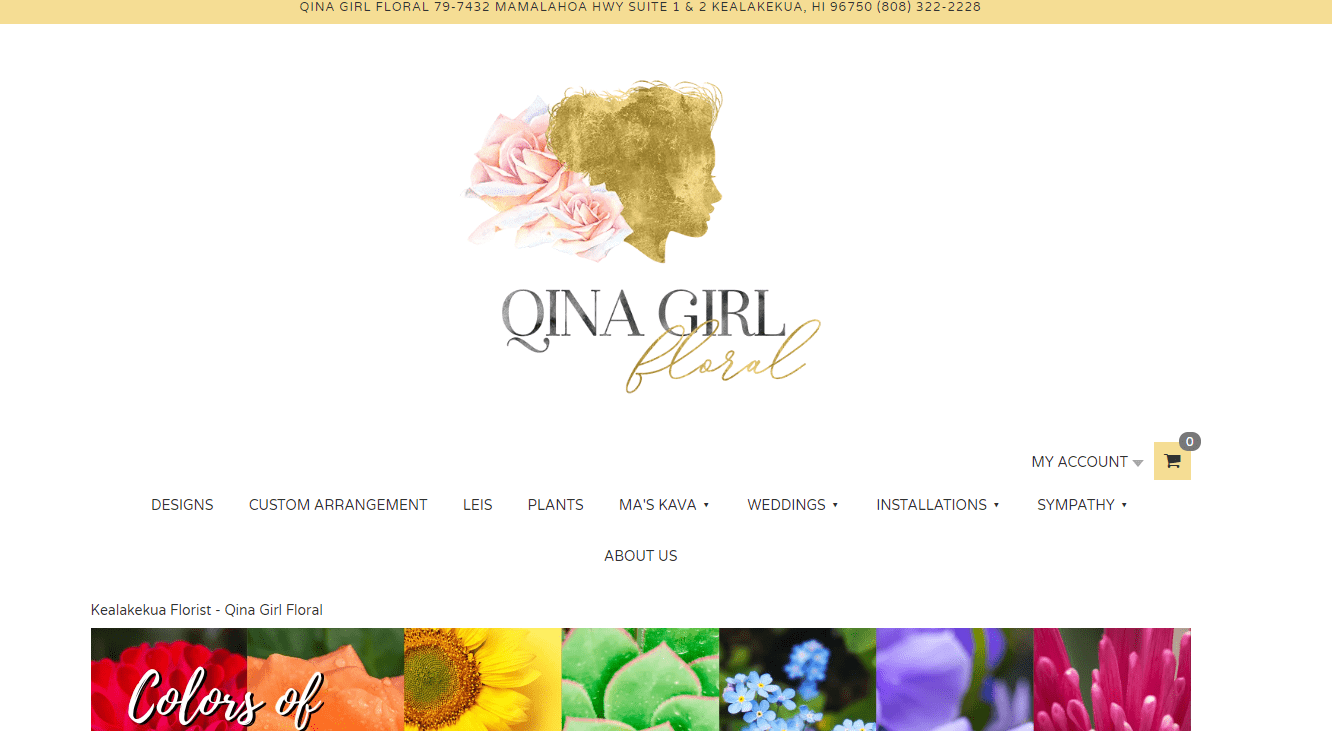 | | |
| --- | --- |
| SPECIALTY | Custom flower bouquets for traditional holidays |
| SELECTION SIZE     | Large |
| STARTING PRICE | $50 |
| WEBSITE       | https://qinagirlfloral.com/ |
| CONTACT DETAILS | (808) 322-2228 |
Qina Girl Floral offers more than exclusive flower bouquets, they're also knowledgeable in event styling! They provide design consultation services for both public and private events using the beauty of Hawaiian traditions.
They use live plant and fresh floral designs to achieve the ideal look that the clients want to have. They also customise bouquets depending on the occasion or even season including summer, spring, winter and fall.
Moreover, they also have collections for traditional holidays like St. Patrick's Day, Rosh Hashanah, Cinco De Mayo, and Persian New Year. You can also specify the delivery date to make sure that you won't forget to send it.
WHAT PEOPLE LIKE
Event Styling – Clients said that they were able to have a fun collaboration with the florists at Qina Girl Floral. They said that the staff has given them great ideas on which flower type and design to choose.
PRODUCTS
Cymbidium Orchid
Roses
Sunflowers
Tropical
DELIVERY AND PAYMENT
Credit Card
8.  Aloha Hawaiian Flowers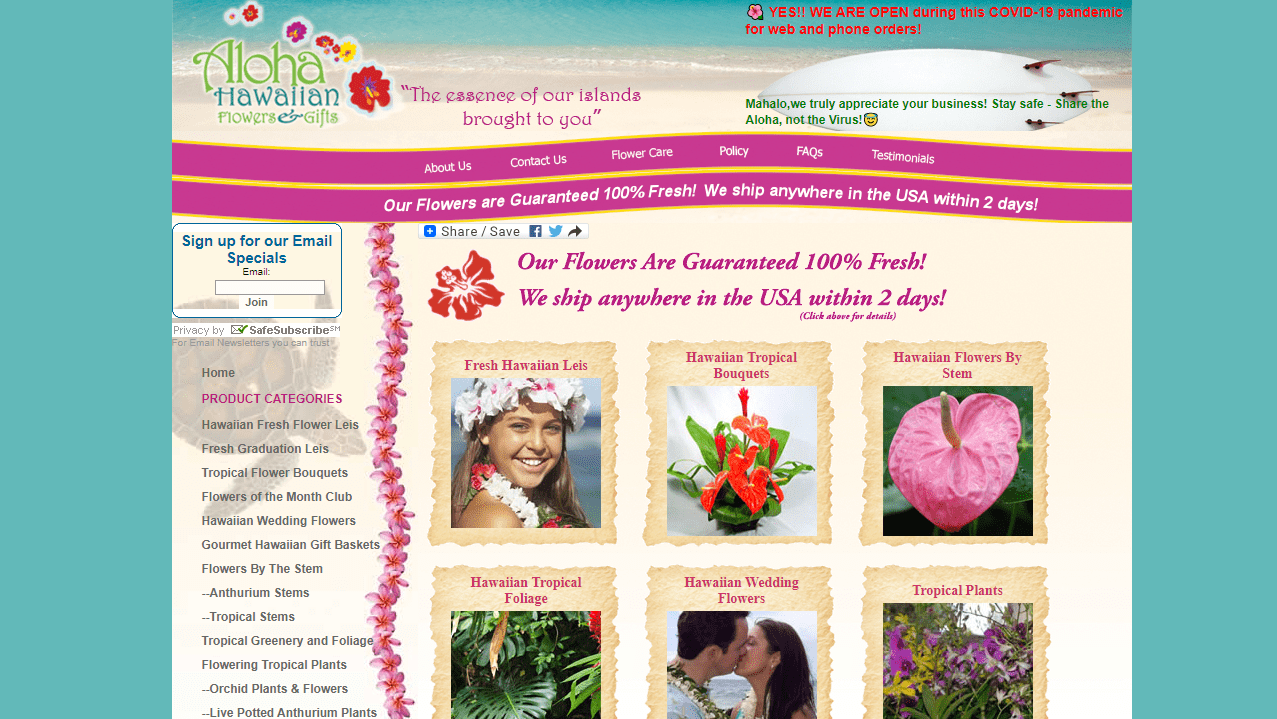 Aloha Hawaiian Flowers is known for making beautiful tropical floral designs as a warm welcome to the island. They have a wide range of floral arrangements filled with locally grown flowers.
Handcrafted gifts are also part of their services if you want to include additional treats. In their selections, you can explore different Hawaiian wedding flowers, fresh graduation leis, orchid plants, and more.
For their gift baskets, they have bath and spa gifts as well as coffee and tea products. All delivery packages are packed in specially reinforced boxes to maintain the freshness of the flowers.
WHAT PEOPLE LIKE
Flowers of the Month Club – Many customers have joined the club and they shared that they were excited about the freshly packed flower bouquets delivered to their home every month.
PRODUCTS
Tropical flower
Orchid plants
Anthurium plants
Leis
DELIVERY AND PAYMENT
Credit Card
9.  Flowers Forever
NOTE: Due to Covid-19. Flowers Forever is only taking phone orders with non-contact deliveries. Physical shop is closed to walk-ins and pick-ups until further notice.
With their 35 years of experience, there's no doubt that Flowers Forever is known by many as one of the best florists in their area. They offer a large variety of flowers to their customers, with each arrangement using the freshest flowers available.
Besides flowers, they also sell other gift items such as stuffed animals, dish gardens, chocolates, and more. Best of all, they offer same-day delivery services. If you're looking for a gift perfect for any event, Flowers Forever won't disappoint.
WHAT PEOPLE LIKE
Fast delivery – Clients praise Flowers Forever for not only having the best flowers but also for their swift delivery service no matter the location.
PRODUCTS
Bouquet
Lei
Casket
Spray
Easel
Vase
Wedding Centerpiece
Corsage
Hand Tie Bouquet
DELIVERY AND PAYMENT
Credit Card
There you go! That's our list of shops with the best flower delivery in Hawaii! If you'd like to recommend more places, feel free to share them with us. You can also check out our other lists of gift delivery shops in Hawaii!