Among the beautiful places you can visit in South Africa, one cannot forget about the lovely city of Pretoria. You might be more familiar with Cape Town, Johannesburg, or Durban—the tourism hot spots of the county. But Pretoria is plenty wonderful as well. It boasts a number of natural and historical places you can visit, and who knows; maybe the fun-loving locals can even help you navigate their city. Send them some love with these Pretoria flower delivery experts below.
1. CARMEN FLORIST

Carmen Florist is located at Mountainview, Pretoria and has been in the business for over 30 years. They can easily deliver their lovely bouquets to the North-west Pretoria area and they partner with other florists to service the greater Pretoria region.
WHAT PEOPLE LIKE
GIFT COMBOS. You're lying if you say you don't like gift baskets or other paired gifts. There's something exciting about receiving a gift that has even more gifts inside! For the classic chocolate and bouquet pairing, check out Enchanted Garden.
FLOWERS BY ZODIAC. Are you curious about the perfect bouquets that would suit each zodiac sign? Well, you're in luck because you can finally send you're Aries, Taurus, Pisces and other sign-friends and loved ones, the right bouquet dedicated to their signs.
MOTHER'S DAY COLLECTION. We fell in love with this selection due to the simplicity and sophistication that the muted tones bring to the overall arrangement. We can definitely see happy mothers enjoying these flowers.
PRODUCTS
VALENTINE'S DAY: From R 245
ROMANCE: From R 240.05
MOTHER'S DAY: From R 260
FATHER'S DAY: From R 270
DELIVERY & PAYMENT
Same-day delivery is available from 9 AM to 5 PM. Payment options include VISA, MasterCard, AmEx, SnapScan and Peach Payments.
2. ALWAYS FRESH FLOWERS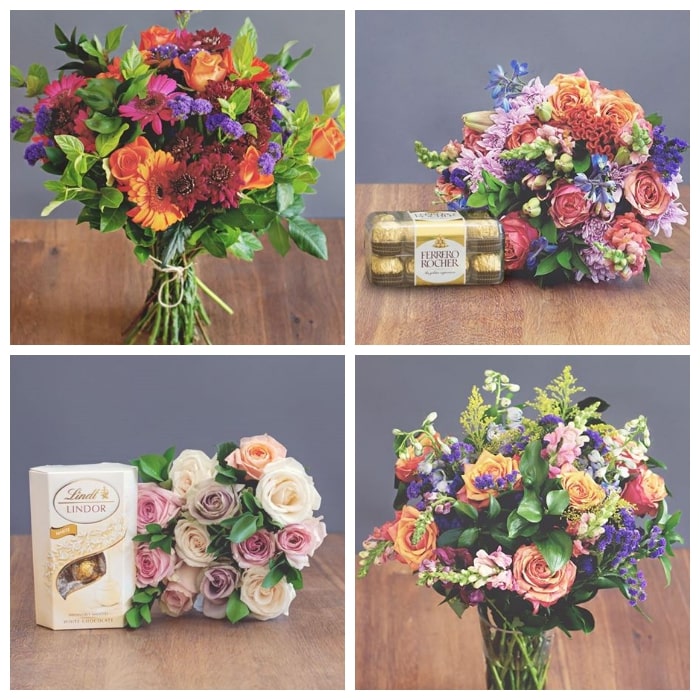 Always Fresh Flowers started as a humble flower delivery business back in 2001 and has since been one of the go-to florists in Pretoria. Just like their name suggests, this company's flowers are always fresh and that's a guarantee.
| | |
| --- | --- |
| SPECIALTY | Florist's Choice Bouquets |
| SELECTION SIZE | Large |
| STARTING PRICE | R 240.05 |
| DELIVERY FEE | R 60 |
| WEBSITE | http://www.alwaysfreshflowers.co.za |
| SOCIAL MEDIA | |
| CONTACT DETAILS | (012) 653 3907-0837214126 |
WHAT PEOPLE LIKE
PRE-ARRANGED FLOWERS. For the people looking for an amazing array of flowers ready for delivery either call them or visit their shop. They have a lovely set of pre-arranged flowers in a bouquet, vase or basket in set prices that won't break the bank.
CUSTOME BOUQUETS. To those who'd love a more personalized arrangement, you can custom-order a bouquet for any occasion. The florists are always ready to fix you a lovely bunch of blooms from their available fresh selection of flowers.
FAST AND RELIABLE DELIVERY. This company focuses on catering to the customers in the Pretoria area. By doing so, they can guarantee a fast and cost-effective delivery service.
PRODUCTS
MODERN: R 850
THANK YOU: from R305
MOTHER'S DAY: From R 260
FATHER'S DAY: From R 270
FLORIST'S CHOICE BOUQUETS: R 240.05
DELIVERY & PAYMENT
Same-day delivery is available between 7:45 AM to 6 PM. Payment options include VISA, MasterCard, AmEx, SnapScan and Peach Payments.
3. HATFIELD FLOWER

From hampers and bouquets to gifts and funeral flowers, Hatfield Flower will deliver high-quality arrangements at an affordable price not only in Pretoria but also now in their newly opened store at Lynwood Bridge!
| | |
| --- | --- |
| SPECIALTY | Funeral Flowers |
| SELECTION SIZE | Moderate |
| STARTING PRICE | R250 |
| DELIVERY FEE | R70.00 |
| WEBSITE | https://www.hatfieldflower.co.za |
| SOCIAL MEDIA | |
| CONTACT DETAILS | 012 342 5432 |
WHAT PEOPLE LIKE
There may only be 18 items on their Hampers Collection, but we're sure you'll still find something that would fit the person you're giving it to. You know what, why not treat yourself and buy a hamper for yourself? Try the Hamper H19 – Wine, Chocolates & Snacks!
FUNERAL FLOWERS. From funeral sprays to bespoke flower crosses, there's a quality arrangement waiting for you at Hatfield Flower. They also have simple bouquets of Lilies perfect to accompany you in your sympathy visit.
PRODUCTS
FLOWER BOUQUETS: From R250
FUNERAL FLOWERS: From R75
HAMPERS: From R400
GIFTS: From R75
DELIVERY & PAYMENT
Call or order online for more delivery and payment information.
4. EROS FLORIST ONLINE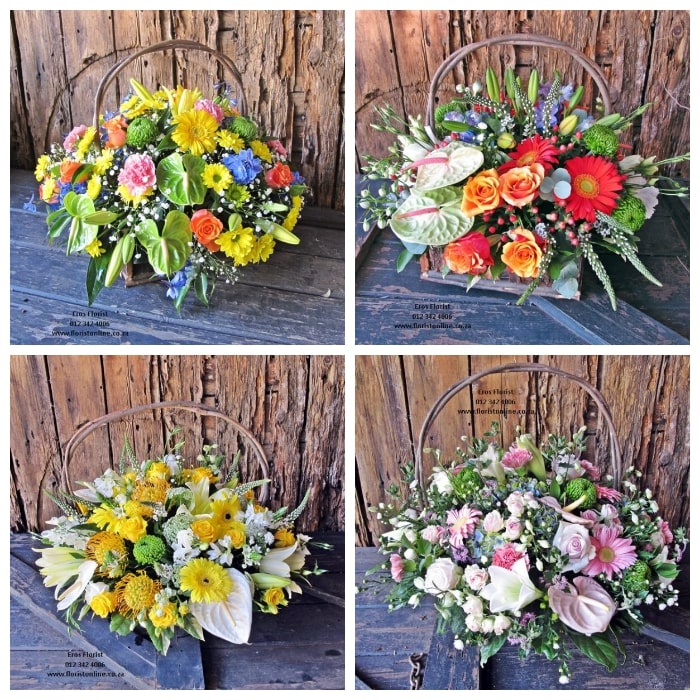 Eros Florist Online is your local personal flower expert ready to cater to all your flower needs. They have a variety of bouquets, hampers, vases, hatboxes, and other arrangements that would not only fit any occasion but also every budget!
| | |
| --- | --- |
| SPECIALTY | Basket Arrangements |
| SELECTION SIZE | Large |
| STARTING PRICE | R 150 |
| DELIVERY FEE | Available at checkout |
| WEBSITE | https://www.floristonline.co.za |
| SOCIAL MEDIA | Facebook: @erosflorist1 |
| CONTACT DETAILS | +27 (0)12 430 2203 |
WHAT PEOPLE LIKE
FLOWER BASKETS. Among the plethora of flower arrangements available at their online shop, this particular collection caught our attention. We just love how
AWARD-WINNING. Eros Florist Online is rightfully proud to have been voted Best Florist by Pretoria News' readers for the past 13 years. Yup, 13 years. Their consistent quality products and services have gained them the accolade they deserve.
PRODUCTS
BASKETS: R 160 – R 1200
BUNCHES & BOUQUETS: R 170 – R 1000
ARRANGEMENTS: R 150 – R 1100
HATBOXES: R 350 – R 1500
DELIVERY & PAYMENT
They deliver to Pretoria and Centurion suburbs check this out for the complete list of areas they currently service. They accept major credit/debit cards and PayPal.
5. CAARI FLORA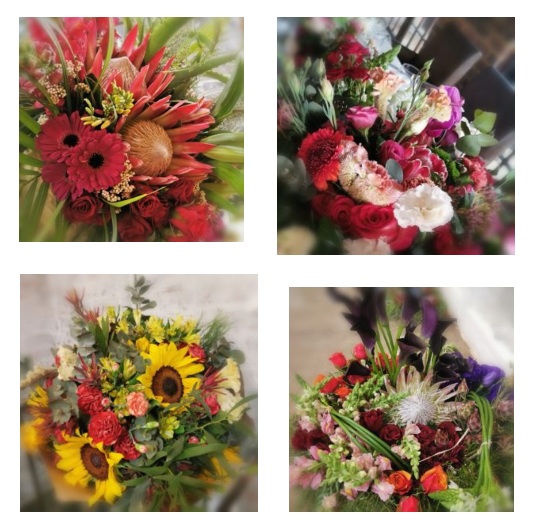 Caari Flora is confidently serving Pretoria with stunningly designed fresh flower arrangements for all types of occasions. They also tailor their products to fit as outdoor and indoor decorations as well as accessories to special events like a grand wedding.
The florists and designers of Caari Flora employ a stylish and modern approach in creating their designs and with the perfect balance of color, texture, and style, they were able to create exceptional floral arrangements that are truly outstanding.
WHAT PEOPLE LIKE
EXCELLENT CUSTOMER SERVICE.

They also provide impeccable support to their customers queries and concerns. Rest assured that there is a customer service representative at your service at all times.

UNIQUE DESIGNS.

If you look closely at the products that they create, theirs is one of a kind. They create uniquely designed flower arrangements that stuns and steals your attention right away.
PRODUCTS
WEDDING ARRANGEMENTS
BOUQUETS
VASE ARRANGEMENTS
DELIVERY AND PAYMENT
Contact shop for more details.
Images taken from each company's official websites/social media.