This metropolitan city may just be one of the busiest places in Germany. So for the people who are always on the go, why not give yourself (plus a loved one) some well-earned break? Rediscover your city and book a river cruise. Or maybe visit the historical Eltz Castle? You know what, you don't even have to stray far from the city. Just lounge somewhere with a lovely view of Frankfurt's skyline. To make the night extra special, bring your date some flowers. Check out the best florists in Frankfurt below.
1. THE ROSARIUM

Looking for a trendy bouquet that will make your loved one swoon? The Rosarium is the one for you. They offer hand-tied bouquets, floral arrangements, wedding floristry, flower pots, and flower vases among many other things. Check out their amazing collection now.
WHAT PEOPLE LIKE
CHIC PACKAGING. What makes the flowers more appealing other than the expert way they're arranged is its packaging. The Rosarium nails them both. Their clean minimalistic packaging allows for a more luxurious feel for their products.
INFINITY COLLECTION. These neatly arranged 'frozen' roses are the perfect gift for anybody looking for a present that can last for a long time. You can buy them in red, black, white and pink colors.
Flowerboxes are just downright charming. Even more so if they're made from high-quality fresh-cut flowers expertly arranged. Make sure to check out this collection if ever you drop by their shop.
PRODUCTS
FLOWERBOX: 49,99 € – 59,99 €
BOUQUET: 20,00 € – 45,00 €
INFINITY COLLECTION: 99,99 € – 59,99 €
DELIVERY & PAYMENT
Order by 2 pm for same-day delivery (Mon-Sat). They accept major credit cards.
2. BLUMEN MEISTER

Blumen Meister is a family business that has been part of the Frankfurt City for generations. They've got three locations in Frankfurt, each one ready to help you find and create the right bouquet that you need.
SPECIALTY
Classic rose arrangements
SELECTION SIZE
Large
STARTING PRICE
$24.49
DELIVERY FEE
Calculated at checkout
WEBSITE
https://blumen-meister.com
SOCIAL MEDIA
Facebook:@BlumenMeisterFrankfurt
Instagram:@blumen_meister_frankfurt
CONTACT DETAILS
+49 69 28 38 04 |  +49 69 131 09 16
WHAT PEOPLE LIKE
LARGE COLLECTION OF FLOWERS. Enjoy a wide array of flowers that would suit your choice of style and budget! From Birthdays to Seasonal events like Christmas and from Wedding deco to Office deco, you'll never run out of choices at Blumen Meister.
FAST AND EFFICIENT DELIVERY SERVICE. You don't have to wait too long for your flowers to be delivered. In fact, in as fast as 1 hour, your loved one in Frankfurt can already receive it. Order online or call them.
PRODUCTS
BOUQUETS: €18,00 – €180,00
ARRANGEMENTS: €39
SINGLE FLOWERS: €15,00 – €70,00
WORKSHOP: 39 €
DELIVERY & PAYMENT
Delivers as fast as 1 hour within the Frankfurt area. Payment options are available upon checkout.
3. ALICE IM BLUMENLAND

"Fresh, modern flower arrangements for every occasion," is what Alice in Blumenland promises. And we can see that they've fulfilled that even just by quickly browsing their flower catalog. Their bouquets are just vibrant and refreshing that we'd like one for ourselves.
SPECIALTY
Modern flower arrangements
SELECTION SIZE
Large
STARTING PRICE
€15,00
DELIVERY FEE
Calculated at checkout
WEBSITE
https://www.alice-blumen.de
SOCIAL MEDIA
Facebook:@AliceimBlumenland
Instagram:@alice_im_blumenland
CONTACT DETAILS
+49 69 738 4013 | Fax: +49 69 730 348
WHAT PEOPLE LIKE
LONGSTANDING COMPANY. With over 30 years in the floristry business, Alice im Blumenland has mastered the ins and outs of all things floral. Trust their professional florists with years of experience to help you choose the right kind of flower arrangement for any occasion.
UNIQUE FLORAL CONCEPTS. From their pre-arranged bouquets to the flower workshops they offer, you can see just how much mastery they have over floristry. The amount of creativity and detail they bring is something we really admire.
PRODUCTS
SINGLE FLOWERS: €15,00 – €70,00
BOUQUETS: €18,00 – €180,00
ARRANGEMENTS: €39
AUTUMN: From €32,00
DELIVERY & PAYMENT
Delivery and payment options are available upon checkout.
4. BLUME 2000

For high-quality arrangements that wouldn't break the bank, you can never really go wrong with Blume 2000. Each of their bouquets is expertly arranged to cater to your taste. From Birthdays to Romantic events, there's a bouquet that would fit right in.
SPECIALTY
Flowers in a vase
SELECTION SIZE
Large
STARTING PRICE
12,99 €
DELIVERY FEE
From 4,99 €
WEBSITE
https://www.blume2000.de
SOCIAL MEDIA
Instagram: @blume2000.de
Facebook: @blume2000.de
CONTACT DETAILS
+49 (0) 40 226 363 27
WHAT PEOPLE LIKE
DESIGNER ARRANGEMENTS. Topnotch flowers are within your reach with Blume 2000's original designs. Each bouquet is meticulously arranged by their in-house florists whose creativity and technical know-how is apparent with each finished arrangement.
FRESH FROM THE FIELD. Blume 2000 uses fresh farm flowers for their whole flower catalog. By purchasing directly, not only do they save a lot of time in logistics, but they're also able to offer you the freshest blooms for a better price.
PRODUCTS
GEBURTSTAG: 14,99 € – 58,99 €
BESTE FREUNDIN: 12,99 € – 57,99 €
LIEBE & ROMANTIK: 14,99 € – 44,99 €
TRAUER: 14,99 € – 49,99 €
DELIVERY & PAYMENT
Open from 8:00 – 20:00. Payment options include VISA, MasterCard, AmEx, and Paypal.
5. VALENTINS FREUD SCHENKEN

Valentins is the award-winning flower shop that not only caters to Frankfurt but the whole country of Germany as well. They've got a large collection of flowers so be sure to check their whole catalog online so you don't miss out on anything.
SPECIALTY
Colorful flower arrangements
SELECTION SIZE
Large
STARTING PRICE
$29.95
DELIVERY FEE
From  € 5.49
WEBSITE
https://www.valentins.de
SOCIAL MEDIA
Facebook:@valentins.de
Instagram:@valentins.de
CONTACT DETAILS
+49 6105 3077134
WHAT PEOPLE LIKE
COLORFUL FLOWER ARRANGEMENTS. We highly suggest you check out their online shop to see their full collection of flowers but the one that we really like is Herbstleuchten. This flower arrangement celebrates Autumn with its vibrant flowers, artistically styled in a vase.
WHAT YOU SEE IS WHAT YOU GET. Do you get anxious about buying flowers online? Worried it might not arrive as pictured? In this company, "Your Valentine's Bouquet will look exactly as it is pictured – the same ingredients and consistently high quality." Money-back guarantee.
PRODUCTS
BOUQUETS: €10.99 – €79.99
PREMIUM BOUQUETS: €24.99 – €103.99
SUNFLOWERS: €17.99 – €51.99
ROSES: €15.99 – €103.99
DELIVERY & PAYMENT
Order by 16:00 for next-day delivery. They accept VISA, MasterCard, AmEx, Amazon Payments, EC, and PayPal for online purchases.
6. BLUMENBAR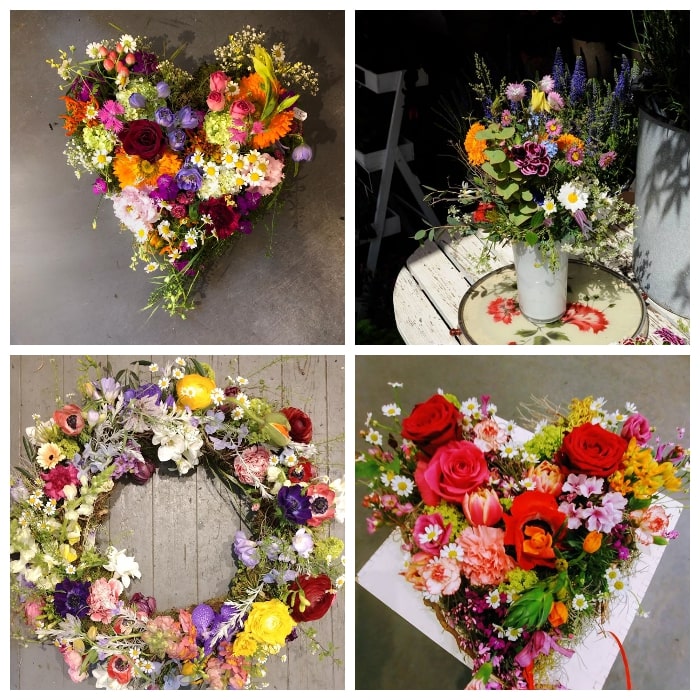 Looking at Blumenbar's previous flower creations, one can immediately feel their love for anything flower and crafts related. This floral studio is passionate about their floristry and doesn't shy away from unconventional designs that result in better and better floral arrangements for you to enjoy.
| | |
| --- | --- |
| SPECIALTY | Customized flower arrangements |
| SELECTION SIZE | Curated |
| STARTING PRICE | € 20 |
| DELIVERY FEE | Contact the store for delivery fees |
| WEBSITE | https://www.blumenbar.net |
| SOCIAL MEDIA | Facebook: Blumenbar-florale Kunststücke |
| CONTACT DETAILS | 069-59795965 | [email protected] |
WHAT PEOPLE LIKE
FLOWER DELIVERY. For as low as € 20 (excluding delivery fee), you can avail Blumenbar's unique flowers. Their in-house florists will personally design your bouquet based on your request using their fresh seasonal flowers.
BUDGET-FRIENDLY. Blumenbar wants to cater to every budget that's why from € 20 to € 150, you can have your fully customized bouquet delivered anywhere in Frankfurt. Check out their previous design online so you'll have an idea of what you'd want them to fix you.
PRODUCTS
FLOWER ARRANGEMENTS: €20 to €150
DELIVERY & PAYMENT
Contact the store for payment options
7. KRAUT & ROSEN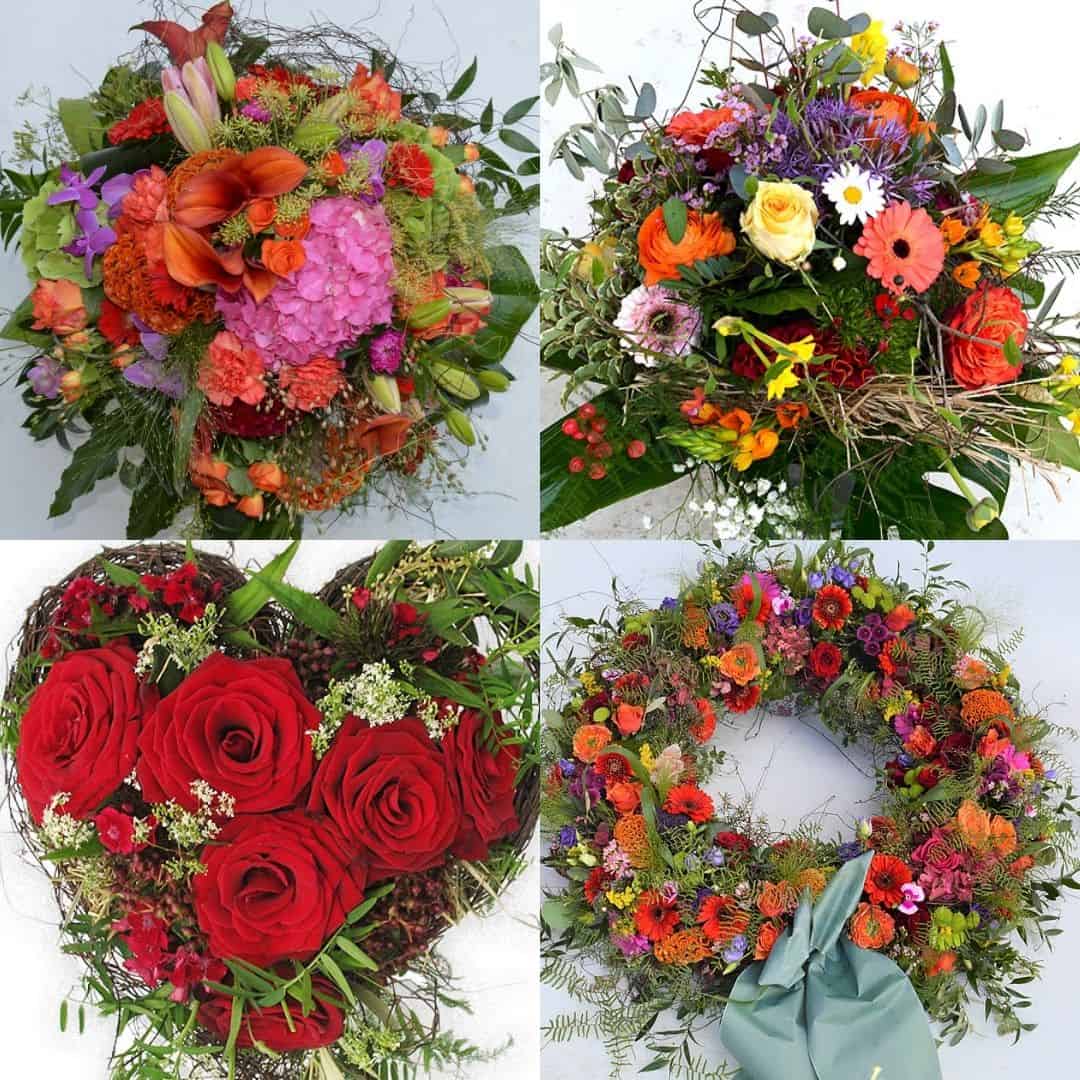 Enjoy a hassle-free service from Kraut & Rosen. With simply a few clicks from their site, you can have your orders be delivered the very same day you bought them!
Take a look at their wide range of selection, from simple red roses, to more intricate designs and colors. Experience high quality blooms, check out Kraut & Rosen.
WHAT PEOPLE LIKE
Fresh Flowers – Kraut & Rosen offers freshly cut blooms every day, ensuring that they arrive to you in their best condition and can last you longer than any other arrangement. Make sure to get one of yours and experience fragrant and pretty blooms, only at Kraut & Rosen.
Expert Florists – Never settle for anything but the best, have Kraut & Rosen's experienced florists arrange your flowers for you. With their years in the field, you're sure to get high quality arrangements made by experts. Order yours now!
PRODUCTS
Flower Arrangements
Funeral Flowers
Wedding Flowers
Table Arrangements
Seasonal Flowers
DELIVERY & PAYMENT
PayPal, VISA, MasterCard
Images taken from each company's official websites/social media.