Since before, Penang has been a popular destination for exotic adventures, because of the rich natural resources. Some of the best destinations here are Penang Hill, Kek Lok Si Temple, Cheong Fatt Tze Mansion, Escape Adventure Land and many more. These are just some of the attractions that set Penang apart as a perfect fun-packed getaway.  While travelling, you will also be greeted by the friendly locals and the irresistible delicacies you'll only find in Penang.
Char Koay Teow is a stir-fried flat rice noodles that are mixed with soy sauce, shrimp, cockles and more. This delicious dish would definitely leave your mouth watering after smelling the irresistible aroma. Pait this up with the sweetness and goodness of cakes. Scroll down to view eight of the best cake deliveries in Penang.
1. BEST CAKES MALAYSIA

| | |
| --- | --- |
| SPECIALTY | Crepe, Cheesecakes, Chocolate Cake |
| SELECTION SIZE | Medium |
| STARTING PRICE | MYR140 |
| DELIVERY FEE | Calculated at checkout |
| WEBSITE | https://www.malaysiabestcakes.com/ |
| SOCIAL MEDIA | N/A |
| CONTACT DETAILS | Contact form is available on their website |
From their name, Best Cakes Malaysia only offers the best cakes in Malaysia. Ranging from crepe cakes to cheesecakes and chocolate cakes, they have the most delicious cakes in the whole country!
People prefer to buy from them because all their products can fit into any occasion. Whether it is a birthday party, your anniversary, or graduation you will definitely have cake perfect for it.
Unlike other cake shops, they offer all of their cakes in 6 inches that can serve 4 to 7 people. As for the shelf life of their cakes, they are best consumed within 3 days since no product contains any preservation.
A great factor about them is their delivery service. They usually offer free deliveries however for some areas that are out of their delivery coverage, there may be an additional fee.
WHAT PEOPLE LIKE
CREPE CAKE: They are the only shop that offers crepe cakes that are tangy, rich, and refreshing.
NATURAL, RICH, AND MOIST CAKES: They offer cakes that do not contain any additional flavoring and preservation. Plus, their cakes are always freshly baked.
PRODUCTS
ESPRESSO MACCHIATO CREPE CAKE: MYR200
CHOCOLATE BANANA CREPE CAKE: MYR200
CHOCOLATE MINT CHEESECAKE: MYR186
BLACK SESAME CHEESCAKE: MYR190
CARAMEL CHOCOLATE CAKE: MYR170
BELGIAN CHOCOLATE MOUSSE CAKE: MYR160
DELIVERY & PAYMENT
Delivery is usually free but for some areas, there may be additional fees.
Contact for more payment options.
2. SWENS HOMEMADE CAKES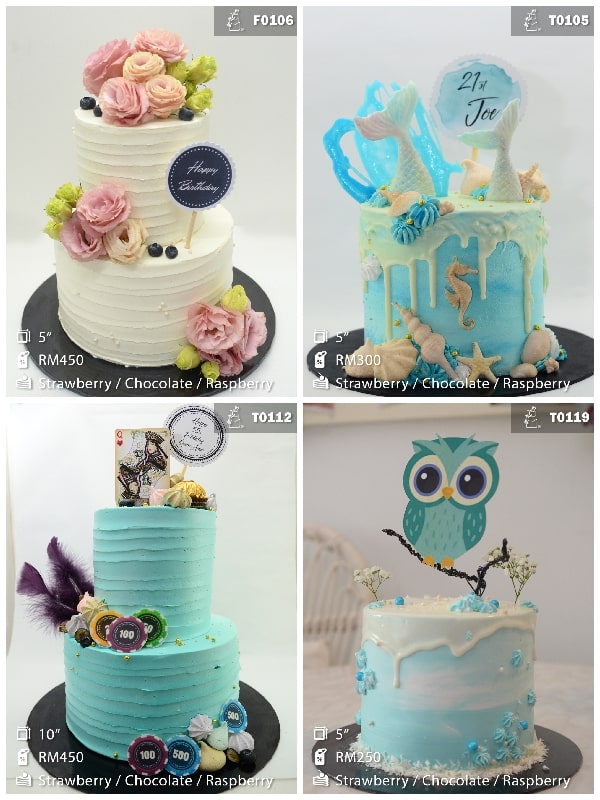 | | |
| --- | --- |
| SPECIALTY | Signature artistic cakes |
| SELECTION SIZE | Medium |
| STARTING PRICE | RM 100 |
| DELIVERY FEE | For inquiries |
| WEBSITE | https://www.swenshomemadecake.com/ |
| SOCIAL MEDIA | Facebook: @swenshomemadecakes Instagram: @swenshomemadecake |
| CONTACT DETAILS | 012 426 2298 / 04 826 2212 |
Swens Homemade Cakes has one goal to fulfill: to amaze their customers with their unique and artistic cake creations. That's why at Swens, creativity is overflowing to satisfy their customer's expectation from them. They specialize in themed cakes that are either made 3D or 2D. For 3D, they exert the extra effort to create beautiful designs and decorations to achieve the dreams of their customers, but for 2D, they print the theme in a photo-like form in the cake.
WHAT PEOPLE LIKE
ARTISTIC & CHIC CAKES: Browse their portfolio online to view some of the best creations they've done over the years. You'll also be surprised to see how detail-oriented they could be. From kiddy parties up to adult parties, they'll surely help you with your dream cake. 
BEST QUALITY CAKES: Since they strive to always amaze their customers, they also ensure quality in the products they create. They make sure that each product was made with the highest standards.
PRODUCTS
SUGAR PRINT: RM 100 – RM 140
SUGAR PASTE: RM 150 – RM 190
3D CAKES: RM 280 – RM 480
THEMED CAKES: RM 250 – RM 450
DELIVERY & PAYMENT
Pay through bank deposit.
3. BRIX & BAUME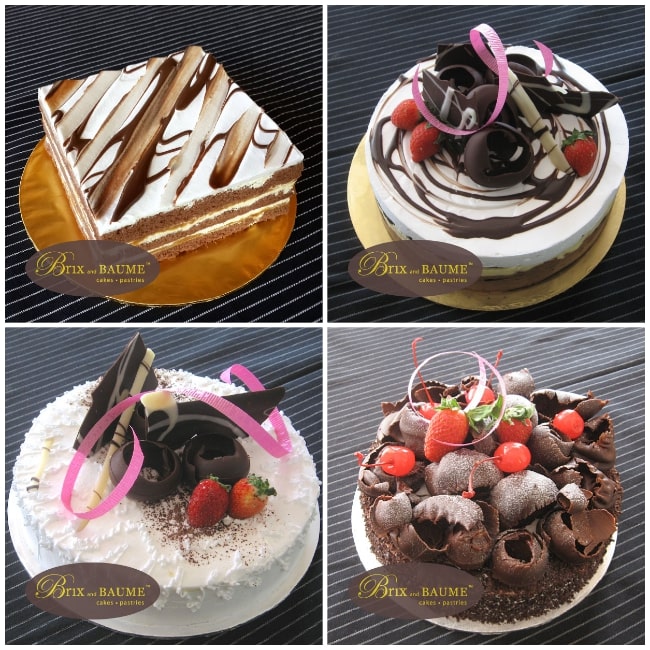 | | |
| --- | --- |
| SPECIALTY | Elegant cakes |
| SELECTION SIZE | Large |
| STARTING PRICE | RM 13 |
| DELIVERY FEE | Free |
| WEBSITE | http://brixandbaume.com/ |
| SOCIAL MEDIA | Facebook: @brixandbaume |
| CONTACT DETAILS | 60 4229 8254 |
If you want to be at the hands of cake experts, Brix and Baume is the right cake shop for you. The three owners are experts who've had their training from the best hotels, the best schools, and the best restaurants. Since 2002, they are making state of the art cakes that do not only look great, but also tastes great.
WHAT PEOPLE LIKE
SKILLED BAKERS: Supervised by their highly skilled bosses, these bakers are also well-skilled in cake creations. Customers loved their cakes from the distinct and flavorful taste that it gives. They also love some of the cream puffs and other pastries.
BEST TASTING CAKES: One thing that customer love from a cake is its sweetness, but too sweet could ruin a cake. Good thing, Brix and Baume knows this. They add more flavor to the cake to add distinct yet delicious taste to the cakes.
PRODUCTS
BASIC: RM 13 – RM 46
CARAMEL: RM 46 – RM 65
CHEESE: RM 46 – RM 55.50
CHOCOLATE: RM 30 – RM 65
COFFEE: RM 46 – RM 55.50
DELIVERY & PAYMENT
Free delivery within Penang for order of 1 kg and above.
4. BREAD HISTORY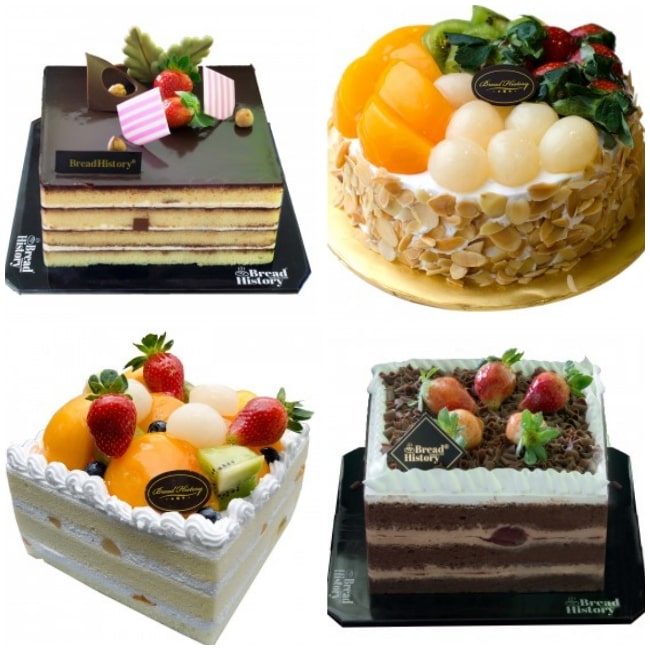 | | |
| --- | --- |
| SPECIALTY | Signature birthday cakes |
| SELECTION SIZE | Medium |
| STARTING PRICE | RM 2. 70 |
| DELIVERY FEE | Free |
| WEBSITE | http://www.breadhistory.com.my/new/ |
| SOCIAL MEDIA |   |
| CONTACT DETAILS | +604 375 0070 |
Bread History pride their company as the first player in the baking industry to strive for modernity. They have been in business since 2003 to create not just tasty treats, but also stylish decorative cakes. Their cake creations look and taste good; they make sure to incorporate the most popular trends in the industry to their creations.
WHAT PEOPLE LIKE
FRUIT CAKES: Bread History has unique yet distinctive design in their collection which they call signature birthday cakes. The selection looks well thought of and really put together, but the fruit cakes stand out from the others.
CREATIVE CAKES: Creative cakes are also their forte. Whether you need a cake for a children's party or an adult-themed party, they probably have it in their website.
PRODUCTS
SIGNATURE BIRTHDAY CAKES: RM 8. 40 – RM 193.90
CUSTOMIZED CAKES: RM 93.90 – RM 294.90
COTTON CHEESECAKES: RM 24.40
KOBE CAKE: RM 4.60
SPONGE CAKES: RM 2.70
DELIVERY & PAYMENT
Enjoy free delivery for purchase above RM 35 and expect your delivery 3-5 working days upon checkout.
5. MON DELICE PATISERRIE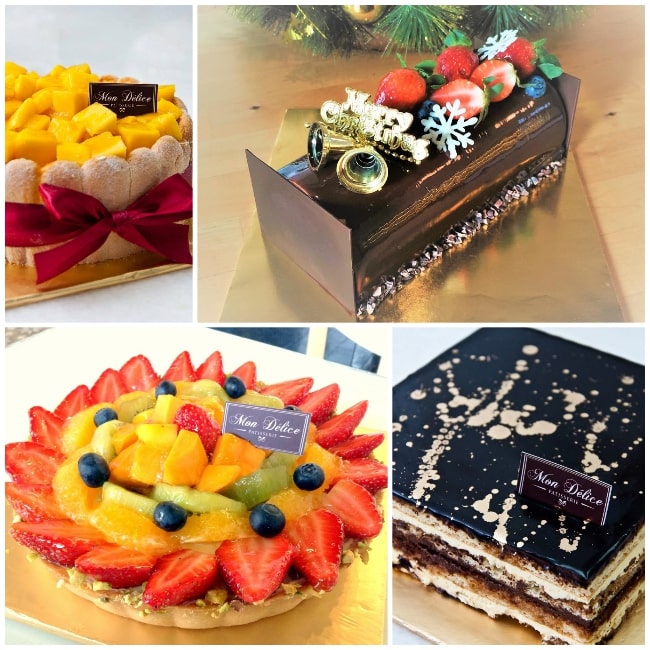 | | |
| --- | --- |
| SPECIALTY | Beautifully decorated cakes |
| SELECTION SIZE | Medium |
| STARTING PRICE | Inquire via phone |
| DELIVERY FEE | Inquire via phone |
| WEBSITE | https://www.facebook.com/MonDelicePatisserie |
| SOCIAL MEDIA | Facebook: @MonDelicePatisserie |
| CONTACT DETAILS | 604 226 4394 |
Mon Delice Patisserie put together a range of treats that are perfect for the taste buds of their community. Established in 2012, they may be just new in the business, but their cake designs are just astonishing. Plus: the locals of Penang seems to be going back at their services due to the equally amazing taste. Some of the crowd favorites are Mango Charlotte and Passionfruit cake. 
WHAT PEOPLE LIKE
GREAT COLLECTION OF DESERTS: Their collection of desserts are just mouthwatering. The delectable collection will make you want to buy not just one. The taste will make you want to buy more.
MODERN FRENCH CAKES: French cuisine are known for their sumptuous taste and the rigorous preparation. Here at Mon Delice Patisserie, they let you experience their modern take to the classic french cakes.
PRODUCTS
CLASSIC CAKES
CHOCOLATE CAKES
FRUIT CAKES AND PIES
DECORATIVE CAKES
DELIVERY & PAYMENT
To know more about their delivery policy, contact them at their Facebook page.
6. OVEN & CHALICE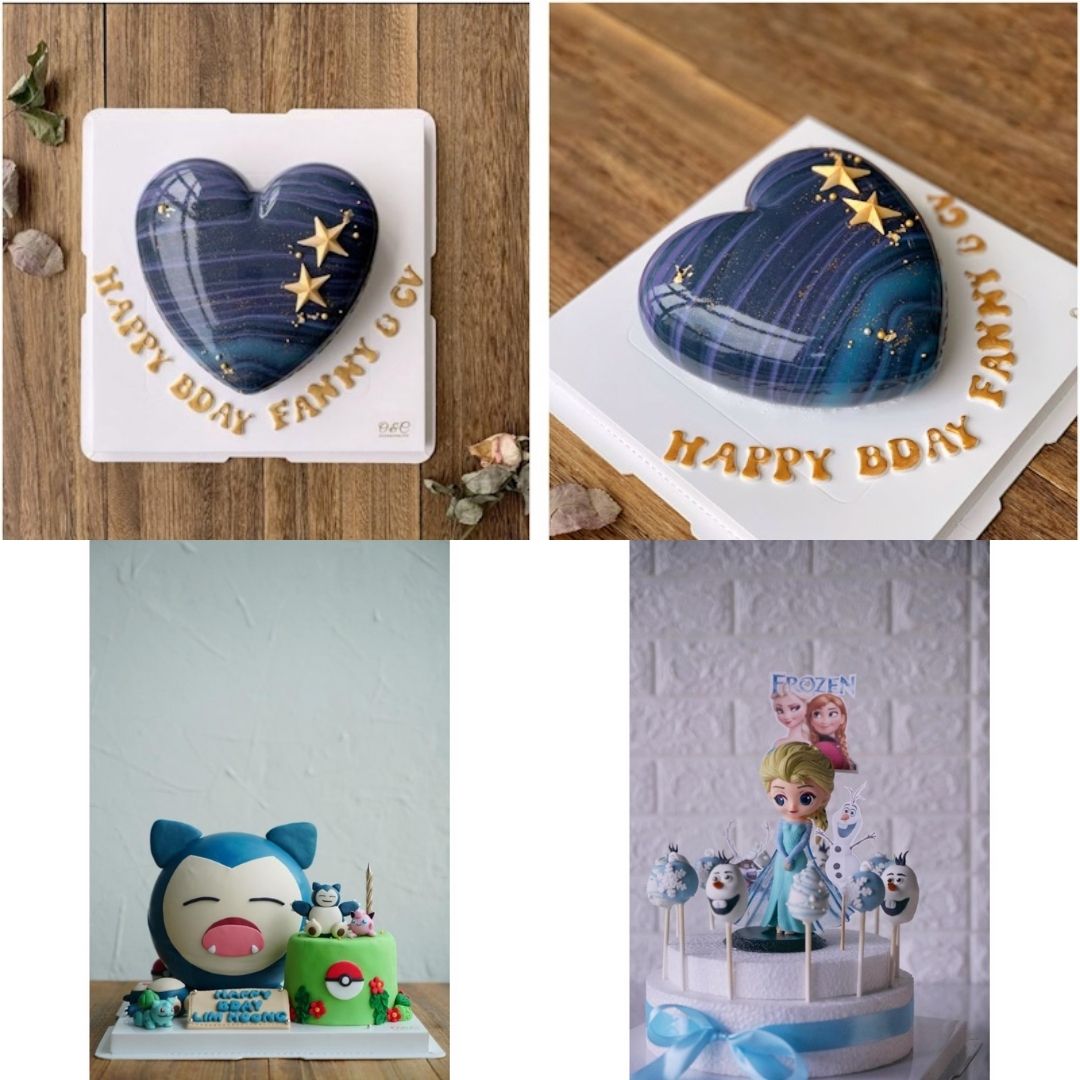 Oven & Chalice prides themselves in creating masterpieces of cakes for each and every order. Their great attention to detail sets them apart from any other bake shops and you'll surely be satisfied with their work. Have only the best and most skillful bakers create you a cake, check Oven & Chalice's website and order yours now!
SPECIALTY
Mirror Glaze Coated Cake
SELECTION SIZE
Medium
STARTING PRICE
Starts at MYR10.90
DELIVERY FEE
Starts at RM15
WEBSITE
http://ovenandchalice.com/
SOCIAL MEDIA
CONTACT DETAILS
[email protected]
Whatsapp Only: 60164494510
WHAT PEOPLE LIKE
MINI CAKES. Oven & Chalice reinvents celebratory cakes with their mini ones! Now, you can have your designs be made in smaller sizes to add on the quantity of the cakes you can have them make. What's more, is that the price is also cheaper, and it's easier to be created and delivered! Make sure to check out all the other details in their website and order your very own mini cake, or two.
PREMIUM DESSERTS. Be amazed with how great the delicacies are at Oven & Chalice. This shop offers only the best quality of desserts that will surely melt in your mouth! Taste it for yourself, order one of their cakes or other munchies like cookies.
PRODUCTS
Mirror Glaze Coating

Velvet Coating

Bombshell Piñata

Themed Cake

Cupcakes

Mini Cake

Cakepops

Customized Cookies

Tartlet / Shortbread

Flower Set


Stay Home Treats
DELIVERY & PAYMENT
VISA, MasterCard
7. SK HOMEMADE CAKES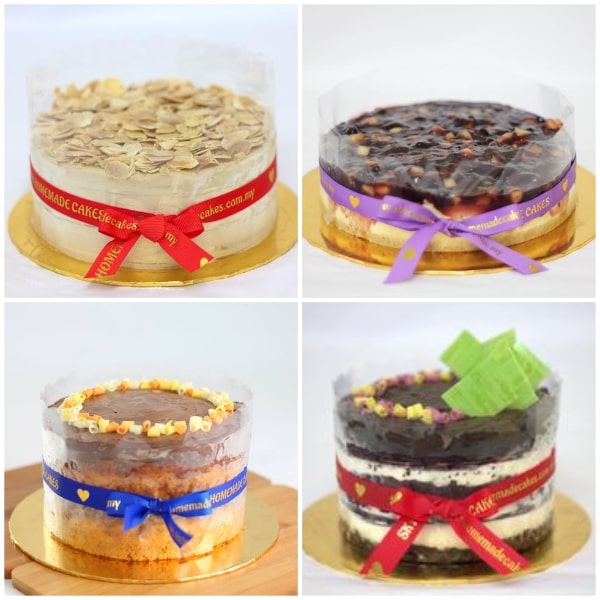 | | |
| --- | --- |
| SPECIALTY | Specialty cakes |
| SELECTION SIZE | Large |
| STARTING PRICE | RM 56 |
| DELIVERY FEE | Starts at RM 23 |
| WEBSITE | https://www.skhomemadecakes.com.my/ |
| SOCIAL MEDIA | Facebook: @skhomemadecakes Instagram: @sk_homemade_cakes |
| CONTACT DETAILS | 011-11710357 |
SK Homemade Cakes started small at the very homes of their founder Sharon and Kenneth. Since then, they have continued to supply cakes to restaurants and even widen their reach by supplying to thousands of clients from private individuals to establishments. They've also widen their product portfolio by adding other desserts in their portfolio like crepes, pastries, and other baking decorations.
WHAT PEOPLE LIKE
WIDE VARIETY OF DESSERT SELECTION: Check out their one of a kind selection of various desserts. Their diverse collection of cakes from cream classic cakes to eggless cakes, you'll be surprised at how these cakes are uniquely made from one another. They also offer pastries and cookies on their site.
BEST TASTING CAKES: While they offer a wide selection of cakes, one thing that glues them together is sumptuous taste. They only use fresh and high quality ingredients that meet their own standards.
SPECIALTY CAKES: Cake for birthdays? Cake for anniversaries? Cake for graduation? They surely have the perfect cake fit for your celebration.
PRODUCTS
FRESH CREAM CAKE: RM 56 – RM 220
EGGLESS CAKE: RM 59 – RM 220
CHEESECAKE: RM 57 – RM 180
MILE CREPE: RM 74 – RM 215
CLASSIC CAKE: RM 70 – RM 270
DELIVERY & PAYMENT
Delivery services are from Tuesday to Saturday. For orders placed before 11:30 am, they will deliver it the next day. Sadly, they don't deliver on Sundays and Public Holidays, but they have flexible payment options.