Jakarta may be the biggest and central city in Indonesia, but there are a few hidden gems that'll capture your interest. The Museum Nasional houses some of the most treasured artifacts of Indonesia that tells the rich history and culture. Merdeka Square, on the other hand, is a place for a breath of fresh air.
Aside from the places you have to visit, be sure to also taste some of the best Indonesian delicacies. Try Pisang Goreng Sambal Roa or Fried Banana with Chili. This unique delicacy will make you want to try more in Jakarta. While doing so, you also have to try the best tasting cakes. Here are six of the best cakes delivery in Jakarta.
Note: Due to the current pandemic outbreak, we've noted the relevant service changes for some of the shops listed below. Most stores are still accepting online or phone orders as well as deliveries.
1. ANN'S BAKEHOUSE & CREAMERY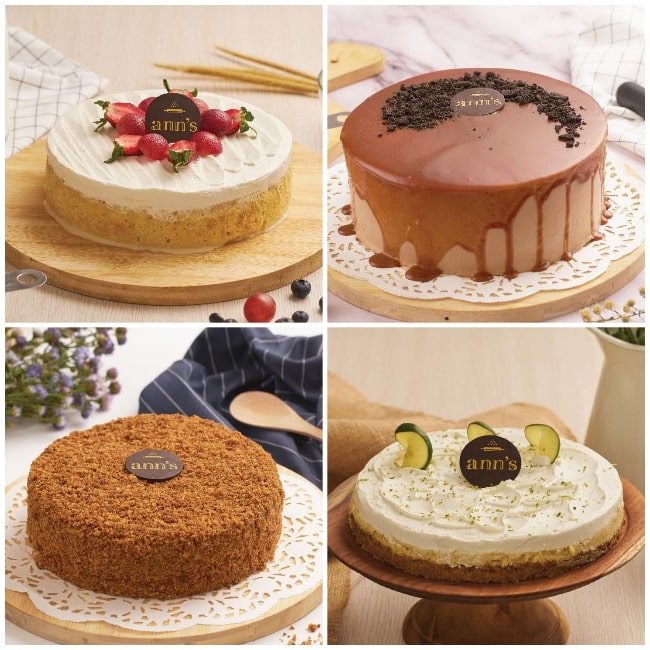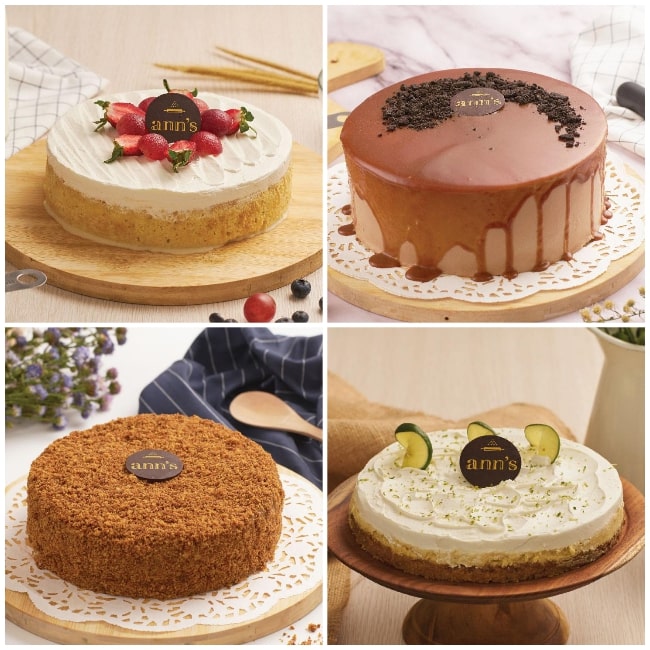 | | |
| --- | --- |
| SPECIALTY | Elegant creations |
| SELECTION SIZE | Medium |
| STARTING PRICE | Rp 12,000 |
| DELIVERY FEE | Calculated upon checkout |
| WEBSITE | https://annsbakehouse.com/ |
| SOCIAL MEDIA | Facebook: @annsbakehousejakarta |
| CONTACT DETAILS | +622127517049 / + 6281290999045 / [email protected] |
Ann's Bakehouse & Creamery is one of the best online platforms that offers cakes and other tasty treats. Their customers love the variety of cakes available in them. The decorations are just simple yet stunning and the taste are well balanced. They also love some of the pastries, bread, and other treats available in the site.
WHAT PEOPLE LIKE
WELL BALANCED FLAVORS: Everyone loves a good old cake, not for its sweetness. Cakes are an experiment of different flavors from fruits to other treats. Good thing is Ann's Bakehouse and Creamery ensures that the taste are well-balanced for that tasty finish in your mouth.
FLUFFY TREATS: The deserts they make sure are full of flavor and fluffy to eat too. So you'll definitely enjoy that wonderful feeling in your mouth and tummy.
COURTEOUS STAFF: Their staff are friendly and approachable. They'll help you find the perfect cake for your need.
PRODUCTS
ANN'S SIGNATURE: Rp 235,000 – Rp 395,000
CLASSIC CREATIONS: Rp 38,000 – Rp 355,000
BAKED PRODUCTS: Rp 16,500 – Rp 345,000
OTHERS: Rp 12,000 – Rp 412,000
DELIVERY & PAYMENT
They deliver from 8 am to 10 pm from Monday to Sunday.
2. TOKO KUE HONEY TO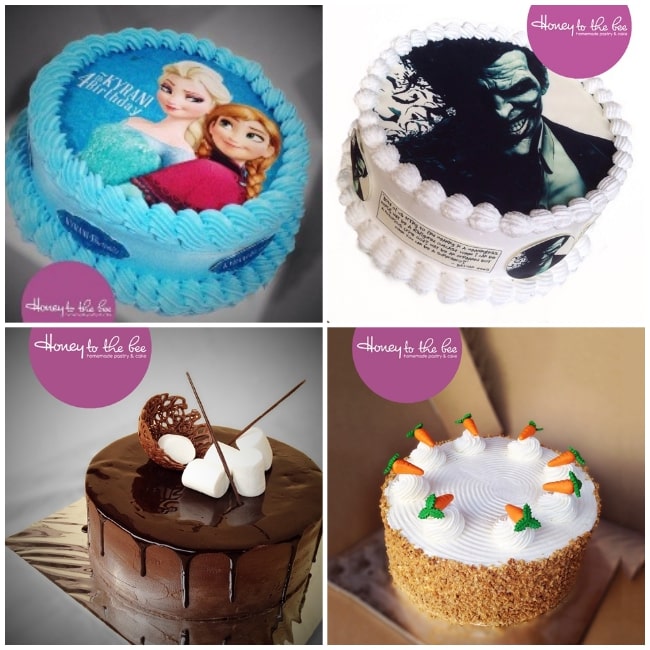 | | |
| --- | --- |
| SPECIALTY | Customized cakes |
| SELECTION SIZE | Medium |
| STARTING PRICE | Rp 220,000 |
| DELIVERY FEE | Free |
| WEBSITE | http://www.honeytothebee.com/ |
| SOCIAL MEDIA | Facebook: @honeybeeworld Instagram: @honeybeeworld Twitter: @honeybeeworld |
| CONTACT DETAILS | 085 212275481 |
With a vision to provide Jakarta resident access to high quality and affordable cakes, Honey To The Bee was founded. They wanted their customers to have the convenience of ordering online by putting up their online shop. At the same time, they ensure that the quality of cakes are at its best by using only the most premium ingredients. More than that, they also offer free delivery to their customers. That's why choosing Honey to the Bee is the total package.
WHAT PEOPLE LIKE
BEST VALUE FOR MONEY: Enjoy premium quality cakes at a competitive price. If you're ready to pay as long as you'll be getting a top quality product, Honey to the Bee has the perfect array of products for you.
FAST DELIVERY: They employ a third party courier to ensure fast delivery. They even offer 24 hours delivery, so if you need that cake by 12 am to surprise someone, they got your back.
QUALITY CUSTOMER SERVICE: Got any question or concern? They'll be happy to assist you on any matter regarding your order. Just drop them a message on Messenger, Whatsapp, and their phone.
PRODUCTS
WHOLE CAKE: Rp 220,000 – Rp 375,000
CUSTOM 3D CAKE
EDIBLE CAKE
CUPCAKES
DELIVERY & PAYMENT
Pay via bank transfer and enjoy 24 hours shipping services.
3. AJ BAKERY & CAKE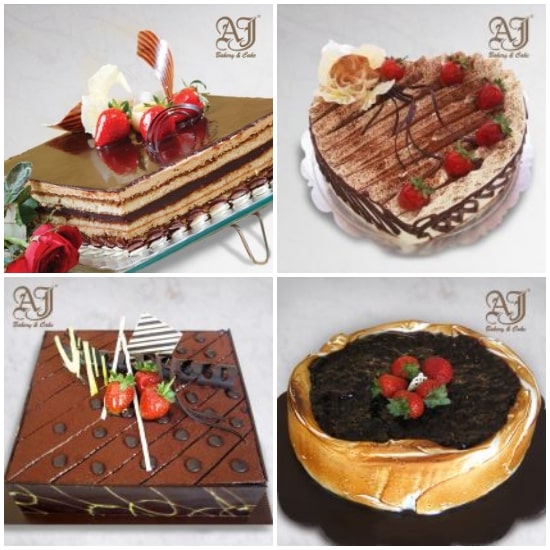 Since 1990, AJ Bakery has been serving sweets like no other. They offer the highest quality of bread, pastries, cakes, and other treats. Their cakes just from looking at it are truly mouthwatering. They believe that their food products should always go down to the taste so they ensure that their cakes are also the devilishly delicious.
WHAT PEOPLE LIKE
HIGH QUALITY CAKES: High quality cakes means the decor and the taste come together to create the perfect cake. Here at AJ Bakery, both elements are well thought of to make the best looking and best tasting cakes.
QUALITY CUSTOMER SERVICE: They also maintain great relationships with their customers. They wanted to deliver a great shopping experience both in store and online by streaming their processes.
PRODUCTS
BIRTHDAYS: Rp 330,000 – Rp 1,520,000
OCCASIONS: Rp 670,000 – Rp 3,140,000
TRADITIONAL: Rp 6,000 – Rp 13,500
SPECIAL CAKES: Rp 85,000 – Rp 905,000
SEASONAL CAKES: Rp 225,000 – Rp 710,000
DELIVERY & PAYMENT
They accept major credit cards and delivers delivery from 7:00 am to 5:00 pm
4. CAKE LAB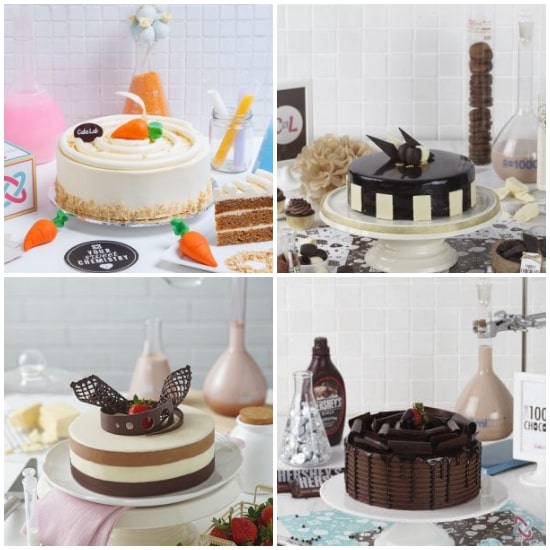 | | |
| --- | --- |
| SPECIALTY | Specialty cakes |
| SELECTION SIZE | Medium |
| STARTING PRICE | Rp 165,000 |
| DELIVERY FEE | Rp 25,000 |
| WEBSITE | http://cakelab.co.id/ |
| SOCIAL MEDIA | Facebook: @cakelabind Instagram: @cakelabind |
| CONTACT DETAILS | 021 83794132 / [email protected] |
Cake Lab is dedicated to creating premium quality cakes that delights the heart and taste buds of their customers. They know that cakes are multipurpose which means they could be used for different occasions. That's why they offer different cakes to fit different occasions. They try to balance the quality of their products and lessening the impacts to the environment.
WHAT PEOPLE LIKE
PREMIUM QUALITY INGREDIENTS: They only use the best quality of ingredients in their products. They believe that this would result to quality cakes as well.
FRESHLY BAKED: At Cake Lab, they make it a point to serve only the freshest cakes. So order now and enjoy cakes, pastries, and other treats straight from the oven. They strive for excellence and quality as their commitment to customer satisfaction.
PRODUCTS
CUSTOM CAKES: Rp 350,000 – Rp 950,000
CLASSIC CAKES: Rp 165,000 – Rp 330000
PASTRIES: Rp 9000 – Rp 44000
CUPCAKES: Rp 18,500
COOKIES: Rp 4500 – Rp 10500
DELIVERY & PAYMENT
Pay through Visa and Mastercard. Delivery charge is Rp 25,000 in Jakarta and Rp 50,000 outside Jakarta.
5. DORE BY LETAO

DORÉ by LeTao is truly golden in regards to baked goods. Everything in their catalogue is noteworthy, most of all their fromage cakes and millecrepes.
You can expect only the best from DORÉ, with how they use only the freshest and finest of ingredients to craft their desserts.
WHAT PEOPLE LIKE
BEAUTIFUL DESIGNS. People first eat with their eyes, and DORÉ's desserts fit the bill with how scrumptious looking they all are. Don't worry! It's not all appearance, though, since the taste exceeds looks at this shop.
PICK UP OPTION. Worried about your chosen dessert getting ruined during delivery? While it's unlikely to happen, you can also opt to pick up your order at DORÉ's physical shop! They're open from 9:00-17:00 daily, and it'll be free of charge.
PRODUCTS
Baked goods
Hampers
Seasonal goods
Fromages
DELIVERY & PAYMENT
The shop accepts payments made with credit cards and bank deposits. Delivery is available everyday 10:00 – 18:00.
6. CAKE ET CETERA

Cake Et Cetera is the place to be if you're looking for beautifully designed cakes for any occasion. You have the option to choose between a classic cake, which is a much simpler coating and design, a celebration cake, which looks too good to eat. or a sculpted cake, which definitely is enough to have you want to keep it forever.
Receive only the best quality of cakes, make sure to hire Cake Et Cetera for your own.
WHAT PEOPLE LIKE
Hand-crafted Cakes – Rest assured that your orders will be made only with the utmost of detail and precision with Cake Et Cetera. As they have years of experience notched on their belt, best believe that your ideas will come to life by their hands. No industrialised designs, only sheer effort and skill.
High-Quality Ingredients – All the ingredients used in the shop are US FDA approved, ensuring that the cakes made are all safe enough to enjoy by everyone! High-quality ingredients are used in baking and safe-to-eat designs are used to decorate it.
PRODUCTS
Classic Cakes
Celebration Cakes
Sculpted Cakes
DELIVERY & PAYMENT
Payment transfer through BCA.