When we think of cake what we visualize is a festive and joyful event. Colourful background, people smiling, and of course a tasteful dessert. What more if we actually take a spoonful of it? Bet it is more fun that way. Ordering cakes should not be a hassle especially because there are shops in Singapore that are willing to delivery these delicious treats to you. Below is a list of some of them.
Note: Due to the COVID-19 pandemic and Circuit Breaker, some of the cake stores in our list have changed policies, operating hours, and the like. Where there's been a notable change we could confirm, we've noted it for the bakeries below.
1. Oscar Cakes

| | |
| --- | --- |
| BEST FOR | Gourmet cakes |
| SELECTION SIZE | Large |
| PRICE RANGE | Starts from $58 |
| DELIVERY FEE | Free (same-day delivery) |
| WEBSITE | https://www.oscarscakes.com/ |
| CONTACT | https://www.oscarscakes.com/en/contact |
| PAYMENT | Multiple options |
Oscar's Cakes offers rich, indulgent cakes that can be delivered for free on the same day that you place your order. You can try such sumptuous selections as Devil's Chocolate Cake, an espresso-spiked and bracing Tiramisu, Salted Caramel Cake, and more. Take note that the prices on their website already include GST, so you shouldn't be shocked by any added charges while paying for your order.
WHAT PEOPLE LIKE
FREE SAME-DAY DELIVERY. The free same-day delivery island-wide is actually a big part of what makes Oscar's Cakes a go-to shop for cakes in the country. No more waiting just to indulge your sweet tooth!
LARGE SELECTION. The large selection of sweet, mouth-watering desserts is what keeps a lot of people coming back to the store. 
PRODUCTS
Devil's Chocolate Cake – $63
Tiramisu – $58
Salted Caramel – $68
DELIVERY AND PAYMENT
Multiple payment options accepted.
2. THE CAKE SHOP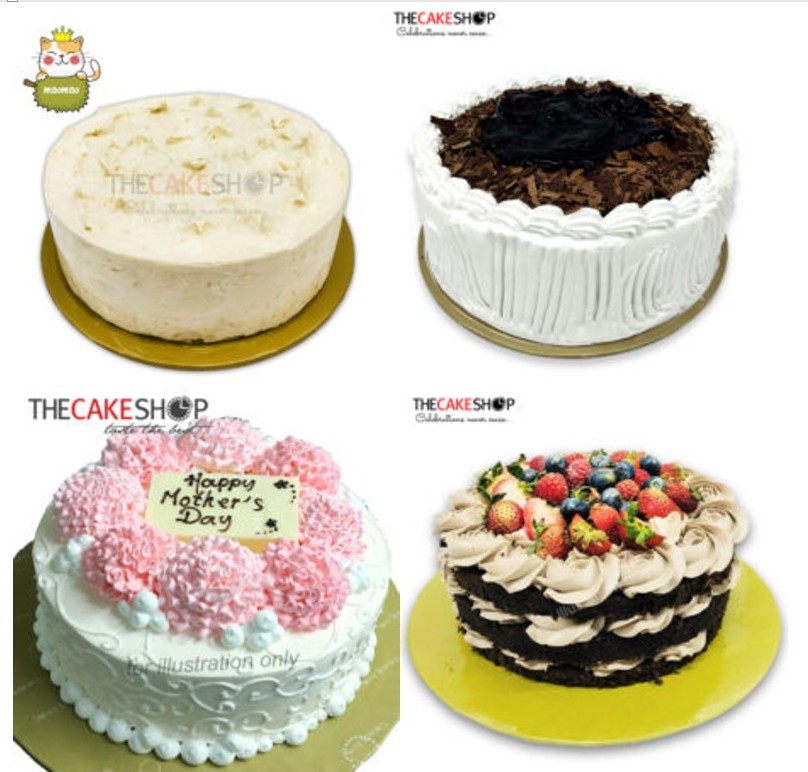 The Cake Shop was founded by truly passionate and creative bakers that aim to let the whole country of Singapore taste the best and most delicate cakes in town. From being a premium distributor of cakes and pastries to creating their own bakeshop with a maintained online shop, the team really has come a long way in the industry. If you need a bake shop that can delivery to you every single day, The Cake Shop is your perfect match.
Note: Like virtually all the other shops on the list, still delivering throughout Circuit Breaker. Just call them, send them a WhatsApp message, or visit their site and use the online form.
WHAT PEOPLE LIKE
TASTY PASTRIES. One cannot deny that The Cake Shop creates one of the most delicious pastries in the whole country of Singapore. Their cakes are just truly flavourful and delicate that you cannot get enough of them. Their cakes are originally made by their finest bakers and they can assure you that their products are always fresh from the oven.
LARGE SELECTION. Whatever kind of cake you may need for different occasions, they are certain that they can provide you with that. Starting from simple sponge cakes to enormous, most detailed one, they have every option that they can offer.
UNIQUE DESIGNS. Not only their cakes taste like heaven, they also look like an angel designed them because of their close to perfection designs. Aside from their creative icing arts and colourful fondants, they can also create 3D cakes and photo frames that will add a little extra surprise for whoever receives it.
PRODUCTS
Money Pull-Cake – $32 to $36
Mother's Day – $40 to $80
Durian Pastry – $15 to $100
Eggless Cakes – $32 to $38
DELIVERY AND PAYMENT
PayPal, Visa, NETS, Mastercard, and American Express are the accepted payment methods of the shop.
3. FNP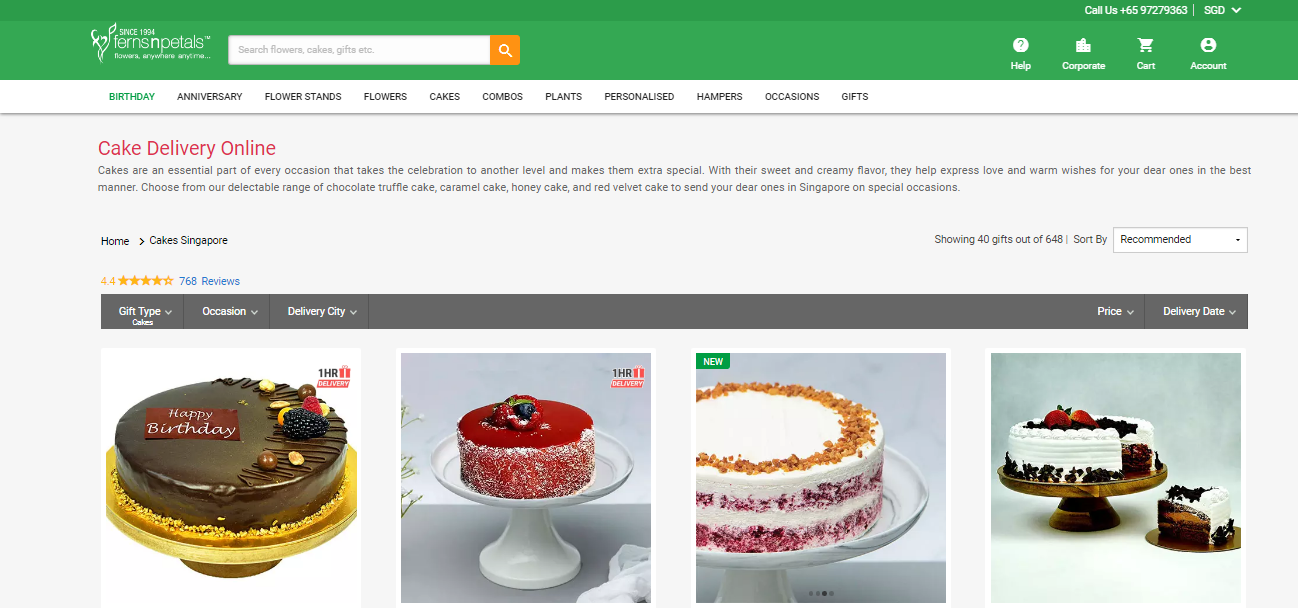 Gift giving is one of the five love languages that we have, which differs from one person to another.
With FNP, you will be able to make your loved one feel your love even if you are miles apart.
Nothing is impossible with them due to the innovation of the online world. FNP was able to pioneer their one-stop shop of gifting online and can now reach people all over  the globe. 
It all started in a single store in Delhi. Now with over 300+ outlets in 93 cities in India that delivers across 70+ countries worldwide including Singapore.
FNP have been part of celebrating every occasion with perfection since 1994. Delivering all our gifting needs be flowers, cakes, plants, personalized gifts and more with the premium and best quality there is. 
Their cakes are to die for! They offer a wide delectable range of chocolate truffle cake, caramel cake, honey cake, and red velvet cake to send your dear ones in Singapore on special occasions.
WHAT PEOPLE LIKE
CAKES FOR ALL OCCASIONS 

They have cakes for all of your milestones in life – from baby shower to weddings and anniversaries, you name it!
DIFFERENT VARIETIES There's a lot of varieties to choose from. You can shop by flavor (chocolate truffle, fresh fruit, red velvet etc), by types (same day cakes, vegan cakes, cupcakes, designer cakes, tarts etc), by occasion(from baby shower to weddings and anniversaries), by themes (unicorn theme, Minecraft theme, Harry Potter theme etc) or even by recipient (for him, for her, for kids etc).
PRODUCTS
Cake Delivery Singapore Same Day – $49 to $250
Tiered Cakes 

– 

 $319 to $619
Cupcakes 

– 

 $84 to $119
Vegan Cakes –  $79 to $109
Fresh Fruit Cakes – $75 to $149
Designer Cakes – $86 to $719
Tarts – $49 to $129
Flowers and Cake Delivery –  59$ to $229
Cakes with Plants 

– 

$89 to $169
Cartoon Cake –  $239 to $569
DELIVERY AND PAYMENT
FNP deliver all through out Singapore from 9 AM
–
  9PM via hand delivery or Courier.
4. CAT & THE FIDDLE CAKES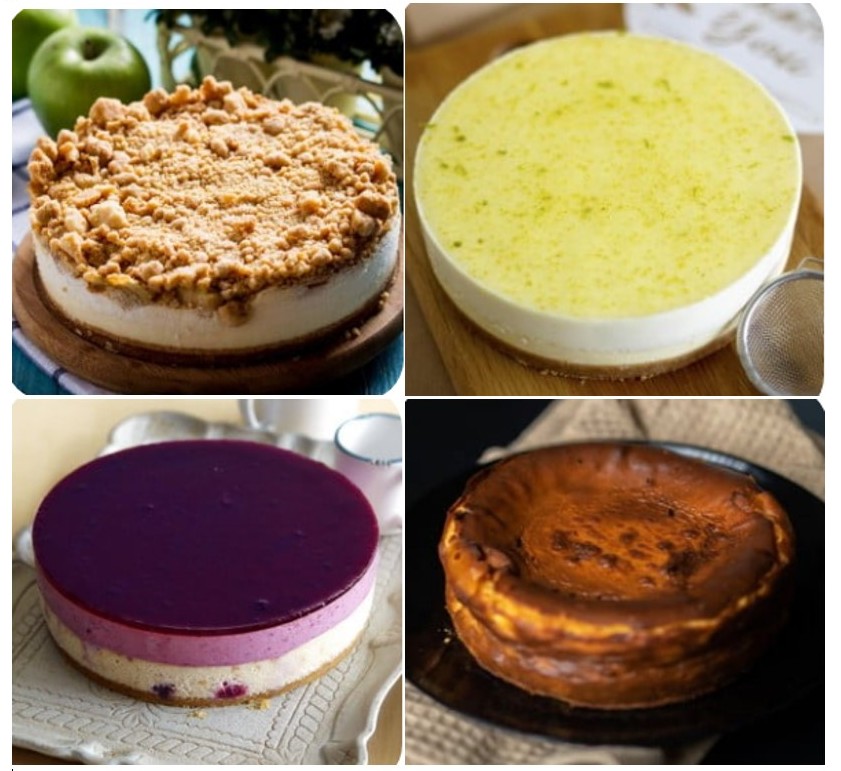 If you are craving for the creamiest and lightest cheesecake ever you should definitely try the ones made by Cat & the Fiddle. They have about 20 varieties of cheesecakes all made by their wonderful pastry chefs that will totally make you forget your name because of how incredibly tasty they are. They also have 'Make your own Fickle' series whereby cakes are customisable by the slice to3 have different flavours.
Note: Open and delivering. Their retail stores are open from 12pm to 8pm during Circuit Breaker for walk-in purchases.
WHAT PEOPLE LIKE
EXTENSIVE FLAVOR SELECTION. Their cheesecakes are just heaven-sent because of how creamy and light they are. Not to mention that they are offered in different flavours that are all equally great. Some of the most popular flavours would be Classic New York Cheesecake and Oreo Cookies & Cream Cheesecake.
ALLOW PERSONALIZED ORDERS. Should you wish to have your orders custom-made?  Cat & the Fiddle totally allows that. As a matter of fact, they even allow you to choose your own flavours and designs even before you place your orders. You just simply need to go to their website and click on Make Your Own Fickle, and choices will be laid in front of you. All you have to do now is select your preferences and your order will be on its way.
SAME DAY DELIVERY. People just can't get enough of the cheesecakes because of how flavourful they truly are so there are times that they just want to order one and savour them right away. Good thing Cat & the Fiddle offers same day delivery, so you won't have to wait for the next day to be able to satisfy your cravings.
PRODUCTS
DELIVERY AND PAYMENT
Delivery is totally free for as long as you order for a price of $90 and above. Meanwhile, the accepted payment methods are PayPal, Visa, Mastercard, American Express, Discover, NETS, and bank transfers.
5. TEMPTATIONS

Temptations, as their name suggest, will truly make you feel tempted to order more cakes from them once you get to taste their flavourful cakes, particularly their very own chocolate and durian cakes. Their Durian cake was in fact voted as one of the 10 best Durian cakes in Singapore.
However, for those who are not fond of unique flavours, you may still get to taste their best cakes which can be delivered directly to your homes. They also accept orders of customized cakes to achieve the exact same cake design that you desire.
Note: They only accept orders for standard and customised cakes from 12 May onwards due to the government's tightened measures against COVID-19. This applies to both delivery and takeaways for walk-in customers.
WHAT PEOPLE LIKE
VARIETY OF OPTIONS. Do you need quite a handful of cakes for different events happening this week? Are they of different themes and set up? No worries, Temptations can serve you with all kinds of cake for whatever occasion. Just browse through their website or pay a personal visit at their shop to see for yourself what products that can provide you with.
CUSTOM-MADE CAKES. Should you want to order a cake and send it as a gift to your friends or family members? Maybe you want to personalize your order for the recipient to know how much you mean to them. Temptations can definitely help you with that. Just provide with them the detailed instruction and they will make sure that you will love the outcome of the artwork.
PRODUCTS
Chocolate Cakes – $34 to $60
Durian Cakes – $48 to $108
Birthday & Customized Cakes
Wedding Cakes
DELIVERY AND PAYMENT
For inquiries regarding delivery and payment, you can send them an email at [email protected]
6. OSCAR'S CAKES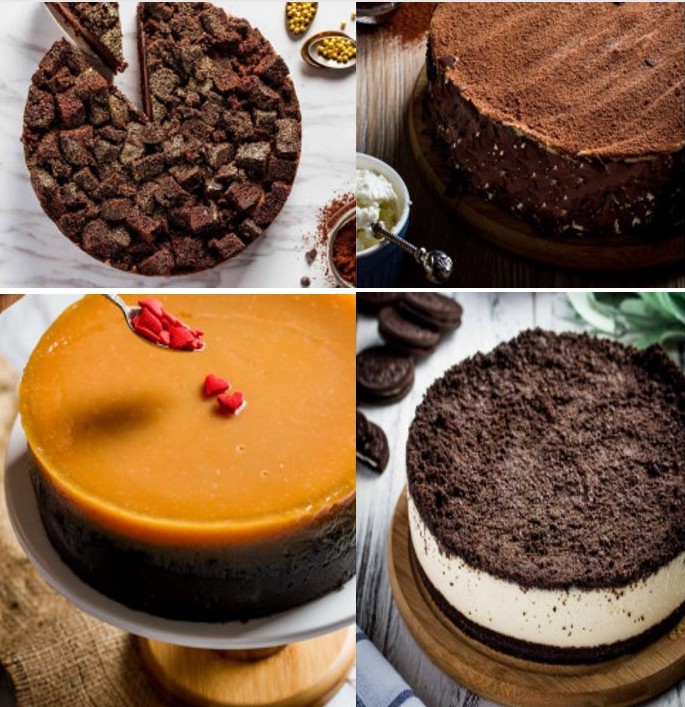 If you are looking for a cake shop that can offer you tons of cakes in different flavour, colour, design, and sizes, you should definitely check the collection of Oscar's cakes. The have almost all kinds of cake every customer might need. They have cakes that will be perfect for birthdays, as well as weddings, and even for a just an ordinary day.
| | |
| --- | --- |
| SPECIALTY | All kinds of cakes |
| SELECTION SIZE | Large |
| STARTING PRICE | Starts at $43 |
| DELIVERY FEE | Calculated at checkout |
| WEBSITE | https://www.oscarscakes.com/ |
| SOCIAL MEDIA |   |
| CONTACT DETAILS |   |
WHAT PEOPLE LIKE
FREE DELIVERY. One of the best perks one shop can offer is their free of charge delivery services. Oscar's cakes wants all people in Singapore to taste their delicious creations that is why they really make an effort to send their products to their customers without them having to worry about extra charges.
NEXT DAY DELIVERY. Are you having an impromptu party and do not have the time to place your order for cake ahead of time? Worry not because Oscar's Cakes offer next day delivery. Even if you are planning on last minute, the shop got your back and they promise to deliver your order in best condition and with no delay.
PRODUCTS
DELIVERY AND PAYMENT
The shop delivers to all locations except Jurong Island, restricted airlines and cargo areas (such as airport cargo complexes, and airline roads) and other locations that are not on mainland Singapore
7. SUSUCRE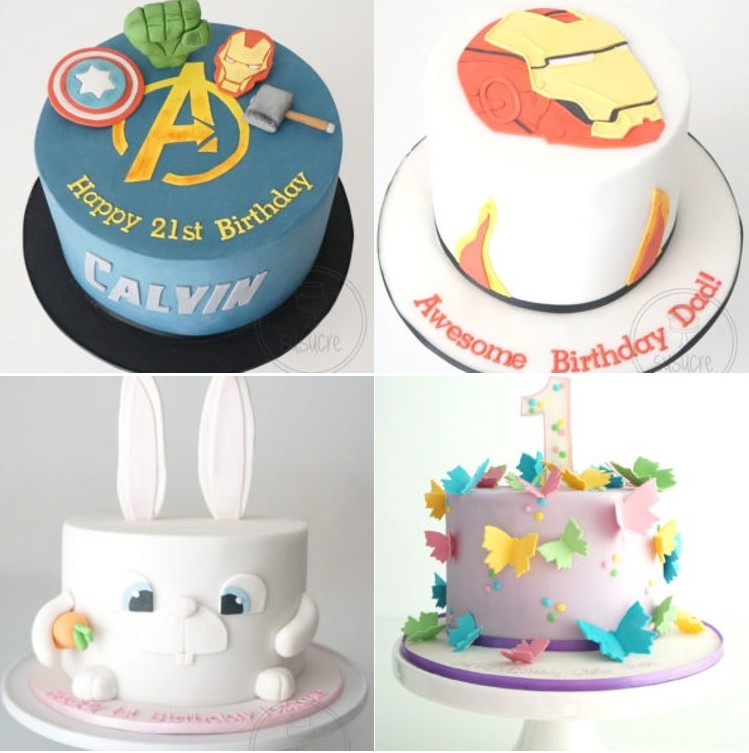 The team of Susucre combines art and their passion for baking which results to their wonderful cake products. They are best known for their customized cakes which are perfect for children's parties, bachelor and bachelorette events, and other themed occasions. The shop always makes sure to provide their best quality of products and services to ensure constant customer satisfaction.
WHAT PEOPLE LIKE
UNIQUE DESIGNS. Susucre aims to touch the hearts of their customers by making personalized cakes that will serve as proof that they give full and special attention to each and every order that they receive. They want their beloved customers to know that they are always willing to go beyond extra miles when it comes to providing high quality of service.
AFFORDABLE PRICES. Who would have thought that with such great selection, Susucre still has a heart to offer their cake products at very affordable prices? So, if you are craving for something sweet and flavourful but does not want to spend too much money, try the cakes made by Susucre.
RELIABLE SHOP- Over the years, Susucre has earned the trust of many and managed to build their reputation as one of the best, most reliable cake shop in Singapore. As a matter of fact, they earned multiple awards of multiple best qualities.
PRODUCTS
Wedding Cakes
Fondants Cakes – $160 to $175
All Natural-Series Cakes – $150 to $160
Cupcakes – $5 to $9.50
DELIVERY AND PAYMENT
Information on delivery and payment may be discussed further with their staff through phone or the email.
8. ZEE AND ELLE

Zee and Elle is a store made of love and passion for sharing delicious cakes and pastries in Singapore. It is owned by a couple who has been interested in the art of baking. Each cake in the shop is baked to perfection and designed strategically by the owners. Their creations are inspired by lush botanicals and unusual colors.  
Specialty

Honey Yuzu and Guava Lychee Cream cakes

Selection Size

Large

Starting Price

Cream cakes price range from $52

Delivery Fee

Calculated at checkout

Website

Social Media

Instagram: @ zeeandellesg

Facebook: /zeeandellesg

Contact Details
WHAT PEOPLE LIKE
CUSTOMIZED CAKE

In

case you can't find anything from their collection, you can ask the shop for to customize something for you. You can visit their website for the complete instruction on how to ask for a customized cake.

DELICIOUS CAKES AND PASTRY

. Customers praised the shop for its delicious and tasty cakes and desserts. Aside from its wide selection of cakes, you can buy other sweets from them. 
PRODUCTS
CLASSIC BUTTERCREAM CAKES:

$50

DAPPER SERIES:

$85 – $240

FLORAL RUSTIC:

$60 – $230

FRUITS SERIES:

$85 – $165

KIDS SERIES:

$75 – $260

TREE TRUNK WOOD SERIES:

$125 – $250

MERMAID NAUTICAL SERIES:

$85 – $165

TROPICAL CAKES:

$85 – $175

GENDER REVEAL:

$110

LONGEVITY:

$115 – $230
DELIVERY AND PAYMENT
Accepted payment: American Express, Google Pay, Apple Pay, MasterCard, Shopify pay, and VISA
9. Happy Oven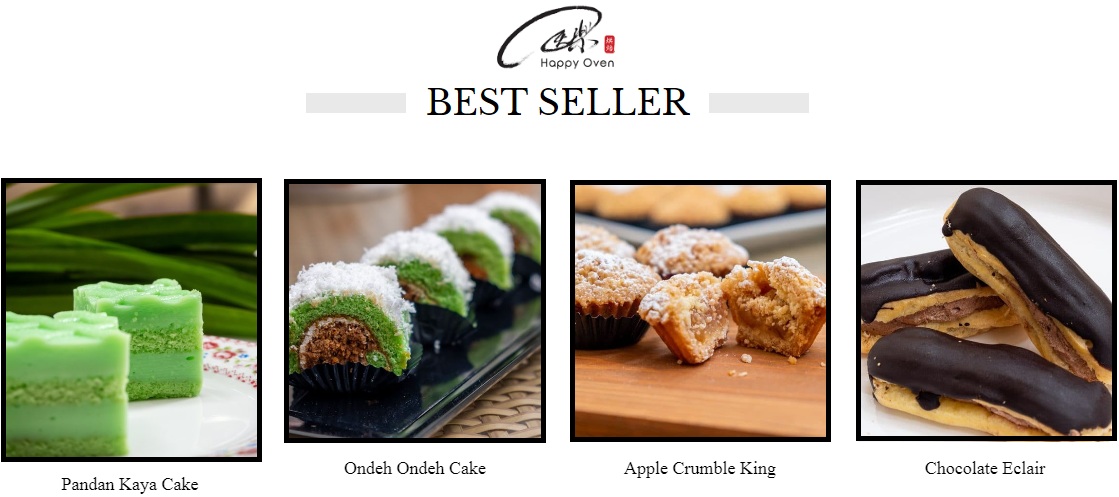 SPECIALTY

Traditional bakes with a modern twist

SELECTION SIZE

Large

STARTING PRICE

 $0.80

DELIVERY FEE

Free Delivery Options Available

WEBSITE

SOCIAL MEDIA

Facebook: @happyovensingapore

Instagram: @happyovensingapore

CONTACT DETAILS

+65 6270 7411
One of Happy Oven's visions is to modernize tradition. Instead of using pre-mixes and and cake mixes pumped full of artificial flavouring, they're intent to using natural ingredients like flour, sugar, eggs and butter in their baking – resulting in fresher, yummier and healthier cakes.
Note: They've been accepting pre-orders for cake collection and delivery since 12 May, but note that sales of bread will only be for walk-in customers. They also note that until advised otherwise by Singapore authorities, their operating hours will be 5am to 6pm for now.
WHAT PEOPLE LIKE
HEALTHIER CAKES.

Making cakes from scratch and using natural ingredients instead of cake mixes pushes the team in sourcing out higher-quality produce and ingredients for their pastries and cakes. They also make it a point to create treats that are less sweet and more balanced.

TRADITIONAL BAKERY

As one of the last traditional bakeries in Singapore, Happy Oven holds on to their famous cakes that made them who they are today as well as keep their traditions and practices in making their cakes.

BIRTHDAY PACKAGE.

There are a number of available packages from Happy Oven but the Birthday Package is just perfect. This exclusive gourmet birthday cakes package includes a unique birthday cake from their selections and artisan tarts and pastries to pair it with. 
PRODUCTS
BIRTHDAY CAKES: From $20
INDIVIDUAL SLICES: From $0.80
PACKAGES:

$40
DELIVERY & PAYMENT
Click here for more info on delivery options. Payment options include VISA and MasterCard through PayPal .
10. FLOR Patisserie

SPECIALTY

Japanese-inspired French Pastries

SELECTION SIZE

Large

STARTING PRICE

$3.85

DELIVERY FEE

From $20.00

WEBSITE

SOCIAL MEDIA

Facebook: @florpatisserie | Instagram: flor_patisserie

CONTACT DETAILS

Duxton: +65 6223 8628
Siglap: +65 6243 0813
Capitol: +65 6977 7202
FLOR Patisserie is a Singapore based patisserie you should check out. Their Japanese inspired French pastries are so visually appealing you'd be afraid of messing it up by eating it. From classic cream cakes to colorful celebration cakes, each product belongs to a Wes Anderson film. 
Note: They were closed temporarily for Circuit Breaker but reopened on 12 May.
WHAT PEOPLE LIKE
HIGH-END DELECTABLES.

Never using artificial stabilizers and only sticking to natural ingredients. This the Flor way and it's the reason why their baked products remain the highest quality. From taste to appearance, people won't doubt your treats are high-end.

GIFT BOXES.

From Christmas themed boxes to authentic Japanese confectioneries, you'll have plenty of options to choose from. Perfect gift for all your foodie friends and family!

WORKSHOPS.

Flor offers various workshops at their physical store. This changes so do check out their sites and socials for updates. Currently, there's a fun Introductory Hand-pour Coffee workshop you can join in. 
PRODUCTS
SLICE CAKES:

From $7.20

SIGNATURE CAKES:

From $3.85

CELEBRATION CAKES:

From $33.75
DELIVERY & PAYMENT
Payment options available at checkout.
11. Monice Bakes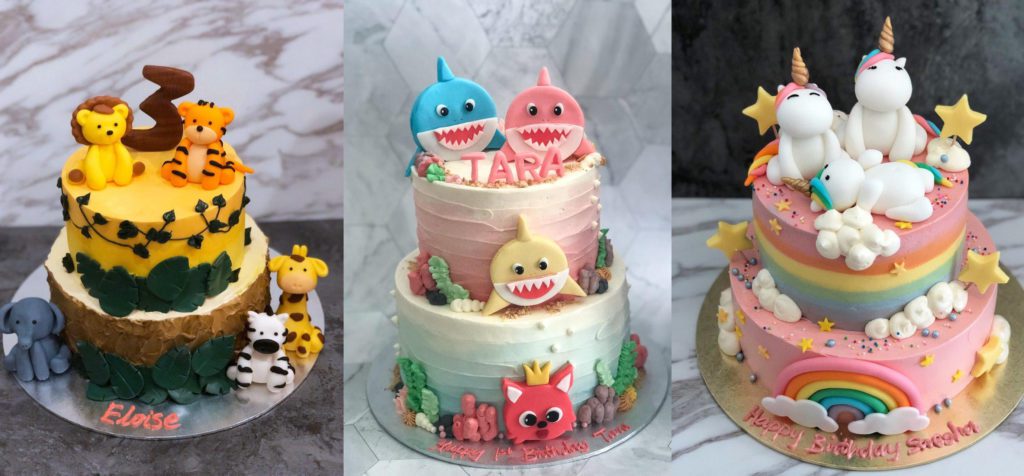 SPECIALTY

Customised cakes

SELECTION SIZE

Large

STARTING PRICE

From $40

DELIVERY FEE

Starts from $30 (External courier services are available, too)

WEBSITE

http://www.monicebakes.com/

SOCIAL MEDIA

http://www.facebook.com/monicebakes

http://www.instagram.com/monicebakes

CONTACT DETAILS

+65 98150022 (No calls) | [email protected]
Monice Bakes is known for their gorgeous, out of this world designs. They're the go to for delicious sweet treats in Singapore. Moreover, they offer the opportunity for customisation, so you can guarantee that you'll have the best sweets regardless of the occasion. 
Note: Also still delivering — you need to visit their Facebook page or website to place an order.
WHAT PEOPLE LIKE
CUSTOM MADE. When working with Monice Bakes, you can expect that no two cakes are exactly the same. This makes for a better and more unique celebration, no matter the occasion. 
NO PRESERVATIVES OR ARTIFICIAL FLAVOURS. Every creation coming from Monice Bakes is made with the finest natural ingredients. They may not be halal-certified, but you can guarantee that you won't find pork or lard in any of their treats.
LESS SWEET AND DELICIOUS. Cakes and cupcakes are meant to be sweet, but Monice Bakes makes it so that everyone, sweet tooth or not, can enjoy their yummy treats. Even savoury food lovers can be enticed with their delicacies.
"SURPRISE ME" CAKE. Don't know what cake to get? You can depend on Monice Bakes' talented team to create one for you, even based off the most vague descriptors. They won't be providing a sketch of the design, so this one's a total surprise!
PRODUCTS
CUPCAKES – 
CAKES – 
Cookies 
DELIVERY & PAYMENT
50% non-refundable deposit is required to confirm booking, balance of payment can be paid in cash or Paynow during collection/delivery.
12. THE PATISSIER

Established in the early 2000s, The Patissier is now a leading bakery offering innovative and sweet cakes and pastries made from the finest of ingredients.
Check out their amazing selection of unique flavours and beautiful designs on their website.
WHAT PEOPLE LIKE
Traditional French Baking – Experience traditional French baking with The Patissier. Their team is known for creating delectable treats using old technoques; integrating the old with the new. Taste sophisticated french pastries only with The Patissier.
Creative Flavours – With The Patissier, you're sure to discover cakes you've never had before, and best believe that you'll enjoy each and every one of it. From exotic fruits to chocolates, chiffon to meringue, it's an adventure worth the try!
PRODUCTS
Chocolate
Meringue starts
Fruits
Cheese
Tart
Celebration Cakes
DELIVERY & PAYMENT
VISA, MasterCard
13. POLAR PUFFS & CAKES

Polar Puffs & Cakes is a beloved pastry and confectionery provider in Singapore, whose history dates back to 1926. Now, with over 29 outlets island-wide, Polar Puffs & Cakes continues to bring joy to every occasion with baked goods and cakes that are baked fresh daily.
Their catalogue features both savoury and sweet options. Their cakes ranged from the classic Black Forest to seasonal specials that match the 4 seasons. Other than that, you can also find character cakes like Hello Kitty or Star Wars in their selection.
WHAT PEOPLE LIKE
SPECIAL OCCASION CAKES. Polar endeavours to make special events even more special with their limited time dessert collections. Every upcoming holiday, Polar releases dessert options that have been carefully curated to fit the theme in terms of flavour and design. 
SMALL DESSERT OPTIONS. Polar is quite known for offering fairly priced small sliced cakes. These cakes can come in sliced chocolate or mango roll slices or miniature character cakes that will delight any child (or child at heart)!

HALAL-CERTIFIED. Polar is Halal-Certified which makes it great for gatherings or gifting to accommodate people of different religions.

LESS SUGAR OPTION. Polar offers cakes that have 25% to 50% less sugar so that everybody can enjoy the delicious cakes without compromising on sugar intake. Another slice, please!
PRODUCTS
Cakes
Pastries
Tarts & Puffs
Photo cakes
DELIVERY & PAYMENT
Accepts major credit cards
14. THE UGLY CAKE SHOP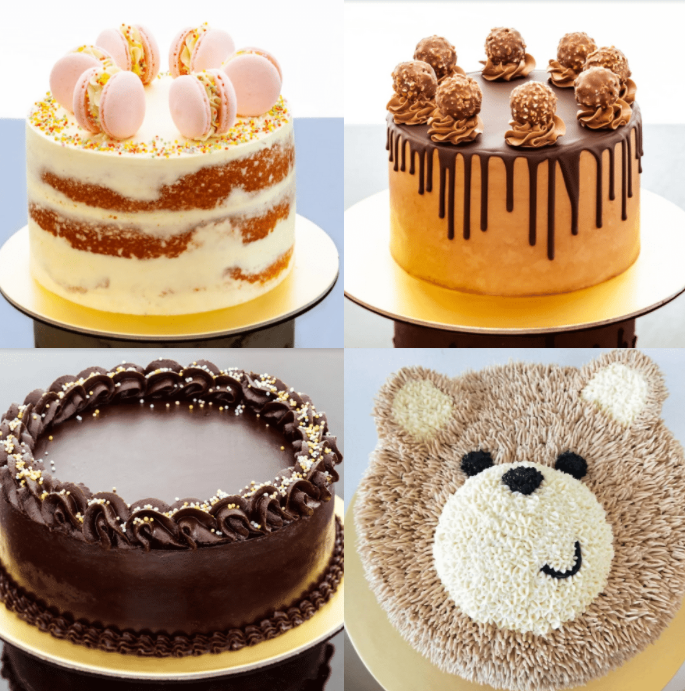 Contrary to what the business name says, this cake shop only sells beautiful and delicious cakes and cupcakes that would totally leave you in awe once you get to taste them. The reason why they call themselves such is that they refrain from using any artificial colours and flavours in their cakes and maintain the natural beauty instead.
WHAT PEOPLE LIKE
ALL-NATURAL. The shop proves that a cake does not have to be filled with artificial ingredients and accessories just to prove its beauty because a cake will always be delightful even with only the basic ingredients that it needs.
PRODUCTS
Customized Cake – $100 to $600
Tiered Cakes – $100 to $600
DELIVERY AND PAYMENT
Contact shop for details.
They have options of same day standard delivery, same day 1 hour delivery and midnight delivery in. No extra charges for same day standard delivery.

Although, there is a minimal delivery charge though if you opted for same day 1 hour delivery and midnight delivery (between 23:00 to 23:59).
15. HONEY PEACH SG
Honeypeachsg Bakery was founded by two passionate artisanal cake artists who believed in making beautiful yet delicious cakes. 
Honeypeachsg Bakery is unlike any other bakery; they believe that "less is more". They don't think a fully decorated cake equals a beautiful cake. Their cakes are aesthetically pleasing because they believe that a simple approach is the most effective. 
They don't put decorations on our cakes just for the sake of it; they do it on purpose. They believe that the most important aspect of cake design is an aesthetic eye, and they make certain that all of our designers understand and possess that essential trait.
They use fondant decorations sparingly in their cakes because fondants are made from sweet icing and do not taste as good as cream cakes. Their customers' enjoyment of unique cake designs and fresh new flavors is always at the top of our priority list.
Honey is a delicacy and a luxury. Honey is delicious. Peaches are associated with spring and a cheerful disposition.
When their customers receive our cakes, they want them to feel as if they are in the spring season. Our cake designs are similar to honey in that they are both sweet and distinct.
| | |
| --- | --- |
| SPECIALTY | Customized birthday cakes | wedding cakes | corporate orders in Singapore |
| SELECTION SIZE | One Tier, Two Tier, and Three Tier Cakes |
| STARTING PRICE | $29.90 |
| DELIVERY FEE | Special Promo Delivery Fee at $9.90. Free Delivery Above $150 |
| WEBSITE | https://www.honeypeachsg.com/ |
| SOCIAL MEDIA | |
| CONTACT DETAILS | |
WHAT PEOPLE LIKE
REASONABLE PRICES: Unlike other cake delivery in Singapore, they sell affordable cakes as it starts for only just $29.90 having the same quality and taste with their other expensive cakes.
WHAT YOU SEE IS WHAT YOU GET: Equipped with their expertise in the cake delivery business, their satisfied customers praise them as what they can see on the website materializes and turns into reality 
PRODUCTS
Customized Cakes: $29.90 – $395.00
Standard Cakes: $59.00
Desserts & Pastries: $4.30 – $60.00
Bulk / Corporate Sets: $4.30 – $29.90
DELIVERY & PAYMENT
You may pay them via Apple Pay, Google Pay, Amex, Visa, Mastercard, JCB and OPay
Store Pickup & Delivery
Store pickup:
The Promenade @ Pelikat
Hougang, Singapore
183 Jln Pelikat #B1-64
Singapore 537643
Studio Opening Hours:
Monday – Saturday: 10am – 5pm
Sunday: 9am- 1am
(by appointment only)
​
Directions:
Nearest station: Kovan/Hougang MRT
Nearest carpark: The Promenade @ Pelikat, Lobby 2

Delivery:
Available Time Slots
Monday – Saturday:
(1) 9am – 12pm
(2) 12pm – 3pm
(3) 3pm – 6pm​​
Sunday:
(1) 9am- 2pm
​
To note:
-Please ensure that someone is around to collect during the selected timeslot as our driver will only wait a maximum of 10 minutes. In the event that an unsuccessful delivery is attempted, redelivery will be +$15.
– Let us know at least 3 days in advance if there's a change in time slot (subject to availability).
– All these delivery time-slot is only available for cakes.
– Bundle boxes' delivery is strictly 10am – 5pm.
16. CAKINOLOGY
Cakinology has only started in 2020 but they have already pleased numerous clients with their talent.
What's great about them is that all of their products are always freshly baked. This will definitely fulfill your craving and maybe would want you to have more.
Aside from cakes, we love how they also serve different types of tarts, eclairs, loaves, and cream brulees.
If you are looking for a cake shop that can customize any cake, they can be the one for you. You can simply send them your inspiration and let them know the details you want them to add to your cake.
If the design is too hard for them, they will tell you what alternative they can do and wait for your approval. We can say that this is one of their great values because they still prioritize your satisfaction,
| | |
| --- | --- |
| SPECIALTY | Customized Cakes |
| SELECTION SIZE | Contact for details |
| STARTING PRICE | Contact for details |
| DELIVERY FEE | Contact for details |
| WEBSITE | https://cakinology.com/ |
| SOCIAL MEDIA | |
| CONTACT DETAILS | |
WHAT PEOPLE LIKE
FRESHLY BAKED: Cakinology takes pride in baking all of its products daily and does not serve even a day old pastries
FRESH INGREDIENTS: What makes their products even tastier is the fresh ingredients they use. The fruits they use on their pastries are well-cleaned and freshly harvested as well.
PRODUCTS
Customized Cakes
Strawberry Tart
Strawberry Eclair
Mini Banana Loaf
Mix Fruit Tart
Chocolate Salted Caramel Tart
Chocolate Eclair
Blueberry Tart
DELIVERY & PAYMENT
You may visit their shop to buy their products or you can order them through GrabFood.
Delivery is not specified on their website. therefore, you may contact them for more information.
17. Grin Affair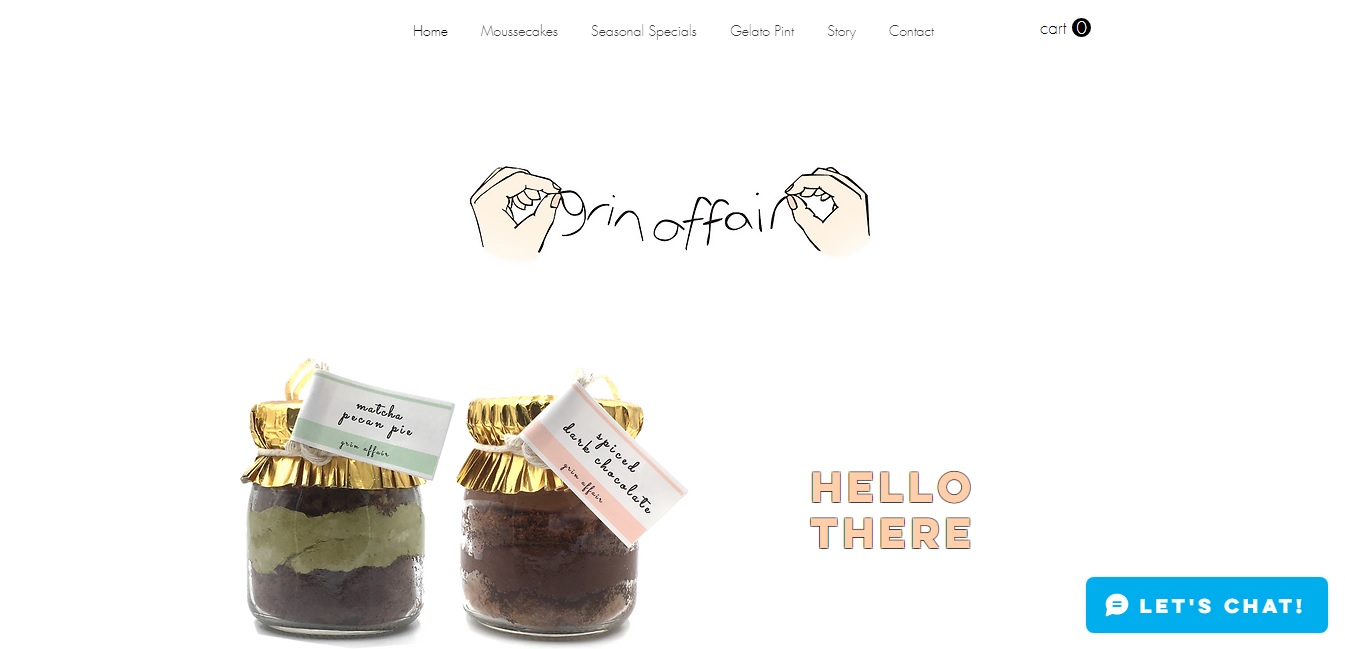 | | |
| --- | --- |
| BEST FOR | Healthy Cakes |
| SELECTION SIZE | Medium |
| PRICE RANGE | Starts from $7.40 |
| DELIVERY FEE | Free delivery for orders over $70 |
| WEBSITE | https://www.grinaffair.com/ |
| CONTACT | Tel: 8800 6600 / 8222 2678 |
| PAYMENT |   |
Grin Affair is a gifting shop that offers clients a variety of sweet treats such as gelatos and cakes that make use of natural ingredients that are both excellent for the body and can surely satisfy one's sweet tooth as well.
WHAT PEOPLE LIKE
HEALTHY INGREDIENTS USED. We like that they make it to a point to incorporate and use only real ingredients with less sugar which is ideal for clients looking for a variety of healthy options for dessert.

COMPREHENSIVE DELIVERY SERVICES. Furthermore, their packaging is also more compact and portable to ensure that the products will still be intact and suffer fewer damages upon transport. They also deliver island-wide completely free of charge and with their selection of sweet bundles good for families and groups – they make a perfect gift for gatherings among other occasions.
PRODUCTS
Hazelnut Praline – $8.40
Salted Caramel & Almond Nibs – $7.80
Earl Grey Gelato Pint – $14.90
DELIVERY AND PAYMENT
They offer free delivery for orders over $70. Payment methods can be easily inquired with them.
---
Images taken from each company's official websites/social media.