7 FLOWER DELIVERY SERVICES IN CEBU WITH AFFORDABLE BOUQUETS FROM ₱ 999.00
"Gihigugma tika" is the Cebuanos way of telling 'I love you' to someone dear to them. It pertains to a strong positive feeling which shows care and affection. Together with a flower, one can really express gratitude, concern, sympathy, and other emotions. So what are you waiting for, check out these flower delivery services in Cebu with affordable bouquets below Php 1,000.00.
1. A BETTER FLORIST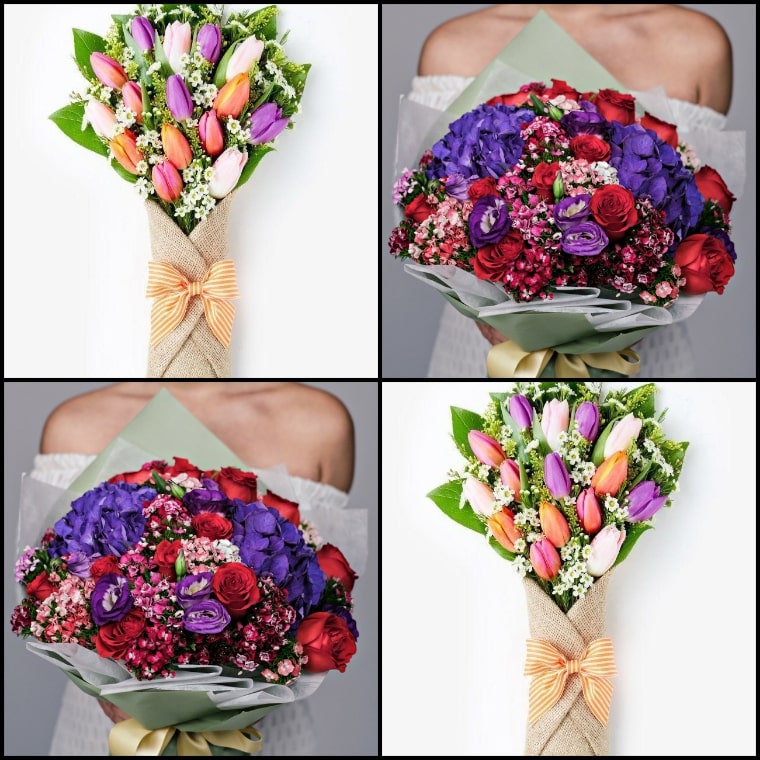 There's no question that A Better Florist is the topmost preferred flower shops in the area. It has your flower needs for different occasion. Thus, you can find whatever you want inside the shop. Their handcrafted blooms give them the advantage over others. They also have well-designed and Instagramable flowers, perfect for your followers. The shop also provides delivery services. You can place your order from their site or leave a call on the number provided. If you browse their page, you can find other interesting stuff–from flower care up to scholarship grants.
| | |
| --- | --- |
| SPECIALTY | Budget friendly modern bouquets |
| SELECTION SIZE | Large |
| STARTING PRICE | ₱ 1600 |
| DELIVERY FEE | Free |
| WEBSITE | https://www.abetterflorist.com.ph/ |
| SOCIAL MEDIA | Instagram: @abetterflorist Facebook: /ABetterFlorist |
| CONTACT DETAILS | Contact Form |
WHAT PEOPLE LIKE
FREE 90-MINUTE DELIVERY. Within 90 minutes, you can already get your ordered blooms from their shop. On top of that, the delivery fee is free of charge. Thus, if you're in a rush and you have an event upcoming, you can place your order here.
HANDCRAFTED BLOOMS. Having an affordable handcrafted bloom is one of the best features of the shop. Here, at A Better Florist, you can get a cheap yet elegantly designed blooms which are crafted by hand by their florists.
PRODUCTS
FLOWERS BY OCCASION: Php 1,600.00 – Php 10,000.00
STANDEE: Php 5,500.00 – Php 12,750.00
FLOWER BOUQUET: Php 1,600.00 – Php 10,000
SPECIFIC FLOWER (I.E. TULIPS, ROSES): Php 1,600.00 – Php 10,000.00
FLOWER BASKET: Php 3,000.00 – Php 7,900.00
ADD-ONS/GIFTS: Php 100.00 – Php 2,000.00
DELIVERY & PAYMENT
Order before 3:00 pm will be subjected to their same day delivery policy unless certain time is specified. They accept VISA and Mastercard. Soon, they will start to accept American Express.
3. MAISON DES FLEURS CEBU (FLOWERS CAFE CEBU)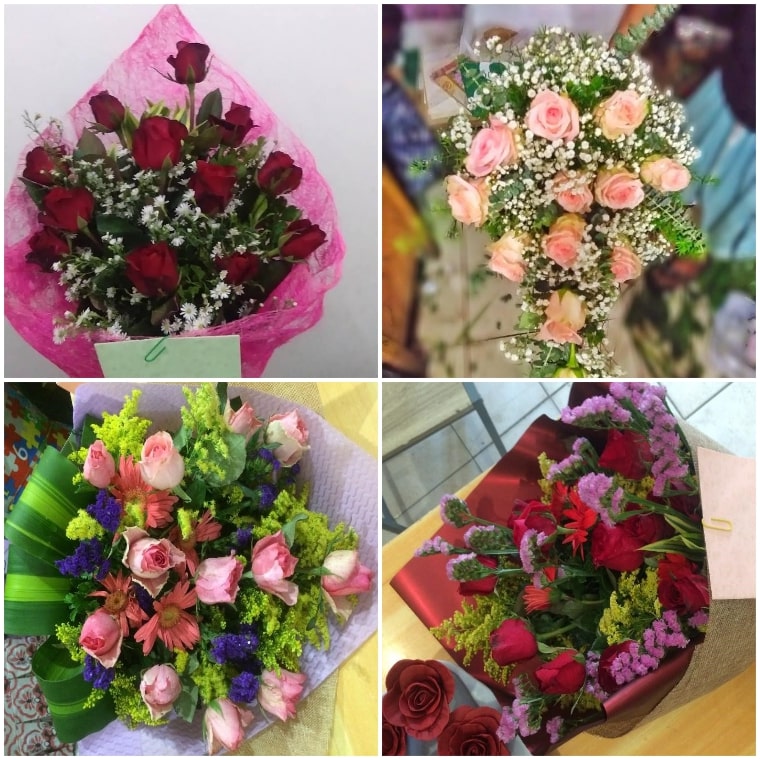 Next, we have Maison Des Fleurs Cebu or Flowers Cafe Cebu. This web-based flower delivery service has a local store located at Talamban. This shop consists of new generational florists. As such, they introduce the latest trends in arranging flower without abandoning the classic way. To make their products known, they run a blog and encouraged its clients to subscribe to their newsletter. They have a separate website manager which allows them to focus on the needs and wants of their customers. Not only that, Flowers Cafe Cebu partnered with the local shops to help them promote their product. They make it through incorporating their goods as add ons whenever you buy a flower from them.
WHAT PEOPLE LIKE
PRESERVED ROSES. If you love roses, then Flowers Café Cebu is the place to go. It offers preserved roses on different arrangements. Further, they have wholesale of these items.
BEAUTIFUL ARRANGEMENT. Customers loved the arrangements and design of the florists in the shop. They commend its refreshing and awesome deal.  
PRODUCTS
VASE ARRANGEMENT: Php 2,499.00 – Php 5,999.00
FLOWER BOUQUET: Php 1,399.00 – Php 7,999.00
FLOWER ARRANGEMENT: Php 1,999.00 – Php 9,499.00
FLOWER BOX/BASKET: Php 2,499.00 – Php 6,700.00
WEDDING STUFF: Php 50.00 – Php 7,999.00
PRESERVED ROSES: Php 1,499.00 – Php 5,000.00
DELIVERY & PAYMENT
To avail the same day delivery, item must be paid before 11:00 am. Orders made after 2:00 pm will be delivered the next day. Accepted Payment: PayPal, BPI, BDO, EON, Western Union, MLhuiller, LBC, and Cebuana.
4. MODERN PETALS CEBU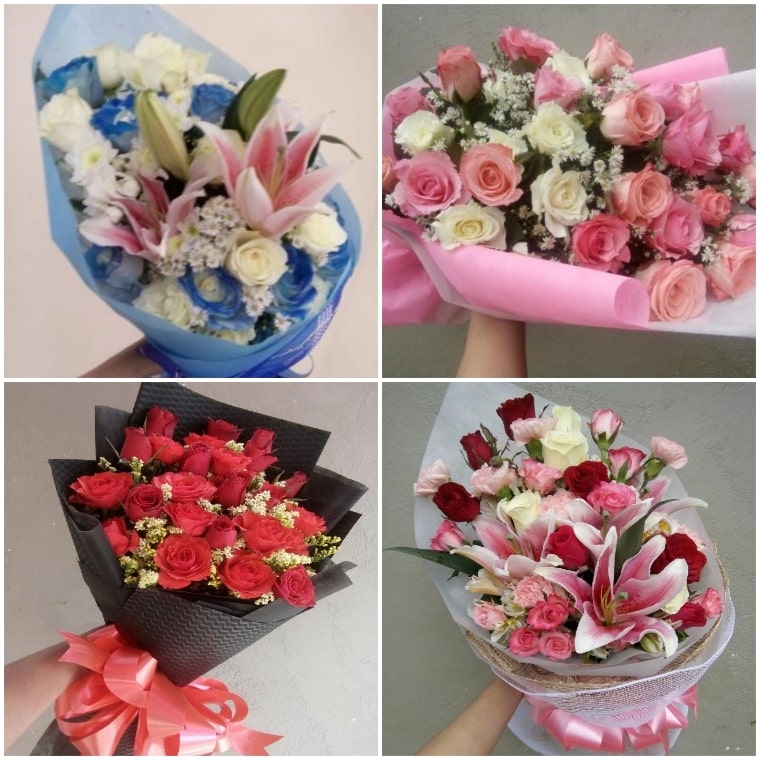 Since 2014, Modern Petals Cebu serves the city with beautiful flower arrangements and bouquets. It also provides decorations on different events like wedding, birthday, and graduation. Aside from flowers, the shop can do chocolate arrangements, origami, balloons, invitation cards and other essential decoration and give away stuff. In case the flower you choose is out of stock or seasonal, they make sure that they will exchange it for a higher or equal value. They make sure that everything will be classy and elegant when you give it to someone else.
| | |
| --- | --- |
| SPECIALTY | Contemporary flower arrangements |
| SELECTION SIZE | Medium |
| STARTING PRICE | Php 1,500.00 |
| DELIVERY FEE | Free |
| WEBSITE | http://modernpetalscebu.com/ |
| SOCIAL MEDIA | Instagram: @modernpetalscebu Facebook: /modernpetalscebu/ |
| CONTACT DETAILS | 0956 514 4016 | (032) 416-2316 | |
WHAT PEOPLE LIKE
WEDDING PACKAGES. We all know how weddings can be expensive. From the preparation up to the day itself, everything should be perfect. Of course, flowers won't be missed during this special day. Thus, Modern Petals Cebu offers affordable yet beautiful flower service during weddings. It can range from Php 6,000.00 up to Php. 25,000.00  
FRESH FLOWERS. The shop takes pride on their fresh flower. As a matter of fact, they don't give refund or return as the flowers they used are of fresh quality. Thus, if you back up, the flowers will be wasted and withered. However, they accept exchanges when the damage is caused by their own negligence.  
PRODUCTS
FLOWER BOXES: Php 1,800.00
SUNFLOWERS: Php 1,800.00
FLOWER BOUQUET: Php 1,800.00
DELIVERY & PAYMENT
Orders delivered at 10:00 am to 5:00 pm can avail the free delivery. Deliveries made outside this time frame is subjected to fee depending on the area. Payment is through BDO or BPI bank deposits, or any remittance branches like M Lhuillier, Cebuana Lhuillier, Palawan, LBC, etc.
5. FLOWERS DIRECT CEBU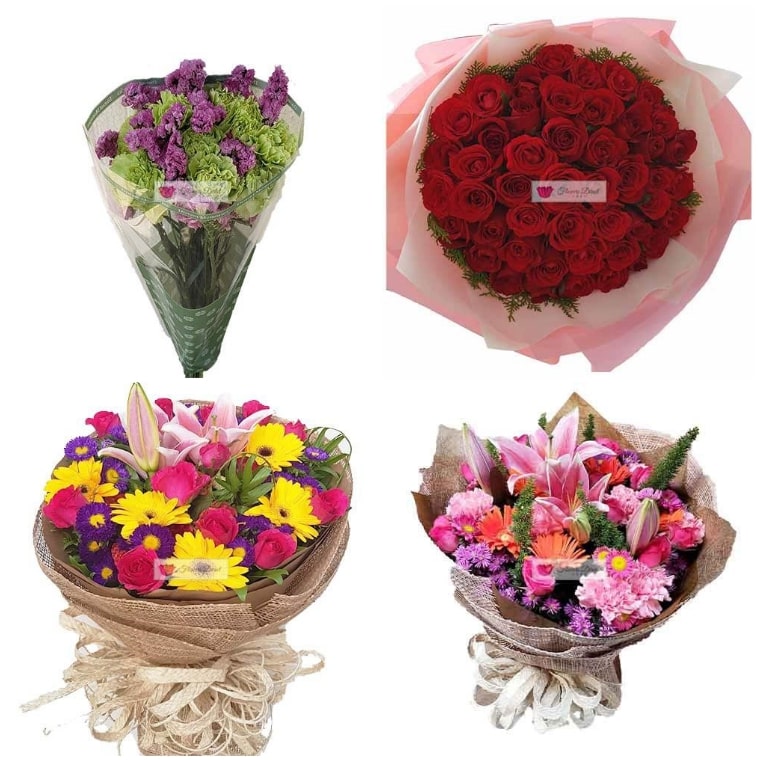 Flowers Direct Cebu has been in the business for over 25 years. With these long-standing years, they have established their legacy in the flower business. This is a family-run flower shop which ensure that every order is meticulously attended to. They offer personalized gifts and services for delivery. You can make sure that your order is composed of only fresh blooms as they have their own family farm. If the flower you order is not grown in their field, they will source it from local growers or import them.
| | |
| --- | --- |
| SPECIALTY | Affordable hand bouquets |
| SELECTION SIZE | Large |
| STARTING PRICE | Php 750.00 |
| DELIVERY FEE | From Php 250.00 |
| WEBSITE | https://fdcebu.com/ |
| SOCIAL MEDIA |  Facebook: /FDcebuPH |
| CONTACT DETAILS | +63 906 434 5575 | 032 324 2595 | Contact Form |
WHAT PEOPLE LIKE
PRIVACY. Flower Direct Cebu ensures that information shared with them will never be shared or leaked in the public. They guarantee that no screenshot of messages nor email exchanges will be publicized. Hence, your personal data is safe with them.
FRESH AND AFFORDABLE FLOWERS. Unlike other shops that rely on other wholesalers, they have their own farm wherein flowers are grown. This lessen the import cost and productivity cost of their product so you'll be surprised on how cheap bouquets or arrangements in their site.
PRODUCTS
TEDDY BEARS: Php 750,00 – Php 6,000.00
FLOWER BOUQUETS: Php 1,000.00 – Php 6,000.00
VASE FLOWERS: Php 1,000.00 – Php 3,000.00
WRAPPED FLOWERS: Php 1,000.00 – Php 6,000.00
FLOWER BOXES: Php 1,500.00 – Php 3,750.00
SYMPATHY FLOWERS: Php 1,500.00 – Php 10,000
ROSES: Php 1,000.00 – Php 6,000.00
DELIVERY DETAILS
Deliveries are made from 1:00 pm to 6:00 pm during Mondays and from 9:00 am to 6:00 pm on Tuesday to Saturday.
Accepted payment: BPI, BDO, VISA, MasterCard, PayPal, American Express, VISA Electron, and Maestro
6. MERIAN'S FLOWER SHOP (CEBUROMANTICGIFTS)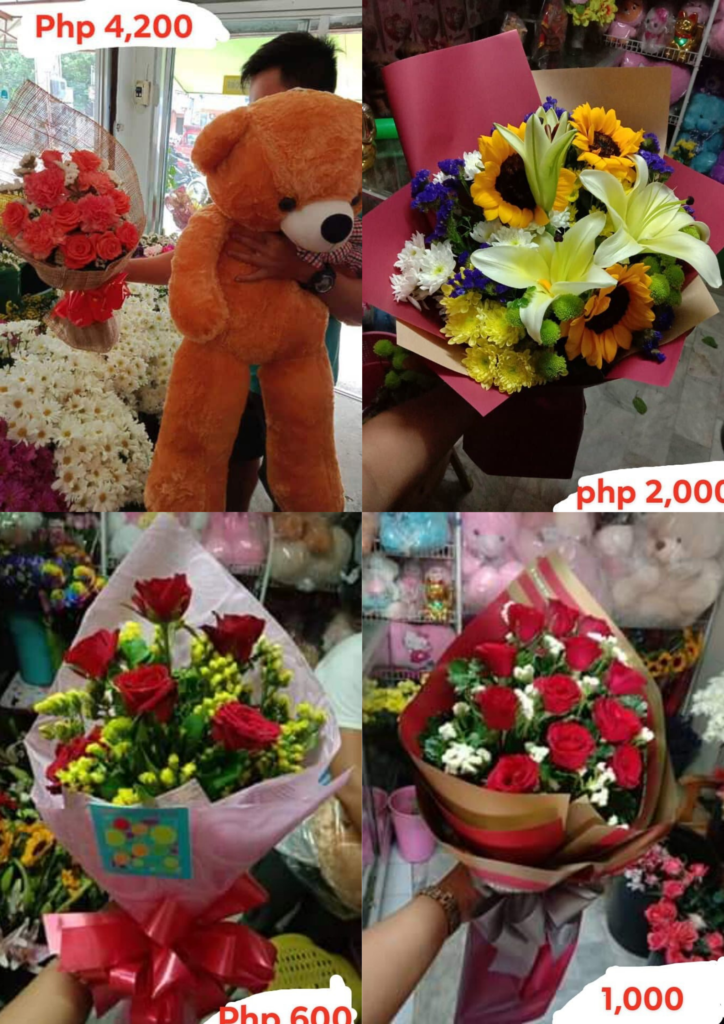 MERIAN'S FLOWER SHOP(CEBUROMANTICGIFTS) ensures that your recipient will receive your order at the soonest possible time. You can place your orders from anywhere in the world and have it delivered to your family and friends anywhere in this world.
SPECIALTY
Budget friendly Fresh Flowers Bouquet
SELECTION SIZE
Large
STARTING PRICE
Php 500 – Php 4,500
DELIVERY FEE
Free delivery minimum of Php 1,000
WEBSITE
http://www.ceburomanticgifts.com/
SOCIAL MEDIA
Facebook: https://web.facebook.com/MerianBorkowski/
CONTACT DETAILS
| +639335574055 / +639553375220 |
[email protected]
WHAT PEOPLE LIKE
VERY GOOD SERVICE. Regular customer to this flower shop says very accommodating,generous and been giving a superb service to her customers. They are really satisfied with the efficient delivery, gorgeous arrangement and a lot of choices of flowers and add ons. Most trusted shop and well accommodating staff!
ON TIME DELIVERY. Ordering process was extremely easy and deliver on time. They go for what would work for you.
PRODUCTS
VASE ARRANGEMENT: Php 1,000 – Php 2,500
FLOWER BOUQUET: Php 500 – Php 4,500
CAKES: Php 700 – Php 1,700
TEDDY BEARS: Php 300 – Php 5,000
CHOCOLATES: Php 200 – Php 1,000
DELIVERY DETAILS
Usually deliver within 1-5 hours after receiving payment 24hours (Monday to Sunday). The shop accepts Cash on Deliver, Major Credit Card Payments through PayPal, bank deposit through BPI, BDO, EON, and Landbank, PayMaya, GCash, Western Union, MLhuiller, LBC, RD, Palawan and Cebuana.
7. Cebu Flower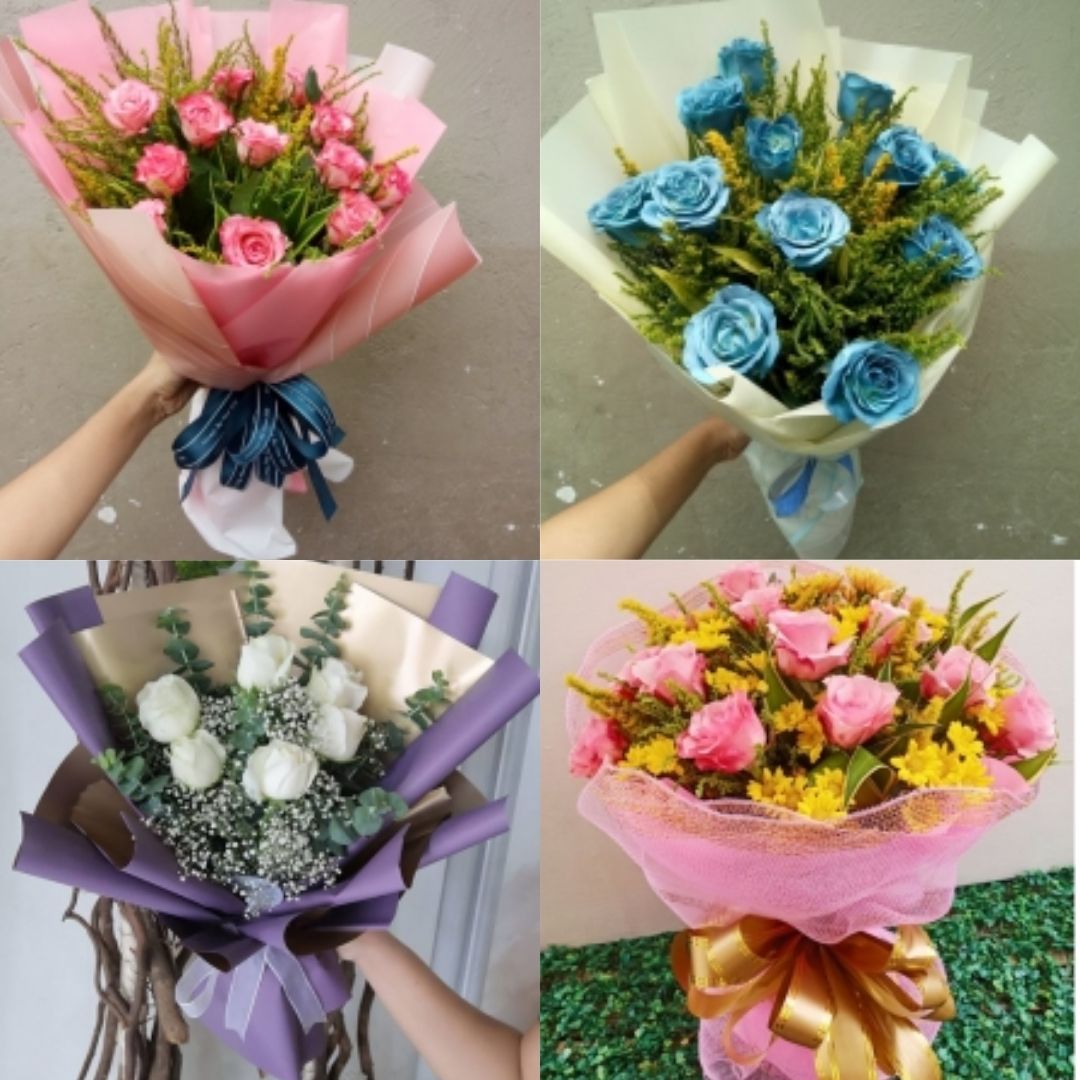 Cebu Flower is known for their beautiful blooms partnered with other gifts and trinkets like chocolates, cakes, fruits, and the bears. They make sure to spice things up, allowing you to mix and match for the personalized feel.
Check out more of their bouquets on the website or contact them for inquiries!
WHAT PEOPLE LIKE
Wide range of flowers – Cebu Flower is the shop to look into if you're looking for a wide array of options for your blooms. They have roses, gerberas, carnations, lilies, orchids, tulips, and the likes.
Same Day Delivery – Order your blooms and receive it the very same day! Wherever you are in the city, Cebu Flowers will make sure to have your arrangements sent in the best condition, in the fastest way possible.
PRODUCTS
Roses
Cakes
Birthday Gifts
Combo Gifts
Fruit Basket
DELIVERY & PAYMENT
VISA, Maestro, MasterCard, PayPal, 2CO, American Express
Images were taken from each company's official websites/social media.