There's a big celebration coming up and you still haven't picked a gift? Worrying about your budget? Well, why not just surprise them with flowers? It always feels special to receive them (especially if it's a surprise). Besides, it's very convenient to buy and send them! Just check out this list of Penang florists who can help you out.
1. FLOWERCHIMP
While searching for flower delivery in Malaysia, Flower Chimp might have already popped up in your feed. One of the most popular flower delivery services in the country, this company has amassed loyal customers locally and worldwide. This is seen on the hundreds of rave reviews and testimonials on the internet; this is one trusted flower shop.
SPECIALTY
Delectable Box Bouquets
SELECTION SIZE
Large
STARTING PRICE
RM 89
DELIVERY FEE
Free
WEBSITE
https://www.flowerchimp.com
SOCIAL MEDIA
Instagram: @flowerchimp Facebook: /FlowerChimp
CONTACT DETAILS
[email protected]
03-30992323
Live Chat available
WHAT PEOPLE LIKE
SEAMLESS TRANSACTION. Flower Chimp may have the one of the cleanest web design that we've seen so far. A new client can easily navigate the site and quickly choose the best flower to buy. From picking to payment, everything's clear-cut!
TRINITY BOX. Just when you think there's nothing new that can be done with flower boxes – this trinity box appears. The beloved flower box now comes with a secret container! It's a surprise gift with more surprises inside. Very playful.


PRODUCTS
ALL BOUQUETS: RM 89 – RM 499
BIRTHDAY: RM 89 – RM 499
FLOWER BOXES: RM 169
DELIVERY & PAYMENT
Same day delivery is possible if you place your order before 1:00 PM on the same day. They accept credit, debit, charge cards via a variety of payment methods such as Stripe, eGHL, MOLPay , and also cash payments via the Bank Transfer.
2. LOVE.COM.MY
Launched in early 2012, love.com.my has long since grown from a small local business to a strong prospering online flower delivery service provider. It promises to continue this growth by steadily providing quality products for excellent value.
WHAT PEOPLE LIKE
FRESH FROM THE FARM. While some companies may promise you fresh flowers every time, which among them are actually farmers who grow these flowers with their bare hands? The people over at love.com.my can. Fresh from the farm cut flowers, one click away!
HIGH-QUALITY FLOWERS AT AFFORDABLE PRICE. At this company, they believe in honest prices without compromising the quality. Without middleman involved, they've achieved that. Look, for less than $5, you can even buy a pot of Chrysanthemum. With prices this low, I might just buy these lovelies for myself!
FAST, RELIABLE & FREE SAME DAY DELIVERY. This company provides free same-day flower delivery and can deliver as fast as 1 hour anywhere in Penang.
PRODUCTS
TROPICAL PRISTINE BOUQUETS: From RM 76
BIG BOUQUETS: From RM 266
PREMIUM GERBERA BOUQUETS: From RM 98
ROSES: From RM 68
DELIVERY & PAYMENT
Same day delivery available for orders sent between 08:30 am and 5:00 pm. They accept Visa/MasterCard Credit Cards, Maybank2U, CIMBClicks, and Public Bank payments.
3. BLOOM THIS
Make someone happy in Georgetown or Gelugor today with handcrafted designer flowers in lux boxes created by BloomThis.  Impress everyone with their selection of bouquets rich with elegant designs. No worries though, these impressive creations will not empty your wallet.
WHAT PEOPLE LIKE
ELEGANT MOTHER'S DAY FLOWERS & GIFTS. This dedicated flower collection created for Moms everywhere is a wonderful gift idea that would surely be appreciated. This collection includes traditional bouquets, eternal flowers, and box bouquets. Choose any item in this collection 'cause every product is perfect!
LUX BOXED BOUQUETS. Known for their elegant boxes, BloomThis created a signature look that ultimately put them on the map as the go-to flower shop in Malaysia. The simplicity of the box together with the stunning flower arrangement created a gift radiating effortless beauty.
PRODUCTS
ELEGANT MOTHER'S DAY FLOWERS & GIFTS: From RM139
DESIGNER FLOWER BOUQUETS & FLOWER BOXES: From RM 99
ETERNITY: EVERLASTING PRESERVED ROSES: RM149
PEONY FLOWERS: From RM229
DELIVERY & PAYMENT
Their standard delivery services are completed between 10 am – 6 pm. Expect delivery to come a day after you ordered. Check this list for locations with free shipping. For payment, major credit cards are accepted.
4. A BETTER FLORIST
A Better Florist has been providing flowers all over the world, no surprise that people over Malaysia are warming up to its services as well.
SPECIALTY
Dreamlike Flower Arrangements
SELECTION SIZE
Curated
STARTING PRICE
RM 135
DELIVERY FEE
Free
WEBSITE
https://www.abetterflorist.my
SOCIAL MEDIA
Instagram: @abetterflorist
Facebook: /ABetterFlorist
CONTACT DETAILS
Contact Form
+60 16 299 1376
WHAT PEOPLE LIKE
BUDGET FRIENDLY. A Better Florist source out their flowers directly from farms for a more cost-effective flower delivery system. No middleman, lower prices!
FAST, RELIABLE & FREE SAME DAY DELIVERY. This company provides free same-day flower delivery and can deliver as fast as 1 hour anywhere in Penang.
PRODUCTS
FLORAL GIFTS
WEDDING FLORAL DECORATIONS
EVENT FLORAL DECORATIONS
DELIVERY & PAYMENT
Delivery and Payment details will be available upon contacting Padma de Fleur through their contact details above.
5. BAMBOO GREEN FLORIST
For over 35 years, Bamboo Green Florist has been one of the go-to flower shops in Malaysia. Fresh and beautiful flowers at a great value, every time.
WHAT PEOPLE LIKE
VAST COLLECTION OF FLOWERS. Their exquisite collection of flowers varies from budget-friendly to luxurious types. They have the flowers for every occasion and everyone!
TRUSTED COMPANY. Established in 1984, Bamboo Green Florist is renowned as one of the longest-running online florist in Penang, Malaysia. The extensive experience built over years in the business has made the company the expert in floristry for all occasions.
PRODUCTS
HAND BOUQUETS
FLOWERS & WINE
FLOWER BASKETS
BLOOM BOX
DELIVERY & PAYMENT
Same day deliveries available if orders are received before 1:30 Malaysian time (GMT+8.00) excluding Malaysian holidays and special occasions. They accept major credit cards and PayPal.
6. ANGEL FLORIST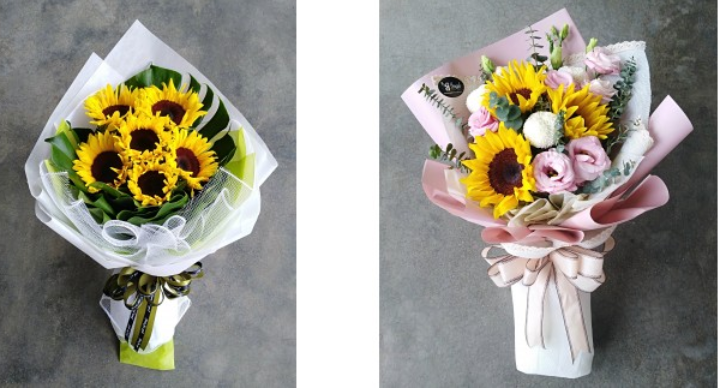 In 2006, Angel Florist first opened its doors to the public with a simple goal in mind: To provide the best flower arrangements and gift selections to their clients. They've done so successfully in their first year, and continue to do so till now.
Their catalogue is arranged in such a way that it helps you find the best possible flower gift based on the recipient, occasion, and/or preference or need. 
| | |
| --- | --- |
| SPECIALTY | Fresh hand bouquets |
| SELECTION SIZE | Moderate |
| STARTING PRICE | RM90.00 |
| DELIVERY FEE | Free delivery for areas in Seberang Prai, Butterworth, and Penang Island |
| WEBSITE | https://www.angelflorist.com.my/ |
| SOCIAL MEDIA |   |
| CONTACT DETAILS | 04 – 3909080 / 012 – 4272821 |
WHAT PEOPLE LIKE
SAME DAY DELIVERY. There are some days where you're simply just too busy to go out and buy flowers for that special someone. Fortunately, Angel Florist can help you with this problem with their same day delivery service. No more apologies for forgetting the occasion, just place an order before 11 am and they'll get it to you a few hours later.
CUSTOMER SERVICE. Aside from their stunning floral designs, Angel Florist is also known for their excellent customer service. If you can't find what you need in their catalogue, they'll take the time to consult with you to see if they can be of help.
PRODUCTS
Hand Bouquets
Flower Stands
Flower Wreaths
Table Bouquets
Bridal Bouquets
DELIVERY & PAYMENT
The shop accepts Visa, Mastercard, PayPal, and American Express for payments. Same day delivery is applicable to orders placed before 11:00 am on Mondays to Saturdays. 
7. BLUE LACE FLORIST
Blue Lace Florist is an online-based shop in Penang that is most known for their high quality flower designs. Every bouquet and arrangement that comes out of their shop is eye catching, thanks in part to the fresh flowers that they use as well as their designers' skillful hands. 
WHAT PEOPLE LIKE
CUSTOMER SERVICE. One of the things that we like about Blue Lace Florist is their dedication to listening to their client base. They understand that every customer's needs are unique, which is why they note down what you want so that they can provide you with the best designs for the occasion.
BEST BLOOMS. Aside from their stellar customer service, Blue Lace Florist also guarantees customer satisfaction by committing to only using the freshest flowers and the best materials possible. This way, you can rest assured that your flowers will arrive at your doorstep as vibrant and fragrant as they had been when they were first picked.
PRODUCTS
Hand Bouquets
Flower and fruit basket
Everlasting blooms and bouquets
Condolence flowers
Wedding flowers
Table and vase flowers
Boxed flowers
DELIVERY & PAYMENT
The shop accepts Visa, Mastercard, and Bank Deposits for payments. Orders placed before 11am are delivered within the day.
8. BAMBOO GREEN FLORIST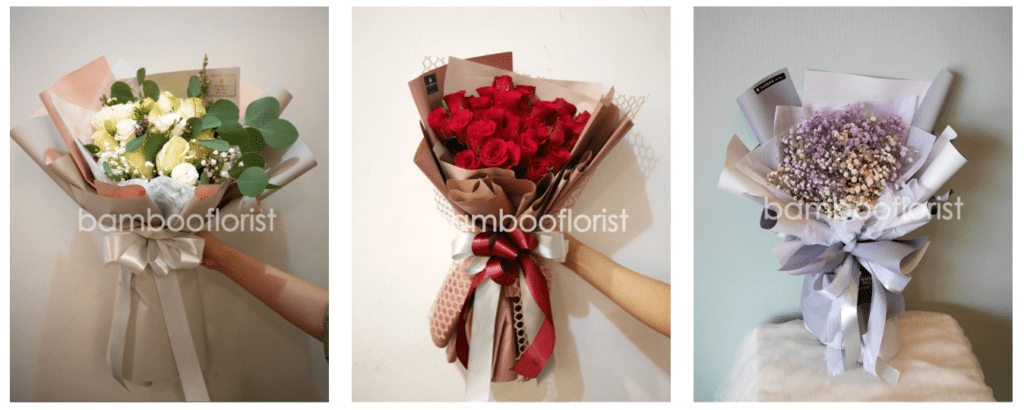 Since they first opened their doors in 1984, Bamboo Green Florist has committed to creating intricate flower designs with fresh flowers of different types and colours.
Their modest selection of flowers consist of various hand bouquets, baskets, stands, and boxes that can be arranged depending on the given occasion. 
WHAT PEOPLE LIKE
ARTIFICIAL ARRANGEMENTS. Natural flowers bloom and wilt, but artificial arrangements are forever. This flower option is perfect for anyone who's interested in long-lasting flower arrangements. 
DELECTABLE CAKES. Aside from their stunning flower designs, Bamboo Green Florist also offers a small array of cakes and treats that are sure to make the occasion even sweeter. 
PRODUCTS
Hand Bouquets
Flower and fruit basket
Everlasting blooms and bouquets
Condolence flowers
Wedding flowers
Table and vase flowers
Boxed flowers
DELIVERY & PAYMENT
Delivery fee is dependent on recipient's location. Same day delivery can be done if the order is placed before 1:30 pm. The shop accepts payments made through Visa, Mastercard, ipay88, Paypal, and Bank transfer.
9. Jovin Flowers & Gifts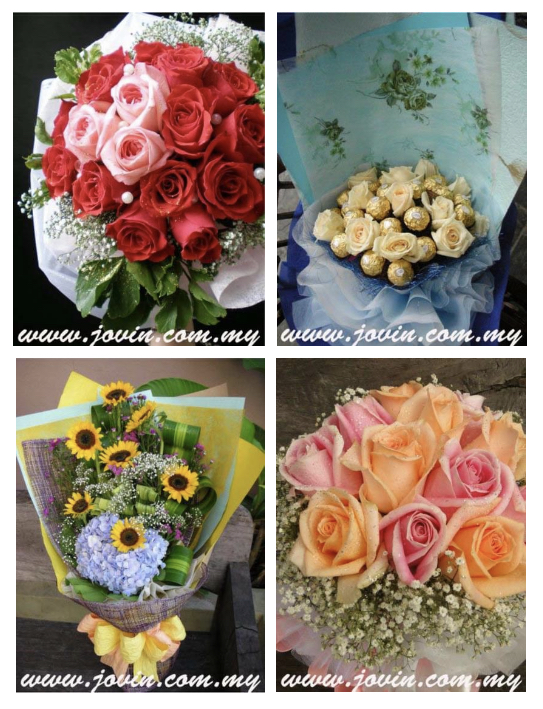 For those looking for a reliable flower delivery service in Penang, Jovin Flowers & Gifts delivers daily for orders placed before 2 pm. They are known for their flower bouquets with the gifts included in the arrangements. 
Jovin Flowers & Gifts offers flowers for weddings, condolences, and annual events. We like that they have a variety of flowers to choose from like roses, lilies, and carnations.
| | |
| --- | --- |
| SPECIALTY | Unique Flower Arrangements with Gifts |
| SELECTION SIZE | Moderate |
| STARTING PRICE | RM 100 (based on quantity) |
| DELIVERY FEE | RM 20-40 (depending on location) |
| WEBSITE | https://jovin.com.my/ |
| SOCIAL MEDIA | – |
| CONTACT DETAILS | 04-508 4343 / 04-508 3343 |
WHAT PEOPLE LIKE
QUALITY AND EXCELLENT SERVICE.

Their customers have commended the quality of their products. Some also appreciate the reliable delivery service of the shop.

FRIENDLY STAFF.

Aside from the wide selection of bouquets, their staff is thought to be very helpful for customers. They have a good customer service.
PRODUCTS
Hand Bouquets

Flower and Fruit Baskets

Opening Flowers

Condolence Flowers

Wedding Flowers
DELIVERY & PAYMENT
Delivery starts at RM 20 up to RM 40 depending on the location and total worth of products purchased by customers. They accept payments made through Maybank, CIMB, Public Bank Berhad, RHB, and Hong Leon.
10. WHITE ON WHITE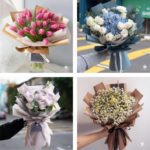 White on White has been on a mission to make life beautiful through handcrafted bouquets since 2018. Whatever occasion or even if it's just for a regular day, they have just the bouquet you need to make others happy. 
From premium roses to flower bouquets for various occasions, they have it at White on White. They also offer condolence flowers, congratulations stands, floral fruits baskets, and artificial flowers. 
With company core values like customer first, improve everyday, fun, integrity, teamwork, and responsibility, you won't go wrong with them and you'll surely get the highest quality of flowers and services. 
WHAT PEOPLE LIKE
EXCELLENT SERVICE. Their customers can all agree that the service rendered by White on White is of the highest quality. From the moment you order up to delivery, they make sure to put you first and that you get the best service from them. 
HIGH QUALITY FLOWERS. Even first time customers say that their experience with White on White is pleasant since they use premium flowers and create professional arrangements. 
PRODUCTS
Premium roses
Flower bouquets
Condolence flowers
Artificial flowers
Chocolate bouquet
Graduation bouquet
Bridal bouquet
Floral box & basket
Floral fruit basket 
DELIVERY & PAYMENT
Contact for more information on delivery and payment. 
11. LA FLORIST PENANG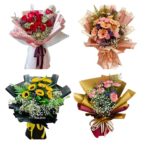 La Florist Penang is a florist shop that is family-owned and operated that is able to provide its clients with a variety of flowers for different occasions that the client may need such as weddings, birthdays, and sympathy arrangements among many others.
WHAT PEOPLE LIKE
WIDE VARIETY OF FLOWERS. We found their flowers to be both very classical and modern in a way that their selection can easily be designed and arranged in a way that best suits the theme of events and the preference of the client. Clients can readily have access to their selection on their online store wherein all the needed details and fees are comprehensively and directly stated to clients can be assured of transparent services.

PROFESSIONAL SERVICE. Aside from this, they also employ professional staff and florists who are able to give reliable advice and curate flowers in a way that best suits the taste and needs of the client and the overall impact of it on the said event it is needed for. Overall, with fairly priced flowers and access to a wide range of helpful information, we highly recommend this flower shop to clients in the area who are looking for a versatile flower shop for their needs.
PRODUCTS
B073 Valeria – RM180.00
B067 Madelyn – RM198.00
B061 Leannie – RM110.00
DELIVERY & PAYMENT
They only accept bank transfers as a mode of payment while all orders placed before 12 PM on the following working day or on the date selected by the client.
Images were taken from each company's official websites/social media.