Dubai is known for the endless possibilities and opportunities due to the booming businesses surrounding the city. It is the largest city in United Arab Emirates, and in fact houses the tallest building in the world, the Burj Khalifa. However, there are much more beauty behind this busy city. So stroll around the city and discover some of the best museums and attractions that showcase the beautiful culture of Dubai.
So while you're visiting Dubai, why not grab some beautiful flowers for your equally beautiful date. Here are our top picks of flower delivery in Dubai.
1. UPSCALE AND POSH

The aptly named Upscale and Posh is a family-run Floristry business that first opened its doors to the public in 2002. Since then, they've been constantly striving to deliver only the best quality service and flowers to their clientele, resulting in a rich history that has them being one of the most trusted flower shops in all of Dubai.
| | |
| --- | --- |
| SPECIALTY | Fresh flower arrangements |
| SELECTION SIZE | Moderate |
| STARTING PRICE | Dhs 149.00 |
| DELIVERY FEE | Free delivery for orders above AED 300 |
| WEBSITE | |
| SOCIAL MEDIA | https://www.facebook.com/upscaleandposh/ |
| CONTACT DETAILS | Call or Whatsapp: 058 6517898 |
WHAT PEOPLE LIKE
BEST BLOOMS. Upscale and Posh believes that their customers deserve only the best from them, which is why the shop only makes use of fresh cut flowers for all orders they arrange by hand. This way, the arrangements last longer while the details are more precise.
BESPOKE DESIGNS. Every order is unique in that customers have their own preferences and occasion/event to cater to. Hence, Upscale and Posh's option to make personalised arrangements for all of their customers. This way, they can retain their high quality while still fulfilling the floral needs of their clients. 
PRODUCTS
Flower arrangements
Wedding and event flowers
DELIVERY AND PAYMENT
The shop accepts Visa and Mastercard for payments. Orders below AED 300 warrant a shipping fee of 49 DHS. 
2.  DUBAI FLOWER DELIVERY.
| | |
| --- | --- |
| SPECIALTY | Classic design |
| SELECTION SIZE | Large |
| STARTING PRICE | د.إ 99 |
| DELIVERY FEE | Free |
| WEBSITE | https://www.dubaiflowerdelivery.com/ |
| SOCIAL MEDIA | Facebook: @dubaiflowerdelivery Twitter: @realflowerdubai |
| CONTACT DETAILS | 97143420250 / + 971504236374 |
Dubai Flower Delivery creates beautiful traditional design that are gorgeous and could fit any occasion. More than that, they are also know to give utmost care to their customers and their shopping experience. Their dedicated call center agents are always available to answer any of their concerns and inquiries 24/7.
WHAT PEOPLE LIKE
DAILY FLOWER DELIVERY: Dubai Flower Delivery seems like they don't have a rest day because they attend to their customers every day of the year. That means they deliver during weekends, and even holidays.
NO ADDED CHARGES: The flower here are very affordable. They do not charge their customers with additional charges like delivery fee, service, charge, and others. You could enjoy free delivery when you order from them.
PRODUCTS
HAND BOUQUET: د.إ 99 –  د.إ729
FLOWER BASKET: د.إ 198 – د.إ 895
GLASS VASE STYLE: د.إ 150 – د.إ 650
DOZEN ROSES: 335 د.إ150 – د.إ
BIG BASKET & STANDS: د.إ250 – د.إ 1028
DELIVERY & PAYMENT
Enjoy fast and free delivery and Dubai Flower Delivery at Dubai Flower Delivery. They guarantee that your orders will be delivered within 3 hours upon order placement as long as it is with their delivery schedule from 9am to 9pm.
3. M. FIORISTA BLOOMS & BALLOONS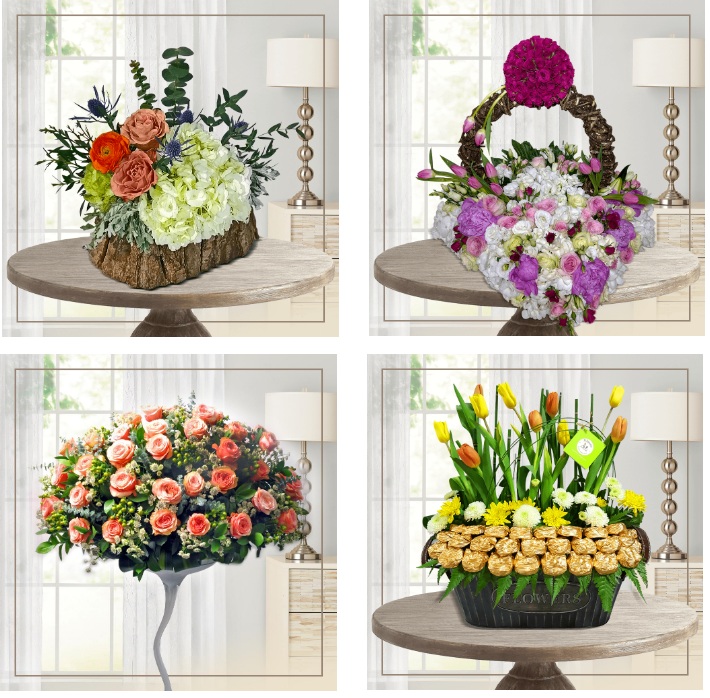 Fiorista Blooms & Balloons is a relatively young flower and gift shop, having been established in 2016. Nevertheless, it has proven its reliability and credibility with their collection of exceptionally fresh blooms and premium quality gift products.
The shop offers bespoke services that cater to the fresh flower requirements of their clients either for day to day operations, corporate business or for special events & occasions.
WHAT PEOPLE LIKE
FLOWERS FOR ALL OCCASIONS.

M. Fiorista wanted to make sure that they are able to cater to all of their clients' flower and gift needs so they fill their collection with tons of stunningly beautiful flower arrangements and a wide range of gift items perfect to celebrate any occasions or events.

EASY TO ORDER.

No need to drive all the way to Dubai Silicon Oasis just for you to get a hold of their products because in just a few taps on your mobile and some click on your laptop, you'd be easily and quickly place your orders and have them delivered by them as well.
PRODUCTS
BOUQUETS
VASE ARRANGEMENTS
CENTERPIECES
WEDDING FLOWERS
BALLOONS
GIFTS
EVENTS HANDLING
DELIVERY AND PAYMENT
Contact the shop for more details.
4. ONLINE FLOWER SHOP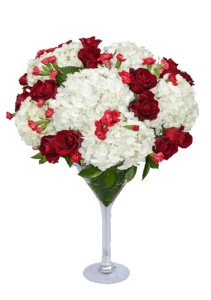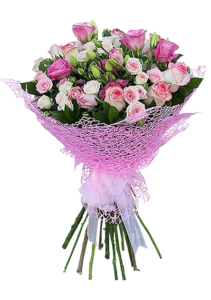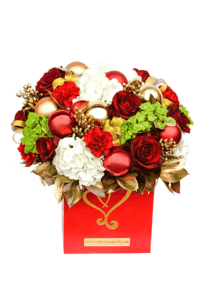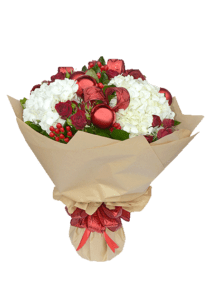 Whether you are in need of flower arrangements best for birthday celebrations, romantic anniversary dinner, a congratulatory arrangement, or just a casual random day, Online Flower Shop has got everything you need in the best qualities.
From the business name itself, ordering from them is quite easy as it can be done through online. Just visit their website, select your desired flower arrangement, fill in the delivery details and payments, and voila, you have your floral arrangements placed.
WHAT PEOPLE LIKE
EXTENSIVE SELECTION.

Aside from their undoubtedly wonderful selection of flowers, the shop also prides itself with their wide range of selection of other complementary products such as chocolates, cakes, stuffed toys, etc.
COMBO PACKAGES.

Make your order a complete package by availing their combo deals instead of just the retail floral product. You have a wide selection of these wonderful products that they guarantee to give the best value for your money.
PRODUCTS
DELIVERY AND PAYMENT
Delivery time varies depending on the location. Meanwhile, they accept payments made thru PayPal, Visa, and Mastercard.
5. GIFT HABIBI

"Delivering Happiness", this is the slogan that Gift Habibi has stood by since they first began operating their business. To this day, they haven't failed to do so with their large catalogue of the finest flower designs available in the market. 
WHAT PEOPLE LIKE
WIDE ARRAY OF CHOICES. Gift Habibi boasts one of the largest collection of floral designs in the market. This allows their customers the freedom to carefully peruse each one in hopes of finding the design that best suits their needs and preferences. Despite how plentiful the options are, the quality remains as high as ever.
GREAT CUSTOMER SERVICE. Great flowers will appear lackluster when partnered with unsatisfactory service. This is why Gift Habibi has made it a point to offer excellence, promptness, and professionalism when interacting with customers. 
PRODUCTS
FLOWER BOUQUETS
FLOWER ARRANGEMENTS
FLOWER VASES
ROSES
ROSE COMBINATIONS
DELIVERY AND PAYMENT
The shop accepts Major Credit Cards, PayPal, and Western Union. 
6. BLACK TULIP FLOWERS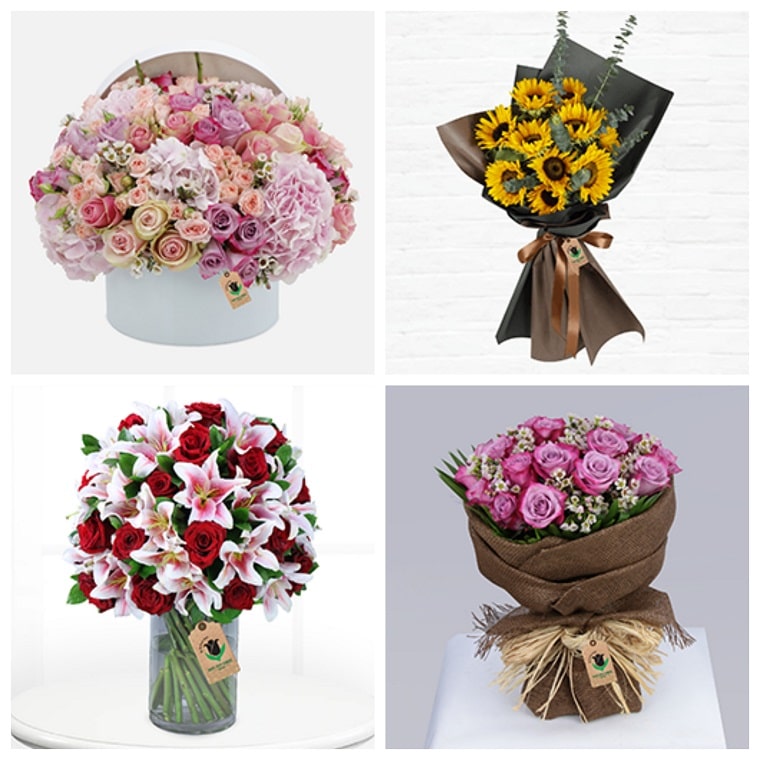 Black Tulip Flowers is considered as one of the most reliable and dependable flower shops in the locality. It becomes the leading supplier of fine quality and premium fresh flowers and plants from all over the country.
You can either buy single hand bouquets with unique styles and various flower combinations.  Or you may buy wholesale flowers from them; just send them an inquiry and they will get back to you.
| | |
| --- | --- |
| SPECIALTY | Flower Arrangement for all occasion |
| SELECTION SIZE | Enormous |
| STARTING PRICE | AED99.00 |
| DELIVERY FEE | Starts at AED 40 |
| WEBSITE | |
| SOCIAL MEDIA | Instagram: @blacktulipflowersuae Facebook: /blacktulipflowers Twitter: @BlackTulipGroup Pinterest: @blacktulipgroup |
| CONTACT DETAILS | +971 (0)4 344 0350 / +971 (0)52 646 4258 / [email protected] |
WHAT PEOPLE LIKE
GUARANTEED FRESH BLOOMS.

Their flowers are imported directly from their farms and transported carefully to their studio. Thus, they ensure that only the freshest blooms will be included in your bouquet. The supplies are replenished daily from the hand-picked flowers of their designers.

ARTISTIC FLORAL ARRANGEMENT.

You will not get bored with their styles as their florists have different ways of combining flowers together. Whatever way it be, the bouquet always ends up into one stunning and elegant arrangement. 

 
PRODUCTS
FLOWER BOUQUET:

 AED 99.00 – AED3,999.00

CAKES:

 AED 149.00 – AED 999.00

FLOWER BOX:

 AED 99.00 – AED 1999.00

PLANTS:

 AED 99.00 – AED 999.00

GIFT HAMPERS:

 AED 99.00 – AED 999.00
DELIVERY DETAILS
They accept VISA, MasterCard, Maestro, Discover, American Express, and Diner's Club, Paypal, Western Union, Bank Transfer & Cash Upon Delivery.
7. JUNE FLOWERS
June Flowers where you can customize your flower gifts with your choice, like flower gifts for New-born baby, flowers & fruit arrangement, weddings, birthdays, anniversary. Just send them an inquiry via email or WhatsApp and they will get back to you.
| | |
| --- | --- |
| SPECIALTY | Flower Arrangement for all occassion |
| SELECTION SIZE | Enormous |
| STARTING PRICE | AED99.00 |
| DELIVERY FEE | Starts at AED 40 |
| WEBSITE | |
| SOCIAL MEDIA | Instagram: @juneflowersdubai Facebook: /juneflowers.ae Twitter: @juneflowerdubai  Pinterest: @juneflowersdubai |
| CONTACT DETAILS | |
WHAT PEOPLE LIKE
LARGEST RETAIL OUTLET – June Flowers is the largest retailer of fresh flowers, foliage & indoor plants since 1990. Our specialization is custom made bouquets crafted by experienced florist with care.
LUXURY FLORAL ARRANGEMENT. June Flowers, UAE's #1 online flower shop bring the best of nature to give a face lift to your office space with floral arrangements which fills the air with freshness, induces calmness and adds creative look to your office space for any special occasion or for the daily routine. 
PRODUCTS
FLOWER BOUQUET:

 AED 99.00 – AED 4,999.00

CAKES:

 AED 149.00 – AED 999.00

FLOWER BOX:

 AED 99.00 – AED 1999.00

FLOWERS WITH FRUIT:

 AED 299.00 – AED 999.00

NEWBORN FLORAL GIFT:

 AED 99.00 – AED 4,999.00
DELIVERY & PAYMENT
They accept VISA, MasterCard, Maestro, Discover, American Express, and Diner's Club, Paypal, Western Union, Bank Transfer & Cash Upon Delivery
8. Flower Station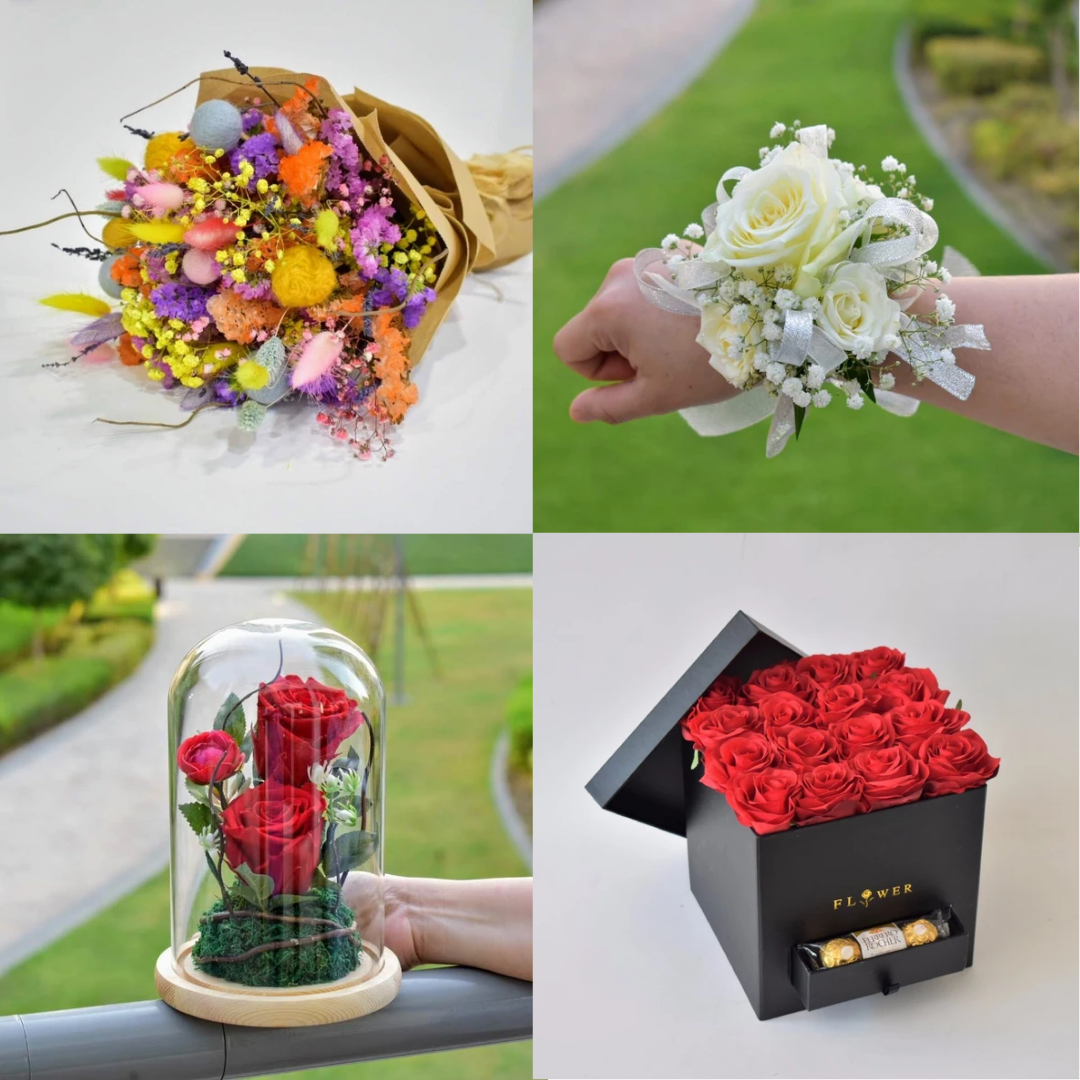 Flower Station is an online flower delivery that's own for their vibrant floral arrangements made especially for each client and occasion.
You can buy among many of their options, which include bouquets, flower boxes, artificial flowers, chocolate packages, and more.
WHAT PEOPLE LIKE
Top Quality Flowers – Flower Station is the shop to call if you're in need of beautiful bouquets made with only the freshest blooms. Trust that they will only provide you premium quality flowers in every order to ensure satisfaction.
Online Flower Delivery – Considered by Flower Delivery reviews to be one of the best online flower delivery options in UAE, Flower Station offers a hassle-free service when it comes to purchasing arrangements. Order online and have them deliver it at your doorstep the very same day!
PRODUCTS
Bouquets start at Dhs. 200.00
Boxes and Baskets start at Dhs. 200.00
Dried and Preserved Flowers start at Dhs. 85.00
Flower Jewelry/Corsages start at Dhs. 52.50
Forever/Infinity Rose start at Dhs. 275.00
Teddy Bears start at Dhs. 52.50
DELIVERY & PAYMENT
MasterCard, VISA
9.

Creative Florist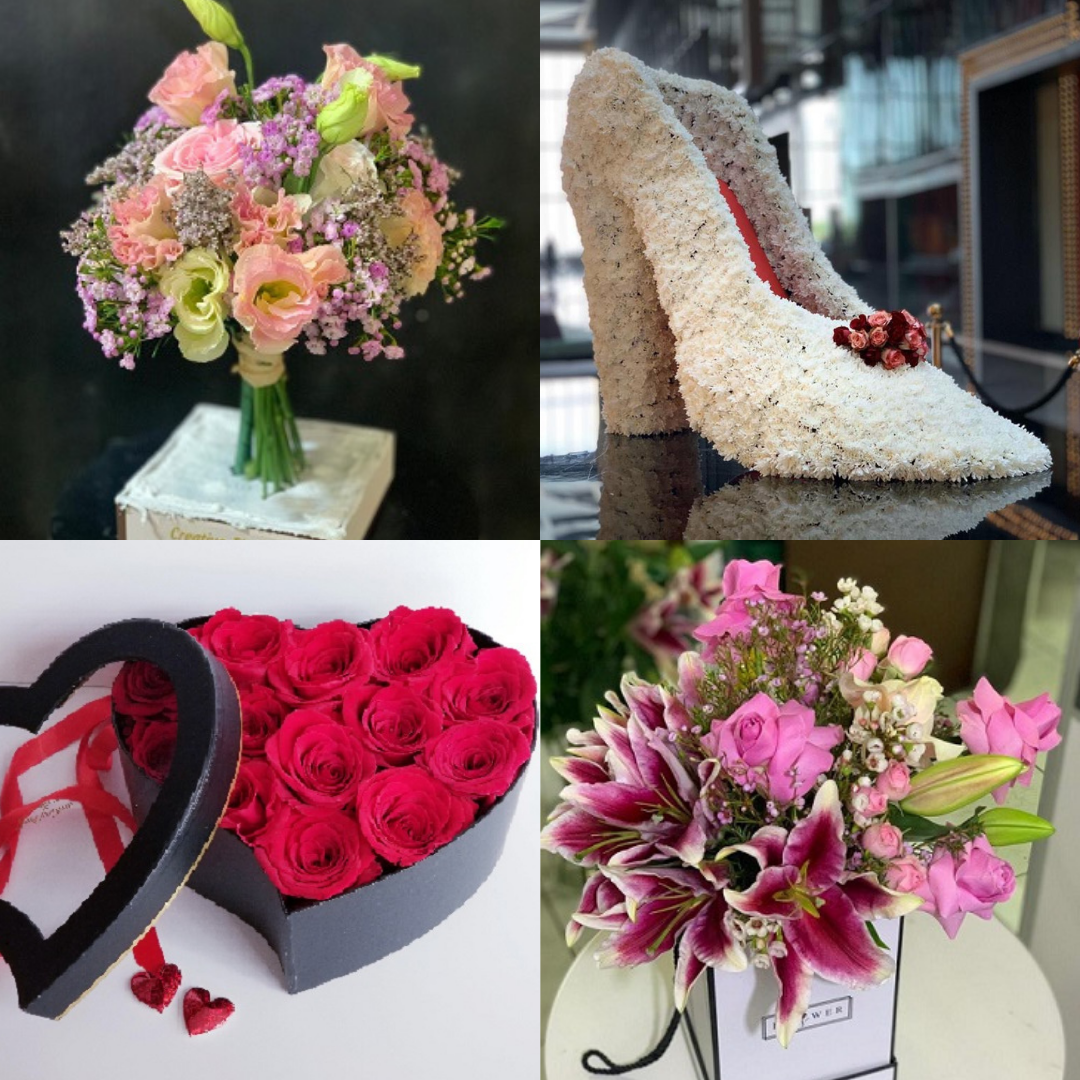 With a dream of providing the most creative and unique arrangements for clients in Dubai, Creative Florist was established as a 24/7 flower shop that offers same-day delivery.
Experience the most seamless transaction ever, head on to Creative Florist's website and order now!
WHAT PEOPLE LIKE
Event design and styling – Creative Florist is the shop to call if you're looking for a company to help you design your event. With their amazing artists and florists, you're sure to have the grandest blooms at your party. Contact them for more information and specifications.
Custom arrangements – If you're picky about your flowers and their meanings, then have Creative Florist offer you custom styling of bouquets. Give them your preferences and they'll do their best to satisfy you.
PRODUCTS
Birthday Arrangements

Romantic Bouquets

Corporate Flowers

Rose

Hydrangeas

Tulip

Mixed

Baloons


Hair Bands
DELIVERY AND PAYMENT
Visa, MasterCard and Cash On Delivery
10. EXOTICA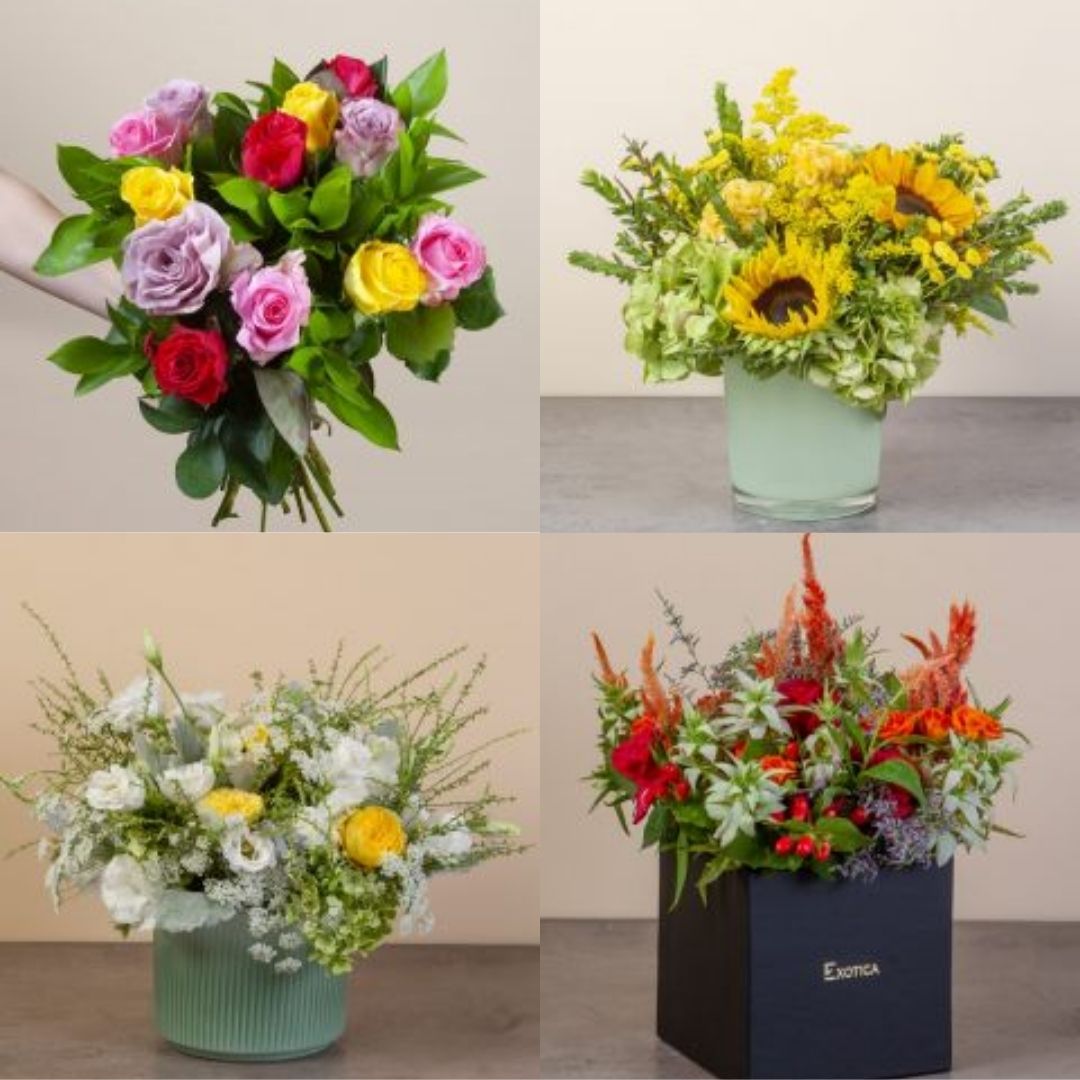 Another shop to consider for flower delivery in Dubai is Exotica. They started as a horticultural company in 1978 and, since then, has grown into a widescale business. Aside from the floral shop, though, Exotica also caters to landscaping assistance for their clients.
You can take a look at their portfolio and listings on the website, and have your orders processed there as well.
SPECIALTY
Flower Bouquets and Arrangements
SELECTION SIZE
Large
STARTING PRICE
Starts at AED 65
DELIVERY FEE
Calculate at checkout
WEBSITE
http://exotica.com/
SOCIAL MEDIA
FB: exotica_uae
IG: exotica_uae
CONTACT DETAILS

+971 2 644 44 16 

+971 45136501

+071 50 66 12 870
WHAT PEOPLE LIKE
PREMIUM QUALITY BLOOMS. Exotica houses only the freshest and most beautiful blooms. They have their very own flower and plant nurseries and is known as the "green advocate" across the region.
WIDE RANGE OF SERVICES. Another great thing about Exotica is that they offer a wide range of services. Aside from their floral delivery, they also do landscaping, as well as possible assistance for decorating in events. Wherever you might need flowers for, there's a high chance Exotica can help you with it.
EXPERT FLORISTS. With the years of experience they can offer, Exotica is handled by professional staff. Their florists are experts in handling a multitude of flowers, and are also equipped to provide customers beautiful designs and arrangements. 
PRODUCTS
Mixed Flowers
Flower Boxes
Plants
Wine & Spirits
DELIVERY & PAYMENT
VISA, MasterCard, American Express