No need to look for florists near your area. We've already compiled the best florists in Brisbane just for you! Browse our list for quality flowers that won't empty your wallet. Enjoy picking out the best bouquet for your loved one or even for yourself right at the comfort of your home.
1. POPPY ROSE
Poppy Rose is far from your usual online florists. They won't bombard you with endless choices of commercial-looking flowers that would most likely confuse you. Nope. Instead, they'll offer a uniquely styled bouquet that changes daily – each one straight from a local grower's market to your hands!
WHAT PEOPLE LIKE
SUSTAINABLE FLOWER DELIVERY SERVICE. By only buying what they need each day, Poppy Rose has provided a sustainable service for its customers. They sell one style of bouquet daily in different sizes which makes every flower accounted for and reduces wastes down to a minimum. They even wrap it using Kraft brown recyclable paper and natural jute twine. Everything is biodegradable (and cute!) and keeps the prices low for you.
FLAT-RATE BOUQUETS. Since there's only one choice of bouquet each day; the company simplified the ordering process for everyone while minimizing the cost at the same time. Now all you have to do is choose between small, medium and mega-sized bouquets. Simple!
CUSTOM BUNCH. If you're looking for something more specific and personalized, Poppy Rose still got you covered. Their florists can arrange a beautiful mix of flowers that would best fit the occasion.
PRODUCTS
SMALL BOUQUETS: $44
MEDIUM BOUQUETS: $70
MEGA BOUQUETS: $125
CUSTOM BUNCH: From $145
*prices include delivery to selected suburbs in Brisbane
DELIVERY & PAYMENT
Same day delivery is available for orders placed before 12 pm. For next day delivery order anytime. Their website takes both Paypal and Credit card payment. Their retail store has EFTPOS and accepts cash payments.
2. POCO POSY
Poco Posy believes you don't need to spend too much for large bouquets when you can buy posies which are cheaper and just as beautiful. In this company, the focus is on creating stunningly beautiful arrangements that are uniquely-styled each day.
WHAT PEOPLE LIKE
FRESH NEW ARRANGEMENT EVERY DAY. Poco Posy only has a limited number of posies that are differently styled each day. This pushes them to source out the best and freshest flowers each morning at the market.
RUSTIC STYLED POSIES. The company takes pride in the freshness and aesthetic quality of their flowers, so much that they opted for a minimalist packaging. No over-the-top decorations – just rustically wrapped bouquets in recycled hessian sourced from local coffee merchants in Brisbane.
FREE SAME DAY DELIVERY. This company provides free same-day flower delivery in selected suburbs in Brisbane. They run deliveries twice daily, to an AM and a PM schedule assuring that each delivery will be there on time.
PRODUCTS
POCO POSY: $39
MEDIUM POSY: $65
LARGE POSY: $95
POCO POTS: $40
MAN POSY: From $55
DELIVERY & PAYMENT
They guarantee deliveries by 5 pm for commercial properties and 7 pm for residential properties. They accept online payments via PayPal or credit card.
3. STALKS AND STEMS
The people at Stalks and Stems take pride on their lush floral designs with creative botanical elements. This creative company originally started as a small flower shop and has now expanded to cater to wedding, corporate, and events. If you pick Stalks and Stems, you know you're working with an experienced and thriving company.
WHAT PEOPLE LIKE
LUXE WRAPPING STYLE. Stalks and Stems' attention to detail is clearly visible from the amount of effort they put in on the presentation of their floral creations. They have developed a luxe wrapping style that functionally protects your flowers while in transit and still looks aesthetically pleasing to the eyes.
LARGE CREATIVE COLLECTION OF FLOWERS. One of the reasons to come back to this company after each purchase is their large flower catalog. One of the fan favorites is the 'She's a wild one!' – a collection of lush mixed floral bouquets in vibrant tones.
PRODUCTS
COUNTRY WRAP – RUSTIC NATIVE BLOOMS: $45.00 – $180.00
HAT BOX ROSES: $45.00 – $140.00
SUNFLOWER BOUQUET: $45.00 – $95.00
DISBUDS: $55.00 – $165.00
PURITY: $65.00 – $220.00
DELIVERY & PAYMENT
Same day delivery is available for orders placed before 12 pm from Monday to Friday and 10 am Saturday. For next day delivery order anytime. Their website takes both Paypal and Credit card payment.
4. LITTLE MR. BOUQS
Another example of the growing sustainable flower delivery industry in Brisbane, Little Mr. Bouqs focuses on the day-to-day essentials to cut back on wastes. By only providing one style of bouquet daily, they've assured both the quality of each product and minimizing prices.
WHAT PEOPLE LIKE
FLAT RATE BOUQUETS. If you're still agonizing on choosing the perfect bouquet from almost an endless list of choices from the big companies, why not try Little Mr. Bouqs? All you need to choose is the size and the florists can handle all the rest. You don't even need to worry about the cost because the company made it simple and cheaper by providing flat rate bouquets!.
FRESH ARRANGEMENTS. Since the company only provides one style of bouquet daily; a freshly styled bouquet is guaranteed every day. They even offer same day delivery!
PRODUCTS
DAILY BOUQUET: $44.00 – $105.00
DELIVERY & PAYMENT
Their deliveries occur between 11:00 am and 6:00 pm, no time specific delivery. They accept payment by Stripe.
5. FLOWER HAUL
Flower Haul is a floral studio based at a flower market. Yup, all your flowers are picked-to-order daily and delivered straight from the market. Fresh flowers, beautiful arrangement, friendly staff and still affordable? What a steal!
WHAT PEOPLE LIKE
MARKET TO DOOR FLOWERS. By building a flower delivery company directly where the fresh flowers are, Flower Haul has assured each bouquet will be made by freshly-picked flower daily. They'll literally deliver you market to door flowers!
FRESH AND SIMPLE BUNCHES. When you're working with fresh and quality flowers, you really don't need more to impress the customers. A simple arrangement and packaging will highlight the floral creation, making the flowers work for themselves.
FREE FAST DELIVERY. They also offer free delivery. What are you even waiting for? Cheap, fresh and breathtaking flower arrangements are just one click away!
PRODUCTS
MARKET BUNCHES: From $49
MIXED BUNCHES: From $49
DELIVERY & PAYMENT
Order before noon for same-day flower delivery in Brisbane. For next day delivery order anytime. Their website takes both Paypal and Credit card payment. Afterpay is also available.
6. MICHELLE NESSA FLORIST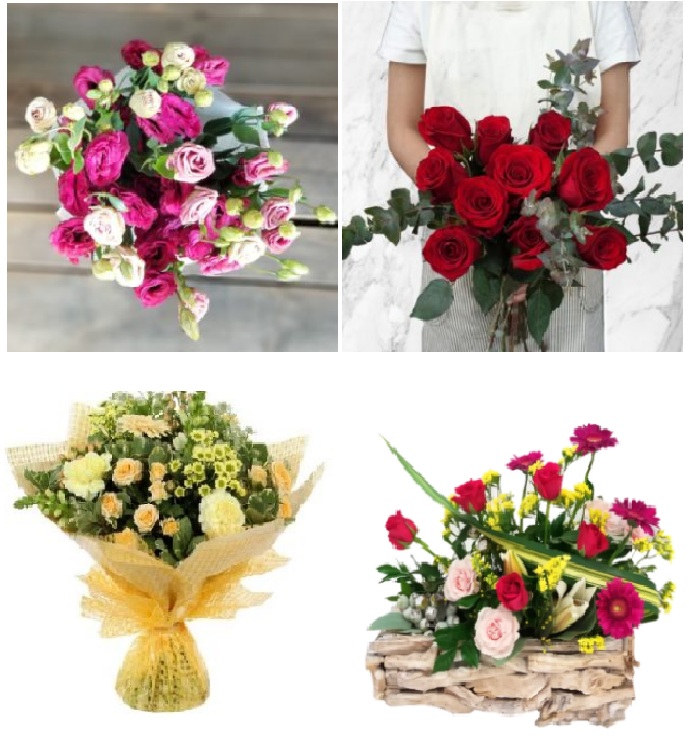 Michelle Nessa Florist is a flower studio located in Brisbane. It recognizes the fact that giving of flowers is a traditional practice; however, it believes that ordering blooms should not be the traditional manner. That being said, they opened up an online shop which allows customers to shop floral arrangement from them.
The owner of the shop has 10 years worth of experience in the field so you're ensured that your blooms are well-taken care of.  They are also Wedding Specialist/Corporate/Event Flowers/Funeral Flowers.
Further, they have a team of florist which is dedicated and passionate in producing creative and unique arrangements.
Specialty

Guaranteed fresh blooms

Selection Size

Moderate

Starting Price

$39.90

Delivery Fee

Free

Website

Social Media

Instagram: @mnessaflorist

Facebook: /MichelleNessaFlorist

Contact Details

0412 676 450 | [email protected]
WHAT PEOPLE LIKE
SAME DAY DELIVERY

. The shop offers same day delivery for their floral arrangement. This means that customers can get their blooms on the day that they ordered from the studio. Note however that this is subject to certain conditions. 

DELIVERY CODE CHECK

. As stated above, the studio has a same day delivery but its subject to condition. One of which is the location of your delivery place. Thus, they provided a service wherein customers can check whether same day delivery applies to the area. 

OFFERS WORKSHOP

. The owner of the place is registered teacher of Ikebana in Japan. This is the method used by Japanese to arrange flowers. They hold classes on Friday and Saturday for a fee of $25 each (exclusive of materials used). 
PRODUCTS
FLOWER ARRANGEMENT:

$39.90 – $190
DELIVERY AND PAYMENT
Contact shop for details.
7. SWEET MOMENTS FLORIST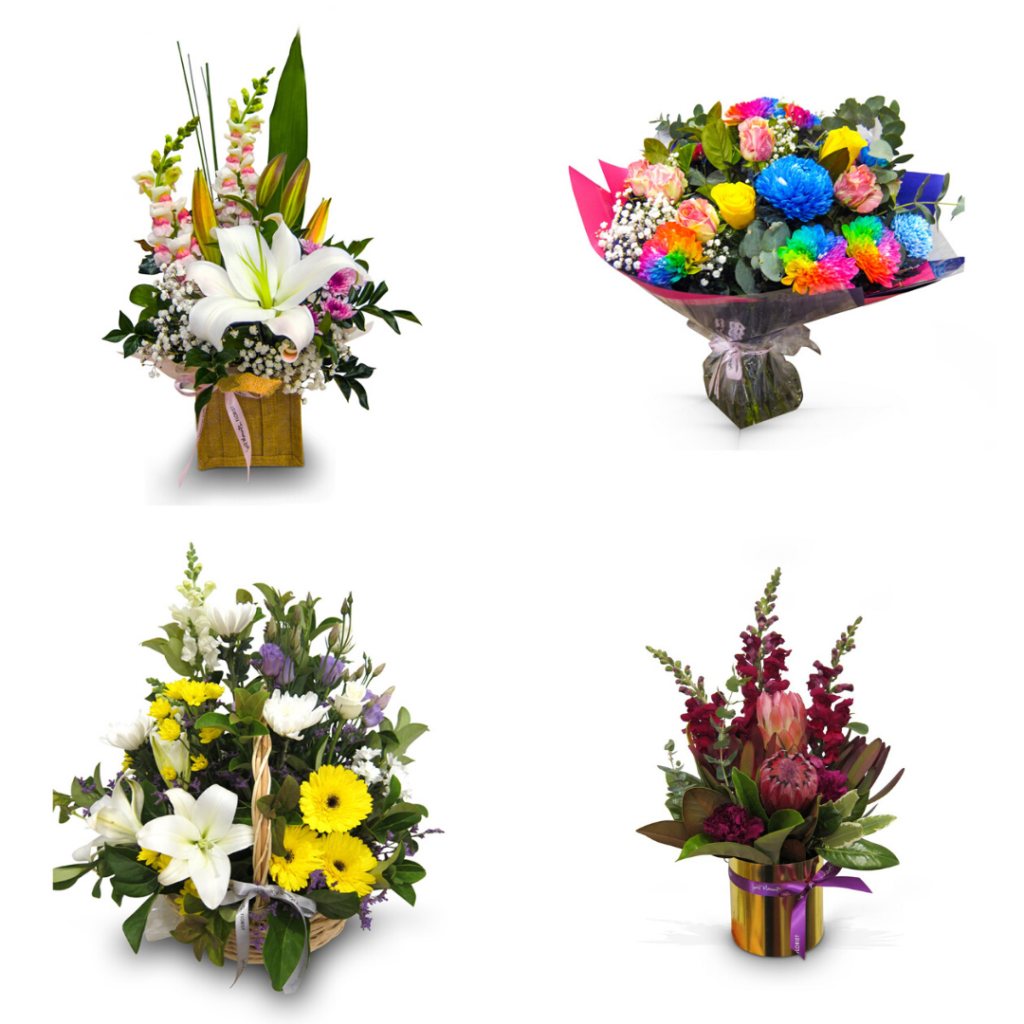 Alice Siu, founder of Sweet Moments Florist, believes in the power of flowers to bring joy, beauty, and harmony to one's life. This is why she has dedicated much of her time in perfecting her craft, earning several certifications for Floristry, including a Professor Diploma in Modern Floral Design from the American Floral Art School.
All of her efforts were not in vain, as can be seen with Sweet Moments Florist' diverse catalogue. The brand treats every creation of theirs as a work of art. They only use the freshest of flowers when promised. They also make pieces for weddings and corporate events. 
Specialty

Floral arrangements

Selection Size

Moderate

Starting Price

$44

Delivery Fee

Calculated upon checkout. 

Website

https://www.sweetmomentsflorist.com.au/

Social Media

Instagram: @sweetmomentsflorist/

Facebook: /sweetmomentsflorist/

Contact Details
WHAT PEOPLE LIKE
BEST BLOOMS. When it comes to natural floral arrangements and bouquets, Sweet Moments Florist promises  to use only the freshest and most fragrant flowers available. This helps ensure vibrancy and longevity for every order. 
WEDDING NEEDS. Alice and her team guarantees the best arrangements and pieces for every wedding event that they handle. They take the time to consult with you and other clients, in order to give you your dream wedding. 
ARTIFICIAL FLOWERS. Flowers bloom and they die. This is the natural cycle of life. As an alternative to fresh arrangements, Sweet Moments Florist also offers pieces made with artificial flowers. 
FLORIST CHOICE. Don't know what to get? You can trust the talented team of Sweet Moments Florist to carefully craft arrangements, bouquets, and other pieces for you.
PRODUCTS
FLOWER ARRANGEMENT
WEDDING DECORATION
CORPORATE DECORATION
ARTIFICIAL FLOWERS
DELIVERY AND PAYMENT
The shop accepts VISA, Mastercard, and American Express. 
8. PERFECT PETALS

The Philosophy behind Perfect Petals' service revolves around meaningful connections. They aspire for every arrangement and bouquet to be the best there is, all the while conveying any meaning that you would want the piece to tell the person you're giving it to.
Every flower used in this shop is the freshest available in the current season. Should your preferred flowers be unavailable, Perfect Petals will try to replace it with another flower that closely resembles your original choice. 
Specialty

Flower Arrangements

Selection Size

Moderate

Starting Price

$29

Delivery Fee

Calculated upon checkout 

Website

https://perfectpetals.com.au/

Social Media

Instagram: @perfectpetalsflorist/

Facebook: /PerfectPetalsAU

Contact Details

(07) 3399-9659 | https://perfectpetals.com.au/contact-us/
WHAT PEOPLE LIKE
SAME DAY DELIVERY

. In a hurry to get your flower arrangements? Perfect Petals gurantee same day delivery, on a daily basis, for all suburbs in Brisbane. They have a list of area codes on their website so every customer can check if the delivery is available for their location.

CREDIT CARD SECURITY. You'll never have to worry about credit card fraud or identity theft when you work with Perfect Petals. Every order placed in their system is secured, assuring customers that no one besides them will see their credit card details.
PRODUCTS
FLOWER ARRANGEMENTS
WEDDING ARBOURS AND DECOR
CORSAGES AND FLOWER CROWNS
CORPORATE EVENT DESIGN
DELIVERY AND PAYMENT
The shop accepts GooglePay, PayPal, Visa, and Mastercard.
Images were taken from each company's official websites/social media.