Sending flowers is a good way to express your emotions or feelings. You can do this if you're rejoicing, grieving, and offering sympathy to someone. However, having to wait for your flowers to arrive might be stressful for some. So, we list out some of the best flower shops that offer same day delivery in Perth. Take a look at the list below.
1. A LITTLE BUNCH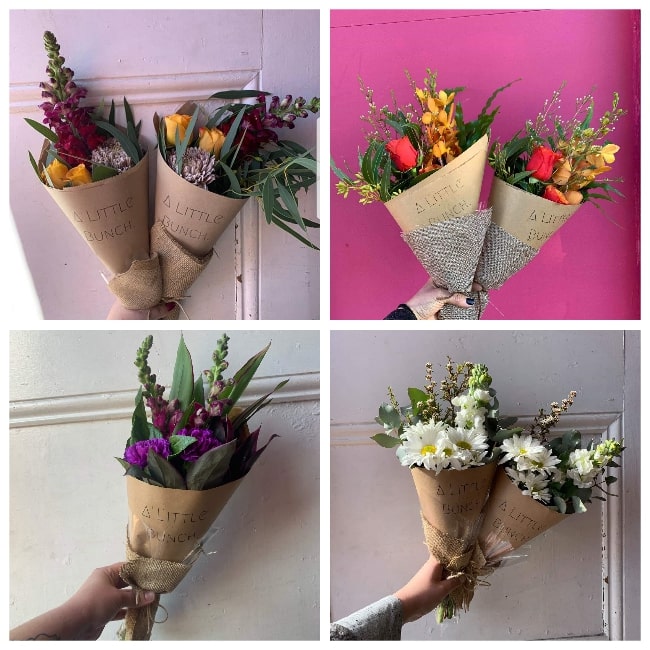 Every morning, A Little Bunch provides fresh blooms for the residents of the area.
They provide delivery of their beautiful and locally grown fresh blooms to their buyer's home or offices. You can find seasonal flowers and foliage which they combine to produce lovely bouquets.
They usually upload their daily creation on 7:30 or 8:00 am. So, to keep yourself updated, you have to visit their site and see what they offer on that specific day.
They accept orders until supply lasts. Thus, order earlier to avail of their fresh flowers.
SPECIALTY
Everyday flowers
SELECTION SIZE
One style per day
STARTING PRICE
Price varies
DELIVERY FEE
$35
WEBSITE
http://alittlebunch.com.au
SOCIAL MEDIA
Instagram: @alittlebunch
Facebook: /alittlebunch Twitter: @alittlebunch Pinterest: @alittlebunch
CONTACT DETAILS
[email protected]
WHAT PEOPLE LIKE
EVERYDAY FLOWERS. If you love blooms to the point that you want them daily, then A Little Bunch is here for you. This shop offers everyday flowers to which you can order from their site or store. The thing, however, is that they have limited supplies of their floral arrangement. So, you have to pre-order or place your order earlier to make sure you'll have a bouquets.
FRESH BLOOMS. Since they make different styles everyday, you are ensured that your flowers are of fresh quality. They source their blooms from local growers or farmers. And they replenish it everyday.
PRODUCTS
EVERYDAY FLOWERS: Contact shop for price
DELIVERY & PAYMENT
They offer same day delivery everyday or until their supplies last. As for payment, you may use VISA, MasterCard, or American Express.
2. LILYPILLY FLORIST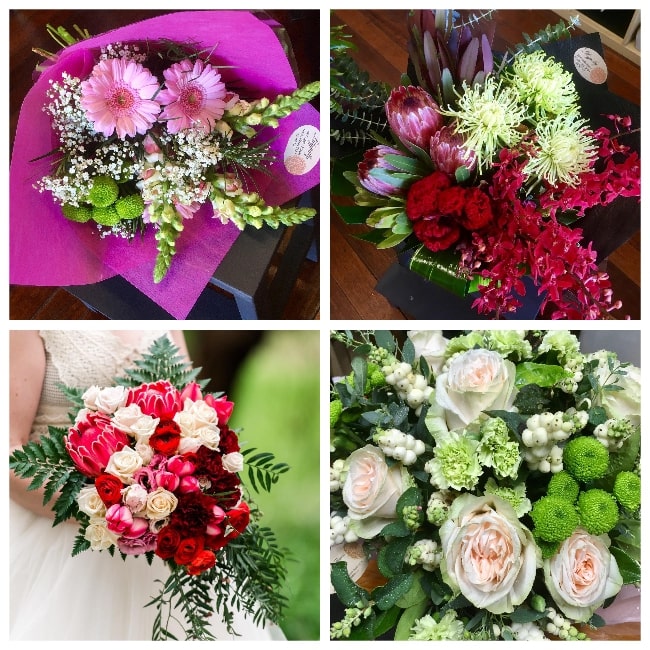 Another shop that offers same-day delivery is Lilypilly Florist.
The shop was established in 2017 but its owners have been in the business of floristry for over 25 years.
This store carries with it a legacy of a 60-year old florist—Angelo. Thus, you are ensured that all your bouquets are well-taken care of by its designers.
Aside from its premade bouquets, the shop also accepts flower arrangements for special events like weddings.
| | |
| --- | --- |
| SPECIALTY | Flowers for any occasion |
| SELECTION SIZE | Small |
| STARTING PRICE | $35 |
| DELIVERY FEE | Calculated upon checkout |
| WEBSITE | http://lilypillyflowers.com |
| SOCIAL MEDIA | Instagram: @lilypillyflowers |
| CONTACT DETAILS | 08 9474 2340| Contact Form |
WHAT PEOPLE LIKE
FLOWER SERVICES. Apart from offering floral arrangement, the shop also has wonderful legacy in flower services. You may contact their florist to assist you in creating your dream wedding or when styling your venue for a special day.
STUNNING FLOWER ARRANGEMENT. Throughout the years, their designers have developed different techniques and styles in crafting their flowers. So, you can choose from various flowers which are beautifully made.
PRODUCTS
BOUQUETS: $35 – $110
PLANTS: $13 – $100
POSY POTS: $35
DELIVERY & PAYMENT
Cutoff time: 12pm for Mondays to Fridays and 9:00 am on Saturdays
3. EDIBLE BLOOMS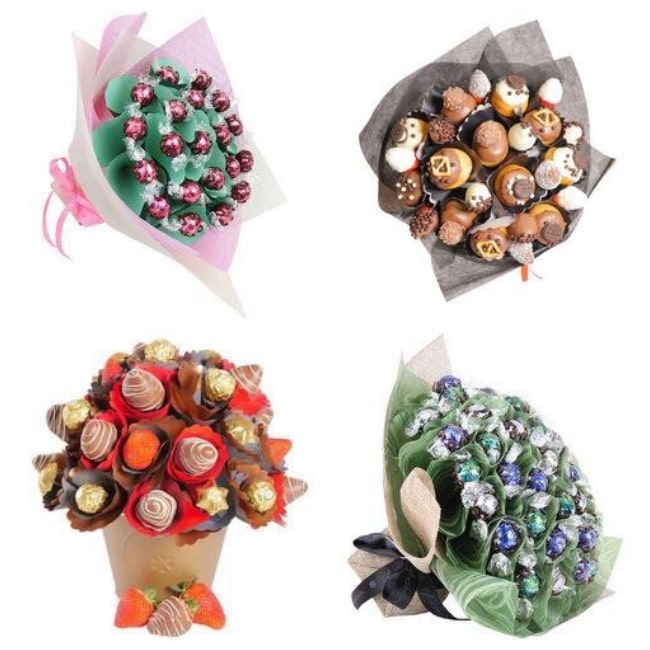 If you're looking for edible flower bouquets, then Edible Blooms is the right choice. They have a wide selection of edible bouquets which you can buy from their shop. This is a great alternative to fresh blooms especially when your recipient loves sweets, deserts, and chocolates.
| | |
| --- | --- |
| SPECIALTY | Edible blooms |
| SELECTION SIZE | Moderate |
| STARTING PRICE | $39 |
| DELIVERY FEE | Free for orders over $120 |
| WEBSITE | http://edibleblooms.com.au |
| SOCIAL MEDIA | Instagram: @edibleblooms.au Facebook: /EdibleBlooms Twitter: @EdibleBlooms |
| CONTACT DETAILS | [email protected] |
WHAT PEOPLE LIKE
FREE DELIVERY. As a give back to their customers, the shop offers free same day delivery to their customers. However, there's a minimum amount in order to avail of this service. If you're a buyer, you need to spend at least $120 for the free delivery.
RUSH DELIVERY. Aside from their same day delivery, they have express or urgent delivery. This allows you to send out your orders faster than their regular delivery time. However, there's an additional charge of $11.95.
PRODUCTS
EDIBLE BLOOMS: $39 – $499
DELIVERY & PAYMENT
4. CARRAMAR FLOWERS & GIFTS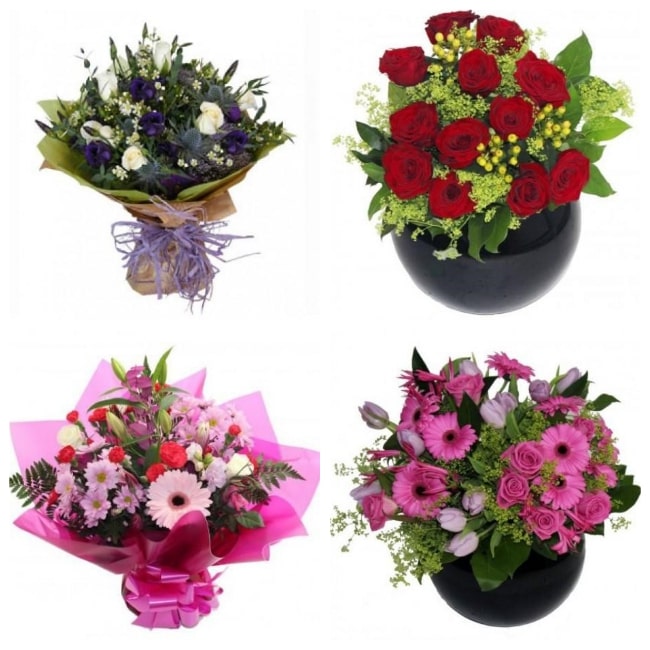 You may also rely on Carramar Flowers & Gifts for your daily dose of blooms. They have various floral arrangements that you can select from. Their online site provides you with an easier way to locate your flower needs. This is for the reason that their flowers are arranged categorically. For instance, you want to give blooms for a birthday girl. You can simply go to their 'Birthday' option to choose your flower.
WHAT PEOPLE LIKE
BEAUTIFUL FLOWERS. They have wonderful and stunning floral arrangement which you can buy from their site. You can choose from their vibrantly colored blooms or those pastel ones. Whatever you prefer, they will surely have it. .
FRIENDLY AND PROFESSIONAL STAFF. This shop also have friendly staff and accommodating personnel. As such, you can be guided with the ordering process or checkout of your orders. Further, you may ask for recommendations or suggestions if you don't know what to choose.
PRODUCTS
FLOWER BOUQUET: $60– $90
FLOWER ARRANGEMENT: $69.70 – $75
SILK FLOWERS: $75
FLOWER BASKETS: $65.60 – $82
DELIVERY & PAYMENT
Same day delivery applies to orders made before 2:00 pm. Payment can be made through MasterCard, VISA, and PayPal.
5. A TOUCH OF CLASS FLORIST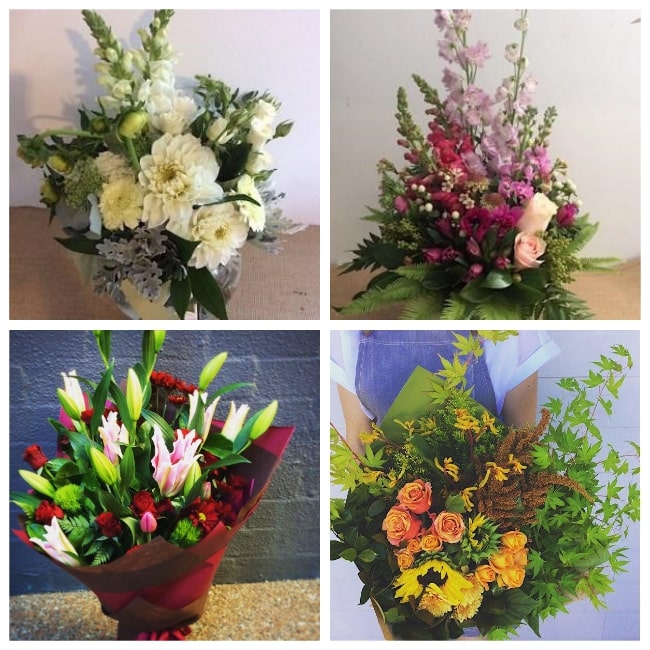 Home to creative bouquets, A Touch of Class Florist takes pride in their florists which have 38 years of experience in the industry. They provide a multi-dimensional touch on their flower arrangement. Thus, you can never be bored with their collections.
This family-owned and operated shop aims to give its customers a personalized shopping experience. So, their staff are friendly and accommodating with their buyers.
| | |
| --- | --- |
| SPECIALTY | Fresh blooms |
| SELECTION SIZE | Moderate |
| STARTING PRICE | $20 |
| DELIVERY FEE | $10 |
| WEBSITE | http://atouchofclassflorist.com.au |
| SOCIAL MEDIA | Instagram: @atouchofclassflorist Facebook: /Atouchofclassfloristperth |
| CONTACT DETAILS | 08 9256 2415 |
WHAT PEOPLE LIKE
EVENTS AND FUNCTIONS. If you have upcoming events, you can tap A Touch of Class Florist for your flower needs. They gave excellent service for any events-may it be for birthdays or weddings. .
CANCELLATION OR VARIATION OF ORDER. In the event that you don't need the blooms anymore, you may cancel your order or replace it with another style. However, this must be done 24 hours before the delivery date or else they won't recognize your requests.
PRODUCTS
FLOWER ARRANGEMENT: $20 – $695
PLANTS: $27.95 – $79.99
DELIVERY & PAYMENT
Their cutoff time for same day flower delivery are 10:45 am for Mondays to Fridays. However, for Saturdays, orders should be placed before 9:00 am. The shop accepts credit card.
6. ANNIE'S FLORIST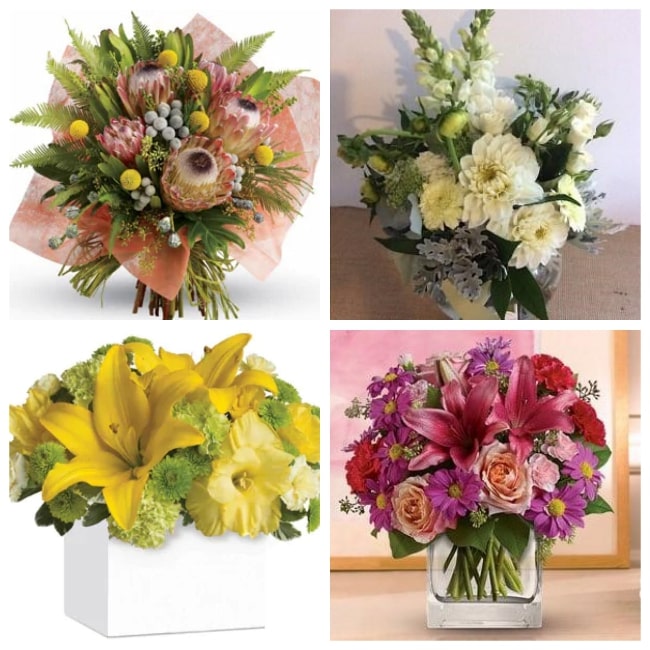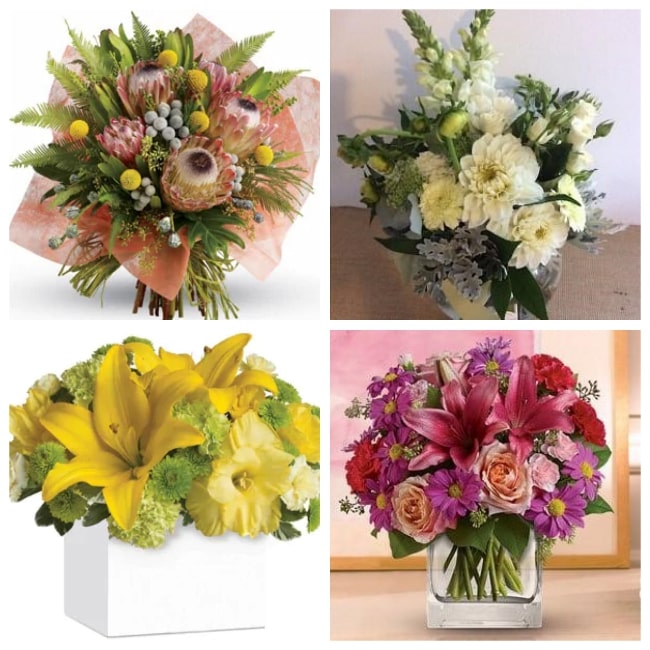 At Annie's Florist, everyone is committed to providing the finest floral arrangement for their customers.
There are also gift items that you can add or include to your flowers. Their shop is open from 8:30 am up to 5:30 pm. You can visit their physical store to place an order or go to their site to view the catalogue.
| | | |
| --- | --- | --- |
| SPECIALTY | | Fresh flower, tropical flowers, plant and dish gardens |
| SELECTION SIZE | | Moderate |
| STARTING PRICE | | $64.95 |
| DELIVERY FEE | | Calculated at checkout |
| WEBSITE | | http://flowerdeliverysouthperth.com.au |
| SOCIAL MEDIA | | |
| CONTACT DETAILS | | 08 9474 1150 |
WHAT PEOPLE LIKE
FRIENDLY STAFF. The shop has lovely staff which guides its customers along the process of ordering flowers from then. As such, their customers go back to their shop to buy blooms. Moreover, they accommodate questions and queries regarding their floral arrangement. .
BEAUTIFUL AND STUNNING FLOWER ARRANGEMENT. Their aim is to provide the locals with the finest arrangement of flowers. True to that goal, they have stunning flowers and gorgeous arrangement that you can choose from.
PRODUCTS
FLOWERS FOR ANY OCCASION: $64.95 – $111.95
DESIGNER'S CHOICE: $50.90 – $59.95
BOUQUETS: $59.95 – $101.95
DELIVERY & PAYMENT
Same day delivery applies when orders are placed before 2:00 pm on weekdays and 10:00 am for Saturdays.
Accepted payments: PayPal, VISA, MasterCard, Diner's Club Card, and American Express
7. THE DAILY BLOSSOM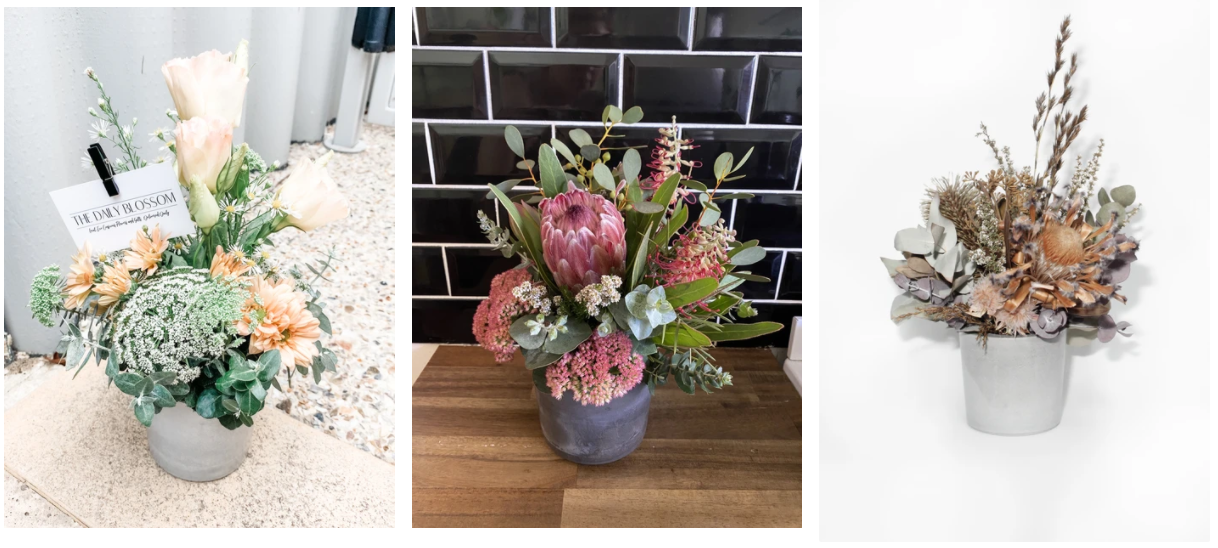 Next on the list is The Daily Blossom, a shop that has been serving the Perth area for a couple of years now.
Many have come to know The Daily Blossom for its daily blooms option, which consists of one to two flower arrangements that are gone once they have been sold out.
The exclusivity, paired with the quality of the arrangements, make The Daily Blossom's daily blooms a sought-out flower arrangement choice.
WHAT PEOPLE LIKE
DAILY BLOOMS. Are you looking for flowers to make a special event even more special? If so, The Daily Blossom's daily blooms may be of interest to you. These arrangements are made with the freshest seasonal flowers, with the design changing each day. Such a rare commodity makes an excellent choice for special occasions or "just cause" gifts.
ECO-FRIENDLY FLORISTRY. The Daily Blossom operates not only with flowers in mind but the environment as well. This is why the shop endeavours to work with little to no negative effect on the environment. One of the decisions they've committed to is staying away from flower foams, which are known to be harmful when used in great amounts. 
PRODUCTS
FLOWER ARRANGEMENTS
GIFT SETS
WESTERN AUSTRALIAN GIFTS
BABY GIFTS
DELIVERY & PAYMENT
Flower prices include delivery. Deliver hours is between nine in the morning and five in the afternoon. 
8. RUSTIC POSY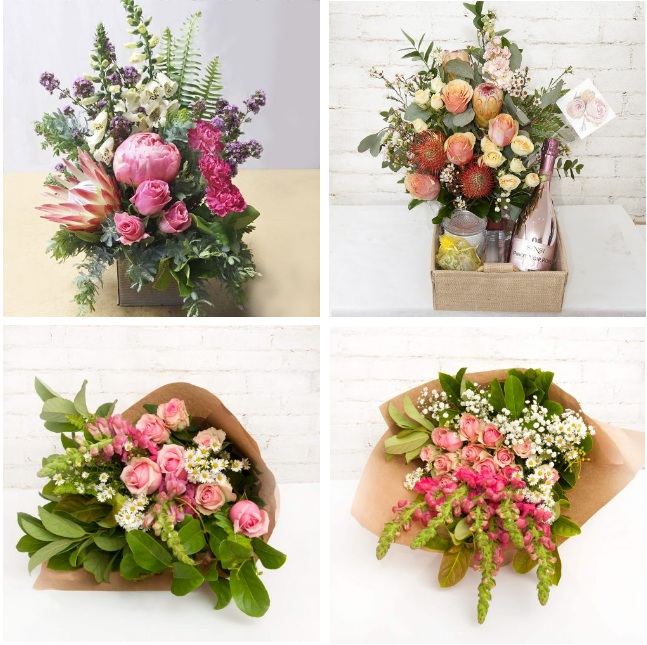 Rustic Posy is an online delivery store that is passionate about providing the people in Perth with fresh flowers that will make any celebration brighter and more colorful.
Every day they hand-pick an assortment of the freshest flowers to create their ephemeral posies that become the heart of their daily bouquets.
Each morning, they collect fresh flowers from the local market and then have them delivered in the afternoon so they maintain the best qualities of their products. Their aim is to have all deliveries to offices completed by 4 pm and to homes and hospitals by 7 pm.
WHAT PEOPLE LIKE
SAME DAY DELIVERY.

With the aim of delivering fresh blooms to their beloved clients, the shop offers same day delivery for as long as your you place your orders no later than 12:30 in the afternoon.

GREAT SERVICE.

Rustic Posy has an overall wonderful service and this includes giving you an advanced peek of their upcoming collection which they call The Posy of the Day picture every 6pm. These designs come in 3 different sizes with a range of extra gifts for additional elegance.
PRODUCTS
WRAPPED BOUQUETS
FLOWER BOXES
BASKET ARRANGEMENTS
SPECIAL OCCASIONS ARRANGEMENTS
DELIVERY AND PAYMENT
They deliver Monday to Friday only (excluding public holidays). Deliveries for business addresses will arrive by 5pm and residential addresses by 7pm at the latest.