The beautiful country of Switzerland is famous for its green meadows and high mountains. They are also known for their abundant supply of fresh milk that they turn into tasty chocolates. Romantically speaking, what's the best item paired with chocolates? That's right, flowers! Luckily, Switzerland is also home to many talented and creative florists that create thousands of different flower arrangements. Below is a list of some of the best ones.
1.      PANAMY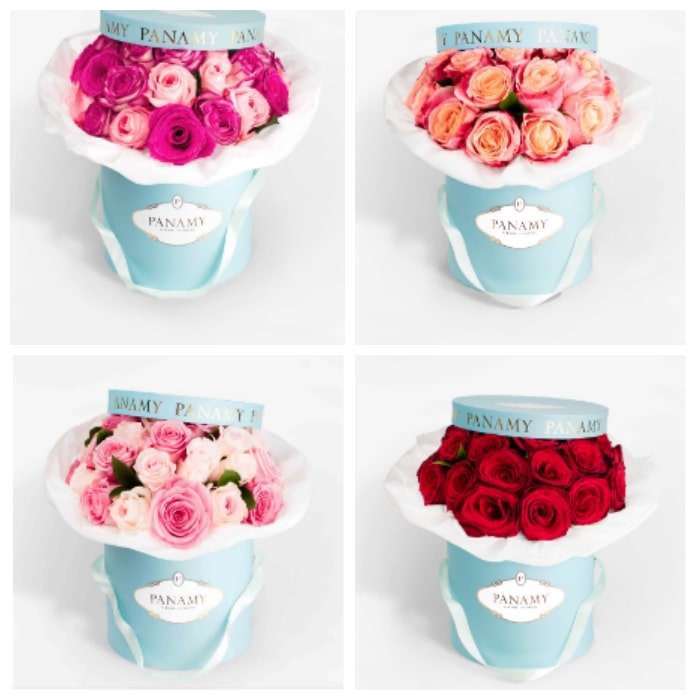 Panamy gives their best effort in creating elegant hand-tied bouquets using only the freshest and finest flowers that you can find in Switzerland. The combination of color, style, and texture really brings pride to the shop plus their magnificent packaging using elegant hatbox. If you want to send someone a luxurious-lookin gift, the floral arrangements of Panamy is your best choice.
WHAT PEOPLE LIKE
ELEGANT DESIGN. Steering clear of traditional hand-tied bouquets, the shop is able to innovate their products and come up with something that is both practical and stunning. They fresh blooms have mesmerizing colors and the way they package them is really beautiful.
FRESH FLOWERS. At Panamy, they give huge importance to the quality of the flower itself that is why they make sure that the floral products that are coming in and out of their shop are always fresh and in best quality.
PRODUCTS
Bouquets – CHF99 to CHF150
Flower Box – CHF99 to CHF150
DELIVERY AND PAYMENT
The shop offers next day delivery for as long as you place your orders before 3pm.
2.      FLORAMAMMA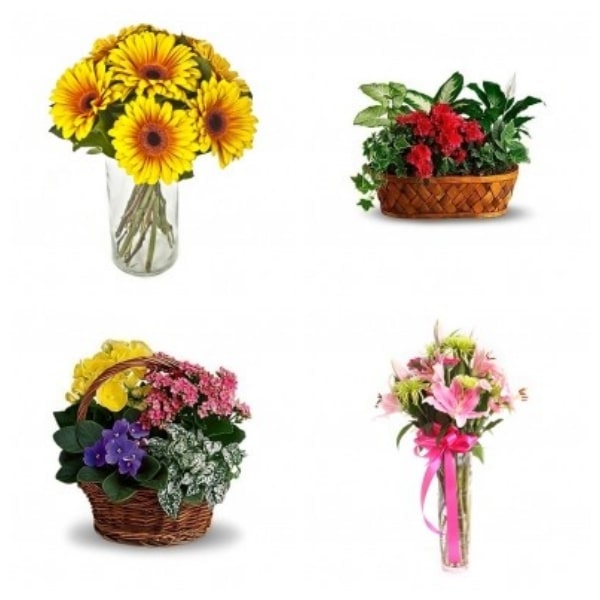 Floramamma is a flower shop that houses thousands of different flowers and floral arrangements. Whether you are in need of a floral design for your upcoming birthday party, or helping your sister choose her bridal bouquet, maybe you just randomly thought of sending a friend a basket of fresh lilies, Floramamma definitely has anything that you might need.
| | |
| --- | --- |
| SPECIALTY | Flowers for all occasions |
| SELECTION SIZE | Large |
| STARTING PRICE | Starts at €20 |
| DELIVERY FEE | Calculated at checkout |
| WEBSITE | https://floramamma.com/switzerland-zurich |
| SOCIAL MEDIA |   |
| CONTACT DETAILS | +44 203 60 88 611 |
WHAT PEOPLE LIKE
AFFORDABLE BOUQUETS. One thing that hinders people to actually buy fresh flowers and send them to their loved ones because of their idea that is will cost them so much. Luckily, Floramamma offers theirs at very fair amount so everyone would really get to experience this kind of wonderful experience of giving and receiving flowers.
PRODUCTS
Bouquets – €20 to €160
Flower Baskets – €43 to €600
DELIVERY AND PAYMENT
Visa, PayPal, Maestro, Postepay, Mastercard, Discover, American Express
3.      DAILY FLOWERS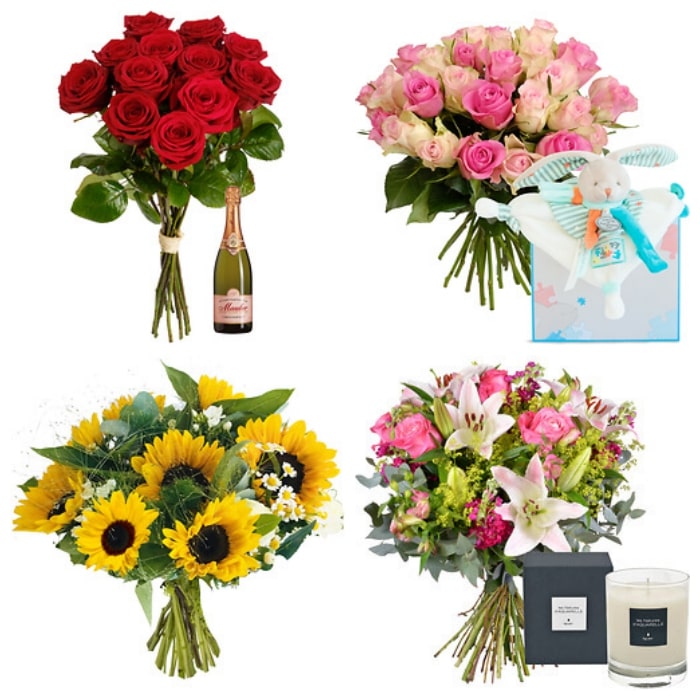 Daily Flowers, as the name suggests, offers fresh flowers everyday that are arranged into different kinds of styles depending on your preference. The online shop is always ready with floral arrangements that are appropriate to all occasions and surely you will never run out of options if you choose Daily Flowers to make the arrangements for you.
| | |
| --- | --- |
| SPECIALTY | Daily fresh flowers |
| SELECTION SIZE | Large |
| STARTING PRICE | Starts at €19 |
| DELIVERY FEE | Calculated at checkout |
| WEBSITE | https://www.daily-flowers.ch |
| SOCIAL MEDIA |   |
| CONTACT DETAILS | +41 58 255 01 02 |
WHAT PEOPLE LIKE
VALUE FOR MONEY. One of the qualities of the shop that their clients applaud them for is that they never disappoints. They make sure that you get the best products that you deserve and that all the money you spent will really get its value.
LARGE COLLECTION. The shop is home to thousands of different floral arrangements so certainly you will get the kind that you really want.
PRODUCTS
Roses – €19 to €61
Birth – €26 to €77
DELIVERY AND PAYMENT
Laposte, Visa, Mastercard, Maestro
4.      FLOWERS 4 SWITZERLAND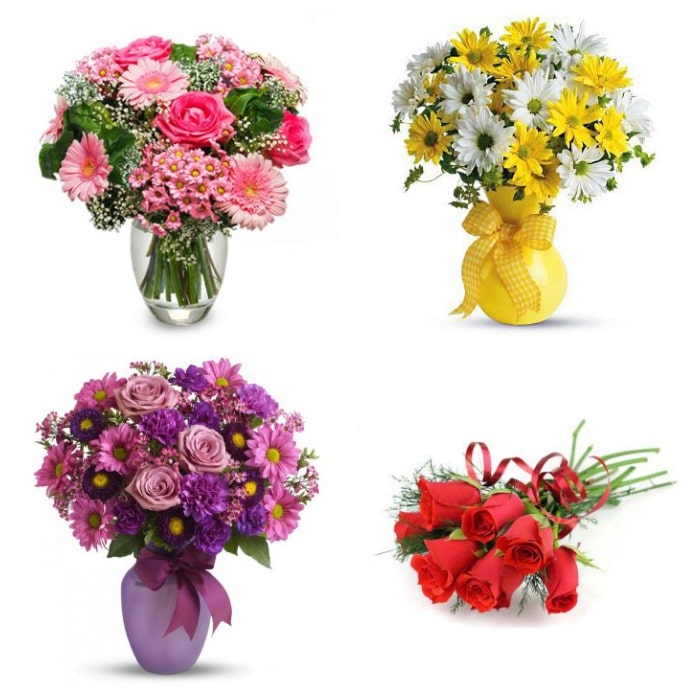 At Flowers 4 Switzerland you will always be secured that they take good care not only of your orders but their whole collection. Everything that they sell really looks stunning and deserved to be given as gifts to a special someone. The team is composed of highly talented and dedicated professionals that promises to provide you with excellent products and services.
WHAT PEOPLE LIKE
VARIETY OF OPTIONS. At Flowers 4 Switzerland, they allow you to experience all kinds of floral designs until you find the best one that really matches your event, your preferences, even the personality of the recipient. They can guarantee you that they have everything that you need and they are more than willing to assist you anytime.
PRODUCTS
Baskets – €52 to €92
Mixed Flowers – €56 to €91
DELIVERY AND PAYMENT
Visa, Mastercard, PayPal
5.      FLEUROP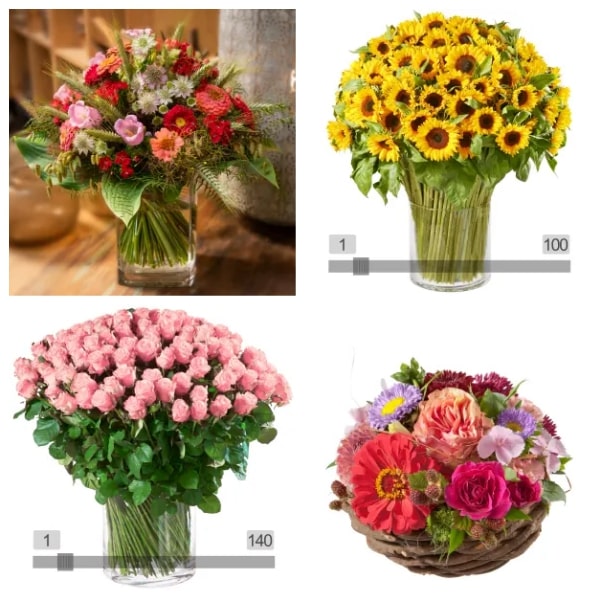 Fleurop is more than just your flower shop. They also sell other gift items such as teddy bears, chocolates, balloons, wines, etc. that they believe would best match any of your flower choice. The shop has a large inventory of fresh flower arrangements and guaranteed that they are all equally stunning and everything are in their finest conditions.
WHAT PEOPLE LIKE
GOOD CUSTOMER SERVICE. Despite servicing a large scope of clients, the shop is still able to accommodate all inquiries and concerns sent to them and they maintain a good relationship with their beloved clients.
PRODUCTS
Seasonal – €34 to €135
Bouquets – €34 to €63
Arrangements – €13
DELIVERY AND PAYMENT
Visa, Mastercard, American Express, Diners Club, Post Finance
6.      Valse des Roses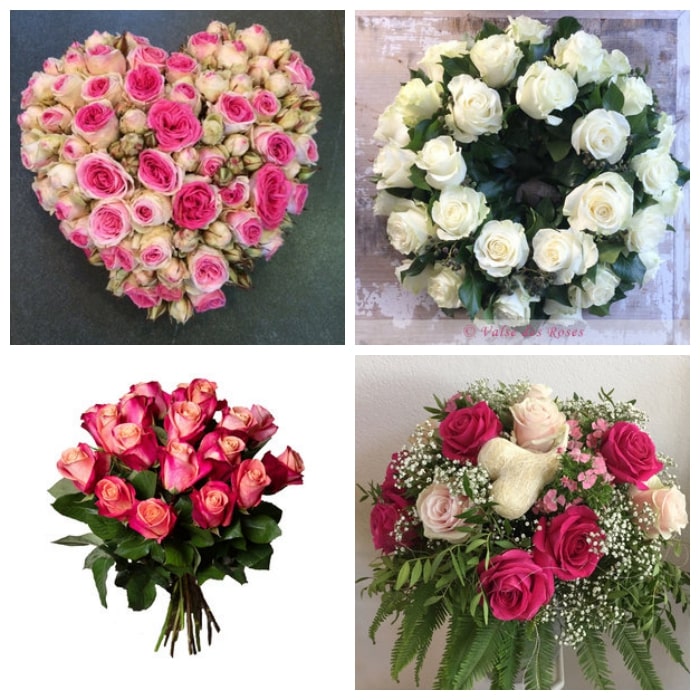 Valse des Roses is a family owned, independent flower shop that specializes in orchids and roses. The goal of the shop is to provide high quality of fresh flowers that does not only bring color and vibrance to whoever receives it but also promotes eco-friendly lifestyle. The shop also gives its best effort to come up with fair prices so everyone in Switzerland would be able to afford all their precious floral arrangements.
| | |
| --- | --- |
| SPECIALTY | Roses and Orchids |
| SELECTION SIZE | Large |
| STARTING PRICE | Starts at €60 |
| DELIVERY FEE | Starts at €14 |
| WEBSITE | https://www.valse-des-roses.ch/ |
| SOCIAL MEDIA |   |
| CONTACT DETAILS |   |
WHAT PEOPLE LIKE
NATURAL, ORIGINAL FLORAL DESIGNS. The shop always strive to create something new and magnificent for their  beloved clients that is why everyday they make their best effort to come up with more stunning floral designs using only the finest and freshest flowers that they have.
CATERS TO WEDDINGS. Valse des Roses does not only attend to retail orders, but they also extend their services to make a couple's wedding even more beautiful and remarkable.
PRODUCTS
DELIVERY AND PAYMENT
Delivery services runs from Tuesdays to Saturdays between 7AM-9AM.
7.      Flower24

At Flower24, it is believed that every occasion can be made more special and memorable with the presence of vibrant and fragrant flowers. Which is why they're dedicated to offering eye catching floral pieces for every occasion. 
Every bunch, bouquet, and arrangement is crafted with the best blooms, so you can expect for your orders to stay colourful for a while.
WHAT PEOPLE LIKE
TIPS FOR CARE. We can expect flowers to wilt after a while, but Flower24 can help you prolong the lifespan of your orders with their (free!) tips for flower care. 
LITTLE ATTENTIONS. So you want the flowers for special occasions. You can add a little oomph to the festivities by accompanying your floral orders with teddies or chocolates from the Flower24 catalogue. 
PRODUCTS
Flower Bunches
Gift Baskets
Seasonal Flowers
Rose Boxes
DELIVERY AND PAYMENT
The shop accepts Major Credit Cards, PayPal, PostFinance+, and BillPay. They're open from 10am – 6pm from Mondays to Thursdays and 10am – 5pm on Fridays.