Picture neoclassical castles, elaborate gardens, and gorgeous landscapes then you'll get the charming town of Edinburgh. This Scotland's priced capital is home to a number of local gems. From historical sites to lush greenery, Edinburgh has something to offer for everybody. But most of all, their lovely people will win be more than enough to win you over. Why not send some flowers for these Edinburgh locals? We even listed the best Edinburgh florists below to help you out!
1. NARCISSUS FLOWERS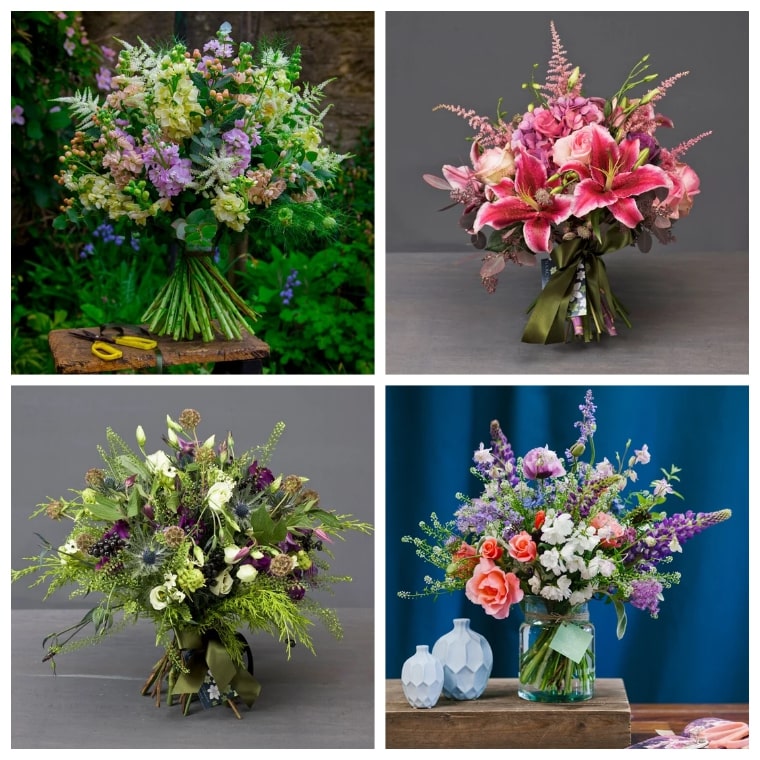 Gorgeous flower arrangements await you at Narcissus Flowers. Founded in 1997, Narcissus is Edinburgh's top florist when it comes to "cutting-edge botanical design." And we agree. Their floral genius is apparent with every creation they offer.
WHAT PEOPLE LIKE
NATURAL CHARM. There's no mistaking Narcissus Flowers is the one to beat when it comes to presentation. Their rustic bouquets achieve the fresh-picked-and-bundled aesthetic that they're aiming for. Just look at the WILD, SCOTTISH, AND NATURAL bouquet—simply charming.
SUMMER BOUQUETS. To be honest, between their three existing collections, we've had a hard time choosing our favorite—they're all just beautiful. However, this collection includes the Pina Collada bouquet so we chose to highlight this particular collection. The bouquet is just refreshing and just for £45, you can get one!
NARCISSUS FLOWER SCHOOL. You're in luck! They hold classes and professional training for all budding florists out there. This is also a fun gift idea if you want to share your love for floristry with your special someone. Just book a class together.
PRODUCTS
SIGNATURE BOUQUETS: £40.00 – £60.00
THE CLASSICS: £40.00 – £75.00
SUMMER BOUQUETS: £40.00 – £60.00
DELIVERY & PAYMENT
Order by 12 pm for same-day delivery. They accept major credit cards, PayPal and GPay for online purchases.
2. LORRAINE GRAHAM FLOWERS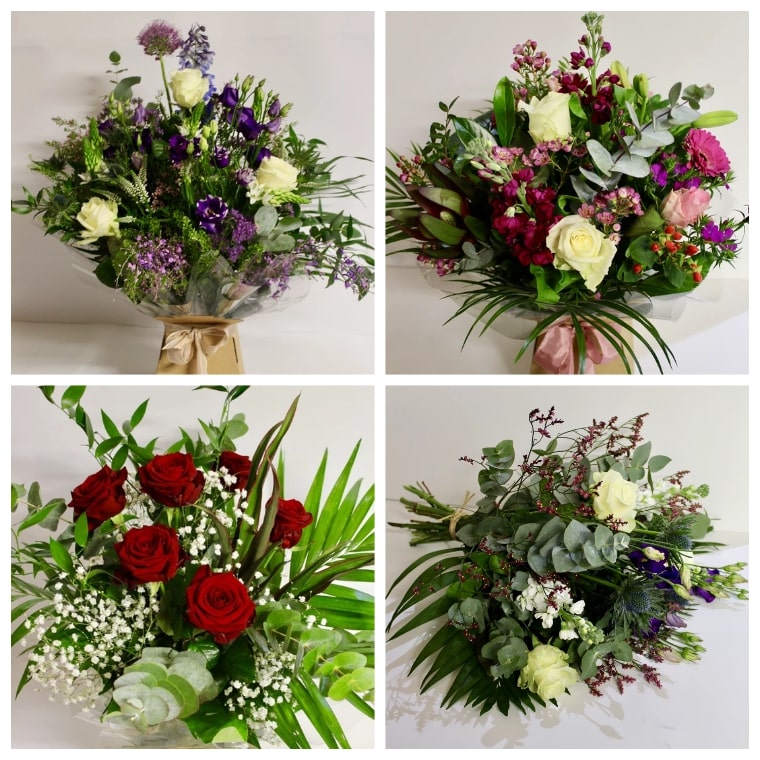 Lorraine Graham Flowers is one of the leading independent florists in Edinburgh. You can visit their very charming floral design studio in Causewayside, Edinburgh. Their quaint space is what you imagine a neighborhood flower shop would look like – stylish, inviting and casually chic. Fortunately, their bouquets share the same qualities.
| | |
| --- | --- |
| SPECIALTY | Rustic bouquets |
| SELECTION SIZE | Curated |
| STARTING PRICE | £35 |
| DELIVERY FEE | Calculated at checkout |
| WEBSITE | https://lorrainegrahamflowers.co.uk |
| SOCIAL MEDIA | Facebook:@lorrainegrahamflowers |
| CONTACT DETAILS | 0131 667-1528. |
WHAT PEOPLE LIKE
QUALITY COLLECTIONS. L.G. Flowers may only be offering a very limited selection of flowers but each of them is meticulously designed by their in-house floral artisans and made only from the freshest blooms.
MODERN & NATURAL ARRANGEMENTS. Just what you would expect from an independent florist, the collection showcases very natural arrangements. There are no tacky and shiny wrappers here, just handcrafted rustic bouquets.
PRODUCTS
BOUQUETS: £35.00 – £60.00
DELIVERY & PAYMENT
They accept major credit cards, PayPal and GPay for online purchases.
3. WAITROSE FLORIST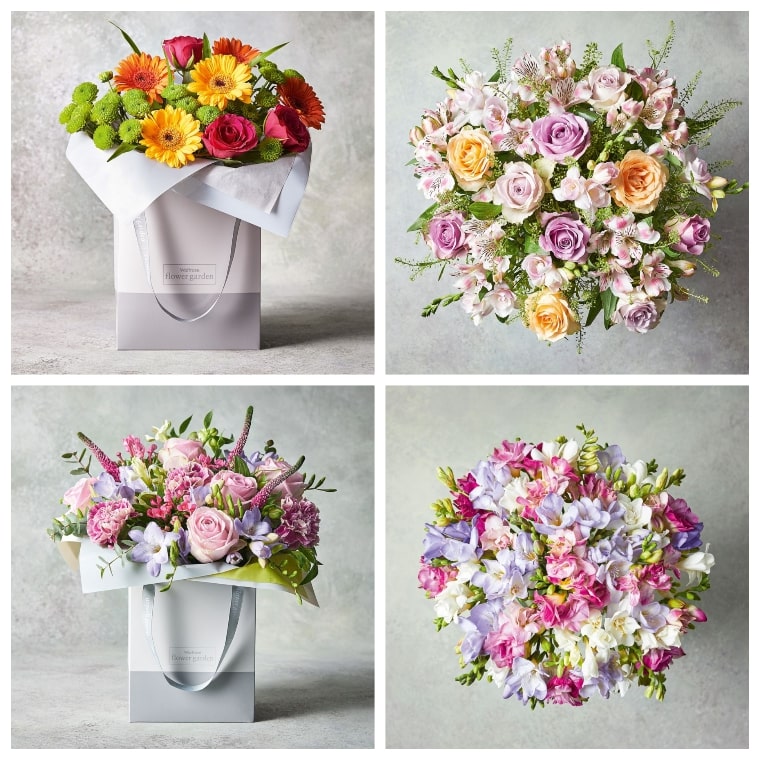 Waitrose Florist is the flower delivery arm of the Waitrose & Partners co. With an established parent company, they were able to cater to Edinburgh's flower needs with ease. Large, beautiful selections and competitive pricing make this company one of the best Edinburgh florists.
| | |
| --- | --- |
| SPECIALTY | Flower gift bags |
| SELECTION SIZE | Large |
| STARTING PRICE | £18.00 |
| DELIVERY FEE | Calculated at checkout |
| WEBSITE | https://www.waitroseflorist.com |
| SOCIAL MEDIA | Facebook:@waitroseandpartners |
| CONTACT DETAILS | 0800 188881 |
WHAT PEOPLE LIKE
AFFORDABLE BOUTIQUE-STYLE FLOWERS. We love how Waitrose Florist's whole collection of flowers is all under £66. Designer flowers at affordable prices? We're in! We especially like their Ready to Arrange Collection so check that out.
GIVES BACK. The Waitrose & Partners Foundation takes the initiative to improve the lives of the people who grow, pick and pack their produce, just like what any company should do. Each time you purchase their flowers you're supporting the Kenyan communities who are a big part of their production.
FLOWER GIFT BAGS. Gorgeous flowers in a chic bag, what's not to like? This is a great gift for any occasion. Easy to display and easy to carry.
PRODUCTS
READY TO ARRANGE: £18.00 – £35.00
FLOWER BOUQUETS: £21.00 – £50.00
BOUQUET & VASE: £35.00 – £65.00
FLOWER GIFT BAGS: £22.00 – £48.00
DELIVERY & PAYMENT
Order by 2 pm for Same Day delivery (check item for availability). Payment options include Partnership Card; Paypal; Visa Debit (Delta); MasterCard; Delta; Maestro UK; American Express and John Lewis & Waitrose gift vouchers.
4. CLARE FLORIST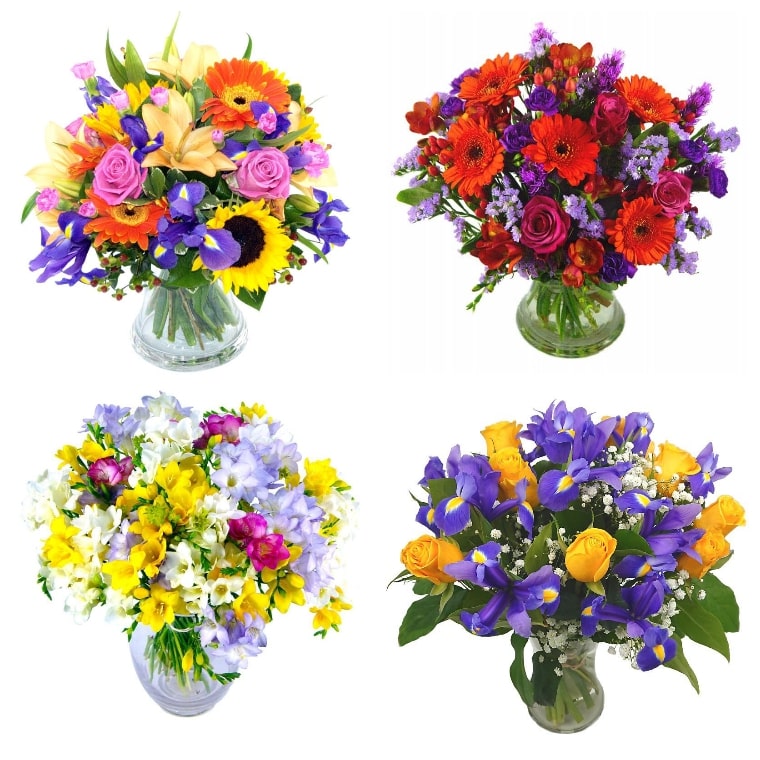 Send flowers online through flower delivery by Clare Florist. This is Edinburgh's online florists since 1996. They have a wide range of flowers and gifts perfect for any occasion. They even offer free delivery!
SPECIALTY
Hand-tied bouquets
SELECTION SIZE
Large
STARTING PRICE
£24.97
DELIVERY FEE
Free standard next-day delivery
WEBSITE
https://www.clareflorist.co.uk
SOCIAL MEDIA
Facebook:@ClareFlorist
Instagram:@ClareFlorist
CONTACT DETAILS
0800 073 76 76
WHAT PEOPLE LIKE
FLOWERS UNDER £25. This collection will satisfy all the penny-pinchers out there. You can get various types of flowers for all sorts of occasion without breaking the bank. From roses to carnations, you'll have plenty of choices to choose from.
FREE UPGRADES. Another win for everyone on a budget. You can score various deals at their site. Just look out for their daily discounts or even free upgrades-up to 50% more flowers!
FLOWERS FOR CHARITIES. At Clare Florist, it's important to give back and reach out to charitable causes. In order to support various charities, they've created a bouquet specifically designed for each charity they support. 10 % of sales will be given to these organizations.
PRODUCTS
FLOWER ARRANGEMENTS
BOUQUETS
SYMPATHY
ANNIVERSARY
DELIVERY & PAYMENT
Standard flower delivery on weekdays will be between the hours of 8 am up until 6 pm. Payment options include major credit cards.
5. GARLANDS FLORIST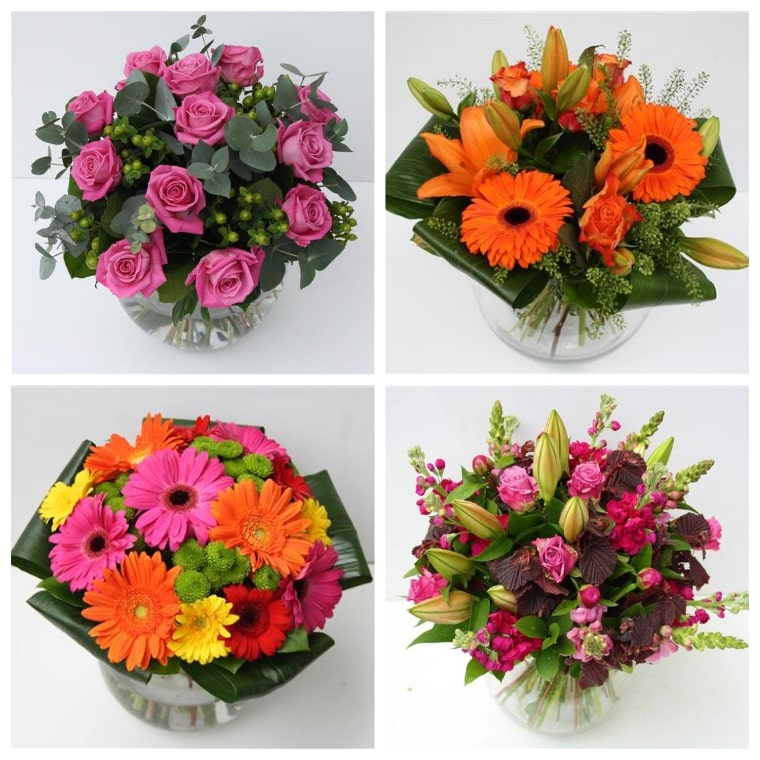 Garlands Florist is a reputable flower delivery company that had serviced the people of Edinburgh for more than 30 years. This family-owned business is a Leith Walk favorite for its quality selection of flowers.
| | |
| --- | --- |
| SPECIALTY | Gerberas |
| SELECTION SIZE | Large |
| STARTING PRICE | from £25 |
| DELIVERY FEE | £5.99 – 1 Day Notice £7.99 – Same Day Delivery |
| WEBSITE | https://www.garlandsflorist.co.uk |
| SOCIAL MEDIA | Facebook:@garlands.floristedinburgh |
| CONTACT DETAILS | Tel: 0131 556 6111 Email: [email protected] |
WHAT PEOPLE LIKE
FLORIST CHOICE TRADITIONAL BOUQUET. If you're having a hard time choosing a bouquet, leave it to the capable hands of Garland's in-house florists. Just select a color theme and price and they'll do the rest.
FRIENDLY AND PROFESSIONAL STAFF. Garlands Florist may only have a small staff at hand but the attention to detail these guys put to each bouquet they make is unrivaled. Pair that with their excellent customer service and you got your recipe for a good business.
PRODUCTS
FLORIST CHOICE TRADITIONAL BOUQUET: from £25
GERBERAS: from £34.99
SUMMER GARDEN: from £42.99
DOZEN RED ROSES: £49.99
DELIVERY & PAYMENT
Order before 2 pm Monday to Friday and 11 am on Saturday for same-day delivery. They accept VISA, MasterCard, and PayPal for online purchases.
6. MUD URBAN FLOWERS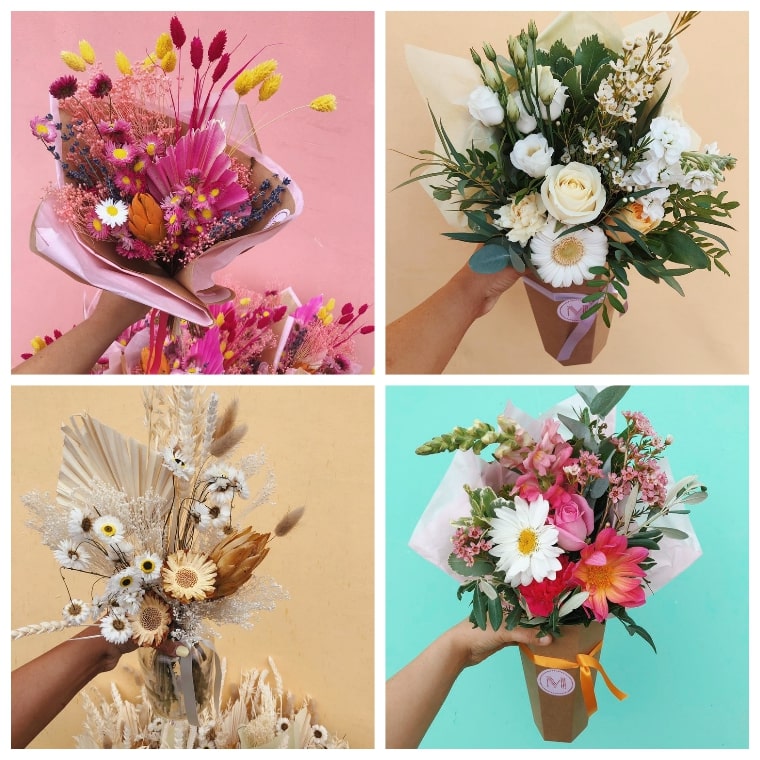 This company is the product of Chloe and Nick's passion for flowers. It was created in early 2017 to bring back the 'practicality and fun in gifting flowers.' Mud Urban Flowers says: "Sending flowers should be simple, stylish and joyful." And they've achieved that.
WHAT PEOPLE LIKE
DRIED FLOWERS. This is a charming collection of bouquets made from dried blooms wrapped in kraft paper with tissue and tied with a satin ribbon. You can choose from their neutral or colorful theme. It's a dramatic gift, yes, but still delightful.
WEEKLY BOUQUETS. Unlike other companies' large flower catalog, Mud Urban Flowers' unique selling point is their Daily Bouquet offering. Their fresh from the market arrangements is what makes them the local go-to flower shop.
PRODUCTS
DAILY BOUQUET: £21.00 – £40.00
BESPOKE FLOWERS: from £89.00
EDINBURGH FLOWER SUBSCRIPTION: 120.00
DELIVERY & PAYMENT
They deliver to Central Scotland from Monday to Friday between 10:00 am – 6:00 pm. Order by 10:00 am for same-day delivery. They accept major credit cards.
7. LILIUM FLORIST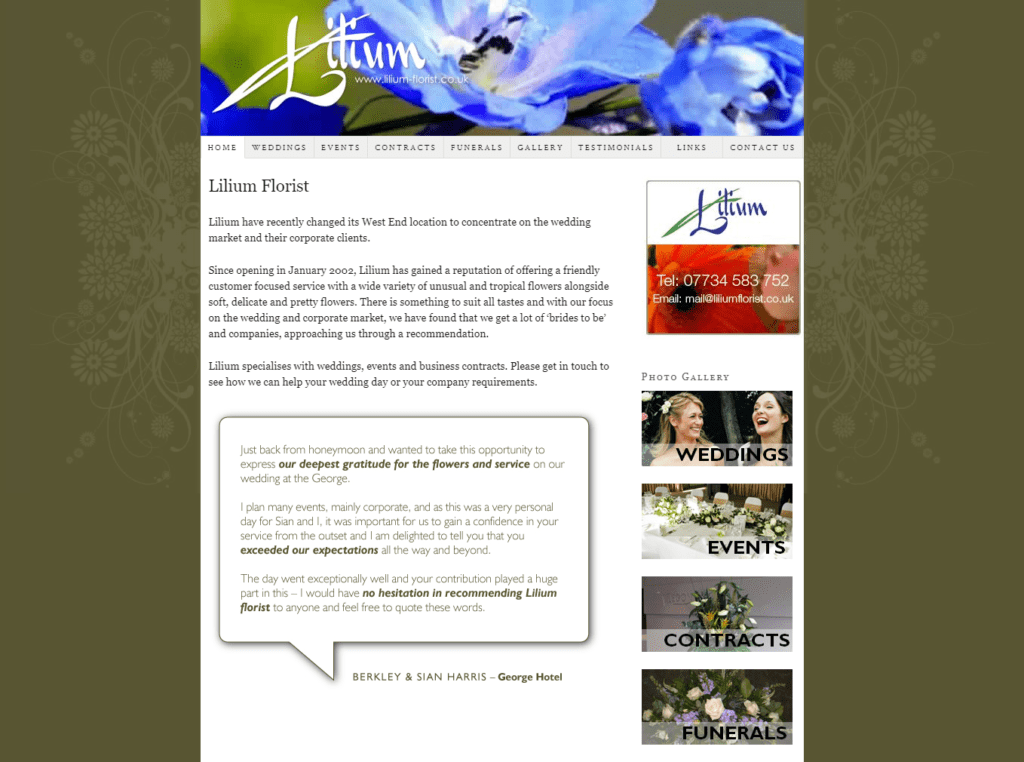 Now, if you're looking for a shop that specialises in large orders for events like weddings and parties, then you may want to consider Lilium Florist.
Lilium Florist has been serving the area for quite some time now, establishing a reputation for being one of the most dependable shops for your floral needs. They accept orders for wedding flowers, event flowers, and corporate flowers.
WHAT PEOPLE LIKE
QUALITY ARRANGEMENTS. When it comes to flower arrangements, Lilium Florist simply can't be beat. The shop uses the finest flowers available and showcases their beauty in one-of-a-kind arrangements fitting for the given event.
EXCELLENT CUSTOMER SERVICE. Lilium Florist is a customer-centric business, so it's not at all surprising that the shop takes great care in accommodating clients' needs as well as delivering orders on time.
PRODUCTS
Wedding Flowers
Corporate Flowers
Funeral Flowers
Event Flowers
DELIVERY & PAYMENT
Contact the shop for more information.