Here at flower delivery reviews, we're always on the lookout for awesome florists that can brighten up your day. And these flower delivery experts in Belgium can surely do that! From classic rose bouquets to long-lasting dried flowers, there's definitely something for everyone. We've rounded up six of the best flower delivery services in Belgium that you can try out below.
1. DAVID'S HOF FLOWER SHOP

David's Hof Flower Shops has been bringing flowers to the people in Belgium since 1997. From Brussels to Hacht, they can deliver your flowers on time. Although they're best known in Brussels, soon they might just be known worldwide since they've just offered international deliveries.
SPECIALTY
Classic bouquets and Funeral Compositions
SELECTION SIZE
Large
STARTING PRICE
€20
DELIVERY FEE
From €5
WEBSITE
https://www.davidshof.com/
SOCIAL MEDIA
Facebook: David's Hof
CONTACT DETAILS
02 428.83.14
[email protected]
WHAT PEOPLE LIKE
LOVELY FLOWERS AT HONEST PRICES. David's Hof Flowers continues to provide affordable flowers without compromising the quality of their classic bouquets. Their flower collection caters to every budget so be sure to check them out online.
FUNERAL COMPOSITIONS. The funeral compositions available for order include Hearts, Cushion, Crown, Coffin Flowers, and Gerbe. The Heart compositions are our favorites.
PRODUCTS
BOUQUETS: From €20
FUNERAL COMPOSITIONS: €75 – €295
ROSES: From €2
DELIVERY & PAYMENT
Payment options include VISA, MasterCard and Mister Cash.
2. FLOWER @TTITUDE
With over 10 years of mastery in flower design, this floral studio focuses on the uniqueness of their creations. And that's not only applicable to the design itself but also to the rarity of some of the flowers they might use.
| | |
| --- | --- |
| SPECIALTY | Personalized Flower Arrangement |
| SELECTION SIZE | Curated |
| STARTING PRICE | Booking required |
| DELIVERY FEE | Through appointment |
| WEBSITE | https://flowerattitude.be/en |
| SOCIAL MEDIA | |
| CONTACT DETAILS | +32 503 4045 |
WHAT PEOPLE LIKE
MADE TO ORDER BOUQUETS. Either visit their shop at the center of Brussels or just call them to book an appointment. Their team will be more than happy to assist you from choosing the variety of flowers to finishing touches.
ONE OF A KIN DESIGNS. Traditional bouquets are available at Flower @ttitude but their collection of eccentric flower arrangements are what people admire about them. They do not do the unconventional elements in flower design makes their flower art even more special.
PRODUCTS
DELIVERY & PAYMENT
Contact Flower Attitude for delivery information. They accept American Express, Cash, Visa, Mastercard, Debit Card, and Wire transfer
3. BÔ FLOWERS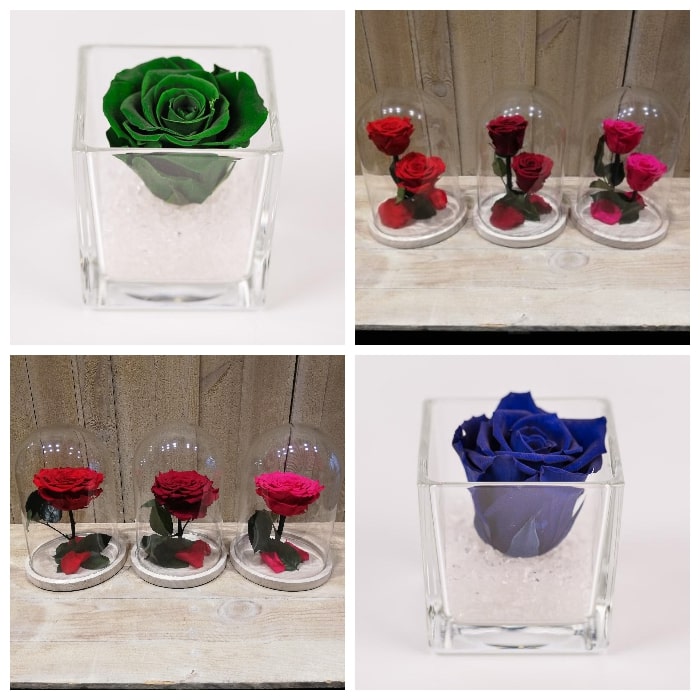 Bo Flowers are always ready to cater to your every-day flower needs. Fortunately, this company believes everyone should be able to enjoy a touch of flower in their lives. This is why they've built this business to offer quality flowers at honest prices.
SPECIALTY
Preserved Flowers
SELECTION SIZE
Large
STARTING PRICE
€2.50
DELIVERY FEE
Available at checkout
WEBSITE
http://boflowers.be
SOCIAL MEDIA
Facebook: @boflowersbrussels
+32 2 428 78 68
+32 2 428 78 68
Contact Form 
WHAT PEOPLE LIKE
TREND OF THE WEEK. Fresh weekly designs and bouquets are available at Bo Flowers. By doing this, they're able to keep their design fresh and trendy. This cost-effective system also keeps its prices affordable while cutting on wastes.
THE ROSE THAT LASTS FOREVER. Feel like Princess Beauty and live out your Disney fantasy by buying Bo Flowers' stabilized roses. This is truly the perfect gift for your friends that are Beauty and the Beast fans!
OPTIMAL AND FAST DELIVERY SERVICE. Tired of worrying about late deliveries or even worse—missing gifts? Then Bo Flowers'reliable and fast delivery service will do the trick.
PRODUCTS
ORCHIDS: from €49
BOUQUETS: from €15
ROSES: from €2.50
STABILISED ROSES: from €22,50
DELIVERY & PAYMENT
Payment options include Bancontact or Mister Cash, VISA, Maestro, MasterCard, and VPay.
4. AQUARELLE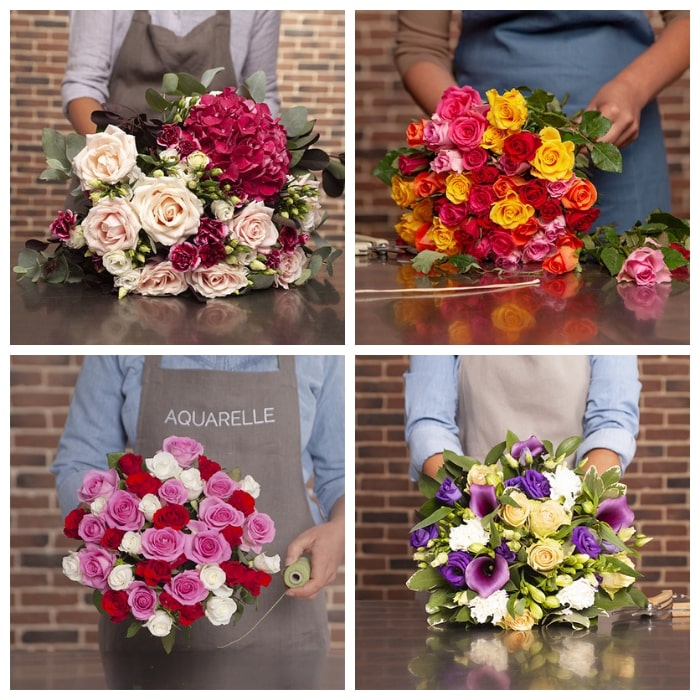 Aquarelle is a long-standing company that started back in 1987. That was when their first shop opened in Paris, years later more branches opened all around the world including one in Belgium. Since then, they've gained the local's trust due to their consistently excellent service.
WHAT PEOPLE LIKE
BEAUTIFUL COLLECTION OF BOUQUETS. Unlike other companies, Aquarelle only offers a small number of bouquets. Though limited in number, each bouquet is expertly designed by their in-house florists. You can even see the level of mastery in each composition's chic style.
DAILY BOUQUET. This collection is made from selected flowers directly from France. It changes daily ensuring the freshness and quality of the flowers used in each bouquet.
PRODUCTS
BOUQUETS: from €29.00
DAILY BOUQUET: from €29.00
DELIVERY & PAYMENT
They cannot guarantee delivery at a specific time, but they offer several time slots each day. They accept major credit/debit cards and PayPal.
5. COURONNE FLOWERS

By making their customer's overall experience their number one priority, the company was able to enhance customer satisfaction year after year—making them one of the leading flower delivery companies in Belgium.
WHAT PEOPLE LIKE
PRESTIGE BOUQUETS. Just like the collection's name suggests, each bouquet screams prestige. If you're asking for bougie, this is it. From flowers to packaging, this collection is simply luxurious. A bit pricey but if you're looking to splurge, why not pick a bouquet from this selection?
QUICK AND EASY COLLECTION. You won't have a hard time choosing a gift if everything you need is in one shop. Flowers, Champagne, and Chocolates? Check, check and check. Check out their collection of flower and gift combos.
This classic collection of roses is beautifully arranged. Simple, without unnecessary touches and downright elegant.
PRODUCTS
ROSES: From €30
BOUQUETS: From € 20
FLOWERS WITH WINE: € 38
FUNERAL ARRANGEMENTS: From € 35
DELIVERY & PAYMENT
Payment options include: VISA, MasterCard, Maestro, Mister Cash, and PayPal.
6. THE LITTLE GREEN SHOP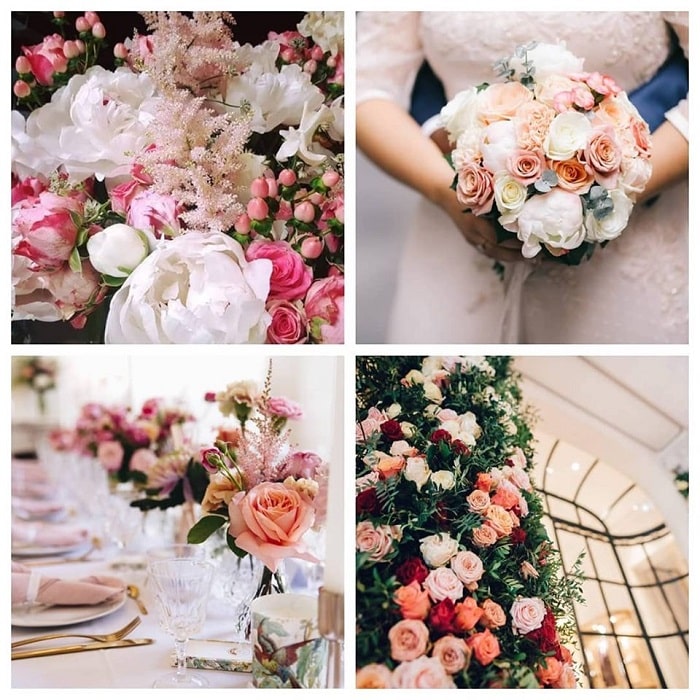 This local flower shop in Brussels, Belgium offers fresh seasonal bouquets ready for order every morning. And they're not so little as their name suggests. This Belgium-favorite not only offers daily bouquets but handles big weddings and events too!
SPECIALTY
Daily Bouquets
SELECTION SIZE
Curated
STARTING PRICE
15 €
DELIVERY FEE
Available at checkout
WEBSITE
https://www.the-little-green-shop.com
SOCIAL MEDIA
Facebook: @thelittlegreenshop.be
Instagram: @thelittlegreenshop.be
CONTACT DETAILS
+32 2 218 11 21
WHAT PEOPLE LIKE
COUP DE COUER. Coup de Coeur is available every day. These are ready-to-go bouquets they prepare every morning. They work with a small selection of seasonal flowers to not only cut back on cost but on waste as well.
FLOWER DECO. Elevate any event and make it more magical by working with the expert florists at this company. Add a splash of greenery on any area and get immediate results!
PRODUCTS
DAILY BOUQUETS: From 15 €
FLOWER SUBSCRIPTION
EVEN FLOWER DECORATION
CUSTOM BOUQUETS
DELIVERY & PAYMENT
They deliver bouquets from 10h to 18h from Tuesday to Saturday.
7. CANTERS NICO

When it comes to arranging stunning and premium fresh flowers, Canters Nico is definitely one of your best choices in Belgium. They have a large selection of flowers, categorized into different kinds of arrangement which they make sure to be perfectly suited for any kind of event. 
They also cater to big events such as weddings and they guarantee to make your day even more special with their creative and innovative creations. They offer different ways to search for the perfect flowers by letting you categorize depending on design, budget, and celebration. 
WHAT PEOPLE LIKE
VARIETY OF OPTIONS.

At Canters Nico, they allow you to experience all kinds of floral designs until you find the best one that really matches your event, your preferences, even the personality of the recipient. They can guarantee you that they have everything that you need and they are more than willing to assist you anytime.

VALUE FOR MONEY.

One of the qualities of the shop that their clients applaud them for is that they never disappoint. They make sure that you get the best products that you deserve and that all the money you spent will really get its value.
PRODUCTS
FLOWER ARRANGEMENTS
LIVE PLANTS
WEDDING FLOWERS
DELIVERY AND PAYMENT
The shop accepts payments through Mastercard, Visa, Mister Cash
Images taken from each company's official websites/social media.