The city of Saskatoon has been nicknamed 'The Paris of the Prairies' due to Bess's remarkable turrets and the general welcoming Prairie spirit of the locals. This once relatively quaint city has turned into Saskatchewan's center of rich culture and buzzing vitality. You can get lost exploring the city's sprawling farm to fork restaurants or spend your whole day traversing its riverbanks. A city this lovely surely has an array of flowers as beautiful as it is. Check out the following flower delivery near Saskatoon below.
1.      QUINN & KIM'S GROWER DIRECT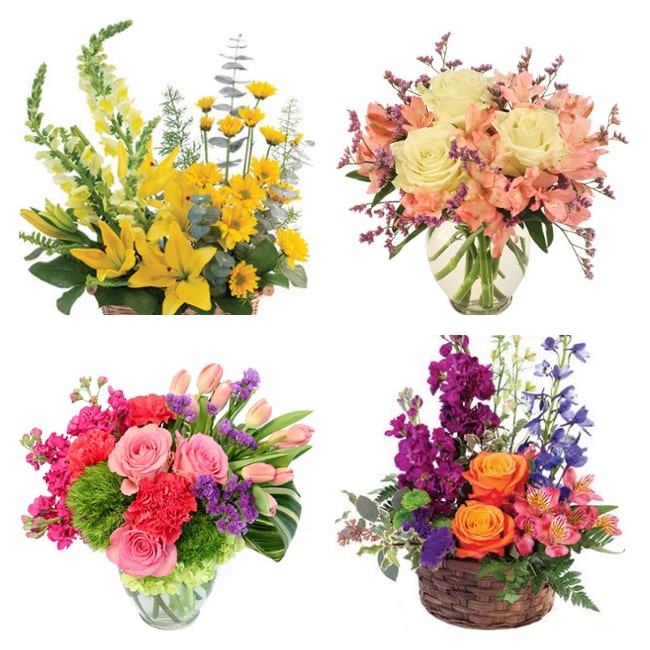 'Make all your days, special days!' with Quinn & Kim's Grower Direct flowers. This local Saskatoon florist promises the highest professional service and quality floral arrangements. They store a wide array of original bouquets and gift items that can suit any occasion.  Their catalog includes budget-friendly choices as well.
| | |
| --- | --- |
| SPECIALTY | Basket arrangements |
| SELECTION SIZE | Large |
| STARTING PRICE | $35.99 |
| DELIVERY FEE | $11.95 |
| WEBSITE | https://www.qkgrowerdirect.com/ |
| SOCIAL MEDIA | Facebook:@saskatoonflowers |
| CONTACT DETAILS | LOCAL: (306) 956-0600 TOLLFREE: (800) 633-2616 |
WHAT PEOPLE LIKE
CUSTOM FLOWER ARRANGEMENTS. If you want something personalized you can trust their experienced florists to fix you up an original bouquet of your choice complete with balloons, stuffed toys, and chocolates if you want. Comes in prices of $55.00, $65.00, & $75.00.
STYLISH BASKET ARRANGEMENTS.  Quinn & Kim's Grower Direct offers a charming collection of basket arrangements that you should check out. We especially like the Cheerful Yellow Basket Arrangement that boasts a yellow monochromatic style⁠—perfect for a 'Just Because' gift.
LARGE DELIVERY COVERAGE. This local Saskatoon favorite also delivers to the following nearby areas in Saskatchewan so you know you can send flowers to more people: Warman, Martensville, Asquith, Clavet, Dalmeny, Langham, Osler, Delisle, Vanscoy, and Grasswood. Plus, same-day flower delivery is also available!
PRODUCTS
ANNIVERSARY FLOWERS: $66.00 to $121.00
BIRTHDAY FLOWERS: $50.00 to $121.00
GET WELL FLOWERS: $55.00 to $110.00
ROSES: $35.99 to $127.00
DELIVERY & PAYMENT
Order by 2 pm for same-day flower deliveries. Delivers from Mon-Sat: 9 AM to 6 PM. They accept AmEx, MasterCard, and VISA.
2. BILL'S HOUSE OF FLOWERS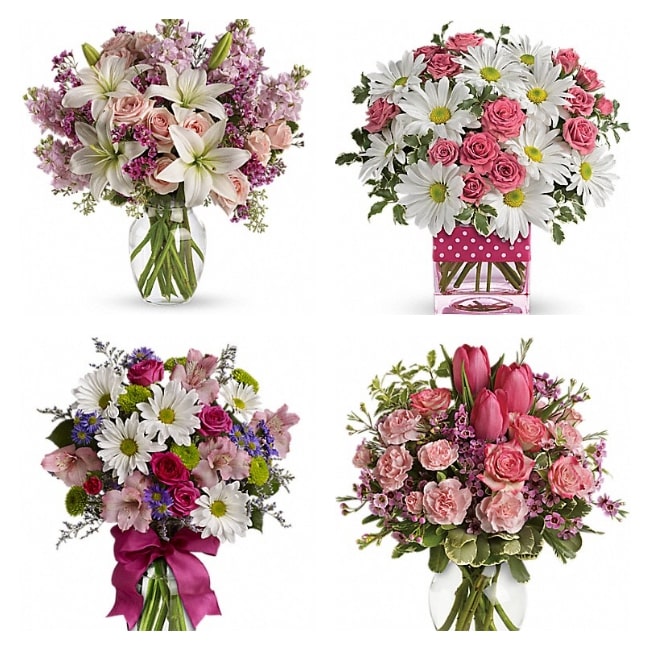 Bill Ellis is the mastermind of Bill's House of Flowers. He started the business back in 1962 and it has long been family-owned and operated. They've provided the Saskatoon locals with a selection of rotating creative floral designs, plants, living arrangements, and quality giftwares. You can find them at the heart of the vibrant Broadway district. Their staff is really friendly and helpful so you'll be well taken care of.
WHAT PEOPLE LIKE
IN-HOUSE FLORISTS. Bill's House of Flowers is immensely proud of its in-house florists and staff. Visiting their store or calling them directly will show you how professional and warm their service is. You can really see their passion when it comes to flower arrangements.
TRUSTED BY THE LOCALS. For anyone wary of trying out an online flower delivery, the Saskatoon locals approve this establishment. You can check out the thousands of positive reviews for this company online or just check out their socials—they've got quite big of a following.
CUSTOM BEAUTIES. Designer seasonal flowers that start at $50? Sign us up! Their talented florists whip up the loveliest arrangements, all you have to do is tell your favorite flowers & colors. The resulting bouquet will surely fit the occasion.
PRODUCTS
SUMMER: $45 to $300
FLOWERS IN A GIFT: $45 to $150
MODERN FLOWERS: $40 to $375
ROSES: $60 to $240
CUSTOM ARRANGEMENTS: $50 to $100
DELIVERY & PAYMENT
Open Monday to Friday from 8:00am – 5:30pm and Saturday from 9:00am – 5:00pm. Payment options include AmEx, MasterCard, and VISA.
3. TWIG & BLOOM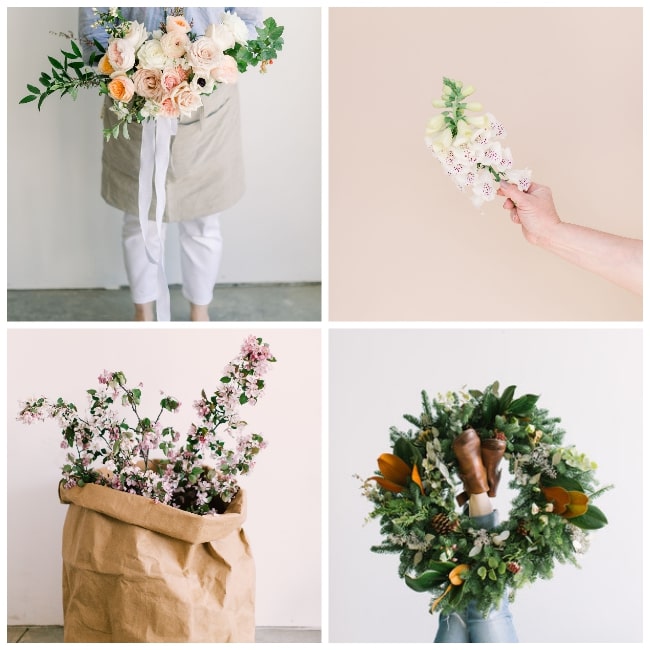 "Flowers remind us that beauty is everywhere," says Twig & Bloom and we couldn't agree more. Their carefully selected arrangements are chock full of simple and sophisticated designs that can rival any big flower companies.
SPECIALTY
Designer flower arrangements
SELECTION SIZE
Curated
STARTING PRICE
$45
DELIVERY FEE
Available at checkout
WEBSITE
https://www.twigandbloom.ca
SOCIAL MEDIA
Facebook:@twigandbloomyxe
Instagram:@twigandbloomyxe
CONTACT DETAILS
[email protected]
WHAT PEOPLE LIKE
HIGH-CLASS ARRANGEMENTS. Twig & Bloom's style resonates with a gentle romantic scene inspired by the flowers' natural beauty. It stays organic from its actual freshness to the minimalistic arrangement. Truly an elegant gift perfect for a special occasion.
SIMPLISTIC APPROACH. This balance between simplicity and sophistication carries weight not only on their flower arrangements but to the overall vision of the company. This is apparent in how they tackle an event, host a workshop and how they generally create a pleasant personalized experience for their clients.
FLOWER SUBSCRIPTION. Once you've tried out one of their services, you will be tempted to just order a flower subscription from them. Their weekly and monthly subscription starts at $50. It will feature their signature, seasonal Twig & Bloom arrangements.
PRODUCTS
WEAR YOUR FLORALS: From $45
FLORAL EXPRESSION: From $50
FLOWER SUBSCRIPTION: From $50
DELIVERY & PAYMENT
They deliver between 1 pm – 4 pm.  If you order your flowers before 11 am, they will provide same-day delivery. Orders placed after 11 am will be delivered the next day. Accepts major credit cards and PayPal.
4. SELECT ROSES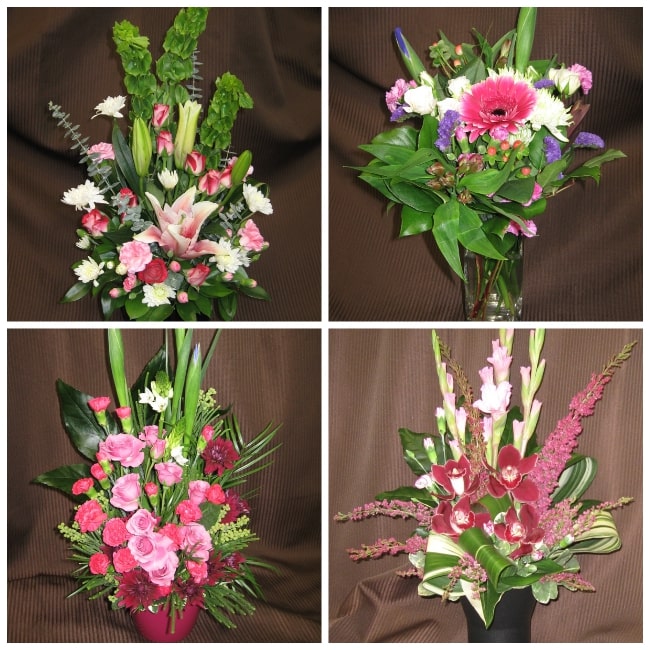 Select Roses is a trusted company serving the Saskatoon area. You can order their specialty roses at prices ranging from budget-friendly to expensive elaborate bunches. For more choices, you pick the perfect from their collection of arrangements, bouquets, plants, and giftwares.
| | |
| --- | --- |
| SPECIALTY | Roses |
| SELECTION SIZE | Large |
| STARTING PRICE | $44.99 |
| DELIVERY FEE | Call store for more details |
| WEBSITE | www.selectroses.com |
| SOCIAL MEDIA | Facebook:@selectrosessaskatoon |
| CONTACT DETAILS | (306-477-6737) |
WHAT PEOPLE LIKE
ROTATING STYLES AND SEASONAL FLOWERS. In order to provide a fresh batch of flowers regularly. They have a rotating selection of designs and seasonal flowers. You can always visit or call their store to check the availability of the flowers you want.
ROSE ARRANGEMENTS. As their store's highlight, it's not surprising that they have a big selection of rose designs ranging from traditional to modern. One thing remains the same for each of their bouquets—its vibrant popping colors.
FRIENDLY STAFF. Select Rose's floral studio is located at 112-3120 8th St E, Saskatoon. We suggest you visit the people over at Select Roses. They're fun and friendly, so you don't need to be nervous even if it's your first time ordering flowers.
PRODUCTS
ROSES: From $44.99
ARRANGEMENTS: From $50
BOUQUETS: From $44.99
GIFTWARES
DELIVERY & PAYMENT
The store is open from 9:00 am – 9:00 pm on weekdays, Saturdays from 9:00am – 7:00pm, and Sundays from 10:00am – 6:00pm. Always check in with the store for the item's availability.
5. JANE'S FLORAL DREAMS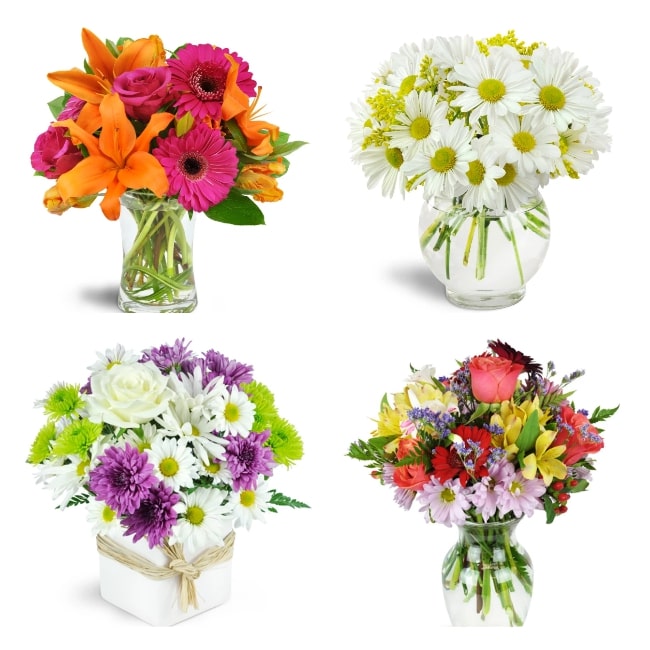 Jane's Floral Dreams is another flower company based in San Antonio that offers free delivery for local online orders. This company has been in the business since 1980 and has then charmed the Saskatoon locals. 
| | |
| --- | --- |
| SPECIALTY | Classic hand-tied bouquets |
| SELECTION SIZE | Large |
| STARTING PRICE | $21.95 |
| DELIVERY FEE | Free |
| WEBSITE | https://www.janesfloraldreams.com |
| SOCIAL MEDIA | Facebook:@JanesFloralDreams |
| CONTACT DETAILS | +1 (306) 227-1717 |
WHAT PEOPLE LIKE
WIDE SELECTION OF FLOWERS. From Birthday to I'm Sorry Flowers and everything in between, this shop has a bouquet that will fit your desired style and budget. Check out their Birthday Collection that has always something to offer for Her, Him, Mom, Colleague, and Friend.
EXCELLENT CUSTOMER SERVICE. The company is committed to offering only the freshest, top-quality floral arrangements and gift baskets, partnered with professional customer service that is both prompt and friendly.
PRODUCTS
MODERN: $89.95
ROSES: $21.95 to $299.95
LILIES: $69.95 to $129.95
GIFT BASKETS: $64.95 to $89.95
DELIVERY & PAYMENT
Order by 3 pm for free same-day delivery on weekdays and by 12:15 pm on weekends. They accept VISA, MasterCard, and AmEx.
6. BLOSSOMS FLORALS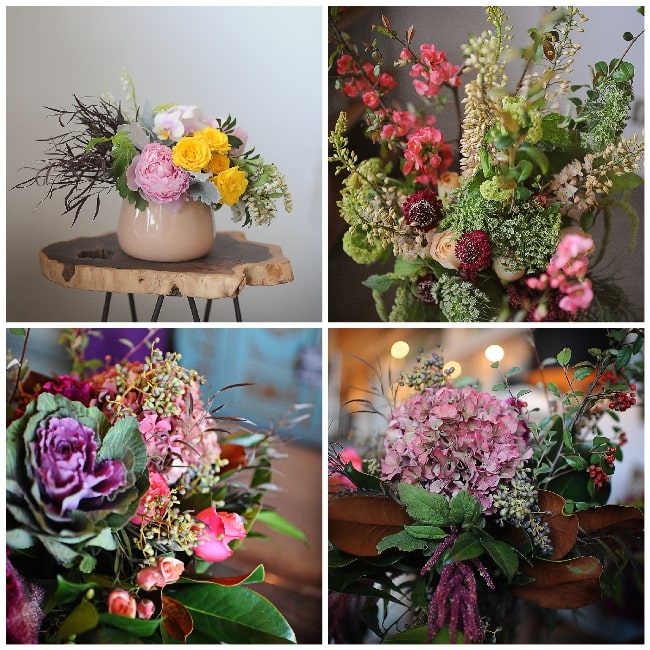 Blossoms Florals provides high-quality flower arrangements by-request located at 126 20th Street West Saskatoon in Saskatchewan. Their signature style is modern-organic, we suggest you check out their gallery to see some of their creations or just visit their studio.
| | |
| --- | --- |
| SPECIALTY | Custom arrangements |
| SELECTION SIZE | Large |
| STARTING PRICE | Contact store for details |
| DELIVERY FEE | Contact store for details |
| WEBSITE | http://www.blossomsliving.ca |
| SOCIAL MEDIA | Facebook:@BlossomsLiving |
| CONTACT DETAILS | [email protected] 306.955.3355 |
WHAT PEOPLE LIKE
ELABORATE PIECES. Blossoms Florals' creations are just downright masterpieces. You can see the artistic vision and technical knowledge of their florists on each of their arrangements. Their elegant designs can range from small vase arrangements of posies to the more elaborate showstopper arrangements that perfect for events.
PERFECT FOR ANY EVENT. When your flowers are this good, you have to place it somewhere everyone can see. Level-up any event by providing a bit of greenery with any of Blossoms Florals' arrangements.
PRODUCTS
CUSTOM ARRANGEMENTS
EVENT PIECES
WEDDING
DELIVERY & PAYMENT
Contact the store for details.
7. BLACK FOX FARM & DISTILLERY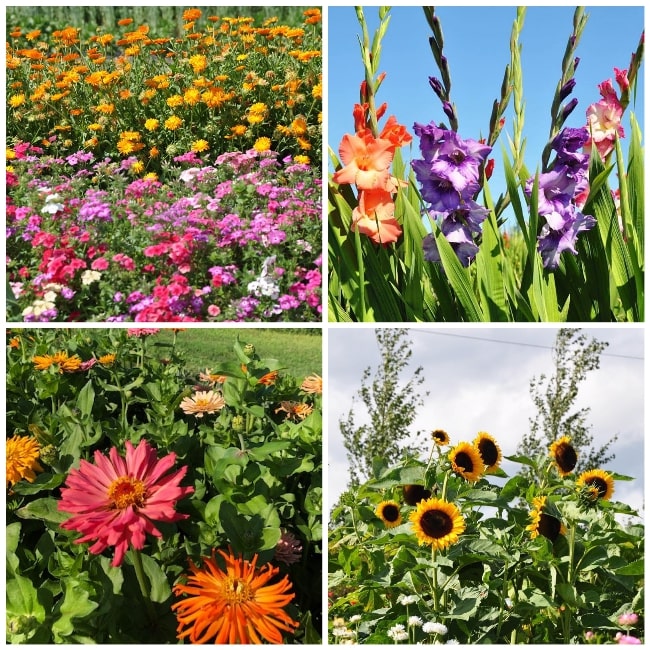 If you're itching for something entirely different, we highly recommend trying Black Fox Farm & Distillery. As farmers, their approach to selling flowers are true to their nature: Pick it up yourselves. They've introduced a unique and fun way of buying flowers that everyone in Saskatoon should try!
SPECIALTY
Fresh-picked cut flowers
SELECTION SIZE
Large
STARTING PRICE
$35
DELIVERY FEE
Free*
Flower subscription includes delivery fee
WEBSITE
http://blackfoxfarmanddistillery.com/
SOCIAL MEDIA
Facebook:@BlackFoxFarmandDistillery
Instagram:@blackfox_farm
CONTACT DETAILS
(306) 955-4645 [email protected]
WHAT PEOPLE LIKE
LITERAL FRESH-PICKED FLOWERS. Their U-pick season generally starts near the end of July and extends until the frosts start. Here, you'll not only pick the flowers you like but literally pick them fresh from the ground. They'll provide you with buckets that you can fill-up with flowers of your choosing. Invite a loved one, this will make your flowers extra special and extra fresh!
FLOWER SUBSCRIPTION. As of now the flower delivery option offered by Black Fox is limited to their flower subscription. Enjoy your monthly fix of freshly-picked seasonal flowers from $295. That's 4 deliveries of unique bouquets in a month! Tip: You can save $50 if you pick it up from their farm.
PRODUCTS
FLOWER SUBSCRIPTION: $295 – $560
U-PICK: $35/bucket plus taxes
DELIVERY & PAYMENT
Floral subscription starts at $295, delivery fees included. Save $50 if picked up from the farm. Contact the store for more details.
8. MICHELLE'S FLOWERS
Providing great customer service (alongside stunning flower pieces) is of utmost importance at Michelle's Flowers. They're constant striving to accomplish such a feat is not without recognition, considering the shop has been awarded the Consumer's Choice Award for Saskatoon in 2019. So, if you want the best flower experience, check out their catalogue today. 
| | |
| --- | --- |
| SPECIALTY | Creative flower arrangements |
| SELECTION SIZE | Small |
| STARTING PRICE | $35 |
| DELIVERY FEE | Calculated at checkout |
| WEBSITE | https://www.michellesflowers.ca/ |
| SOCIAL MEDIA |   |
| CONTACT DETAILS | (306) 651-3444 |
WHAT PEOPLE LIKE
SAME DAY DELIVERY. Michelle's Flowers is dedicated to providing all of their clients with prompt service. This is why they make it a point to have constant deliveries going out on a daily basis. Not only that, but they can guarantee to have your flowers at your doorstep should the order be placed before their 2PM deadline.
DIY DESIGN KIT. Michelle's Flowers recognises that flower arrangements are made more special when the giver has more say on the process of creating it. This is why they now offer design kits — everything you'll need to make a flower arrangement at home is included in it. 
PRODUCTS
Mother's Day Flowers
DIY Design Kits
Everyday Flowers
Sympathy Flowers
Plants
DELIVERY & PAYMENT
The shop accepts major credit cards and ApplePay for payments. Normal delivery times are 9am-5pm daily.
Images taken from each company's official websites/social media.