Makati is one of the busiest cities in Metro Manila having lots of workers and students travelling in and out of the area. It is also one of the most popular cities with great places for romantic dates like parks, museums, 5-star hotels and restaurants and many more that is why it is also home to many flower shops that truly serve wonderful sets of fresh flowers and floral designs. If you want to know more about them, keep on reading this article.
1. MAKATI FLOWER DELIVERY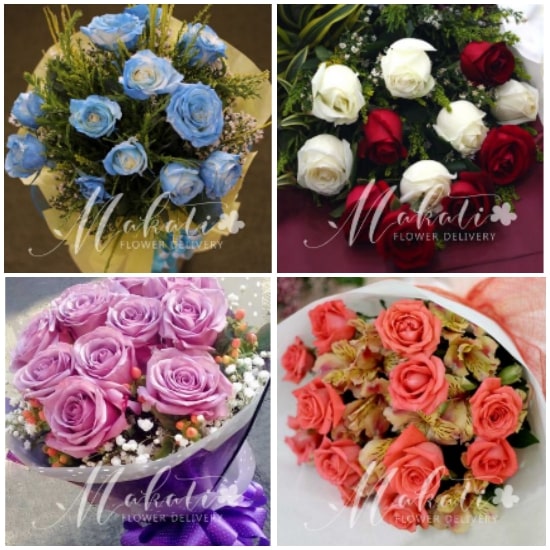 Makati Flower Delivery is a reliable, local flower shop that mainly services the city of Makati, but they also extend their offers to nearby areas in Metro Manila. The team is headed by Ednalyn Cruz who supervises all day-to-day transactions starting from receiving orders to preparation and delivery. The shop makes sure to be always kept updated for any new floral arrangement trends that could be added to their collection.
| | |
| --- | --- |
| SPECIALTY | Wrapped bouquets |
| SELECTION SIZE | Large |
| STARTING PRICE | Starts at ₱16000 |
| DELIVERY FEE | Calculated at checkout |
| WEBSITE | https://www.makatiflowerdelivery.com/ |
| SOCIAL MEDIA |   |
| CONTACT DETAILS | +63 (02) 736 01 34 |
WHAT PEOPLE LIKE
CREATIVE AND UNIQUE BOUQUETS. Customers are leaving good reviews for the site because of the lovely and gorgeous bouquet that they ordered. As a matter of fact, Makati Flower Delivery belongs to the shop which has hundreds of good reviews on Google.
RELIABLE SERVICE. They have also created a reliable and efficient system for customers. Their staffs accommodate custom orders and patiently keep in touch with you until you have figured out what you want. Their delivery is also fast.
PRODUCTS
Bouquets – ₱1600 to ₱6000
DELIVERY AND PAYMENT
Visa, Mastercard, American Express, PayPal, Maestro
2. LA ROSA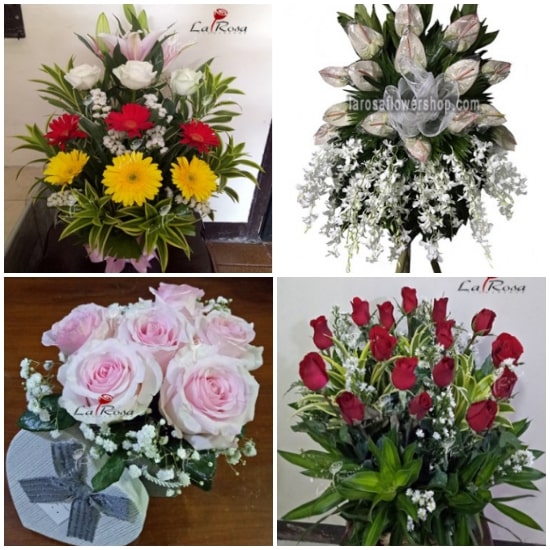 La Rosa was opened in the year 2000 with two start up shops in Quezon City. Over the years, they have established themselves as one of the best and most reliable shops that you can find in the area. The goal of the shop is to share beauty and elegance in the entire country of the Philippines and they were really able to do so with the help of their creative and talented team.
| | |
| --- | --- |
| SPECIALTY |   |
| SELECTION SIZE | Large |
| STARTING PRICE | Starts at ₱2000 |
| DELIVERY FEE | Starts at ₱300 |
| WEBSITE | https://www.larosaflowershop.com/ |
| SOCIAL MEDIA |   |
| CONTACT DETAILS |  (+63) 0906-2691504 / 0999-7053531 |
WHAT PEOPLE LIKE
FRESH FLOWERS. La Rosa always makes sure that their inventory is composed of the freshest and finest quality of flowers. They want their beloved clients to get the best service and products that they truly deserve that is why they are very strict when it comes to the quality of the flowers that the shop imports and sends out.
BEAUTIFUL DESIGNS. Whatever kind of occasion you may be needing these flowers in, La Rosa is always ready to provide you with their exceptional floral designs. The shop prides itself with their original and stunning collection and guaranteed that every money spent on their products is worth its value.
PRODUCTS
Baskets – ₱2500 to ₱12000
Flower in box – ₱2000 to ₱6000
Sympathy – ₱3000 to ₱18000
DELIVERY AND PAYMENT
PayPal, Visa, Mastercard, American Express, iPay88, JCB
3. THE FLOWER FARM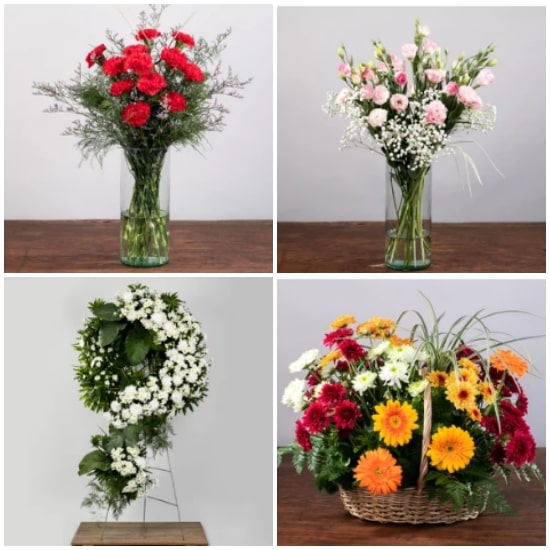 The Flower Farm has been in the business for almost 40 years making them a premium flower shop in the Philippines. Over the years, they have experienced different kinds of professional milestones, managed thousands of orders, and dealt with tons of clients from different parts of the country. Up until today, they never fail to wow us with their excellent service.
WHAT PEOPLE LIKE
GROWS THEIR OWN FLOWERS. With so much dedication and love for the industry, the owner of the shop always makes sure that they handle their business from start to finish that is why they grow their own plants to ensure its quality and secure its freshness and beauty.
TONS OF OPTIONS. Since the shop is the one who plants and take care of their flowers, they also have the option to expand their collection thus their large selection of chrysanthemums and gerberas.
GOOD CUSTOMER SERVICE. Over the course of 40 years, the shop has already established themselves in the market and made a good relationship with their beloved customers. Aside from making sure that their flower products are always in high quality, they also see to it that their customers are always satisfied with their purchases.
PRODUCTS
Bouquets – ₱1900 to ₱7600
Baskets – ₱2000 to ₱2700
Standee – ₱6000 to ₱8600
DELIVERY AND PAYMENT
Visa, Mastercard, PayPal, JCB, Visa, Discover
4. FLOWER CHIMP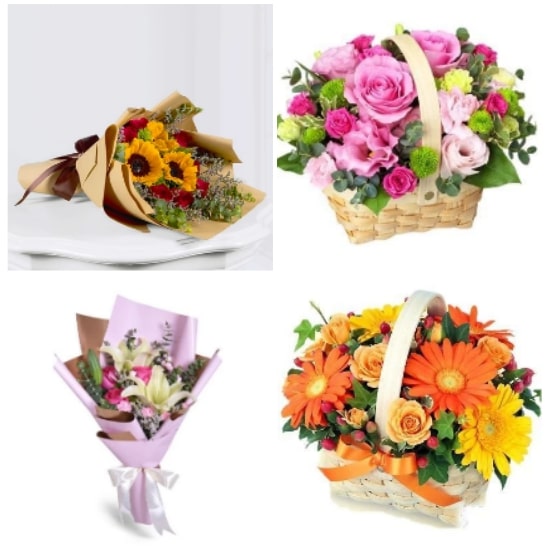 Flower Chimp is notably known for its superior quality of flower products and the team's highly creative floral designs. In fact, the shop is not only known to be one of the best in the Philippines, but also in its nearby countries. The shop is located in Metro Manila where a large group of Filipinos reside which makes them more accessible to whoever may want a premium class of flowers.
WHAT PEOPLE LIKE
SAME DAY DELIVERY. Manila is one of the busiest cities in the Philippines so having a same day delivery is really a helpful thing for their clients who had no time to place their orders earlier. For as long as you send them your orders not later than 4PM, you will still be able to avail such.
CHOOSE YOUR DELIVERY SLOT. Do you want your flowers to arrive very early in the morning? Or maybe exactly at dinner for added romance? With Flower Chimp, you will be able to choose your own schedule of delivery and they guarantee that your orders will arrive on time and in best condition.
FRESH FLOWERS. One of the promises of Flower Chimp is that they will always deliver only the finest and freshest flowers in the country and until now they stayed true to that promise. The flowers that they sell even stays fresh even after a week of purchase!
PRODUCTS
Hand Bouquets – ₱1490 to ₱3200
Baskets – ₱200 to ₱2250
Boxed Flowers – ₱2000 to ₱2500
DELIVERY AND PAYMENT
American Express, Alipay, Apple Pay, Visa, Mastercard, 7Eleven, BancNet
5. RAPHAEL'S GIFTS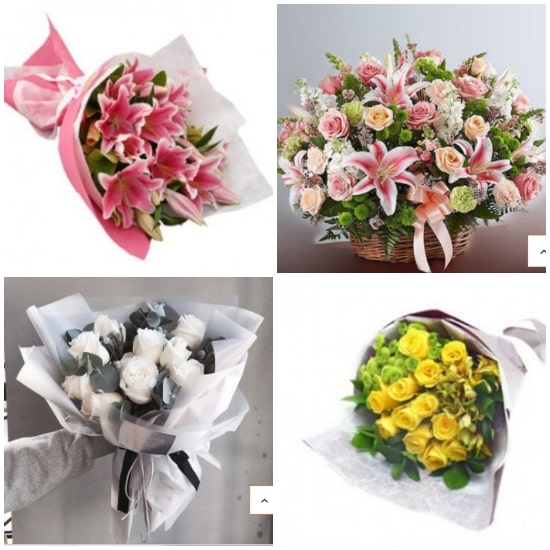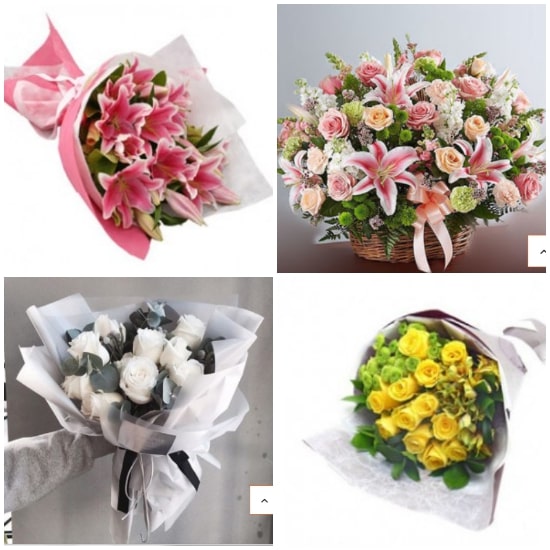 Raphael's Gifts is a local flower shop in the Philippines that has been established in 2006. But, even before the success of the shop, the team has already gained several experiences in the industry in collaboration with other flower arrangement businesses. Currently, the shop is strategically located in Makati which is considerably the heart of the city.
WHAT PEOPLE LIKE
EXTENSIVE SPECIALIZATION. The team of Raphael's Gifts is composed of professional, highly skilled, and truly creative florists that have diverse talents and specializations when it comes to designing flower arrangements, thus the shop houses hundreds of different floral designs that are all truly stunning.
SEAMLESS ORDERING METHOD. Placing order at the shop is absolutely easy and fast. You may either give them a call or send them an email containing the details of your orders and they guarantee that you will be accommodated instantly.
SPECIAL ADD ONS. The team only wants what is best for their clients that is why they make sure to offer you endless options when it comes to gift-giving. Aside from their wonderful set of flower arrangements, they also offer gift baskets to complete the package.
PRODUCTS
Bouquets – ₱1190 to ₱3500
Baskets – ₱3500 to ₱6400
DELIVERY AND PAYMENT
Visa, Mastercard, BPI, BDO, PayPal, MoneyGram, American Express, Remittance Centers
6. MY FLOWERTOWNE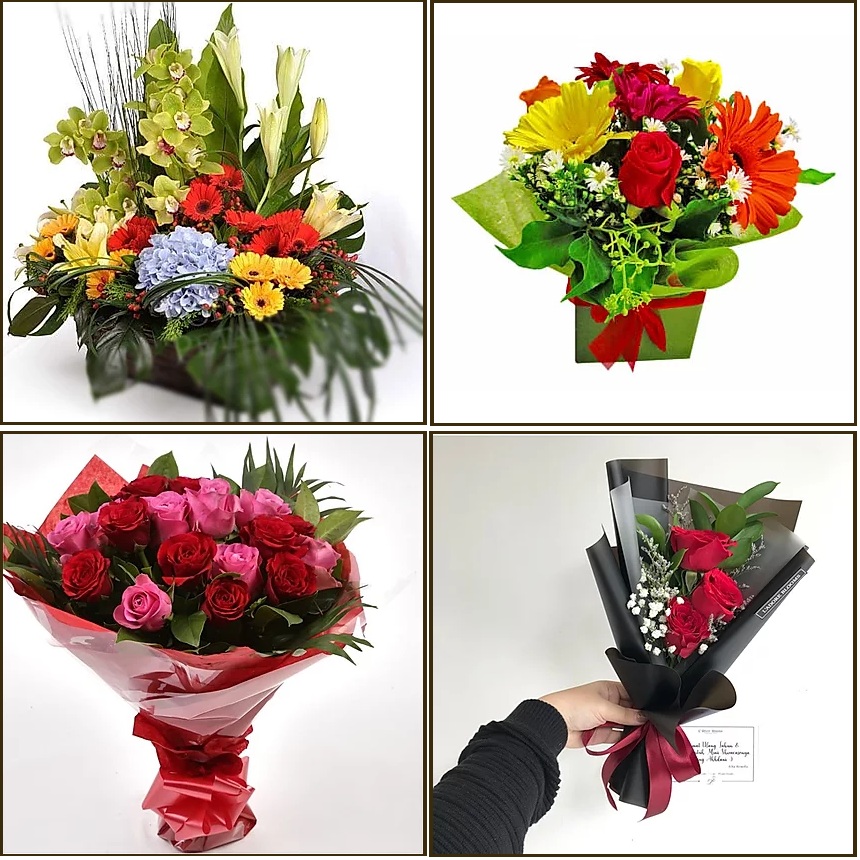 My Flowertowne is situated in the busy streets of Makati which offers beautifully handcrafted flower arrangements. They believe in making innovative designs that would set the trend for the floral industry. Aside from the exceptional design, they also ensure that they provide excellent customer service and fast delivery service. 
| | |
| --- | --- |
| SPECIALTY | Specialty flowers |
| SELECTION SIZE | Large |
| STARTING PRICE | P 2500 |
| DELIVERY FEE | Calculated upon checkout |
| WEBSITE | |
| SOCIAL MEDIA | https://www.facebook.com/myflowertowne.ph/ |
| CONTACT DETAILS | +639502454665 / +63288404472 / +63288929446 / +639478708732 |
WHAT PEOPLE LIKE
LARGE INVENTORY OF FLOWERS.

They provide floral services to big events like weddings and corporate parties. Be sure to set an appointment to get a flower consultation. 

BEAUTIFUL HANDCRAFTED FLOWERS.

This flower shop envisions creating innovative flower arrangements that would bring joy to each recipient. They make special designs for every occasion. 
PRODUCTS
VASE / BASKET:

P 2,500 – P 12,00

BLOOMS IN A BOX:

P 2,500 – P 6,000

FLOWERS 7 MORE: 

P 3,000 – P 7,350

WINES:

P 2,450 – P 10,000
DELIVERY AND PAYMENT
Payment could be made through Paypal
7. KRIZKHEN FLORAL DESIGN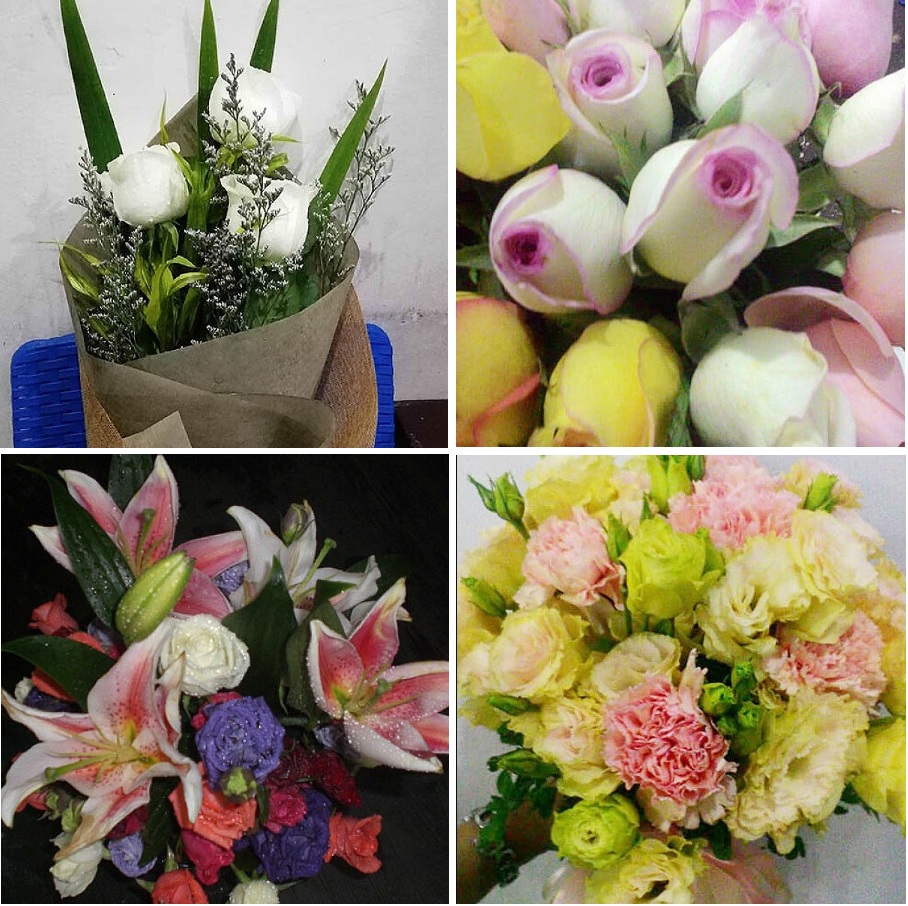 Amidst the busy city of Makati lies a small flower delivery shop that creates beautiful and fragrant flower arrangements for different occasions. It was established in 1993 to cater to the romantic, sympathy, appreciation floral needs of the city. 
Since then, they create flowers for different occasions worth celebrating or worth commemorating. So, if you are ever in need of flowers , be sure to check their beautiful designs on their website and social media. 
They also provide landscaping and grotto making services. 
| | |
| --- | --- |
| SPECIALTY | For any occasion |
| SELECTION SIZE | Large |
| WEBSITE | |
| SOCIAL MEDIA | |
| CONTACT DETAILS | (02) 8832 3072  |
WHAT PEOPLE LIKE
LANDSCAPING
SPECIALTY FLOWERS
PRODUCTS
ANY OCCASION
WEDDING
SYMPATHY
ORNAMENTAL & MEDICINE
DELIVERY & PAYMENT
Contact store to learn more