Don't you think that there's a better way to celebrate the big and small moments in your life? When it comes to occasions, there's something that would make each life event even more special. We're talking about flowers. It can convey a multitude of feelings and it's a gift that makes the receiver and the sender both feel special. Check out this list of local florists in Rome ready to make you the perfect bunch.
1. FLORITY FAIR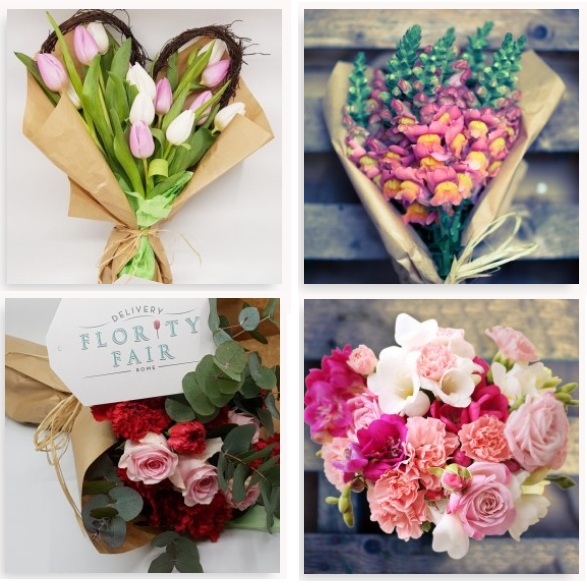 Since Flority Fair has bloomed in Rome, it has been spreading joy and love through their beautiful creations. They believe that their business is not just about order fulfillment, but it carries a special place in their customer's heart, that's why they make sure that they deliver the best quality of products at the right time and place.
Enjoy the fragrance of freshly picked flowers through Flority as nothing beats the beauty of flower arrangements than the freshness of flowers itself. 
WHAT PEOPLE LIKE
COURSES.

Flority Fair does not limit their services to creating and selling flowers alone but they also help aspiring florists to create their own original floral designs through their flower arranging courses.

INTRICATELY DESIGNED ARRANGEMENTS.

The team has a keen eye for mistakes and details. Their creativity drives them to create exciting flower arrangements for their customers. 
PRODUCTS
BOUQUETS
FLOWER BOXES
WEDDING ARRANGEMENTS
PRESERVED FLOWERS
DELIVERY AND PAYMENT
The shop accepts Visa, Mastercard, and PayPal for payments.
2.

MARIA LUISA ROCCHI
Maria Luisa Rocchi is a renowned florist that offers amazing floral arrangements for the people in Italy. Let her transform your event into an even more special one with her amazing designs and styles
Wedding flowers and other bouquets are also available to purchase from Maria Luisa Rocchi. Check out the website for more details or inquiries.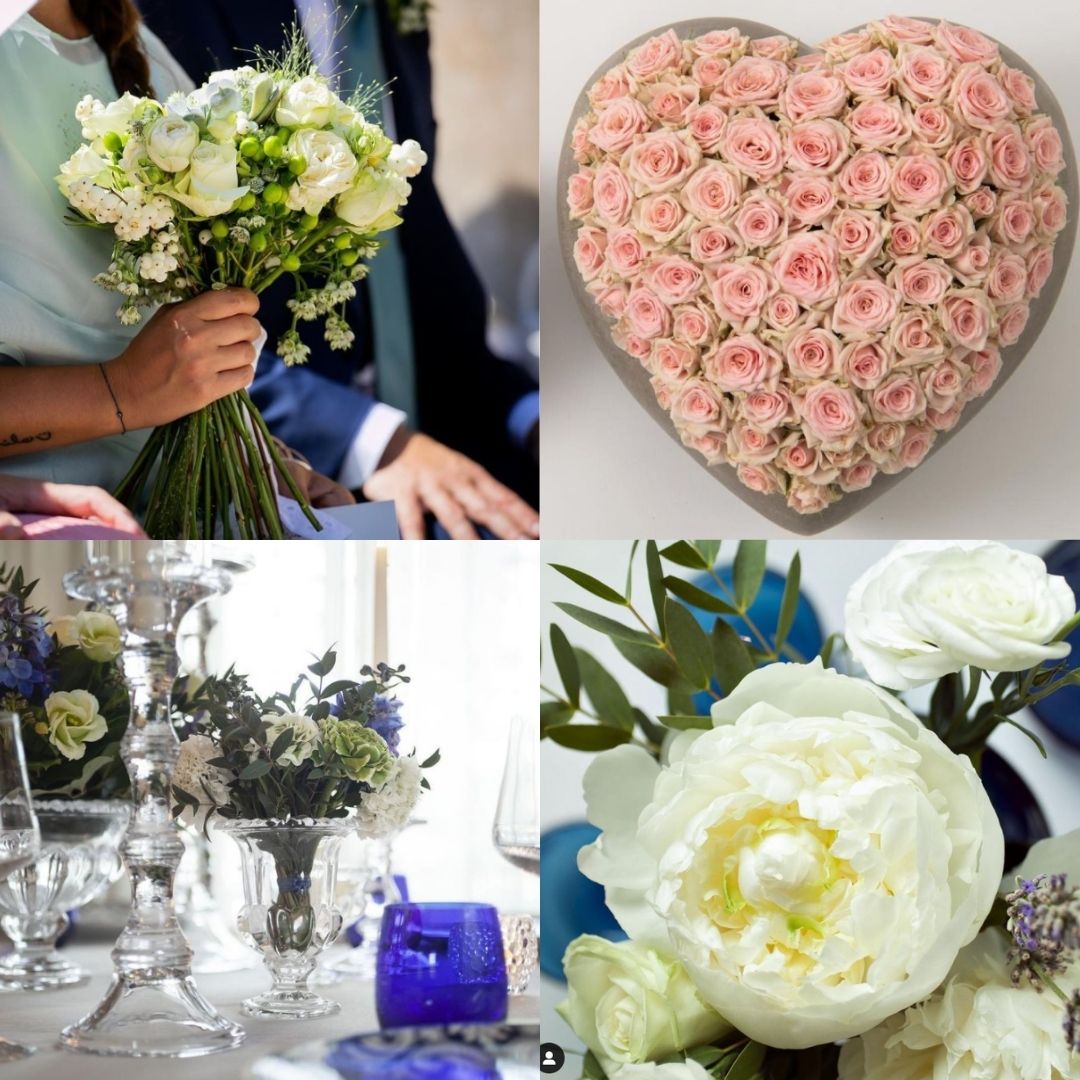 WHAT PEOPLE LIKE
ITALIAN DESIGNS. Maria Luisa Rocchi creates designs that still applies Italian styles. She incorporates traditional feels to modern techniques, as well as make innovative solutions fit for any occasion. They're simply one of the best pick for mixed designs.

SPLENDID FLORAL ARRANGEMENTS. From weddings to Christmas parties, Maria Luisa Rocchi promises elegant floral arrangements that would surely add a flair to the event. Simply talk to them about the ideas you have in mind and they'll be sure to help make it come to life.
PRODUCTS
Home and Decor
Seasonal Greetings
Floral Bouquets
Corsages
Confetti and Sweet Table
DELIVERY AND PAYMENT
Payment details are given upon ordering as well.
3.  MARIA FLORISTA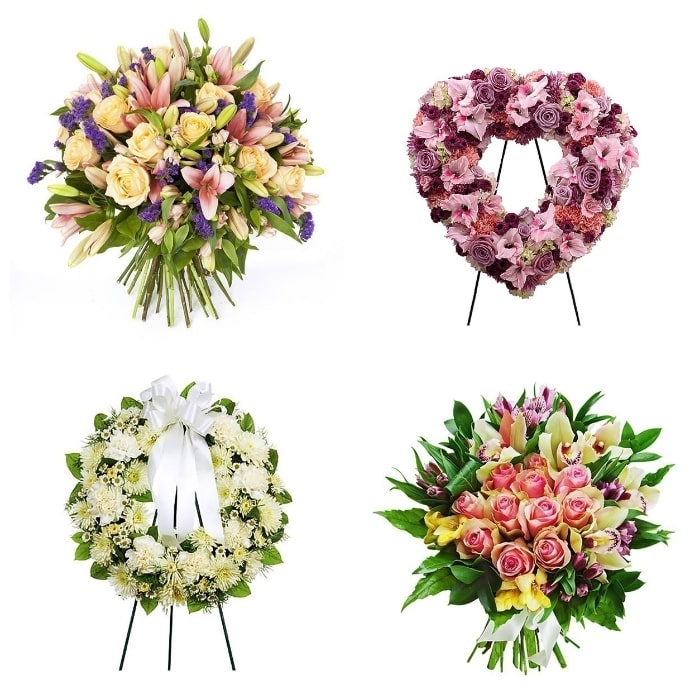 Dubbed as Italy's premier flower delivery service provider, Maria Florista is a straightforward online flower company that delivers top-notch service to each client that's fortunate enough to know them.
| | |
| --- | --- |
| SPECIALTY | Sympathy Flowers |
| SELECTION SIZE | Large |
| STARTING PRICE | €24 |
| DELIVERY FEE | Available upon checkout |
| WEBSITE | https://mariafiorista.com |
| SOCIAL MEDIA | Facebook: @Maria-Fiorista |
| CONTACT DETAILS | Milan 02 9475 2790 Rome 06 9480 1638 |
WHAT PEOPLE LIKE
BUDGET-FRIENDLY SELECTIONS. Fortunately, this company believes that quality flowers should be affordable as well. From their long list of bouquets, we're sure you can score a budget-friendly bunch good for any occasion.
DEAL OF THE DAY. Deals! Sales and discounts every week. Yup, every week. Check what flowers are on sale now, we know you're a sucker for a good bargain.
SYMPATHY FLOWER COLLECTION. When words fail to express what we feel, especially in dark times, flowers really do play a big part in lightening the mood even if only for a short time. It's a simple gesture that says your thoughts are with them.
PRODUCTS
BOUQUETS: €24 – €155
SYMPATHY AND FUNERAL FLOWERS: €79 – €279
BIRTHDAY: €35 – €599
ROSES : €24 – €599
DELIVERY & PAYMENT
Order by 1 pm for same-day delivery. Payment options include major credit cards and PayPal.
4. FRIDA'S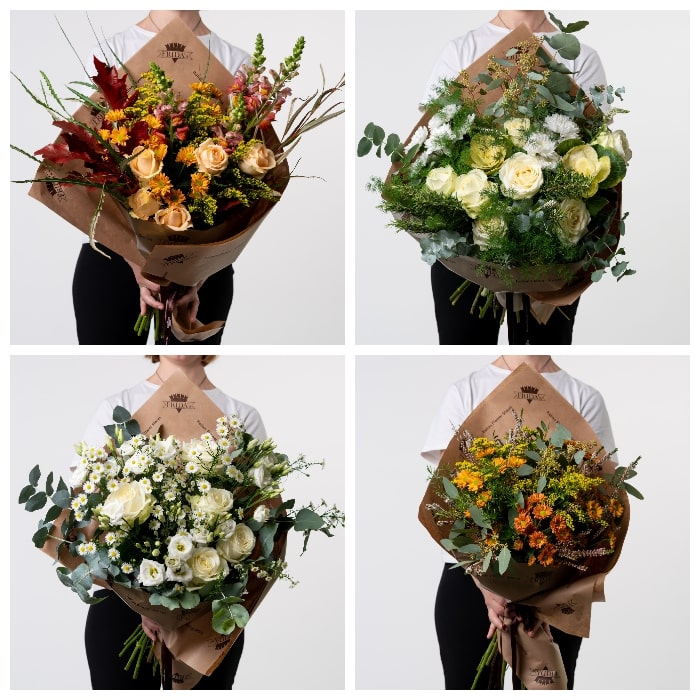 Frida's will give you flower arrangements with so much style and elegance, it's hard for you not to completely fall in love with each of their bouquets.
SPECIALTY
Large Designer-Bouquets
SELECTION SIZE
Large
STARTING PRICE
25€
DELIVERY FEE
Free
WEBSITE
https://www.fridas.it/en/shop/
SOCIAL MEDIA
Facebook:@fridasitalia
Instagram:@fridasitalia
CONTACT DETAILS
Contact Form
WHAT PEOPLE LIKE
DESIGNER FLOWERS. The people over at Frida's clearly weren't messing around when they made their luxury bouquets. It's humongous without being tacky. It's not just a generous number of flowers bunched up together, nope. It's made in a way that each element will complement each other – making this one of our favorites.
WEDDING AND EVENTS. Frida's brings its floral genius to a bigger setting. Not only is it killing at the flower delivery game, but it's also acing at the floral decoration industry. Each event and celebration become more magical with their flower concoctions.
EFFICIENT DELIVERY SYSTEM. You can send flowers not only in Rome but to anywhere in Italy, that's a promise. And to prove that what you see on their website is what you'll get, they'll send you a picture of the flowers they've delivered. Hurrah for transparency! 
PRODUCTS
BOUQUET: €25 – €150
HATBOXES: €50 – €160
LUXURY BOUQUETS: €100 – €150
AMORE: €25 – €160
DELIVERY & PAYMENT
Same-day flower delivery is available for orders placed by 12 pm. For next-day delivery, order by 3 pm. They accept major credit cards and PayPal.
5. DREAM IN A BOX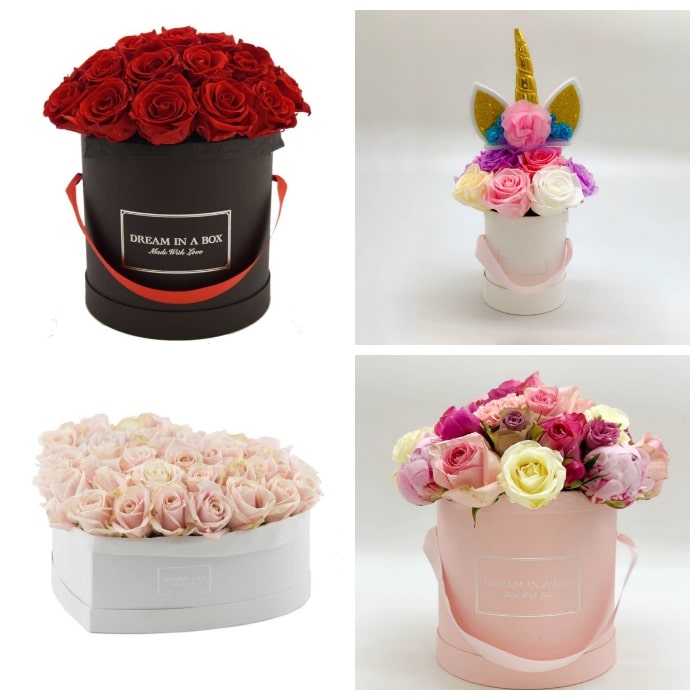 'We deliver dreams in a box," says this company. They took that vision quite literally as they named their company after that promise. And 'till now it seems that they've never broken their vow. Each flower box bouquet they make is still clean-cut, fresh and downright adorable.
SPECIALTY
Flowers in a Box
SELECTION SIZE
Large
STARTING PRICE
€25
DELIVERY FEE
Available upon checkout
WEBSITE
https://www.dreaminabox.it
SOCIAL MEDIA
Facebook: @dreaminabox
Instagram: @dreaminaboxofficial
CONTACT DETAILS
(+39) 366 4822688
[email protected]
WHAT PEOPLE LIKE
ELEGANT ARRANGEMENTS. It's simple and clean. No tacky (and shiny!) wrappers will be found on their whole catalog. Highlighting the natural beauty of the flowers in plain boxes was the right move for this company. Although they do have this extremely cute unicorn themed box bouquets! It may not be the usual Dream in a Box's style but it's beautiful all the same!
CHIC PACKAGING. Simply put, their iconic packaging makes each of their bouquet more luxurious. There's just a certain charm a boutique box brings. People seem to agree, as this company flourishes year after year.
STABILISED ROSES. Just imagine a rose hatbox bouquet in your hand. You knowingly place it where everyone can easily gaze upon this beauty. Now, imagine they can last for more than a year. Yup, that's how long you can enjoy watching this bunch of roses.
PRODUCTS
BOX OF FRESH ROSES: €40 – €300
BOX OF STABILIZED ROSES: €70 – €360
BOXED ROSES FOR VALENTINE'S DAY: €70 – €880
BOX OF ROSES FOR MOTHER'S DAY: €25 – €300
DELIVERY & PAYMENT
Same-day delivery available throughout Turkey, expect 3-4 hours of delivery. Payment options include VISA, MasterCard, MAESTRO, and PayPal. Money transfer through Western Union is also available.
6. SPEEDY FLOWERS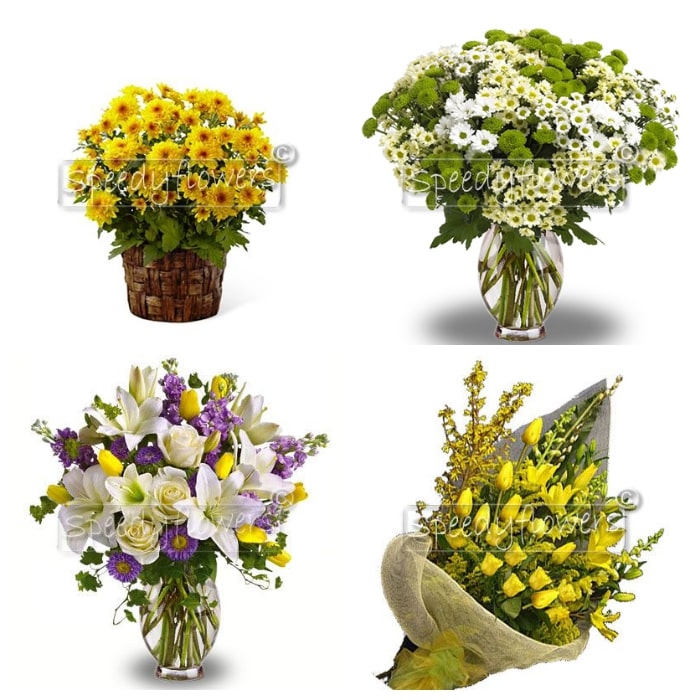 Speedy Flowers delivers to the majority of Italy and in order to assure the freshness of the products, they release limited available bouquets for each area. This simple and cost-effective system also lessens the possible waste of each store. Beautiful flowers from an environmentally conscious company? Score.
| | |
| --- | --- |
| SPECIALTY | Rose boxes |
| SELECTION SIZE | Curated |
| STARTING PRICE | €39 |
| DELIVERY FEE | Available upon checkout |
| WEBSITE | https://eng.speedyflowers.it/ |
| SOCIAL MEDIA |   |
| CONTACT DETAILS | +39 06.6149416 |
WHAT PEOPLE LIKE
CURATED FLOWERS. Their green approach in doing the flower biz is happily noted. Not only do we get fresher flowers because of this, but it's also helping reduce wastes as well. And although they offer a very limited flower catalog, they make that up by providing high-quality flowers and arrangements.
ROSE BOXES. There's really nothing wrong with traditionally wrapped bouquets but there's something inherently charming about flowers in hat boxes. Especially if the flowers are Roses. It's so simple and sweet!
PRODUCTS
ROME BOUQUETS: €39 – €120
DELIVERY & PAYMENT
They accept major credit cards and PayPal.
7. ANGLODEI FIORI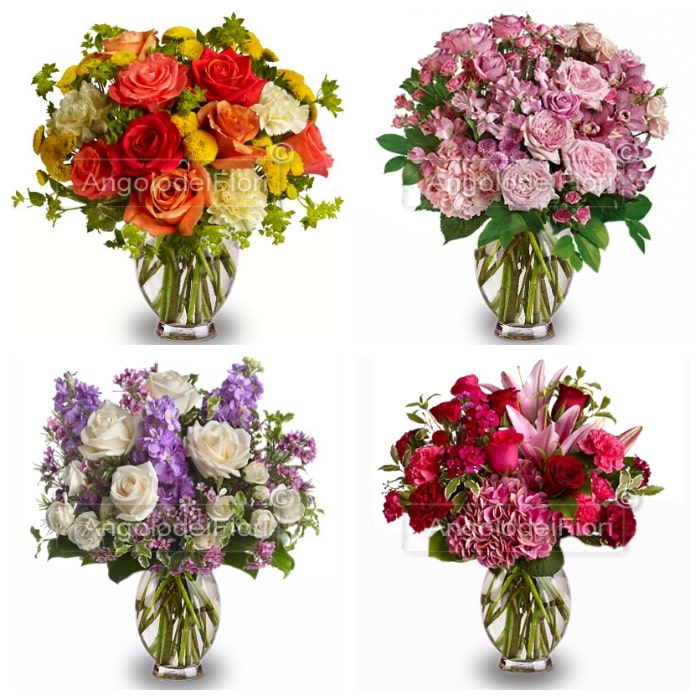 The people at ANGLODEI FIORI are your local florists in Rome. It's a long-standing online company believing that flowers are not just gifts, but a time-sensitive message as well. Part of its mission is to ensure each flower gets there on time.
| | |
| --- | --- |
| SPECIALTY | Flower Centerpieces |
| SELECTION SIZE | Large |
| STARTING PRICE | €88 |
| DELIVERY FEE | Available upon checkout |
| WEBSITE | https://www.angolodeifiori.it/en   |
| SOCIAL MEDIA | n/a |
| CONTACT DETAILS | +39 06.83511509 |
WHAT PEOPLE LIKE
GORGEOUS FLOWER CENTERPIECES. This particular flower collection is flat-out beautiful. The generous number of flowers in each vase paired with the beautiful arrangement of different types of flowers and foliage makes this an eye-catching gift fit for a centerpiece.
PRESTIGE. If you're here to find something that will ultimately wow your special someone, then you've found your perfect gift. This collection of over-the-top rose arrangements is enough to make anyone swoon. (See: Heart of Red Roses.)
PRODUCTS
BOUQUETS: €88 – €132
FLOWER ARRANGEMENTS: €99 – €220
SYMPATHY FLOWERS: €110 – €1056
DELIVERY & PAYMENT
You may purchase with VISA, MASTER or AMEX. PayPal is also available.
8. LARTE FIORI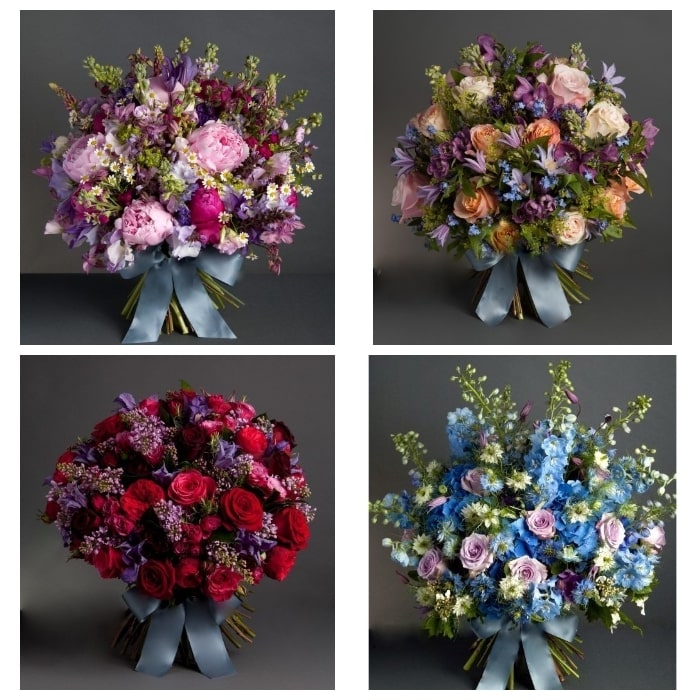 When it comes to luxury bouquets, you can trust Larte Fiori to bring their A-game.  Their luxury compositions are straight out from a Victorian painting—extravagant and dreamlike.
WHAT PEOPLE LIKE
LUXURIOUS FLOWER COMPOSITIONS. This luscious creation by the Larte Fiori company is just stunning. Each piece is absolutely regal. Placing this in any room will immediately make the space elegant. Understandably expensive, but if you have the money to splurge – why not?
ON-TIME DELIVERY. Rome dwellers won't have a hard time waiting for their flowers. They offer same-day delivery, which delivers your flowers just within 2 – 3 hrs of ordering.
PRODUCTS
BOUQUETS: From 29,90 €
LUXURY COMPOSITIONS: From 70,00 €
DELIVERY & PAYMENT
Order by 17:30 for same-day delivery. They accept major credit cards and PayPal for online purchases.
9. DORDAS FLOWERS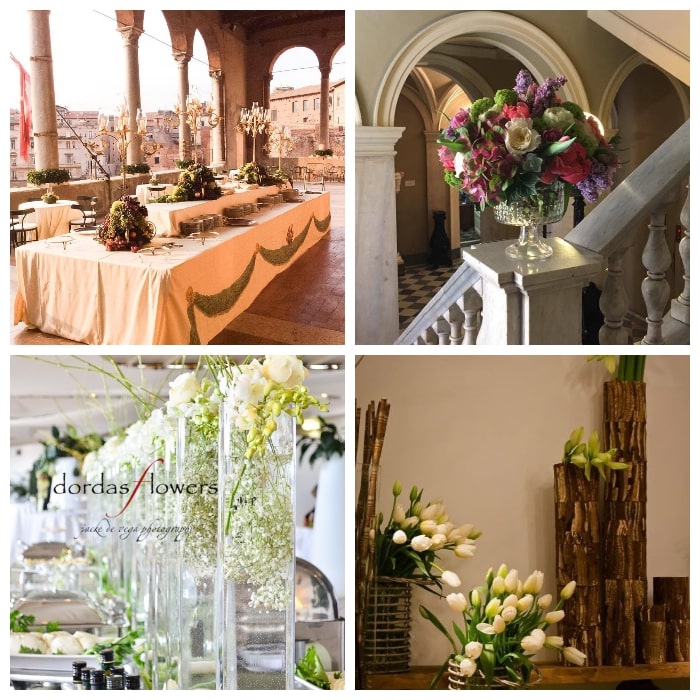 Dordas Flowers is a well-known brand whose style has grazed upon famous names in the biz like Valentino, Fendi, and Bvlgari.  We're talking about cream of the crop floral artistry that continues to make waves in the industry. So, it makes sense that this company works only by appointment. Talk about lux.
| | |
| --- | --- |
| SPECIALTY | Classic Bouquets |
| SELECTION SIZE | Curated |
| STARTING PRICE | Contact store for details |
| DELIVERY FEE | Contact store for details |
| WEBSITE | http://www.dordasflowers.com |
| SOCIAL MEDIA | n/a |
| CONTACT DETAILS | 0668134967, 3391664912 |
WHAT PEOPLE LIKE
ARTISTIC COMPOSITIONS. Their creation is far from the conventional style and design that everyone's familiar with. You can often see how they try to innovate with the concepts they try to take on.
FLOWER EVENT PIECE. The Dordas Flowers brand always balances the simplicity and the elegant nature of its style. They play with the natural aesthetic of the flowers and pair it with elements that would take it to the next level.
PRODUCTS
FLOWER COMPOSITION
EVENT FLORAL DECORATION
DELIVERY & PAYMENT
Contact store for details.
10. EVA FIORI E PIANTE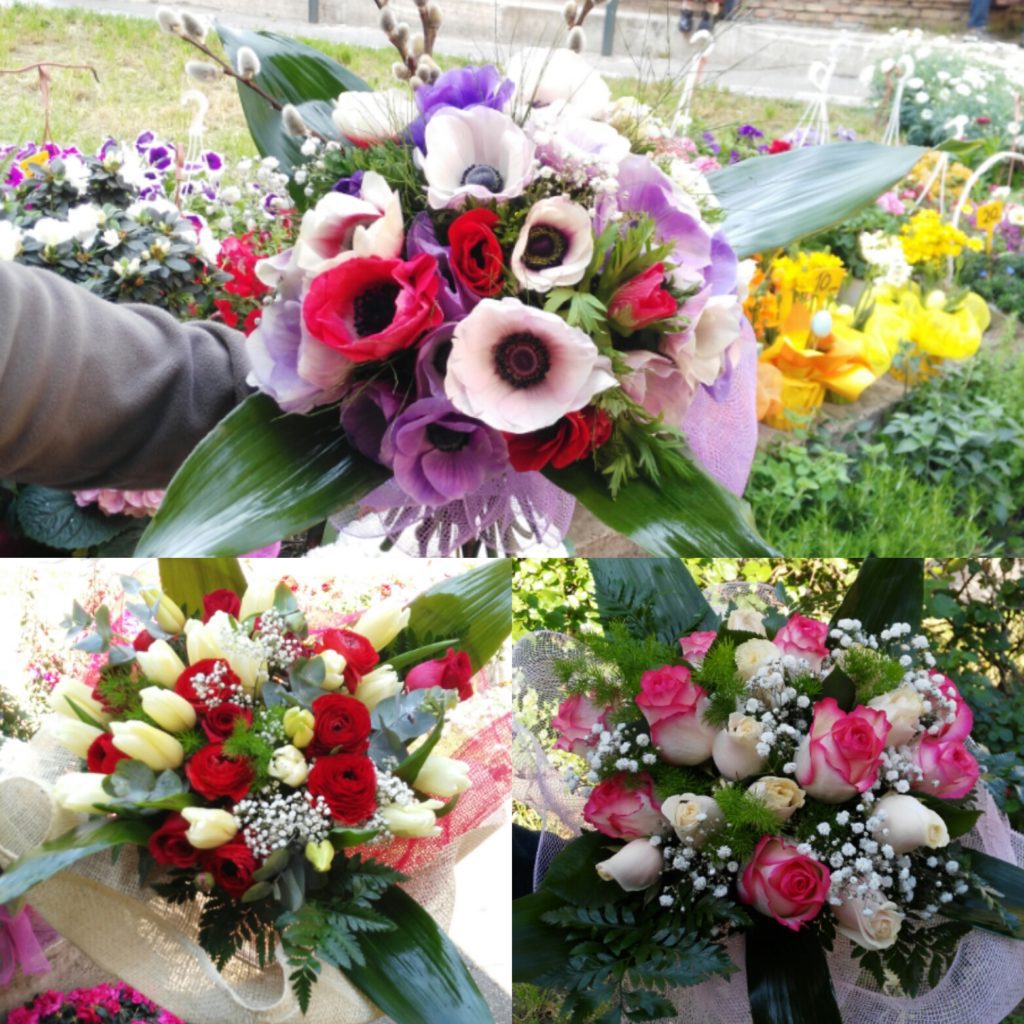 Eva Fiori e Piante believes that flowers are important to every human life. This is why they take the time to research and carefully craft each order with only the freshest and most fragrant flowers on the market with the best materials possible.
They can cater to any event, be it something as loud and joyful as weddings or something more muted and solemn as funerals. 
| | |
| --- | --- |
| SPECIALTY | Floral Arrangements |
| SELECTION SIZE | Large |
| STARTING PRICE | Contact store for details |
| DELIVERY FEE | Contact store for details |
| WEBSITE | https://evafioriepiante.it/ |
| SOCIAL MEDIA |   |
| CONTACT DETAILS | 3477253234 – 0678359117 | [email protected] |
WHAT PEOPLE LIKE
DYNAMIC DESIGNS. What's beautiful isn't always what's conventional. This is the philosophy that the stylists of Eva Fiori e Piante operates on. They aren't afraid to experiment with the freshest of flowers and highest quality materials. As a result, every piece is unique. 
LARGE SELECTION. Eva Fiori e Piante is your go-to for any floral needs. It doesn't matter if you want single flowers, bouquets, or arrangements. The same can be said for the occasion. Thanks to their large catalogue, they'll be able to cater to your floral whims. 
QUICK DELIVERY. Eva Fiori e Piante understands that people have busy schedules, but it shouldn't stop you from giving flowers. Hence, their offer to deliver all over Rome for seven days a week. 
PRODUCTS
FLOWER ARRANGEMENTS
WREATHS
BOUQUETS
DELIVERY & PAYMENT
Contact store for details.
11. Noosheens Floral Event Design Company

If you're looking for flower arrangments which are created uniquely for every client, then Noosheens Floral Event Design Company is made perfectly for you!
Noosheens aims to bring your imagination to life, believing that every detail is crucial, each step should be given importance. SInce 2005, they have consistenly brought up elegant arrangements for weddings in Rome that surely wowed each guest and even the lovely couples they were for. Assuringly, their simplicity and authenticity really does bring the beauty in each bloom.
SPECIALTY
Wedding Events
SELECTION SIZE
Moderate
STARTING PRICE
Contact store for details
DELIVERY FEE
Contact store for details
WEBSITE
http://www.noosheens.com/eng/
SOCIAL MEDIA

FB: https://www.facebook.com/Noosheens.Flowers.Events

IG: @noosheensfloraldesign

TWT: @Noosheens

CONTACT DETAILS

Ph: (+39) 06 9727 4806

Mob. (+39) 3387131804
WHAT PEOPLE LIKE
No Standard Format – Rest assured that each creation is catered solely for an event and that no standard of format is met so you as a client can freely choose whatever size or amount of flowers you want in your bouquet or arrangement.
Superior Customer Service – The shop firmly upholds the saying, "customer is always right". They're known to listen to every detail a customer gives them and is very open to suggestions to further enhance the beauty of the arrangements.
PRODUCTS
Wedding Flowers
Floral Event Design
Editorials
DELIVERY & PAYMENT
Contact shop for more information
12. FLOWERS TO ROME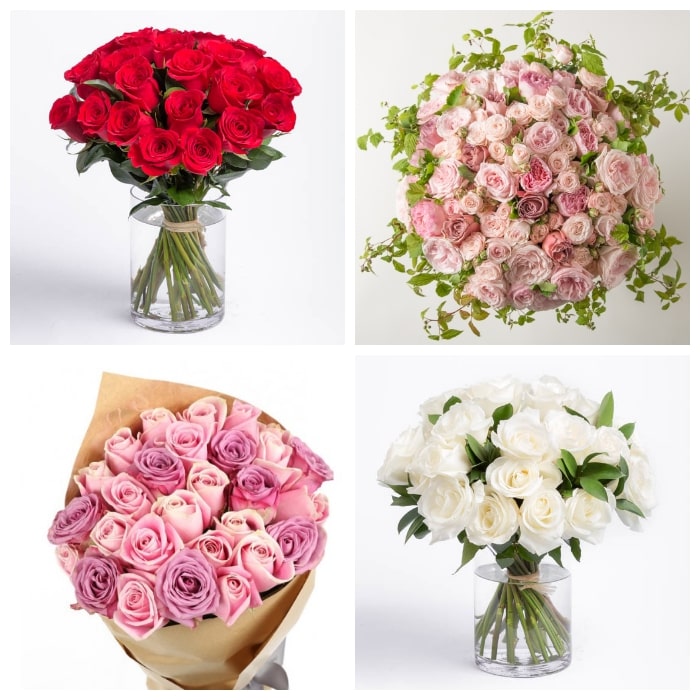 We're starting this list with the top-rated florists in Rome. Check out the rave reviews online praising the quality flowers and excellent customer service provided by the good staff of Flowers to Rome.
WHAT PEOPLE LIKE
LARGE SELECTION OF FLOWERS. What really makes Flowers to Rome a notable company is their vast collection of flowers. There's a suitable bouquet for every occasion and the perfect flower for every preference.
FAST AND EFFICIENT DELIVERY SERVICE. In just 3-4 hours you can expect your flowers to be delivered with the utmost care to your loved ones.
ROSES. Flowers to Rome houses a very large collection of flowers that can rival other big companies, but their Rose collection alone is just brimming with so much flower designs, you'll have a hard time picking your favorite.
PRODUCTS
ROSES
FRENCH-STYLE BOUQUETS
SUNFLOWER BOUQUETS
ORCHIDS BASKET
DELIVERY & PAYMENT
They will deliver within 3-4 hours from the time you placed the order. They accept major credit cards for online payment.
13. WINE&FLOWERS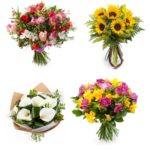 Wine&Flowers is an e-commerce enterprise that is comprised of various floral shops around in over 120 countries so that clients all over the world are able to receive equally stellar floral arrangements in the floral shop affiliate nearest to their area.
WHAT PEOPLE LIKE
DIVERSE CONNECTIONS. We find their extensive network of floral shops and florists to not only be diverse but also accommodating of numerous cultures and flower arrangements that is ideal for client looking for local-themed flowers and arrangements. Their platform is convenient and easy to navigate so that clients will have less trouble finding the flower arrangement for a specific occasion at any time since all of the orders are processed online.

COMPETITIVE PRICES. Price rates are readily available so that clients can have a stress-free experience when it comes to budgeting and quality control since each one is curated and handmade to ensure that it is assembled with precision that showcases its aesthetic appeal. Overall, we think that their online florist shop is ideal for clients who wish to transact online at their own time and pace that places minimal stress on their busy schedules yet receive equally stellar floral arrangements.
PRODUCTS
ROSES
TULIPS
CALLAS
BOUQUETS
DELIVERY AND PAYMENT
PayPal, American Express, VISA, VISA Electron, MasterCard, Maestro, PostePay