The city of Amsterdam is known for it real beauty especially at night when all the houses and tower have lighted up, giving more emphasis on the sophisticated aura of the city. With its charm, Amsterdam is definitely one of the best places to fall in love in and one most common symbolism of love is flower. Fortunately, this is also a place where you can find the freshest flowers and most creative florists in the country. If you are fond of stunning bouquets, we have prepared a list for you of the 8 flower delivery services in Amsterdam with affordable bouquets.
1. BLOEMENWEELDE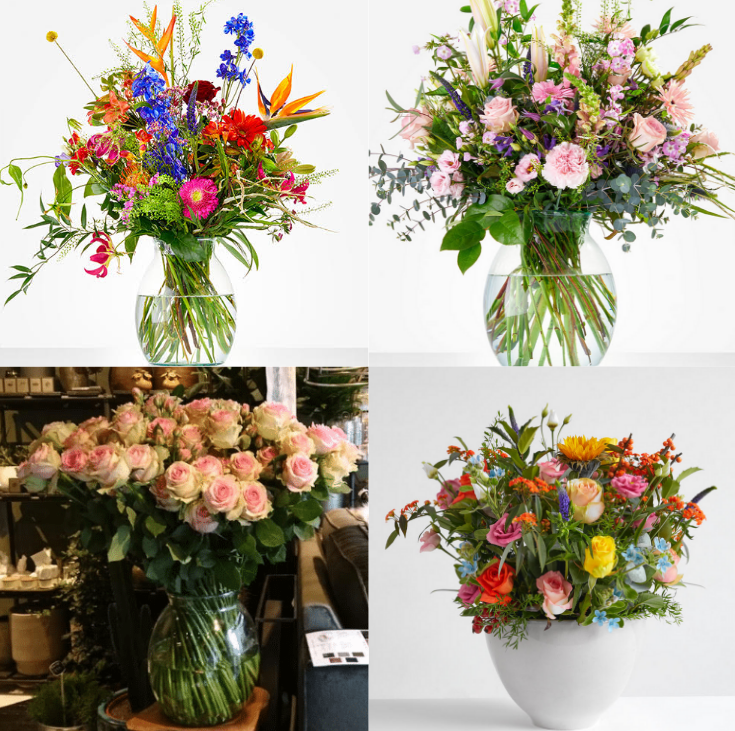 Bloemenweelde is a local florist in Amsterdam that has a good record for wonderful customer service. As a matter of fact, they have gained almost thousands of regular clients, not to mention that they are partnered with 400 companies not only within the city but also in nearby areas. The shop is also affiliated with Fleurop which means that they can make delivery arrangements to the entire country of Netherlands and even to places beyond it.
WHAT PEOPLE LIKE
RELIABLE DELIVERY SERVICES. One of the best features of Bloemenweelde is their wonderful delivery services. Once you have your orders placed, they make sure that they are strictly to be the one to deliver them to guarantee that the product will arrive with no delay and in best shape.
EASY TO COMMUNICATE WITH. Don't have time to come to their shop or to talk to them on the phone to make orders? That is totally not a problem. The shop offers their online shop wherein you can simply browse and select your choice of flowers and in just a snap, your orders will already be on the list for delivery.
AFFORDABLE ITEMS. The shop deliberately offers low price items but that, of course, never compromises the quality of their products. For very minimal amount you would be able to show someone how you truly love them by sending them flowers arranged by Bloemenweelde.
PRODUCTS
Bouquet – €16 to €50
Mourning – €85 to €240
Special – €70 to €400
DELIVERY AND PAYMENT
Delivery fee at the minimum costs € 7.00 and payments can be settled via Visa, Mastercard, or IDEAL.
2. VOORT BLOEMEN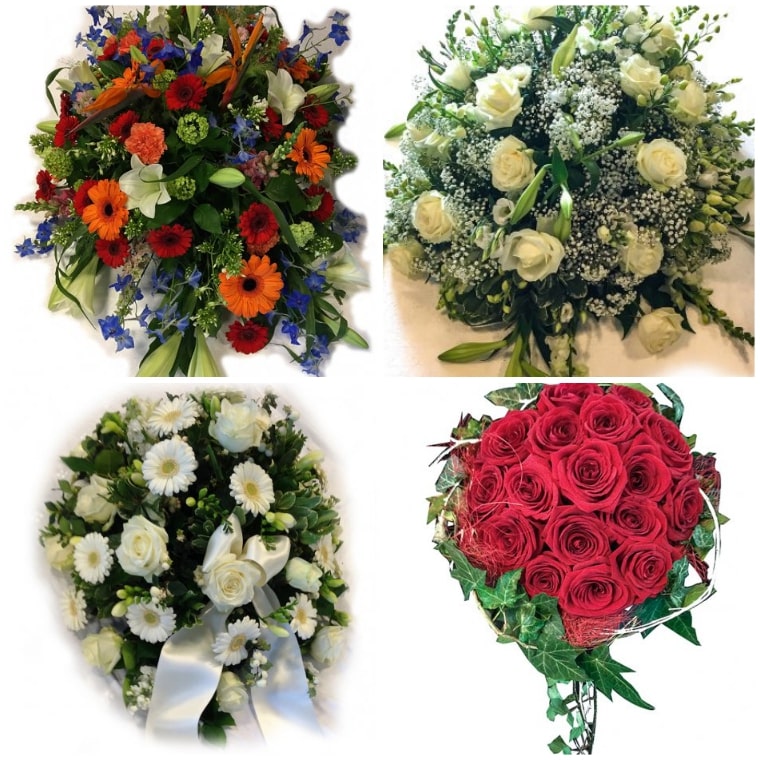 Voort Bloemen has been in the industry for almost two decades. Over the years, they have gained several professional experiences which make them one of the reliable florists that you can find in Amsterdam. They also have their own delivery service provider so you won't have to worry about the communication with them, plus they always make sure to give you 100% service satisfaction so you know that every centavo you spent is all worth it.
WHAT PEOPLE LIKE
LARGE SELECTION. The shop is fully equipped with whatever kind of flower arrangements they think their customers might need and with their staff's creativity and hard work they are able to house hundreds of different floral designs that may freely choose from.
100% CUSTOMER SATISFACTION. Starting from accommodating your queries, to actually creating your orders, until the final step of delivering them, Voort Bloemen never fails to provide high quality of service that any customer would ask for.
STUNNING DESIGNS. The shop does not only focus on quantity of the flowers that their shop display but most importantly they want each of their flower arrangements to be perfectly beautiful that is why they strive to create stunning floral designs that will truly speak to their clients.
PRODUCTS
Mother's Day Bouquet
Plants – €19 to € 40
Funeral Arrangements – €40 to €350
Wedding Bouquets – €40 to €150
DELIVERY AND PAYMENT
Any major credit cards.
3. MOOI ANDERS BLOEMEN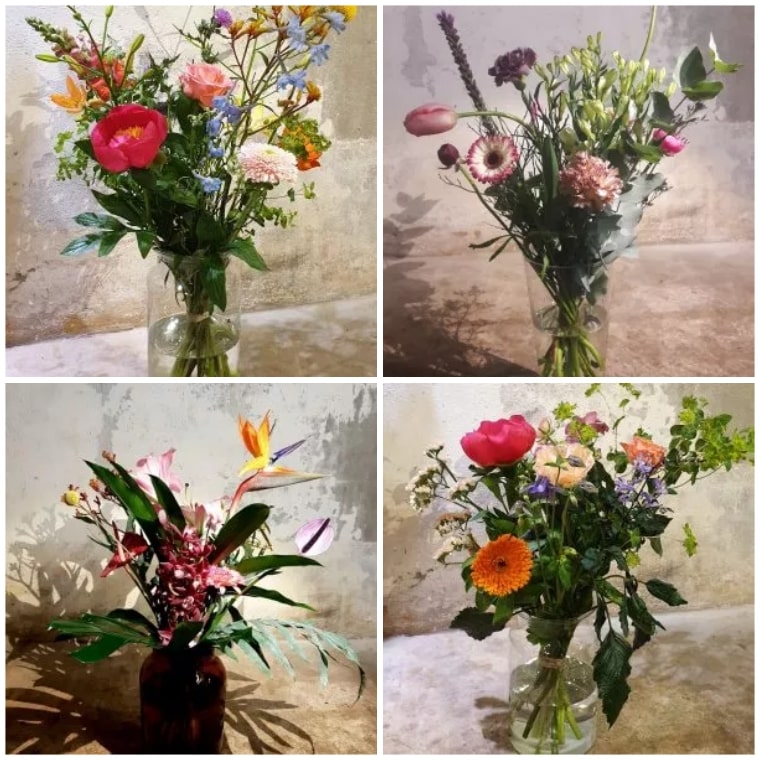 Mooi Anders Bloemen show true elegance when it comes to their flower and plant products. Looking at their collection, you will be most certainly in awe of how they present their products that no other shops can do. They create various floral designs for different occasion, but primarily the offer flower arrangement services for weddings.
| | |
| --- | --- |
| SPECIALTY | Wedding flowers |
| SELECTION SIZE | Large |
| STARTING PRICE | Starts at €20 |
| DELIVERY FEE | Calculated at checkout |
| WEBSITE | https://www.mooianders.info/ |
| SOCIAL MEDIA | |
| CONTACT DETAILS | 020 – 68 35 038 |
WHAT PEOPLE LIKE
FLORAL SUBSCRIPTION. Can't get enough of flowers and the joy they bring? Then you might want to subscribe to the shop to be able to experience a daily dose of their stunning arrangements. They offer this subscription not only to offices but to homes, as well.
WORKSHOPS. If you want to know how the amazing team of Mooi Anders Bloemen creates their top notch flower products, you should definitely come to their workshop and let them teach you the basics first down to the complexity of the process.
FAST ONLINE SERVICE. To place your order, you can simply do it online. At the comfort of your home you may browse their whole house collection, choose which one speaks to you the most, add to cart, and in just a few seconds you will be notified that your order has been placed and will be arranged in no time.
PRODUCTS
Spring Collections – €19 to €30
Bouquets – €20 to €50
Flowers Subscription – €20 to €50
Mother's Day – €25 to €50
DELIVERY AND PAYMENT
IDeal, credit card, Bank transfer or Paypal.
4. A.P Bloem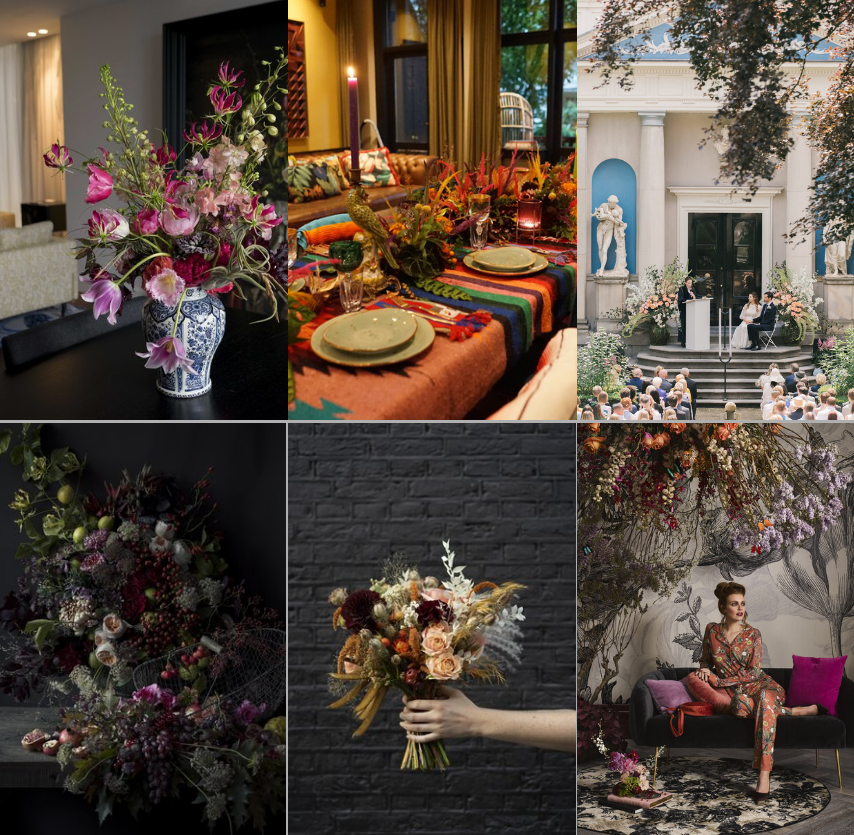 A.P Bloem takes pride in using only the freshest flowers available in a given season. These flowers are then meticulously crafted by the shop's team of expert florists, who take inspiration from the beauty of nature, wild fields and the Golden Age.
Customers will find that A.P Bloem puts great focus on retaining each flower's natural characteristic, and instead enhancing its beauty with each arrangement.
Aside from handcrafted arrangements, A.P Bloem also caters to event flower requests.
WHAT PEOPLE LIKE
FLORAL FREEDOM. While delightful, flower arrangements are often pricey, especially when the freshest and finest blooms are used. This is why A.P Bloem offers their customers the chance to avail of beautiful arrangements with the price tag of their choice.
FLOWER SUBSCRIPTION. Clients who are constantly in need of flowers need not fret since A.P Bloem also offers subscriptions for their carefully crafted arrangements. You can choose from their two €25 arrangements, and a €40 arrangement, all of which are sent weekly and requires a minimum of four weeks of subscription.
PRODUCTS
FLOWERS FOR ALL OCCASIONS
SEASONAL FLOWERS
PLANTS
BOUQUETS IN VASES
DELIVERY AND PAYMENT
Accepts major credit cards and iDEAL. 'Select Your Own Budget' bouquets can be delivered the same day provided they were ordered before 11:00 AM.
5. Upperbloom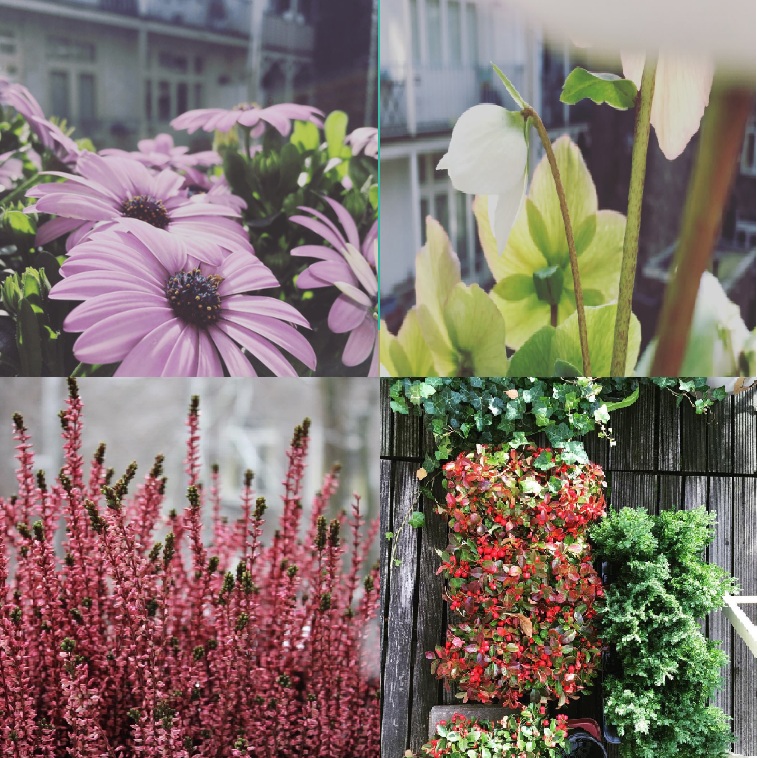 Place beautiful plants and flowers on your balcony all year round with the help of Upperbloom. Their convenient and hassle-free service gives customers planters already filled and arranged with the lovely seasonal blooms, plants and potting soil. 
Your order comes with free delivery and they'll even hang them up for you! The Upperbloom gardeners bring their knowledge and expertise to your balcony. Refresh your balcony blooms every season. 
With Upperbloom's swap-service, they can fix your balcony within 15 minutes by swapping your old planters with new ones.
WHAT PEOPLE LIKE
GOOD CUSTOMER SERVICE.

Upperbloom prioritizes the satisfaction of their customers that is why they make an effort to provide them with everything that they need starting from a seamless way to place orders, to numerous payment options, until the fast and reliable delivery services.

VALUE FOR MONEY.

Nothing is more important for Upperbloom than making sure that their beloved customers get what they truly deserve— premium quality of flowers. For them, every peso spent on their products are appreciated.
PRODUCTS
DELIVERY AND PAYMENT
The shop accepts payments made through PayPal, Visa, Mastercard, AMEX, iDeal.
6. URBANBLOOM.NL
Based in Amsterdam, Urbanbloom is a flower shop that specialises in both individual flower designs and event styling. They're well loved in the community thanks to their stunning creations, all of which are made with the freshest blooms in the market.
WHAT PEOPLE LIKE
FLORAL SUBSCRIPTION. Are you in need of a constant stream of flowers? Apply for Urbanbloom's flower subscription and you can expect fresh flower designs either on a weekly or bi-weekly basis. 
EVENT FLOWERS. Make your events brighter and much more special with Urbanbloom's event flowers. Everything is made to order, and one-of-a-kind considering the shop takes into consideration the occasion as well as the space and motif available. 
PRODUCTS
FLOWERS FOR ALL OCCASIONS
EVENT FLOWERS
PLANTS
FLOWER VASES
DELIVERY AND PAYMENT
Orders placed and paid for before 12:00 pm can be delivered the same day. 
7. ART & FLOWERS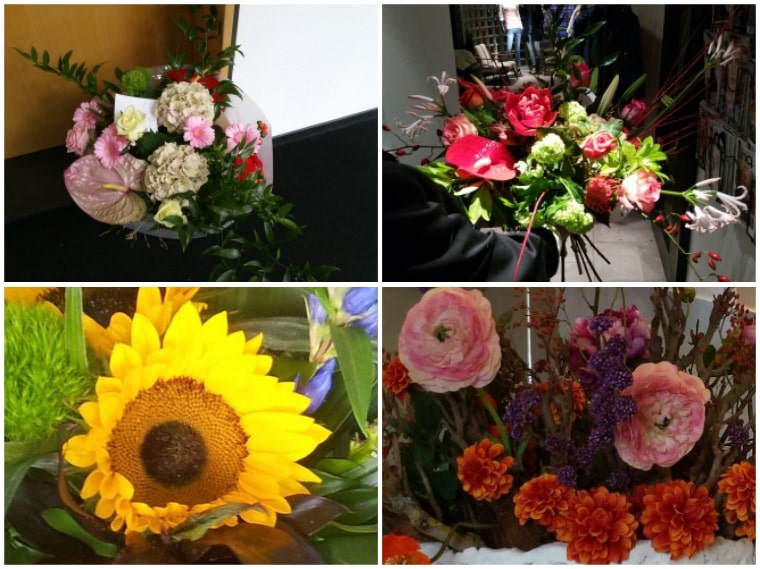 From the business name itself, Art & Flowers create their flower arrangements while incorporating art in it. The shop is best known for their creative and unique designs thus making them a perfect choice for those who are into classical, chic, and artsy products. If you are aiming for a truly unforgettable experience, make sure to place your orders now in Art & Flowers.
| | |
| --- | --- |
| SPECIALTY | Unique wedding bouquets |
| SELECTION SIZE | Large |
| STARTING PRICE | Contact the shop for the price list |
| DELIVERY FEE | Calculated at checkout |
| WEBSITE | http://www.artandflowers.nl             |
| SOCIAL MEDIA |   |
| CONTACT DETAILS | 0624674556 |
WHAT PEOPLE LIKE
ARTISTIC ARRANGEMENTS. The shop is best known for their beautiful and unique designs which are perfect not only as gifts but also as decorations to your romantic dinner, birthday party, or even a grand wedding.
ALWAYS AVAILABLE. The shop is open everyday to accommodate all your questions, take your orders, and deliver them so you would not have to worry about sending flowers anytime, anywhere because Art & Flowers always got your back.
PRODUCTS
Wedding bouquets
Funeral arrangements
Unique occasion flowers
Floral arrangements for company decoration
Floral arrangements for decorating events
DELIVERY AND PAYMENT
To know more about the delivery and payments details of the shop, make sure to contact them through their phone or the web.