Flower arrangements are not only made for decoration, they are also used for expression. The art of floristry helps us in expressing some of the deepest emotions and messages. Each of the elements from form, flower type, and color has a significant meaning which adds to the overall message of the arrangement. If you wanted to convey love, admiration, or sympathy, an expert florist would likely have the perfect arrangement for you. So, for the next occasion, you'll be celebrating, here are eight of the best flower delivery shops in Vancouver.
1. GARDENIA FLOWERS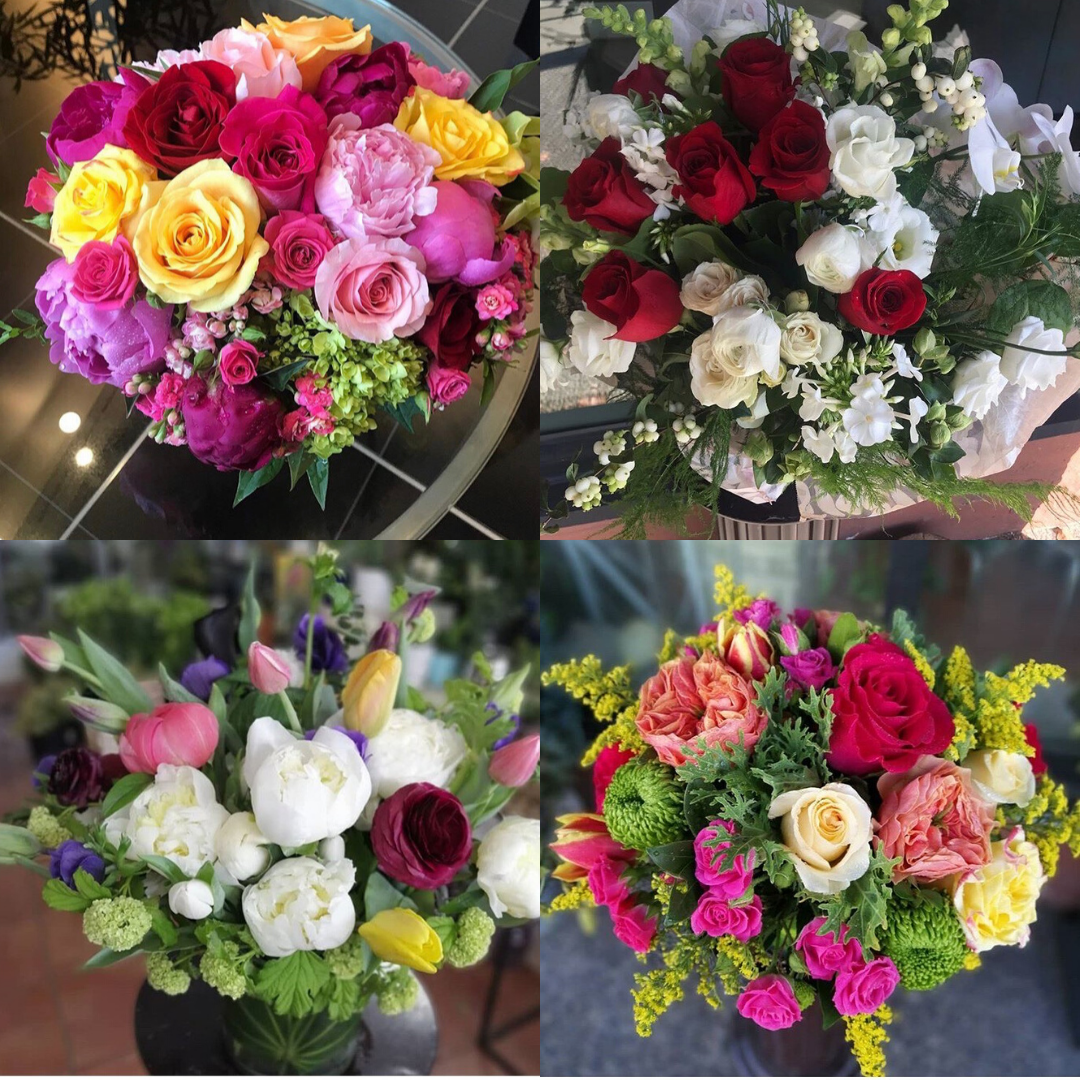 For over 40 years, Gardenia Flowers has been providing quality flowers for the Vancouver area. This is a trusted company that will deliver your flowers with the utmost care. Friendly staff, fast service, and beautiful flowers; that's the Gardenia Flowers guarantee.
SPECIALTY
Fresh cut flower designs
SELECTION SIZE
From medium to large
STARTING PRICE
$59.99
DELIVERY FEE
Calculated upon checkout
WEBSITE
https://vancouverflowers.net/
SOCIAL MEDIA
Facebook: @dunbarflowers
Instagram:@dunbarflowers
CONTACT DETAILS
604-269-9234
[email protected]
WHAT PEOPLE LIKE
LARGE SELECTION OF FLOWERS. What really makes Gardenia Flowers stand out is their wide collection of flowers. From your usual choice of flowers to the seasonal ones, they've got it covered.
PRODUCTS
FRESH FLOWER BOUQUETS
ROSES
DELIVERY & PAYMENT
Same-day delivery is available. Order anytime for next-day delivery. They accept Visa, Mastercard, Discover, and American Express.
2.  THE WILD BUNCH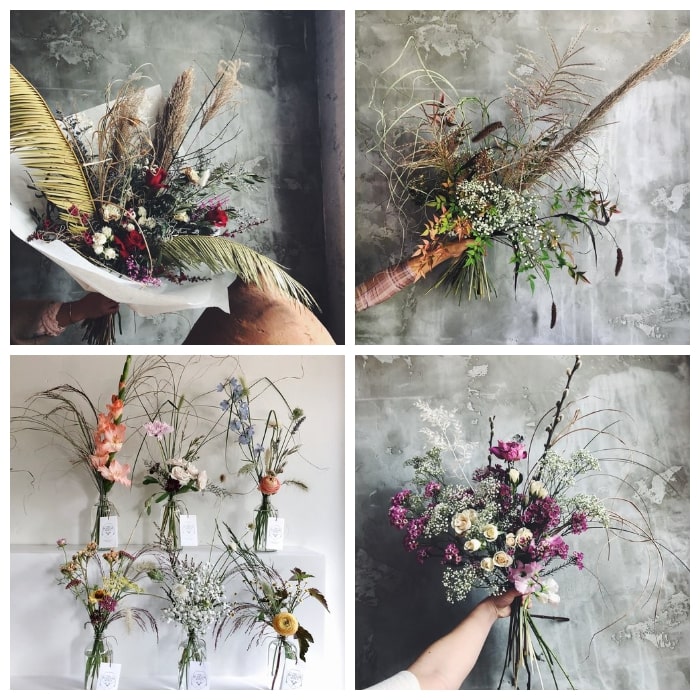 When it comes to elegant bouquets that stays true to the flower's natural aesthetic, you can always trust The Wild Bunch to make this a reality. Just located at 7 East 7th Avenue, this studio creates the loveliest made to order bouquets
| | |
| --- | --- |
| SPECIALTY | Seasonal and made-to-order bouquets |
| SELECTION SIZE | Curated |
| STARTING PRICE | $35 |
| DELIVERY FEE | Available upon checkout |
| WEBSITE | https://thewildbunch.ca/ |
| SOCIAL MEDIA | Instagram: @the_wildbunch Facebook: @thewildbunchyvr |
| CONTACT DETAILS | [email protected] 778-379-6494 |
WHAT PEOPLE LIKE
MADE TO ORDER BOUQUETS. The Wild Bunch assures every piece is created with the highest quality of flowers by selecting the seasonal ones to complete each bouquet. By having it made to order, you can expect each bunch is fresh and arranged to perfection.
WEDDING DECORATION. This company does not only sell flowers online, but they also cater to weddings. Bring your party to the next level by consulting with their in-house florists.
WORKSHOPS, STUDIO SESSIONS, AND PRIVATE PARTIES. Learn the art of flower arrangement by booking one of their available lessons. They practice a freestyle approach to flower design so you can expect your unique touch to shine in class.
PRODUCTS
DELIVERY & PAYMENT
Contact store within 24 hours of purchase. They accept all major credit cards.
3. EVVIE & OLIVE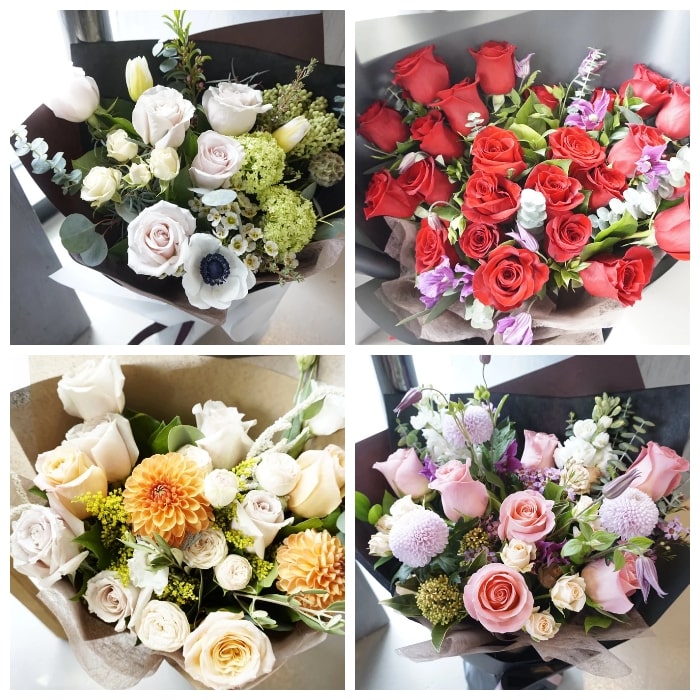 Beautiful, elegant and luxurious rose bouquets that won't fail to make your special someone swoon. This is Evvie and Olive guarantee. Enjoy their collection of regal bouquets full of generous amounts of flowers and foliage.
SPECIALTY
Elegant rose bouquets
SELECTION SIZE
Medium
STARTING PRICE
$38
DELIVERY FEE
$10 (free delivery for Marpole and Kerrisdale areas)
WEBSITE
https://evviefloral.com
SOCIAL MEDIA
Facebook: @Evvie&OliveFloralDesign
Instagram:@EvvieAndOlive
CONTACT DETAILS
604-620-8886
[email protected]
WHAT PEOPLE LIKE
LUXURY ARRANGEMENTS. The Evvie and Olive flower studio is a company that takes pride in its selection of boutique-style arrangements.  Made only from the highest quality of fresh flowers & individually arranged to perfection—these bouquets are certainly cut above the rest.
SNOWY WHITE GARDEN BOUQUET. This bouquet is a dreamy mix of cream-toned roses paired with seasonal flowers and foliage. A simple and elegant arrangement perfect for any romantic gesture.


PRODUCTS
BOUQUETS & ROSES: $66 – $688
FLORAL ARRANGEMENTS: $38-$230
DELIVERY & PAYMENT
They offer same-day delivery for orders placed before 12 pm, Monday to Saturday.  Orders placed after 12 pm will be delivered the following business day. They accept Visa, MasterCard, and Paypal for online purchases. 
4. NATURE'S WONDERS FLORIST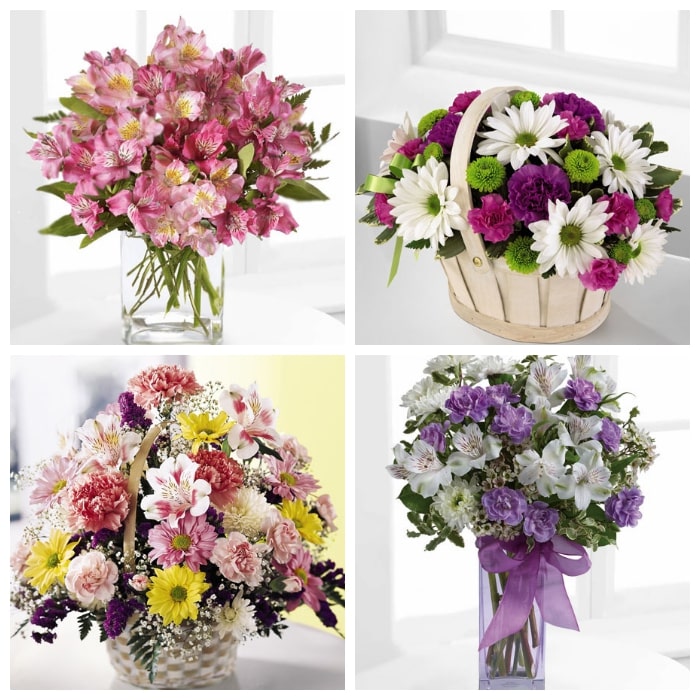 Nature's Wonders Florist is a Vancouver-based floral studio located at 60 East 2nd Avenue that wants to offer you an abundant selection of fresh and vibrant flowers—all a click away!
SPECIALTY
Elegant centerpiece
SELECTION SIZE
Large
STARTING PRICE
$38.99
DELIVERY FEE
$14.95
WEBSITE
https://www.vancouverflorist.com/
SOCIAL MEDIA
Facebook:@NaturesWondersFlorist
CONTACT DETAILS
[email protected]
1-800-606-1338 toll-free in Canada and the United States 1-604-875-7777 for international calls
WHAT PEOPLE LIKE
EYE-CATCHING CENTERPIECE COLLECTION. Their selection of flower arrangement will leave you wanting more. It's classic and vibrantly colorful all at the same time.
FAST, EFFICIENT SAME-DAY DELIVERY. Occasions always creep up faster than you were expecting. Good thing you can always rely on this Vancouver-trusted flower shop to get your flowers delivered on time.
PRODUCTS
LOVE AND ROMANCE: From $38.99
GET WELL SOON
SYMPATHY
DELIVERY & PAYMENT
Order by 1 pm for same-day delivery. They accept VISA, Mastercard, American Express, and PayPal.
5. Fleurs D' Epargne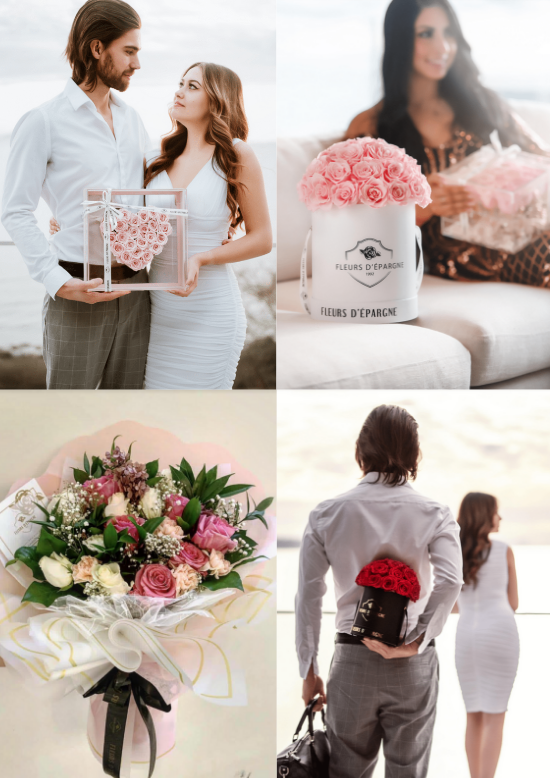 Established to revolutionize the flower business as we see it, Fleurs D'epargne has a vision to create a solution for easy to wilt flowers. With their findings and creativity, they were able to create real flowers that are preserved that lasts up to 3 years from actual fresh flowers!
But even as they sell those preserve flowers, sometimes people still need the smell and feel of a fresh flower. Not to worry as they also offer freshly cut flowers in their shop!
A total gem, make sure to get your preferred blossoms with Fleurs D'epargne.
SPECIALTY

Real flowers that last up to 3 years and fresh flowers

SELECTION SIZE

Large

STARTING PRICE

Starts at $29

DELIVERY FEE

$9.99-$13.99

WEBSITE

SOCIAL MEDIA

@fleursdepargne_

CONTACT DETAILS

Email: [email protected]
Phone: (604) 729 5729
WHAT PEOPLE LIKE
Donated Profits – What Fleurs D' epargne's sets apart from your typical business is that they actually do everything for a cause. Over 10% of their profit goes to a charity that protects pups and bigger dogs from being abused and rescues them from the dog meat trading that is currently happening in Asia.
Long-lasting Flowers –

 What most people would worry about fresh flowers are their longevity. With Fleurs D' epargne, you won't even have to worry about giving these blooms sunlight and water while they last for years.

Multiple Locations – Another noteworthy aspect about Fleurs D'epargne is its physical store. The shop has three locations around Vancouver and Toronto, making it one of the more accessible flower shops on the list. 
PRODUCTS
Rose Box start at $39
Roses start at $20
Flower Glass Domes start at $95
DELIVERY AND PAYMENT
AMEX, ApplePay, GooglePay, Shop Pay, VISA, PayPal, Mastercard
6. OUR LITTLE FLOWER COMPANY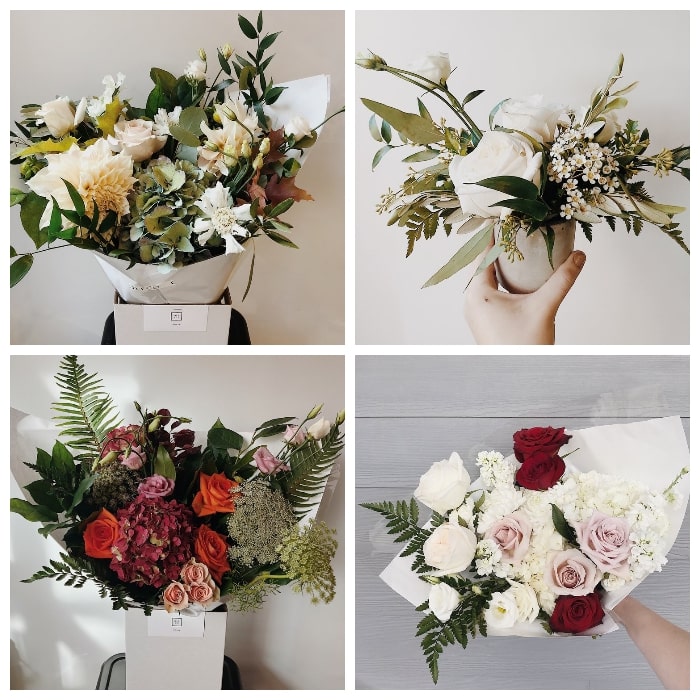 Modern, natural blooms in perfect wrappings are what you can get at Our Little Flower Company. No-frills design at honest prices available for all Vancouver locals.
| | |
| --- | --- |
| SPECIALTY | Boutique-style Seasonal Bouquets |
| SELECTION SIZE | Curated |
| STARTING PRICE | $22.50 |
| DELIVERY FEE | Available upon checkout |
| WEBSITE | https://www.olfco.ca/ |
| SOCIAL MEDIA | Instagram:@ourlittleflowercompany |
| CONTACT DETAILS | (604) 633-0283 |
WHAT PEOPLE LIKE
SEASONAL BOUQUETS. These bouquets are made from the freshest flowers. They only source quality stems from local and imported growers. Their weekly limited selection assures the quality and freshness of each bouquet available.
GORGEOUS ARRANGEMENTS. Our Little Flower Company only offers a limited flower catalog, but what they lack in numbers, they make up for quality. And when we say quality, we're talking about boutique-level arrangements. Check their Vased Arrangement, a simple and lush arrangement—perfect for any occasion.
PRODUCTS
BLOOMY BOUQUET
VASED ARRANGEMENT
ROSE BOUQUET
DELIVERY & PAYMENT
Order before 11 am for same-day delivery. They accept Visa, Mastercard and will soon be accepting AMEX payments.
7. BLOOMEX FLOWERS VANCOUVER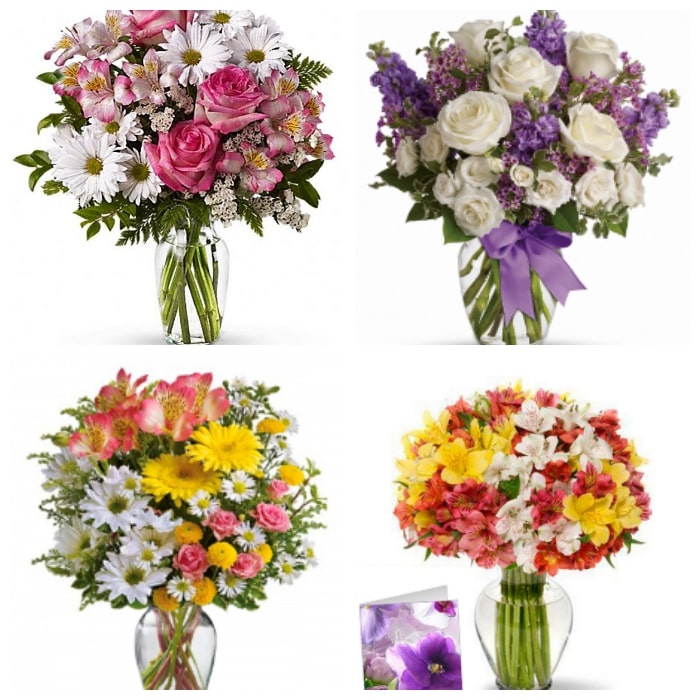 | | |
| --- | --- |
| SPECIALTY | Fresh flowers |
| SELECTION SIZE | Large |
| STARTING PRICE | $ 19.99 |
| DELIVERY FEE | Sign in needed |
| WEBSITE | https://bloomex.ca/florist/vancouver/ |
| SOCIAL MEDIA | Facebook: @bloomex Twitter: @Bloomex_canada |
| CONTACT DETAILS | 604 484 9112 / 1 882 912 5666 |
Bloomex Flowers started small in Toronto. It has grown into a full flower shop that provides flower consultancy, flower creation, and flower delivery across Canada. They believe in three principles in the creation of flower arrangement: fresh, fast, and fair. They always use fresh flowers in all their creations; they always deliver on time. Lastly, they offer products that are fairly priced.
WHAT PEOPLE LIKE
AFFORDABLE FLOWERS: The flowers that they use for their arrangements are always fresh and uniquely beautiful. More than that, they also use premium quality flowers. These adds up to their beautiful creations.
INNOVATIVE ORDERING CHANNELS: There are a number of ways to place your order with Bloomex. You could call to place an order, use live chat, and through the Ecommerce site.
LOYALTY PROGRAM: They offer one of a kind loyalty programs for their returning customers. For every purchase you make, you will receive 5% of the purchase value which they call the Bloomex Bucks.
PRODUCTS
BIRTHDAY: $19.99 – 109.99
SYMPATHY: $19.99 – $ 494.99
ANNIVERSARY: $ 19.99 – $ 499.99
JUST BECAUSE: $ 19.99 – $ 499.99
LOVE AND ROMANCE: $ 19.99 – $ 499.99
DELIVERY & PAYMENT
Sign in needed.
8. DAVIE FLOWERS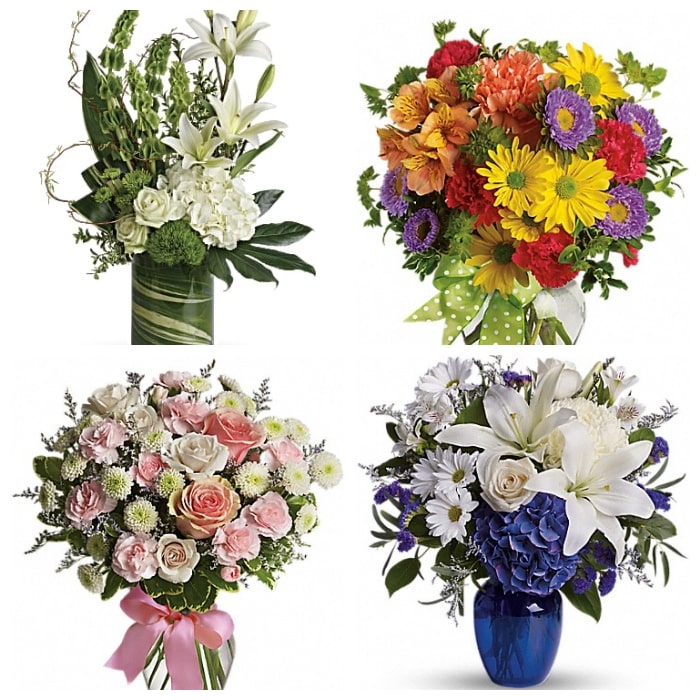 | | |
| --- | --- |
| SPECIALTY | Large inventory of flowers |
| SELECTION SIZE | Large |
| STARTING PRICE | $ 49.95 |
| DELIVERY FEE | Calculated upon checkout |
| WEBSITE | https://www.vancouverdavieflowers.ca/ |
| SOCIAL MEDIA |   |
| CONTACT DETAILS | (604) 685 9111 / (888) 818 3188 |
Davie Flower Shop is a gem. They will send flowers that are not just wonderful, but fabulous. They know how important flowers are for any relationship and celebration. That's why they make sure to do a great job in fulfilling their customers' orders. They make beautiful creations of flower arts that are perfect for different creation.
WHAT PEOPLE LIKE
LARGE INVENTORY OF FLOWERS: If you'll be needing flowers for bulk order, you could trust Davie Flower Shop with your floral needs. They have a huge selection of flower to fit full floral services.
TROPICALS: They have some of the rarest flowers in their inventory. If you're looking for tropical to incorporate on your design, there's a great chance that they have the flowers that you're looking for.
PRODUCTS
ANNIVERSARY: $ 54.95 – $ 402.99
BIRTHDAY: $ 54.95 – $ 344.99
GET WELL: $ 54.95 – $ 344.99
JUST BECAUSE: $ 49.95 – $ 409.99
ROMANTIC: $ 53.95 – $ 402.99
DELIVERY & PAYMENT
During peak season, place your order one day before the expected delivery. On normal days, place your order before 12 nn for same day delivery. They accept major credit cards.
9. QUEEN BEE FLOWER SHOP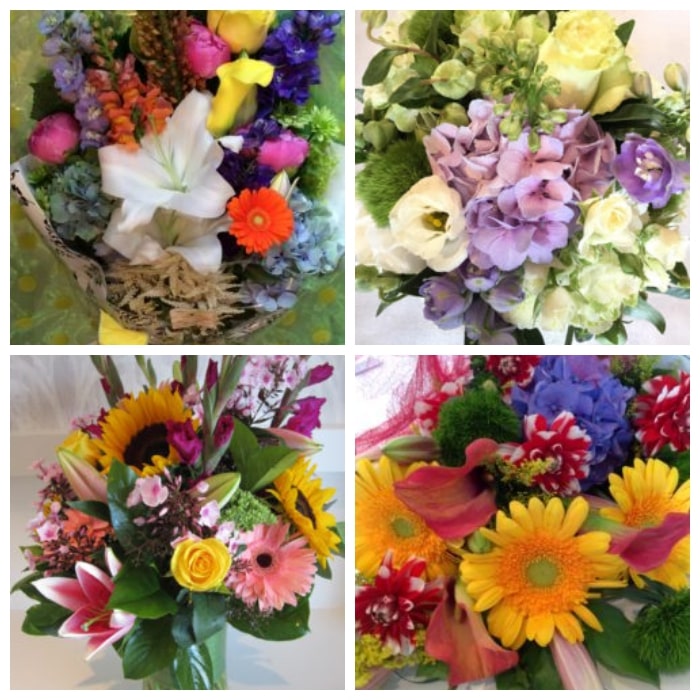 Queen Bee Flower Shop is the mother of floral creation that are not only beautiful but also flamboyant. If you happen to be in Vancouver's South Granville, you should check out their beautiful sidewalk display that they create to be a mini-oasis. The source fresh, create beautiful, communicate courteously, and delivers on time. In a nutshell, they give you the excellent flower delivery experience.
WHAT PEOPLE LIKE
LOCALLY GROWN FLOWERS: They source their flowers from locally grown farmers to ensure that the flowers they serve are always fresh.
UNIQUE COLLECTION OF GIFTS: They also have unique collection of gifts. If you want your gift to be a total package, they offer high quality pots, vases, crystals, and other gift ideas that would go well with the flower arrangement.
PRODUCTS
DELIVERY & PAYMENT
Major credit cards are accepted.
10. JIMMY'S FLOWER SHOP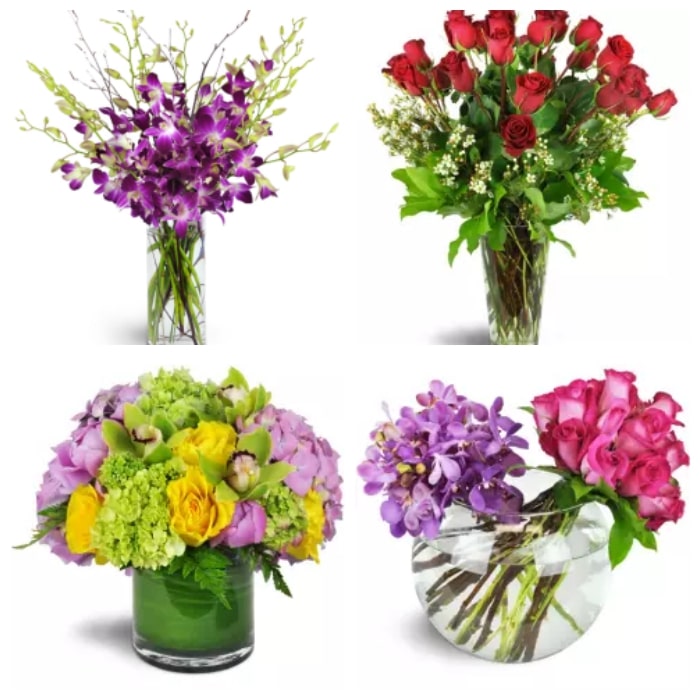 | | |
| --- | --- |
| SPECIALTY | Premium flower arrangements |
| SELECTION SIZE | Large |
| STARTING PRICE | $ 39.95 |
| DELIVERY FEE | Free |
| WEBSITE | https://www.jimmyflorist.com/ |
| SOCIAL MEDIA |   |
| CONTACT DETAILS | (604) 466 3103 |
Jimmy's Flower Shop should be your go to flower shop when visiting Vancouver. They offer seasonal flowers that would embody the feeling and freshness of the season. Aside from this, they also have specialty flowers for every occasion. If you want a flower to greet someone a happy birthday, they have that arrangement for you. If you need one to express sympathy, they surely have one for you too.
WHAT PEOPLE LIKE
PREMIUM FLOWER ARRANGEMENTS: You could have access to the most premium quality of flowers in the market. They want what's best for their customers. That's why you could only have premium quality flowers with Jimmy's Flower Shop.
SPECIALTY FLOWERS: They know that each occasion or celebration requires a different style and color of flowers. They create different flowers for each category. You could access it on their website.
PRODUCTS
GIFT BASKETS: $ 59.95 – $ 109.95
MODERN: $ 59.95 – $ 99.99
LILIES: $ 49.95 – $ 99.95
ROSES: $ 39.95 – $ 369.95
ORCHIDS: $ 49.95 – $ 169.95
DELIVERY & PAYMENT
Major credit cards accepted.
11. CELSIA FLORIST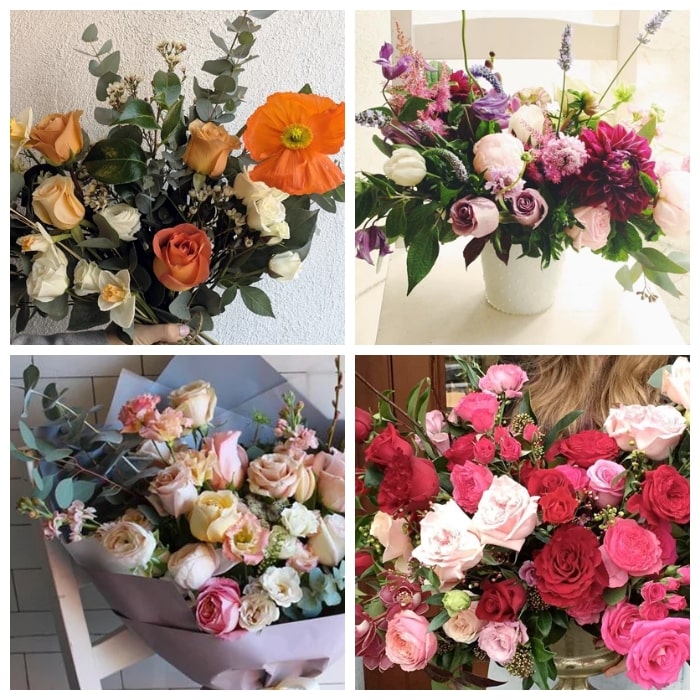 SPECIALTY
Wedding flower services
SELECTION SIZE
Curated
STARTING PRICE
$ 40
DELIVERY FEE
Calculated upon checkout
WEBSITE
http://www.celsiaflorist.com/
SOCIAL MEDIA
Facebook: @celsiafloral Instagram: @celsiafloral Twitter: @celsiafloral
CONTACT DETAILS

[email protected]

/ 888 6235742 / 604 731 3314
Celsia Floral could make every brides' floral dreams come true. Their wedding designs are stunningly elegant and sophisticated to equally complement the solemn ceremony. Their signature design is perfect as gift and centerpieces for a special event. They try to make the flowers more natural looking to complement the beauty of the flowers.
WHAT PEOPLE LIKE
EXOTIC FLOWERS: You'll probably find the most exotic flowers with Celsia Floral. If you want to incorporate a rare flower to your arrangement to add uniqueness and style, they probably have the flower in your mind.
ARRANGEMENT FOR EVERY BUDGET: They understand that there are different kinds of customers. If you want an elegant flower to show off, they have that for you. Or if you're in a budget, they also have the right flower for you.
PRODUCTS
SPRING: $ 45 – $ 250
STEMS: $ 50 – $ 125
ARRANGED FLORALS: $ 50 – $ 250
EVERYDAY FLORALS: $ 40 – $ 250
DELIVERY & PAYMENT
Inquire for more information.
12. FOUR SEASONS FLORAL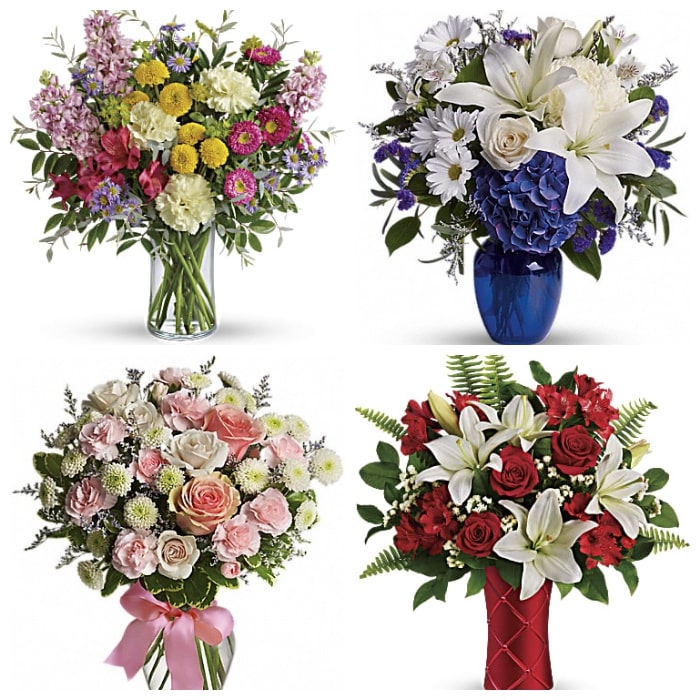 | | |
| --- | --- |
| SPECIALTY | Beautiful handcrafted flowers |
| SELECTION SIZE | Medium |
| STARTING PRICE | $ 49.99 |
| DELIVERY FEE | $ 15 |
| WEBSITE | https://www.4seasonsflower.ca/ |
| SOCIAL MEDIA | Facebook: @fourseasonsfloral Instagram: @fourseasonsfloristry |
| CONTACT DETAILS | 604 738 0678 / 877 738 0678 |
4 Seasons Flowers creates arrangements for each season. Their seasonal collection is absolutely dashing and looks extra sleek. The arrangements may look traditional, but these could be perfect for traditional family gatherings and interior spaces.
WHAT PEOPLE LIKE
BEAUTIFUL HANDCRAFTED FLOWERS: The flowers are handcrafted beautifully. The flowers look familiar, since they are designed traditionally. So, if you're not adventurous type of floral shopper, you could definitely try them for your floral needs.
HIGH QUALITY CUSTOMER SERVICE: Aside from the beautiful flowers, they also offer top notch customer service. Their staff are friendly and approachable. They are also backed by flower knowledge perfect for the delivery.
PRODUCTS
SUMMER BOUQUETS: $ 49.99 – $ 409.99
LAVISH: $ 64.99 – $ 409.99
MODERN: $ 54.95 – $ 409.99
ROSES: $ 49.99 – $ 269.00
DELIVERY & PAYMENT
Order before 1 pm for same day delivery.
13. ARBUTUS FLORIST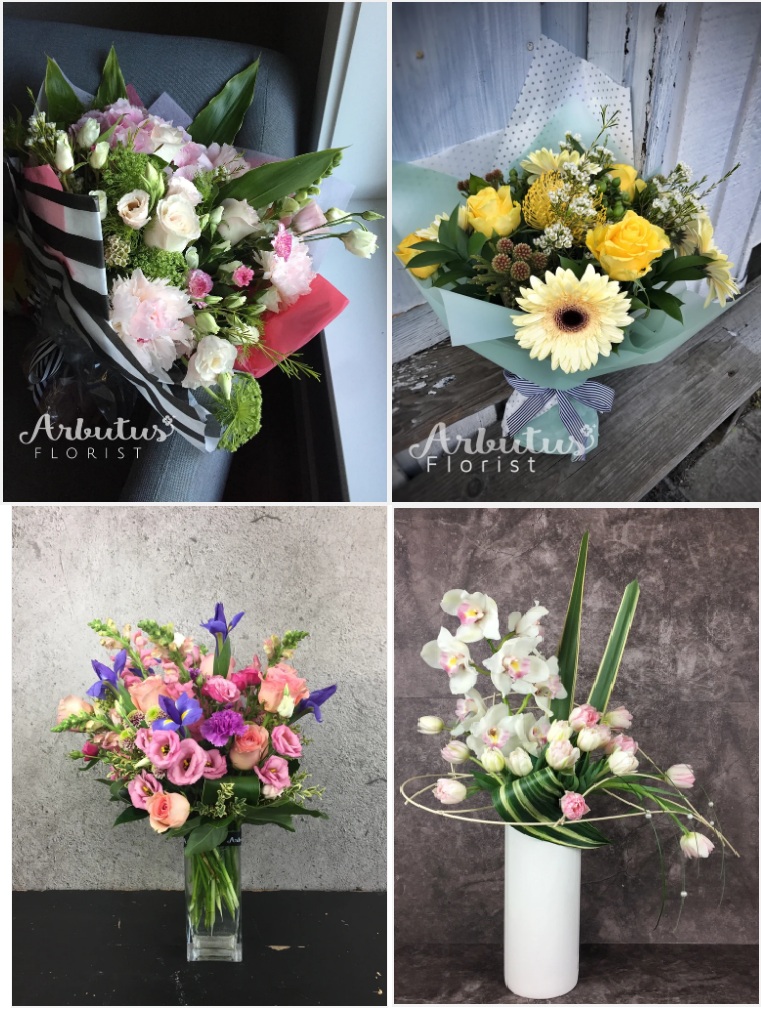 If you're a romanticist, then Arbutus Florist is a good choice for your flower studio. The owners of this shop believe that their job does not end once they combine the flowers together and create a unique arrangement. They believe that there's more to that as blooms entail emotions and is capable of projecting your feelings toward another person. Thus, their florists carefully choose the blooms that will be put into one arrangement.
| | |
| --- | --- |
| Specialty | Romantic flower bouquets |
| Selection Size | Large |
| Starting Price | $35 |
| Delivery Fee | Free – within 2km |
| Website | |
| Social Media | Instagram: @arbutusflorist |
| Contact Details | 604-731-3313 | [email protected] |
WHAT PEOPLE LIKE
OFFERS WORKSHOP.

In case you want to learn how it feels like to arrange flowers, you can attend the workshops provided by the flower studio. Here, you will learn the basics of floristry, the do's and don'ts, as well as some tips in arranging ornaments. 
FREE LOCAL DELIVERY.

To those who live within 2 kms of the shop, you are eligible for free delivery. So, if you are near them and you want to save some money, you can order from the shop. They have everything you need for flower and floral arrangements.

FREE WEDDING CONSULTATIONS.

If you have upcoming wedding or you're a wedding organizer, then it's best to team up with Arbutus Florist. Aside from their gorgeous blooms, they offer free consultations for weddings. This means that you can ask for advice or opinions from them without any charge. 
PRODUCTS
Flowers for any occasion –

$35 to $150

Sympathy flowers –

$35 to $450

Grand opening flowers –

$65 to $300

Preserved flowers –

$98
DELIVERY AND PAYMENT
Accepted payment: AMEX, Apple Pay, Mastercard, PayPal, Shopify Pay, VISA
14. THOMAS HOBBS FLORIST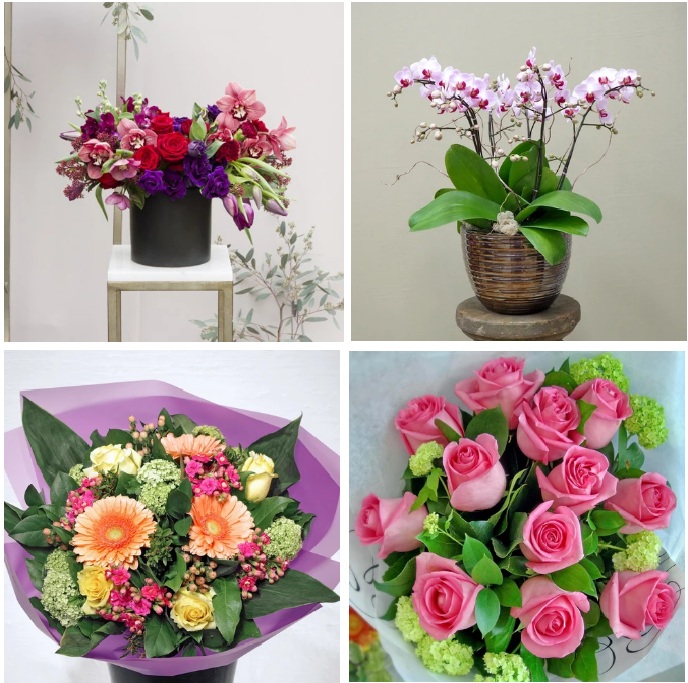 Built up in 1975, Thomas Hobbs Florist has been arranged in the core of Kerrisdale as a flower and gift shop. They source out flowers from local growers as well as imports from other countries. This is to create a varying collection to their blooms—from classic English country up to some chic and contemporary styles. The name, Thomas Hobbs Florist, has been used for 40 years and their customs continued as before: noteworthy assistance, remarkable blossoms and stunning environment. 
The shop has a group of refined florists which satisfies all the flower needs of the customers, taking into account the preferences and requests. With only the finest blooms, the shop guarantees that you will be satisfied with your orders.
Specialty

Seasonal collection

Selection Size

Moderate

Starting Price

$65

Delivery Fee

Calculated at checkout

Website

Social Media

Instagram: @thomashobbsflorist

Facebook: /ThomasHobbsFlorist

Contact Details

604.263.2601| [email protected]
WHAT PEOPLE LIKE
OPERATES FROM MONDAY TO SUNDAY.

It's difficult to find a flower shop that opens 7 days a week. Thus, it is a great relief for the customers when they found out that Thomas Hobbs Florist is open from Monday to Sunday. This means that they will not have to order their blooms over the weekdays and preserve it just for weekends. So, if you're among those who are looking for this kind of shop, then your search is over.

WIDE RANGE OF ACCEPTED PAYMENT.

Well, it is a hassle when you can't pay using your card or you only have cash with you. But, don't worry because the shop accepts a wide range of payment. This includes major debit cards, credit cards, as well as cash. That being said, you will not run out of options to pay the shop. 
PRODUCTS
Floral arrangement

– $120 to $380

Flower bouquets

– $100 to $250

Orchids

– $100 to $340

Planters

– $65 to $215

Roses

– $100 to $899

Seasonal flowers

– $65 to $300
DELIVERY AND PAYMENT
The shop accepts major credit cards, debit, and cash.
15. BUDGET BLOOMS
Make the most out of your special day and have Budget Blooms supply all your flower needs. The shop is known for decorating weddings and special events with their collection of luxurious and rustic flower arrangements. 
Aside from their specialized collection, you will also find other stunning flower arrangements in their online shop, particularly bouquets and flower vases for your everyday needs.
WHAT PEOPLE LIKE
MODERN DESIGNS.

The shop does not stop in exploring possible designs for their blooms. They make sure to always keep up with the current trend to make their collection always fresh-looking and trendy.

100% CUSTOMER SATISFACTION.

With a 4.8-rating on Google, Budget Blooms undoubtedly offers some of the most reliable and satisfying products and services that give the best value for money
PRODUCTS
WEDDING FLOWERS
BOUQUETS
VASE ARRANGEMENTS
CENTERPIECES
DELIVERY AND PAYMENT
Contact shop for more details.
16. Choice Flowers

With experience of over 20 years, Choice Flowers have continuosly been a go-to flower place for people in Vancouver. From blooming flowers, to potted plants, they are sure to provide only the best of qualities that would surely be loved by whomever you'd be giving them to. Have them create an arrangement for whatever occasion you need them to.
SPECIALTY

Hand-tied bouquets

SELECTION SIZE

Small

STARTING PRICE

Starts at $30

DELIVERY FEE

Starts at $6.99

WEBSITE

SOCIAL MEDIA

FB: https://www.facebook.com/Choice-Flowers

IG: @choice_flowers

CONTACT DETAILS

Phone: 604-689-1801
Mobile: 778-846-6546
WHAT PEOPLE LIKE
Designer Choice – For unique arrangements that is based on the best flowers of the day, you may opt to have a bouquet made from a designer's choosing. Be surprised and delighted with what they can do!
Same Day Delivery – If ever you're looking for last minute flower gifts, then Choice Flowers is definitely a shop you should go to. They accept orders until 1:30pm and ships all of them after that time.
PRODUCTS
Flower Bouquets – start at $40
Boxed Flowers – start at $90
Plants – start at $30
DELIVERY AND PAYMENT
Contact shop for more details.
17. CALLIA FLOWERS
Callia Flowers is the new online Canadian flower shop you should try. These passionate local florists are eager to make both the sender and the receiver extremely satisfied with their service—from purchase to delivery.
SPECIALTY
Weekly seasonal bouquets
SELECTION SIZE
Curated
STARTING PRICE
£14.99
DELIVERY FEE
$4-19
WEBSITE
https://calliaflowers.com
SOCIAL MEDIA
Facebook: @calliaflowers Instagram:@calliaflowers
CONTACT DETAILS
[email protected]
1-888-611-6651
WHAT PEOPLE LIKE
FRESH FROM THE MARKET BOUQUETS. The difference between grocery bought bouquets and Callia flowers' selections is that the latter only sources the best quality seasonal flowers straight from the market every single day. No flowers sitting on a cooler for days, only fresh-picked ones for the Vancouver dwellers.
100% HAPPINESS GUARANTEE. This company values their customers' comments and suggestions. Though they very rarely get concerns on their service, they're always up to make things right.
PRODUCTS
WEEKLY BOUQUETS: $59-$79
CALLIA'S CHOICE: $49-$69
DELIVERY & PAYMENT
They accept same-day orders until 10:30 am Pacific Time. They accept VISA, Mastercard, and American Express.