Klang is not the most developed places in Malaysia, but is surely carries a certain charm that drives people in. It has great historical and cultural significance. As you stroll to the streets of Klang, you may encounter a palace, mosques, and other establishments that are related to the Selangor Sulatanate. But aside from all these, other old buildings may spark your interest like the Royal Gallery, Former Chartered Bank Building, and many more.
While visiting Klang, you may also want to visit some of Malaysia's freshest treasures – its bright flowers. Here are six of the best flower delivery services in Klang.
1. ALIICE ART FLORIST SHOP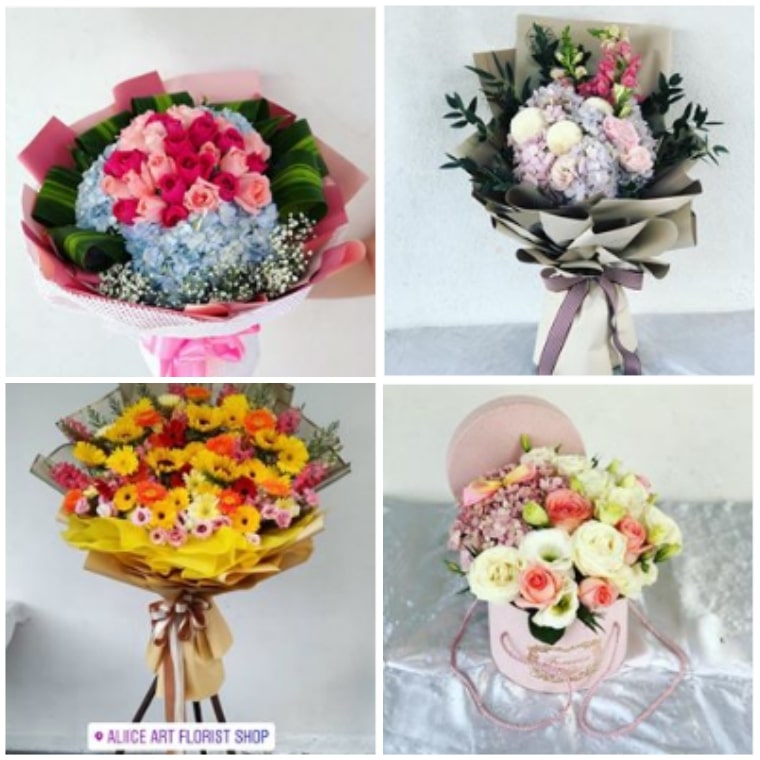 | | |
| --- | --- |
| SPECIALTY | Large selection of flowers for different occasions |
| SELECTION SIZE | Large |
| STARTING PRICE | RM 75 |
| DELIVERY FEE | Starts at RM 15 |
| WEBSITE | https://www.aliiceartflorist.com/ |
| SOCIAL MEDIA | Facebook: @AliiceArtFloristShop Instagram: @aliiceartflorist |
| CONTACT DETAILS | (603) 3342 1058 |
This little flower shop started in 1973, contributing to the beautiful floral industry in Klang Valley. Through the years, their creative florists has developed a large selection of flowers perfect for different occasions. The best part is not just the number of choices, but a number of quality choices. You see, each of these flower arrangements are fuelled by the creativity and finesse of the florists.
WHAT PEOPLE LIKE
FLOWER COURSES: If you want to broaden or deepen your understanding of flowers and flower arrangement, enroll in their courses. They have three courses depending on your level of expertise. You could choose professional courses or hobby floral courses.
FRIENDLY STAFF: Aside from the talented staff, their staff are also well-mannered. They will make sure that all your needs are attended and all your requests are accommodated.
PRODUCTS
BOUQUETS: RM 75 – RM 580
FLOWER BASKET: RM 75 – RM 500
FLOWER BOX: RM 80 – RM 350
FLOWER VASE DESIGN: RM 70 – RM 980
CENTERPIECE: RM 150 – RM 200
DELIVERY & PAYMENT
For same day delivery, place your order before 12 pm from Monday to Saturday. Meanwhile, for Sunday delivery, place your order 2d days before. You could pay through credit card, fund transfer, payment centers, and Paypal.
2. MUTIARA FLORIST & GIFT CENTRE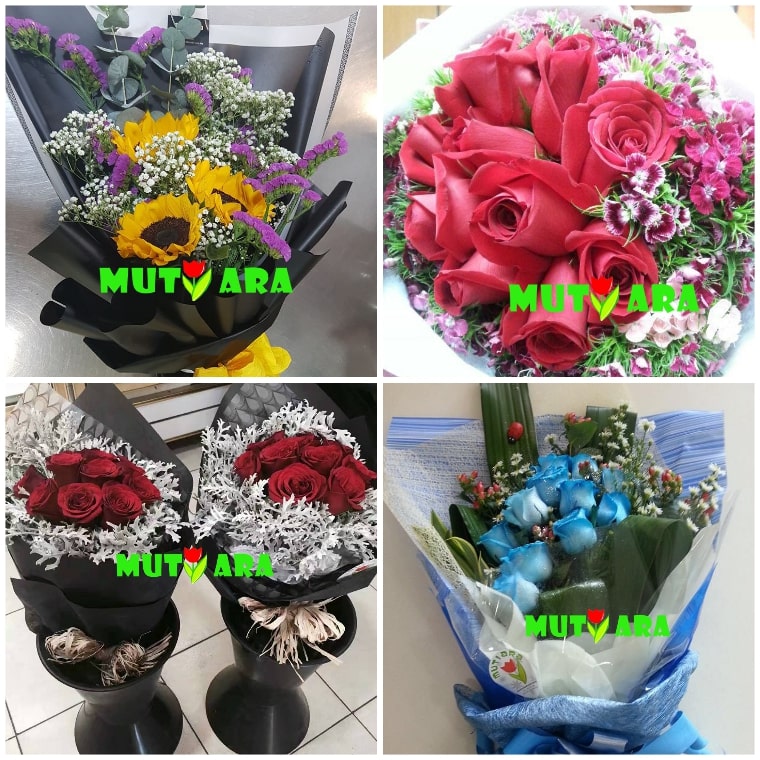 Since 1995, this renowned flower delivery shop has been providing floral design and arrangement to Klang Valley. They have gained outstanding number of loyal customers over the years. This could probably be because of the beautiful arrangements they make that they adjust to fit a specific occasion. Aside from the thriving flower business, they also make other gifts available in their site and on their physical shop.
WHAT PEOPLE LIKE
PROMPT SERVICE: Tired of the delayed flower delivery services of other flower shops? Here at Mutiara Florist, they make sure that they fulfill the expectations of their customers. If they promise to delivery after two working days, they will surely deliver.
AFFORDABLE PRODUCTS: If you're in a strict budget, flowers in this flower shop is affordable yet beautifully made. They still have premium flower collection for those who want to spend more.
QUALITY FLOWERS: The quality of their flowers are also astonishing. You'll be surprised to know that they could last beyond the normal wilting of flowers.
PRODUCTS
MOTHER'S DAY: RM 95 – RM 250
VALENTINE'S DAY: RM 160 – RM 480
ROSES BOUQUET: RM 130 – RM 580
HAND BOUQUET: RM 80 – RM 1200
BASKET FLOWERS: RM 100 – RM 400
DELIVERY & PAYMENT
They deliver your order after two working days. You could pay them through bank deposit or online transfer.
3. CHARMING COTTAGE FLORIST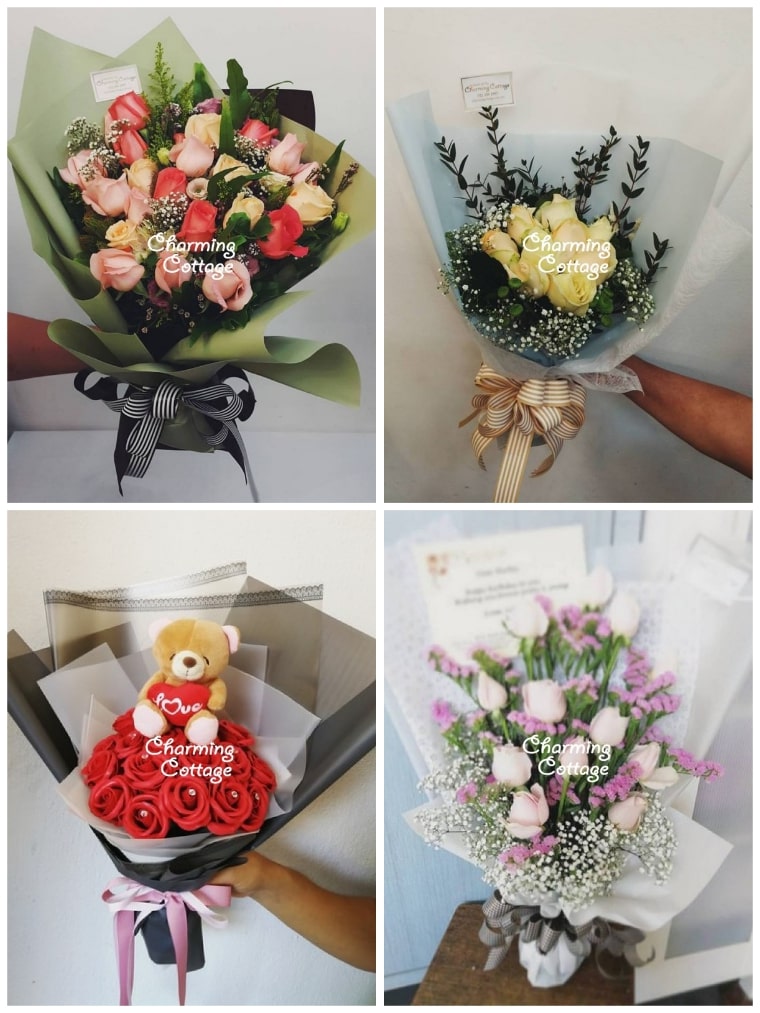 This flower shop's experience is beyond a small business'. They did wonderful and amazing jobs not just on flower arrangements for gifts, but they also do corporate space, events, sculpture design, interior decoration and a lot more. They expanded their works from the normal flower delivery services to full service flower delivery which includes services for events and office space.
WHAT PEOPLE LIKE
SUPERIOR DESIGN: If you wanted to level up your game, place your order now at Charming Cottage Florist. As you browse their site, you'll surely encounter beautiful flower arrangements that you won't see on other shops.
ORDER HISTORY: You could access your previous orders, the amount and other information about it through their website.
PRODUCTS
CORSAGES: RM 8 – RM 26
FLOWER BOX: RM 138 – RM 449
FLOWER BASKET: RM 100 – RM 399
HAND BOUQUET: RM 15 – RM 600
GRADUATION BOUQUET: RM 50 – RM 38-
DELIVERY & PAYMENT
They deliver from Mondays to Saturdays and accepts major credit cards like Mastercard, Visa, and American Express as payment.
4. A BETTER FLORIST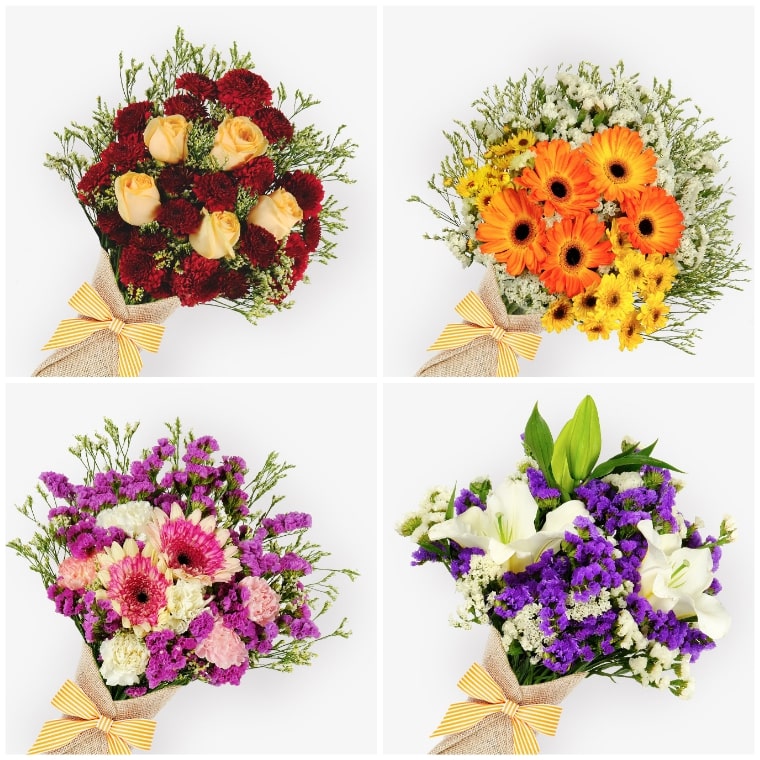 | | |
| --- | --- |
| SPECIALTY | Beautiful handcrafted flowers |
| SELECTION SIZE | Curated |
| STARTING PRICE | RM 99 |
| DELIVERY FEE | Free |
| WEBSITE | https://www.abetterflorist.my/ |
| SOCIAL MEDIA | Facebook: @ABetterFlorist Instagram: @betterflorist |
| CONTACT DETAILS | 65 3163 1525 / [email protected] |
A Better Florist commits to their business name to be better choice of flower delivery services than their competitors. They ensure that their service is better in many ways from the beautiful flower arrangements up to delivery. They guarantee flower delivery services that would meet the expectations of their customers.
WHAT PEOPLE LIKE
FRESH FLOWERS: They believe that the quality of flowers is paramount in flower arrangement creation. Flowers are directly sourced from Cameron Highlands to ensure freshness and longevity of the flowers.
AFFORDABLE FLOWERS: Since flowers are locally and directly sourced, you are also assured that their products are affordable.
PRODUCTS
SIGNATURE BLOOMS: RM 135 – RM 190
PREMIUM: RM 435
FARMER'S CHOICE: RM 99 – RM 235
DELIVERY & PAYMENT
They deliver from Monday to Saturday.
5. HAPPY BUNCH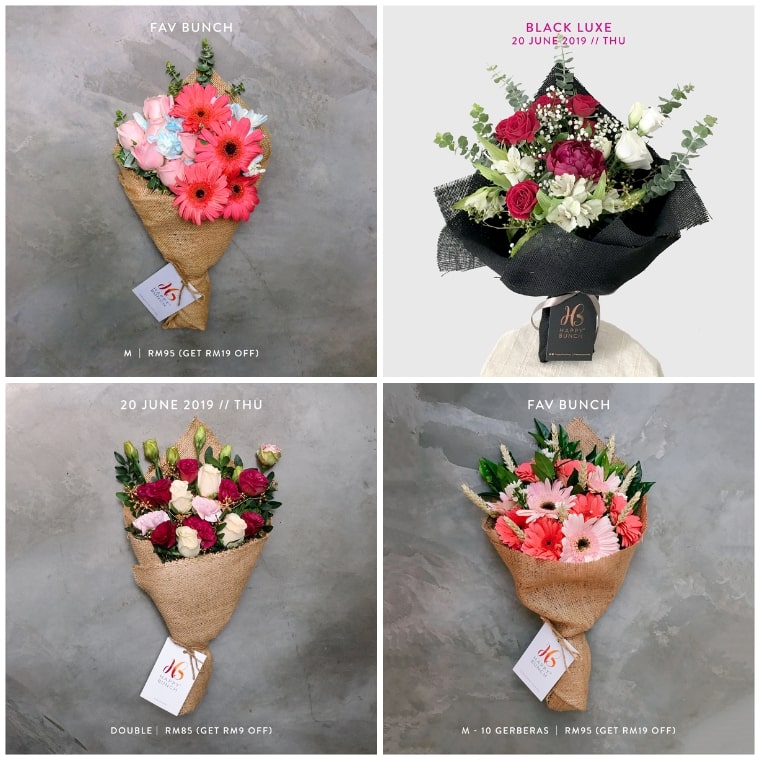 A Happy Bunch has one mission. That is to make people sending flowers happy with their service and the people receiving the flowers happy with the product. The wonderful flower arrangements available in the site are curated. They only use seasonal flowers and the arrangements are uploaded on a daily basis. This way, they assure you of fresh and quality flowers and design.
WHAT PEOPLE LIKE
SAVE SPECIAL DATES: Don't forget another special date with A Happy Bunch. Through their website, they could save important dates that you don't want to miss out. They'll send you a reminder to ensure that you're always updated.
FRESH FLOWERS: They create new flowers arrangements daily depending on the available flowers that have just been sourced out. This way they guarantee their customers that flowers are always fresh.
PRODUCTS
DELIVERY & PAYMENT
Enjoy free same day delivery for products purchased from RM 47; place your order before 12:30 for delivery before 6 pm.
6. SCENTALES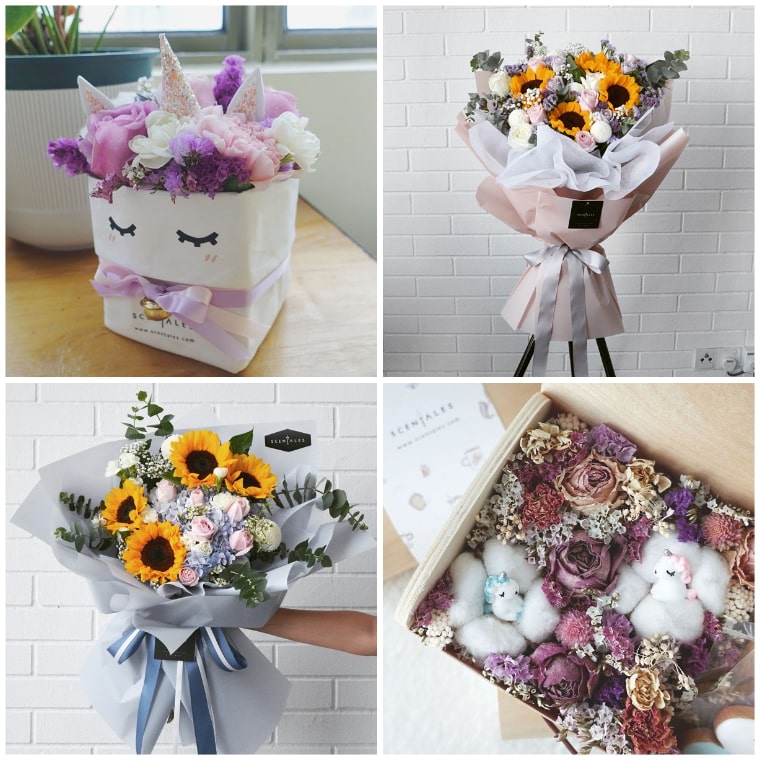 | | |
| --- | --- |
| SPECIALTY | Cute and refreshing designs |
| SELECTION SIZE | Medium |
| STARTING PRICE | RM 25 |
| DELIVERY FEE | Free |
| WEBSITE | http://www.scentales.com/ |
| SOCIAL MEDIA | Facebook: @scentales Instagram: @scentales |
| CONTACT DETAILS | (03) 76212657 / [email protected] |
Looking for a trendy take on flowers? Here at Scentales, they create playfully creative flowers that are a perfect gift for a friend or your daughter who like cute designs. Their unique take on flower designs set them apart from other flower shops. Apart from this, they also guarantee the quality of their flowers by sourcing only the most premium flowers.
WHAT PEOPLE LIKE
ORDER TRACKING: Lose the anxiety and uncertainty on your flower delivery. At Scentales, they will let you track the progress of your order. Just provide the order ID and Billing address and they'll give you the status right away.
CREATIVE ARRANGEMENTS: Have you ever dreamt of a unicorn flower bouquet or a unicorn flower box, they have it here at scentales. Their creativity truly translates into their playful and one of a kind flower designs.
PRODUCTS
LIMITED EDITION: RM 45 – RM 235
GRADUATION: RM 25 – RM 265
FRESH FLOWER BOUQUET: RM 95 -RM 445
DRIED / PRESERVED FLOWERS: RM 45 – RM 225
PETITE FLOWER BOUQUET: RM 35 – RM 84
DELIVERY & PAYMENT
They deliver from Mondays to Saturdays on the same day you ordered.