Al Ain is one of the oldest permanently inhabited settlements. In fact, it has been awarded as one of the World Heritage Site. Being a home of rich historic buildings and artifacts, museums and site tours are usually done in the area. You could also see a beautiful view of the city by going to the highest peak in UAE, the Jebel Hafeet.
There are a lot more things to do in this area. You should also check the blooming floral industry. There are expert florist that could be perfect for your next floral needs. Here are eight of the best flower deliveries in Al Ain.
1. AI ARA GIFTS AND FLOWERS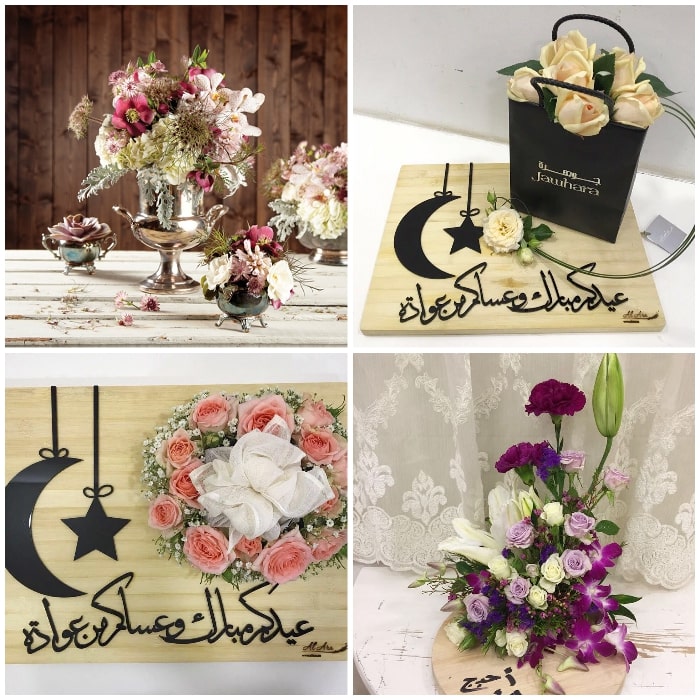 | | |
| --- | --- |
| SPECIALTY | High quality products |
| SELECTION SIZE | Medium |
| STARTING PRICE | AED 25 |
| DELIVERY FEE | Contact for inquiry |
| WEBSITE | http://www.alara.ae/ |
| SOCIAL MEDIA |   |
| CONTACT DETAILS | +97137844022 / + 97137379822 / info@alara.ae |
Al Ara is from their local language which translates to a number of plants. They are committed to deliver quality flowers and services to their customers. They know that flower arrangements are a reflection of their customers' message and emotions. That's why they create strive to provide the expert floral services to encapsulate a customer's message into a bouquet or flower arrangement.
WHAT PEOPLE LIKE
DIFFERENT STYLE OF FLOWER ARRANGEMENT: They make flower arrangements in no singular style. They employ different styles in creating the perfect flower arrangement. Whether you want a traditional or a modern design, they might have it for you.
TOP NOTCH CUSTOMER SERVICE: Aside from the delivery and floral services, they also make sure that they provide quality customer service. They make sure to develop the skills and professionalism of their staff to attend better to a customer.
PRODUCTS
NEW ARRIVAL: from AED 25
CEREMONIAL:
CLOTH WRAPPING:
GIFT ARRANGEMENTS:
CENTERPIECES:
DELIVERY & PAYMENT
Contact them for more information.
2. MAISON DES FLEURS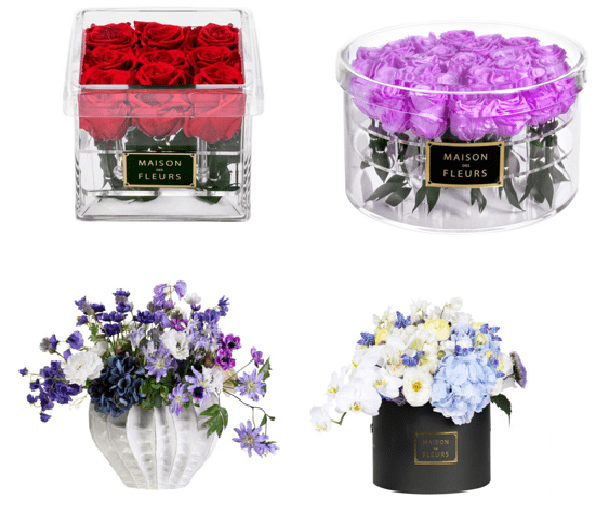 | | |
| --- | --- |
| SPECIALTY | Seasonal flowers |
| SELECTION SIZE | Medium |
| STARTING PRICE | AED |
| DELIVERY FEE | Varies on date |
| WEBSITE | http://maisondesfleurs.com/ |
| SOCIAL MEDIA | Facebook: @maisondesfleurslebanon Instagram: @maisondefleurslebanon Twitter: @mdf_uae |
| CONTACT DETAILS | +961 70000 579 / + 961 1989 579 / mail@maisondesfleurslb.com |
Perfection is the ultimate goal of Maison Des Fleurs. They strive to reach that certain level of excellence in every creation they make for their customers. You could definitely notice a certain degree of excellence from their creations. The elegant flower arrangements look well thought of and well put together. You'll be amazed at how they make this flowers truly speak excellence and elegance at the same time.
WHAT PEOPLE LIKE
SEASONAL FLOWERS: They showcase flower collections depending on the season. It encapsulates the beauty of the season, and it adds variety and freshness to their collection of products.
FRESH AND LONG LASTING ROSE: They also offer fresh and long lasting roses in a boxed arrangement. This definitely looks elegant in the transparent box and hat box. They also have a variety of roses to choose from.
PRODUCTS
FRESH ROSES: AED 385 – AED 37400
LONG LIFE ROSES: AED 385 – AED 37400
ORCHIDS: AED 630 – AED 4750
FAUX FLOWERS: AED 365 – AED 765
SUMMER COLLECTION: AED 290 – AED 3155
DELIVERY & PAYMENT
They offer next day delivery and major credit cards accepted.
3. A BETTER FLORIST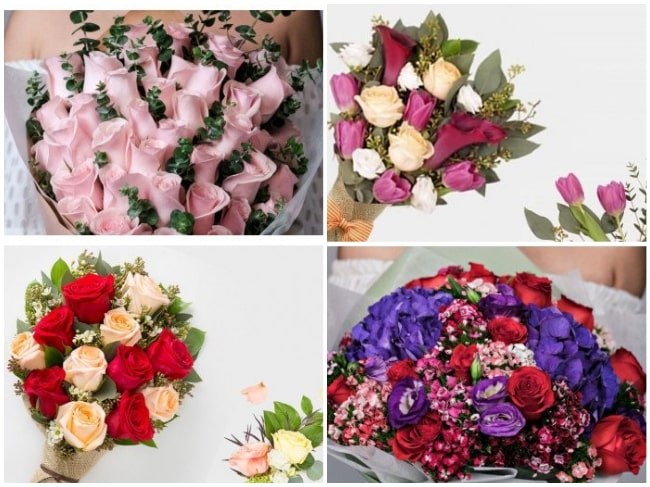 A Better Florist promised to be one step ahead of their competitors, whether on design, speed, or quality of products. They believe that they are much better than other flower delivery options in Al Ain. For them, flowers have a unique story to tell. The story of the sender he / she wanted to convey to the receiver like love, grief, sadness, pride, and others.
WHAT PEOPLE LIKE
FRESH FLOWERS: Flowers that they use are sourced directly from Cameron Highlands which is home of beautiful flower farms.Through this, the longevity of flower freshness would no longer be a problem.
PROFESSIONAL FLORIST: They have great staff who would help you in creating your dream flower arrangements. The level of creativity and skills would really result to a satisfying and fun floral shopping for their customers.
QUALITY PACKAGING: They made their own customized box that would do justice to the  beautiful flowers, while preserving the quality of flowers.
PRODUCTS
SIGNATURE BLOOMS: AED 282 – AED 436
PREMIUM COLLECTION: AED 318 – AED 509
FARMER'S CHOICE: AED 282 – AED 365
DELIVERY & PAYMENT
Enjoy free 90 minutes delivery.
4. OLEANDER FLOWERS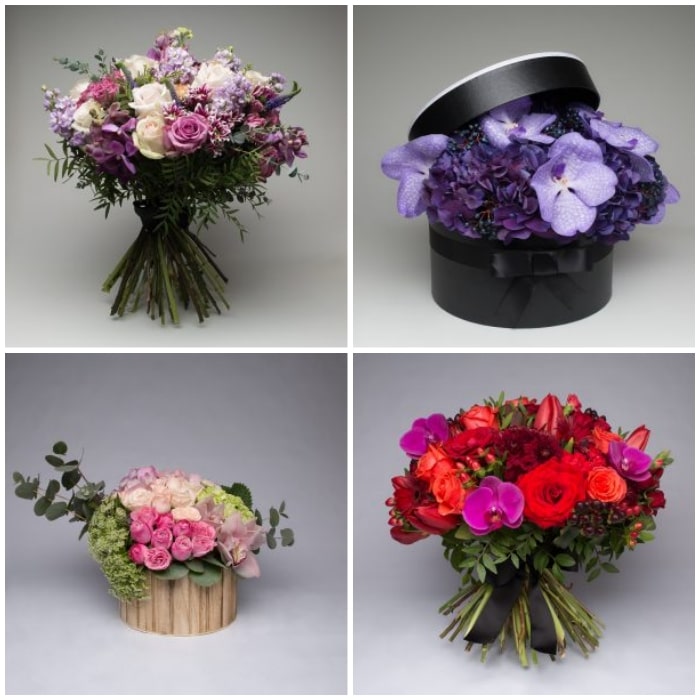 | | |
| --- | --- |
| SPECIALTY | Quality designs and arrangements |
| SELECTION SIZE | Large |
| STARTING PRICE | AED 145 |
| DELIVERY FEE | Free |
| WEBSITE | https://www.oleanderonline.com/ |
| SOCIAL MEDIA |   |
| CONTACT DETAILS | +971 4344 0560 |
Since 1975, Oleander has been consistent players in the flower arena. They offered not only flower arrangements for interior design, but also for exterior like garden landscaping. They have since grown into a full time flower shop that caters to all the floral needs in Al Ain. Today, Oleander is now considered one of the top brands in flower arrangements.
WHAT PEOPLE LIKE
HIGH END QUALITY PRODUCTS: Products are the most essential part of every business, especially in a flower shop. Due to the fragility and longevity of flowers, sourcing the right flowers should always be number one.
HIGH END QUALITY SERVICES: To complement the quality products that they already have, they also ensure that services for the customers are met with utmost care and attention.
PRODUCTS
BOUQUET: AED 220 – AED 650
FLOWER ARRANGEMENT: AED 145 – AED 2320
SEASONAL FLOWERS: AED 180 – AED 760
DELIVERY & PAYMENT
From Saturday to Thursday, they deliver from 8:30 – 9:00.
5. BLACK TULIP FLOWERS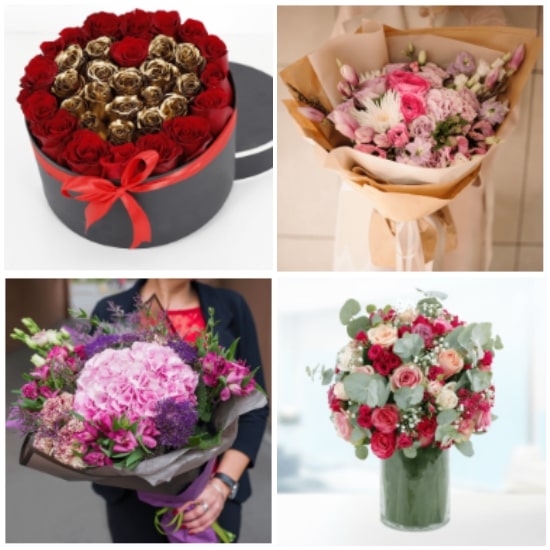 | | |
| --- | --- |
| SPECIALTY | Specialty flowers |
| SELECTION SIZE | Large |
| STARTING PRICE | AED 99 |
| DELIVERY FEE | Starts at AED 41 |
| WEBSITE | https://www.blacktulipflowers.com/ |
| SOCIAL MEDIA | Facebook: @blacktulipflowersuae Instagram: @blacktulipflowersuae Twitter: @blacktulipuae |
| CONTACT DETAILS | +971 526464258 / +971 344 0350 / queries@blacktulipflwoers.com |
Since 1990, Black Tulip Flowers has grown into a fully grown flower shop that provides flowers, foliage, and ornamental plants to their customers. Until now, they still strive to be innovative to keep up with the changing floral industry. They wanted to source all quality products from the top growers internationally. They keep the freshness of the flowers by keeping it in cool storage even when transported to distribution areas.
WHAT PEOPLE LIKE
SPECIALTY FLOWERS: They have all the flower arrangements for a special occasion. If you want flowers or a romantic getaway, they surely have those types of flowers for you.
BOXED ROSES: They have all the beautiful flower arrangements that have a really sophisticated look for your loved one. You girlfriend would be thrilled to receive a new yet beautiful boxed rose for your anniversary.
PRODUCTS
HAND BOUQUET: AED 99 – AED 3999
FLOWER COMBO: AED 149 – AED 850
WREATH: AED 300 – AED 649
LONG LASTING ROSES: AED 250
FLOWERS IN A BOX: AED 175 – AED 599
DELIVERY & PAYMENT
Enjoy same day delivery by ordering before 7 pm. Major credit cards are accepted.
6. BLISS FLOWERS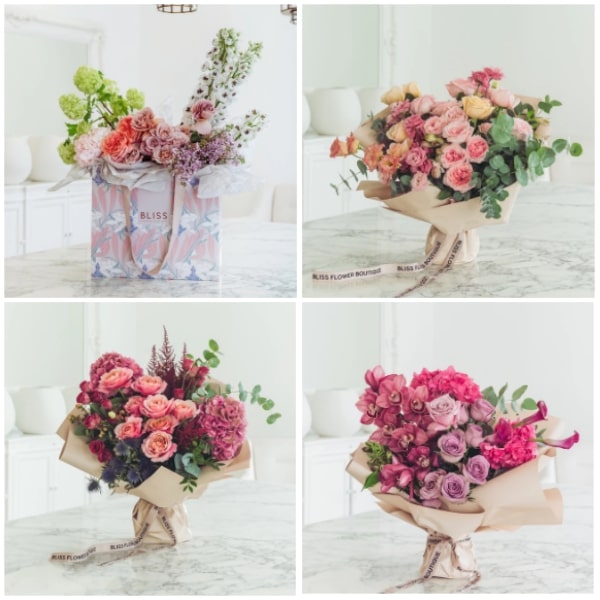 | | |
| --- | --- |
| SPECIALTY | Contemporary design |
| SELECTION SIZE | Medium |
| STARTING PRICE | AED 195 |
| DELIVERY FEE | Calculated upon checkout |
| WEBSITE | https://blissdubai.com/ |
| SOCIAL MEDIA | Facebook: @BlissFlowersDesignUae Instagram:  @blissflowersuae |
| CONTACT DETAILS | 80025477 / info@blissuae.com |
Bliss Flower Boutique has two flower shops to reach more customers in United Arab Emirates. Each flower arrangement is a product of their talented florists' passion. They wanted to make each arrangement unique on their own. But they also keep in mind the preferences of their customers. That's why the creations are a product of their own interpretation of the customer's needs adding their signature touch.
WHAT PEOPLE LIKE
CONTEMPORARY FLOWER ARRANGEMENTS: Inspired by the trends in design and fashion, their talented florists creates contemporary flower arrangements that are trendy yet familiar. So if you wanted a dash of bright and fresh selection, visit their site to learn more.
ELEGANT DESIGNS: If you've visited their site already, one thing is common among the designs – it's elegant. The sophistication is trademark in all of their creations which make these perfect for that equally sophisticated woman in your life.
PRODUCTS
BLISS BOUQUETS: AED 300 – AED 2940
BLISS SPECIALS: AED 250 – AED 2380
BLISS & CHOCOLATE: AED 195 – AED 730
BLISS & HOME FRAGRANCE: AED 530 – AED 830
BLISS & DUMYE: AED 520 – AED 600
DELIVERY & PAYMENT
Major Credit Card & Paypal
7. THE FLOWERFUL PROJECT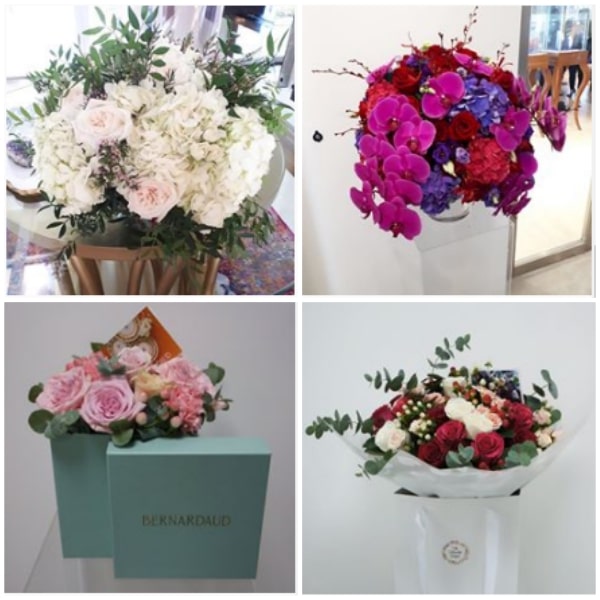 | | |
| --- | --- |
| SPECIALTY | Chic flowerful box |
| SELECTION SIZE | Medium |
| STARTING PRICE | AED 299 |
| DELIVERY FEE | AED 99 |
| WEBSITE | https://flowerful.co/ |
| SOCIAL MEDIA | Facebook: @flowerfulproject Instagram: @theflowerfulproject Twitter: @TheFlowerful |
| CONTACT DETAILS | +971 52 616 4863 |
Flowerful project is unique among other flower delivery shops. They let you play with the simplest box to create a sophisticated flower arrangement. Aside from this, they also create flower arrangements exclusively for the customer. They always consider the preferences of their customers, so they add that personal touch to each arrangement they create.
WHAT PEOPLE LIKE
FLORAL WORKSHOPS: If you want to deepen your knowledge of flowers, learn from the best. They offer training to learn the basics of floristry and flower care.
CHIC FLOWERFUL BOX: You'll definitely love the simple yet very beautiful flower arrangement in a box. The simplicity of the brown box topped with colorful flowers look really beautiful and chic.
EUROPEAN DESIGN: Their signature flowers are inspired by the European design. The finesse in creation and the elegance will truly make the flowers stand out.
PRODUCTS
DELIVERY & PAYMENT
Major credit & debit cards accepted.
8. FERNS & PETALS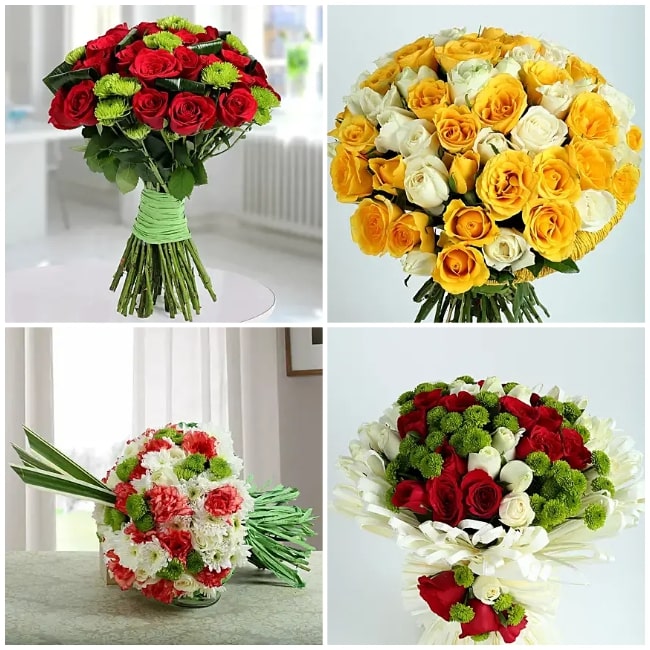 | | |
| --- | --- |
| SPECIALTY | Low cost flowers |
| SELECTION SIZE | Large |
| STARTING PRICE | AED 99 |
| DELIVERY FEE | AED 50 |
| WEBSITE | https://www.fnp.com/ |
| SOCIAL MEDIA | Facebook: @fernsnpetalsindia Instagram: @fernsnpetalsindia Twitter: @FernsNPetals |
| CONTACT DETAILS | 91921 242 2000 |
Ferns N Petals is one of the leading and well known players in the flower industry. They have a huge selection of flower for every budget, every occasion, every color, and every flower type. Choices will not be an issue, because you could browse through their selection and the flowers choices will be unending.
WHAT PEOPLE LIKE
LOW COST FLOWERS: If you're in a budget, you could surely see low costing flower arrangements. And the best part is: flower arrangements are still on quality and beautifully made.
SPECIALTY FLOWERS: Whatever the occasion you are celebrating is, they surely have the right flower arrangement for you. They believe in the power of flowers in making a special event extra special, so they create flowers that would convey the same message.  
PRODUCTS
FLOWER BOUQUETS: AED 22.48 – AED 2515.97
FLOWER ARRANGEMENTS: AED 30.94 – AED 3989.52
VASE ARRANGEMENT: AED 39.39 – AED 636.70
DESIGNER BOUQUETS: AED 30.94 – AED 281.69
DELIVERY & PAYMENT
Major credit cards are accepted.