There is no specific perfect time to send flowers because every day should be perfect for sending flowers! It doesn't always have to be a special occasion. Share the beauty and fragrance of freshly handcrafted flowers to a loved one. Surprise them with flowers now and let the positivity spread around your circle.
Check these eight flower delivery shops in Qatar. You will never go wrong with these talented and an excellent shops. Place an order now!
1. ONLY ROSES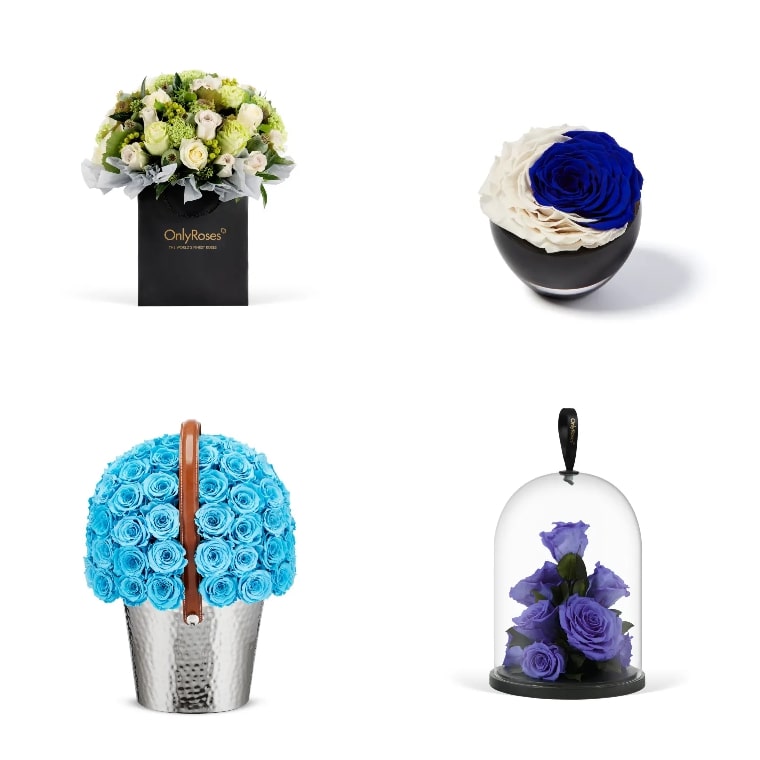 | | |
| --- | --- |
| SPECIALTY | Luxury rose collection |
| SELECTION SIZE | Curated |
| STARTING PRICE | ر.ق 300 |
| DELIVERY FEE | Calculated upon checkout |
| WEBSITE | https://www.only-roses.qa/ |
| SOCIAL MEDIA | Facebook: @OnlyRosesGlobal Instagram: @onlyroses Twitter: @OnlyRoses |
| CONTACT DETAILS | +97444677098 / + 97444077249 / + 9743332795 |
Ready to see roses in different forms and designs? Experience the beauty of roses in a luxurious form through Only Roses. This flower shop only works with roses in all their arrangements. They create luxurious designs placed in various yet sophisticated containers that bring out the elegance in flowers.
WHAT PEOPLE LIKE
PREMIUM QUALITY ROSES: How do you create luxurious arrangements? Start with excellent quality of flowers. Only roses source out only premium quality of flowers in ensuring beautiful flower designs.
INFINITE ROSES: Only Roses is known for their collection of preserved roses. These could last up to a year without watering.
EXCELLENT CUSTOMER SERVICE: Experience luxury not just in their products, but also in their services. You could place your order across different channels through phone, online, and their physical store.
PRODUCTS
CLASSIC ROSE: ر.ق 300 – ر.ق4300
INFINITE ROSE: ر.ق 325 – ر.ق14300
LUXURY COLLECTION: ر.ق 2100 – ر.ق 14300
DELIVERY & PAYMENT
They deliver from Monday to Saturday.
2. AMR FLOWERS

| | |
| --- | --- |
| SPECIALTY | Exceptional floral arrangements |
| SELECTION SIZE | Moderate |
| STARTING PRICE | QAR 170 |
| DELIVERY FEE | QAR 40 |
| WEBSITE | https://amrflowers.com/ |
| SOCIAL MEDIA |   |
| CONTACT DETAILS | [email protected] amrflowers.com | +974 33683513 |
AMR Flowers is an innovative flower shop located in central Qatar. They're most known for their sizable catalogue that features flower arrangements for any occasion. It doesn't matter if it's a humble "get well soon" thought or a company wide celebration, AMR Flowers will do their best to provide the answers to their client's floral needs with the help of fresh flowers and highly skilled designers.
WHAT PEOPLE LIKE
FRESH FLOWERS. AMR Flowers is most known for their one-of-a-kind flower designs, all of which are made with the best blooms available to assure that the arrangements will remain vibrant and fragrant for a long while. 
CUSTOMER SERVICE. As a customer-centric business, AMR Flowers is committed to providing the best quality service to the entirety of their clientele to ensure satisfaction. This includes professional customer service alongside express delivery options to get flowers quicker to customers. 
PRODUCTS
Flowers
Chocolate
Cakes
Hand Bouquets
Fruit Basket
Teddy
Balloons
Plants
DELIVERY & PAYMENT
The shop accepts payments made with major credit cards, Discover, JCB, and Stripe. Same day delivery can be done for orders destined for Qatar. 
3. QATAR FLORIST

Established in 2002, Qatar Florist is one of the oldest flower shops on this list. Don't let the age fool you, though, since the business has been able to adapt with the changing times, slowly building up their catalogue to the beauty that it is today.
An important facet to note about Qatar Florist is that their dedication to quality is no joke. Everything is handcrafted and only made with the finest flowers and materials that the market has to offer.
| | |
| --- | --- |
| SPECIALTY | Stunning flowers for all occasions |
| SELECTION SIZE | Large |
| STARTING PRICE | QAR144 |
| DELIVERY FEE | Flat delivery fee of QAR47 |
| WEBSITE | |
| SOCIAL MEDIA |   |
| CONTACT DETAILS | [email protected] |
WHAT PEOPLE LIKE
CHOICES, CHOICES, CHOICES. Not sure on what arrangement to get? Fortunately for you and many others, Qatar Florist boasts a large catalogue with over 100 choices. You won't go wrong with any of them considering that the quantity of choices hasn't muddled their high standards. 
ADD-ONS. If you're in need of a little oomph to accompany your flowers, check out Qatar Florist's selection of possible add-ons. Much like their flowers, the cakes, chocolates, and teddies are of high quality and will surely make your beloved happy.
PRODUCTS
Flower bouquets
Flower arrangements
Fruits baskets
Flower baskets
Cakes 
Chocolates
DELIVERY AND PAYMENT
The shop accepts Visa, Mastercard, AmericanExpress, Discover, and Bank Deposits.
4. ARABIAN FLORIST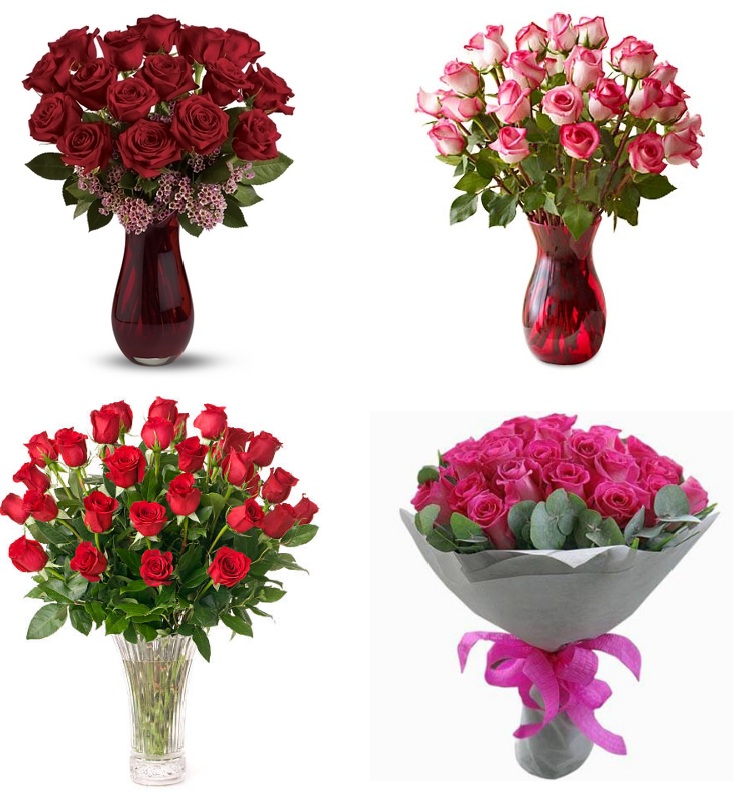 Arabian Florist has one of the biggest collections of fresh flowers, primarily because they have a wide scope of area where they provide delivery services. Not only does the shop offer their products and services in Qatar, but also to the entire United Arab Emirates.
team of floristry professionals offers creativity along with superior variety of flowers to satisfy your needs and your taste. They see to it that they exceed your expectations, especially when it comes to the quality of their designs.
WHAT PEOPLE LIKE
SAME DAY DELIVERY.

Spare yourself from the hassle of placing your orders days before the actually delivery, especially when there is a shop like Arabian Florist who is willing to offer your same day delivery without any extra charges!

EXTENSIVE SELECTION.

Arabian Florist is truly a one-stop shop when it comes to exceptional gift items. Aside from their fresh blooms, they also have in their collection some gift products like cakes and chocolates which are perfect to complete the whole package.
PRODUCTS
BOUQUETS
VASE ARRANGEMENTS
BASKET ARRANGEMENTS
CAKES AND CHOCOLATES
SPECIAL ARRANGEMENTS
DELIVERY AND PAYMENT
Accepts payments through Visa, Mastercard, Stripe, PayPal, Discover, JCB
5. VIVA FLORA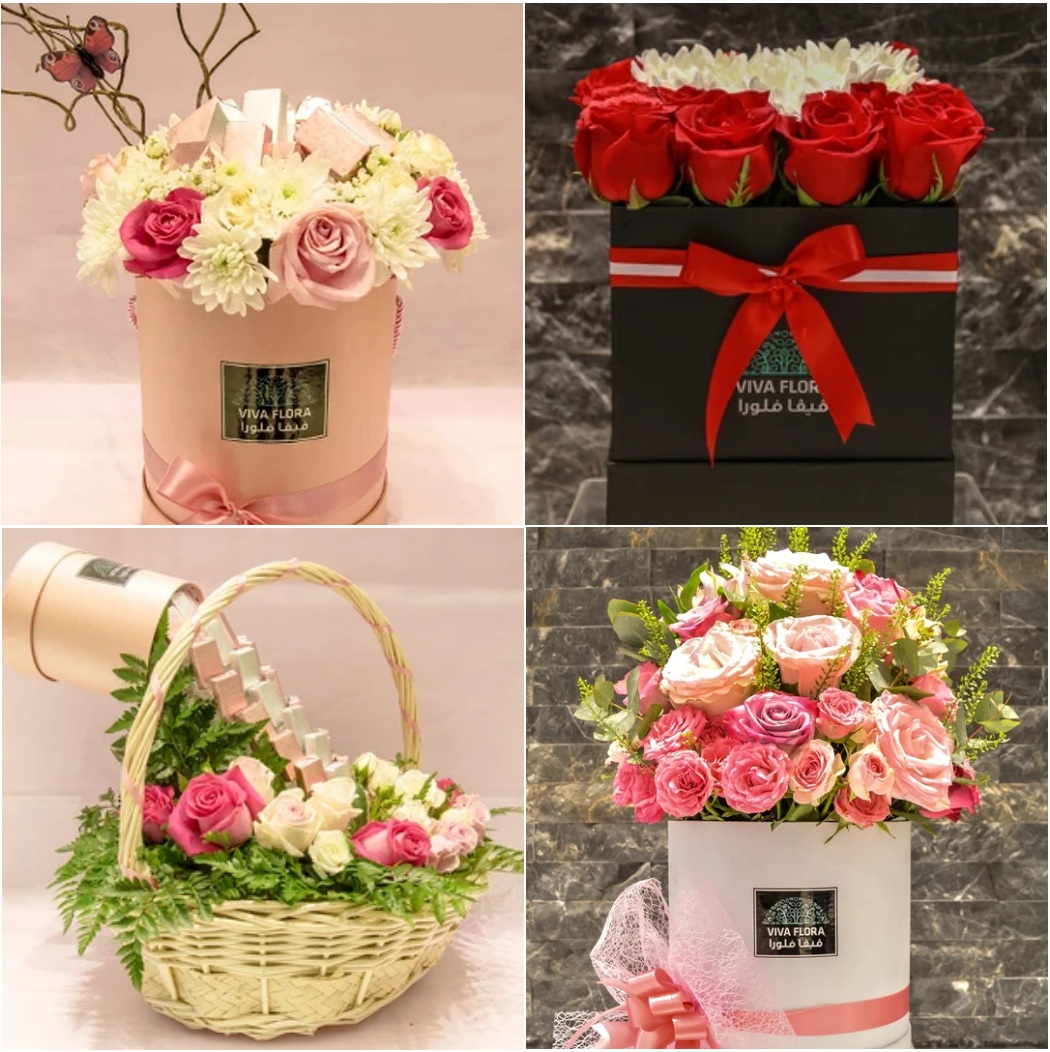 Viva Flora is a luxury brand of flowers. If you're looking to splurge a bit, they have a selection of arrangements that are diamond pressed! Although they have a selection of luxury products, this doesn't mean they don't have more affordable options. You'll be able to find a variety of classic selections, as well.
WHAT PEOPLE LIKE
VALUE FOR MONEY.

Every money spent on each purchase of their product is appreciated by the shop, thus they put really high value for their customers' money. With this, they strive to create truly wonderful collection of fresh flowers that their clients truly deserve.

BEAUTIFUL DESIGNS.

If you are a fan of box and modern designs, Viva Flora is the right place for you. Their collection of bouquets are beautifully made and designed by their highly creative and talented team.
PRODUCTS
BOUQUETS
BOX ARRANGEMENTS
FLOWER DOMES
VASE ARRANGEMENTS
CHOCOLATE TRAYS AND CHOCOLATE MEETS FLOWERS
DELIVERY AND PAYMENT
Contact shop for more details.
6. FERNS N PETALS

Ferns N Petals is an international company that provides flower delivery to hundreds of countries around the world. And that includes Jeddah. They also have cakes and other gift items which you can buy from their shop. The thing, however, is that the price can be a little expensive. However, it will be worth it.
WHAT PEOPLE LIKE
MULTI-CITY DELIVERY. The shop offers international delivery to different cities in Qatar. Thus, if you want to send cakes or flowers to your loved ones outside your local area, you may do so through Ferns N Petals.
VARIOUS PAYMENT MODES. To cater to their customers, they accept different payment modes which include credit, debit card, and money transfer.
PRODUCTS
DELIVERY & PAYMENT
Accepted Payment: VISA, MasterCard, RuPay, PayPal, American Express
7. BLACK TULIP FLOWERS

Black Tulip Flowers makes online flower delivery possible with a team working around the clock to support clients. They're known for fast, same-day flower delivery in Doha and across Qatar.
Some of the shop's offerings include hand bouquets, flowers with vase, flower combo, bridal bouquet, and more. All items are carefully arranged and made with the freshest flowers available in the given season. 
WHAT PEOPLE LIKE
SAME DAY DELIVERY. Customers looking for last minute floral gifts need not look further than Black Tulip Flowers. Aside from the quality arrangements, the shop is also known for its safe, secure, same day deliver services. 
WHOLESALE FLORIST. Looking to buy a large amount of flowers? Black Tulip Flowers can help out with their wide array of floral offerings. The shop offers wholesale flowers, with their catalogue featuring roses, lilies, tulips, orchids, hydrangeas, calla lilies, and chrysanthemums. 
HUGE COLLECTION. Black Tulip Flowers' customers will never have to worry about running out of options, given the fact that the shop has one of the largest catalogues on this list. Customers can browse by occasion, flower type, popularity, and even price on the shop's website. 
PRODUCTS
Flowers
Flower Arrangements
Vase Arrangements
Special Arrangements
Cakes
DELIVERY & PAYMENT
Contact shop for more information.