We like flowers and we know you do too. It always feels special whether you're the one giving or the one receiving them. Even better, there's a perfect flower for every occasion! Classic Roses for romantic events and white lillies for solemn ones. A touch of greenery can instantly bring life to any space. So what's stopping you from picking out that perfect bouquet? In this modern age, you can order them online at the comfort of your own home! Check out these expert Seremban florists.
1.  LEGATO FLORAL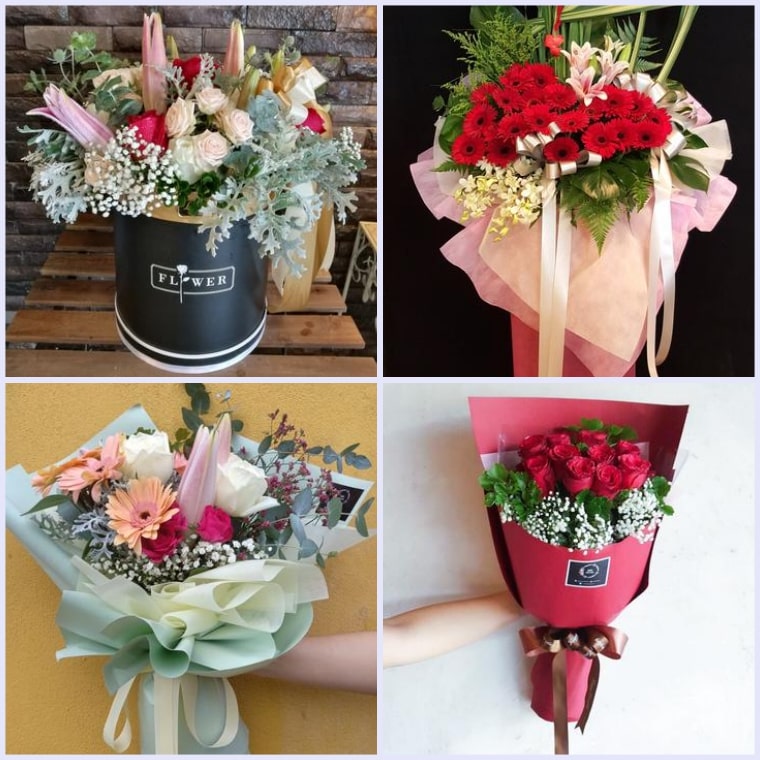 Legato Floral brings your Paris boutique flower dreams to reality. With expert florists at hand, they were able to bring an air of luxury surrounding every piece. Never tacky and sticking to a simple presentation – they've achieved that effortless designer style. No worries though, they're still affordable!
SPECIALTY
Hand Bouquets and Flower Boxes
SELECTION SIZE
Moderate
STARTING PRICE
RM 38.00
DELIVERY FEE
From RM 10.00
WEBSITE
https://www.legatofloral.com/ 
SOCIAL MEDIA
Instagram: @
Facebook: Seremban Florist 芙蓉鲜花店
CONTACT DETAILS
psfloralatelier@gmail.com +6017-750 6095/ +65 9069 2940
Contact Form
WHAT PEOPLE LIKE
FLOWER GIFT CARD. If the gift you want to impart someone is the freedom to choose the flowers themselves, why not buy a flower gift card? This definitely brings personalized bouquet to a whole new level.
STUNNING FLOWER STANDS. At Legato Floral, they embrace the abundance of flowers so much that they create these stunning pieces brimming with different flower types, sizes, and textures. The product, of course, is just perfect enough to wow anyone who sees it.
PRODUCTS
FRESH FLOWER HAND BOUQUET: RM 38.00 – RM 350.00
FLOWER BOX: RM 280.00 – RM 380.00
'BUSINESS OPENING' FLOWER STANDS: RM 220.00 – RM 350.00
'CONDOLENCE' STANDS: RM 220.00 – RM 400.00
PLANTS
DELIVERY & PAYMENT
Order by 3 pm for same-day delivery. Payment methods include PayPal and major credit/debit cards.
2. TEMPTATION FLORIST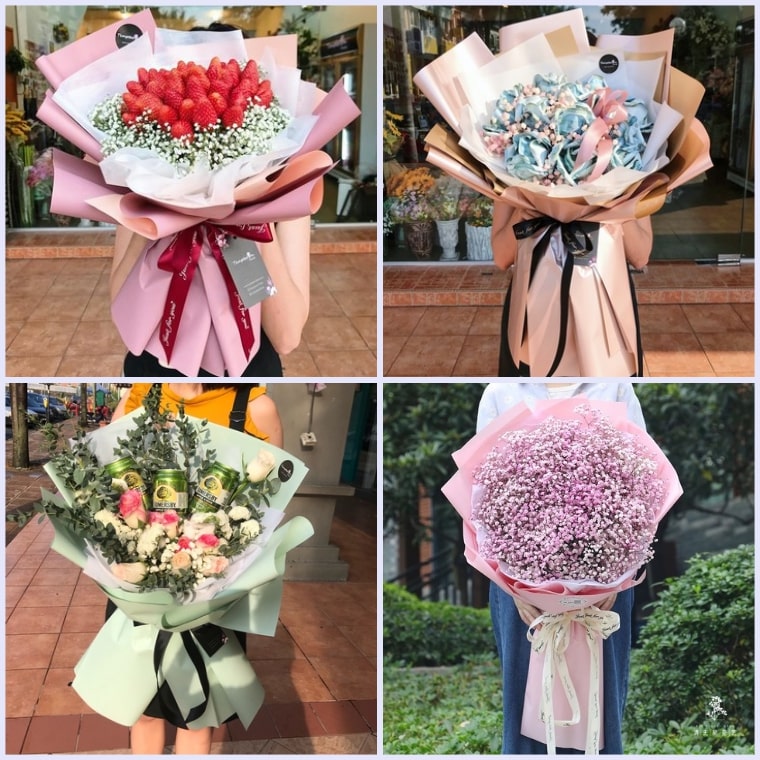 What we love about Temptation Florist are its never-ending exciting designs! Every piece is just refreshing – always exuding youthful charm.  There are quirky arrangements that can be enjoyed by everyone, no matter the gender or age. Just check out their site, so you can gush with us too!
SPECIALTY
Trendy Modern Bouquets
SELECTION SIZE
Large
STARTING PRICE
RM 40
DELIVERY FEE
Free for orders of 100 min
WEBSITE
https://www.temptationflorist.com/
SOCIAL MEDIA
Instagram: @temptationflorist
Facebook: Temptation Florist
CONTACT DETAILS
hellotemptation@gmail.com
014-3234303 Janice (WhatsApp)
WHAT PEOPLE LIKE
AFFORDABLE ARRANGEMENTS.

Temptation Florist makes sure that their collection is achievable by all of the people in Seremban that is why, without having to compromise the quality, the shop was able to sell their items at very affordable prices.

LARGE SELECTION.

Whatever kind of arrangement you think you might need, the shop always got your back as they have a large inventory of fresh flowers turned into magnificent designs that will certainly capture your heart.
PRODUCTS
HAND BOUQUETS: From RM40
FLOWER BOXES: From RM 90
FLOWER BASKETS: RM130
FLOWER STAND: From RM220
DELIVERY & PAYMENT
Free delivery in Seremban area, check their coverage area for more details. Payment methods include PayPal, major credit/debit cards, and Bank Transfer.
3. PURE SEED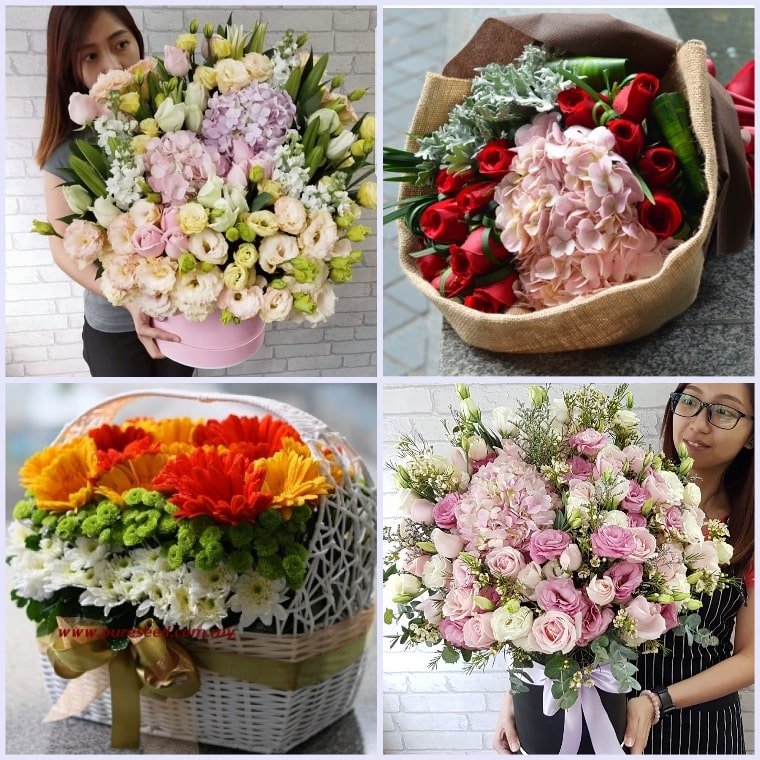 Lee Pure is the woman behind this flower concept company. Her team's artistic prowess and expert technique shine in every piece. No wonder they've got such a huge online following.
SPECIALTY
Gigantic Flower Arrangements
SELECTION SIZE
Large
STARTING PRICE
RM65
DELIVERY FEE
From RM10
WEBSITE
www.pureseed.com.my
SOCIAL MEDIA
Facebook: @pureseedflorist
Instagram: @pureseed.com.my
CONTACT DETAILS
info@pureseed.com.my
+603 2026 2328
Contact Form
WHAT PEOPLE LIKE
DISCOUNTS AND PERKS. RM 30 off on your first purchase, Deal of the Month, pure rewards and gift vouchers – these are just some of the customer perks that you can enjoy when you choose Pure Seed.
GIGANTIC CREATIONS. It's big. It's beautiful. It's enough to wow a crowd. Who wouldn't be happy if they receive such a gift? Swoon alert.
PRODUCTS
FLOWER BASKET: From RM70
FLOWER BOX ARRANGEMENT: From RM85
FLOWER VASE: From RM170
HAND BOUQUET: From RM65
WINE AND FLOWER: From RM230
HARI RAYA COLLECTION
FATHER'S DAY COLLECTION
DELIVERY & PAYMENT
Order by 3 pm for same-day delivery. Payment methods include PayPal and major credit/debit cards.
4. FLOWERCHIMP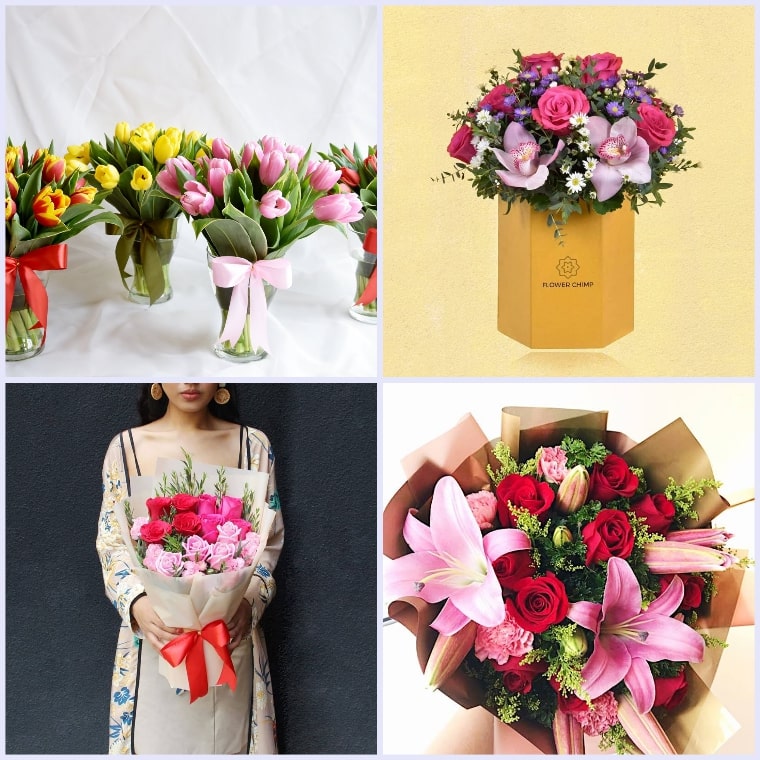 You might already be familiar with Flowerchimp. One of the most popular flower delivery services in Malaysia, this company continuously earns loyal customers locally and worldwide. As seen on the hundreds of rave reviews and testimonials on the internet; this is one trusted flower shop.
SPECIALTY
Delectable Box Bouquets
SELECTION SIZE
Large
STARTING PRICE
RM 89
DELIVERY FEE
Free
WEBSITE
www.flowerchimp.com
SOCIAL MEDIA
Instagram: @flowerchimp Facebook: /FlowerChimp
CONTACT DETAILS
info@flowerchimp.com
03-30992323
Live Chat available
WHAT PEOPLE LIKE
USER-FRIENDLY SITE. Flower Chimp's user interface is very easy on the eyes. New users can easily navigate their website without a fuss. Surely one of the cleanest web design that we've seen so far.
FLOWER BOX. Simple, elegant and trendy. Flowerchimp's signature boxes create a very designer-looking presentation for every bouquet. Boutique yet affordable.
PRODUCTS
ALL BOUQUETS: RM 89 – RM 499
BIRTHDAY: RM 89 – RM 499
TRINITY COLLECTION: RM 169
DELIVERY & PAYMENT
Same day delivery is possible if you place your order before 1:00 PM on the same day. They accept credit,  debit, charge cards via a variety of payment methods such as Stripe, eGHL, MOLPay, and also cash payments via the Bank Transfer.
5. FLORAL D'MORA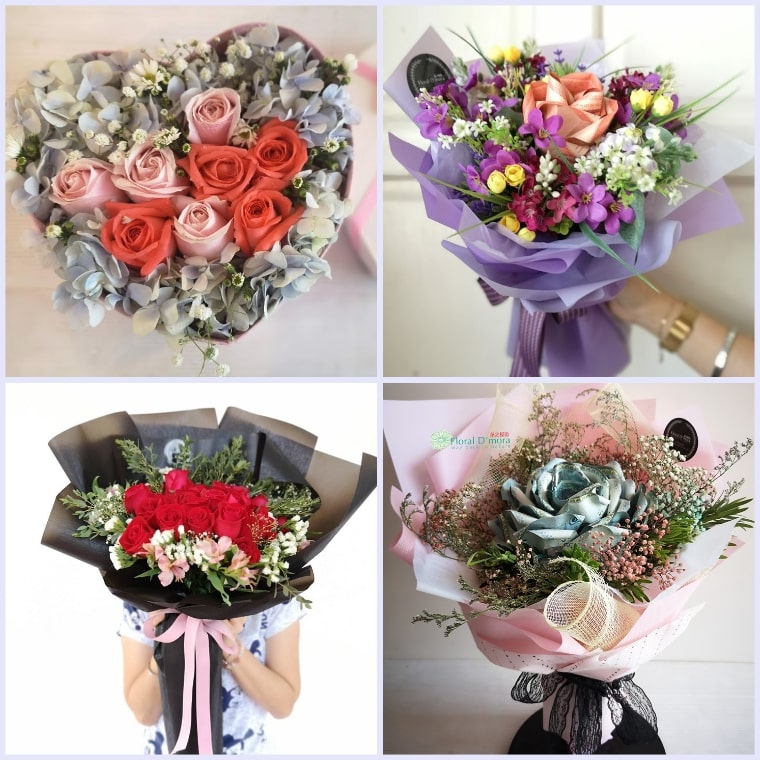 Situated at the beautiful beach town of Port Dickson, Floral D'Mora stands as the go-to flower shop of the area. Locally owned and operated, they value each customer – earning them more as they continue.
SPECIALTY
Romantic Bouquets
SELECTION SIZE
Large
STARTING PRICE
RM25
DELIVERY FEE
Information available upon checkout
WEBSITE
https://www.floraldmora.com.my/
SOCIAL MEDIA
Instagram: @floraldmora Facebook: @floraldmora
CONTACT DETAILS
enquiry.floraldmora@gmail.com
+60 6 646 2235 +6016 355 9984 (Call / Message / WhatsApp / WeChat)
Contact Form
WHAT PEOPLE LIKE
ROMANTIC BOUQUETS. It's a given that bouquets should feel romantic but most companies overdo the presentation making their pieces look too commercial and store-bought. What Flora D'Mora does is highlighting its quality flowers by opting for simple wrappers. Often times, you'll see the combination of soft tones and minimalist elements on their designs.
BUDGET BOUQUETS. Floral D'Mora offers budget flowers without compromising its quality. Check out their dedicated affordable collection of flower arrangements all for the price of
RM 100 and below.
PRODUCTS
ROSE BOUQUETS: RM68.00 – RM380.00
MOTHER'S DAY BOUQUET: RM25.00 – RM1,280.00
HYDRANGEA: From RM90.00
CONDOLENCE: From RM160.00
CONGRATULATION: From RM150.00
DELIVERY & PAYMENT
Order by 3 pm for same-day delivery. Payment methods include PayPal, major credit/debit cards, and online transfer.
6. MY FLOWER FLORIST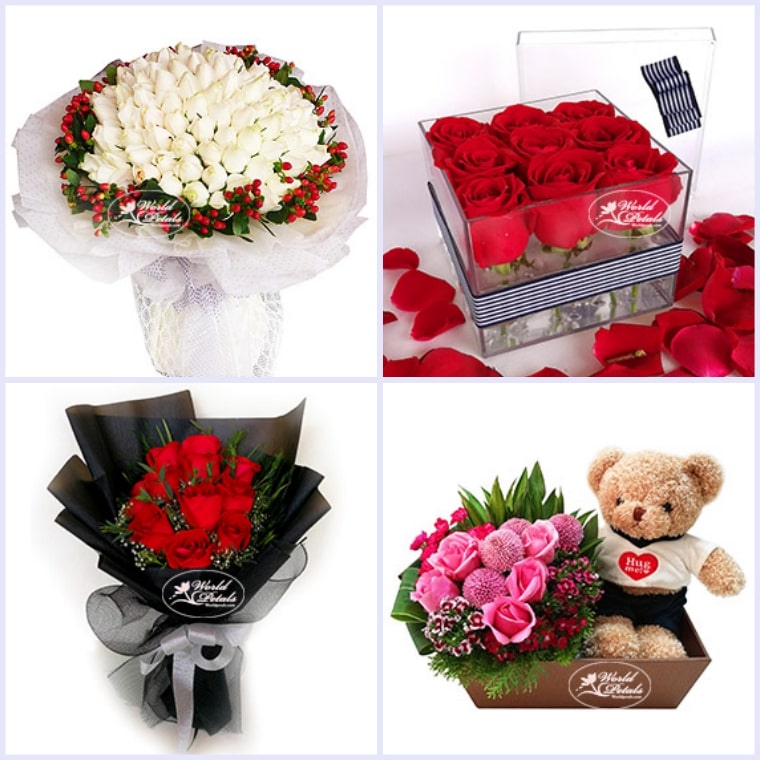 My Flower Florist is under the World Petals brand as the Malaysian counterpart of the global delivery business. With a huge company at their back, they were able to break in on the Malaysian market and garner loyal customers. Even now, their dedicated team of floral designers strives for perfection to gain your support.
SPECIALTY
Wide Selection of Flowers
SELECTION SIZE
Large
STARTING PRICE
RM99
DELIVERY FEE
Free same-day delivery
WEBSITE
https://www.myflowerflorist.com/
SOCIAL MEDIA
 
CONTACT DETAILS
orders@myflowerflorist.com
+603-42968001
WHAT PEOPLE LIKE
WIDE SELECTION OF FLOWERS. With over 1000 designs to choose from, you'll have the perfect flower for every person and occasion. From classic hand bouquets to over-the-top flower hat boxes, My FLower Florist creates each design with attention to details. 
FLOWER SUBSCRIPTION. If you think, one bouquet is not enough, why not try their flower subscription? You'll never be out of presents for any occasion that'll come your way! Better yet, why not subscribe for yourself. You deserve it and it'll be the best pick me up for any stressful day.
PRODUCTS
HAND BOUQUETS: From RM99
BOX FLOWERS: From RM119
OPENING STANDS: From RM179
BASKET FLOWERS: From RM149
CONDOLENCE STANDS: From RM170
VASE FLOWERS: From RM119
BIG BOUQUETS: From RM239
DELIVERY & PAYMENT
Delivery information available upon checkout. Payment methods include PayPal and major credit/debit cards.
7. ONLY LOVE FLORIST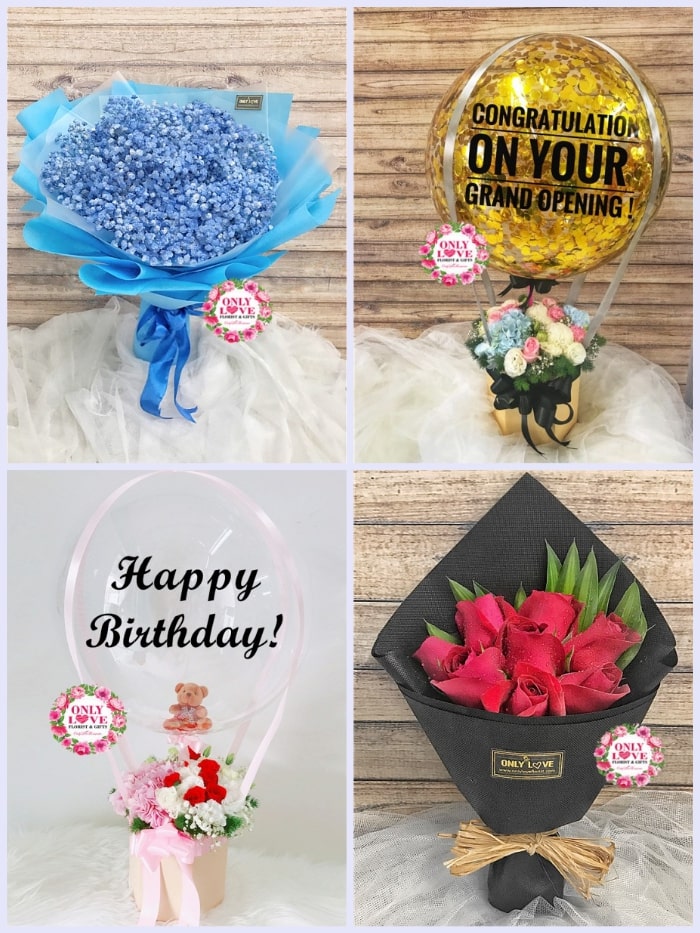 Specializing in all areas of floral design, Only Love Florist created one of the largest flower catalogs in the country. They not only offer various types of flowers, but there are also a ton of quality add-on items to choose from! Teddy bears, champagne and fruits – just to mention a few.
SPECIALTY
Hot Air Balloon Bloom Box
SELECTION SIZE
Large
STARTING PRICE
RM 25
DELIVERY FEE
Available upon checkout
WEBSITE
https://onlyloveflorist.com/
SOCIAL MEDIA
 
CONTACT DETAILS
order@onlyloveflorist.com
+603-4288 3550 +6012-2488277 (Whatsapp)
WHAT PEOPLE LIKE
NATIONWIDE DELIVERY. You don't need to worry about the coverage area. Only Love Florist can deliver anywhere in Malaysia. Check their delivery information for more details.
WIDE COLLECTION. The choices of flowers and styles offered by this company almost feel endless. Every time you come back, it seems a new design pops up. That's the testament of the creativity and dedication of the local florist here in this company. Our favorite, for now, is the hot air balloon bloom box. Very charming!
PRODUCTS
HOT AIR BALLOON BLOOM BOX: From RM 168
ROSE BOUQUETS: From RM 88
LILLIES BOUQUETS: From RM 118
TOY BOUQUETS: From RM 88
BABY BREATH BOUQUETS: From RM 108
GRADUATION BOUQUETS: From RM 25
DELIVERY & PAYMENT
Same-day delivery is available. Payment methods include Visa & Master Credit Card / Debit Card
ATM Cash Deposit / Online Bank Transfer.
8. LOVE.COM.MY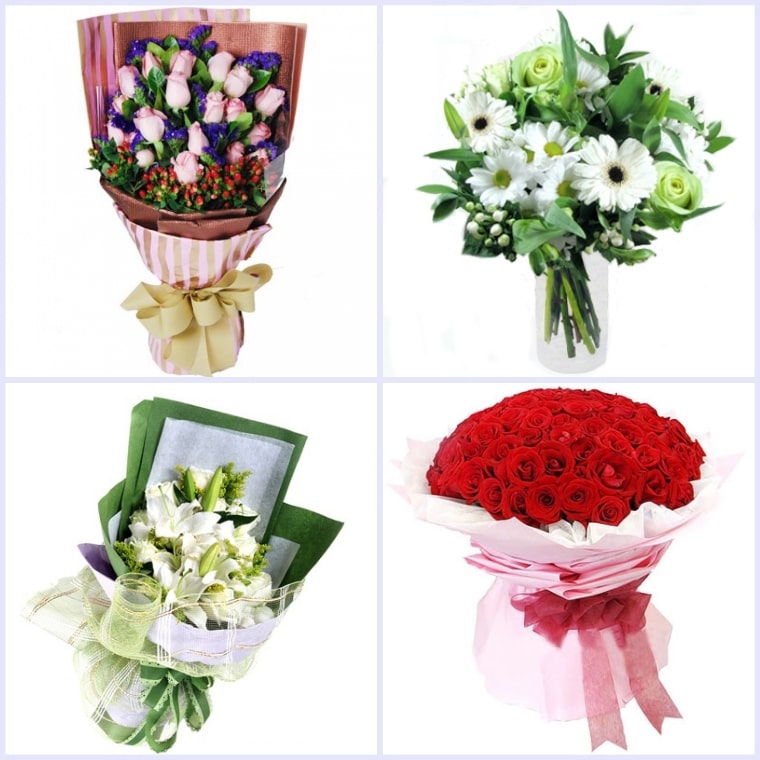 Love.com.my is launched in early 2012. It has long grown from just a small local business to a strong prospering online flower delivery service provider. It promises to continue this growth by steadily providing quality products for excellent value.
| | |
| --- | --- |
| SPECIALTY | Big Bouquets |
| SELECTION SIZE | Moderate |
| STARTING PRICE | RM 76 |
| DELIVERY FEE | Free |
| WEBSITE | https://www.love.com.my/ |
| SOCIAL MEDIA |   |
| CONTACT DETAILS | +6018 398 5581 order@love.com.my |
WHAT PEOPLE LIKE
FAST, RELIABLE & FREE SAME DAY DELIVERY. This company provides free same-day flower delivery and can deliver as fast as 1 hour anywhere in Seremban.
FRESH FROM THE FARM. When there's no middleman, and the company you're working with are the farmers who grow and sell their own products, you know you'll have value for money. They honestly offer fresh from the farm flowers and it's only one click away!
PRODUCTS
TROPICAL PRISTINE BOUQUETS: From RM 76
BIG BOUQUETS: From RM 266
PREMIUM GERBERA BOUQUETS: From RM 98
ROSES: From RM 68
DELIVERY & PAYMENT
Same day delivery available for orders sent between 08:30 am and 5:00 pm. They accept Visa/MasterCard Credit Cards, Maybank2U, CIMBClicks, and Public Bank payments.
Images were taken from each company's official websites/social media.