Whatever the occasion, you can never go wrong with a delightful bouquet of flowers! It might be cliche for some but once you add some personal touch to it, it can be one of the most memorable gifts for your loved ones!
But with numerous florist shops across the town, how can you know which one offers the best flower delivery in Red Deer? Let's find out as we've listed the local favourite stores known for having a great variation of flower arrangements paired with other special gifts as well!
1. Se La Vi Flowers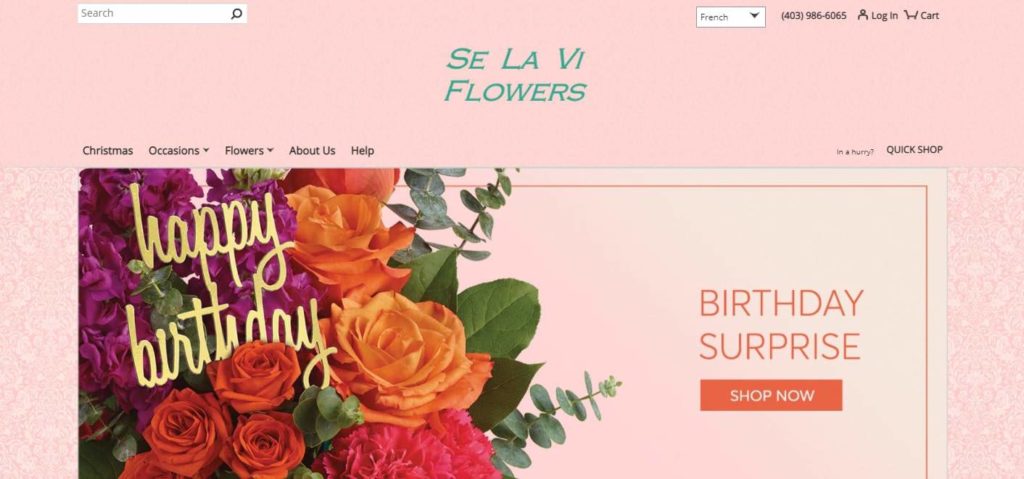 | | |
| --- | --- |
| SPECIALTY | Artistically designed arrangements |
| SELECTION SIZE | Large |
| STARTING PRICE | $40.00 |
| DELIVERY FEE | $10.00 |
| WEBSITE | https://www.selaviflowers.com/ |
| CONTACT DETAILS | (403) 986-6065 |
At Se La Vi Flowers, you can find elegant and creative floral arrangements that are perfect for Thanksgiving, Valentine's Day, wedding anniversaries, and more. Most of their collections feature simple, clean, and stylish designs that can either lighten up or complement the ambience of a room.
You can choose between vases, baskets, mugs, boxes, and bouquet styles. If you'd like to add other gift items to make it more special, they also have deluxe and premium options where you can include stuffed animals, chocolates, and even balloons!
They also have a fair range of collections for Get Well Soon greetings, new baby celebrations, and sympathy and funerals.
When it comes to their delivery rates, they only charge a total of $10 for local delivery areas—a great deal for those who are looking for affordable yet high-quality flowers.
WHAT PEOPLE LIKE
Wide Range of Styles – Many clients praised the diversity of the shop's collections and custom arrangements. They said that the team was able to present all kinds of designs such as old classic, modern, or a combination of both as well!
Attentive Staff – The shop has received positive impressions from the customers who said that the team really paid attention to all the details and requests. They also mentioned that the staff was able to accommodate their last-minute orders on the same day—without any hassle!
PRODUCTS
Wedding Flowers
Sympathy and Funeral flowers
Birthday Flowers, Get Well Flowers, Anniversary Flowers
Modern and Traditional Flower Arrangements
High-style Floral Arrangements
Silk Flower Arrangements
Dried Floral Arrangements
DELIVERY AND PAYMENT
Visa and Mastercard
2. House of Fiori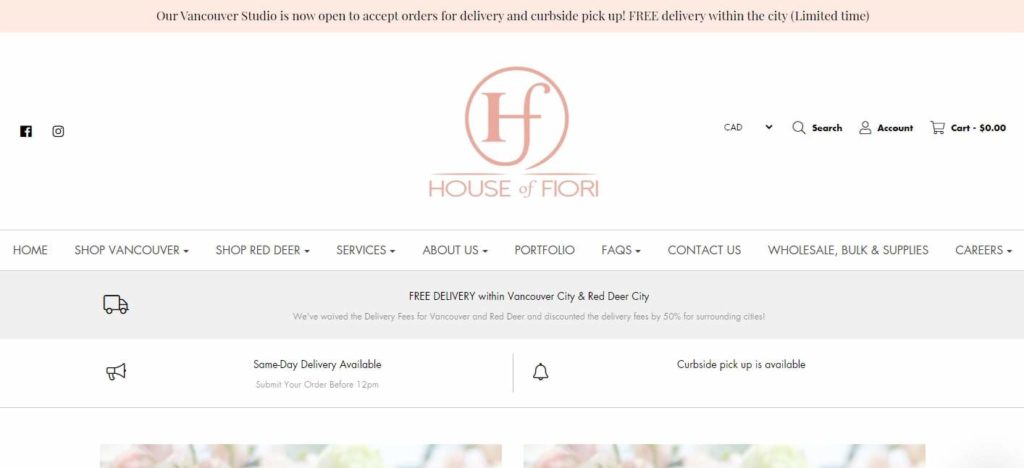 | | |
| --- | --- |
| SPECIALTY | Luxurious and sophisticated floral designs, custom printed boxes |
| SELECTION SIZE | Large |
| STARTING PRICE | $20.00 |
| DELIVERY FEE | Free delivery within the city of Red Deer with a minimum order of $80.00 |
| WEBSITE | https://houseoffiori.com/ |
| SOCIAL MEDIA | Facebook, Instagram |
| CONTACT DETAILS | 604 616 1801 |
If you're searching for sophisticated and aesthetic floral designs, then you'll love the unique arrangements of House of Fiori. They're a family-owned floral studio that serves luxurious and exclusive floral designs with fresh and colourful blooms.
They also do bespoke designs where you can choose a specific size, colour scheme, and flower type. So if you already have an ideal arrangement in mind, they can accommodate your requests and create a one-of-a-kind floral arrangement.
They're known for their boxed blooms that are presented with premium flowers and elegant custom printed boxes. They carefully select the freshest and best blooms available in the current season for your chosen design.
Aside from these, they also have a preserved flowers collection featuring real roses that can last 1 to 3 years. Centrepieces for dining tables and wedding events are also included in their selections.
Their pickup and delivery services are available 6 days a week. They also offer free delivery to all areas within Red Deer!
WHAT PEOPLE LIKE
Luxurious Floral Designs – Clients praised the talented florists who were able to make minimalist yet luxurious designs just by using the right colour scheme.
24/7 Online Service – Unlike most florist shops, they're an online store without a retail storefront. They're conveniently open 24/7, and you can easily contact them through email, social media, or the official website—providing the best flower delivery in Red Deer!
PRODUCTS
Christmas Collection
Signature Collection
Vase and Hand-tied Bouquet Arrangements
Sympathy Wreaths and Sprays Arrangements
Dried Floral Arrangements
Centrepieces
Corsages and Boutonnieres
Preserved Roses
DELIVERY AND PAYMENT
Amex, Apple Pay, Google Pay, Mastercard, and Visa
3. Calyx Floral Design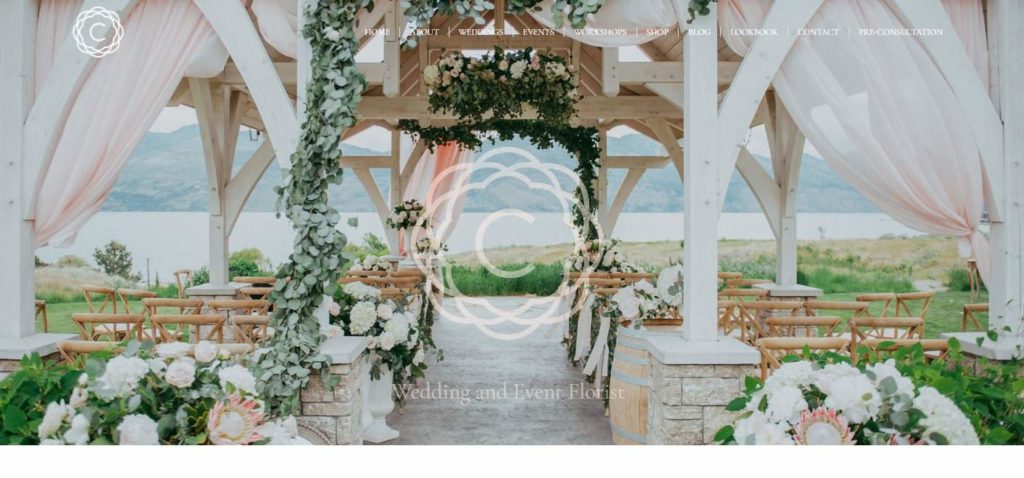 Calyx Floral Design is housed with an internationally published floral design team that specializes in weddings and events. So for those who are in the middle of planning wedding preparations, you can now cross off the floral arrangements on your list.
They offer a wide range of services including bouquets, over-the-top tablescapes, corsages, floral crowns, outdoor decors, and other special arrangements. Their floral arrangements are presented with different styles like bouquets, boxes, glass globes, glass cloches, and vases.
Apart from weddings, they also have selections for the Christmas holidays, Valentine's, and other occasions. Moreover, they've also been featured in various wedding magazines, proving that they truly create exquisite floral designs and provide the best flower delivery in Red Deer!
WHAT PEOPLE LIKE
Wedding Full-Service Custom Design – Most clients were highly satisfied with the shop's full floral service for wedding events. From ceremony up to reception arrangements, the team can perfectly collaborate with the coordinators and make sure that only the freshest and most vibrant flowers will be presented at the venue.
PRODUCTS
Hand-Tied Bouquets
Glass Cloche Arrangements
Boxed Blooms
Centrepiece Arrangements
DELIVERY AND PAYMENT
Credit Cards
4. La Petite Jaune Fleur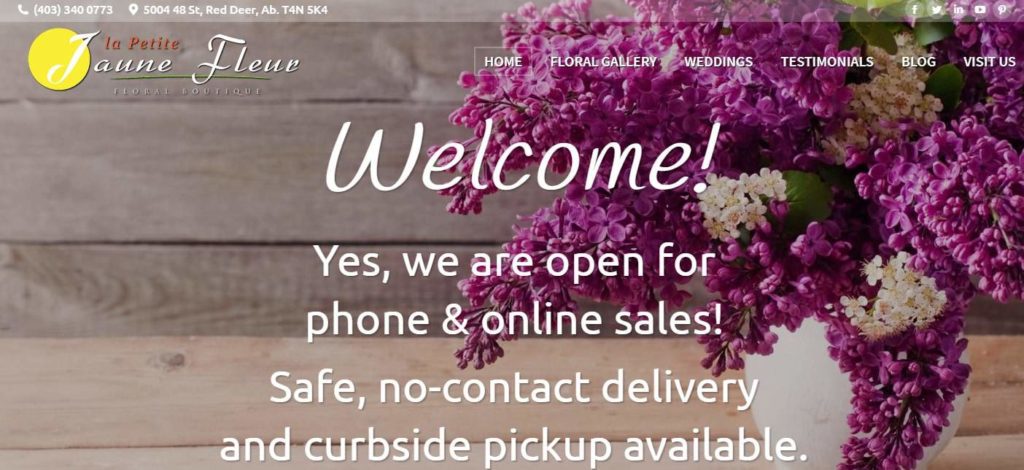 La Petite Jaune Fleur is an award-winning florist shop that has been widely recognized for its gorgeous and creative wedding floral designs. Whether you want a classic and traditional or modern and trendy look, they can easily customize a flower arrangement that matches your preferences.
Their wedding services include special customization of bouquets, on-site floral decor, and so much more. Their wedding consultants will make sure to get the best seasonal flowers for your most-awaited day and that everything will fit within your estimated budget.
Aside from wedding blooms, they also have a huge collection for other occasions like Christmas, Thanksgiving, Easter, anniversaries, birthdays, graduations, and more.
They also make specially-designed sets for back-to-school celebrations, proms, and Halloween, as well as sympathy flowers.
WHAT PEOPLE LIKE
Large Range of Themes – Due to its diverse and unique flower collection, the store has won many awards and earned the trust of local customers. This is why they've become known for having the best flower delivery in Red Deer.
PRODUCTS
Wedding Flowers
Modern and Tropical Arrangements
Seasonal Flowers
Sympathy Flowers
Prom Flowers
DELIVERY AND PAYMENT
American Express, MasterCard, Visa
5. Floral Expressions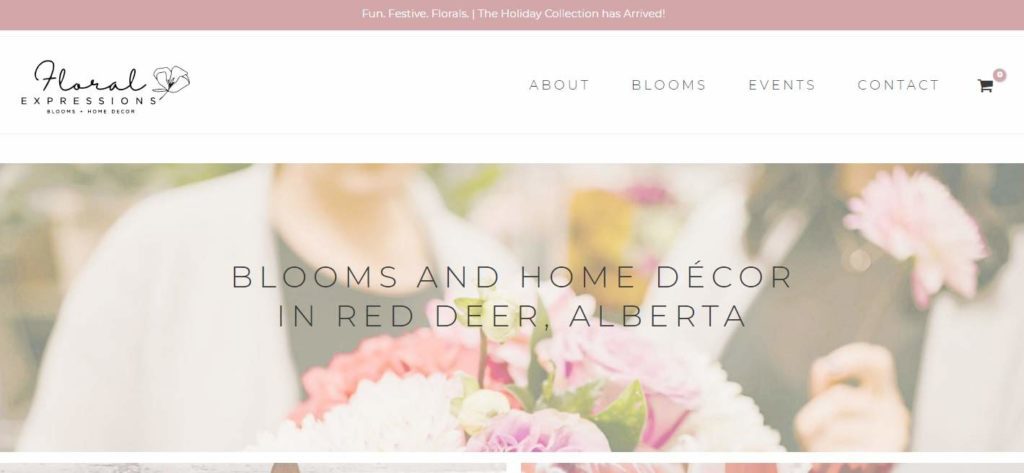 Floral Expressions serve lovely and fine blooms that'll surely boost an earthly ambience in your home! Most of their designs feature bountiful, aesthetic, and dreamy flowers, so if you're looking for a housewarming gift set, they've got the best flower delivery in Red Deer!
Most of their best-sellers are stunning centrepieces with varied flowers that are breathtakingly combined. Their selections come in bouquets, baskets, vases, and bowls.
For their seasonal creations, they make grand, festive, and artistic arrangements that you've never seen before in other shops—giving you the best flower delivery in Red Deer!
WHAT PEOPLE LIKE
One-of-a-kind Floral Designs – Many customers shared that they've really seen new and unique designs, especially in the Christmas collection. Their designs are filled with the festive spirit, giving off positive vibes around the house.
PRODUCTS
Congratulations Flowers
Thank You Flowers
Sympathy Flowers
Birthday Flowers
Seasonal Flowers
DELIVERY AND PAYMENT
Credit Cards
6. Lacombe Florist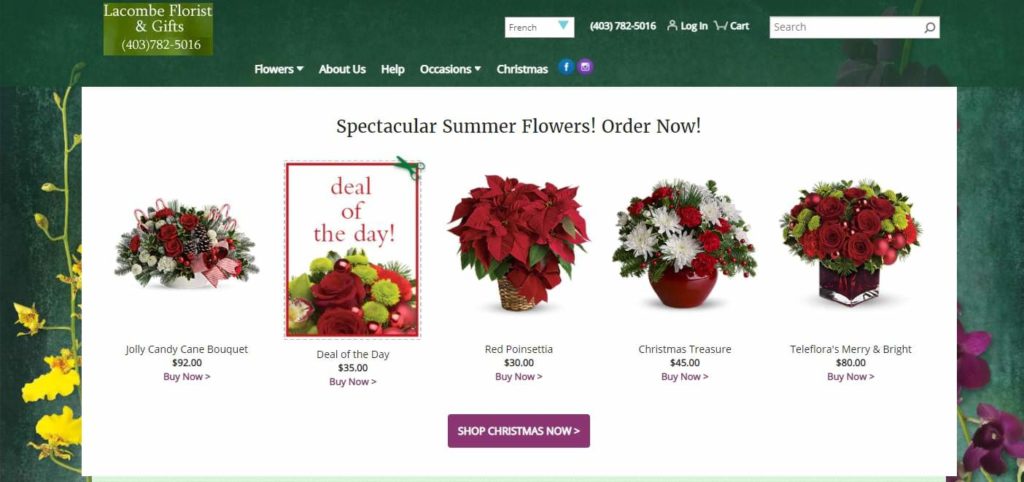 Lacombe Florist offers a huge assortment of all types of flowers including roses, summer and spring flowers, and modern flowers and plants. They specialize in making vibrant floral designs that can brighten up the room or lighten up one's mood.
They can do a lot of varied arrangement styles such as contemporary, traditional, silk, and more. They're also known for having unique vases that are suitable for any occasion and can be used for multiple purposes.
They also provide a same-day delivery service that's available at cheaper rates compared to what most shops offer. So for those who are on a tight budget but still want to give a lovely gift, this shop has the best flower delivery in Red Deer!
WHAT PEOPLE LIKE
Affordable Delivery Service – One of the reasons why most customers keep on coming back to this shop is because of the low-priced delivery rates. Their local delivery fee costs less than $10 which is a lot cheaper than most stores offer.
PRODUCTS
New Year Flowers
Anniversary Flowers
Birthday Flowers
Get Well Flowers
Love & Romance Flowers
New Baby Flowers
Sympathy Flowers
Thank You Flowers
Wedding Flowers
DELIVERY AND PAYMENT
Visa, MasterCard, American Express
7. Stems Flowers & Cafe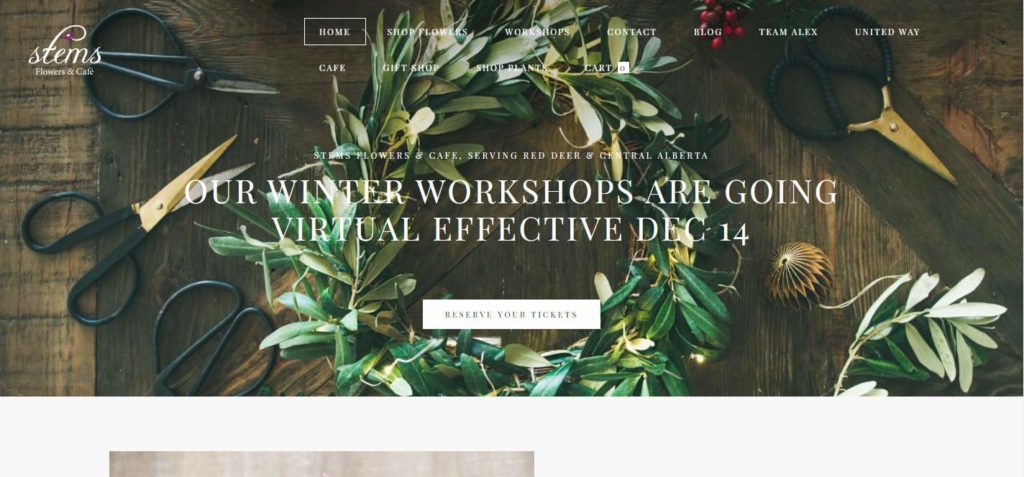 Stems Flowers & Cafe is a great partner to have whenever you're planning an event—whether a simple or grand one. They offer full-scope event services where they take charge of all the floral arrangements including centrepieces, corsages, boutonnieres, bouquets, garlands, and so much more!
They've worked for new baby celebrations, birthdays, weddings, and more occasions. Rather than ordering flowers from other countries, they support local growers and have a large selection of fresh and quality blooms available at the lowest price possible!
Most of their designs feature aesthetic vibes that'll complement any home interior. Whether you're going for a simple style or a fancier look, they have it all!
Aside from flower selections, they also have a gift shop where you can find baby gifts, bath stuff, foods and treats, and other home essentials.
WHAT PEOPLE LIKE
Creative and Unique Designs – Many clients said that they've seen a lot of fancy floral arrangements that are designed with additional elements. This includes metallic wire wristlets for corsages, figurines for sympathy flowers, and pinecones for Christmas collections.
PRODUCTS
Valentine's Day Flowers
Every Day & Just Because Flowers
Sympathy Flowers
Corsage & Boutonnière Flowers
Plants & Dish Gardens
DELIVERY AND PAYMENT
Credit Cards
8. Sandalwood Flowers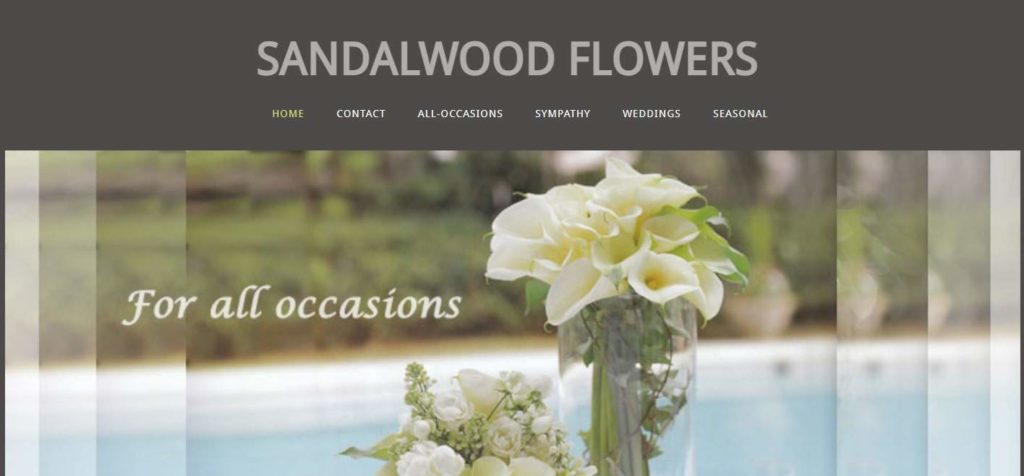 Sandalwood Flowers specializes in seasonal flowers, which is great for those who aren't quite sure which types of flowers or designs to include.
You can simply choose among their decorative floral arrangements that are specially designed for certain occasions such as holiday celebrations, Mother's day, Valentines, and more.
When it comes to their wedding collections, they have bouquets, centrepieces, flower crowns, and other arrangements needed for a whole event. Most of their designs are simple and elegant and come with carefully selected flowers that complement each other.
They also offer custom-made services where you can request a specific theme, flower types, and colours to get a bouquet that's uniquely designed for you.
WHAT PEOPLE LIKE
On-time Delivery Service – Many customers were impressed with the fast delivery service of the team. They said that the whole process, from ordering to delivery, was done without any delays or errors. As such, many customers consider the shop to have the best flower delivery in Red Deer.
PRODUCTS
Wedding Flowers
Sympathy Flowers
Seasonal Flowers
DELIVERY AND PAYMENT
Visa, MasterCard, Debit, and E-Transfer
That's it for our list of places with the best flower delivery in Red Deer! Already found the perfect arrangement and design that you'd like to buy? Tell us all about it in the comments below!