Searching for a florist shop that can deliver last-minute orders? Or perhaps you're planning to surprise your family or friends?
Whether you're in a rush or just looking for that perfect arrangement, we've found you the top-recommended places in Bristol offering a wide variety of floral designs as well as flexible delivery options!
Read our list below to know where you can find the best flower delivery in Bristol!
| | |
| --- | --- |
| Florist Shop | Price Range |
| Floom | £25 – £450 |
| Bloom and Wild | £23 – £235 |
| Roots Floral Designs | £32 – £65 |
| Edith Wilmot | £40 – £150 |
| The Flower Shop Bristol | £55 – £350 |
1.   Floom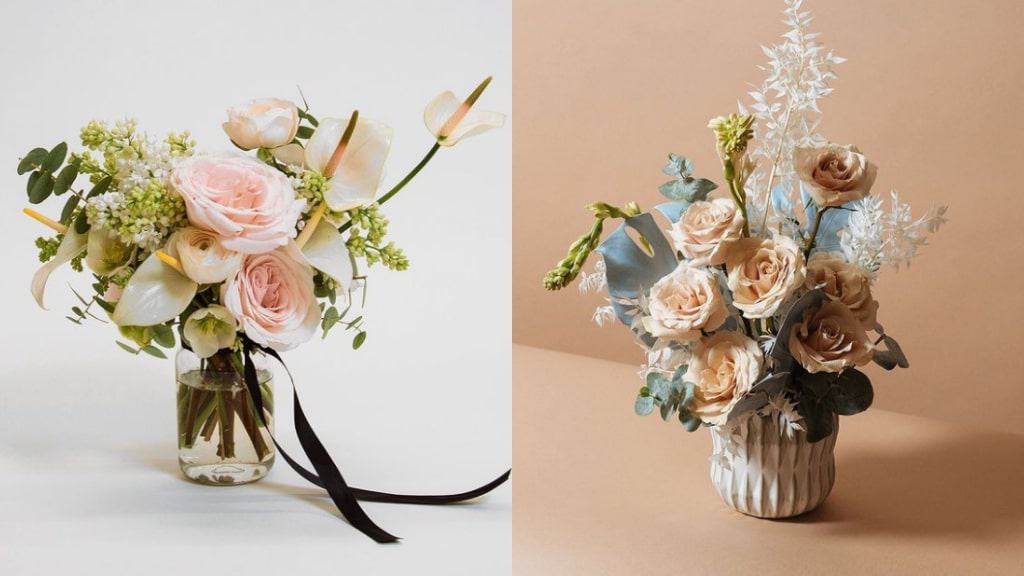 | | |
| --- | --- |
| BEST FOR    | One-of-a-kind Floral Designs from Real Independent Florists |
| STARTING PRICE | £25.00 |
| DELIVERY FEE | £6.99 – Regular Delivery £9.99 – Same-Day Delivery |
| WEBSITE | https://www.floom.com/ |
| ADDRESS | 175 Long Ln, London SE1 4GS, United Kingdom |
| CONTACT DETAILS | +44 (0) 20 8068 7498 |
| SOCIAL MEDIA | Instagram , Facebook , Twitter |
| OPERATING HOURS | Open 24 hours |
Searching for those Instagram-worthy floral designs with stunning kmodern mvisuals? Floom offers a great range of flower arrangements, featuring sophisticated colour palettes.
Be it a bright and vivid design or a simple and monotone style, they have it all! They have skilled local artisans who create unique sets of bouquets with their hand-picked flowers.
On their catalogue, you can find specially-made collections for all kinds of occasions like birthdays, anniversaries, housewarming parties as well as Mother's Day, Valentine's Day, Thanksgiving, and many more!
Their selections change regularly so you can always expect new and finely crafted designs every time you visit their shop.
Aside from these, they also have sympathy flowers, baby flowers, and peony season flowers. They even have a Pride Collection which is quite rare.
To keep the flowers fresh before and after delivery, each bouquet is either arranged in a vase, packed with water, or an oasis.
If you think that a bouquet of blooms isn't enough to send your love to your family and friends, you can also add other thoughtful gifts. You can choose from among chocolates, candles, vases, champagnes, and even groceries!
If you need your orders to be delivered on the same day, then make sure to place them before 1 PM. You can also order for future dates, up to 4 weeks in advance.
Offers fresh and seasonal flowers
Can order for future dates
Provides same-day delivery service
Bouquets are packed with water or an oasis
Offers luxurious, branded, and handwritten message cards
Doesn't have delivery time slots
Customer Reviews
Most customers shared that they had a pleasant experience with the team at Floom. They were impressed with the creative and uniquely styled bouquets.
They also said that they received the orders on time and in perfect condition. This is why many claim that they indeed offer the best flower delivery in Bristol.
A customer posted this feedback:
"I'm super happy with Floom, I literally ordered some last minute flowers (literally at midnight) for that same day, a cute & pretty bouquet for my mother-in-law. To add, after submitting my purchase, I wanted to amend my gift message & truly wasn't expecting a response so soon as it was late…. But their customer service and response rate was so quick – I am super impressed overall with this service and my mother-in-law was so delighted with her flowers…. Thank you Floom! It was my first time ordering from you & I will be back…"
2.   Bloom and Wild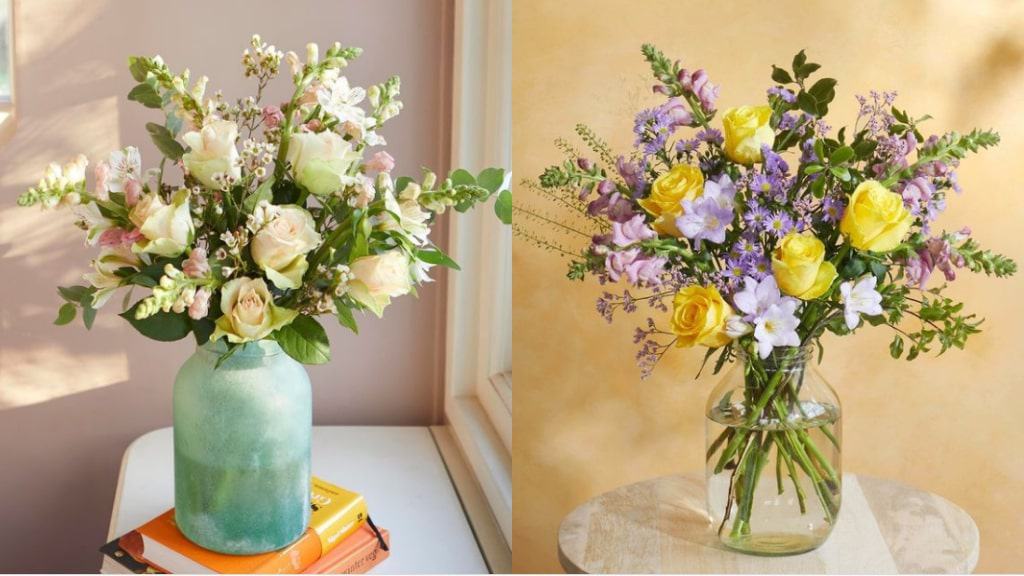 BEST FOR   
Letterbox Flowers, Big and Plush Bouquets, Eco-alternative Packaging Process
STARTING PRICE
£23
DELIVERY FEE
Free Next-day Delivery (Regular)  

Premium Delivery
£5 – Monday to Saturday Delivery
£6 – Sunday Delivery
WEBSITE
https://www.bloomandwild.com/
CONTACT DETAILS
020 7352 9499
SOCIAL MEDIA
Instagram , Facebook , Twitter
OPERATING HOURS
Open 24 hours
Bloom and Wild is widely known for their delightful letterbox flowers that display elegant and timeless floral designs. Most of their styles feature lovely garden-inspired and dreamy visuals that can instantly light up a room!
Their letterboxes consist of hand-packed flowers that are sent in bud to make them last longer. Each box comes with styling tips so you or your loved ones can personally arrange the flowers the way they like — perfect for all the flower enthusiasts out there!
They also have a deluxe collection where you can find fuller bouquets filled with heady and seasonal flowers and special stems too.
If you prefer a pre-arranged set of blooms, they also have a hand-tied flower collection that features an attractive colour palette.
Unlike the previous shop, they accommodate orders for future dates so you don't forget the important celebrations like birthdays, anniversaries or times when your loved ones need your support.
With their flower subscription services, you can treat yourself or remind someone how special they are by sending fresh flowers every month!
If you want to send flowers and gifts to your team or clients, they also offer corporate gifting services. To make it more personal, you can include a gift card and customise it with a brand logo or special message.
In case you want to add other items, you can also include extra little treats like chocolates, candles, and vases.
They've worked for prestigious companies like L'oreal, Swarovski, Benefit, Clive, Facebook, and many more. This just proves that they  have some of the best flower delivery in Bristol.
The best thing about them is that you can place an order and book a delivery using their mobile app. This way, you can send flowers whenever and wherever you are.
Moreover, they take pride in their sustainable supply chain where they try to reduce carbon emissions per bouquet. Their packaging includes recycled boxes, ribbons, and flower nets and vegetable inks.
Provides fully recyclable packaging
Can accommodate orders for future dates
Has online flower delivery app
Offers flower subscription services
Free delivery service is only for next day delivery orders
Mobile app is only available on Apple Store
Doesn't offer a same-day delivery option
Customer Reviews
Bloom and Wild has earned many positive feedbacks because of the gorgeous and long-lasting set of flowers, easy-to-use mobile delivery app, and on-time delivery service.
Some customers were also impressed with the helpful arranging tips as well as the special promotions. A customer shared this experience:
"I sent flowers via Bloom & Wild for the first time to my mum last weekend. They arrived on time as requested for her birthday. I was able to track them so I knew exactly when they arrived. Mum said there were exact instructions on how to 'wake' the flowers. What she didn't say was that they looked dead (until the day after when we spoke again)! No fear the day after a glorious bouquet blossomed and via Zoom she showed me a beautiful array of flowers exactly as ordered. She and I were delighted. As a new customer I took advantage of the new customer discount which was fabulous. Thank you so much for making a lock down birthday special"
3.   Roots Floral Designs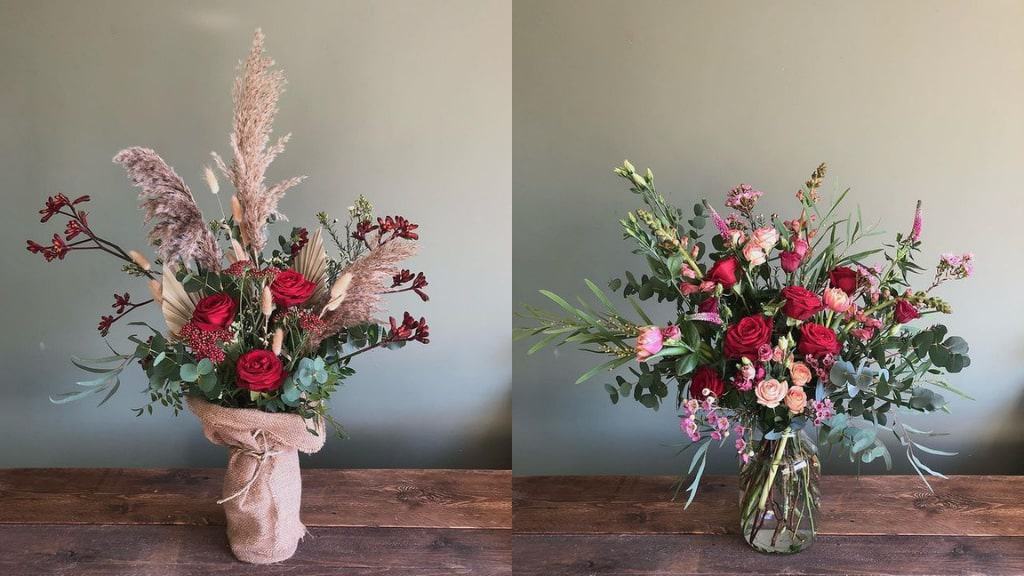 | | |
| --- | --- |
| BEST FOR    | Dried Flowers, Wedding Flowers, Funeral Flowers, Homemade Cards |
| STARTING PRICE | £25.00 |
| DELIVERY FEE | £5 (Starting Price) |
| WEBSITE | https://rootsfloraldesigns.co.uk/ |
| ADDRESS | 1 Broad Quay, Bristol, BS1 4DA |
| CONTACT DETAILS | 0117 945 1820 |
| SOCIAL MEDIA | Instagram , Facebook |
| OPERATING HOURS | Monday – Friday: 8.30 AM – 4:00 PM |
Roots Floral Designs consists of a small yet passionate team that creates captivating flower arrangements — no matter where you place them, they ensure a room's interior will instantly have character!
If you prefer a set of flowers that'll last for a long time, they have a dried flowers collection. Their preserved flowers are designed with seasonal blooms and arranged in various styles like wreaths, bouquets, jars, and bottles.
Their elegant creations come with homemade cards, making your gift more special and memorable. They also offer floral event services for weddings, funerals, corporate gatherings, and other special occasions.
They have same-day flower delivery service but only to certain areas in Bristol. So, make sure to check the delivery information on their site or call them before placing an order.
Has seasonal dried flower selections
Free delivery service on all online orders
Offers same-day delivery
Provides gift vouchers
Floral event services
Same-day delivery is only available during weekdays
Doesn't offer a delivery service on Sunday or bank holidays
Timed deliveries aren't guaranteed
Customer Reviews
Many customers have recommended the services of Roots Floral Designs due to the well-managed services and incredible arrangements. They said that the team was able to handle grand occasions and successfully catered events with artistic floral design ideas.
This is why some of them have become loyal customers for years. A customer left this feedback:
"After visiting a few other florists to provide flowers for our wedding, we loved Roots Floral Designs! The staff were relaxed, enthusiastic, and incredibly helpful! We gave them some ideas of what we would like but left the final decisions on flowers and style to the experts. We absolutely loved the flowers for our wedding, they did an excellent job. They went above and beyond to help us make it a special day, they even managed to provide flowers with less than 48 hours notice when we had to change the date at the last minute. We would highly recommend using Roots Floral Designs!"
4.   Edith Wilmot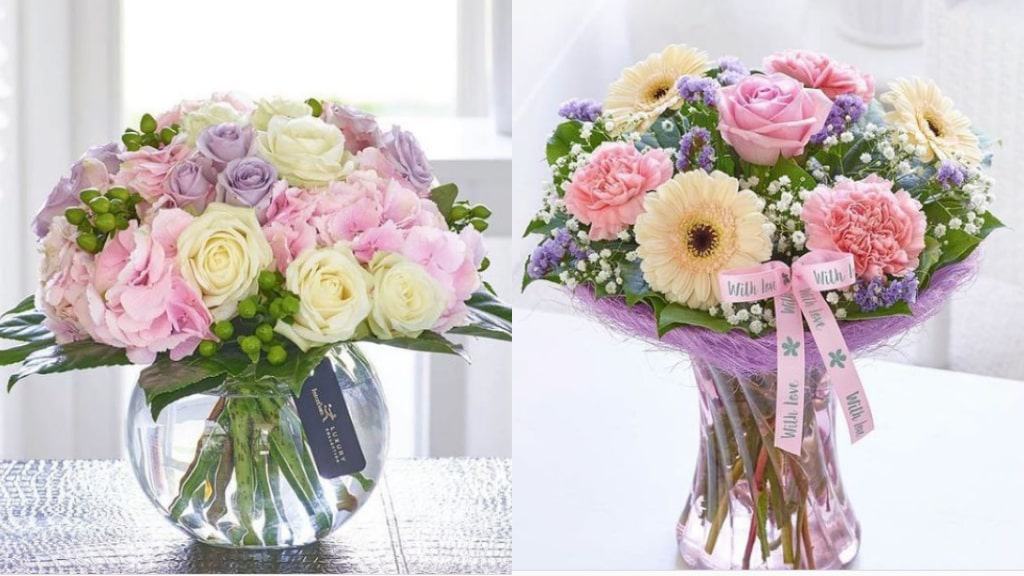 | | |
| --- | --- |
| BEST FOR    | Seasonal Collections, Florist Choice Arrangements |
| STARTING PRICE | £40.00 |
| DELIVERY FEE | £6 |
| WEBSITE | https://www.edithwilmot.co.uk/ |
| ADDRESS | 5 Carlton Court, Canford Lane, Westbury-on-Trym, Bristol, BS9 3DE |
| CONTACT DETAILS | 0117 950 8589 |
| SOCIAL MEDIA | Instagram , Facebook , Twitter |
| OPERATING HOURS | Monday – Friday: 8:30 AM – 5:30 PM |
Edith Wilmot offers stunning flower collections where they feature specially designed arrangements with varied colours, shapes, and textures. Their selections change every day so every time you visit their shop, you can always find new and fresh floral arrangements.
To make the gift-giving more remarkable, you can choose from their florist choice arrangements. Each design in this collection is uniquely created by their artisan florists, displaying luxurious and hand-crafted bouquets.
They offer different colour palettes, including neutral, bright, and pastel hues. If you're not sure which one would be the best, you can let the florists surprise you with their enchanting designs.
Their flower selections are available in vase and hand-tied arrangements, filled with seasonal blooms.
You can include some items and treats like vases, chocolates, balloons, alcohol, fruit baskets, and even a whole gift set.
They're also known for decorating a Tram during Queen Victoria's visit. Whether it's for a personal or commercial client, you can be sure that you'll get the best flower delivery in Bristol here.
Offers collections categorised by hues and shades
Lots of additional gift choices
Reusable packaging
Free local delivery
Extra charge on night delivery service
Doesn't have a delivery service on Sundays
Customer Reviews
Many customers claim that Edith Wilmoth was able to meet their expectations with beautifully-arranged blooms that complement any seasonal event or any occasion. A customer wrote this review:
"Sending flowers one hasn't chosen for oneself can be tricky so hats off to Edith Wilmot flowers for arranging a colourful and fragrant bouquet for our daughter's birthday. Arrived on the day and much appreciated. The chocolates are very tasty too. Thank you."
5.   The Flower Shop Bristol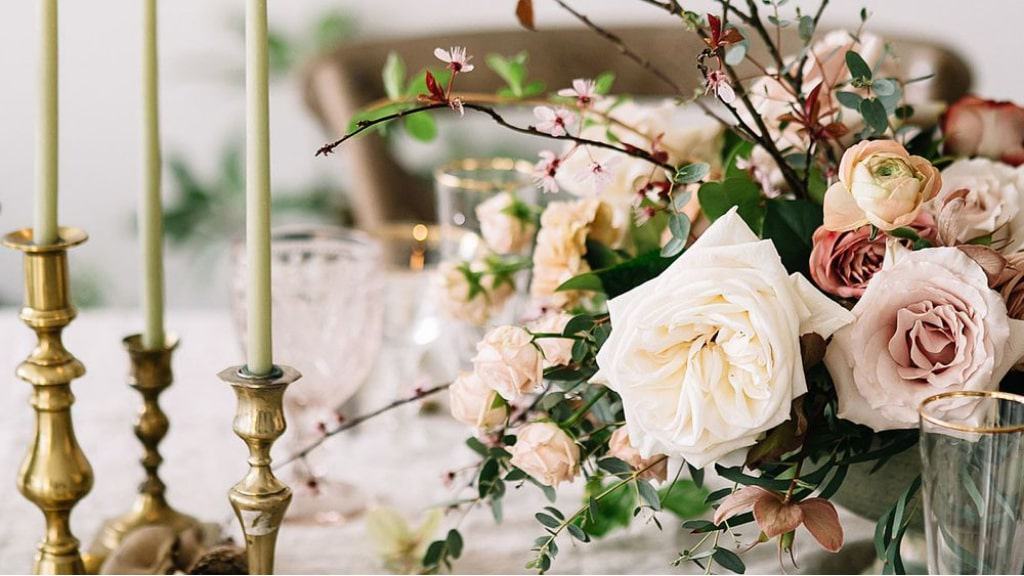 | | |
| --- | --- |
| BEST FOR    | Wedding and Funeral Flower Services, Bespoke Floral Designs |
| STARTING PRICE | £55 |
| WEBSITE | https://www.theflowershopbristol.com/ |
| ADDRESS | 145 Gloucester Road, Bishopston, Bristol. BS7 8BA |
| CONTACT DETAILS | 0117 942 0050 |
| SOCIAL MEDIA | Instagram , Facebook , Twitter |
| OPERATING HOURS | Monday – Saturday: 9:00 AM – 5.30 PM |
The Flower Shop Bristol offers handmade and custom bouquet arrangements, tailored for special events like weddings, birthdays, anniversaries, holiday seasons, and more! If you already have an ideal design in mind, they can help you make the perfect arrangement!
They specialise in event services and have dressed multiple wedding venues with romantic floral arrangements. Aside from flower designs, they also offer luxurious glassware, urns, candles, and splints to make sure that each arrangement will stand out, making your wedding day more memorable.
When it comes to their sympathy flower collections, they can handle specific terms for every funeral. Whichever event it is, you can consult with them for professional advice regarding the style and budget requirements.
Offers bespoke event services
Has same-day delivery service
Provides event consultation
Delivery service to any Bristol postcode
Customer Reviews
Customers shared that they were fully satisfied with the overall services of The Flower Shop Bristol. They said that the team was detailed and considerate from the initial process up until the final day of the preparations.
A customer gave this feedback:
"Hello to everyone at The Flower Shop, Firstly I just wanted to say a very big thank you for arranging the most beautiful flower arrangements and most spectacular flower arch ever. Everyone commented on the day that the flowers were the most beautiful they had ever seen at a wedding. Thank you so much for all the effort and hard work, we really did appreciate it completely."
6. Beau's Bouquets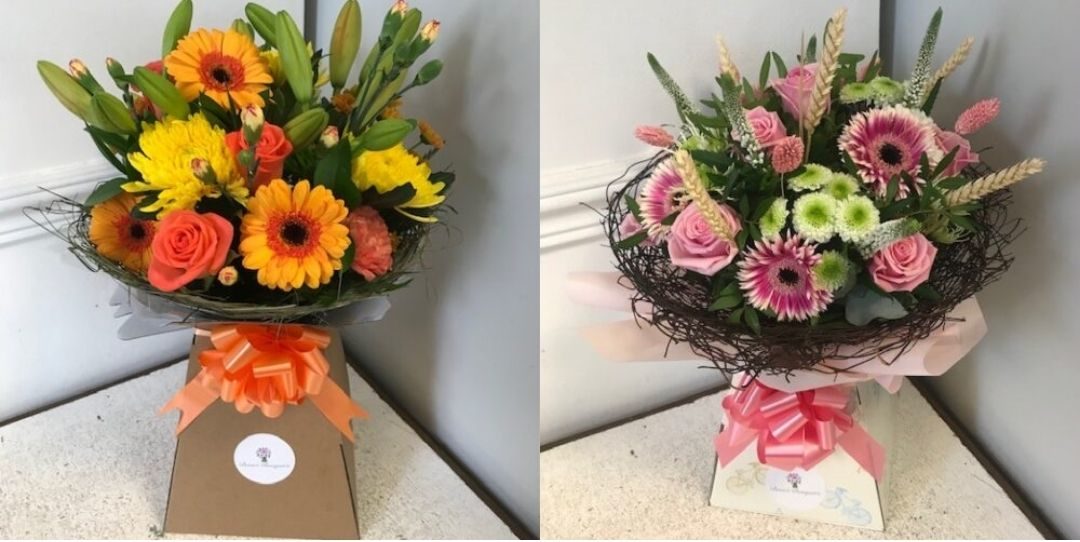 BEST FOR
Reliable delivery service
STARTING PRICE
Starts at £3.00
DELIVERY FEE
Starts at £3.50
WEBSITE
https://beausbouquets.co.uk/
ADDRESS

18 High St, Shirehampton, Bristol BS11 0DP, United Kingdom

CONTACT DETAILS
Phone: 0117 334 3007
Mobile: 07854 281706
Email: [email protected]
SOCIAL MEDIA
OPERATING HOURS
Mon – 9.00am – 6.00pm
Tue – 9.00am – 6.00pm
Wed – 9.00am – 6.00pm
Thu – 9.00am – 6.00pm
Fri – 9.00am – 6.00pm
Sat – 9.00am – 1.00pm
Next on the list is Beau's Bouquets. They're a flower shop known for their gorgeous arrangements made for different occasions.
Beau's Bouquets have both fresh and dried flowers in stock and use whichever their clients want best. Each stem is proved to be of the highest quality, thoroughly checked by their expert florists every day before arranging them into bouquets.
In case you want bespoke arrangements, Beau's Bouquets can accommodate that too! They can personalize floral bouquets by color or even by types of blooms.
Aside from their floral arrangements, Beau's Bouquets also offer other gifts and novelties like candles, balloons, and cards to accompany the blooms you ordered or to give separately.
Message them for any other inquiries, or head on to Beau's Bouquets' website to order.
Handcrafted floral bouquets
Affordable arrangements and gifts
No hidden costs
Same day delivery is available
Closed on Sundays and public holidays
Customer Reviews
Receiving a perfect 5-star rating from all of their customers, Beau's Bouquets is surely a shop to consider if you're in need of arrangements to gift your loved ones.
As proof, take a look at some of the feedbacks left for them on Google Review:
"I had the most beautiful and unusual flowers delivered from this fairly new business at least 2 weeks ago and they are still looking good. The composition of flowers, arrangement and type of display is perfect for me as I cannot temporarily carry things and it can ge in front of me on the table from breakfast to supper time."
"From initial discussion in choosing the right flowers through to ensuring they are delivered, when required, Amy ensures that her customer service is excellent at all times.
I have ordered a number of times (normally with little notice) & Amy always provides excellent bouquets that last longer than you expect! The flowers are so fresh & bright & they are worth every penny. Would definitely recommend."
"A truly wonderful service. From Germany I had emailed a last-minute request to deliver flowers for a wedding anniversary local within Shirehampton. They made a beautiful flower arrangement. The recipient was over the moon with them. I highly recommend using this florist.
Many thanks to Beau's Bouquet's"
FAQs on the Best Flower Delivery in Bristol
____________________________________________________________________________
That's the end of our list of shops with the best flower delivery in Bristol! Already found your ideal arrangement and delivery rates? Share your thoughts with us!