Greece is a very noble place especially for those who are a fan of mythical creatures as this is where the stories about Greek gods started. A lot of Greek mythologies have captured the hearts of many, not only the people in Greece but of the entire world. But, you know, Greece does not only contain lots of stories about gods and goddesses, but they also have numerous flower shops that offer reliable delivery services.
1.      FIORISSIMO.GR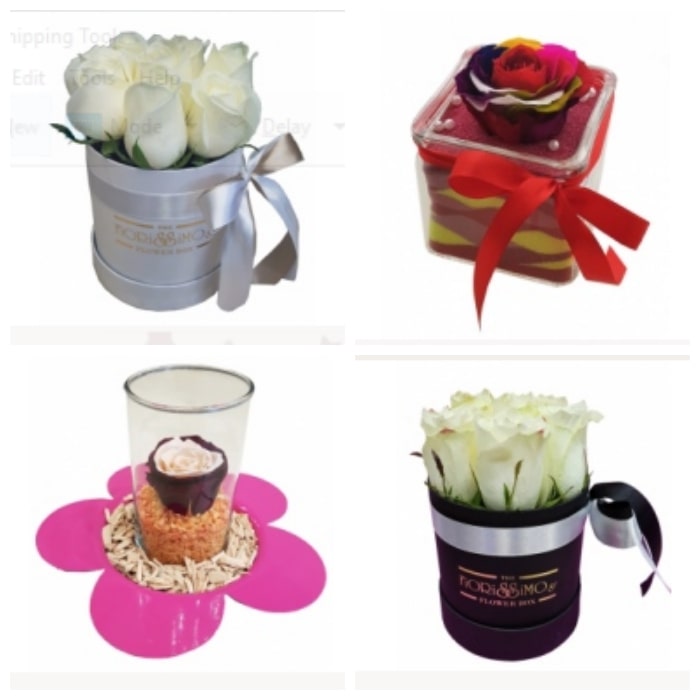 Fiorissimo specializes in personalizing a floral arrangement depending on the occasion or event. They treat all their customers with special care and attention by ensuring that orders are satisfied with the freshest flowers. They also offer to send gifts and flowers to all cities without any extra charges! Great deal, right?
WHAT PEOPLE LIKE
STUNNING DESIGNS. Once you browse through the collection of Fiorissimo, you will be greeted with truly wonderful floral arrangements that are inspired by different styles, may it be modern or conventional, that are all put together to create a rather amusing floral design.
WIDE SELECTION. If you got lots of events lined up that all require different sets of flowers, then you should definitely come to Fiorissimo because they got almost all kinds of flowers that are suitable for all kinds of occasions and themed events.
PRODUCTS
Flowers in box – €32 to €100
Roses – €32 to €100
DELIVERY AND PAYMENT
Visa, Mastercard, Maestro
2.      ANTHEMION FLOWERS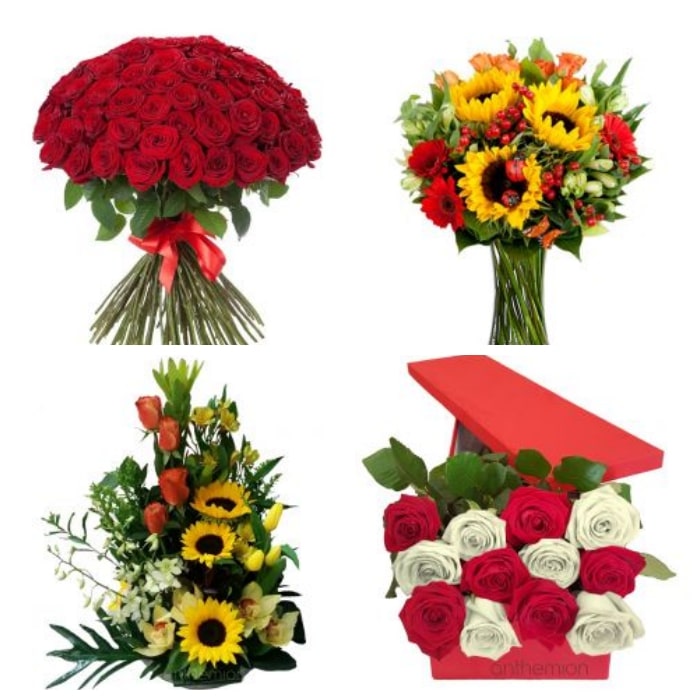 Anthemion Flowers is a hero in Greece for making someone's day special. They have the best selection of flowers like roses, tulips, orchids, lilies and more. They customize arrangements depending on their customers' preferences. They also have pre-arranged ones that target specific events or recipient such as newborn boys and birthday celebrants.
WHAT PEOPLE LIKE
AFFORDABLE ITEMS. You don't need to think too much about the budget because Anthemion Flowers assures you that all of their items are affordable yet brings a different level of sophistication.
EXPERT FLORIST. The team is composed of passionate and truly talented florists that has been working in the industry for many years now that is why there is no way that you will doubt the quality of products and services that they will be providing.
PRODUCTS
Roses – €20 to €500
Sunflowers – €25 to €200
DELIVERY AND PAYMENT
Visa, Mastercard, Eurobank
3.      E-FLOWERS.GR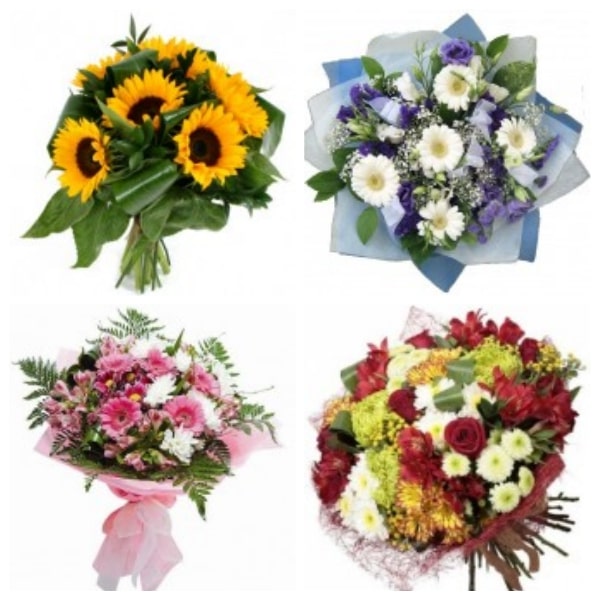 Over the years, E-Flowers has been serving the people in Greece with their unique and creative collection of flower arrangements. Visiting their shop could also be more convenient since they have ready-made flower arrangements that you could just pay at the counter.
WHAT PEOPLE LIKE
CUSTOM-MADE. The shop honors every idea that are shared to them so if you have your specific preferences on the flower arrangements, you may have your orders custom-made to perfectly achieve your ideal floral design.
PRODUCTS
Bouquets – €40 to €200
Flower Vase – €40 to €200
DELIVERY AND PAYMENT
Visa, PayPal, Mastercard
4.      FLERIA S.A.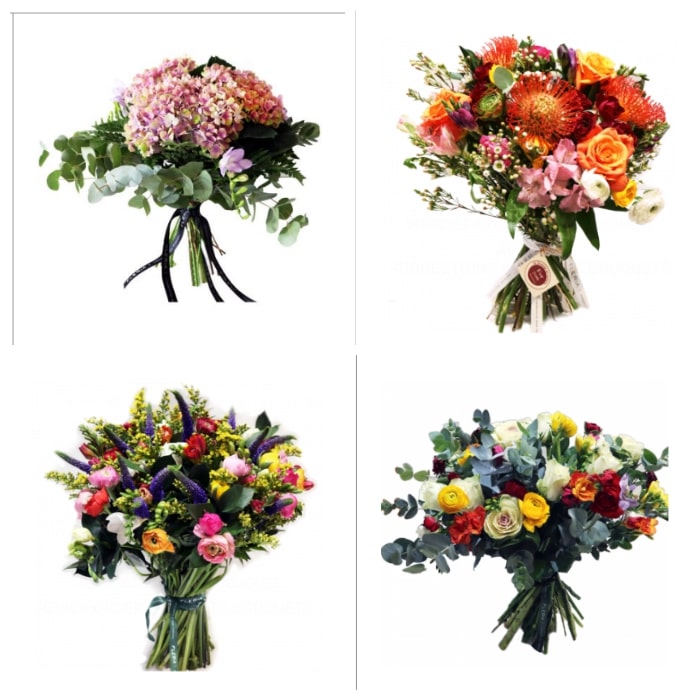 At Fleria S.A., they believe that they play an important role in making every individual's celebration extra special. They are committed to deliver excellence through the best flower arrangements and customer service. If you want to see more of their precious collection, you should definitely visit their e-shop.
WHAT PEOPLE LIKE
VALUE FOR MONEY. You will never regret spending some cash on the flower products of Fleria S.A. because of how fine the quality of their products are. You can even consider it as an investment especially if you choose to send flowers created by them to your most loved.
FRESH FLOWERS. The shop implements strict quality control to make sure that all flowers coming in and out of their shop are always kept fresh and in best quality.
PRODUCTS
Bouquets – €40 to €150
Flower in box – €40 to €150
DELIVERY AND PAYMENT
Contact shop for details.
5.      FLOWERDESIGN.GR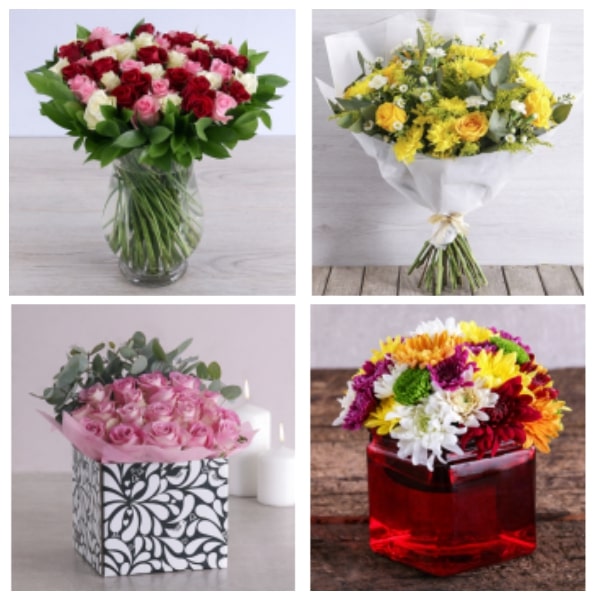 Looking for the expert florist who would put your flower arrangement idea into work? You had come to the right place. Flowerdesign love their service for this. Colors, type of flower, and occasion – those are the only few things the florist of Flowerdesign needs to create a magnificent flower arrangement for you.
WHAT PEOPLE LIKE
AFFORDABLE ARRANGEMENTS. Not only does the shop prioritize the quality of their products, but they also give importance to their customers and think of how they will be able to get one for themselves and they answered that by offering these flowers at low amounts.
EASY TO ORDER. You do not have to go out of your house and personally visit their physically shop because Flowerdesign has enabled online and phone orders, so you'd be able to place your orders at the comfort of your home.
PRODUCTS
Bouquets – €20 to €200
Arrangements – €20 to €150
DELIVERY AND PAYMENT
Eurobank, Visa, Mastercard, Maestro
6.      MILVA FLOWERS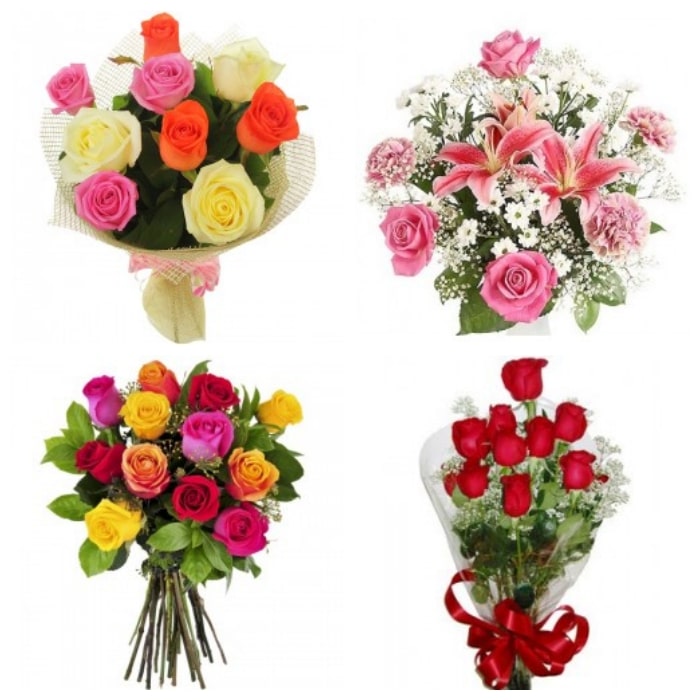 Milva Flowers ensures every customer of their creativity and reliability. They offer fresh and artistic flower designs. They also create customized gift baskets that will surely make your loved one feel more appreciated.
WHAT PEOPLE LIKE
100% CUSTOMER SATISFACTION. One of the prides of Milva Flowers is their ability to provide absolute happiness and satisfaction through their wonderful flower arrangements and it is shown in every positive feedback that they get from their clients.
PRODUCTS
Romantic Flowers – €36 to €70
Birthday Flowers – €34 to €80
DELIVERY AND PAYMENT
Contact shop for details.
7.  ROSETTA EVENTI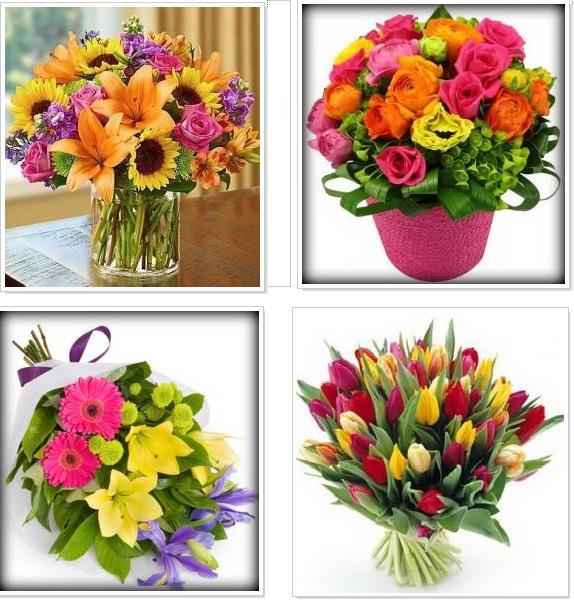 Since its inception in 1990, Rosetta Eventi has never failed to amuse their clients with their extremely amazing skills in creating and designing stunningly beautiful flower arrangements for all occasions.
To fully achieve 100% customer satisfaction, Rosetta Eventi makes sure that their flower arrangements are uniquely created and tailored to the needs and preferences of each of their clients.
WHAT PEOPLE LIKE
CATERS TO WEDDINGS.

Weddings are beautiful but Rosetta Eventi can make it even more wondrous through their luxury flower arrangements. They find the perfect balance of colors, texture, and style to create the best wedding flower arrangements you deserve.

EXPERT DESIGNERS.

For over 30 years, Rosetti Eventi has been providing an exceptional collection of fresh floral arrangements and this was especially made possible through their extremely talented and highly professional florists and designers.
PRODUCTS
BOUQUETS
CENTERPIECES
WEDDING FLOWERS
VASE ARRANGEMENTS
HATBOXES
DELIVERY AND PAYMENT
Contact for more details.
8.  FIORISSIMO

Fiorissimo first opened its doors to the public in 1989, and since then they have been constantly delivering only the best flower designs to their happy customers. What first began as a shop that only sold flowers then grew to include balloons, pinatas, and teddies. 
These days, Fiorissimo also accepts requests to do decorations for birthdays, weddings, and christenings.
SPECIALTY

Fresh Blooms

SELECTION SIZE

Moderate

STARTING PRICE

Varies

DELIVERY FEE

Calculated at checkout

WEBSITE

https://www.fiorissimo.gr/

SOCIAL MEDIA

https://www.facebook.com/Fiorissimogr-Flowers-n-Balloons-The-page-62997519687/

https://www.youtube.com/user/Fiorissimoflowers/

Twitter: @fiorissimo_gr

CONTACT DETAILS
WHAT PEOPLE LIKE
INTERNATIONAL ORDERS. Fiorissimo is a member of Interflora, an international network that allows flower shops all over the world to cater to customers who don't reside in the same area as their chosen shops. 
ORGANISED MANAGEMENT. Operations are handled securely at Fiorissimo, resulting in the use of the freshest blooms and high quality material as well as the fast creation of every order placed in their system. 
PRODUCTS
FLOWERS
BOXED FLOWERS
FOREVER ROSES
FLOWER COMBINATIONS
PLANTS
DELIVERY AND PAYMENT
The shop accepts payment through Visa and Mastercard.
9.  BETTY FLOWERS SANTORINI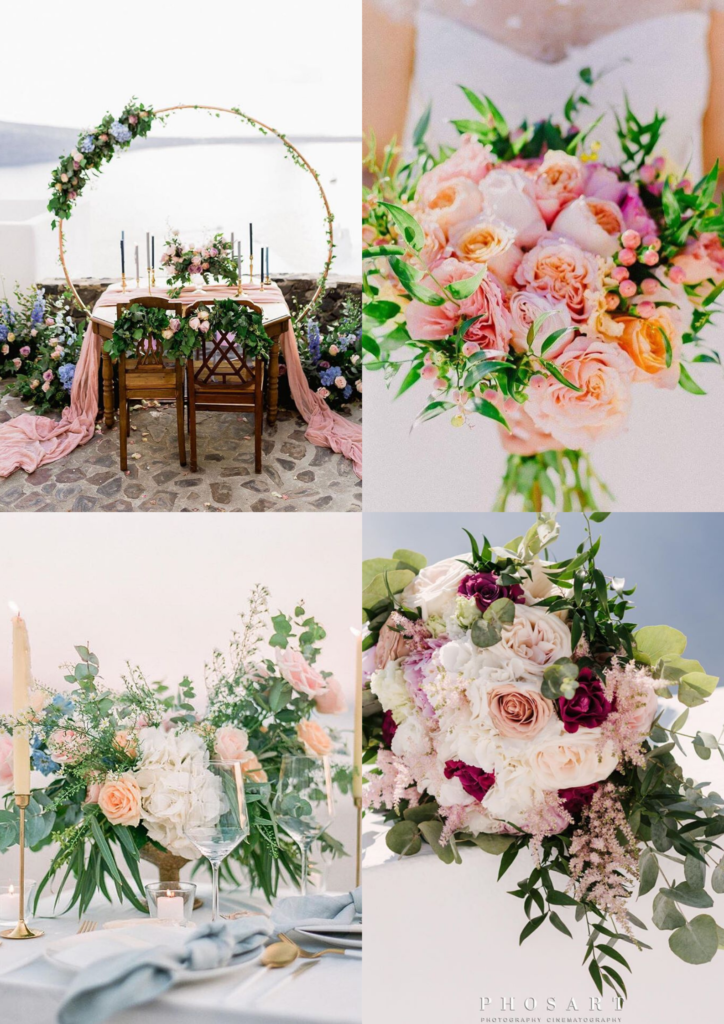 Betty Flowers Santorini 
SPECIALTY

Elegant floral design for weddings and events

SELECTION SIZE

Curated

STARTING PRICE

Contact for more information

DELIVERY FEE

Contact for more information

WEBSITE

SOCIAL MEDIA

https://www.facebook.com/BettyFlowersSantorini/

CONTACT DETAILS

Telephone: +30 22860 31642
Emergency Phone: +30 6937133419
FAX: +30 22860 34109
E-Mail: [email protected]
WHAT PEOPLE LIKE
BESPOKE FLOWERS. Betty Flowers Santorini takes on a collaborative approach when it comes to their floral designs. They work closely with all of their clients, taking into account their creative visions before setting off to bring said visions to life. 
FULL-SERVICE FLOWER DESIGN. Flower design has never been as good as it is with Betty Flowers Santorini. Wedding and event flowers come as a full package at this flower shop, with Betty Flowers Santorini providing bouquets, boutonnieres, table arrangements, corsages, and many more.
PRODUCTS
Wedding and event flowers
DELIVERY AND PAYMENT
Contact shop for more information.