There are so many preparations to do when you are expecting a child. You have to identify the best hospital, the best doctors, and when the baby comes you have to buy durable cribs, comfortable pillows and blankets, and non-chemical baby bath essentials. It is just too much work. Thankfully, gift shops now offer baby hampers that include all baby items that you might need not only for newborns but also for toddlers, and the mommy of course.
1. MY BABY GIFT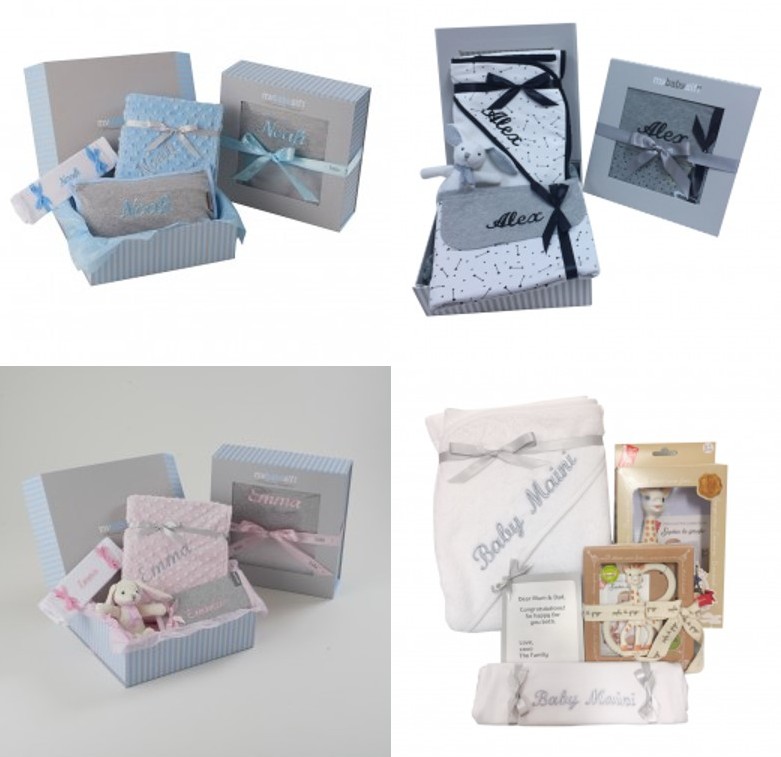 My Baby Gift is a luxurious baby gift shop in Singapore that offers premium baby hampers and other relevant items. All their products are elegantly packaged and are best as gifts for baby showers or simply a gift for a newborn. You can also have your orders custom-made, say have the picture of the baby copied into a pillow, or a towel with their names printed on it.
WHAT PEOPLE LIKE
PERSONALIZED ITEMS. One of the cutest things as a gift for newborn or a mother who just gave birth is a personalized baby item with their child's face or name printed into it. My Baby Gift offers variety of products that you can request to be customized and altered. This kind of gift will surely be a part of the mother and child's memory forever.
CREATIVE COLLECTION. Are you planning to throw a baby shower for a friend who will have her baby in a few weeks? Then you might want to check the shop of My Baby Gift and see for yourself their creative ideas that will surely make your party even better. Their creative staff creates party items such as cakes and flower arrangement that you can have custom-made. One of their most popular products is the diaper cake which they guarantee to be delicious and definitely not gross.
PARTNERED WITH BRANDS. Aside from their own unique collection, the shop has also partnered with different brands that offer baby hampers and other products to make the best out of your shopping experience. You can choose from these brands through their website and all the available items will appear in a snap.
PRODUCTS
Baby Hamper – $95 to $688
DELIVERY AND PAYMENT
For personalized items, delivery time may take 2 days to make sure that they properly do it right. Meanwhile they also offer same day delivery, with a relatively higher delivery charge as long as you place your order before 4pm.
2. ANGELFLORIST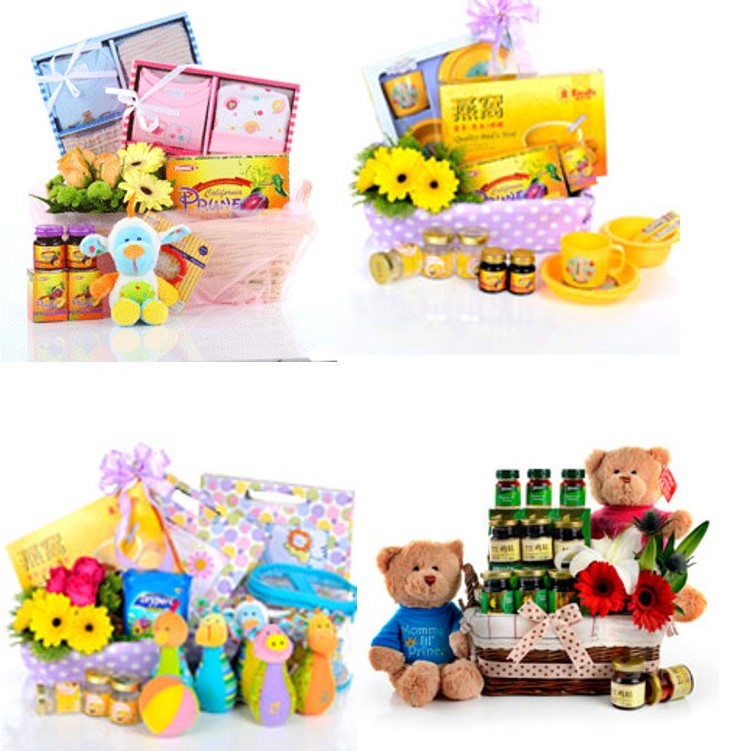 The shop has long been providing delivery services in Singapore, since 1999, before even they inaugurated themselves as Angelflorist, the shop has been known to be one of most trustworthy gift shops in the country. Now that they are continually expanding as a business, they are able to deliver products not only in Singapore but also in areas of its neighbour country, Malaysia.
| | |
| --- | --- |
| SPECIALTY | Affordable baby hampers |
| SELECTION SIZE | Large |
| STARTING PRICE | Starts at $58.69 |
| DELIVERY FEE | Calculated at checkout |
| WEBSITE | http://www.angelflorist.com/ |
| SOCIAL MEDIA | |
| CONTACT DETAILS | +65 6908 1788 |
WHAT PEOPLE LIKE
WIDE SELECTION. AngelFlorist do not disappoint their customers when it comes to the quantity of their available products. They have plenty of gift items, particularly of hampers, that you can choose from. As for their baby hampers, their products range from cute stuffed toys to durable strollers.
ADD ON ITEMS. Aside from their large collection of gift items and even flower arrangements, AngelFlorist also offers add on items that will totally complete the package. They have items like chocolates, balloons, bears, and wines, which would definitely be perfect as a gift.
OFFERS CORPORATE ACCOUNT. This offer of AngelFlorist primarily targets companies that wish to avail their products with upfront discounts. This subscription is inclusive of truly amazing perks that will totally bring joy to your company  and the employees.
PRODUCTS
Perfume & Flowers – $80 to $250
Wellness Hampers –  $80 to $250
Fruit Baskets –  $80 to $250
Gourmet Hampers –  $80 to $250
Baby Basics – $59 to $250
Wine Hampers –  $80 to $250
Chocolate hampers –  $80 to $350
DELIVERY AND PAYMENT
The shop offers daily free delivery, while payments may be processed through Mastercard and Visa.
3. A BETTER FLORIST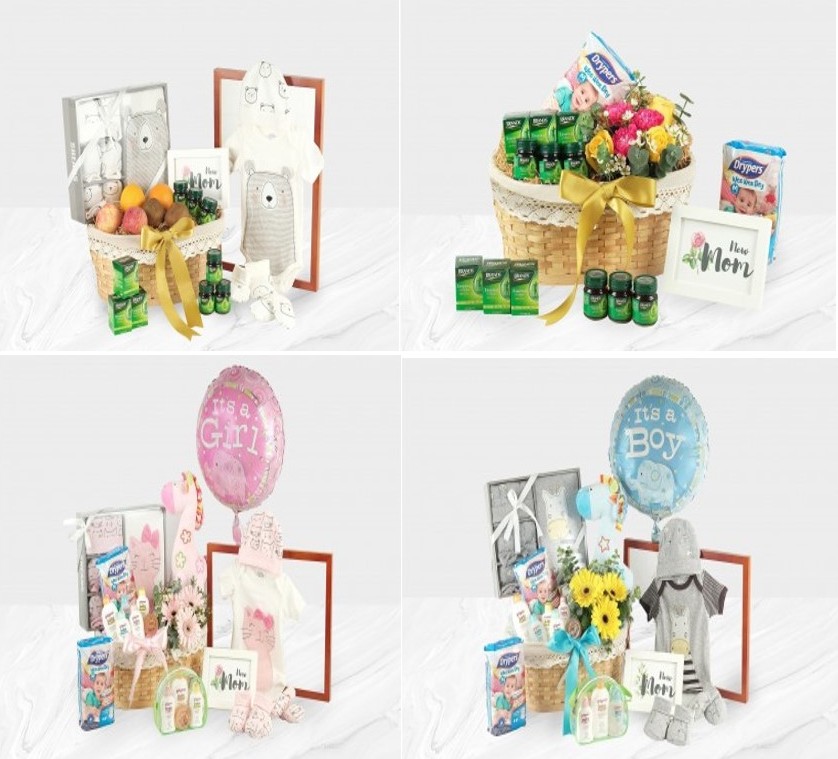 A Better Florist believes that giving gifts to our loved ones does not have to be expensive and extravagant. With their products that are guaranteed to be of high quality and durability, they make sure that you truly get what you paid for. Their baby hampers are ensured to be made of high-quality materials for the security and protection of your kids.
WHAT PEOPLE LIKE
AFFORDABLE HAMPERS. For very affordable prices, you will be able to receive the highest quality of baby hampers that A Better Florist offers. These hampers include baby oils, bottles, cute little dresses, diapers, and other essential items for the newborn and their mom. These hampers are very ideal as gift for your friends who had just their babies.
FREE DELIVERY. One of the best things that every customer is looking for in a gift shop is their free delivery service. Wherever you are around Singapore, A Better Florist is more than willing to send you gifts with their excellent delivery services and they guarantee that the products will arrive in best condition and with no delay.
HIGH CREDIBILITY. One of the basic procedures when looking for a shop especially when shopping online is to check if they have good feedback from their previous customers, this is to ensure that your money will not be put into waste and that you will receive high quality of products. With A Better Florist, you are guaranteed that they always priority customer satisfaction and they make sure to check the quality of their products before releasing it to the market.
PRODUCTS
Baby Hamper – $55 to $100
Fruit Hamper – $60 to $75
DELIVERY AND PAYMENT
The shop offers same day delivery for as long as you place your order before 3pm. Meanwhile, the payment methods that they accept are Visa and Mastercard.
4. HER FLOWERS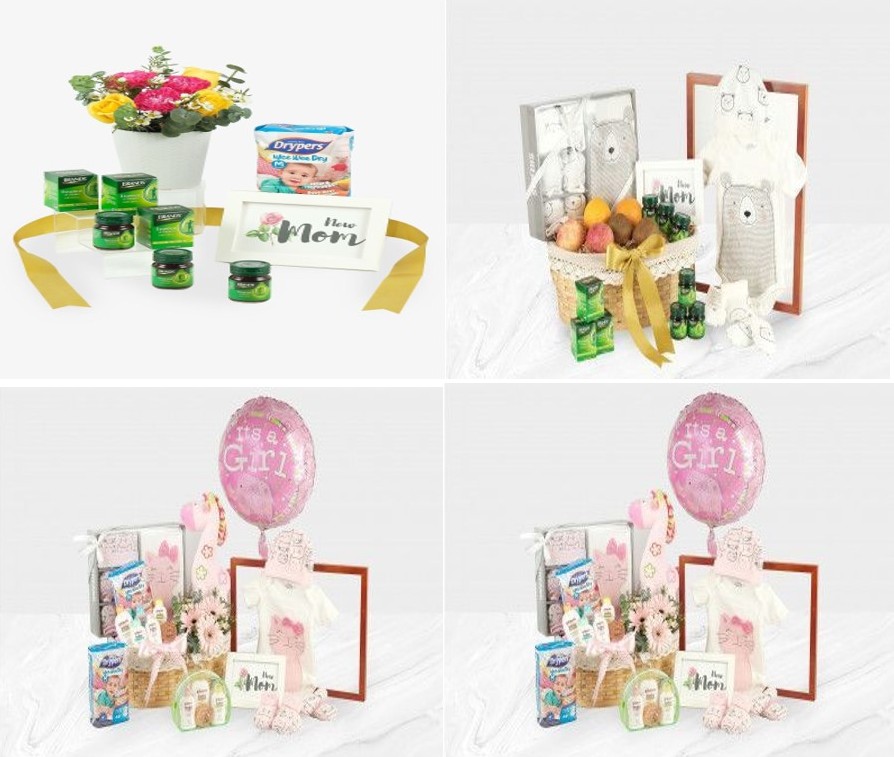 Her Flowers is one of the top flower and gift shops in Singapore having a large collection of fresh flowers as well as hampers for different occasions. The shop wants to be part of their customers' journey in life that is why they do the best that they can to provide you with the highest quality of baby hampers that they believe will truly be a wonderful experience for you and your baby.
WHAT PEOPLE LIKE
CONVENIENT WAY TO ORDER. Her Flowers made baby hamper shopping very easy with their accessible online shop. If you are an expecting mom that is on her third trimester of pregnancy and having quite a difficulty in going from one place to another, then this is the perfect shopping experience for you. All you need is a working device and internet and voila, you can shop whatever baby needs to may have.
CUSTOMER-FRIENDLY. Should there be an unfortunate event that you might need to cancel your order, Her Flowers allows cancellation of orders as long as you inform them ahead of time. They understand that there are circumstances that are beyond our control, so they enable this feature. You are still very welcome if ever you change your mind again and actually proceed with the order.
PRODUCTS
Baby Hamper – $55 to $100
Fruit Hamper – $60 to $75
DELIVERY AND PAYMENT
The shop accepts payment that processed through credit cards, bank transfer, and PayPal.
5. ORCHARD FLORIST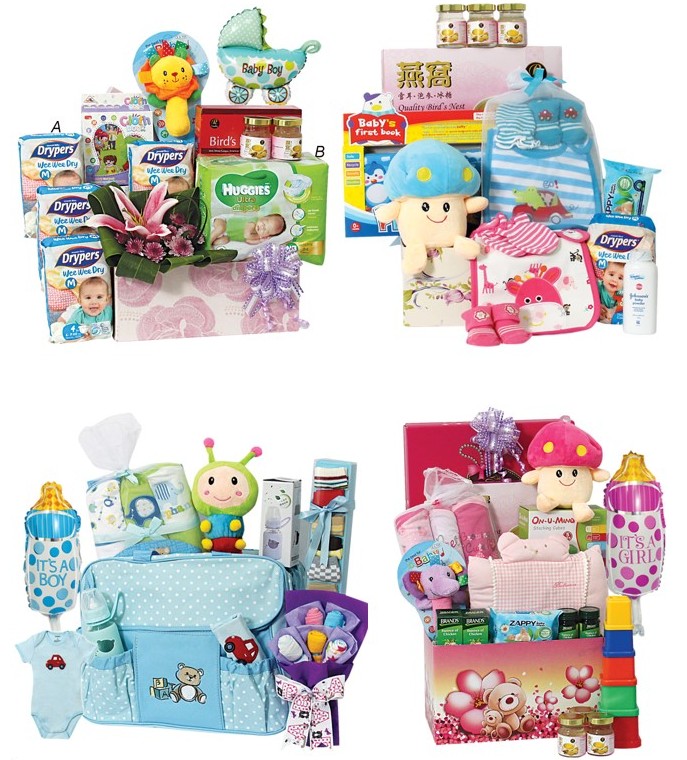 Orchard Florist is one of the leading flower and gift shops in Singapore. They have tons of wonderful collections that are sold at very affordable prices. With the goal of making the online shopping experience of every person in Singapore the best they ever had, the team of Orchard committed themselves to create and delivery gift items that are truly outstanding and close to perfection.
| | |
| --- | --- |
| SPECIALTY | Large items for baby hampers |
| SELECTION SIZE | Large |
| STARTING PRICE | Starts at SGD 53.50 |
| DELIVERY FEE | Calculated at checkout |
| WEBSITE | http://www.orchardflorist.com.sg/ |
| SOCIAL MEDIA | |
| CONTACT DETAILS | 6276 4486 |
WHAT PEOPLE LIKE
VALUE FOR MONEY. Orchard Florist understand that every purchase that their customers make is an investment that they should help appreciate the value of. With their baby hampers, they aim to help mothers invest in something worth buying and alongside this is making sure that their babies are always in comfort and security.
OFFERS GIFT VOUCHERS. One of the best offers that Orchard Florist has is their redemption coupons. With these vouchers, you are able to save some penny when buying their products. It is really a practical move especially to those who are always working on a budget.
INTERNATIONAL REACH. Aside from reaching the entire country of Singapore with their magnificent original creations, Orchard Florist also prides itself in the nearby countries such as Malaysia, Hongkong, and Indonesia.
PRODUCTS
Celebrating New Life Hampers – SGD 50 to SGD 350
DELIVERY AND PAYMENT
The accepted payment methods are Mastercard, Visa, and WorldPay.
6. SIMPLY HAMPER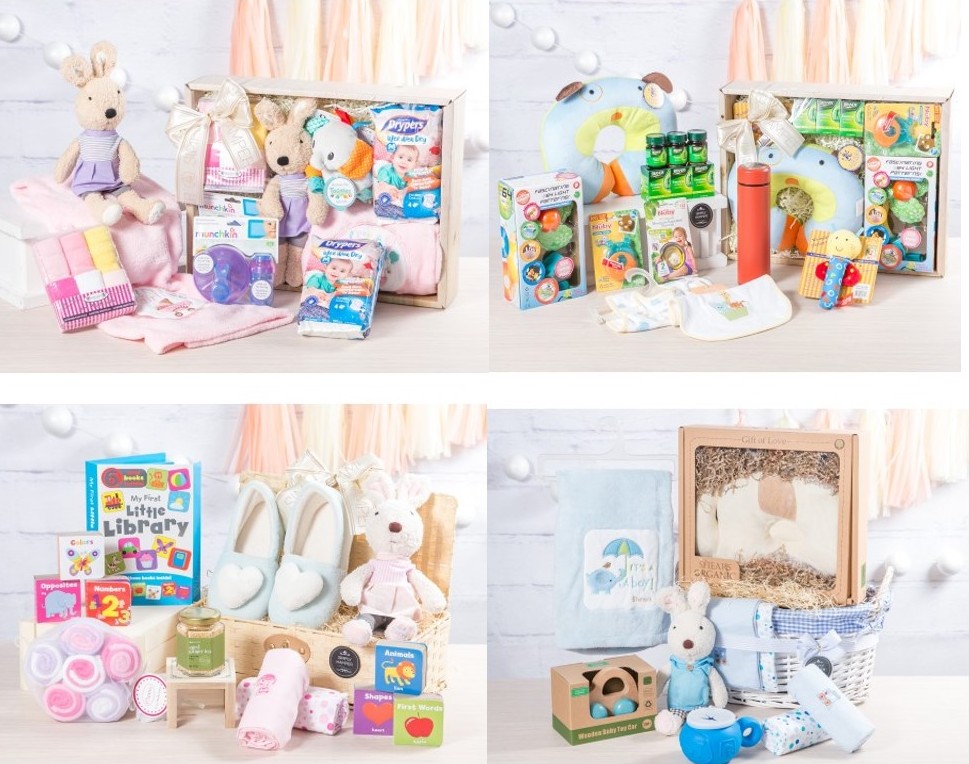 The wonderful team of Simply Hamper believes that "a Singapore hamper should demonstrate your kindness and care to your recipients, regardless of whether they are your loved ones, your corporate partners or your customers." With this, the shop includes practical items in their collection that they believe will be useful to whoever receives them. Over the years they have expanded their selection and created more and more hampers for different occasions, making their inventory better each year.
WHAT PEOPLE LIKE
SIMPLE ITEMS. The shop stands true to its name as they offer simple items yet essential ones. While they are not forgetting  also invest in good packaging and total physical appearance of their products, they focus more on its usability and practicality, hence the simplicity of all their gift items particularly of their hampers.
ORGANIC HAMPERS. If your baby has sensitive skin, the organic hampers made by Simple Hamper is a perfect buy. These hampers include oils, soap, lotion, shampoo, and other baby essentials that are purely organic which is perfect for a baby's skin that is generally fragile. These hampers are sold at very reasonable prices, too.
FAST DELIVERY. Simply Hamper wants only the best for their clients and one of these is their reliable delivery services in which they assure to be in fast pace and with no delay. They also offer same day delivery for those who are always in a rush or badly need to send gift items in few hours.
PRODUCTS
Fruit Hamper – $70 to $100
Personalized Hampers
Get Well Hamper – $65 to $100
Baby Hamper – $65 to $100
DELIVERY AND PAYMENT
Standard delivery time is 9AM-1PM, 2PM-6PM, and 7PM-10PM. The shop accepts Visa/MasterCard/American Express/Discover credit card or PayPal payments.
7. LILLIE AND LUCA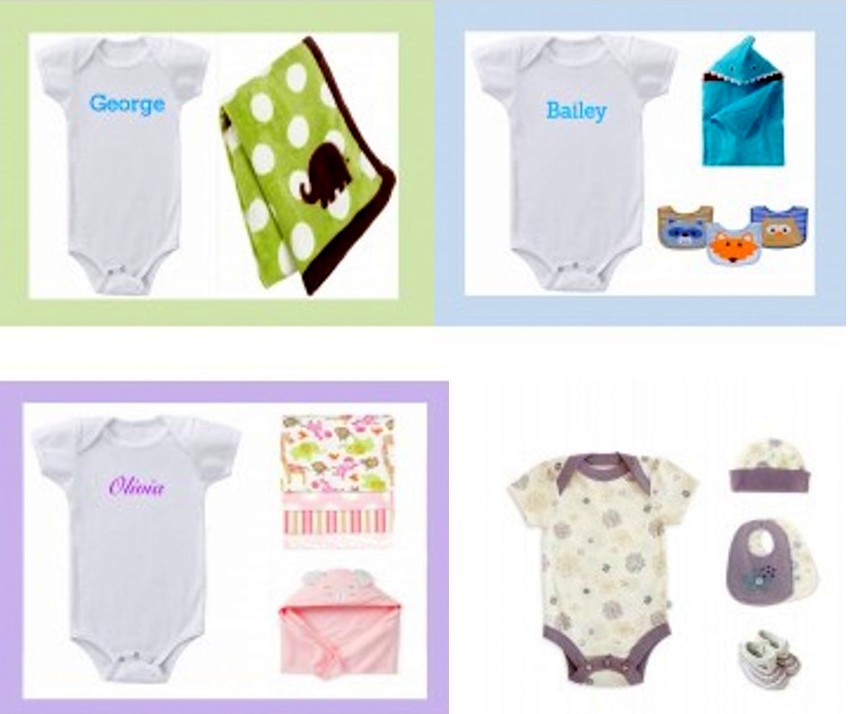 Lillie and Luca is a premiere flower shop in Singapore. It has a large collection of gift items specifically for moms and moms-to-be, as well as baby hampers that includes some baby essentials such as body oils, towels, bath essentials, small dresses, and many more. Just like our mothers, Lillie and Luca only wants what is the best for their beloved customers so they offer an extensive range of collections that you can freely choose from.
WHAT PEOPLE LIKE
FREE DELIVERY SERVICE. As a mother, your time is mostly spent taking care of your newborn child. Starting the day by feeding them and ending it with you making them go to sleep. Apparently, you no longer have time to go out and shop. Luckily, Lillie and Luca offers free delivery to anywhere in Singapore. You can just conveniently purchase online and have your orders delivered to you in no time.
OFFERS GIFT CERTIFICATE. This is perfect for those who are first time to be a godmother or godfather and have no idea what to give to their godchildren or to their friends who just have birth. You can simply purchase a gift certificate from the store and let the recipient decide what products they want to buy from the store.
PARTNERS WITH BRANDS. Aside from their own original brand and style, they also partner with other brands to expand their collection and make their customers' shopping experience with them truly exceptional. If you are a fan of a specific brand but has no time to go to the mall and personally pay a visit, simply purchase one from Lillie and Luca and they are more than happy to deliver it straight to your place.
PRODUCTS
Baby Hampers for Girls – $79 to $330
Baby Hampers For Boys – $79 to $330
DELIVERY AND PAYMENT
Delivery to any point in Singapore is totally free. For payments, you can process them thru Mastercard, Visa, PayPal, and American Express.
8. HUMMING FLOWERS & GIFTS PTE LTD

Humming Flowers & Gifts Pte Ltd is one of the leading gift companies in Singapore. It was incorporated in 2007 and since then they were able to expand more on their business and offer additional gift items that are truly of high quality and are definitely suitable for any kind of occasion. They also sell hampers that are categorized according to seasons and occasion.  With their precious collection, they aim to share love, joy, and happiness to the people in Singapore.
WHAT PEOPLE LIKE
LARGE SELECTION. Humming Flowers & Gifts Pte Ltd wants to make sure that they cater to all their beloved customers' gift concerns so they invested in their products and ensured that their collection is a large one where their customers can freely choose whatever they may need. Not to mention, Humming Flowers & Gifts Pte Ltd catalogue alone features over 600 flower and gift ideas that are perfect for any kind of event.
OFFERS SAME DAY DELIVERY. If you are in a rush or badly needs to send a gift within the day, Humming Flowers & Gifts Pte Ltd has enough facility to make sure that your orders arrive on the same day that you place your orders. Just remember to finalize your orders before 4PM to be included in the last batch of deliveries which runs from 7PM-10PM.
CUSTOMISATION SERVICE. Humming offers customisation service to customers who have specific requirements for their gifts. we can create exclusive floral gifts or gift hampers based on different budget or product selection.
PRODUCTS
 Baby Hampers: $50 – $500

Fruit Baskets: $55 – $200

Get Well Soon Gifts: $55 – $500

Hand Bouquets: $30 – $200

Grand Opening Floral Stands: $60 – $1000

Condolences Floral Stands: $60 – $1500

Christmas Gifts: $50 – $1000

Chinese New Year Gifts: $60  -$1388
DELIVERY AND PAYMENT
The shop accepts payments done thru Visa, Mastercard, PayPal, Discover, and American Express.
9. THE ELLY STORE

The Elly Store is another favourite on our list of best baby hampers in Singapore simply because of what the brand stands for. That is, comfort and convenience for all of their clients. Their clothing selections are some of the best, each unique in terms of design and colours, but similar in that they're made from high quality materials.
Aside from the clothes, the service at the Elly Store is noteworthy as well. You'll have the freedom to personalise your orders, making the gift giving experience more enjoyable.
WHAT PEOPLE LIKE
PERSONALISED GIFTS. There are times when we're just not satisfied by hampers that have already been arranged. The Elly Store understands this and addresses this matter by allowing customers the liberty to personalise not only the hamper container itself, but the items and decorations that go along with it.
LARGE CATALOGUE. When it comes to gift giving, having a lot of options is always nice to have. Fortunately, you'll get this experience if you choose the Elly Store for your baby hamper needs. They have a wide array of choices not only with the baby clothing, but the accompaniments for the hampers, too.
PRODUCTS
 Personalised baby gift sets

Ready-made baby gift sets
Personalised keepsake boxes
Baby clothing
Clothing for mum and dad
Children's footwear
DELIVERY AND PAYMENT
The Elly Store accepts Visa, Mastercard, American Express, ApplePay, PayPal, and GPay for payments.
10. RAPH & REMY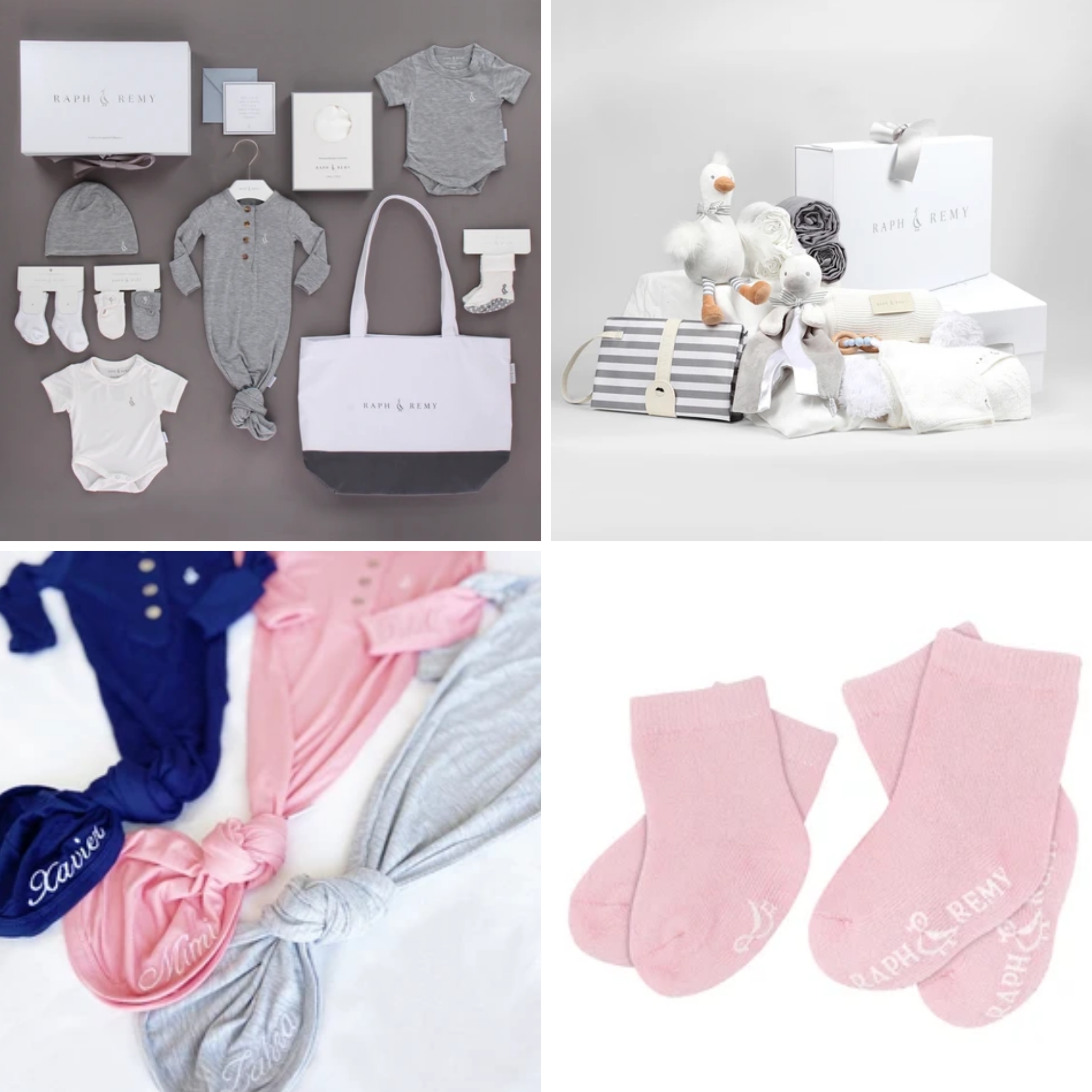 Raph & Remy offers an alternative way to get high quality baby materials while contributing to the environment's well-being. They're the first in Singapore to have bamboo baby essentials and eco-friendly textile products. They want all the mothers and their babies to feel the utmost love and care using their personalised items, making sure that each one is sustainable and safe to use.
WHAT PEOPLE LIKE
WIDE RANGE OF GIFT OPTIONS. If you're looking for items to gift to soon-to-be-parents, or just buying items for your baby, then Raph & Remy is the best shop to browse. They have various hampers, gift sets, apparel, and other materials– both pre-made and customised– for you to choose from.
HIGH QUALITY ITEMS. With Raph & Remy, you can rest assured that all the materials used for their products are only of the highest quality. They're all sourced from the best manufacturers and taken care of properly. All their items are durable and long-lasting.
PRODUCTS
Gift Sets – starts at $198.00 SGD
Apparel – starts at $15.00 SGD
Personalised Products – starts at $19.90 SGD
Textiles – starts at $35.00 SGD
DELIVERY AND PAYMENT
PayPal, VISA, MasterCard, Apple Pay. Google Pay, AMEX
11. SINGAPORE FLORIST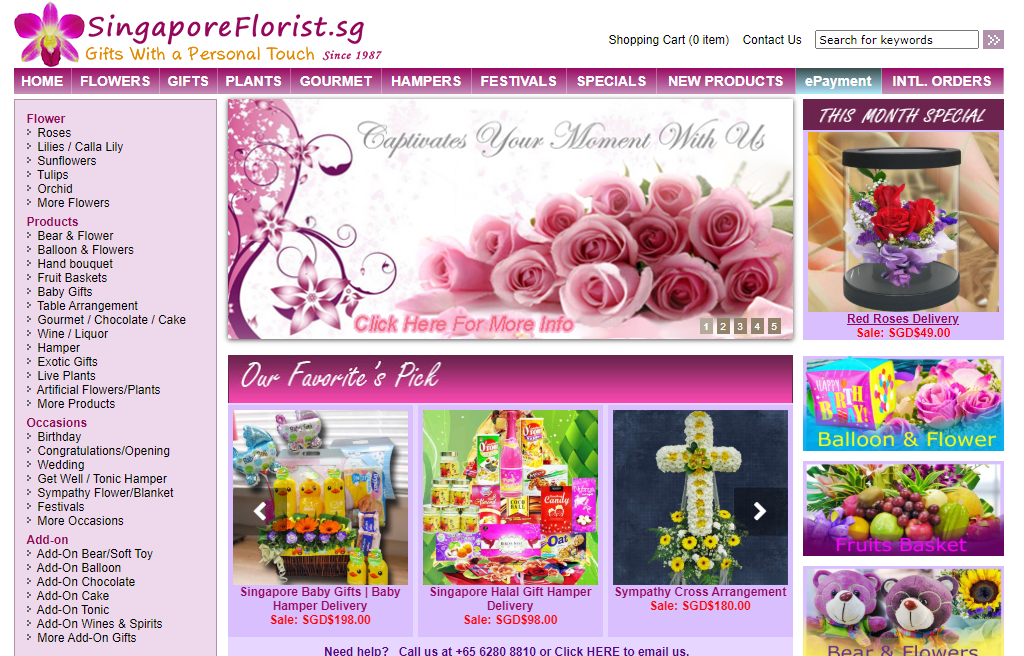 Spare yourself from waiting in line just to buy the items that you need or want. With its large array of products, such as baby flowers, hampers, and baby gifts, Singapore Florist lets you purchase gifts for an affordable price. All you need is a click– you will have your high-quality and durable items at your doorstep!
WHAT PEOPLE LIKE
WIDE RANGE OF OPTIONS. If you're looking for gifts to give to your loved ones, then Singapore Florist is the right choice. They have an array of choices suited for all ages.
EXCELLENT CUSTOMER SERVICE. Singapore Florist accommodates their customers with exceptional service. They make sure that the orders of the buyers are exactly the same as what they ordered.
PRODUCTS
Flowers
Gifts
Plants
Gourmet
Hampers
DELIVERY AND PAYMENT
They accept payment via credit cards, bank transfer and PayPal.
---
Images taken from each company's official websites/social media.