Have people on your to-gift list this Christmas? You'd have to order soon if you have, since the couriers get pretty busy this month with a great volume of items to ship.
Anyway, we've gathered a list of the best Christmas hamper shops in Australia for you. They have a beautiful selection of hampers with locally sourced food and wine that can satisfy your taste buds.
So, let's first start with the cost section of Christmas hampers in Australia so you'll know how much you would have to spend!
How Much Do Christmas Hampers Cost in Australia?
Christmas hampers vary widely online in price and size. In Australia, they should cost from $40 to as much as $850 depending on what you've ordered.
As a result, there's something for everyone irrespective of their budget and taste. However, don't forget to give the hamper price an allowance for the delivery fee, which can go from free to $45.
Generally, the farther you need to ship out the gift, the higher you'll spend, although some of the ones we picked have a flat delivery rate bound for any place in Australia.
Now, here are the rates of some of the leading gift companies in the country:
| | | |
| --- | --- | --- |
| Gift Shop | Christmas Hamper Cost | Delivery Fee |
| Hampers By Design | $14 – $410 | Calculated at checkout |
| Creative Hampers | $55 – $850 | From free – $45 |
| MacArthur Baskets | $41.50 – $402.50 | $16 |
| The Hamper Emporium | $79 – $289 | From free |
| Simply Hampers | $69 – $175 | $10 – $30 |
The Best Christmas Hamper Shops in Australia
Before we start the list, we'll just go over the criteria we used to select the companies here for a bit. So these include:
So the purpose of our criteria is to show you how we think our featured companies are truly amongst the best Christmas hamper shops in Australia. You'll find under each entry our score for the company based on the criteria with 5 stars being the highest and 1 star being the lowest.
Now, without further ado, we present them to you!
1) Hampers By Design

PRODUCTS
Chocolate hampers
Christmas hampers
Corporate hampers
Custom hampers
Father's Day hampers
For her hampers
For him hampers
Get well soon hampers
Gourmet food hampers
Mother's Day hampers
New baby hampers
Pamper hampers
Stitches the bear hampers
Three-tier hamper range
Valentine's Day hampers
Western Australian hampers
Wine & alcohol hampers
DELIVERY FEE
Calculated at checkout
WEBSITE
https://www.hampersbydesign.com.au/product-category/christmas-hampers/
ADDRESS
Baretta Rd, Wangara, WA, Australia, WA 6065
CONTACT DETAILS
1300 474 586


[email protected]

SOCIAL MEDIA
Facebook, Instagram, Pinterest, LinkedIn
OFFICE HOURS
Monday – Thursday: 9:00 AM – 4:00 PM
Friday: 9:00 AM – 3:00 PM
Saturday – Sunday: closed
Looking for a suitable Christmas hamper for your family or friends? If you are, you can give Hampers By Design a go!
It has a slew of options from cute morning tea gifts to sumptuous baskets with tasty treats for spreading holiday cheer. And their luxury hampers and boxes can accommodate clients with low to high budgets, which is why many prefer to shop with them.
Some choices have Western Australian wine with them too, be it red, white, or rosé. For those following a special diet, they have a gluten-free holiday-themed basket as well, though there aren't many of them.
Now, one of this company's strengths is in its appealing product packaging and presentation. Unlike other companies, they curate hampers in a way so they exhibit festive colours and shapes, as opposed to just putting things together.
Hampers By Design offers same-day hamper delivery in the Perth Metro area. However, if you're planning to send a hamper to a friend living in a different state in Australia, there are other great shops out there.
So far, many clients and recipients have been over the moon with the hamper content and design. Also, they support Perth's Children Hospital Foundation for every hamper sold, so you get to help someone in need too if you order!
| | |
| --- | --- |
| Parameter | Rating |
| Hamper Quality | ★★★★☆ (4/5) |
| Hamper Selection | ★★★★★ (5/5) |
| Customer Service | ★★★★★ (5/5) |
| Delivery Speed | ★★★★★ (5/5) |
| Price | ★★★★★ (5/5) |
Same-day delivery to the Perth metro
Wide price spectrum
Accepts Mastercard, Visa, Amex, and PayPal
Supports a children hospital charity
Some hampers can be delivered only in the Perth metro area
Special diet hampers aren't many
No weekend deliveries
Customer Reviews
Excellent products and customer care
"excellent products, service and customer care……im not great at online ordering so i just rang and they sorted easily….i even gave them the wrong address, which they picked up on and called me to verify….excellent service" -Andrew Lefroy
Swift delivery of multiple Christmas hamper orders
"Fantastic service, last minute Christmas order delivered bang on time. 6 hampers to 6 different locations around Perth's outer limits. Certainly recommend!!!" -Gemma Davis
2) Creative Hampers

It's only a few weeks before Christmas and you might want to surprise someone who matters to you whether they live a few blocks away or live on the far side of the country.
With Creative Hampers, you can get them a special gift box arranged only with high-quality goods. You can gift your mum, dad, relative, colleague, or boss at the workplace with its varied selection online.
A simple and affordable gift is the Little Ripples Duo with Rose and Sauvignon Blanc or Shiraz wines. If you have a friend who's into gardening, you could give the Garden & Style gift box with gloves, tools, and hand cream for the Christmas season.
Because standard shipping is free, you can save up more by buying from them. That said, you can expedite your delivery with their same-day and express delivery methods, but at a higher rate.
By the way, take note of their delivery cut-off dates this December. For standard shipping, you must order before December 10, whilst for express shipping, make sure to get your order in by the 17th.
As clients noted, the delivery process was fast and efficient with this hamper shop and they received continuous updates. As such, you won't have to wonder where your order is during the delivery.
However, they take Mastercard, Visa, and PayPal payments only. Despite that, local and international buyers can order from them without a bit of hassle.
So based on these reasons, we highly recommend Creative Hampers as one of the top shops for Christmas hampers in Australia!
| | |
| --- | --- |
| Parameter | Rating |
| Hamper Quality | ★★★★☆ (4/5) |
| Hamper Selection | ★★★★☆ (4/5) |
| Customer Service | ★★★★★ (5/5) |
| Delivery Speed | ★★★★★ (5/5) |
| Price | ★★★★☆ (4/5) |
Has corporate Christmas hampers
Continuous delivery updates
Free shipping available
Offers same-day and express delivery options
Takes Mastercard, PayPal, and Visa
Doesn't take Amex credit cards
No weekend deliveries
Customer Reviews
Lovely hamper and a super-quick service
"Great gift range beautifully presented. Bought lovely hamper for a friend and she really loved it. Super quick service (next day delivery!). " -Ilse Dittes
Excellent customer service
"Highly recommended!! Special thanks to Learne, excellent customer service and beautiful hamper " -Natalija Veljovic
3) MacArthur Baskets

PRODUCTS
Christmas hampers
Bath & body gifts
Business hampers
Cakes & cookies
Chocolate bouquets
Cellar selection
Easter hampers & gifts
Father's Day hampers
For her hampers
For him hampers
Fruit & flowers
Gourmet hampers
Kids n candies
Mother's Day hampers
Newborn baby & mum
Valentine's Day
DELIVERY FEE
$16
WEBSITE
https://www.macarthurbaskets.com.au/christmas-hampers/
ADDRESS
Unit 4/5 Ketch Cl, Fountaindale NSW 2258, Australia
CONTACT DETAILS
1300 663 989


[email protected]

SOCIAL MEDIA
Facebook, Instagram
OFFICE HOURS
Monday – Friday: 9:00 AM – 4:00 PM
Saturday – Sunday: closed
If you wish to get a classic, well-presented Christmas hamper, then MacArthur Baskets is a great choice! It has over twenty years of experience in making gift hampers for all occasions.
Their Christmas hampers are very simple and elegant adorned with a nice ribbon. These can suit different people and events, such as coffee lovers, fishermen, picnics, parties, get-togethers, and the like.
The team uses leading brands for their goods—examples of which include Droste, Ferrero Rocher, Millicent Grove, Wolf Blass, Moet, and Chandon. So, chances are your recipient will be delighted in terms of the flavour and texture.
We like that they offer other gifts like fresh blooms, fruit, cakes, cookies, and candies too. With them, your hamper gift can be made all the special for your friend.
You can send your chosen gift hamper anywhere in Australia at a flat rate. The downside here is that the delivery isn't free, unlike the other shops we have listed here, and they charge another fee for extra hampers bought for the same address.
You can select to deliver them on a future date as you check out. Note that they usually dispatch the gift the next business day, which can be from Monday to Friday, across the nation.
Furthermore, an advantage of this hamper shop is its several payment options. These include Afterpay to spread even the cost, PayPal, Mastercard, Visa, Amex, and Diners Club cards.
Finally, many clients have had a terrific experience in using them. They received lovely and nicely presented baskets, stellar customer service and communication, and that's why we ranked them as one of the top shops for Christmas hampers in Australia.
| | |
| --- | --- |
| Parameter | Rating |
| Hamper Quality | ★★★★★ (5/5) |
| Hamper Selection | ★★★★★ (5/5) |
| Customer Service | ★★★★★ (5/5) |
| Delivery Speed | ★★★★☆ (4/5) |
| Price | ★★★★☆ (4/5) |
Specialises in classic Christmas hampers
Offers Australia-wide delivery 
Flowers and cakes are also available
$16 flat delivery fee
Takes Afterpay, PayPal, Mastercard, Visa, Amex, and Diners Club
Doesn't deliver on Saturday and Sunday
Extra hamper orders cost $8 apiece
Customer Reviews
Prompt and product-precise hamper delivery
"Everything that is shown in the pictures is actually delivered and on time. excellent company." -Debbie Joines
Excellent-quality Christmas hampers
"I ordered a Xmas hamper for my brother and it was of excellent quality and delivered on time. Thank you so much." -Carmen Barbalace
4) The Hamper Emporium

PRODUCTS
Christmas hampers
Beer & cider hampers
Birthday gift hampers
Chocolate gift hampers
For her hampers
For him hampers
Gourmet food (no alcohol) hampers
Gourmet food & wine hampers
Luxury hampers
Pamper gift hampers
New baby hampers
Wine & champagne gift hampers
DELIVERY FEE
From free
WEBSITE
https://www.thehamperemporium.com.au/
ADDRESS
C1, 391 Park Road, Regents Park, NSW, Australia 2143
CONTACT DETAILS
+61 1300 459 452


[email protected]

SOCIAL MEDIA
Facebook, Twitter, Instagram, Pinterest, LinkedIn
OFFICE HOURS
Monday – Friday: 9:00 AM – 5:00 PM
Saturday – Sunday: closed
The Hamper Emporium organises and delivers fantastic gourmet gift hampers in their stylish black boxes from their large Sydney warehouse nationwide.
It's a locally owned and operated company that has developed as one of the most prominent retailers for Christmas hampers in Australia. They are proud of offering only the finest-quality products sourced from top companies around the world.
That also explains the higher prices of their gift boxes or hampers, which may be worth buying for a spouse, parent, colleague, or client to convey your true feelings and message.
They have a large assortment of Christmas hampers you can order online. Every year, they are excited to craft a new range for their buyers, which have been highly anticipated.
Inside the gift boxes are cakes, puddings, wine, champagne, shortbread, hand cream, satin robe, amongst others. These are meant to make your recipient's day spectacularly blissful and memorable.
Free delivery is available with every Christmas hamper you buy. Normally, this can take 1 to 12 days with shipping to further areas like South Australia, Perth, or regional areas taking longer.
There's no problem if you want same-day assurance or faster as they have same-day and express options. However, you'll have to pay a certain delivery fee for it.
And best of all, what sets the gift company apart from rivals is that it gives a smile guarantee. If there's anything at all about its product or service that disappoints you, the staff can right it for you without delay.
| | |
| --- | --- |
| Parameter | Rating |
| Hamper Quality | ★★★★★ (5/5) |
| Hamper Selection | ★★★★★ (5/5) |
| Customer Service | ★★★☆☆ (3/5) |
| Delivery Speed | ★★★☆☆ (3/5) |
| Price | ★★★☆☆ (3/5) |
Free standard delivery
Dedicated customer service
Express delivery option presently at $9.95 
Takes Mastercard, Amex, Visa, PayPal, Zip, Afterpay, and Google Pay
Gives a smile guarantee
Premium prices
Closed on weekends
Complaints about delivery and customer service
Customer Reviews
Enjoyable hampers always delivered on time
"Ordered from uk for family in Sydney every Christmas since 2014. Always delivered on time and reported to be consumed with much relish and enjoyment." -Andrew Clark
Good-quality products and great client service
"Extremely happy with Hamper Emporium. I waned logos on the lace , and they found the right logo from our site and updated it without me having to do anything about it. Everything reached on time and so well packed, good quality products." -Shaeri Datta
5) Simply Hampers

PRODUCTS
Christmas hampers
Baby time hampers
Bridal hampers
Mother's Day hampers
Pampering gifts
Picnic pleasure hampers
Special occasion hampers
Speciality hampers
Taste paradise hampers
Vouchers
DELIVERY FEE
$10 – $30
WEBSITE
https://www.simplyhampers.com.au/shop/all-products/christmas-2021
ADDRESS
19 Tamar Close, Mt Sheridan, QLD 4868 Australia
CONTACT DETAILS
+61 438 121 523


[email protected]

SOCIAL MEDIA
Twitter
OFFICE HOURS
Monday – Saturday: 9:00 AM – 5:00 PM
Sunday: 9:00 AM – 12:00 PM
Almost all gift hamper shops were born of the drive of making people happy, sharing and giving joy. And Simply Hampers, which is a business of Jill Morris, is completely the same way.
She offers a wide range of creative and inspired hampers in this store. That includes hampers for baby showers, bridal showers, Christmas, Mother's Day, picnics, and more.
Her Christmas hamper range is small and pricey. But what's interesting is that the hamper products come from talented artisans, include lovely and fragrant faux flowers (which is a unique touch), and are packaged beautifully with a bright, hand-tied ribbon.
You may want to get the Sweet and Savoury Christmas hamper perfect for almost anyone, or the Pure Indulgence gift with Ricca Terra champagne and mouth-watering handmade chocolates.
Besides that, Morris can customise the gift hamper to be just the way you want. From including a touchy message to using a gift basket or box, it's possible to do here.
If you want to send a one-of-a-kind gift to your loved one this holiday season, we totally recommend their Taste Paradise hampers.
These are filled with coffee, tea, macadamia nuts, sauces, chocolates, and other goodies along with The Colours of Australia prose written by the owner packaged in an artistic gift box.
Though they can deliver website hamper designs on the same day, it would take them at least three days to ship a custom hamper in the country, which can be a setback for some people. As such, they will have to order early.
Anytime that you have a question, you can ask the CS team seven days a week during their business hours. Moreover, they accept Visa, Mastercard, Amex, and PayPal payments, which should make it convenient to shop with them.
| | |
| --- | --- |
| Parameter | Rating |
| Hamper Quality | ★★★★★ (5/5) |
| Hamper Selection | ★★★☆☆ (3/5) |
| Customer Service | ★★★★★ (5/5) |
| Delivery Speed | ★★★☆☆ (3/5) |
| Price | ★★★★☆ (4/5) |
Same-day hamper delivery for website designs
Open seven days a week
Live chat support available
Takes Visa, Mastercard, Amex, and PayPal
3-day turnaround for custom hampers
Pricey hampers
Limited hamper selection
Customer Reviews
Very talented staff and a stunning hamper
"Wow. We found Jill and Simply Hampers from a Google search and from the outset we knew we had made the right decision. Prompt, courteous, keenly priced we were very happy with everything surrounding the choice to delivery. Jill is very talented and the hamper was meticulously prepared, just stunning. Thank you Jill." -a Google user
Great-value and presentable hampers
"I have been using Simply Hampers for around 5 years now, Jill is so helpful and caring, and their hampers are great value and beautifully presented." -Pete
6) New Mama Kit Gift Hampers

PRODUCTS
Hampers for New Moms
Hampers for New Dads
DELIVERY FEE
Shipping within Australia is free for orders over $50
WEBSITE
https://www.newmamakit.com/
ADDRESS
Drummoyne NSW 2047, Australia
CONTACT DETAILS
0411458669
SOCIAL MEDIA
–
OFFICE HOURS
Contact for more information
If you are close to someone who is about to have or just had a baby, you are in luck as this shop is for you.
Just by looking at their name, New Mama Kit Gift Hampers, we automatically know that they sell curated hampers for new parents.
Giving birth and having a child is not as easy as all think. With their products, you can make your friends feel that you are by their side in the journey of raising their kids.
What's great about this is that their kits can help parents feel seen about their struggles. Giving a simple hamper with all the necessities can absolutely make them feel cared.
Aside from pre-made hampers, we love how they also accept custom-made ones. You can simply talk with Angela about the products you want to be in the hamper.
| | |
| --- | --- |
| Parameter | Rating |
| Hamper Quality | ★★★★★ (5/5) |
| Hamper Selection | ★★☆☆☆ (2/5) |
| Customer Service | ★★★★★ (5/5) |
| Delivery Speed | ★★★★☆ (4/5) |
| Price | ★★★☆☆ (3/5) |
Include items helpful for before and after birth
Can create your own hamper
Delivery to hospital is allowed
Customer Reviews
Here are testimonials from their previous buyers:
"I've now bought new mama kits for two friends (one Sydney, one Melbourne). The owner is prompt and helpful with advice on delivery. Both the new mums were really happy with the contents in the kits." – Libby, UK
"New Mama Kit make it very easy to send love and care to a new Mum. I've bought a number of kits now and ordering online is really simple – and delivery is really quick so even at the last minute you can send a really special and memorable gift! New babies are spoilt by everyone. New Mama Kit lets you spoil the Mum! Highly recommend their beautiful and unique care hampers." – Jess, Australia
"Love these kits! I received one when I had my baby and it made me feel so cared for when I was exhausted and so overwhelmed. These kits are my go to present for anyone having a baby. Looking after mum when everyone is fussing over baby is so important!!" – Katie, Australia
7) Peninsula Gourmet Co.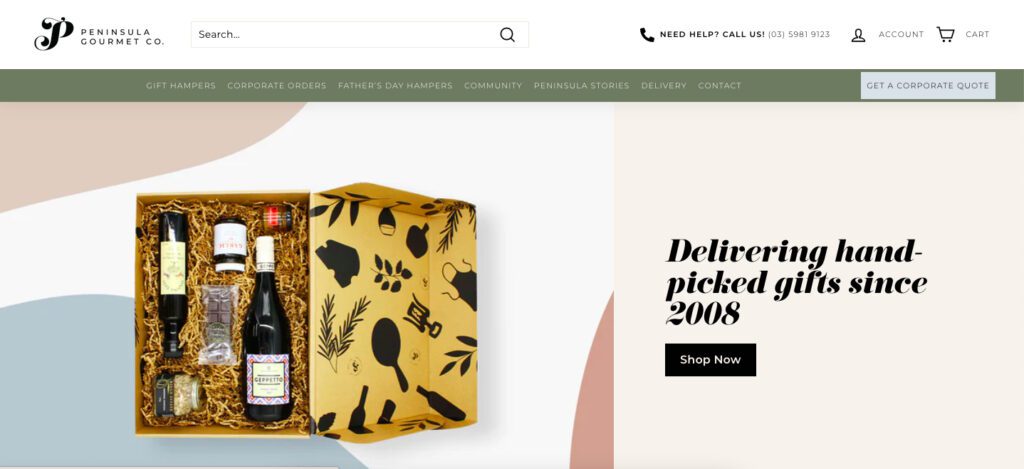 PRODUCTS
Gift hampers for various occasions
DELIVERY FEE
Local Delivery Standard: $7.50 (via courier/PGCo) – delivery days MON, WED, FRI weekly
Local Delivery Non-Standard: call 03 5981 9123 for options*
Australia Post Standard: $14.95 – between 2 – 5 business days
Australia Post Express: $22.50 – between 1 – 3 business days
WEBSITE
https://www.peninsulagourmetco.com.au/
ADDRESS
240 Boundary Road, Dromana, VIC, 3936
CONTACT DETAILS
P: (03) 5981 9123
E:

[email protected]

SOCIAL MEDIA
Instagram | Facebook
OFFICE HOURS
Mon-Sat: 10am-4pm, Sun: Closed
We think that Peninsula Gourmet Co. is the place to go to for expertly curated hampers and artisan produce.
What we love about their products is that their hampers are not only beautiful, but are environmentally-friendly and all locally made!
Moreover, we absolutely love how much variety they offer. They've got hampers for pretty much all occasions and at different price ranges! High chances are you'll find something you like and within your budget.
To add, we find it so convenient that everything they offer is available online, over the phone and in-store. Not only that, they're open six days a week.
All in all, we hope you put them on your radar for future purposes because we think you'll love what they have to offer too!
| | |
| --- | --- |
| Parameter | Rating |
| Hamper Quality | ★★★★★ (5/5) |
| Hamper Selection | ★★★★★ (5/5) |
| Customer Service | ★★★★★ (5/5) |
| Delivery Speed | ★★★★☆ (4/5) |
| Price | ★★★★☆ (4/5) |
Wide selection of products
Environmentally-friendly and locally made products
Available online, in-store and over the phone
Open 6 days a week
Customer Reviews
Here are testimonials from their previous buyers:
"I recently gifted someone a gorgeous hamper online and it arrived beautifully and promptly to them – bringing a big smile to their face. It's so good to be able to support local businesses who are supporting other local business. The perfect gift!"
"Just a quick note to say thank you so much for the wonderful hampers for our ASX Melbourne staff. The hampers have been a huge boost for our staff in lock down and everyone has loved all of the goodies!"
FAQs about the Top Shops for Christmas Hampers in Australia
---
And those were our top Christmas hamper shops in Australia for now. If you bought a gift from them before, you could tell us how it went for you by simply messaging us.
Other than that, if you have any questions or comments, please let us know, and very soon we'll get back to you!
Related Articles about Christmas Hampers in Australia