Cupcakes are undoubtedly one of many people's favorite snacks as a kid. Who wouldn't love them, right? They are in perfect size; they are sprinkled with lots of sweet toppings. They are literally a petite cake which is perfect amount for kids, and they come in different flavours and kinds. But you know, as adults, you can still get to enjoy these cupcakes especially because these following bakeshops, who we consider to be the best ones in Singapore, made them.
1. SWIRLS BAKE SHOP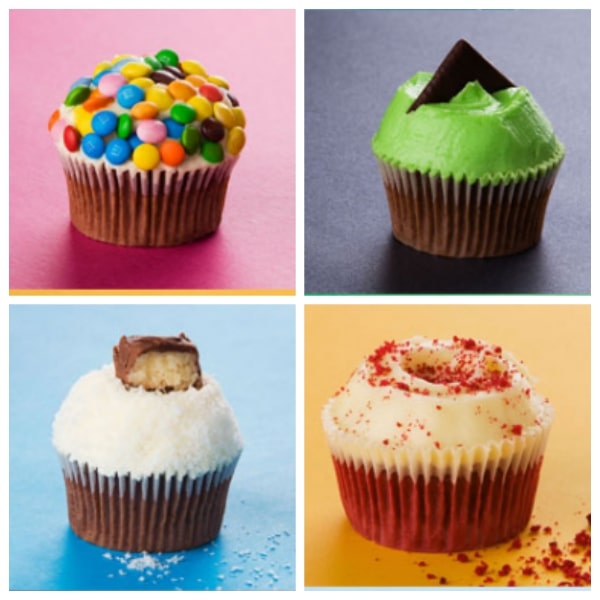 Swirls Bake Shop is an all American gourmet bakeshop based in Singapore. The shop uses their passion in baking and their premium cupcake products to spread joy and help their clients express their emotions towards someone. The shop guarantees the best tasting and creamiest cupcakes in the area.
WHAT PEOPLE LIKE
EXPERT BAKERS. The shop has a team of expert and talented bakers that promised to create exceptionally wonderful cupcakes and are willing to go the extra mile just to provide you with the best that you deserve.
EASY TO ORDER. The shop has created a very accessible and easy way to place your order to the shop and by simple going to their website, you'd be able to seamlessly navigate their webshop.
PRODUCTS
DELIVERY AND PAYMENT
Contacts shop for details.
2. FLUFF BAKERY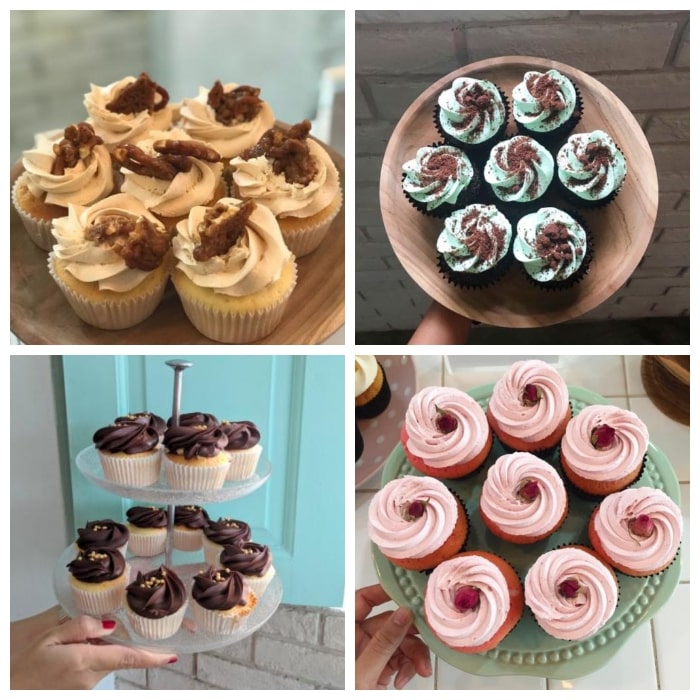 The shop is one of the best cake shops in Singapore that offer premium quality cupcakes. They have a variety of options that range from the basic to the most complex ones that are equally tasty and perfect for all kinds of occasions.
WHAT PEOPLE LIKE
FLAVORS OF THE WEEK. Always check the website of the shop to be able to see the current featured flavor from their collection, you will never know when your favorite flavor will come up in the list.
OTHER FOOD ITEMS. The shop also creates other pastry products that would totally complement with your favorite cupcake flavor. These products are also packaged beautifully so they can be sent as gifts, too.
PRODUCTS
DELIVERY AND PAYMENT
Contact shop for details.
3. WHYZEE
whYZee, is your one-stop online cake specialist, established with the goal to offer the best-tasting and freshest artisanal bakes to all in singapore.
The shop guarantees that their products are always kept fresh and in the best condition so you get to enjoy every bite into it. If you want to see more of the shop's offerings, you can always visit their website.
| | |
| --- | --- |
| SPECIALTY | Affordable cakes and cupcakes |
| SELECTION SIZE | Large |
| STARTING PRICE | From $37.90 |
| DELIVERY FEE | Free Delivery on all orders above $80 |
| WEBSITE | |
| SOCIAL MEDIA | https://www.facebook.com/whyzee.sg/ |
| CONTACT DETAILS | 9773 2434 |
WHAT PEOPLE LIKE
AFFORDABLE PRODUCTS.

No need to spend too much money just to get yourself some delicious and freshly baked cupcakes. At whYZee, you can get as many cupcakes as you want for very fair prices.

100% CUSTOMER SATISFACTION.

The shop always prioritizes the satisfaction and happiness of their clients and they start by providing them with the best products and services that you deserve.
PRODUCTS
DELIVERY AND PAYMENT
The shop accepts payments through Mastercard, Visa, PayPal, Stripe
4. THE CAKE SHOP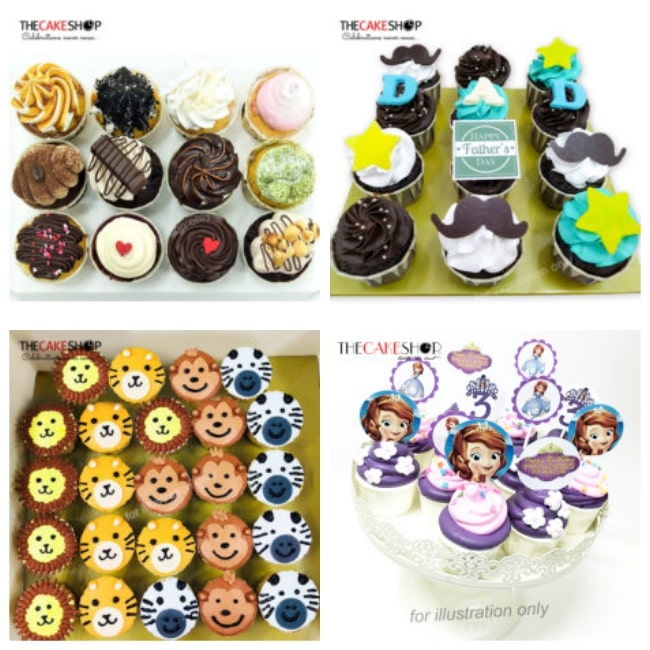 The Cake Shop has everything you need when it comes to cakes and cupcakes. They have the classic ones, modern ones, and they even got novelty ones for added fun and excitement. The shop is committed to providing you the best that you deserve.
| | |
| --- | --- |
| SPECIALTY | Artistic cakes and cupcakes |
| SELECTION SIZE | Large |
| STARTING PRICE | Starts at $21 |
| DELIVERY FEE | Starts at $10 |
| WEBSITE | https://www.thecakeshop.com.sg/ |
| SOCIAL MEDIA | FB:https://www.facebook.com/thecakeshop.com.sg |
| CONTACT DETAILS | +65 3157 0303 |
WHAT PEOPLE LIKE
RELIABLE DELIVERY. You can always trust the The Cake Shop will deliver your order right to your homes and event venues without any delays and securing that the quality of the cakes are kept in best condition.
LARGE SELECTION. The shop has all kinds of cakes for all kinds of celebrations. May it be a simple or a huge one, they can guarantee that they can provide you with the highest quality of products and services.
PRODUCTS
Savoury Cupcakes – $21 to $70
Cupcakes Toppers – $30
DELIVERY AND PAYMENT
Visa, Mastercard, PayPal, NETS, AMEX
5. CUPPA CAKES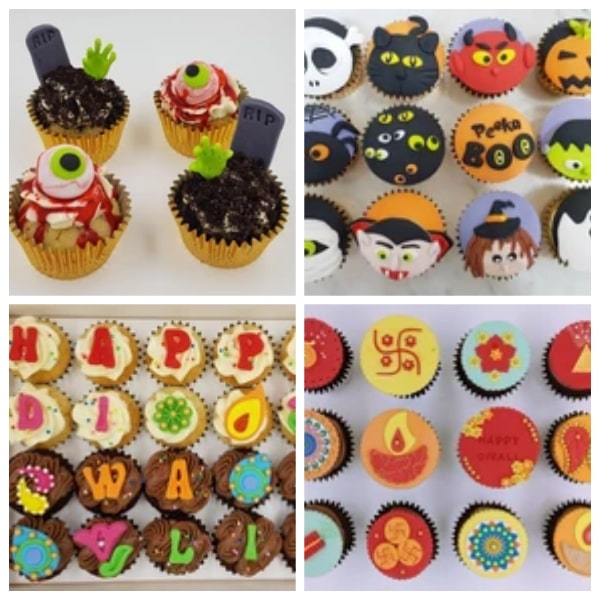 The Cuppa Cakes sells cupcakes that are handmade and proven healthy as they contain only 50% sugar content. They also claim to not be using any emulsifiers or preservatives in their products, so you are guaranteed with fresh and healthy cupcakes.
WHAT PEOPLE LIKE
CUSTOM ORDERS. The shop honors your ideas when it comes to cupcake designing that is why they offer to create customized cupcakes which is perfect for themed events and parties.
PRODUCTS
Halloween Cupcakes – $45 to $84
Deepavali Cupcakes – $45 to $70
DELIVERY AND PAYMENT
PayPal, Visa, Mastercard, AMEX
6. THE UGLY CAKE SHOP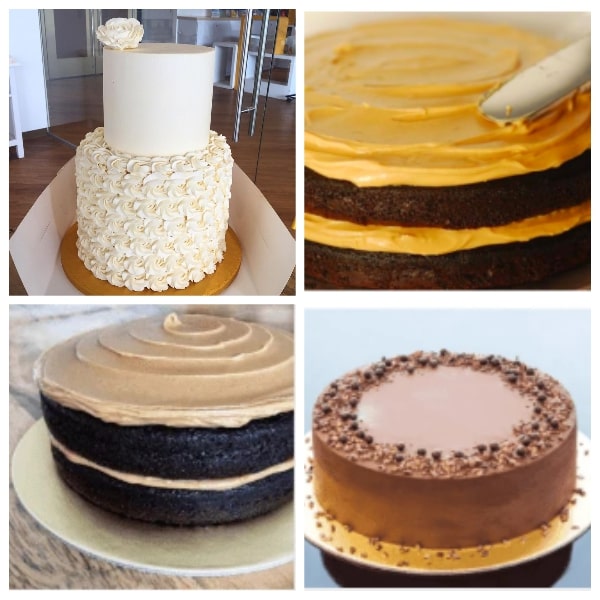 Contrary to what the business name says, this cake shop only sell beautiful and delicious cakes and cupcakes that would totally leave you in awe once you get to taste them. The reason why they call themselves such is because they refrain from using any artificial colors and flavours to their cakes and maintain the natural beauty instead.
WHAT PEOPLE LIKE
ALL NATURAL. The shop proves that a cake does not have to be filled with artificial ingredients and accessories just to prove its beauty because a cake will always be delightful even with only the basic ingredients that it needs.
PRODUCTS
Customized Cake – $100 to $600
Tiered Cakes – $100 to $600
DELIVERY AND PAYMENT
Contact shop for details.
7. Crème Maison Bakery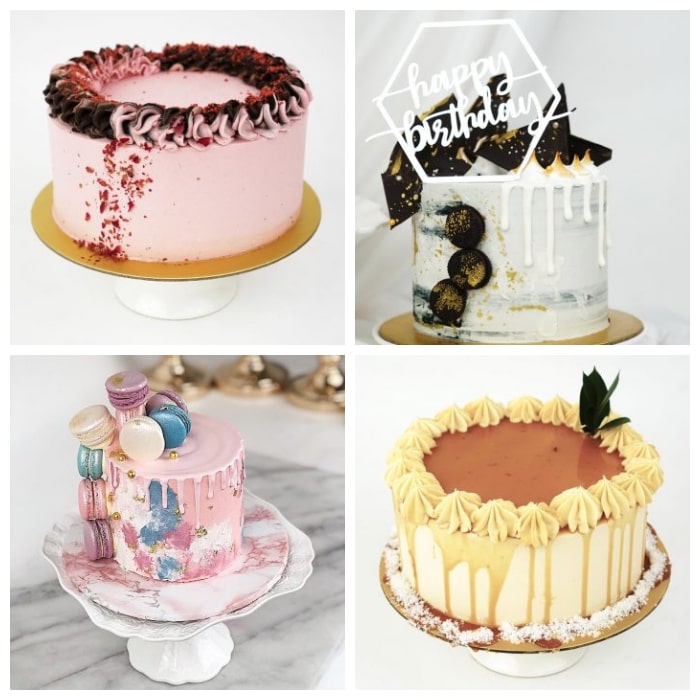 The shop makes sure that they spread love and happiness through their wonderful creations, specifically their cake products. The shop specializes in elegantly designed cupcakes that are perfect as souvenirs for weddings and other grandiose events.
| | |
| --- | --- |
| SPECIALTY | Elegant cupcake designs |
| SELECTION SIZE | Large |
| STARTING PRICE | Starts at $45 |
| DELIVERY FEE | Calculated at checkout |
| WEBSITE | https://crememaison.com/ |
| SOCIAL MEDIA | |
| CONTACT DETAILS | 81813689 |
WHAT PEOPLE LIKE
LARGE SELECTION. Aside from selling creamy cupcakes, the shop also offers their handcrafted romantic bouquets and other delicious desserts that will certainly bring you to a wonderful place that feels so heavenly.
PRODUCTS
Gourmet Cakes – $45 to $78
Fantasy Cakes – $135 to $210
DELIVERY AND PAYMENT
Contact shop for details.
8. HAPPY OVEN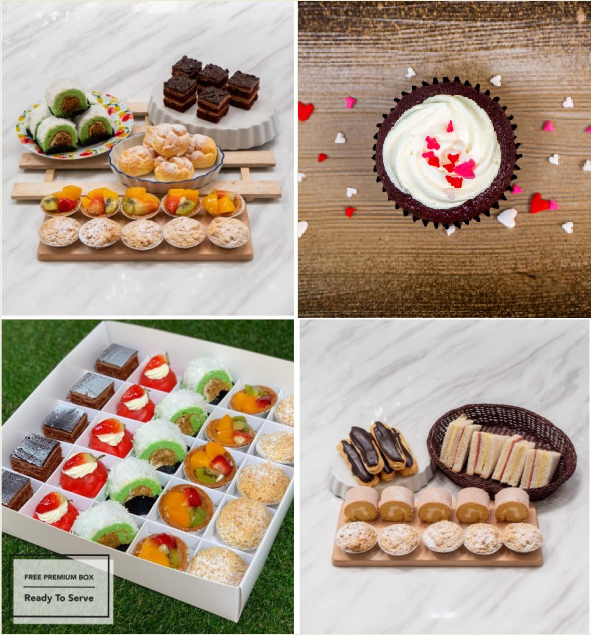 The team of Happy Oven makes sure that all of the baked goods coming from their shop are always fresh and made of the finest ingredients. The team is also composed of talented and creative bakers and cake designers who create original and impeccable cupcake flavors that you will definitely love.
WHAT PEOPLE LIKE
DELICIOUS CUPCAKES.

The shop always goes the extra mile in creating their cupcakes to make sure that they serve only the best kind and they will truly satisfy their beloved clients. They also use fresh ingredients to maintain high quality products.

DIVERSE SELECTION.

While the shop specializes in cake and cupcakes, they also offer other desserts and treats that perfectly complement any of your cupcake choices such as cream puffs, egg tarts, eclairs, etc.
PRODUCTS
CUPCAKES
CAKES
ECLAIRS
EGG TARTS
CREAM PUFFS
SANDWICHES
DELIVERY AND PAYMENT
Accepts Visa, Mastercard, and PayPal
9. MONICE BAKES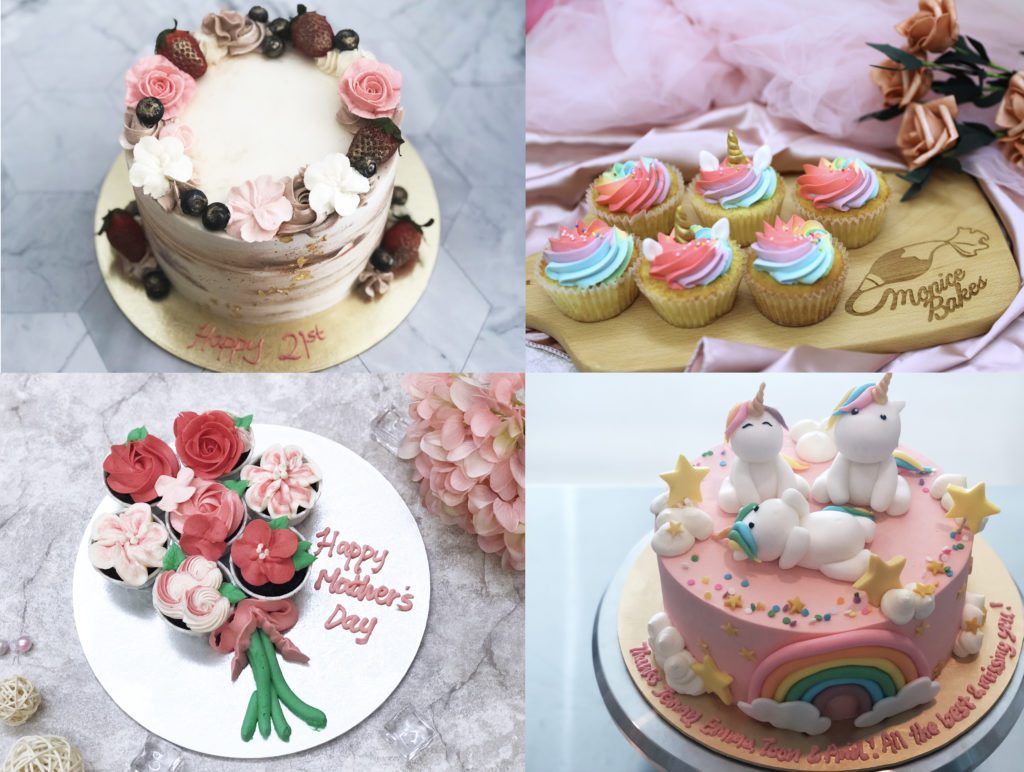 Monice Bakes is one of the top rated cupcake delivery service providers in Singapore and they have some of the finest pastries collection. Also, placing your order is definitely a piece of cake.
All you have to do is go to Monice Bakes' website and they will show you your options for freshly baked cupcakes. Once you have selected your preferred product, deliver them straight to your place. You may also request for customized ones and they will happily create them for you.
WHAT PEOPLE LIKE
CUSTOM MADE.

Let Monice know how you want your cupcakes to be formed and designed and she will happily customize them for you. Just make sure to always communicate with her to be able to perfectly achieve the cupcake that you want.

NO PRESERVATIVES. Monice takes pride in her freshly baked and definitely no preservative selection of cakes and cupcakes. She also makes sure that they are much healthier options as they are less sweet. Nonetheless, these baked goods are guaranteed to be equally tasty and delicate.
PRODUCTS
CUPCAKES
CAKES
CUSTOMIZED TREATS
DELIVERY AND PAYMENT
50% non-refundable deposit is required to confirm booking, balance of payment can be paid in cash or Paynow during collection/delivery.
10. AJ DELIGHTS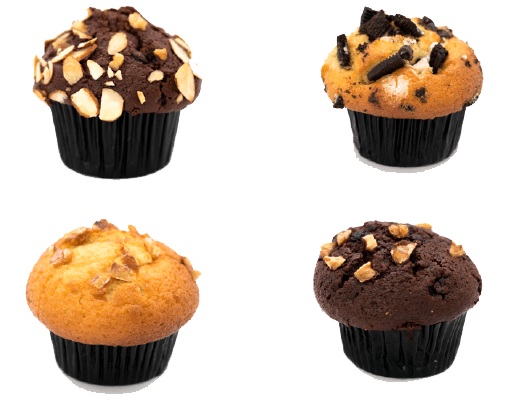 Are you a muffin lover? Then AJ Delights is your perfect go-to shop! They have a fresh selection of delicious muffins that vary in flavours and toppings. 
AJ Delights believes that one isn't enough, especially after you had your first bite so they require a minimum order of 6 pieces. Just choose from their available selection. If you like surprises, you may opt to avail their assorted mix. 
They guarantee that whichever muffin you pick will be the best you've ever tasted.
WHAT PEOPLE LIKE
EASY TO ORDER.

With AJ Delights, you do not have to struggle in ordering your favorite muffin. They have an online shop where you can browse through their products and place your orders at the comfort of your homes.

AFFORDABLE PRODUCTS.

The shop makes sure that everyone gets to taste their freshly baked muffins and they start by selling these at very fair prices without compromising the taste and quality.
PRODUCTS
DELIVERY AND PAYMENT
Contact the shop for more details.