Many hesitates to give flowers as gifts because they are not specifically long lasting, they are highly maintenance, and they eventually dry out. But what if you make something beautiful out of these problems? What if you give them dried flowers instead so you no longer have to worry about taking care of it and much less looking at it wither everyday? Believe me, dried flowers are equally beautiful and you won't even notice the difference from the fresh ones especially if they are made by these magnificent flower shops in Singapore.
1.      RAINBOWLY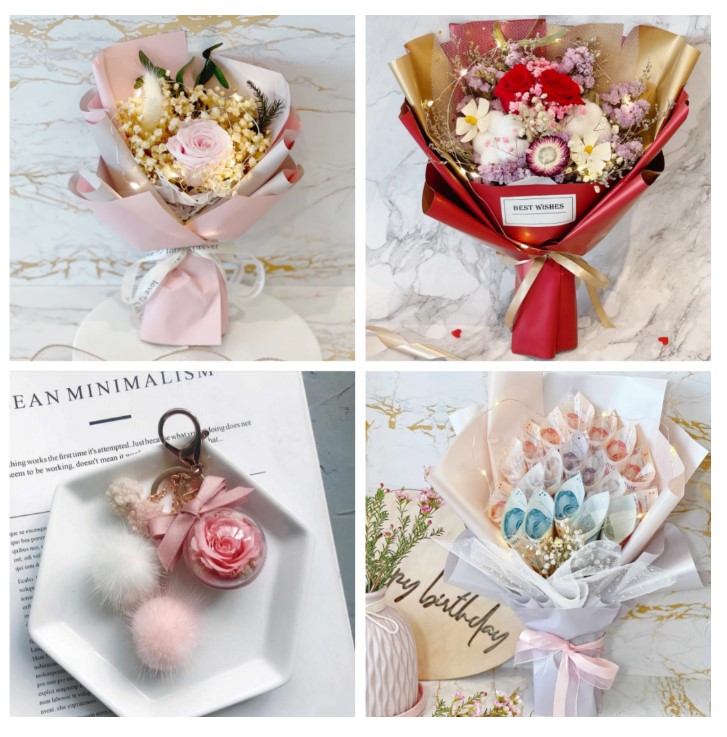 Founded locally in 2013, Rainbowly specializes in a variety of unique bouquets from their signature fresh fruit arrangements to dried everlasting preserved flower bouquets. With their everlasting rose options, they offer exquisite rose charms and petite to full size bouquets with LED add ons. Looking for something unique? Check out their money bouquets also made to last a lifetime!
WHAT PEOPLE LIKE
UNIQUE GIFT OPTIONS

With a wide variety of Unique Gift bouquets to choose from there's something to impress every occasion. 

COMPLIMENTARY LED LIGHTS

Where most florists charge a premium for LED Lights Add on, Rainbowly includes LED lights with all their dried preserved flower bouquets. 

SAME DAY DELIVERY.

With 3 delivery time slots available, there are same day delivery options available even for last minute purchase.

 
PRODUCTS
Everlasting Preserved Flower Bouquets – $57 – $79
Everlasting Flower Charm – $49.90
Money Bouquets – $78.00 onwards
DELIVERY AND PAYMENT
Paynow / PAYLAH / GrabPay / PayPal / Visa / Mastercard / AMEX
2.      DAWN Q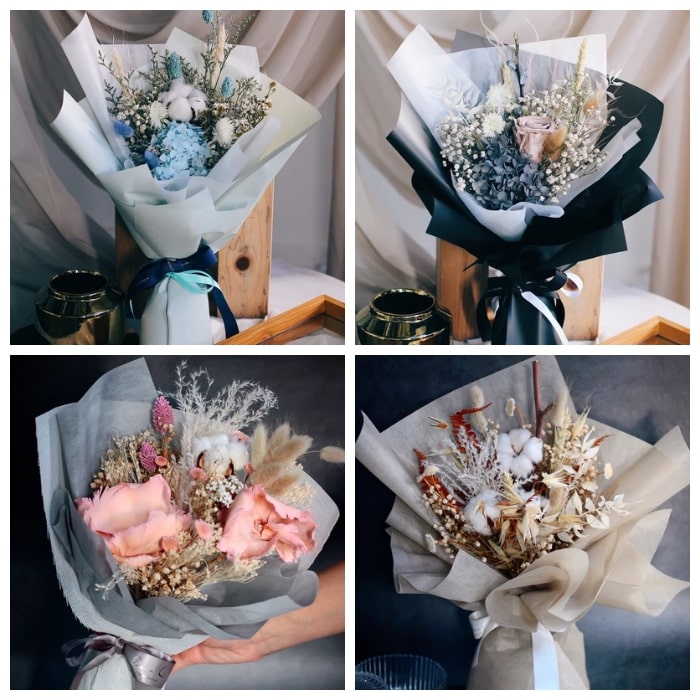 Dawn Q mainly specializes in arranging dried flowers. They believe that these sets are better because you get to enjoy the wonders of its beauty for eternity. From bold red roses to subdued arrangements, Dawn Q is always equipped with any kind of dried flower arrangements that would be perfect for you.
WHAT PEOPLE LIKE
FREE DELIVERY. For every purchase you make comes with a free delivery service that sure is reliable and fast.
SAME DAY DELIVERY. For those who are always in a rush and don't have time to settle their orders, you can still avail the shop's same day delivery and it will only take 4-5 hours upon receipt of orders.
PRODUCTS
Dried Bouquets – $60 to $100
DELIVERY AND PAYMENT
PayPal, Visa, Mastercard, AMEX
3.      FLORAL KOKORO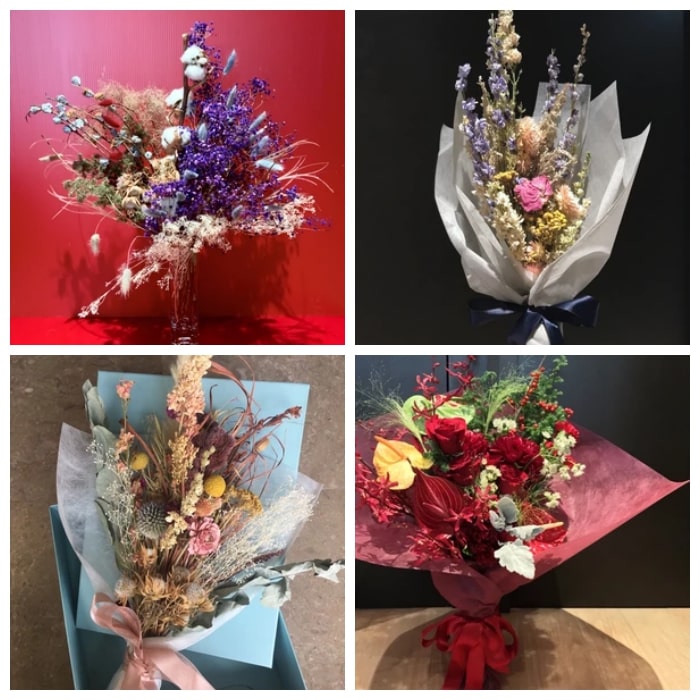 Floral Kokoro is a modern day dryflowers gift concept store. The shop sells handcrafted dried flowers out of naturally beautiful and fresh ones. These wonderful products are perfect as a gift as you don't have to worry about them getting withered because they have already been remastered into an even beautiful product.
WHAT PEOPLE LIKE
GREAT DESIGNS. The shop really has a great collection of dried flowers which are perfect if you are sending someone a gift or you are having a party and looking for the perfect souvenirs. The perfect balance of color, style, and texture has created a stunning design that people will definitely love.
PRODUCTS
Bouquets – $19 to $50
Vase – $11 to $20
DELIVERY AND PAYMENT
PayPal
4.      FLORAL GARAGE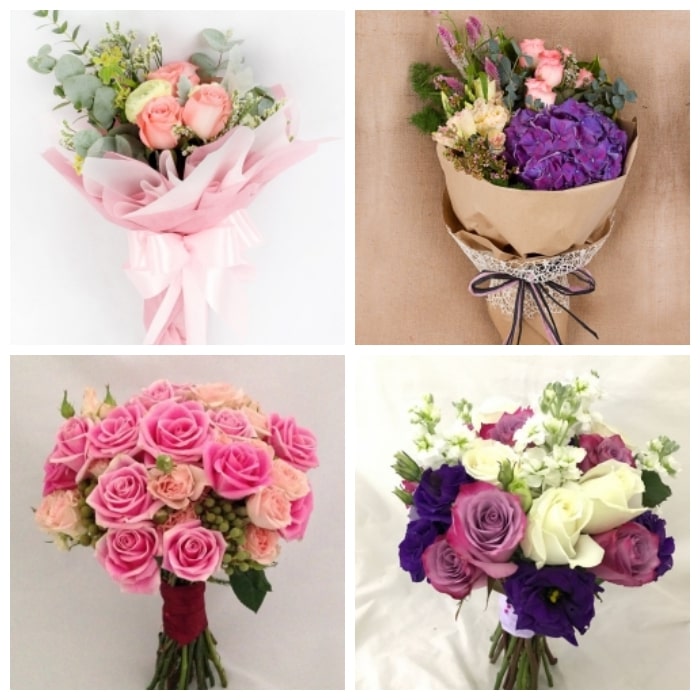 Floral Garage has a large collection of elegantly looking wrapped bouquet of dried flowers appropriate for all kinds of occasions. The shop decided to do this as a business because dried flowers never go out of style. They are always on trend, they do not wither, and they are very classy!
WHAT PEOPLE LIKE
AFFORDABLE ARRANGEMENTS. You'd be surprised to know that the shop that sells truly wonderful wrapped bouquet of dried flowers is the same shop that sold the affordable ones. With this, they reach a wider range of clients and everybody genuinely enjoys their products.
RELIABLE DELIVERY. The shop not only offers free delivery services, but they also provide their service for urgent needs like same day or next day delivery.
PRODUCTS
Hand Bouquets – $39 to $150
Bridals Bouquets – $85 to $300
DELIVERY AND PAYMENT
Visa, Mastercard, Discover, AMEX
5.      SKINNY BLOOMS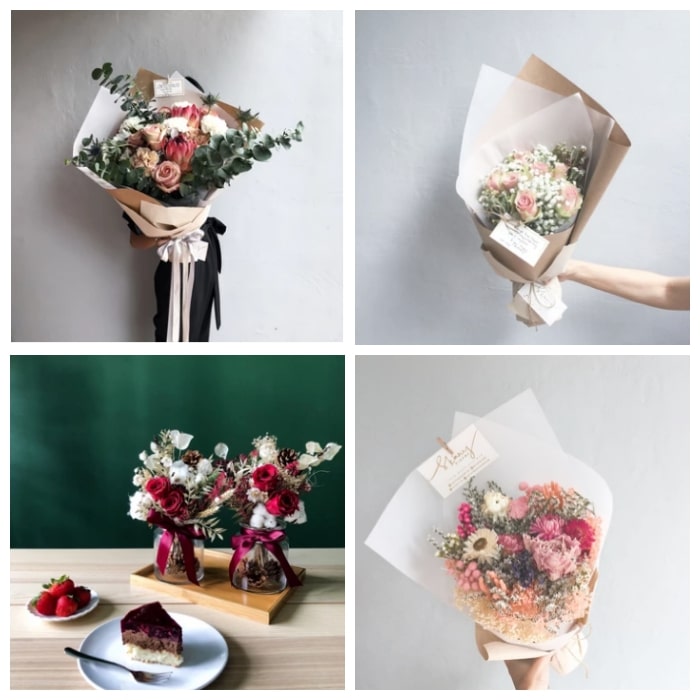 Skinny Blooms does not only aim to sell flowers to its clients but they also want to live by the spirit of giving and caring by creating stunning flowers and offering gorgeous preserved flowers that are ideal as a gift for family, friends, or special someone.
WHAT PEOPLE LIKE
EXTENSIVE SELECTION. Skinny Blooms is more than just a flower shop; it also expands its business and reach by offering other items particularly perfume, jars, luxe pots, and other gift sets that they believe is also appropriate to any kind of occasion.
PRODUCTS
Fresh Flowers – $105 to $200
Everlasting Flowers – $88 to $150
DELIVERY AND PAYMENT
Contact shop for details.
6.      BLOOM ROOM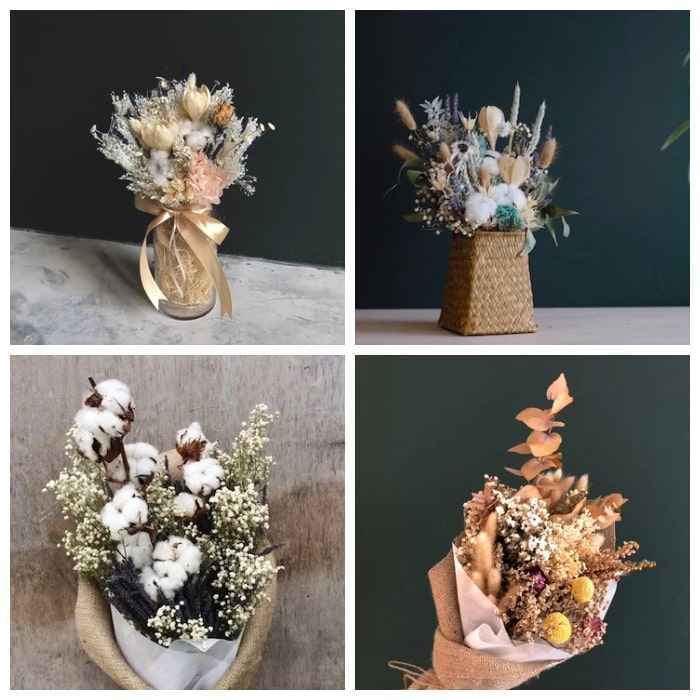 No need to worry if you had a sudden desire for a set of preserved flowers because with Bloom Room you can easily place your order through their seamless online shop, and they offer delivery services everyday! So, whenever and wherever you are, guaranteed that you will be able to get the amazing preserved flowers that Bloom Room creates.
WHAT PEOPLE LIKE
GOOD CUSTOMER SERVICE. One of the best things that Bloom Room has to offer is their good customer service. They always make sure that they are available to attend to all their customers' flower needs.
LONG LASTING FLOWERS. Bloom Room offers preserved flowers that are really long lasting especially if you properly take care of them. With a small amount, you'd get more than what you had paid for.
PRODUCTS
Preserved Flowers – $55 to $200
Dried Flowers – $55 to $200
DELIVERY AND PAYMENT
Cash, PayNow, Cheque
7. SMILE FLORAL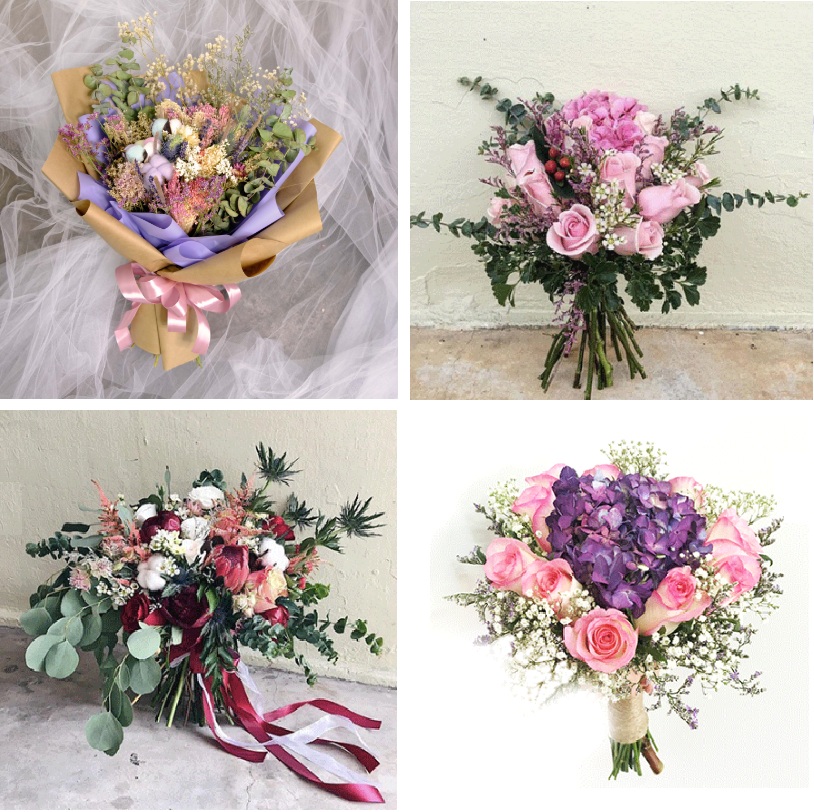 Smile Floral offers a wide range of flower arrangements selection and one of these is dried flowers. These flowers are perfect for those who want to have a pop of color in their homes or offices, yet do not have the luxury of time to constantly take care of them.
The dried flowers provided by Smile Floral are truly long lasting and low maintenance, yet are made with such beauty and elegance.
WHAT PEOPLE LIKE
EASY TO ORDER.

You no longer need to drive all the way to the flower shop just to check their available products and place your order because with Smile Floral, all you have to do is visit their website and in just a few clicks you can quickly make the purchase.

ELEGANT DESIGNS.

If you take a look at the dried flowers collection of Smile Floral, you will definitely be stunned by the elegance and luxury vibe that it brings. These arrangements are perfect to be placed on office tables so add a pop of color.
PRODUCTS
DRIED FLOWERS
BOUQUETS
FLOWER STANDS
HAMPERS
DELIVERY AND PAYMENT
Accepts payments through Visa, Mastercard, AMEX, Direct Bank Transfer
8. OFPOMSANDLENTILS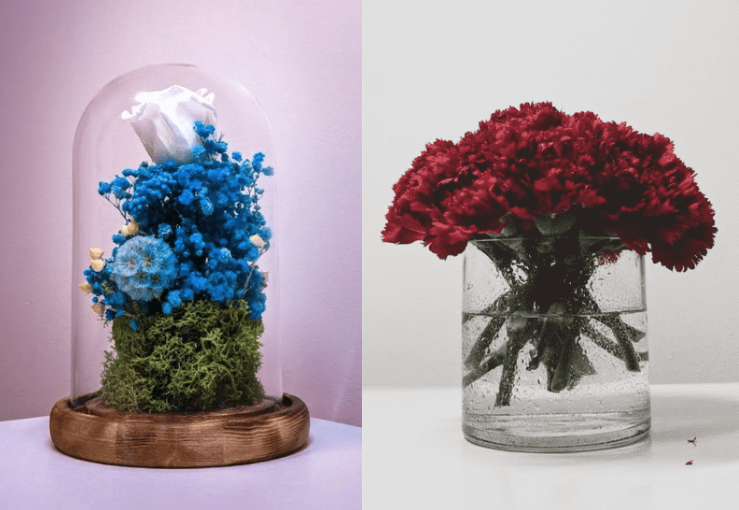 Ofpomsandlentils pride themselves with their incredible expertise when it comes to flower arranging. 
The shop's team consists of professional florists who are passionate about creating customised gifts. They do so by combining art and flowers, thus resulting in Ofpomsandlentils' eye-catching collection of flowers for all occasions and seasons. 
Aside from their elegant craftsmanship, Ofpomsandlentils is also commendable for their dedication to zero waste. They work with sustainable models and ensure that every element of the design is mindfully considered and sourced.
Lastly, Ofpomsandlentils promises that wherever you are in the country (or the world), they will find a way to reach you for you to experience the beauty that their flower products elicit.
| | |
| --- | --- |
| SPECIALTY | Wedding flowers |
| SELECTION SIZE | Curated |
| STARTING PRICE | From $199 |
| DELIVERY FEE | Calculated at checkout |
| WEBSITE | |
| SOCIAL MEDIA | |
| CONTACT DETAILS | 92770598 |
WHAT PEOPLE LIKE
GOOD CUSTOMER SERVICE.

Despite servicing a large scope of clients, the shop is still able to accommodate all inquiries and concerns sent to them and they maintain a good relationship with their beloved clients.

ORIGINAL DESIGN.

The creative team of the shop always refreshes their flower designs and consistently comes up with new, more sophisticated designs that match the trend. While they keep the classics, they also aim for modern designs that definitely go with any occasion or theme of events.
PRODUCTS
BESPOKE ARRANGEMENTS
WEDDING FLOWERS
DELIVERY AND PAYMENT
Contact shop for more details.
9. PETITE FLEUR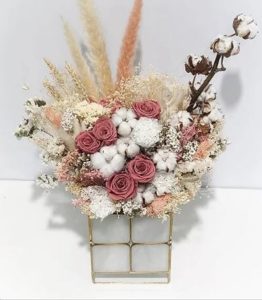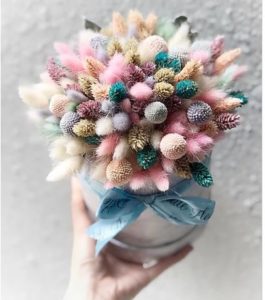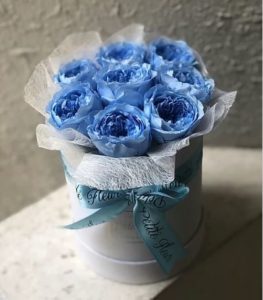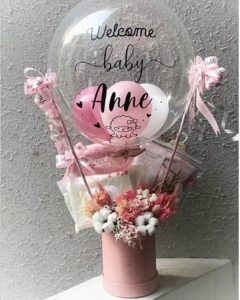 At Petite Fleur, they create and delivery handcraft bouquets for every occasion using only premium blooms. This means that high-quality flowers you or your recipient can get from them are nurtured to last longer than average.
One happy customer named Shaminder shares "Dear Petite Fleur, Thank you for delivering a stunning bouquet to my friend! She loved them! Your service from ordering to delivery was impeccable. Highly recommended and will definitely be ordering again. Many thanks!"
SPECIALTY
Premium hand bouquets
SELECTION SIZE
Large
STARTING PRICE
$22.00
DELIVERY FEE
Free
WEBSITE
https://www.petitefleursg.com/
SOCIAL MEDIA
https://www.instagram.com/petitefleur_sg/
https://www.facebook.com/petitefleursg/
CONTACT DETAILS
+65 9270 8473
[email protected]
WHAT PEOPLE LIKE
DELICATELY DESIGNED FLOWERS. Each arrangement is elegantly fashioned with an eye for detail – and is individually a vibrant expression of art and beauty.
INTERNATIONAL DELIVERY. Aside from having cheap bouquets, they are also embracing the idea of going global. As a matter of fact, they are now accommodating deliveries to be sent out to Asia and Europe. 
PRODUCTS
FLOWERS BY OCCASION
FLOWERS BY TYPE
WEDDING AND CORPORATE FLOWERS
DELIVERY DETAILS
Contact the Petite Fleur for more information
9. FLOWER CART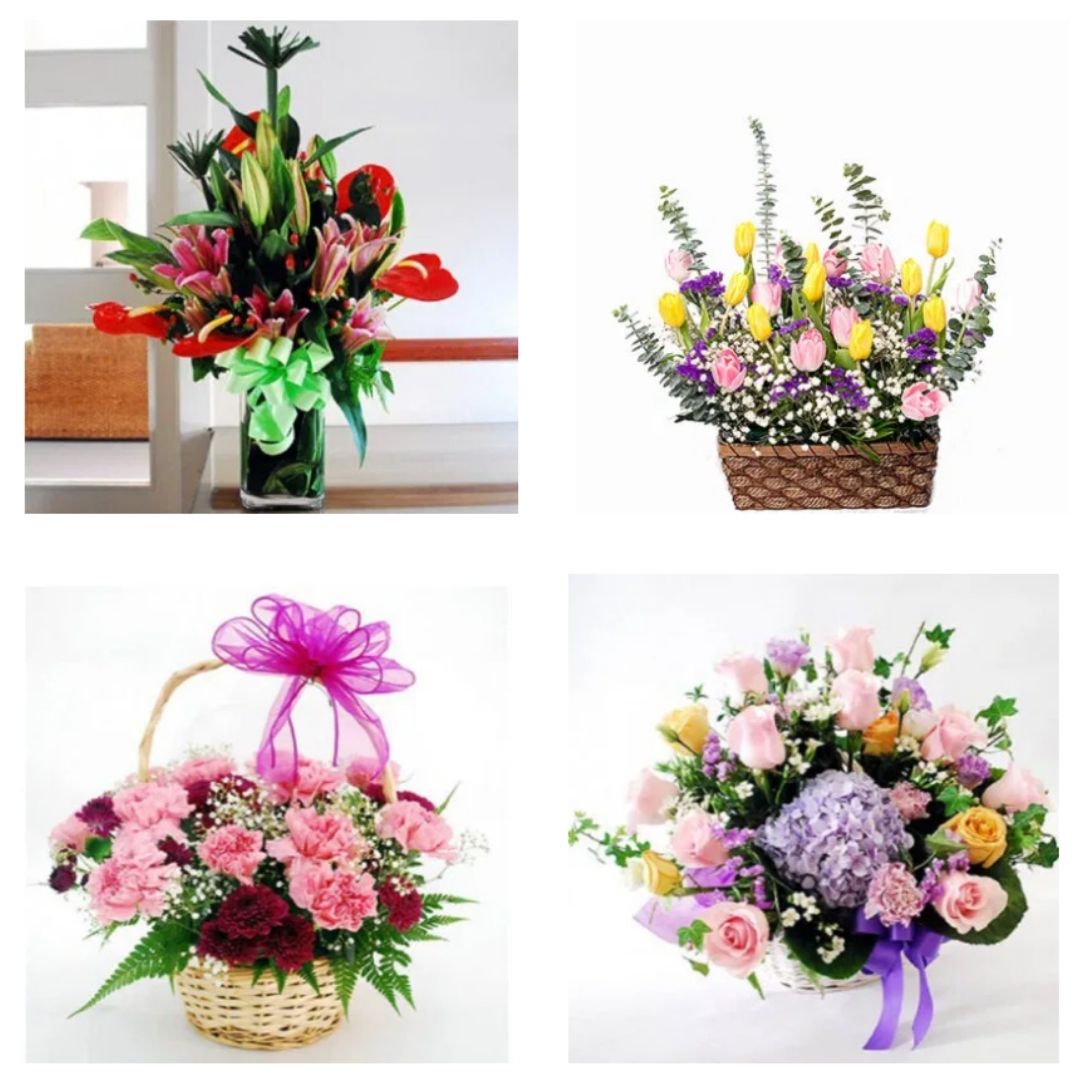 Flower Cart is the shop to go to for the best kind of flowers in Singapore! Made with only the highest quality of blooms, you're sure to receive your desired orders in no time.
Take a look at more of their listings on the site and checkout now!
| | |
| --- | --- |
| SPECIALTY | Preserved Flowers |
| SELECTION SIZE | Large |
| STARTING PRICE | Starts at $38.00 |
| DELIVERY FEE | Calculated upon checkout |
| WEBSITE | https://www.flowercart.sg/ |
| SOCIAL MEDIA | |
| CONTACT DETAILS | |
WHAT PEOPLE LIKE
Online Flower Delivery Service – Flower Cart is definitely the go-to shop if you want a hassle-free service for your blooms. Offering their online flower delivery service, you can simply order through their website, pay, and wait for your floral arrangements to come home to you! Less time wasted, and more time to browse in the comforts of your home.
Exotic Flowers – Don't settle for the usual flowers you can get at any other ordinary flower shop, buy exotic ones from Flower Cart! They offer a vast range of blooms to choose from, like alstromeria, poms, eustoma, and many more.
PRODUCTS
Roses
Preserved Flowers
Alstromeria
Baby's Breath
Carnations
Chrysanthemum
Eustoma
Gerberas
Gladiolus
Newborn Hamper
Get Well Soon Hamper
Gourmet Gift Hamper
Healthy Food Hamper
DELIVERY DETAILS
VISA, MasterCard, American Express, DBS UOB, POSB
10. FLORAL PASSION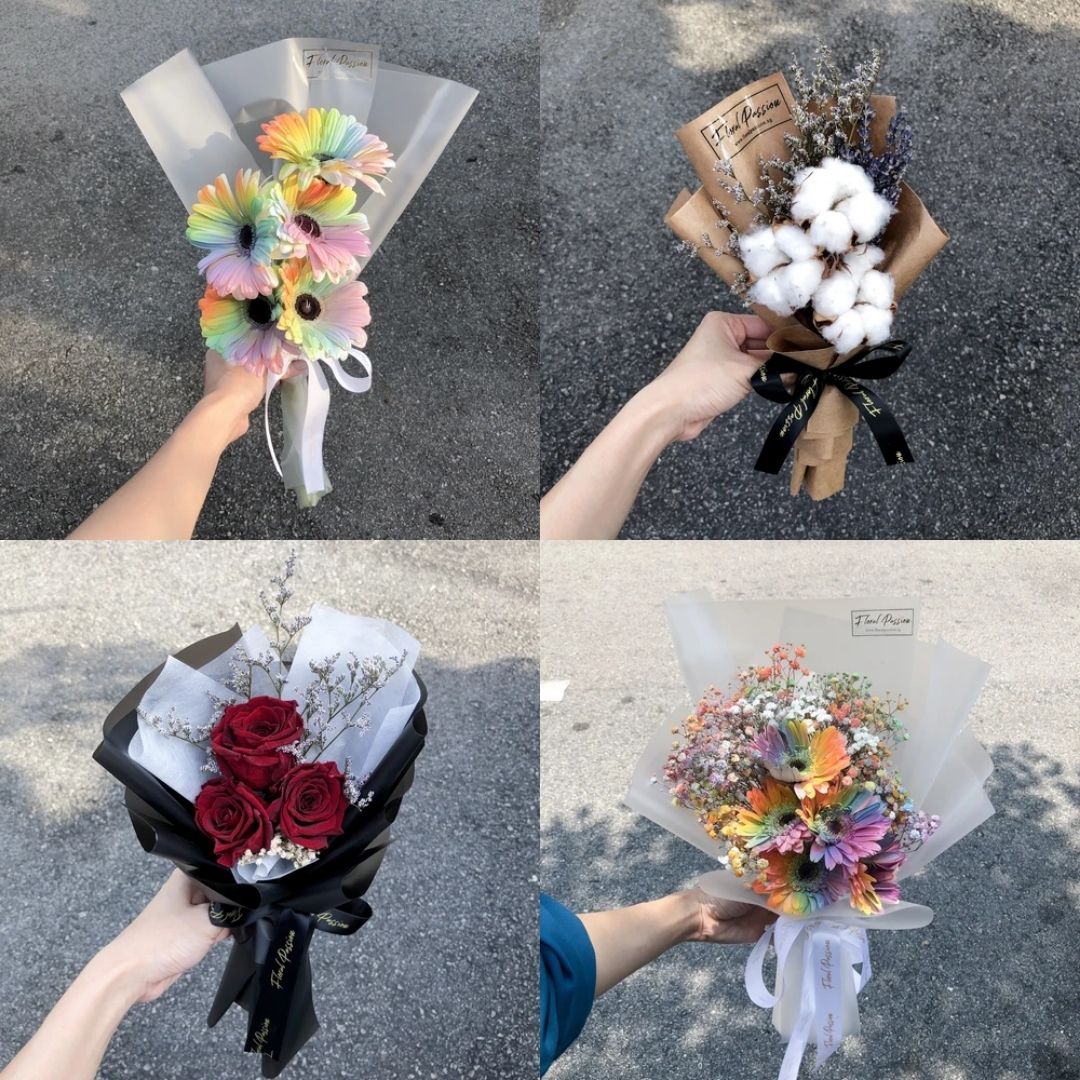 If you're looking for high-quality blooms, both fresh and dried, then Floral Passion is definitely the place to be.
Flowers sourced from only the best farms, you're sure to receive arrangements that will last you longer. Check out their listings on the website and order soon!
WHAT PEOPLE LIKE
Flower Subscriptions – Never have to worry about having to order every time, subscribe to Floral Passion's Flower Subscriptions! They'll be the ones to think of the arrangements to send over to you regularly. Expect only the best, inquire for the slot now!
Dried Flowers – Have flowers that would last you a lifetime, buy some of Floral Passion's preserved blooms. You won't have to worry about watering them as they're good to display as is. Certainly one of the best choices for those busy bees and those with allergies!
PRODUCTS
Flower Box
Preserved Flowers
Floral Bouquets
DELIVERY DETAILS
Payment details are given upon checkout
11.

The Bloom Inc

Create the perfect memories with the flowers that The  Bloom Inc offers. They have a wide range of selections for you to choose from, all of the high quality and are sure to be longer-lasting.
Check out more of their listings and details on the website and don't forget to order!
WHAT PEOPLE LIKE
Pick of the Week – The Bloom Inc. offers a way for you to acquire the best blooms in season with their "pick of the week". It's based on the best blooms in the market. You can choose between having a regular-sized bouquet, a large bouquet, or a bouquet in a jar.
Best Blooms – Don't settle for a lesser quality, make sure to get your floral arrangements from The Bloom Inc! All of their flowers are assured to be freshly picked from farms and will last you for days. Choose quality, choose The Bloom Inc.
PRODUCTS
Preserved Flowers
Fresh Flowers
Pick of the Week
Holiday Collection
DELIVERY DETAILS
You can either pay via:
Bank transfer, DBS 120-084851-2 
– Please Whatsapp/Email+65 82337531 a screenshot of the transfer, once it's done, with your name + order number.
Paynow/Paylah us @+65 82337531
– Please Whatsapp/Email+65 82337531 a screenshot of the transfer, once it's done, with your name + order number.
Credit Card online stripe (credit card)
12. 

GALLANT GARDEN

Next on our list is Gallant Garden — considered to be the most trusted funeral service provider in all of Singapore. While the title is mostly due to their professionalism in handling most of the work, it should be noted that their sympathy and funeral flowers are exceptional as well.
All designs are crafted with the best blooms available, be it fresh or dried, a perfect homage for the loved one you're seeing off.
SPECIALTY

Sympathy flowers, Funeral Arrangements

SELECTION SIZE

Large

STARTING PRICE

Contact for more details

DELIVERY FEE

Contact for more details

WEBSITE

SOCIAL MEDIA

—

CONTACT DETAILS

+65 66775520 | 

[email protected]
WHAT PEOPLE LIKE
DIVERSITY. Different cultures call for different funeral arrangements, all of which Gallant Garden is capable of handling for you. They offer services to help pay respect for a person from any background, be it Christian, Catholic, Taoist, or Non-Religious. Gallant Garden also has a moderate selection of burial options to choose from.
EXCELLENT CUSTOMER SERVICE. Funeral services are difficult to handle for the family grieving, which is why Gallant Garden makes it a point to do tasks efficiently and with no mistakes so that you won't have to worry much as you're preparing to say your final goodbyes to your loved one.
PRODUCTS
DELIVERY AND PAYMENT
Contact Gallant Gardens for more details regarding payment options.
13. SK FLEUR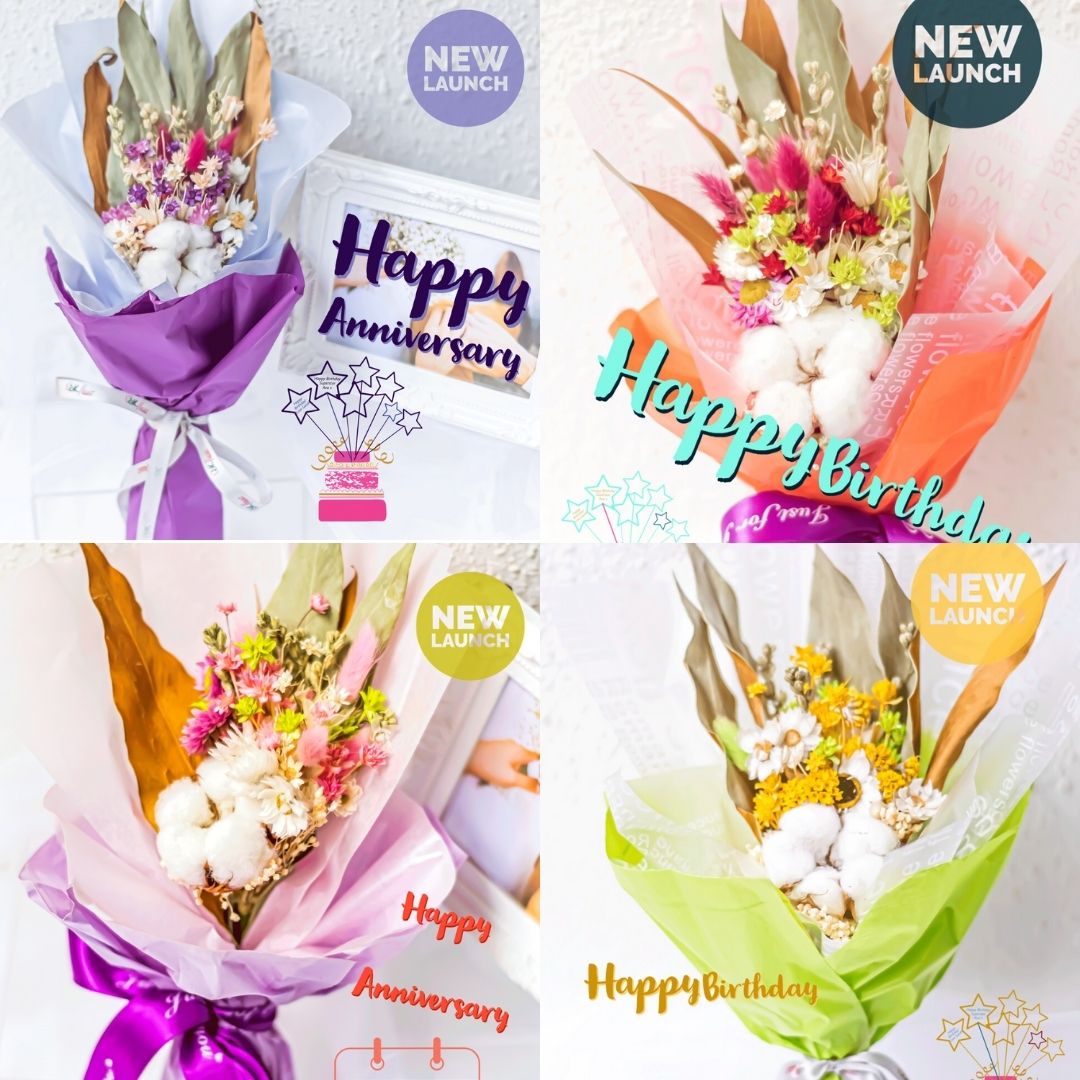 SK Fleur is a go-to shop for flowers for any occasion, offering beautiful preserved flowers of the highest quality.
Expect nothing but the best from this online store, get one of their arrangements now and see for yourself!
SPECIALTY
Preserved Roses
SELECTION SIZE
Medium
STARTING PRICE
Starts at $32
DELIVERY FEE
Starts at $5
WEBSITE
https://www.skfleur.sg/
SOCIAL MEDIA
CONTACT DETAILS
Tel: 65-82656855 – 93399359
Email: [email protected]
WHAT PEOPLE LIKE
Preserved Bouquet – Buy something that would definitely last you a lifetime. With SK Fleur's Dried Flower Bouquets, you're getting the most beautiful arrangements, and you get to keep them forever! Check out the available designs on the website.
High Quality Dried Flowers – You'll never have to settle for less as SK Fleur can offer you the best quality at the best price. with their premium dried flowers, you're getting that luxury with no added cost.
PRODUCTS
Christmas'20 Collection
Greenhouse Glass
Table Arrangement
Long Lasting Bouquet
DELIVERY AND PAYMENT
PayPal
14. BLANC ARTISAN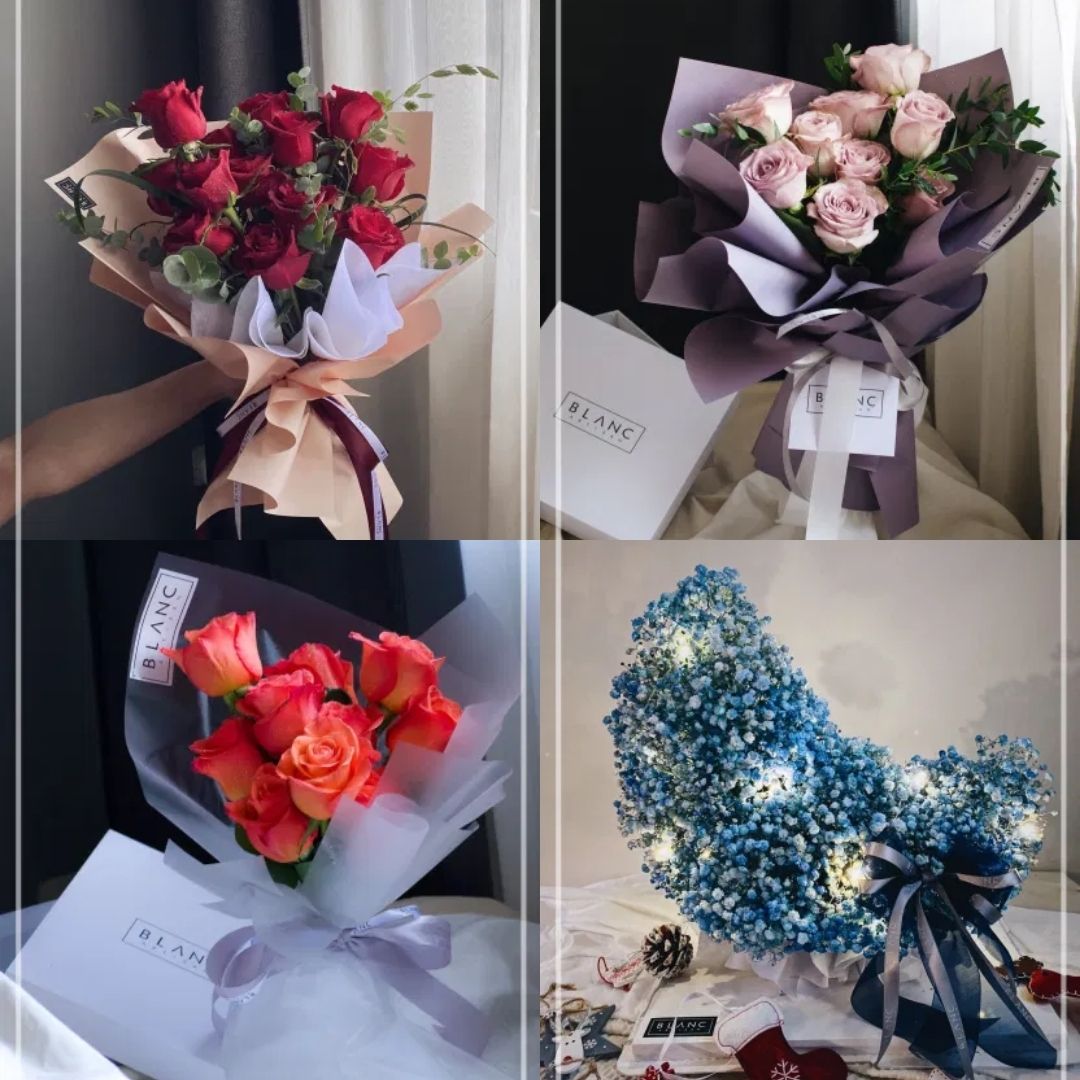 Blanc Artisan is one of the best shops to consider if you're in need of amazing floral bouquets, both fresh and preserved! With their assistance, you're definitely going to receive only the best quality at the best price.
SPECIALTY
Rose Domes
SELECTION SIZE
Large
STARTING PRICE
Starts at $38
DELIVERY FEE
Starts at $15
WEBSITE
https://blancartisan.com/
SOCIAL MEDIA
CONTACT DETAILS
+65 8580 9956
[email protected]
WHAT PEOPLE LIKE
Customized Bouquets – If you're looking for a shop that can customize an arrangement for you then Blanc Artisan is definitely the one to go to! They offer their services to create designs not listed on their shop for a more unique feel. Contact the shop for more information.
Flowers for Every Occasion – No matter the event, Blanc Artisan has surely something to offer to you. They have a wide range of selection for each occasion, ensuring that you can get whatever you may need. Take a look at their listings and order soon!
PRODUCTS
FRESH FLOWER BOUQUETS
PRESERVED FLOWERS
VASE / BOX
BASKETS / HAMPERS
OPENING FLOWER STAND
HOT AIR BALLOON
SOFT TOY / PLUSH
DELIVERY AND PAYMENT
Payment details are given upon ordering.
15. ROSELODGE FLORIST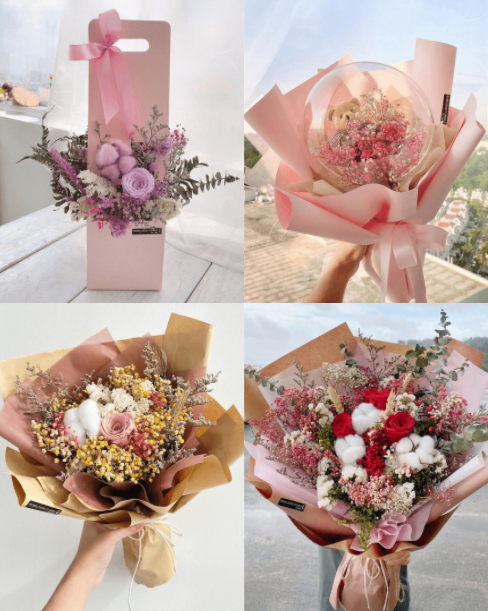 Roselodge Florist offers flower delivery services to the entirety of Singapore. The shop's catalogue features flower bouquets, floral stands, dried blooms, and even quirky bouquets made from chocolates and other snacks.
Aside from its standard selection, Roselodge Florist also creates customised arrangements. As a flower expert, Roselodge Florist even does floral arrangements for weddings and other big-time events.
WHAT PEOPLE LIKE
SIZABLE COLLECTION. One of the best things about choosing Roselodge Florist for one's floral needs is the endless options that the shop has to offer its clients. See, Roselodge Florist has a sizable collection boasting fresh and dried arrangements as well as quirky bouquets, bundles, and floral stands. 
EXCELLENT DELIVERY SERVICES. Roselodge Florist's delivery services is one of the best that we've encountered so far. The shop allows customers to specify the date and time of the delivery, and even offers free delivery services for orders above $48. 
PRODUCTS
FLORAL BOUQUETS
EVERLASTS & DRIED BLOOMS
GRADUATION COLLECTION
QUIRKY BOUQUETS
BUNDLES
FLORAL STANDS
DELIVERY AND PAYMENT
The shop accepts Visa, Mastercard, PayPal, and PayNow for payments.
16. THE WALLFLOWER BUD

If you're looking for simple yet tasteful flower arrangements, of the fresh or preserved variety, then one of your best bets is The Wallflower Bud.
The Wallflower Bud strives to create unique, eye-catching floral pieces that bring a sense of freedom and joy to whoever receives them. Their inspiration is picking flowers through fields. 
WHAT PEOPLE LIKE
FLOWERS FOR ALL OCCASIONS. Birthdays, weddings, anniversaries — no matter the occasion, The Wallflower Bud can create elegant floral arrangements that will no doubt catch the eye and bring joy. These floral arrangements are handled by expert stylists who endeavour to bring out the flowers' natural beauty. 
FLOWER WORKSHOPS. The Wallflower Bud holds several workshops throughout the year, all of which cater to those who wish to try their hand at floristry. Depending on the workshop chosen, participants can work with fresh or dried flowers and create their dream arrangement with the aid of professional flower designers. 
PRODUCTS
Dried/Preserved Buds
Fresh Buds
Autumn/Winter Buds
Corporate/Features
DELIVERY AND PAYMENT
The shop accepts credit/debit card payments (via Stripe).
17. FLOWER CHIMP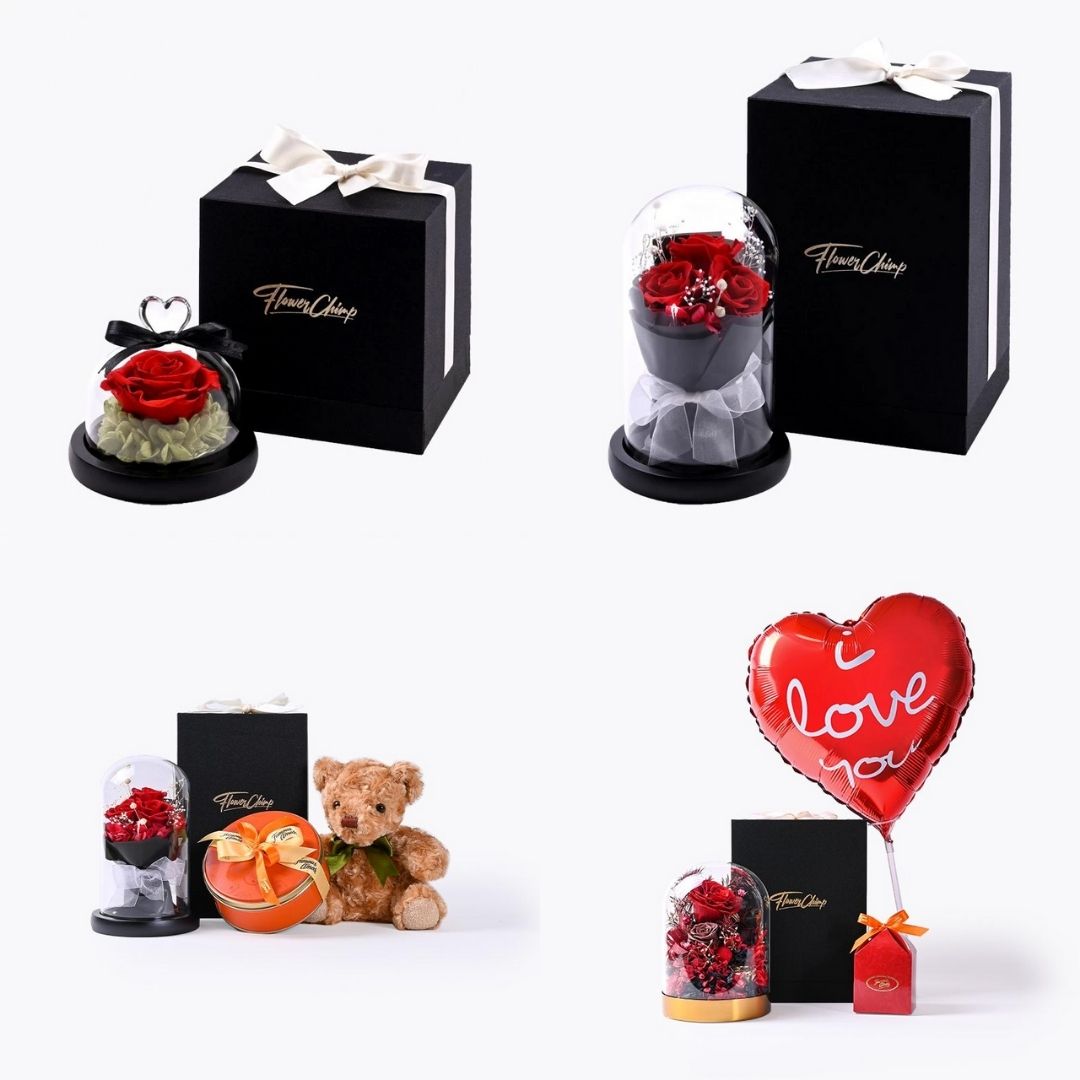 You can say what you want to say best with a good, old fashioned bouquet. Flower Chimp offers a wide variety of blooms to choose from, having the options of a fresh arrangement, or dried ones that would last you a lifetime.
Celebrate occasions with Flower Chimp's help with decorating and gifting of novelties. Check out their items on the website. 
What People Like
SAME DAY DELIVERY. Last minute orders are welcomed at Flower Chimp. Check out the items you want before 5pm and they will be able to deliver it the very same day.
SPECIFIC DELIVERY TIMES. With Flower Chimp, you can choose your preferred delivery slot, which makes it easier if you need your flowers at specific times for events. This is best for orders the next day or for those that are needed a few days from placing.
BUDGET FLOWERS & HAMPERS. Another thing to like about this shop is that they allot designs and arrangements for specific budgets of their customers. They have flowers and hampers that are cheaper, but also have expensive ones. Rest assured that no matter the price of the item, Flower Chimp maintains great quality of products.
Products
Bouquets
Flowers In A Vase
Opening Flower Stands
Funeral & Condolence Flower Stands
Chocolate Bouquets
Flower Boxes
Flower Baskets
Gifts For Men
Fruit Baskets
Newborn Gift Boxes
Snack Box
Christmas Hampers
Cakes & Flowers
Delivery and Payment
Accepts MasterCard, as well as other major credit cards and online payments.
18.      FLORISTIQUE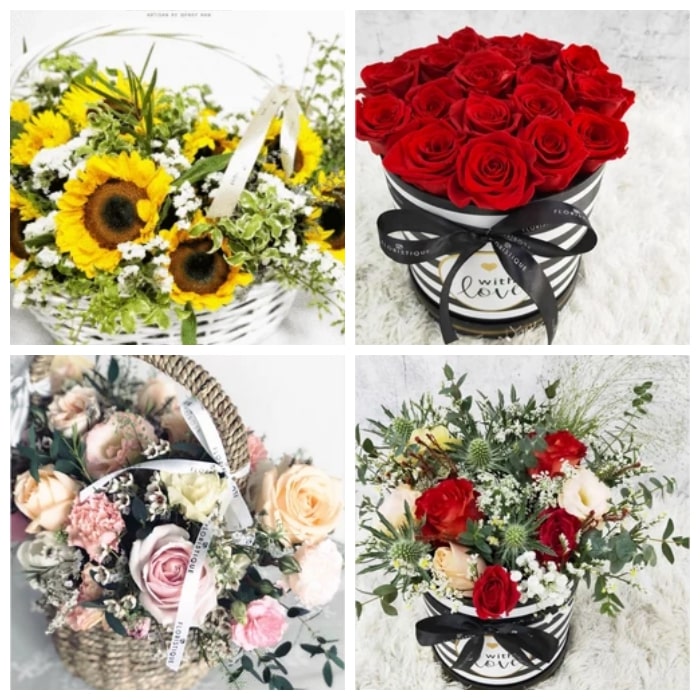 If you are looking for a flower shop that has a really great artistic value, one of your best choices would be Floristique. They have just a great eye for detail and their floral designs are just exceptional. The dried flowers that they make vary from bouquets to box arrangements that are all equally beautiful and in the highest quality.
WHAT PEOPLE LIKE
UNIQUE DESIGNS. The creative team of the shop always strives to create unique and stunning floral designs that will totally awe their beloved clients.
PRODUCTS
Flower Boxes – $65 to $105
Flower Baskets – $65 to $105
Bouquets – $35 to $90
DELIVERY AND PAYMENT
Visa, Mastercard, AMEX