Nothing could express beauty more than flowers do. The bright colors and fragrant smell are nature's gift that uplifts our well-being. They may come in different colors and forms but they all blossom to be a beautiful product of nature. Its power grows as they are bind together to create a beautiful flower arrangement that conveys numerous message. If you are interested to learn more about flowers and the message they carry, visit these 6 shops in Shah Alam and be amazed by their elegant yet affordable bouquets.
1. ALIICE ART FLORIST SHOP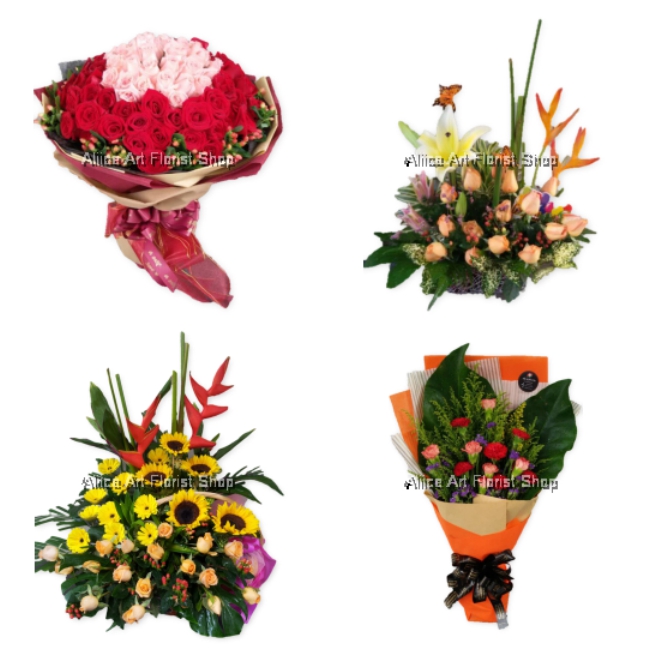 Aliice Art Florist Shop is well loved by their community because of their consistent creative flower designs. No matter the occasion and request, you could expect them to deliver beyond your expectations. Their customer service is also beyond words since they will go beyond the usual by verifying your orders.
WHAT PEOPLE LIKE
OFFERED COURSES. Aside from selling stunning flower arrangements, the shop also opens its door for those who are interested to learn how to create such products by offering courses personally taught by the team.
SAME DAY DELIVERY. The shop offers different kinds of delivery service and one of these is same day delivery.
PRODUCTS
Hand Bouquets – RM80.00 to RM500.00
Flower Vase – RM75.00 to RM500.00
DELIVERY AND PAYMENT
Visa, Mastercard, PayPal, Bank Transfers
2. GREEN FLORIST & GIFT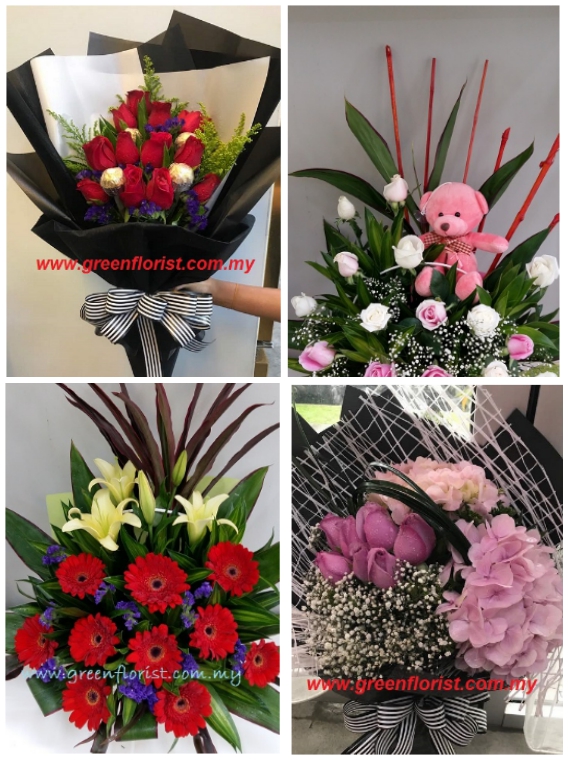 Green Florist & Gift showcases local produce of Shah Alam. They make stunning customized arrangements out of it to fit every occasion and even unique events. They also supply to big events, ensuring that the customer's budget, preferences, and more has been satisfied
WHAT PEOPLE LIKE
100% CUSTOMER SATISFACTION. The shop receives very good reviews from their previous customers and it showed how satisfied they were with the products and services that they got from the team.
PRODUCTS
Hand Bouquets – RM128 to RM400
Flower Baskets – RM128 to RM400
DELIVERY AND PAYMENT
PayPal, Maybank, Hong Leong
3. TheFloristMarket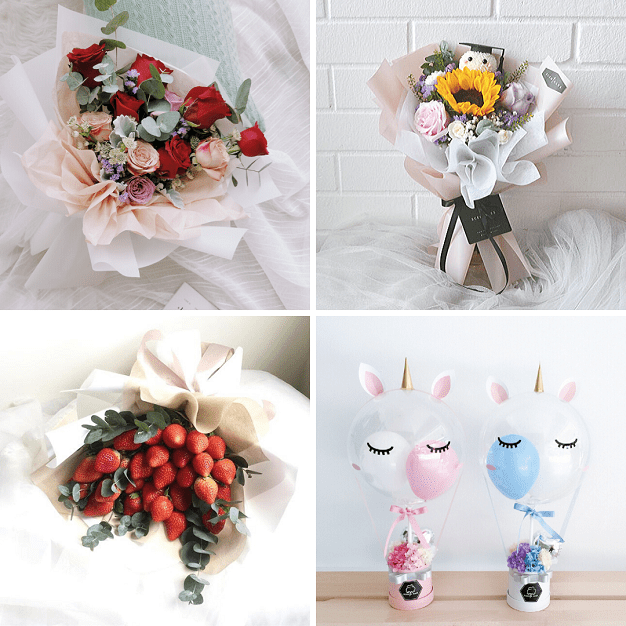 The Florist Market started in 2016 as an online marketplace where you can find listings of local florist that offers flower delivery services within the city of KL as well as in Selangor, Malacca, and Johor Bahru,. It is registered under TheFloristMarket Enterprise (JM0807764-A).
By availing The Florist Market's service, you can easily discover which store you can contact if you are in need of the finest and freshest flowers in the area. It can also easily provide you with a collection of products to choose from for a seamless shopping experience.
| | |
| --- | --- |
| SPECIALTY | Elegant wrapped bouquets |
| SELECTION SIZE | Large |
| STARTING PRICE | From RM 29 |
| DELIVERY FEE | Calculated at checkout |
| WEBSITE | |
| SOCIAL MEDIA | https://www.facebook.com/thefloristmarket/ |
| CONTACT DETAILS | WHATSAPP VIA 011-59401990 |
WHAT PEOPLE LIKE
USER-FRIENDLY.

Free yourself from the hassle of jumping from one online shop to another and enjoy the perks of having The Florist Market on your browser bookmark. By just visiting their website, you will be presented with tons of options of flower arrangements and local florists so you can save some time looking for the best one that fits your needs.

SAFE PAYMENT.

The team guarantees that any transaction with them, especially payments are highly secured and safe. All of your details are kept in high confidentiality you can trust that you are billed accordingly.

E-GREETING CARD. The Florist Market improve the greeting message experience by including a video/audio/photo uploaded by sender. The receiver can just scan the QR code in the greeting card to view the video together with the message
PRODUCTS
Hand tied bouquets
Wrapped bouquets
Centerpieces
Wedding flowers
Sympathy flowers
Grand opening flowers
Balloon Flower Box
Graduation Bouquets
Chocolate Bouquets
DELIVERY AND PAYMENT
The payment methods accepted are PayPal, Mastercard, Bank Transfer, 7 Eleven
4.      FLORY GIFT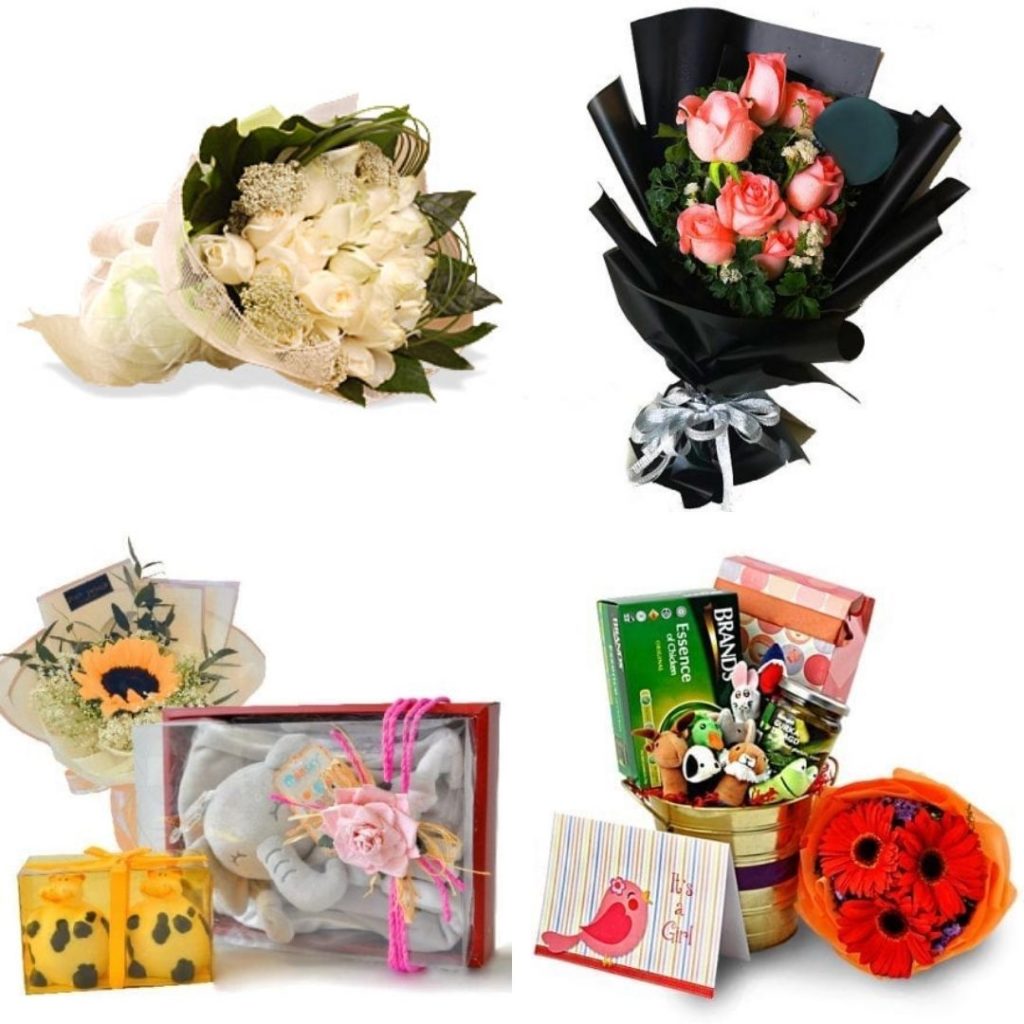 Another amazing flower delivery to consider is Flory Gift. They're known for their unique designs and for always being on top of the latest trends on blooms and arrangements. What's more is that Flory Gift has all these sorts of presents for whatever event you may think of. It doesn't matter if it's for valentine's, anniversaries, birthdays, or even just a regular day, they something in store to offer. They're open 24/7 to take orders. You can check more of their listings on Flory Gift's website.
WHAT PEOPLE LIKE
SAME DAY DELIVERY. Flory Gift allows same day deliveries even for bespoke arrangements, which is one of the reasons they are recommended.
DAILY DELIVERY. Another great thing about Flory Gift is that they're open everyday, even on public holidays! They know that presents are needed almost on the daily by various people, and are even more in-demand on special occasions and feast days. With this in mind, they make sure that their florists are readily available to take in orders not only on the website, but also through call or emails for personalized requests.
PROMOS & REWARDS SYSTEM. Flory Gift offers a multitude of promotions available for customers to acquire. It changes, depending on availability of blooms and other items, but each are as great as the next. This is a nice way for new clients to try out what Flory Gift has to offer without worrying too much ojn how much they spend. The rewards system, on the other hand is for loyal customers to enjoy as the points accumulated can also be used when buying more blooms at the store.
PRODUCTS
Flower Arrangements
Flower Bouquet
Fresh Flower in Vase & Pots
Flower Basket
Grand Opening Flower Stand
Funeral Flowers
Fruit Basket
Hamper
Baby Gifts
Wedding Gifts
Wine Gift
Cakes
Chocolates
DELIVERY AND PAYMENT
VISA, MasterCard, PayPal, MayBank, CIMB Bank, Hong Leong Ban, Razer Pay, other standard banks
5.      DE ANTHUS FLORIST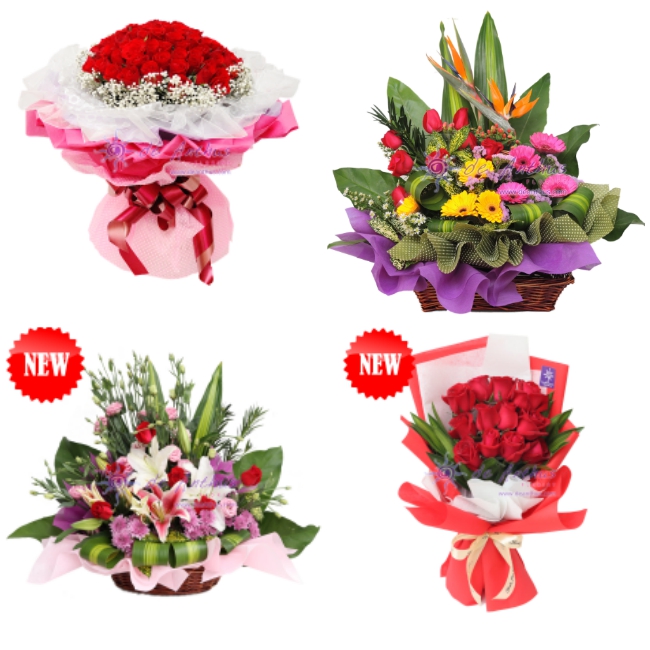 Since 1998, De Anthus Florist creates flowers for every occasion; whether it is for a simple anniversary dinner, a grand birthday party, or a fairytale-like wedding. They wanted to spread the love for flowers through their wonderful and stunning creations so make sure to get one now and send them to your loved ones.
WHAT PEOPLE LIKE
STUNNING DESIGNS. The shop prides itself with the designs that the team creates through their collaborative effort and outstanding skills and creativity.
LARGE COLLECTION. If you are looking for a shop that has different kinds of fresh flowers and arrangements and will perfectly suit any kind of occasion, De Anthus Florist is your best bud.
PRODUCTS
Hand Bouquet – RM119 to RM300
Flower Basket – RM98 to RM500
Flower Arrangement – RM138 to RM300
DELIVERY AND PAYMENT
PayPal, Mastercard, Visa, Maybank, bank transfers
6.      SCENTALES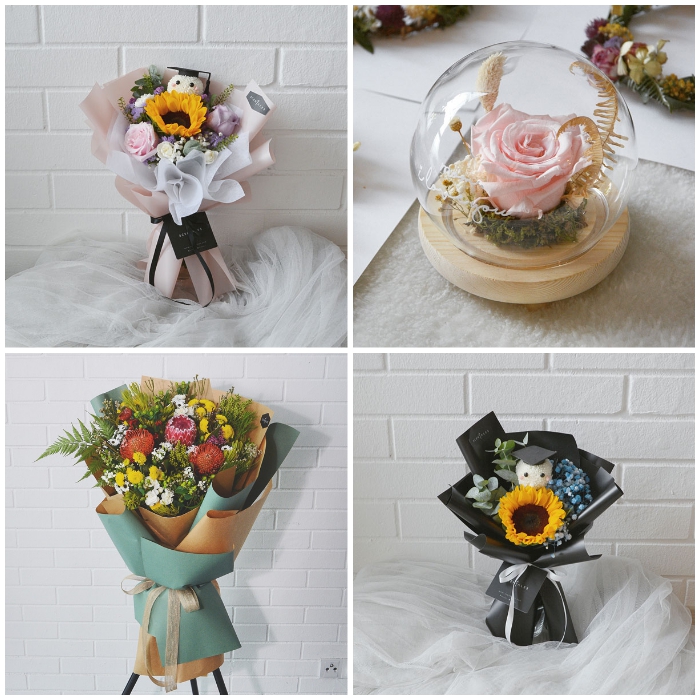 Scentales offers variety of fresh flowers and unique arrangements suitable for any kind of event. They can attend to the simplest birthday parties to the grandest wedding anniversary celebrations. Their staff are committed to achieve 100% customer satisfaction so they guarantee the highest quality of products and services.
WHAT PEOPLE LIKE
SAME DAY DELIVERY. If you forgot to place your orders a few days before the actual date of delivery, you still got plenty of time because Scentales offers same day delivery services.
PRESERVED FLOWERS. The shop does not only create arrangements out of fresh flowers but they also unleash their creativity with the preserved flowers that they showcases in their shop.
PRODUCTS
Bouquet – RM69 to RM300
Preserved Flower – RM55 to RM165
FLower Stand – RM355 to RM550
DELIVERY AND PAYMENT
Contact shop for information.
7.      BLOOMING FLORIST SDN. BHD.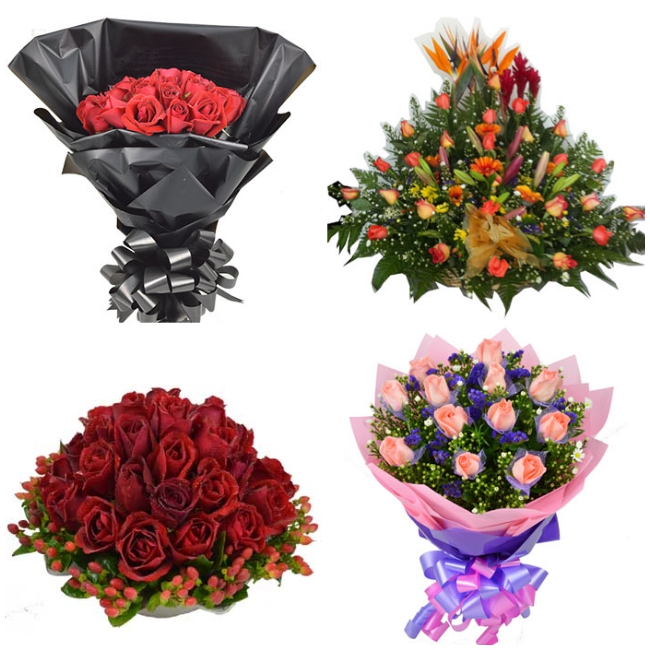 If you are fond of creative designs, you should check out Blooming Florist Sdn. Bhd. They offer a large collection of fancy flower arrangements that will complement almost any type of events. Their highly skilled staff are always ready to assist you in choosing the best arrangement that will go with your occasion's theme.
WHAT PEOPLE LIKE
LARGE COLLECTION. Whatever color and kind of flowers that you think is best for your themed event, likely that the shop can provide you with the best one.
PRODUCTS
Hand Bouquets – $88 to $500
Flower Baskets – $82 to $360
DELIVERY AND PAYMENT
Visa, Mastercard, Diners, American Express, JCB, PayPal, Bank Transfer
8.      HAPPY BUNCH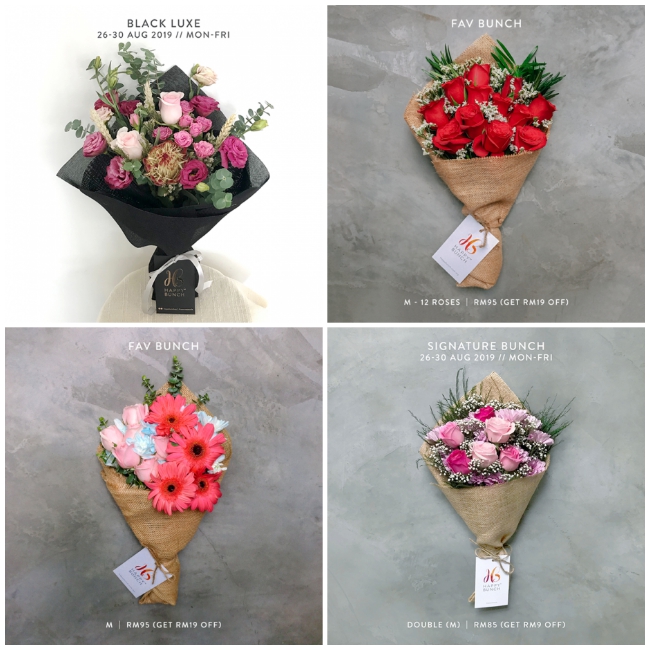 A classy event deserves a classy floral arrangement. With Happy Bunch's products, your event will surely be a wonderful one because not only do they create one of the most beautiful flower arrangements, they also make sure that they attend to your every flower arrangement needs through their friendly staff.
WHAT PEOPLE LIKE
GREAT CUSTOMER SERVICE. The shop prioritizes the satisfaction of their customers that is why they make everything convenient for them starting from ordering up until the delivery services.
PRODUCTS
DELIVERY AND PAYMENT
Contact shop for details.