Be it a grand or simple celebration, you can never go wrong with gift hampers. A box filled with delicious treats, refreshing drinks, or health supplements will definitely bring comfort to everyone!
So to help you find the perfect gift set, we searched for the local shops that offer the best hampers in Melbourne. See our list below to know where you can visit them!
| | |
| --- | --- |
| Gift Shop | Price Range |
| Hampers With Bite | $28 – $400 |
| Pretty Perfect Gifts and Hampers | $54 – $229 |
| Lvly | $44 – $149 |
| The Wholesome Gift Box | $65 – $185 |
| Milly & Marr | $70 – $225 |
1.  Hampers With Bite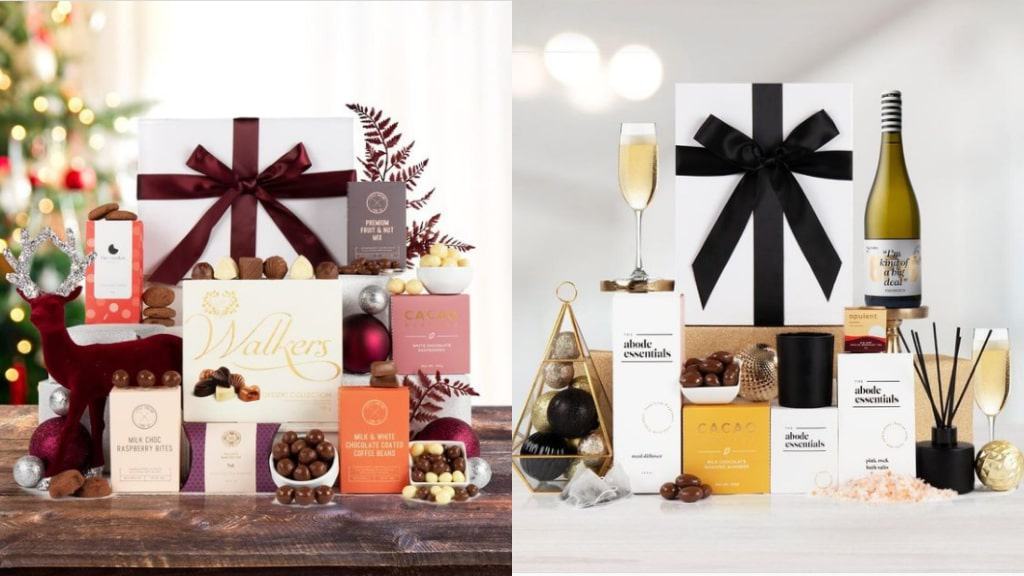 First off, we have Hampers With Bite, a gift shop that features a huge variety of collections, ideal for all kinds of occasions and events! They have specially designed selections for birthdays, anniversaries, get-well-soon greetings, Christmas, Valentines, and so much more!
They even have uniquely arranged hampers that aren't usually found in most gift shops. This includes non-alcoholic hampers, aromatherapy hampers, as well as vegan and gluten-free hampers — these are great for those who are quite health-conscious.
They offer different styles, ranging from classic to modern hampers, where each is packed with finely crafted products. You can even customise one if you already have a specific arrangement in mind.
When it comes to their customisation services, you can choose based on your allotted budget, ingredients/items you'd like to add, and your preferred packaging style.
For those who want to impress their clients or give thoughtful gifts to employees, this shop also offers corporate gourmet hampers. They have multiple branding options including branded gift cards, satin ribbon, screen-printed bags, cheese boards, wine cases, and gift boxes.
They've worked for many established brands like Coca-Cola, Toyota, Woolworths, RioTinto, and more. This just proves that they indeed offer the best hampers in Melbourne!
Wide range of hamper collections
Offers lots of branding options
Provides custom-made hampers
Delivery service isn't available on weekends and public holidays
Delivery cost is quite pricey
Customer Reviews
Many customers were delighted with the excellent assortment of foods and quality packaging as well. They also said that Hampers With Bite's team was able to accommodate special requests and deliver finely crafted hampers.
A customer gave this feedback:
"I have bought about five different hampers through Hampers with Bite over the last 12 months and all recipients have been impressed by the products. I love the variety of hampers. It means all my friends are catered to personally. The delivery has always been incredibly quick, even for those delivered to regional areas."
2.  Pretty Perfect Gifts and Hampers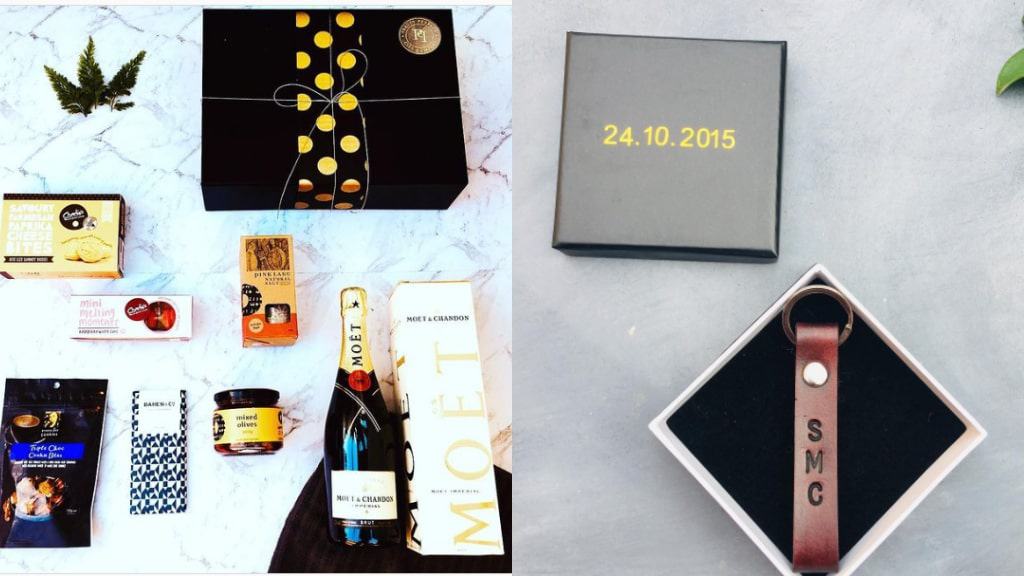 If you liked the custom-made hampers offered by the previous shop, then you'll definitely love the personalised gift items offered by Pretty Perfect Gifts and Hampers.
They take their customisation services to a whole new level with their luxurious leather gift sets, jewellery, and even wood crafted items.
This shop's collections feature food hampers, corporate gift hampers, and exclusive hand-crafted gift boxes. On their food hampers catalogue, they have chocolates, cookies, wines, and other sweet delights.
With your chosen hamper, you can include personalised keychains and bracelets, tailored for your loved ones.
These leather-made accessories can be customised with hand-stamped messages or initials. They come in different colours and they're also gender-neutral gifts — perfect for everyone!
For their jewellery selections, they have dainty necklaces, showcasing minimalist and elegant designs. You can also request a personalised bar necklace for women and tags for men.
If you're looking for something cooking-related, they have wood collections that include chopping boards and rolling pins.
Simple but classic hamper arrangements
Lots of personalised items
Provides free shipping fee and gift wrapping
Has return and refund services
Customer Reviews
Pretty Perfect Gift Hampers has earned positive remarks from customers saying that they've experienced easy and quick transactions. They also recommended the impressive and gorgeous hampers packed with delicious treats and special gifts.
A customer posted this review:
"Searching the internet for something unique to send to a really close mate who had just had heart surgery in Melb. I came across Pretty Perfect Gift Hampers and what a find. They have the most beautiful gift hampers and also wonderful leather key chains which can be personalized and this was exactly what I was looking for. Communication was so wonderful and helpful and the end product was gorgeous and even the packaging was personalized with my friends name on the box and delivered all within a couple of days. Thanks to Pretty Perfect Gift Hampers you are amazing and totally recommended."
3.  Lvly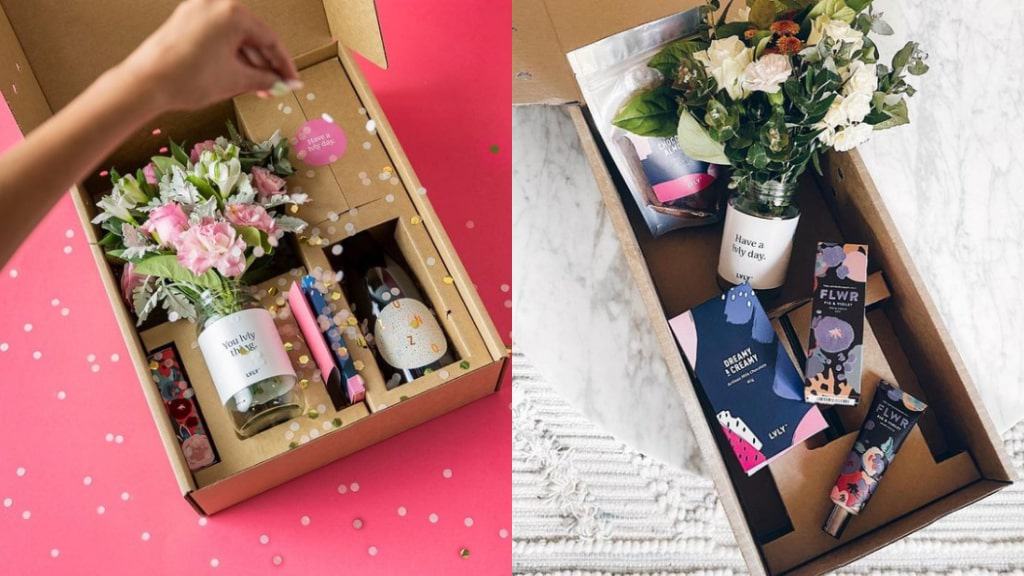 BEST FOR
Signature Flower and Gift Combinations, Personalised Gift Bundles
STARTING PRICE
$44
WEBSITE
https://www.lvly.com.au/
CONTACT DETAILS
+61 3 9071 2481
SOCIAL MEDIA
Instagram, Facebook
OPERATING HOURS
Monday – Friday: 9:00 AM – 5:00 PM
Saturday – Sunday: 9:30 AM – 4:00 PM
Lvly is one of the few gift shops in the city that offer wonderful combinations of flower arrangements and gift items.
On their collections, you can find one-of-a-kind gift sets made for coffee/beer/tea lovers, beauty enthusiasts, expectant mothers, newborns as well as weddings, birthdays, and more occasions.
Every hamper comes with a signature flower arrangement styled in either a bouquet, vase, or jar. They even have deluxe dried flowers through which you can express your everlasting love to your family and friends.
You can also try to make your own gift bundle if you already have a prepared list of the recipient's favourite items. Simply choose your preferred blooms, foods, drinks, body care products, and more gift items.
For their corporate gifting services, they offer bespoke gift bundles. This involves free personalisation on all jars where you can also add the client/employee's name, special message or business logo.
They also collaborate with other local brands, releasing limited edition gifts. So, make sure to check their official website or social media to keep updated.
If you need your orders to be delivered on the same day, make sure to book ahead before 1 PM.
Wide range of personalisation options
Unique flower arrangements
Provides student discounts
Offers same-day and last-minute delivery
No same-day delivery service available on Sunday
Customer Reviews
Most customers liked the excellent gift combinations of LVLY, saying that they truly have some of the best hampers in Melbourne. They also mentioned the easy ordering process, reasonable rates, and fast delivery service of the shop.
A customer wrote this feedback:
"Excellent service, I got a really nice gift box for my sister's birthday. She was really happy with the content ( flowed – lovely post, candle, tea and chocolate). The text alerts regarding delivery were particularly appreciated. We highly recommend it."
4.  The Wholesome Gift Box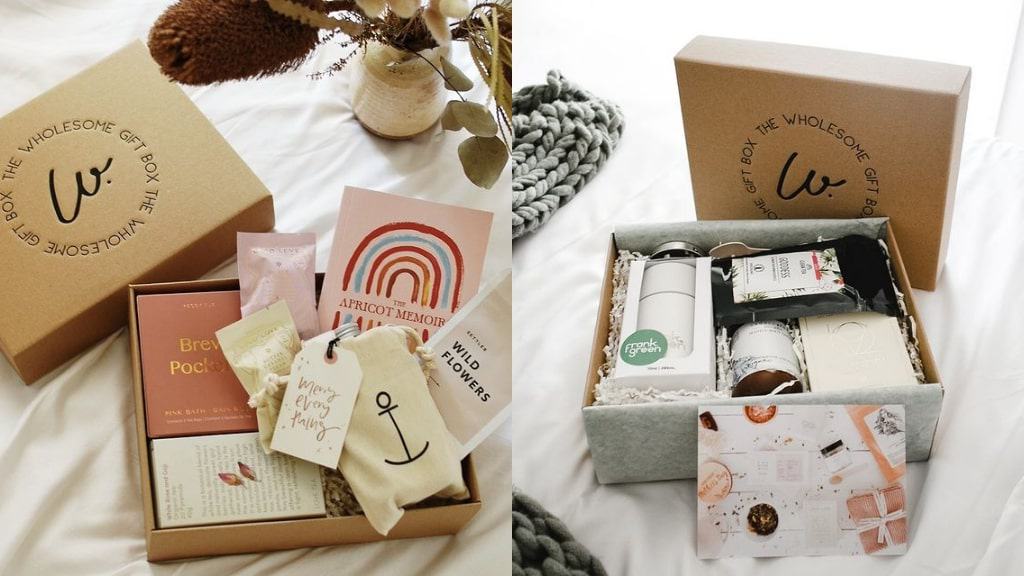 Whichever occasion or event it is, fully-packed hampers filled with healthy and organic treats will always be a great gift for everyone. The Wholesome Gift Box offers a variety of natural and environment-friendly products, promoting healthy living.
Each gift box features hand-picked and locally-sourced items that are good for the body, soul, and the environment. This includes body, bath, and beauty products, candles, homewares, and other tasty treats that are suitable for pampering and relaxing.
Aside from their pre-designed boxes, you can also make your own gift set and include all the items that your loved ones would like.
For those who want to leave a nice first impression on their clients or give thanks to their staff, this shop also creates corporate gift sets that aren't too promotional or overly personal.
They also have their signature gift cards, which you can attach to your chosen gift box. These gift cards contain delightful messages that'll surely brighten everyone's mood.
This shop's collections are designed to make everyone feel loved and appreciated. This is why many locals praised their creations as the best hampers in Melbourne.
Specialises in self-care themed gift sets
Large range of locally-made products
Affordable corporate gift boxes
Offers express delivery service
Free additional gift
Doesn't offer same-day delivery service
Delivery time usually takes 2 to 3 business days
Customer Reviews
A lot of customers recommended The Wholesome Box because of the organic products, aesthetic packaging, and on-time delivery service. They were also highly satisfied with the custom-made gift boxes filled with their specially requested items.
A customer shared this experience:
"Such gorgeous gift boxes!! I ordered two recently – for my sister in law and mum – and they both loved them!! Beautiful natural products and all locally made as well. Such a great find and will definitely be back!"
5.  Milly & Marr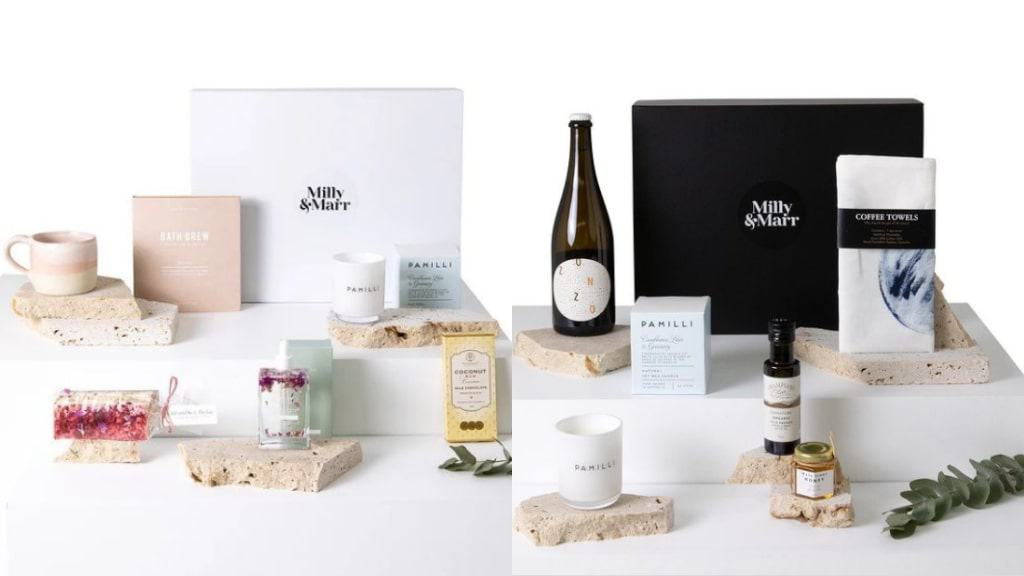 For those who have friends, relatives or colleagues that are currently visiting the city, Milly & Marr has great gift box collections of Australia's finest delicacies as well as premium self-care products — giving them a nice preview of the city's culture and other specialities.
They have gift boxes for housewarming events, newborn celebrations, tea parties, mood pamper, and more. Aside from these, they also create collections for beauty enthusiasts, botanical lovers, and selective gift boxes for women and men.
If you can't find anything you like in their pre-designed selections, you may opt for a personalised gift box and choose your preferred gift box colour, bundle items, and handcrafted greeting card.
For their corporate gifting options, they make customised sets tailored to represent specific brands. Their corporate range is also packed with Australian-made items that both your clients and staff will surely enjoy!
Makes rare and unique gift boxes
Has a great range of luxurious wines
Provides Australian-themed corporate gift sets
Offers low delivery fees
No same-day delivery service
Customer Reviews
Customers loved the stylish designs of the boxes and the incredible combination of local foods and products. They were impressed by the overall quality of the gift sets curated by Milly & Marr.
A customer left this review:
"I bought 2 boxes over Christmas and the girls at Milly & Marr were so good I am a fussy person and they were very accommodating and so lovely. The boxes were beautifully presented with Australian made and owned products both recipients loved their gifts!"
FAQs About The Best Hampers in Melbourne
____________________________________________________________________________
And that's the end of our list of shops with the best hampers in Melbourne! Do you have other places in mind that you'd like to recommend? Feel free to share them with us!