Bauhinia × blakeana, also called Hong Kong Orchid Tree, is the official flower of Hong Kong which appears on its current flag. It is cultivated widely in the country, though it's not the only flower you can enjoy. With the best flower delivery in Hong Kong, you can send fresh flowers to yourself or your loved ones anytime.
Buying fresh flowers will be a breeze if you choose the best Hong Kong florists. Here are our top picks:
1. A BETTER FLORIST
A Better Florist was born after the founder's frustrating experience with a flower delivery service on Valentine's Day. With the aim of simplifying the process of giving and receiving flowers, A Better Florist quickly gained loyal customers in Singapore, eventually expanding their operations internationally, including Hong Kong. Their commitment to providing lightning-fast delivery for their cheap yet high-quality bouquets made them rise among the ranks of the best flower delivery in Hong Kong.
| | |
| --- | --- |
| SPECIALTY | Affordable modern hand bouquets |
| SELECTION SIZE | Curated |
| STARTING PRICE | From HK$500 |
| DELIVERY FEE | Free Same Day Delivery |
| WEBSITE | www.abetterflorist.com.hk |
| SOCIAL MEDIA | Instagram: @abetterflorist |
| CONTACT DETAILS | Contact Form |
WHAT PEOPLE LIKE
90-MINUTE EXPRESS FLOWER DELIVERY. Speed is A Better Florist's top advantage. Say goodbye to last-minute supermarket dashes or disappointing deliveries because of their 90-minute door-to-door delivery. Free same day delivery applies to orders placed before 3pm.
PROFESSIONALLY HANDCRAFTED FLORAL PRODUCTS. A Better Florist carefully curates their collection of bouquets and arrangements to make sure customers get the best and most beautiful floral products. They have talented florists using premium blooms from the best flower farms to craft beautiful bouquets and arrangements. Their bestselling hand bouquets are carefully wrapped in rustic burlap, securely tied with a stylish ribbon and finished off with a personal message. The result is always Instagram-worthy!
VALUE FOR MONEY. By eliminating the middlemen, A Better Florist gets to keep their prices affordable and still retaining the high quality of their flowers. From hand bouquets to grand opening flower stands and condolence wreaths, their beautiful arrangements provide excellent value for money.
PRODUCTS
HAND BOUQUETS & ARRANGEMENTS: HK$500 – HK$1200
GRAND OPENING STANDS: HK$600 – HK$2000
FUNERAL FLOWERS: HK$900 – HK$3100
DELIVERY & PAYMENT
Order before 3pm for same-day delivery. For next-day deliveries and any other pre orders, order anytime. They accept VISA, Mastercard, American Express and PayPal.
2. HER FLOWERS
Her Flowers is not your usual Hong Kong florist or flower shop. Instead of a large selection, they showcase a carefully curated collection of lush and luxurious bouquets with farm-fresh look. Her Flowers champions self-care and empowerment, so feel free to treat yourself with an elegant and luxurious bouquet without the exorbitant cost.
| | |
| --- | --- |
| SPECIALTY | Budget-Friendly Luxurious Bouquets |
| SELECTION SIZE | Curated |
| STARTING PRICE | From HK$500 |
| DELIVERY FEE | Free Same Day Delivery |
| WEBSITE | www.herflowers.com.hk |
| SOCIAL MEDIA | Instagram: @herflowerssg Facebook: /Her-Flowers-2259047594320989 |
| CONTACT DETAILS | +852 5808 7515 |
WHAT PEOPLE LIKE
AFFORDABLE LUXE HAND BOUQUETS. Lush and large bouquets do not have to burn a hole in your pocket. Her Flowers makes this possible with their luxurious flowers designed and handcrafted by their professional florist. Each bouquet is stunning, long-lasting and perfect for the budget conscious.
CAREFULLY CURATED COLLECTION. Her Flowers curates their collection of floral products based on the message and emotion customers want to convey. There's a story behind every flower gift, whether it is to say "Thank you," "I'm thinking of you" or "I love you." They also take inspiration from the diverse personalities and admirable qualities of women everywhere.
FAST, RELIABLE & FREE SAME DAY DELIVERY. Her Flowers provides free same day flower delivery in Hong Kong, island-wide, for orders placed before 3pm. For rush orders and express delivery, contact their customer service so they can accommodate your request.
PRODUCTS
HAND BOUQUETS & ARRANGEMENTS: HK$380 – KH$1,710
GRAND OPENING FLOWERS: HK$1,200 – HK$2,000
CONDOLENCE WREATHS: HK$600 – HK$2,000
FRUIT BASKETS: HK$600 – HK$850
DELIVERY & PAYMENT
Order before 3pm for same-day delivery. For next-day deliveries and any other pre orders, order anytime. They accept VISA, Mastercard, American Express and PayPal.
3. BYDEAU
Founder and CEO Jennifer Margolin fell in love with the art of gift giving from her mom. The little details really add something extra, from the cute note, the unique wrapping, the joy of finding out what's inside. The same attention to detail is incorporated in BYDEAU with their modern arrangements in chic packaging.
| | |
| --- | --- |
| SPECIALTY | Vibrant vase flower arrangements |
| SELECTION SIZE | Moderate |
| STARTING PRICE | From HK$400 |
| DELIVERY FEE | Free delivery to certain locations on northern Hong Kong Island |
| WEBSITE | www.bydeau.com |
| SOCIAL MEDIA | Instagram: @givebydeau Facebook: /bydeau |
| CONTACT DETAILS | (+852) 5525 0037 / [email protected] |
WHAT PEOPLE LIKE
SUSTAINABLE PACKAGING. BYDEAU flowers are wrapped in their signature sustainable packaging. The fresh blooms are secured in black linen cloth or kraft paper and B&W grosgrain ribbon. Meanwhile, gifts are packaged in recyclable corrugated cardboard boxes or in their branded wooden box that can be reused as a keepsake.
FLOWER SUBSCRIPTION. They offer weekly, monthly and annual flower or gift subscriptions. Their current options in handheld & vase arrangements range from small, medium to large. You can also reach out to their customer service for your specific preferences.
SAME DAY DELIVERY. Their same-day delivery service is another one of their strong points. Any order placed before 4pm qualifies for same-day delivery.
PRODUCTS
HAND-TIED: From HK$400
VASE ARRANGEMENTS & SUCCULENTS: HK$250 – HK$1800
GIFT BOXES: From HK$120 (home ornament)
FLOWER SUBSCRIPTION: From HK$500 (monthly)
DELIVERY & PAYMENT
BYDEAU delivers gifts and flowers Monday through Saturday. While they wish they can deliver 24/7, their Sundays are reserved for rest and dreaming up new flower + gift options. They will, however, deliver on large events such as Valentine's Day, whenever possible. They accept major credit cards and Apple Pay.
4. FLOWER ACTUALLY
Considered to be one of Hong Kong's best online floral shops, Flower Actually offers a wide array of arrangements to clients, ranging from elegant bouquets, to flower stands and even venue decorations.
The talented team from Flower Actually believes that each order should be made unique to the client, so they make sure to handcraft everything specially.
Make sure to consider them if you're looking for quality blooms. Head on to their website to order.
WHAT PEOPLE LIKE
WEEKLY/MONTHLY SUBSCRIPTION – Flower Actually offers flower subscriptions for customers to acquire so they don't have to order it manually everytime they need floral arrangements. The weekly or monthly subscription entails a bouquet made with the best blooms of the season, delivered regularly to your doorstep!
SPECIFIC TIME DELIVERY – If you need to send flowers at a certain time of day, don't worry as Flower Actually can do it! Not a lot of shops offer this service, so it's something that really makes Flower Actually a agreat option. With only a small fee added,you can have your blooms sent at the time you want it.
PREMIUM QUALITY BLOOMS – Another thing to like about this shop is that all of their flowers are sourced in license farms and are guaranteed to be fresh on a daily. Expect only quality arrangements from Flower Actually.
PRODUCTS
Roses
Weddings
Birthday
Congratulations
Love & Romance
Terrarium
Gift
Grand Opening Flowers
Flower Box
DELIVERY & PAYMENT
AMEX, Apple Pay, Bitcoin, Dogecoin, GooglePay, MasterCard, VISA, PayPal
5. Grace & Favour HK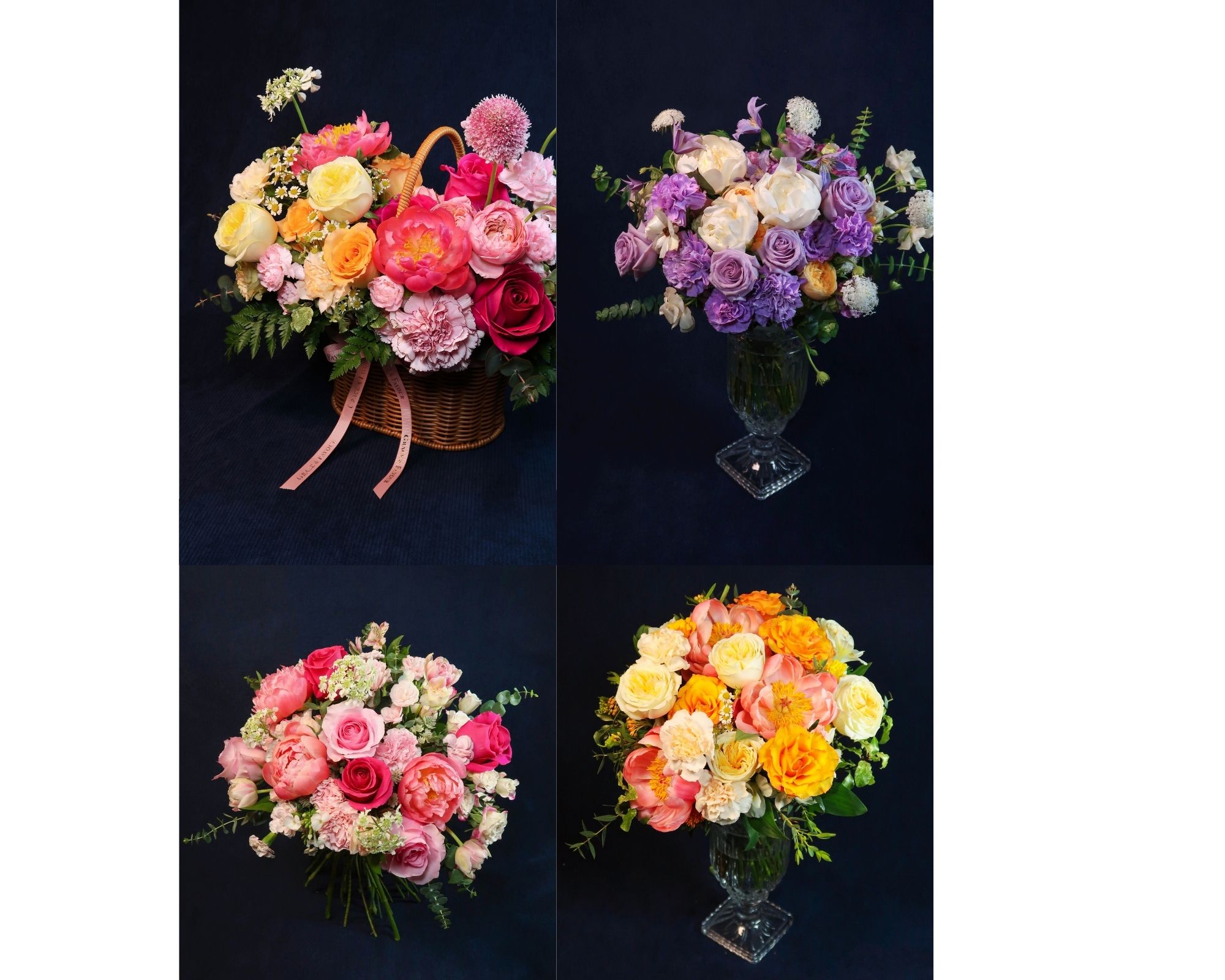 With an award-winning team of internationally certified floral artists, Grace & Favour HK offers a variety of fresh flower bouquets, boxes and exotic potted plants as the perfect gift choices. Partnered with top-notch luxury fashion brands and frequented by celebrities, Grace & Favour HK is a premium florist that you can count on for your most important occasions.
Collaborating with world renowned flower farms and using best quality imported flowers only, Grace & Favour HK also offers bespoke floral services for weddings, baby showers, corporate events, and etc. 
As a plus, it also carries gift options such as Jellycat® toys for kids and exquisite natural gemstone jewellery for women. It can be the one-stop-shop for all your gifting needs. Ever since its launch, Grace & Favour HK has garnered exceptional customer satisfaction for its superior product quality and personalised customer support. These are the things to look out for in finding the right florist.
SPECIALTY

Luxurious Floral Arrangements;

Exotic Potted Plants

SELECTION SIZE

Large (also specialises in bespoke customisations)

 

STARTING PRICE

Small bouquets from HK$780;

Potted plants from HK$580

 

DELIVERY FEE

Free delivery to Hong Kong Island and Kowloon; HK$100 delivery fee for New Territories for orders of HK$780 and above

WEBSITE

SOCIAL MEDIA

Instagram: graceandfavourhk

RED: Grace and Favour 小生有禮花店

CONTACT DETAILS

Phone +852 9614 0037 | WhatsApp +852 9625 4482 | Email [email protected]
WHAT PEOPLE LIKE
SUPERIOR QUALITY FLOWERS – Blooms imported from all over the world are chosen for their balance of beauty and longevity, then carefully curated by its internationally certified florist team with all dedication to clients with love. Their flowers definitely 'speak for themselves'!
EXOTIC POTTED GREENS – Grace & Favour HK is a must for plant lovers. They have a great variety of greens to offer, from rarely-seen tropical rainforest plants to Instagram popular decorative choices; from orchids, begonias, alocasias to caladiums and calatheas, we are sure that you will find something that is just right for the occasion.
ONE-STOP GIFT SHOP FOR ALL OCCASIONS – Grace & Favour HK is your ideal one-stop gift shop as its flowers, together with its arrangements, fit any occasions. It is also the official Jellycat® retailer in Hong Kong offering various plushie toys for kids.
IMMERSIVE SHOPPING EXPERIENCE – Its Star Street boutique has been a local hotspot. Always filled with premium flowers imported from around the world (Holland, Italy, Ecuador, Kenya, South Africa, and etc.) and tastefully dressed in chic French-Chinoiserie décor, Grace & Favour HK delivers a unique vibe and immersive experience as you browse the large diversity of fresh flowers up close.
PRODUCTS
Flower Bouquets

Flower Boxes

Flower Stands

Trunk Floral Arrangements

Potted Plants

Festive Hampers & Orchids

Gifts for Kids

Gifts for Her

Subscription Flowers
DELIVERY & PAYMENT
Offers in-store pickup and delivery services for all over Hong Kong. Order before 2PM for same day delivery. For orders HK$780 and above, free delivery for Hong Kong Island and Kowloon; HK$100 delivery fee for New Territories.
Offers three daily delivery time slots: 10am-1pm/1pm-4pm/4pm-7pm and has its own professional delivery team.
Accepts Visa, MasterCard, AMEX, UnionPay, FPS, PayMe, AliPay, Wechat Pay, Bank transfer, and etc.
6. ANGLO CHINESE FLORIST
Anglo Chinese Florist has a long history. This established company has been in business since the 1940s. They also offer a wide range of plant, flower and gifting services for Hong Kong residents.
| | |
| --- | --- |
| SPECIALTY | Traditional floral designs |
| SELECTION SIZE | Large |
| STARTING PRICE | HK$680 |
| DELIVERY FEE | From HK$60 (Hong Kong Island District 1) Shipping fee will be calculated and added at checkout   Minimum order for delivery is HK$500 |
| WEBSITE | www.anglochinese.com |
| SOCIAL MEDIA | Facebook: /anglochinese |
| CONTACT DETAILS | +852 2921 2986 / Whatsapp +852 623 888 23 |
WHAT PEOPLE LIKE
LONG LEGACY. Anglo Chinese was established in 1946. Currently, they have a well-known flower boutique located at Lyndhurst Terrance in Central, a florist situated on Flower Street (擺花街) literally. Their years of experience, expansive services and established networks allow them to serve their customers with professionalism and reliability.
LARGE INVENTORY OF FLOWERS. All their flowers and plants are freshly imported from Holland, South America and New Zealand. Their decoration accessories are likewise handpicked from all over the world. This streamlined supply chain gives them the freedom to bring new floral gift ideas to their beloved customers.
2-HOUR EXPRESS DELIVERY. Customers pressed for time need not worry as their 2-hour express flower delivery service in Hong Kong means your flowers will arrive at your recipient's door in no time.
PRODUCTS
BOUQUETS: From HK$680
FLOWER ARRANGEMENTS: From HK$780
GRAND OPENING: From HK$980
SYMPATHY FLOWERS: From HK$800
ORCHIDS: From HK$440
HAMPERS: From HK$698
DELIVERY & PAYMENT
Mon-Sun 9am- 6pm. Standard time slot is 9am- 1pm, 2pm- 6pm, with a minimum 3-hour delivery time range (e.g. 2pm- 5pm).
They accept VISA, Mastercard, UnionPay, American Express and PayPal.
7. ELLERMAN DESIGNS
Ellerman Designs showcases floral designs with lots of interesting texture and layers. The base price is higher than other florists in the list, but what you get is a unique style and bespoke approach with each purchase. Apart from retail flowers, Ellerman Designs is also a sought-after florist for wedding and event floral styling.
| | |
| --- | --- |
| SPECIALTY | Original, organic floral designs |
| SELECTION SIZE | Curated |
| STARTING PRICE | From HK$980 |
| DELIVERY FEE | From HK$60 |
| WEBSITE | www.ellermanndesign.com |
| SOCIAL MEDIA | Instagram: @ellermannflowers Facebook: /ellermannflowers |
| CONTACT DETAILS | +852 2618 0910 (Landmark) / +852 2118 3518 (Pacific Place) |
WHAT PEOPLE LIKE
ORIGINAL FLORAL DESIGNS. Floral styles and designs can start to look the same, so Ellerman Designs make it a point to keep their collection current and unique. They draw inspiration from classically continental floral design influences. Their stunning arrangements are organic, with interesting, layers and textures as well as an element of the unexpected.
SEASONAL COLLECTIONS. Ellerman Designs regularly refreshes their catalogue based on upcoming occasions as well as the changing of the seasons. This ensures up-to-date curated designs and making the freshest, high-quality flowers available to their customers.
WORKSHOPS. They also offer various floral installations for events and hold workshops for hobbyists and budding florists, from hand-tied to table settings and centrepieces. Apart from individuals, they can also organise a private workshop for a company or a group of friends looking for a fun social activity. This can be arranged at their Wong Chuk Hang Atelier or at the client's own off-site location.
PRODUCTS
BOUQUETS & ARRANGEMENTS: HK$980 – HK$2,580
PLANTS: HK$1,600 – HK$2,300
HAMPERS: HK$2,200 – HK$2,400
DELIVERY & PAYMENT
Cut-off times for placing orders for delivery are as follows:
Monday to Saturday (excluding public holidays):
Order before 12 noon; earliest delivery next day before 2pm.
Order before 5pm; earliest delivery next day 2pm – 7pm.
Order after 5pm; orders will be processed on the next day and therefore earliest delivery is the day after.
Sundays and Public Holidays:
Orders will be processed on the next working day.
Therefore, if placing an order on Sunday the earliest delivery would be from Tuesday morning onwards.
Deliveries are scheduled either before 2pm, or between 2pm and 7pm.
They accept Credit Card payments (Visa, MasterCard, Amex or Discover) via PayPal.
8.

BLOOM BLOOM FLEUR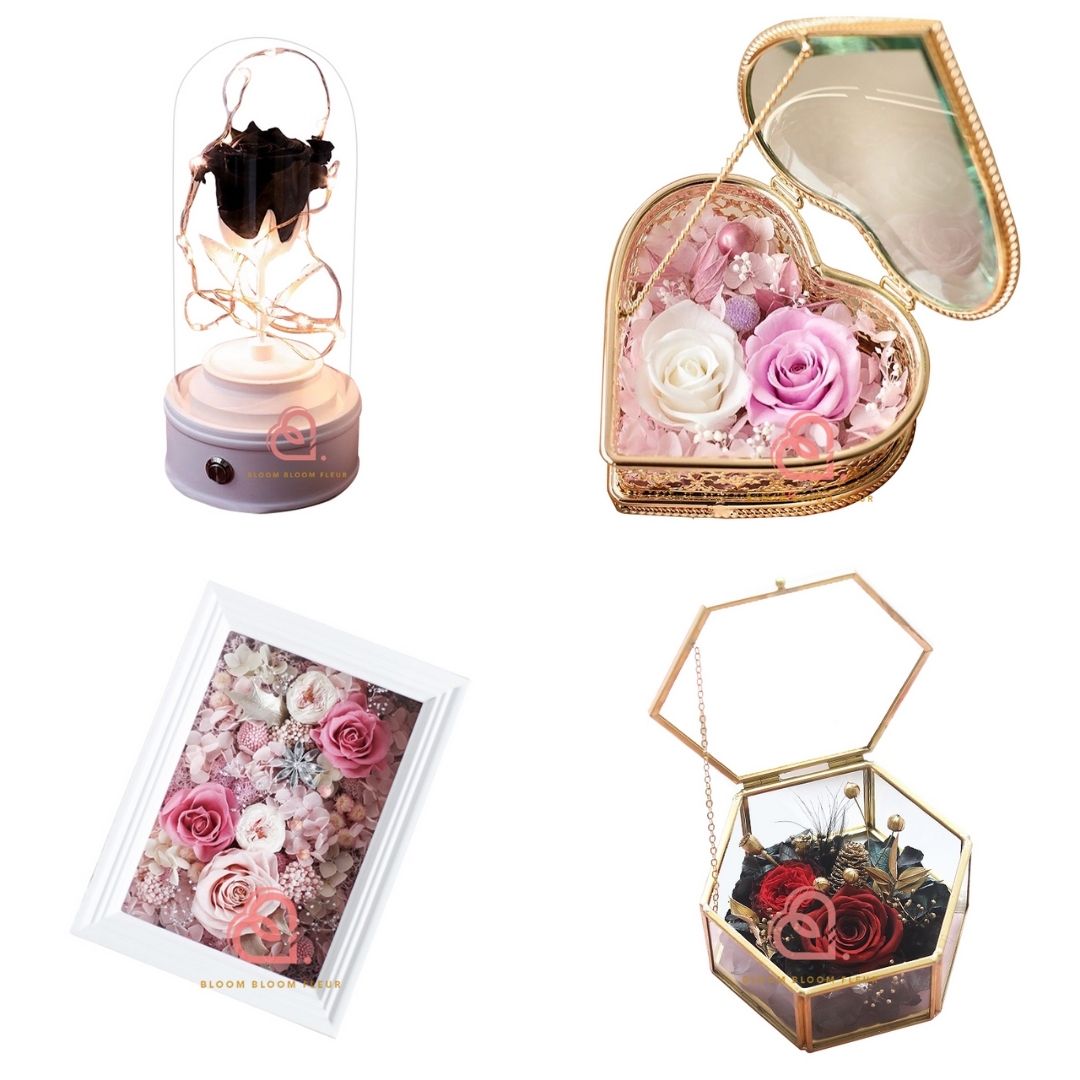 Bloom Bloom Fleur has got it all to offer to you. If you ever need fresh flowers, or preserved ones in a box, in a dome, and even in a frame! What sets them apart is that they preserve the blooms from fresh ones, all by themselves, so they can control the quality and the types they can do.
They also always make sure to have a wide variety of collections for you to choose from, so you never get tired of picking the same old design. Be amazed by their quality and skill, make sure to check out the listings on their website.
WHAT PEOPLE LIKE
WEDDING PACKAGES – Flowers are very much important on your wedding day and Bloom Bloom Fleur can ensure that you get the best deals for it! Let their amazing florists design the event, and be surprised with just how beautiful they can make a place look like. Contact the boutique for more information and inquiries.
FRESH FLOWER BOUQUETS – If you're looking for freshly cut flowers, then Bloom Bloom Fleur is definitely a good choice to consider as they source from only the best farms and suppliers. Get the amazing quality at its best price, head on to Bloom Bloom Fleur's website!
PRODUCTS
Preserved Bouquet
Preserved Bridal Flowers
Preserved Flowers Light
Preserved Flowers in Box
Preserved Flowers in Glass Dome
Preserved Flower Gifts for Lovers
Preserved Flowers in Frame
Single Preserved Flower
Fresh Flower Bouquets
DELIVERY & PAYMENT
Google Pay, Apple Pay, MasterCard, American Express, VISA, FPS, PayMe, AliPay
9. UMATEFLORAL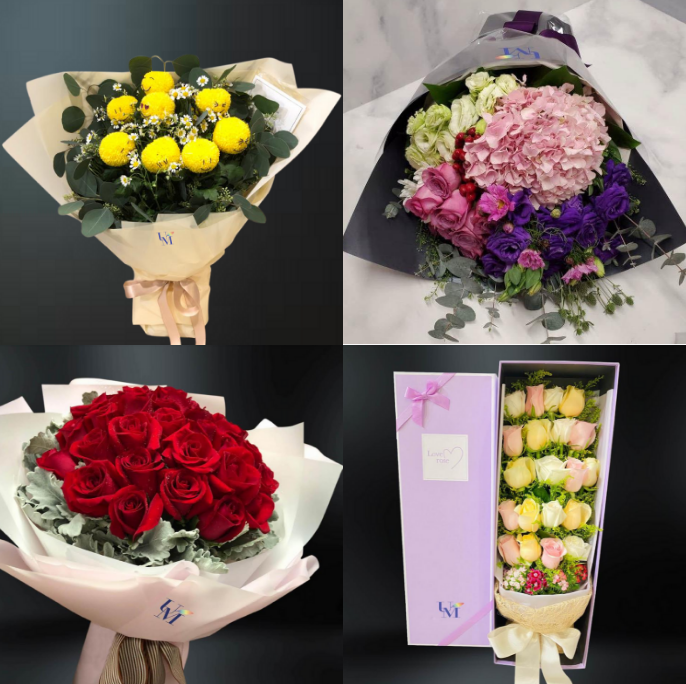 UMate Floral is most known for its reasonably-priced, luxurious flower arrangements. Every piece that comes out of this shop is guaranteed to have been made with the freshest and brightest blooms until stated otherwise.
Another speciality of theirs is the preserved crystal ball flowers. As the name suggests, this item comes in a transparent casing that perfectly highlights the preserved flower inside. 
| | |
| --- | --- |
| SPECIALTY | Preserved Flower Crystal Ball |
| SELECTION SIZE | Moderate |
| STARTING PRICE | Starts at $425 |
| DELIVERY FEE | Free of charges except for remote areas |
| WEBSITE | https://www.umate-flower.com |
| SOCIAL MEDIA | |
| CONTACT DETAILS | [email protected] | +852 9798 6483 |
WHAT PEOPLE LIKE
SAME-DAY DELIVERY – UMate Floral understands the need for short-notice gifts, which is why they offer same-day delivery to customers. With this shop, customers can easily purchase an arrangement and have it on their doorstep in no time. 
PRESERVED FLOWERS – Flowers aren't naturally long-lasting, but there are ways to make them so. UMate Floral preserves theirs with glass casings, giving customers an opportunity to keep forever beautiful flowers. 
PRODUCTS
Bouquets
Preserved Flowers
In-Gift Box
Premier Collection
DELIVERY & PAYMENT
Same-day delivery is offered with a fee of $50. Orders placed before 10 am, will be arranged to be delivered before 5 pm. Orders placed before 2 pm, will be arranged the same day with a total additional fee of $100. 
10.

Flower in Glass

Flower in Glass was founded by young individuals active in Hong Kong that has a passion for eternal flowers and various creative gifts.
We believe that these young individuals may have a love language of gift-giving for they were able to innovate a new product by 2021 wherein they were able to bring immortal flowers to a wider audience.
Immortal flowers (also known as preserved flowers) are chemically processed flowers that can last for up to two years in natural settings. Preserved flowers don't need to be sprayed with water and are very eco-friendly, but they shouldn't be exposed to direct sunlight or kept in moist environments.
What's great aboout this shop is that they also offer free delivery within Hong Kong and since they ship out their products at night, it will be a great surprise if you will be giving this to someone by the time they wake up in the morning.
SPECIALTY

Eternal flowers

SELECTION SIZE

Small to medium

STARTING PRICE

HK $360.00

DELIVERY FEE

Free delivery within Hong Kong

Contact Support for delivery fee in other countries or regions

WEBSITE

SOCIAL MEDIA

CONTACT DETAILS

+852 91461016 (Do not call)
WHAT PEOPLE LIKE
ETERENAL FLOWERS – Flower in Glass provides a new innovative way in having flowers be delivered as it is now in glass container to prolong its life and not be of high maintenance
PRODUCTS
Preserved Flowers $360.00 – Hk$1,880
DELIVERY & PAYMENT
Accepted Payment methods are as follows: Google Pay, Apple Pay, MasterCard, American Express, VISA, FPS, PayMe and AliPay.
Free delivery in Hong Kong. Contact support for the delivery fee in other countries or regions.
Delivered by local couriers including Lalamove, Gogovan, and SF Express.
Arranges courier for all orders of the day in the evening. Customer may request MTR delivery (Island line only). Contact them for such arrangement.
11.

Greenfingers Florist Co. Ltd.
Greenfingers Florist is founded by Kenny Chan. It all started as he went on a journey to rediscover his childhood passion for flowers and plants after becoming fascinated by the beauty of nature during a trip to Mongolia more than 30 years ago. 
He considers natural beings to be the most peaceful of all creations. Their diversity, forms, colors, and textures reflect the nature of our illustrious Creator. Soon after this trip, Mr. Chan abandoned his promising career as a teacher and plunged headfirst into the floral industry, opening his first flower shop in 1985.
Mr. Chan pursued training from world-renowned floral designer Gregor Lersch to expand his knowledge and skills in floristry. Mr. Chan's heart has been rooted in teaching and sharing his passion for floristry with a wider audience as a result of this. Mr. Chan's career took a turn in 2008 when he founded Greenfingers Square, a floristry training school that aims to provide students with knowledge of floral design and floristry skills. Mr. Chan enjoys teaching his students and sharing his floral art and knowledge with them.
At Greenfingers, you can see and feel that are passionate about the flowers they arrange and are dedicated to meeting all of your floral needs. They are dedicated to offering and maintaining high-quality floral products and services.
SPECIALTY

Flower art

Flowers for all occasions

Floristry training school

SELECTION SIZE

Small to Premium

STARTING PRICE

HK $65.00

DELIVERY FEE

Central & Sheung Wan (Urban Centre): HK $100

Mid-Level Central & West, Eastern & Western District: HK $150

Matilda International Hospital – Special Area: HK $200

Southern District: HK $180

Redhill Peninsular – Special Area: HK $200

Big Wave Bay – Special Area: HK $400

Eastern & Western Kowloon: HK $200

International Commerce Center ICC – Special Area: HK $250

Tseung Kwan O, Kwai Tsing,Tsuen Wan, Sha Tin District: HK $300

Sai Kung, Tai Po, Tuen Mun,Yuen Long & North District: HK $400

Remote District (Park Island, Airport(Non-restricted area), Tung Chung, Discovery Bay): HK $600

Sunday & Public Holiday Delivery Charges:

Hong Kong Island & Kowloon District: HK $300

New Territories: HK $500

Remote District: HK $800

WEBSITE 

https://www.greenfingers.com.hk/

SOCIAL MEDIA

Facebook, Instagram
CONTACT DETAILS

Tel: 852 – 2827 8280

Whatsapp: 852 – 5540 9959
Email: [email protected]
WHAT PEOPLE LIKE
FLORAL ART: Once you order their flowers, you can see and feel that the flower arrangements have been precisely designed 
URGENT SAME DAY DELIVERY: Just make sure to reach out to them via phone call or their WhatsApp, they will be able to provide same-day delivery. Although the flowers' availability will depend on what's in-store.
PRODUCTS
Bouquet
Orchid Arrangement
Gift Arrangement
Table Centerpiece
Funeral Basket & Wreath
Opening Flower Basket
Flower Box
Petite Arrangement
Wedding Bouquet
Corsage
Artificial Collection
Weekly Flowers Subscriptions
Products And Shopping Instructions
DELIVERY & PAYMENT
The payment methods that they accept are Visa, MasterCard, AmericanExpress, PayMe.
While for delivery, their delivery schedule is from Monday to Sunday. Delivery on Sundays and holidays is only available upon special request. Prior to delivery, order details must be confirmed by phone/email and there may be an additional delivery charge.
Urgent same-day delivery depends on the availability of in-store cut flower or materials. A higher delivery charge may apply due to limited processing time.
For weekly flower subscriptions, delivery is scheduled every Tuesday or Saturday (applicable to one sending address). Regarding the delivery charge, it is free delivery for HK Island, $400/4 times for Kowloon, $600/4 times for New Territories, and  TBA for Remote districts.
12. Let Hope Bloom Florist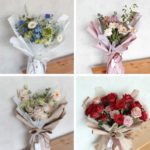 Let Hope Bloom offers some of the prettiest flower bouquets in Hong Kong. 
They have different arrangements for various occasions, such as Mother's Day, proposals, weddings, or even just for a random day you want to make someone feel loved. 
We're loving how their bouquets have the cutest names like Better Together, Be My Sunshine, Best of Women, and Apple of My Eye. 
Many of their happy customers have been able to give hope to others and make their days brighter. If you'd like to do the same, Let Hope Bloom can help you with just that!
Do note that they require a 3-day lead time for orders, but you may contact them for inquiries if it's urgent. 
WHAT PEOPLE LIKE
HIGH QUALITY FRESH FLOWERS. Who would want to receive wilting flowers? No one, of course! You wouldn't have to worry about that with Let Hope Bloom. Their clients commend them for their high quality and fresh flowers. They remain as beautiful as they were when they were first received even after a week!
GREAT CUSTOMER SERVICE. Customers keep coming back to them because their products are not only of excellent quality, but they also provide great service. They treat each customer with care and make sure that their needs and requests are addressed. 
PRODUCTS
Seasonal Bouquets
Flower Stand
Flower Hamper
Flower Basket
Wedding Flower Arrangements
Private Floral Jamming Workshop
DELIVERY & PAYMENT
The payment methods they accept are Visa, MasterCard, AmericanExpress, Apple Pay, Google Pay, JCB. Contact them for more information on payment and delivery. 
Images taken from each company's official websites/social media.