No one wants wilting flowers, delayed delivery or complex transactions. Buying fresh flowers should be a joy for both the giver and the receiver, so this list aims to help consumers find the perfect Manila florist for their next purchase. This list of the best flower delivery services in Manila offers all types of floral designs and suitable for any occasion you can think of. Some offer ready floral designs, from modern to traditional, while others provide bespoke bouquets and arrangements. Check them out!
1. HAPPY FLOWERS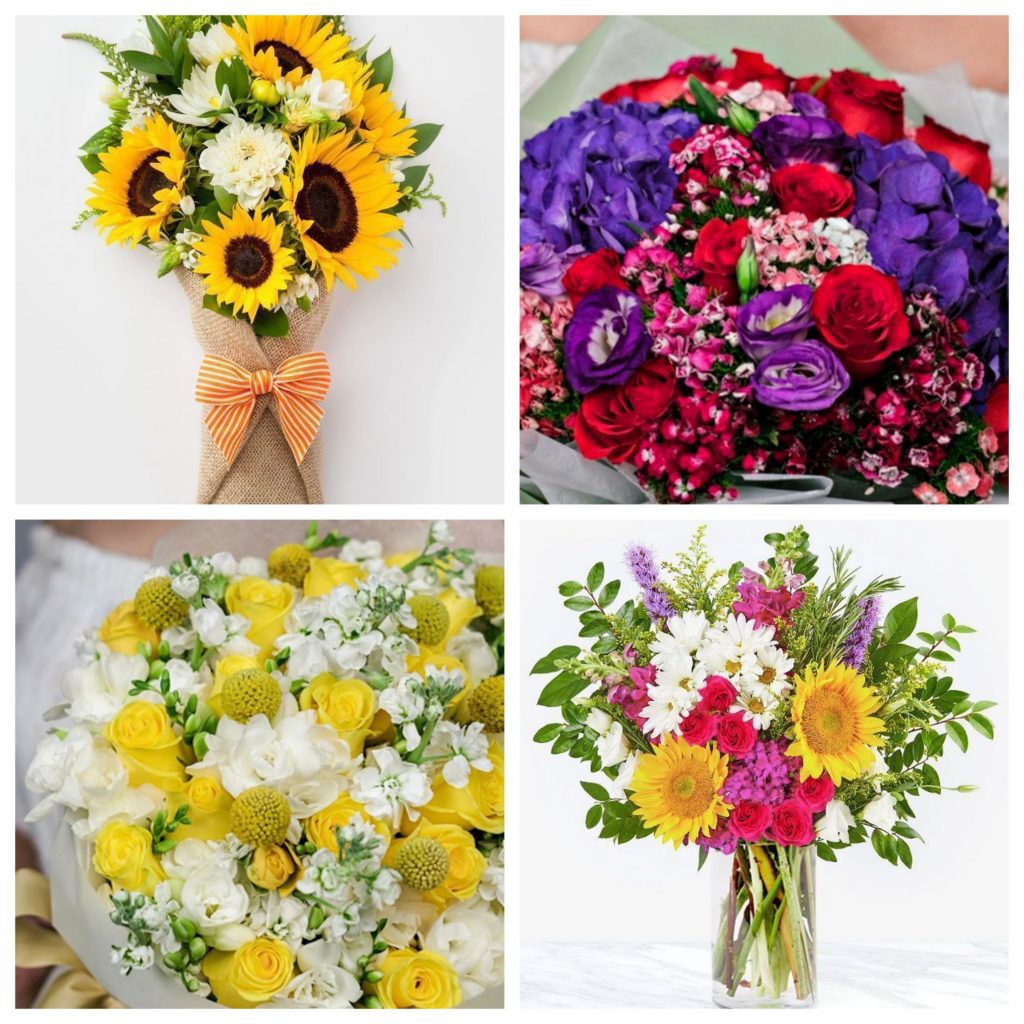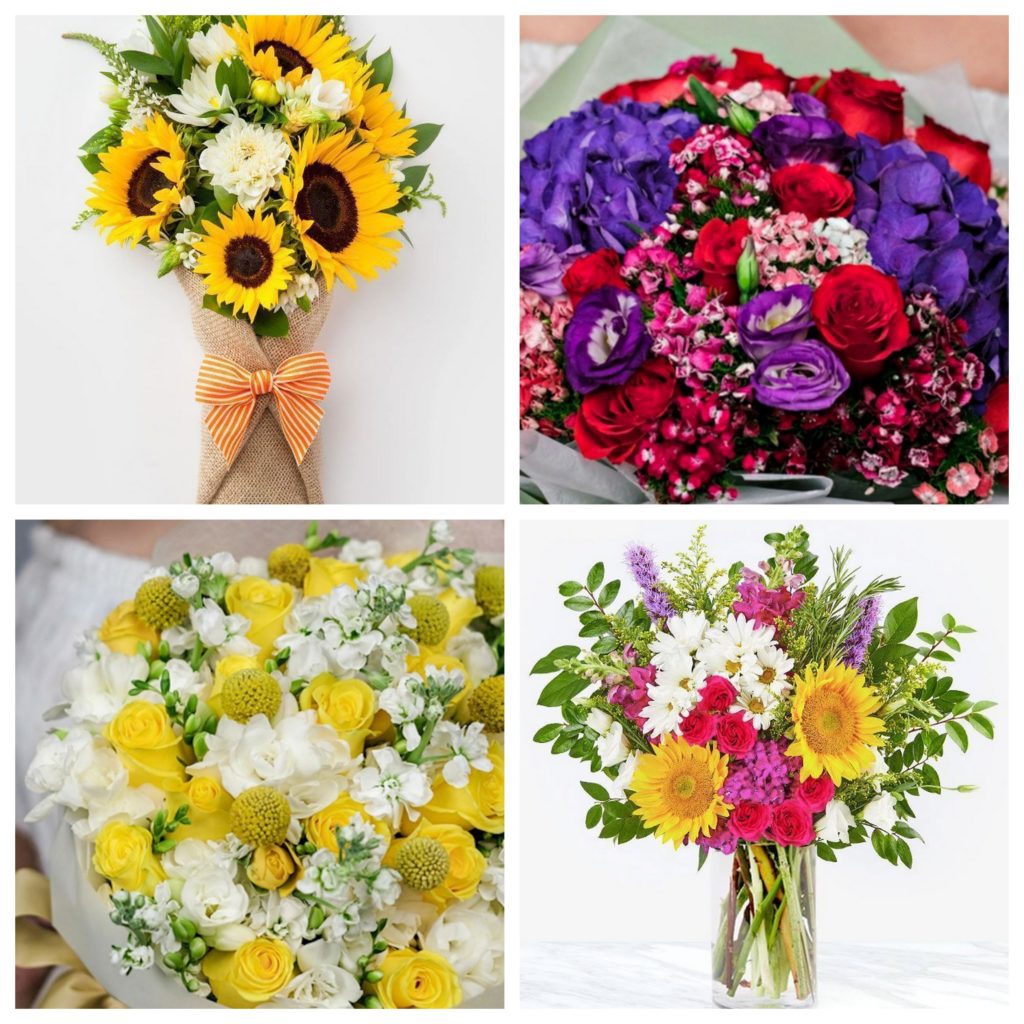 As an ambassador of happiness through beautiful flowers, Happy Flowers makes sure more people can easily buy fresh blooms by making them easily available for online orders at budget-friendly prices. Their motto is "Happiness delivered wherever in 90 minutes!" which means your intended recipient will receive the flowers in no time!
| | |
| --- | --- |
| SPECIALTY | Affordable modern hand bouquets |
| SELECTION SIZE | Curated |
| STARTING PRICE | $48 |
| DELIVERY FEE | Free Same Day Delivery |
| WEBSITE | www.happyflowersph.com |
| SOCIAL MEDIA |   |
| CONTACT DETAILS | Contact Form |
WHAT PEOPLE LIKE
BRIGHT, COLOURFUL BOUQUETS. Happy Flowers exude positivity with each floral creation. Their talented florist carefully selects flowers which complement each other to come up with bold, garden-fresh creations.
ATTENTION TO DETAILS. Their bouquets and arrangements are not only long-lasting, a lot of love and care also go into the arranging process. Whether it's the elegant ribbon used to finish off the wrapping or the rustic mason jar, you can tell Happy Flowers like to make their customers feel special—anything to put a smile on their faces
90-MINUTE DELIVERY GUARANTEED! Efficient and timely delivery is just as important as the quality of the product. With Happy Flowers, you can be sure the flowers will arrive on time, especially for time-sensitive occasions like anniversaries, birthdays and other important milestones.
PRODUCTS
HAND BOUQUETS: $48 – $115
FUNERAL FLOWERS: $90 – $400
FRUIT BASKETS: $55 – $105
HAMPERS: $58 – $165
DELIVERY & PAYMENT
Order by 3pm for same day delivery. They accept major credit cards as well as bank transfer.
2. A BETTER FLORIST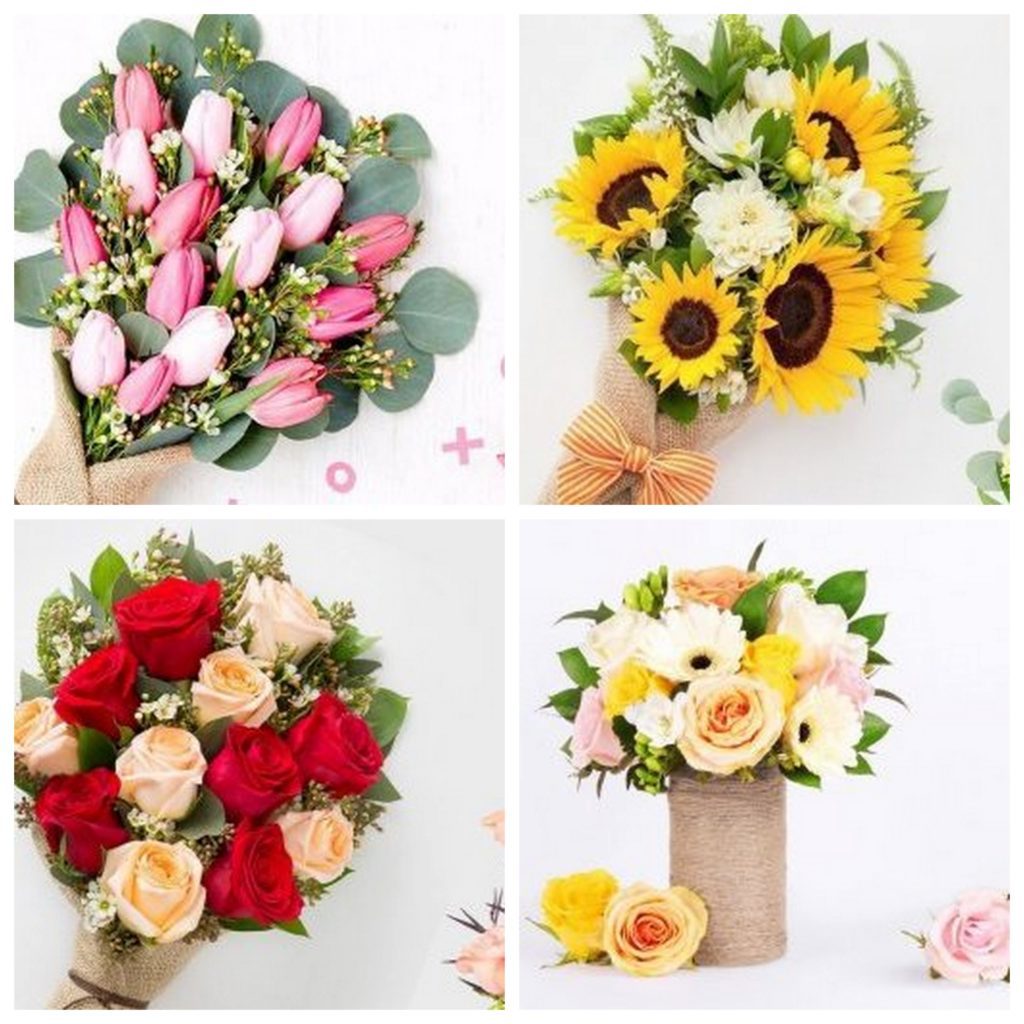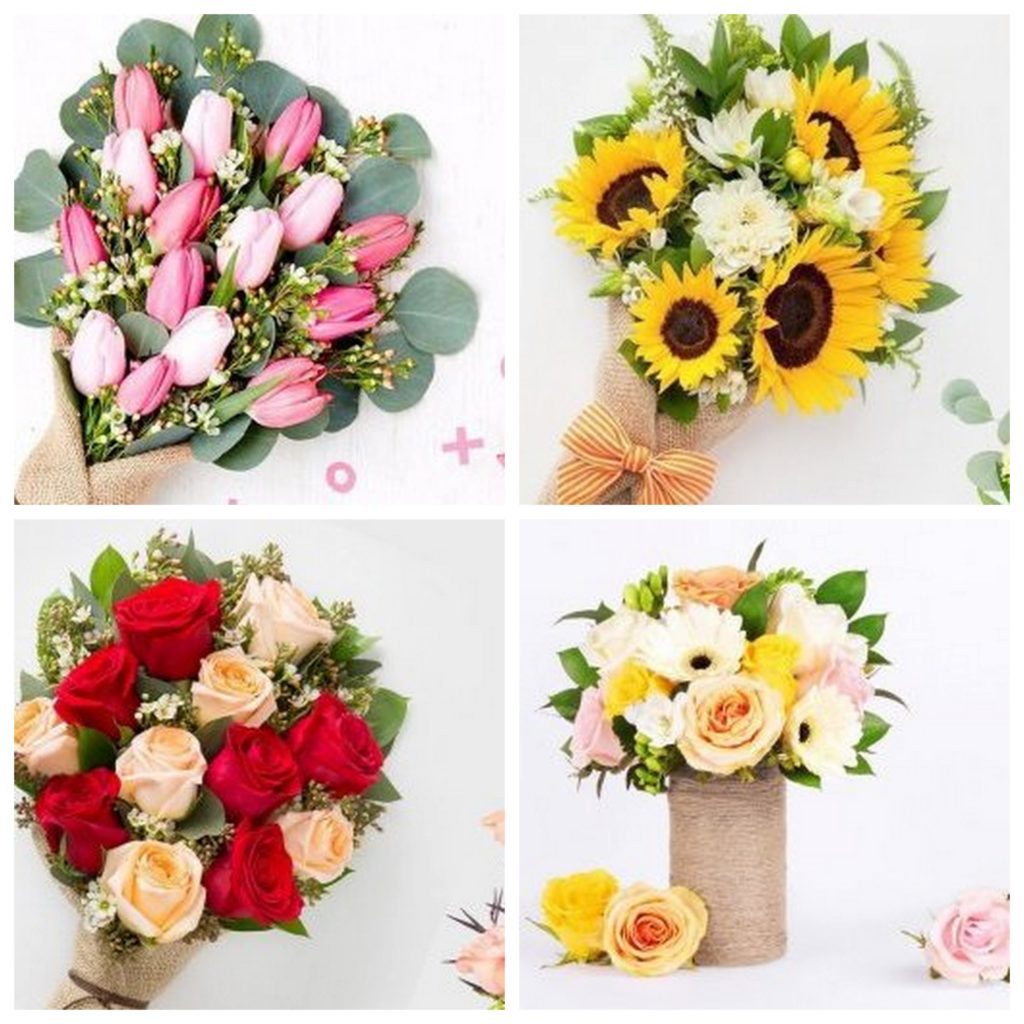 Once a scrappy startup in Singapore, A Better Florist managed to spread their wings to offer fast, reliable and hassle-free flower delivery internationally, including Manila. Their online store showcases a thoughtfully curated collection of hand bouquets, flower stands and table arrangements that are not only modern and highly Instagrammable, but they also look better in real life!
| | |
| --- | --- |
| SPECIALTY | Professionally handcrafted and thoughtfully curated contemporary floral collection |
| SELECTION SIZE | Curated |
| STARTING PRICE | $40 |
| DELIVERY FEE | Free Same Day Delivery |
| WEBSITE | www.abetterflorist.com.ph |
| SOCIAL MEDIA | Instagram: @abetterflorist |
| CONTACT DETAILS | Contact Form |
WHAT PEOPLE LIKE
90-MINUTE EXPRESS FLOWER DELIVERY. Speed is A Better Florist's top advantage. Say goodbye to last-minute supermarket dashes or disappointing deliveries because of their 90-minute door-to-door delivery. Free same day delivery applies to orders placed before 3pm.
PROFESSIONALLY HANDCRAFTED FLORAL PRODUCTS. A Better Florist carefully curates their collection of bouquets and arrangements to make sure customers get the best and most beautiful floral products. They have talented florists using premium blooms from the best flower farms to craft beautiful bouquets and arrangements. Their bestselling hand bouquets are carefully wrapped in rustic burlap, securely tied with a stylish ribbon and finished off with a personal message. The result is always Instagram-worthy!
VALUE FOR MONEY. By eliminating the middlemen, A Better Florist gets to keep their prices affordable and still retaining the high quality of their flowers. From hand bouquets to grand opening flower stands and condolence wreaths, their beautiful arrangements provide excellent value for money.
PRODUCTS
HAND BOUQUETS & ARRANGEMENTS: $40 – $115
DELIVERY & PAYMENT
Order before 3pm for same-day delivery. For next-day deliveries and any other pre orders, order anytime. They accept VISA, Mastercard, American Express and PayPal.
3. ISLAND ROSE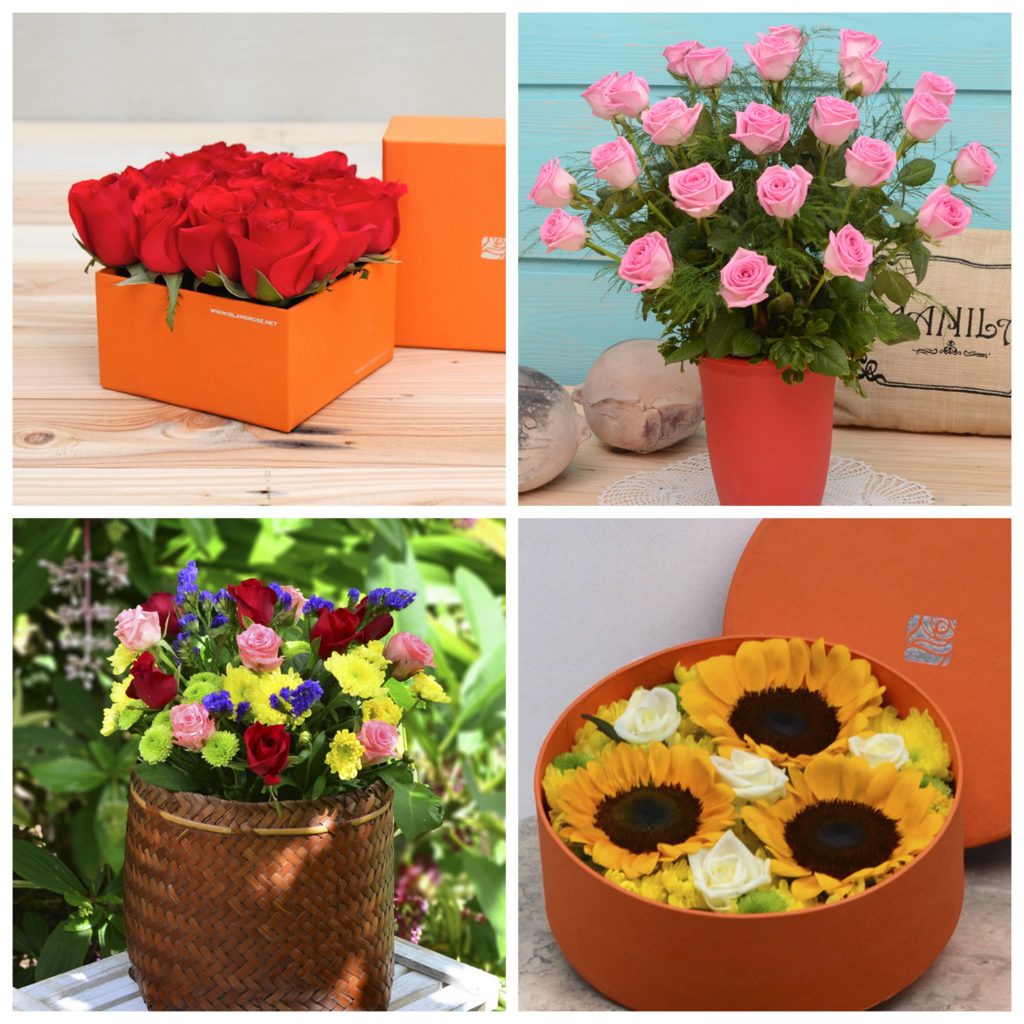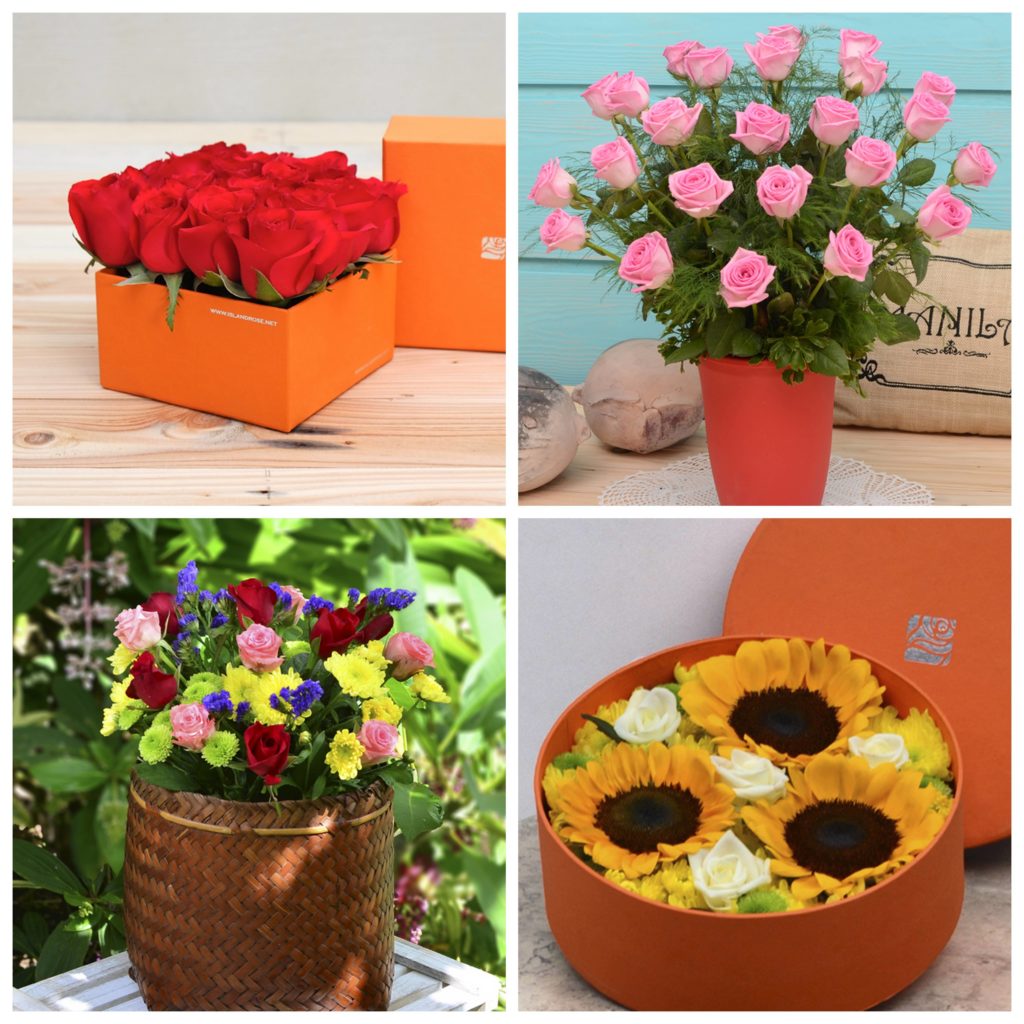 Island Rose offers top-notch quality in their roses as well as a variety of other blooms grown from sustainable farming. Their wide selection and wide reach enable them to quickly and efficiently fulfil orders for customers, whether their floral needs are big or small.
| | |
| --- | --- |
| SPECIALTY | Premium long-stem roses |
| SELECTION SIZE | Large |
| STARTING PRICE | PHP 600 |
| DELIVERY FEE | Free |
| WEBSITE | www.islandrose.net |
| SOCIAL MEDIA | Instagram: @islandrose.PH Facebook: /IslandRose.net |
| CONTACT DETAILS | (+63-2) 626-3845 / helpdesk@islandrose.net |
WHAT PEOPLE LIKE
PREMIUM ROSES. Island Rose is owned by the Philippine Cut Flower Corporation (PCFC) which is the largest retailer and wholesaler of roses in the country. Their premium roses are of French and Dutch variety. They also supply fresh flowers to various florists, hotels and restaurants in Manila and the Philippines while catering to online orders from their flower-loving customers.
LONG-LASTING FLOWERS. Every Island Rose bouquet is meticulously picked and arranged. The roses are delivered during bud stage so that you or your recipient can enjoy watching them bloom. Their stylish shipping box is also specially designed to get flowers safely to its destination via first-class couriers.
PROFESSIONAL STAFF. Island Rose provides excellent customer service through their courteous and professional staff handling all orders and e-mail. They will be easily reachable and responsive since they value their customers' time, making sure your experience with them will be pleasant every time.
PRODUCTS
FRESH FLOWERS: From PHP 600
SYMPATHY FLOWERS: From PHP 1599
GIFTS: From PHP 995
DELIVERY & PAYMENT
Same-day flower delivery is available in Metro Manila areas only, Monday to Friday, for orders placed before 8am. For the rest of the country, next day delivery is applicable to orders placed before 4pm. They accept Mastercard, VISA, PayPal.
4. PETALIER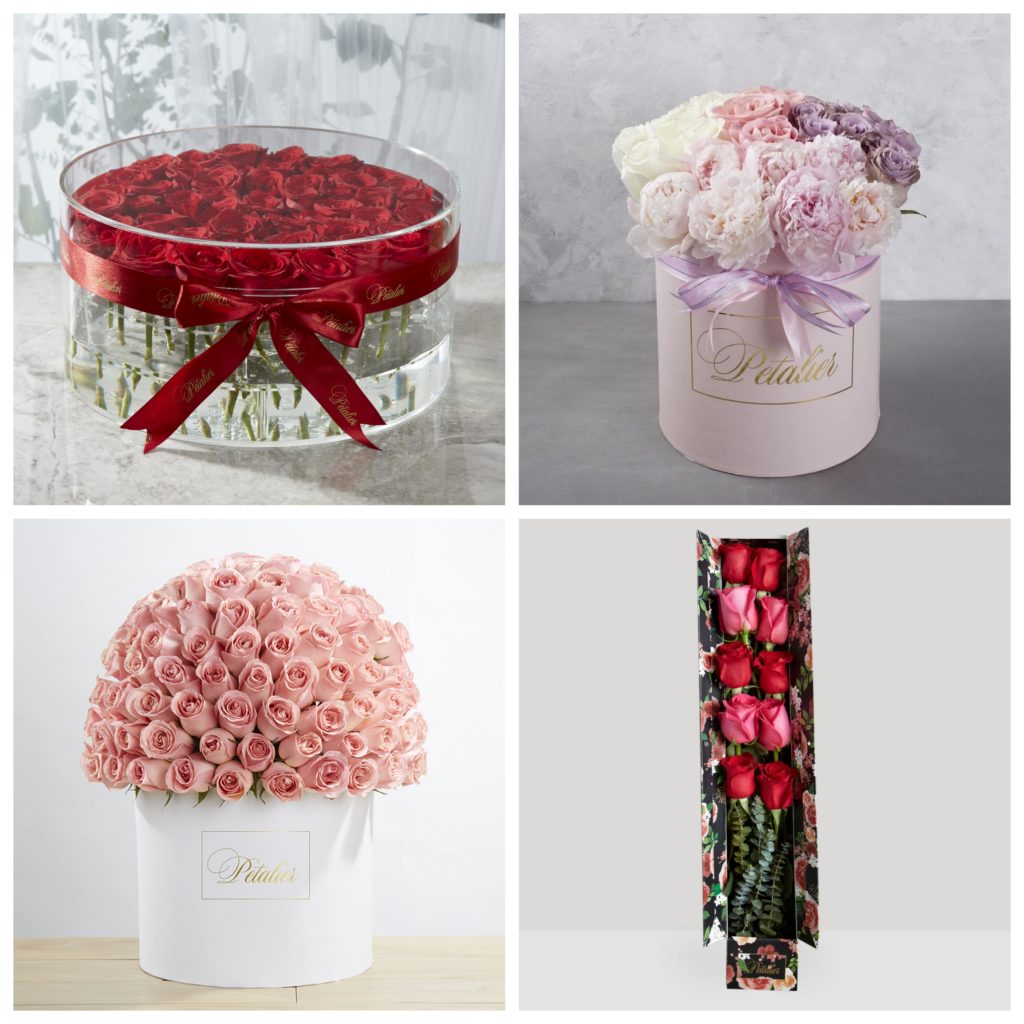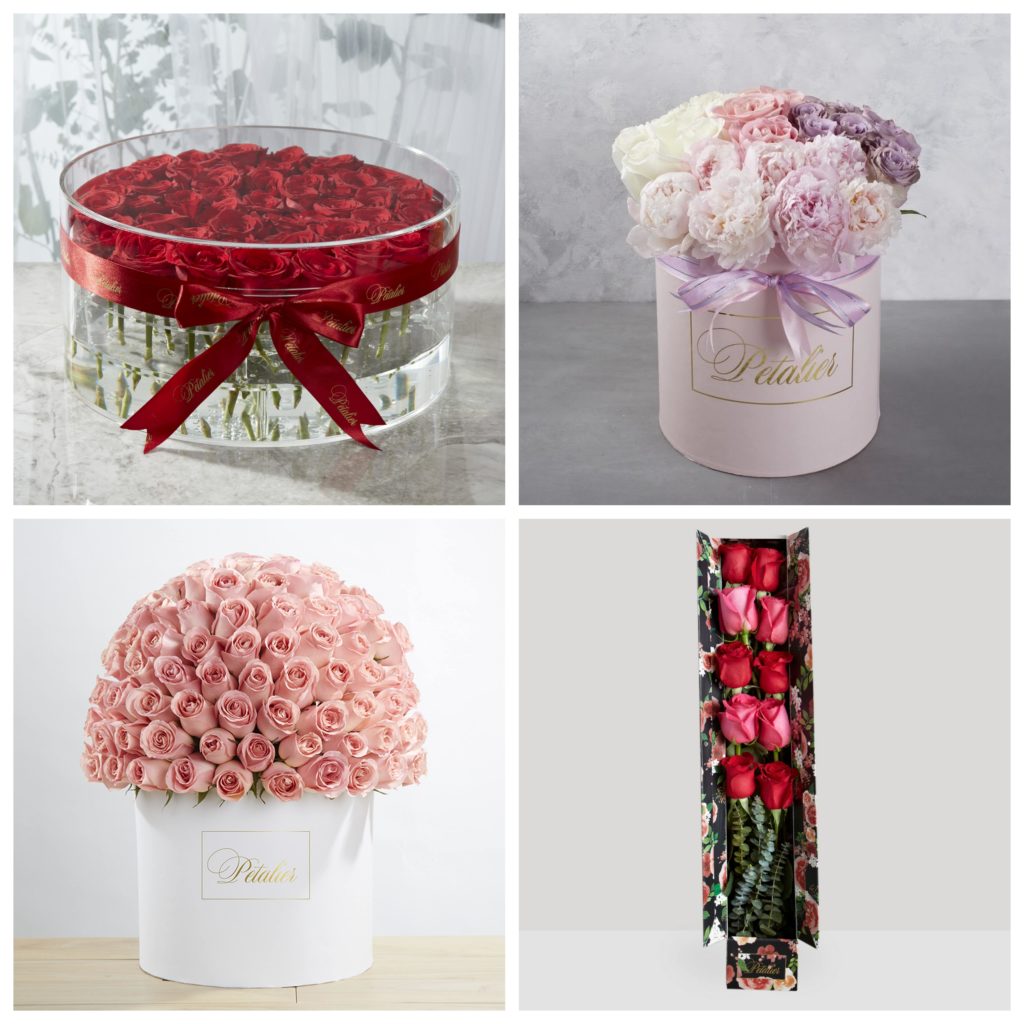 Petalier's specialty is premium Ecuadorian roses packaged in a variety of ways. They have their signature jumbo flower box of 200 Ecuadorian roses, but they also offer Rectangulaire Fleurs Box for the single-stem rose up to 10 premium roses packaged in an elegant, slender box. Customers have the option of customizing their order, like the box type, size, colour etc.
| | |
| --- | --- |
| SPECIALTY | Premium Ecuadorian Roses |
| SELECTION SIZE | Moderate |
| STARTING PRICE | PHP 1,599 |
| DELIVERY FEE | FREE |
| WEBSITE | www.petalier.com |
| SOCIAL MEDIA | Instagram: @petalier_ Facebook: /pe.tal.yey |
| CONTACT DETAILS | (0977) 841 7738 / (02) 500 9162, MAIL@PETALIER.COM |
WHAT PEOPLE LIKE
SCHEDULE NOW, PAY LATER! If you're the type who forgets birthdays or anniversaries, their "Forget Me Not" service is your lifesaver. Sign up to this subscription service, input important dates on their form including the occasion and their team will remind you a week before to assist you with the surprise.
HIGH-QUALITY ECUADORIAN ROSES. All their Ecuadorian roses are shipped directly from Ecuador every week. Because of the flower's sensitivity, the roses are expertly nurtured with utmost care upon arrival.
FREE DELIVERY. They provide FREE anywhere within Metro Manila. Same-day and next-day deliveries are also available for an additional fee of PHP1,000, so be sure to place your order in advance to avoid additional charges.
PRODUCTS
ACRYLIQUE: PHP3699 – PHP 29999
CLASSIC COLLECTION: PHP 3399 – PHP 35999
COEUR BOUQUET: PHP 619
PREMIUM: PHP 2999 – PHP 29999
RECTANGULAIRE FLEURS: PHP 1599 – PHP 3849
SPRING FLING: PHP 2599 – PHP 6999
DELIVERY & PAYMENT
Petalier delivers within Metro Manila and some parts of Laguna, Cavite, Pampanga and Bulacan. They accept payments through BDO bank deposit or PayPal.
5. LE FLEUR BOUTIQUE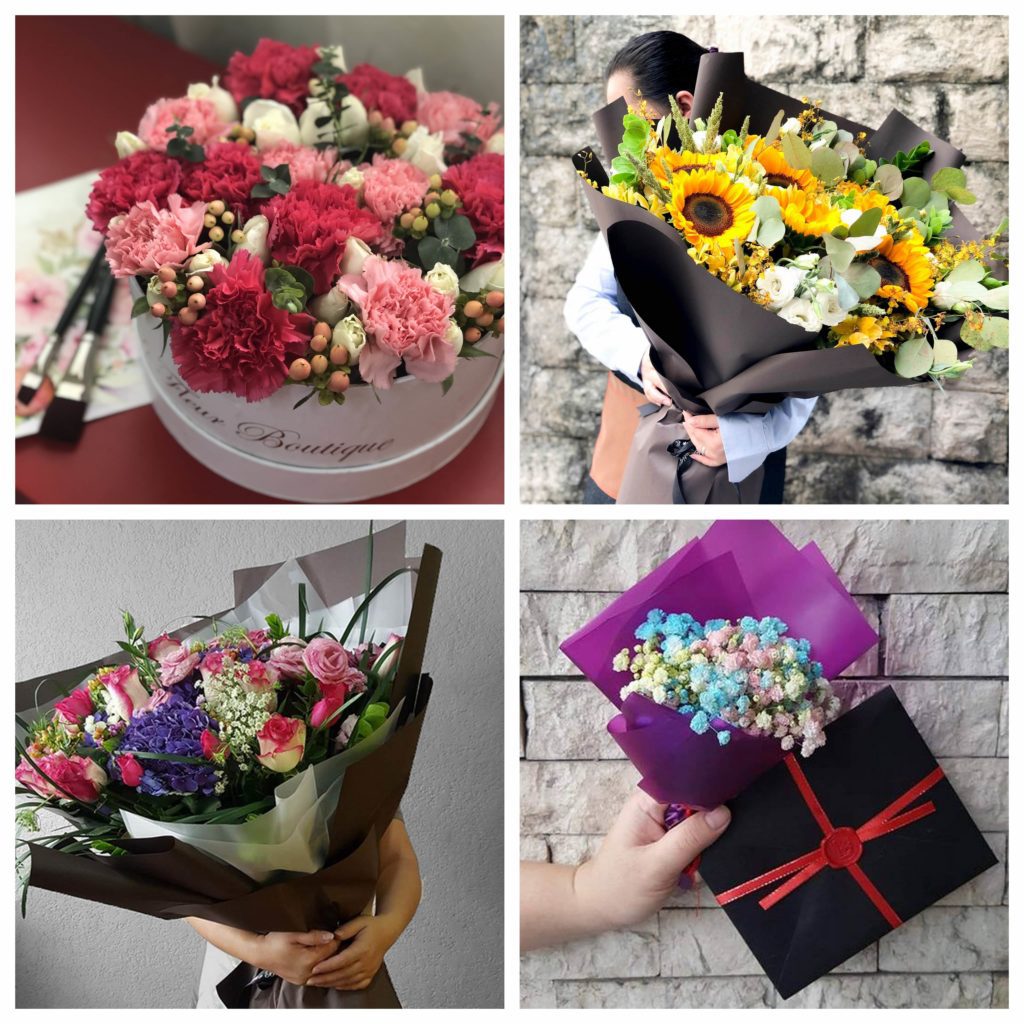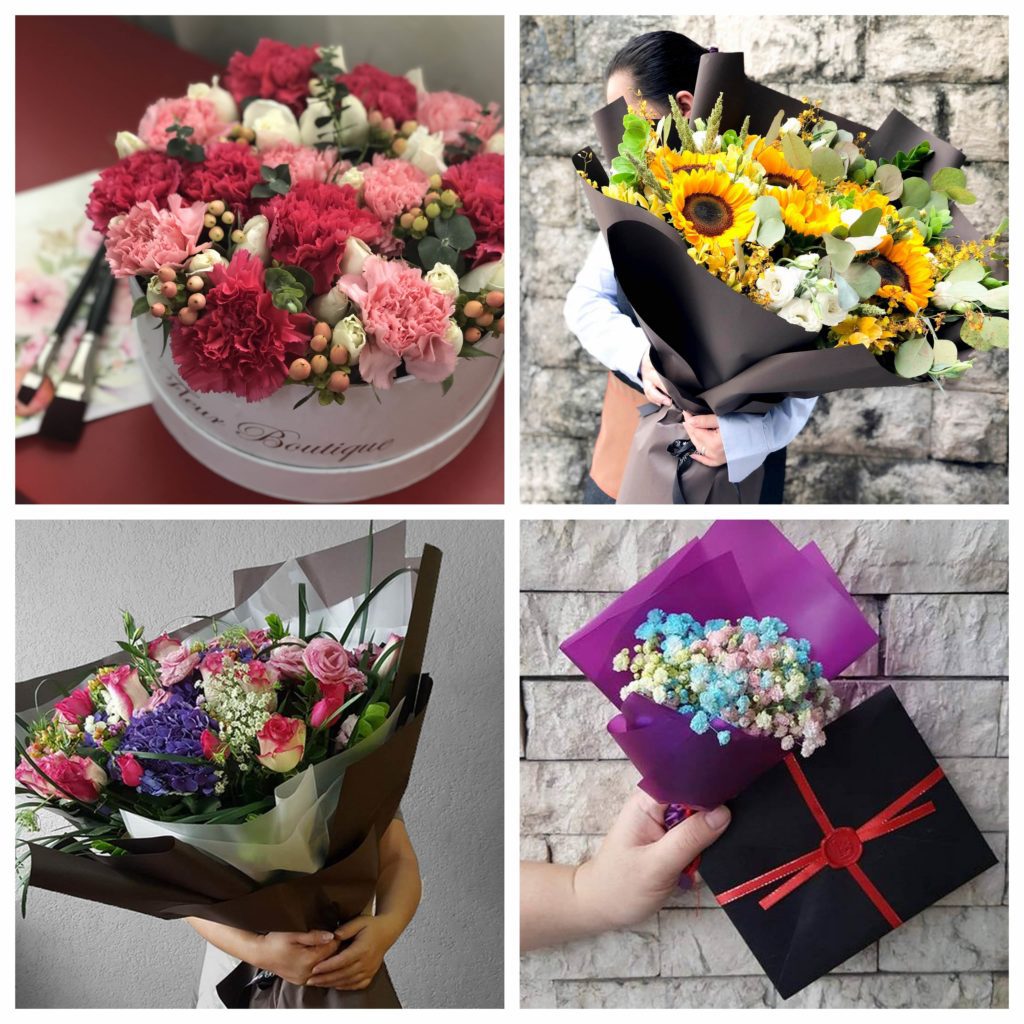 Le Fleur Boutique offers thoughtfully designed flower arrangements. Artisan florists carefully handpick flowers for the best quality. They also refresh their selection seasonally to provide different options to customers. Their products include hand bouquets, floral boxes, arrangements and preserved flowers which can last up to three years.
| | |
| --- | --- |
| SPECIALTY | Luxury Bouquets |
| SELECTION SIZE | Very Large |
| STARTING PRICE | PHP 1150 |
| DELIVERY FEE | Calculated at checkout |
| WEBSITE | www.lefleurboutiqueph.com |
| SOCIAL MEDIA | Instagram: @lefleurboutique_ph Facebook: /lefleurboutiqueph |
| CONTACT DETAILS | (02) 5042574, 092580884 /vodegeraph@gmail.com |
WHAT PEOPLE LIKE
LARGE SELECTION. There is something here for everyone. Lovestruck customers can choose from any of their romantic floral designs, DIY brides can purchase retail flower arrangements and flower lovers can buy blooms for themselves to bloom any room.
CUSTOMIZABLE ORDERS. This is great for bulk orders, for events and special occasions. Plus, bulk orders get discounts! Just message them for more details.
LONG-LASTING FLOWERS. On average, their flowers last about 2 weeks. But they also have preserved flowers which can last for 3 years or more.
PRODUCTS
BOUQUETS & ARRANGEMENTS: PHP 1150 – PHP 14500
ADD-ONS (Chocolates, cakes, floral accessories etc.): PHP 150 – PHP 2500
DELIVERY & PAYMENT
Le Fleur Boutique delivers nationwide and internationally. Their time of delivery is between 11am to 4pm for Metro Manila, Cavite and Rizal. For earlier or later delivery, additional charges apply. Next day delivery is available after payment confirmation for Metro Manila, Rizal and Cavite areas. Meanwhile, allow 3 working days lead time for provincial and 7 working days for international deliveries.
Payment may be done with credit cards via PayPal and money transfer. Cash on delivery is available for Metro Manila addresses only.
6. FLORISTA FLOWER SHOP

A leading florist in Manila & Boracay island, the Philippines, Florista flower shop is known for their quality flowers & arrangements. They also specialize in flower arrangement and setup for weddings and events likes debuts, funerals, business grand openings, etc..
SPECIALTY
Flowers for all occasions
SELECTION SIZE
Large
STARTING PRICE
Starts at PHP 700
DELIVERY FEE
PHP 100 – PHP 800
WEBSITE
https://www.florista.com.ph/
SOCIAL MEDIA

FB: Florista flowershop
IG: @florista_flowershop_boracay

CONTACT DETAILS

florista_flowershop@yahoo.com
WHAT PEOPLE LIKE
Event styling for weddings and other special events
You can sign up for tracking your orders 
PRODUCTS
Bouquets
Roses
Arrangements
Event styling 
Wedding design
DELIVERY & PAYMENT
Florista accepts payments via Paypal or Credit Card (Mastercard / Visa / American Express / Discover Network) and Bank Deposit (BPI and Metrobank, Account details will be sent upon order completion). No orders will be processed if a payment is not received or payment method is declined.  
As for delivery, flower orders of client/s that do not pay the shipping fee upon placing an order will be considered as "pick up order". Shipping or Delivery fee will be paid for by the buyer in the amount agreed upon by the seller at the time of purchase or is set onto the shop.
7. FLOWERSTORE.PH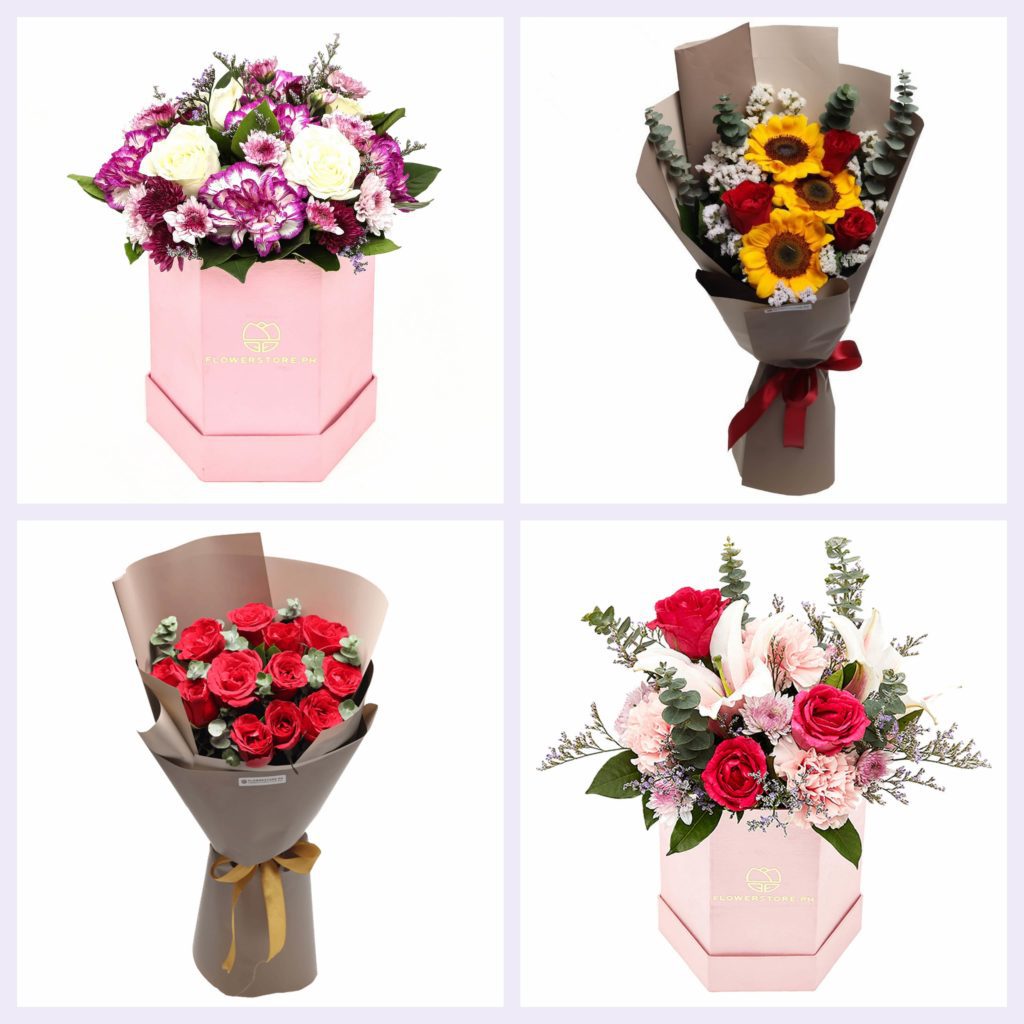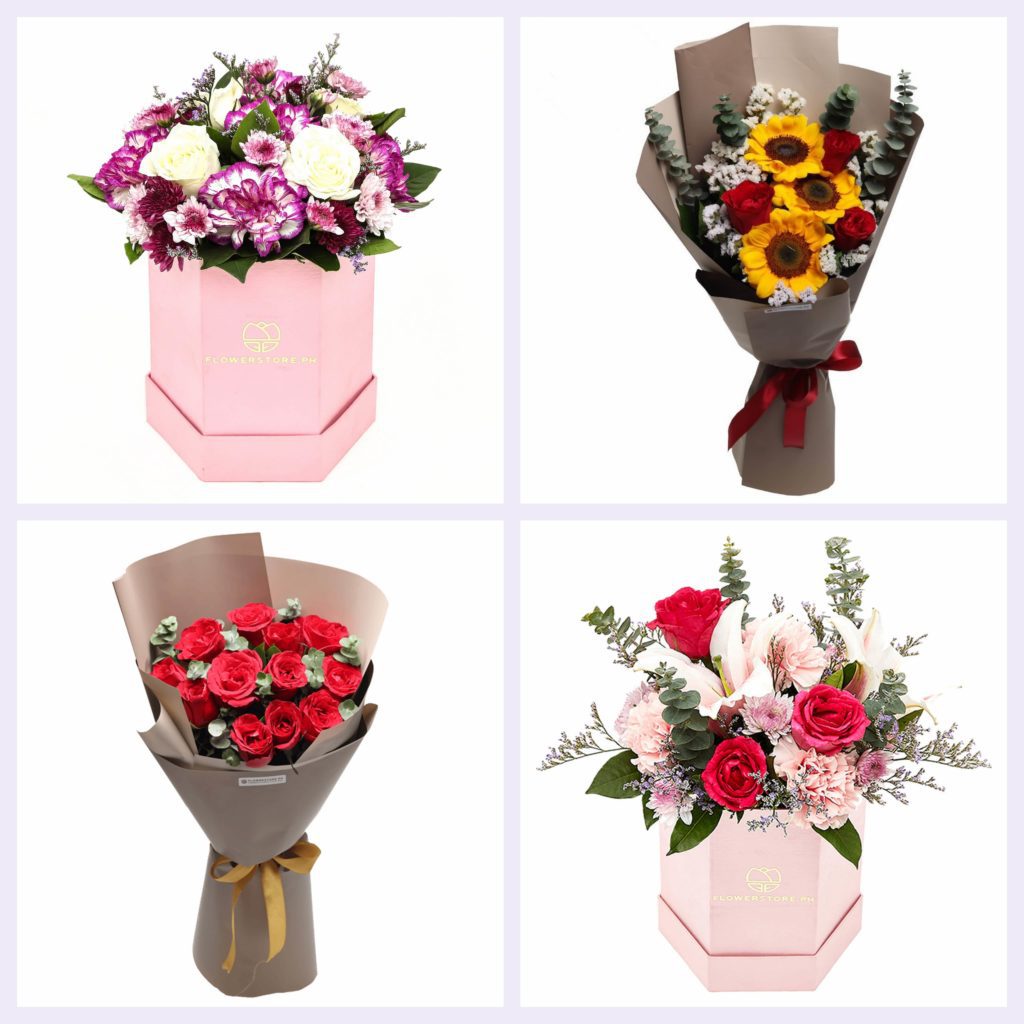 Flowerstore.ph offers a wide range of floral designs suitable for different occasions and different budgets. You can find carnations, stargazers, premium roses, sunflowers, lilies, chrysanthemum etc. All these high-quality blooms are handcrafted into professional floral designs.
| | |
| --- | --- |
| SPECIALTY | Affordable flowers |
| SELECTION SIZE | Large |
| STARTING PRICE | PHP 399 |
| DELIVERY FEE | FREE |
| WEBSITE | www.flowerstore.ph |
| SOCIAL MEDIA | Instagram: @flowerstore.ph Facebook: /flowerstore.ph Twitter: @FlowerstorePH |
| CONTACT DETAILS | 0995 256 9757, 0998 401 1550 / contact@flowerstore.ph |
WHAT PEOPLE LIKE
"SECRET ADMIRER" BOUQUETS. Send flowers to someone you like without revealing your identity. You can even send flowers to your favorite celebrity! Until you get the courage to express your affection, start by letting them know that someone cares with beautiful flowers crafted by Flowerstore.PH.
AFFORDABLE FLORAL DESIGNS. Their large selection accommodates all kinds of budgets. For as low as PHP 399, you can send a well-packaged bouquet of a single-stem bloom. Customers feeling extravagant can also find luxurious arrangements for their taste.
PRODUCTS
BOUQUETS & ARRANGEMENTS: PHP 399 – PHP 4999
BOXED BLOOMS: PHP 999 – PHP 1999
SUCCULENTS: PHP 499 – PHP 699
CORPORATE GIFT FLOWERS: PHP 999 – PHP 1699
GIFT & FLOWER BUNDLE: PHP 699 – PHP 1599
DELIVERY & PAYMENT
Flowerstore.ph accepts payments via PayPal, major credit and debit cards (Visa, Mastercard, Aurora and Amex), Dragon Pay, Bank deposit, Cash on Delivery and Cash Pick-Up. Their bouquets are available for delivery within Metro Manila, Cainta and Taytay.
8. FLOWERDELIVERY.PH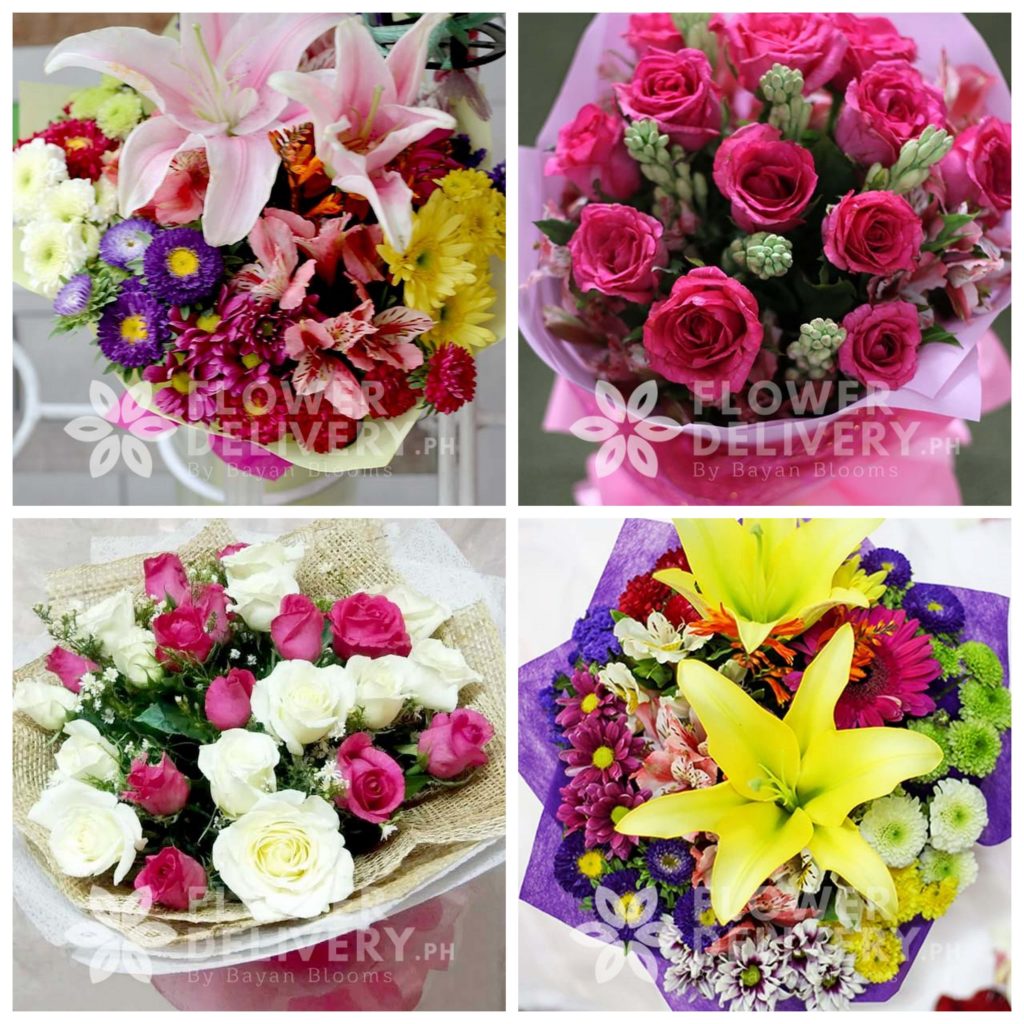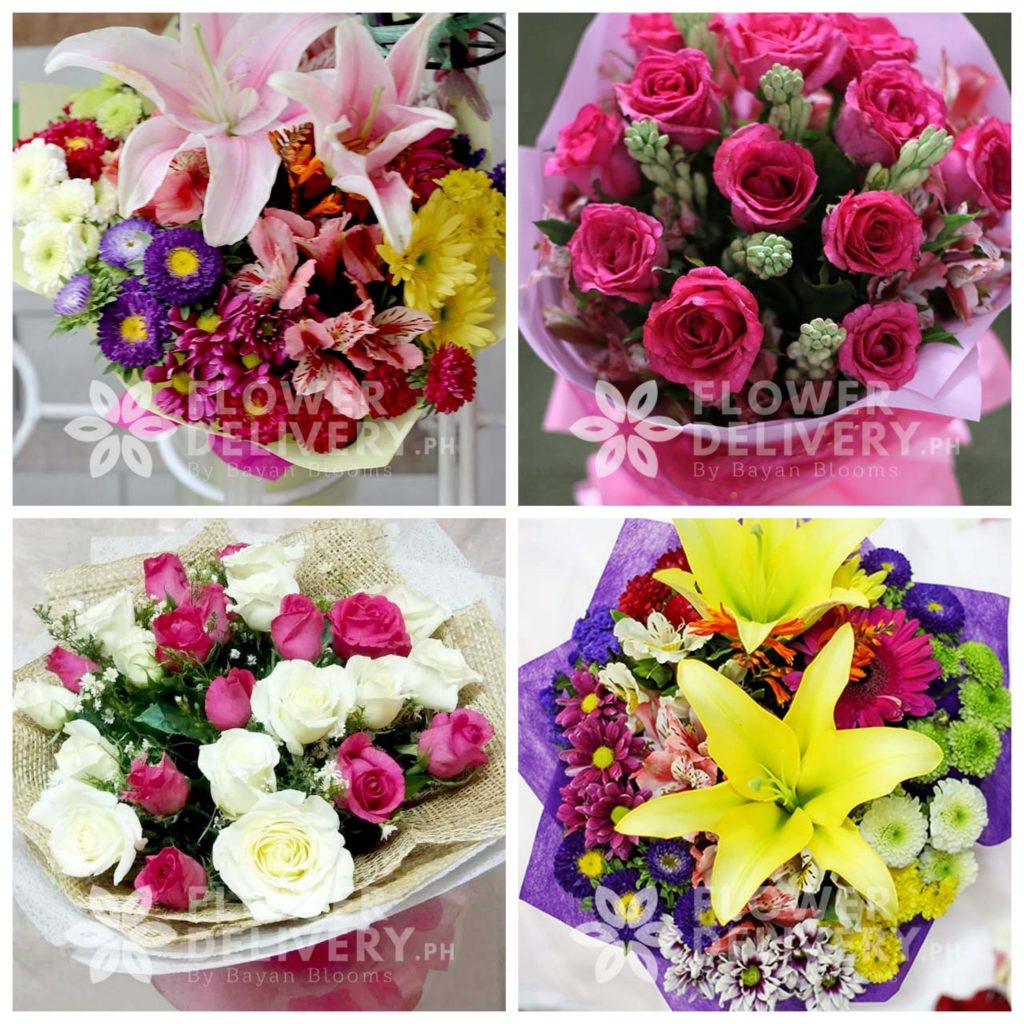 FlowerDelivery.PH is your one-stop shop for your gifting needs. Simply choose from a wide range of floral options and add a balloon, cake, chocolate or wine to sweeten the surprise.
| | |
| --- | --- |
| SPECIALTY | Flowers for all occasions |
| SELECTION SIZE | Large |
| STARTING PRICE | PHP 1600 |
| DELIVERY FEE | Free delivery to certain areas in Metro Manila |
| WEBSITE | www.flowerdelivery.ph |
| SOCIAL MEDIA | Instagram: @flowerdelivery.ph Facebook: /www.flowerdelivery.ph |
| CONTACT DETAILS | (+632) 736-0134, (+63) 932-8764288, (+63) 916-6704288, (+63) 916-6704288 |
WHAT PEOPLE LIKE
CUSTOMER SERVICE. Past customers have praised them for their excellent customer service. Their friendly staff will go above and beyond, not just to answer your queries but to ensure a happy and easy transaction every time.
RELIABLE & RESPECTFUL DELIVERY. To ensure the surprise goes on without a glitch, their reliable delivery guy will do what it takes to not ruin the surprise. For somber occasions, flowers will be delivered with tact.
PRODUCTS
BOUQUETS & ARRANGEMENTS: PHP 1600 – PHP 10000
GIFTS & ADD-ONS: PHP 100 – PHP 2000
DELIVERY & PAYMENT
They provide delivery to Caloocan City, Las Piñas City, Makati City, Malabon City, Mandaluyong City, Manila, Marikina, Muntinlupa, Navotas City, Parañaque City, Pasay City, Pasig / Ortigas, Pateros City, Quezon City, San Juan, Taguig City, Valenzuela City, Bulacan, Cavite, Laguna, Pampanga, and Rizal. Check out their Delivery page for more information.
Payment accepted are PayPal, Bank Transfer (BDO), Money Transfer (LBC, Cebuana Lhuillier, Palawan Express). Deliveries are done from 8am-6pm.
9. MASITERA FLOWER SHOP

Masitera Flower Shop is an online shop that offers flower delivery in Makati, Manila, Quezon City, and other areas within Metro Manila. For those who want to add something more special to their flowers, their shop supplies add-ons like bears, chocolates and balloons with more variety which you can choose from.
SPECIALTY
Flowers for all occasions
SELECTION SIZE
Large
STARTING PRICE
PHP 250
DELIVERY FEE
Free delivery to certain areas in Metro Manila
WEBSITE
https://masiteraflowershop.com/
SOCIAL MEDIA

https://www.instagram.com/masiteraflowershop/

CONTACT DETAILS

Mobile: + 63 917 183 0102
Phone: + 02 8 971 0103
Email: masiteraflowershop@gmail.com
WHAT PEOPLE LIKE
You can work with Masitera's top-florist to customize your bouquet, decorative ornaments, booths and events aesthetics.

They have a 12/7 Active Facebook Messenger Chat and you can also reach them via their official hotline at + 02 8 971 0103.
PRODUCTS
FLOWERS BY TYPES AND OCCASIONS
FLOWER STANDS
FLOWER VASE, BOX, AND BASKETS
DELIVERY & PAYMENT
Masitera offers same-day delivery for orders purchased on or before 2:00 pm. Free delivery is available for orders purchased within Makati area.
10. FIORA MANILA

Fiora Manila is an online shop that has been featured in various publications for their elegant flower arrangement. You can check their shop online or their color chat to start picking your next floral gift!
SPECIALTY
Flowers sorted by colors and arrangement types
SELECTION SIZE
Large
STARTING PRICE
Starts at PHP 1650
DELIVERY FEE
See delivery and payment section
WEBSITE
https://www.fioramanila.com/
SOCIAL MEDIA

https://www.facebook.com/fioramanila/

https://www.instagram.com/fioramanila/

CONTACT DETAILS

09778461888

fioramanila@yahoo.com
WHAT PEOPLE LIKE
Personalized Flower Buckets
Preserved Rose Boxes & Capsules
Rush next-day delivery available
PRODUCTS
Classic Round Buckets
Round Box Collection
Square Box Collection
ForeverFiora Preserved Roses
Basket Collection
DELIVERY & PAYMENT
For big buckets, square buckets, and Forever Fiora, delivery is FREE within Metro Manila. They usually deliver between 9am to 7pm. But if you require an earlier or later time, just them know so they can accommodate if possible.
For mini, small and medium buckets, there is a charge of Php350 for delivery. (Additional charges may apply for addresses that require toll fees and/or parking)
11. THE FLOWER FARM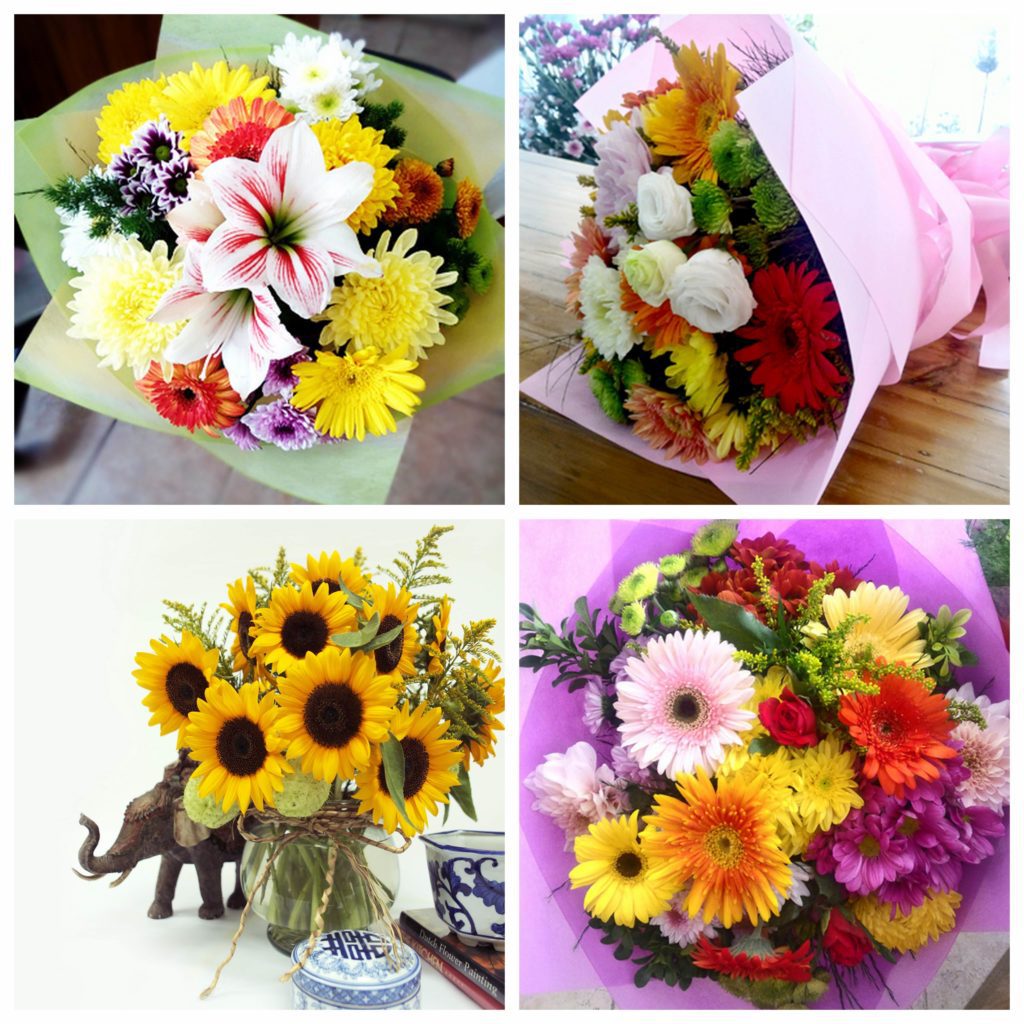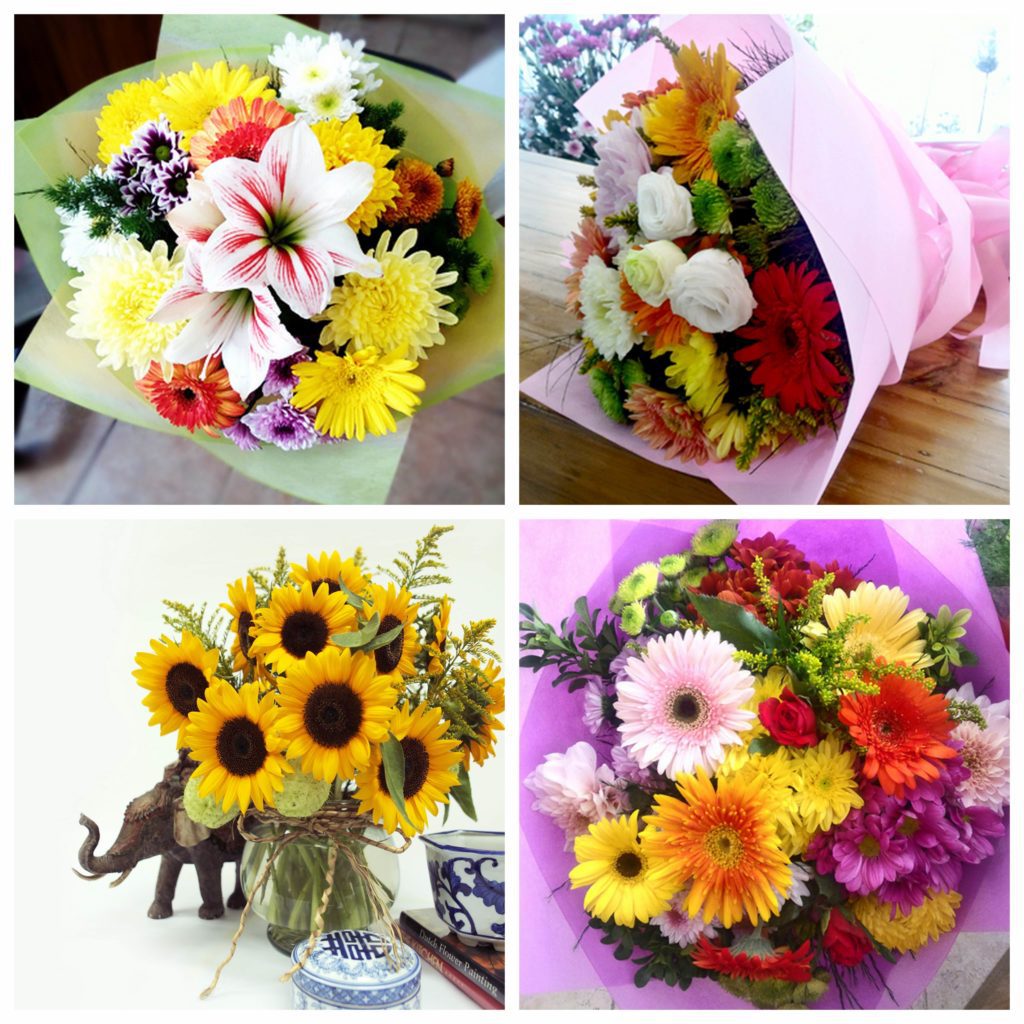 The Flower Farm sources their blooms from their very own 7.2-hectare flower nursery in Tagaytay as well as a farm in Bukidnon. They grow over 40 varieties of chrysanthemum, 20 varieties of gerbera as well as anthuriums, celosia and sunflowers. In Bukidnon, they cultivate single and spray roses, asters, solidaster, hypericums and tracheliums.
| | |
| --- | --- |
| SPECIALTY | Locally grown and sourced flowers |
| SELECTION SIZE | Large |
| STARTING PRICE | PHP 1,500 |
| DELIVERY FEE | Calculated at checkout |
| WEBSITE | www.theflowerfarm.com |
| SOCIAL MEDIA |   |
| CONTACT DETAILS | 815-6665, 815-6667 |
WHAT PEOPLE LIKE
SUSTAINABLE FLORISTRY. The Flower Farm uses new technology and traditional farming methods to grow their flowers, whichever is best for Mother Earth. They also make use of the latest sprinkler and drip irrigation technologies adapted from Israel and the Netherlands to efficiently and effectively water all plants and flowers in their greenhouses.  These methods keep water consumption to a minimum. In addition, they keep certain things very Filipino. For example, instead of using a tractor that uses fossil fuel to operate, The Flower Farm uses traditional farming technique of a plough pulled by a carabao to till the soil and mix compost inside the greenhouses.
PIONEERING FLORIST IN THE PHILIPPINES. The Flower Farm Corporation is considered the premier florists in the Philippines and recognized as one of the pioneers in the Philippine cut flower industry of the Philippines after introducing floral varieties never before grown in the country. With decades of experience, The Flower Farm remains as one of the leading florists of Manila for having end-to-end services in meeting the needs of the market for the freshest blooms, design, delivery and setup services for all occasions, whether intimate parties, corporate launches, memorial services or large weddings, among many others.
EXPERT FLORISTS. Their resident florists are committed in providing customers with the most creative, elegant and stunning floral creations to impress any recipient. From bouquets to stand-alone wreaths, from flower delivery to sprucing up event venues such as churches reception ballrooms, The Flower Farm has the experience and expertise to make it happen. No job is too small or big.
PRODUCTS
BOUQUETS & ARRANGEMENTS: PHP 1500 – PHP 2,700
FLOWER BASKETS: PHP 2,000 – PHP 4,500
STANDEE: PHP4,500 – PHP 8,000
GIFTS: PHP 2,000 – PHP 4,500
DELIVERY & PAYMENT
For same day delivery in Metro Manila, the cut-off time is 2pm. Once the cut-off time has lapsed, items ordered can only be delivered on succeeding dates.
12. Flowers by Sylvia
The satisfaction of their customers is the utmost priority of Flowers by Sylvia They are committed to providing excellent quality and products and meeting the expectation of their beloved clients. If you are working on a budget or if you have a specific design in mind, just let the team know and they will happily provide you with one.
| | |
| --- | --- |
| SPECIALTY | Flowers for all occasions |
| SELECTION SIZE | Large |
| STARTING PRICE | |
| DELIVERY FEE | Calculated at checkout |
| WEBSITE | |
| SOCIAL MEDIA | |
| CONTACT DETAILS | (02) 8807 2519 |
WHAT PEOPLE LIKE
LARGE COLLECTION.

No need to worry if you think you will run out of items from Flowers by Sylvia because you never will. They have a large collection of fresh flowers and arrangements that are appropriate to any kind of event.

AFFORDABLE ITEMS.

The shop does not only offer high quality flower products but affordable ones, too. 
PRODUCTS
Rose arrangements-

Starts at P1000

Basket arrangements-

Starts at P3000
DELIVERY AND PAYMENT
Contact shop for details
13. FLORA PORTICO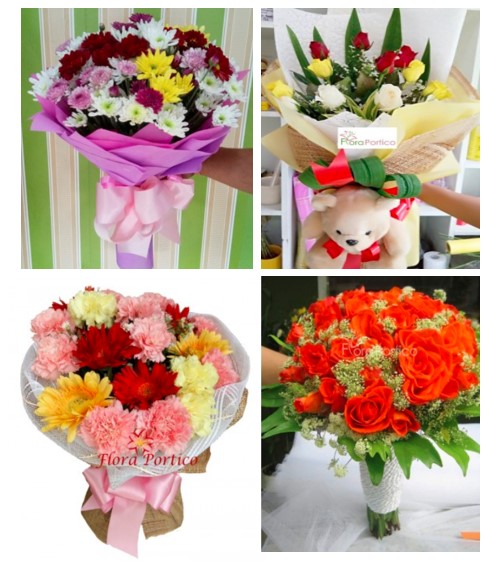 Flora Portico is an online flower shop in Quezon City and offers the most beautiful design of flower arrangements at affordable price! They also offer funeral flower arrangement and bridal bouquet for wedding event. They help customers send love to their loved one with fresh and beautiful flowers arranged by their professional florist.
SPECIALTY
Flowers for all occasions
SELECTION SIZE
Large
STARTING PRICE
PHP 250
DELIVERY FEE
Free delivery to certain areas in Metro Manila
WEBSITE
https://www.floraportico.com/
SOCIAL MEDIA

http://facebook.com/floraportico.ph

CONTACT DETAILS

Phone: (+632) 330 4733

Mobile: (+63) 0999 981 8955

Email: floraporticofs@gmail.com
WHAT PEOPLE LIKE
Flora Portico was already known by its quality collections of farm fresh flower arrangements since 2014.
They are now also delivering for Birthdays, Sympathies, Wedding, Corporate Engagements/Inauguration,Valentines, Mothers day and more.
PRODUCTS
GENERAL FLOWER ARRANGEMENTS: Starts at PHP 990
FLOWER ARRANGEMENTS FOR ALL OCCASIONS: Starts at PHP 1200
WEDDING FLOWERS: Starts at PHP 250
FUNERAL FLOWERS: Starts at PHP 2500
COMBO (FLOWERS + GIFTS): Starts at PHP 1150
DELIVERY & PAYMENT
Floral Portico offers same day delivery and free delivery to selected areas in Manila. They accept payment via Visa, Mastercard, PayPal, BDO, BPI, and Cebuana. 
14. FLORAL SINGAPORE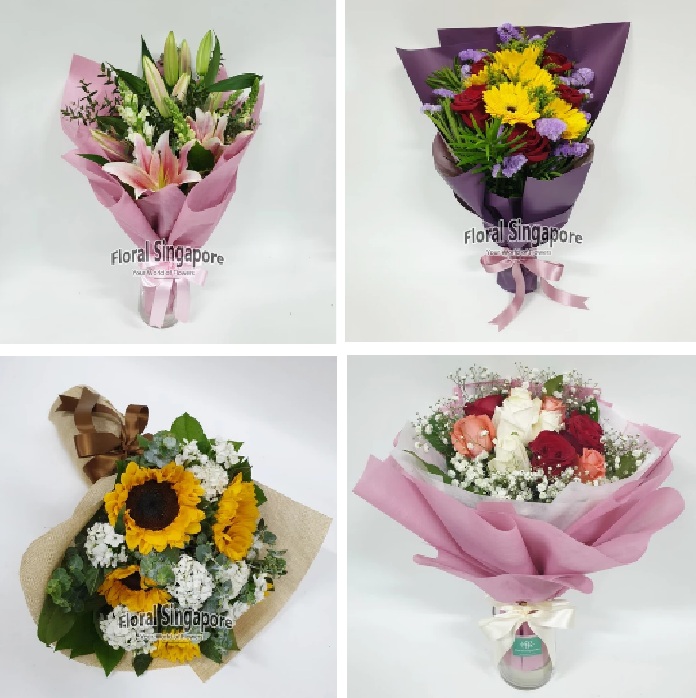 BEST FOR

Vibrant grand opening stand

PRICING

$128 – $288

WEBSITE

ADDRESS

2 Sims Close, Gemini@Sims, #02-12, Singapore 387298

CONTACT DETAILS

+65 6741 3088 │ Contact Form

OPERATING HOURS

Monday – Friday: 9:00 AM – 8:00 PM 

Saturday: 9:00 AM – 6:00 PM
Floral Singapore is a local florist in Singapore which provides flower needs for the area. It takes pride on its fresh blooms and floral arrangements. They have a great team of florist that creates artistic and beautiful bouquets for every occasion.
Here, you can find arrangements for events like graduation, weddings, valentines day, and of course, for grand openings. The shop believes that nothing beats a congratulatory flowers for someone who is opening his business. Thus, you are ensured that what will be delivered to your recipients is of high and premium quality. 
SERVICE HIGHLIGHTS
Free delivery

Same day delivery

24/7 Customer support

Guaranteed fresh flower
CUSTOMER REVIEWS
Customers are satisfied as what they get is exactly what is stated in the picture. Here's a 5-star review from their page:
"Ordered for the first time recently and was super impressed with the responsiveness and the speed." – Kenny Lew
15. GIFT GO NOW

BEST FOR

5-star rating from 187 YOTPO reviews on flower delivery

PRICING

Contact the store for more information

WEBSITE

ADDRESS

1 RAFFLES PLACE #44-01A ONE RAFFLES PLACE

CONTACT DETAILS

Email:hello@giftgonow.com
PH Whatsapp/Viber: +PH: +639215547952

OPERATING HOURS

Contact the store for more information
Gift Go Now Online Gift Delivery is the solution to gift-giving if you're living far away from your loved ones! They can deliver gifts to Philippines from Caloocan, Valenzuela, Malabon, Navotas, San Mateo Rizal, Cainta, Antipolo, Meycauayan, Marilao, Santa Maria, Bocaue, San Jose Del Monte, Laguna, Cavite, Rosario, Tanza, General Trias, Trece Martires, Silang, General Mariano Alvarez, San Pedro, Carmona, Binan, Kawit, Novelata, Dasmarinas, Cavite Cty, Santa Rosa, Cebu, Bohol, Davao, and Misamis, to name a few.
From cakes and flowers to chocolates and sweets to fruits and gift baskets, they have prepared presents for your significant other to gifts for parents to gifts for occasions. Choose from the wide variety of birthday cakes, anniversary flowers and personalised gifts available at their online shop.
SERVICE HIGHLIGHTS
Free nationwide delivery

Gifts for every recipient and occasion
Flower arrangements and gifts for special holidays
CUSTOMER REVIEWS
Great customer service, great product, timely delivery of goods to recipient as I requested. 100% satisfied as a first-time buyer. Will definitely use gogift.com again in the future. Highly recommend to friends and families abroad wishing to send a little happiness to loved ones in the Philippines. Thank you so much gogift.com. Mabuhay!!!" – Review from Sabrina H.
16. NICOLE AND ABBY FLOWERS AND GIFTS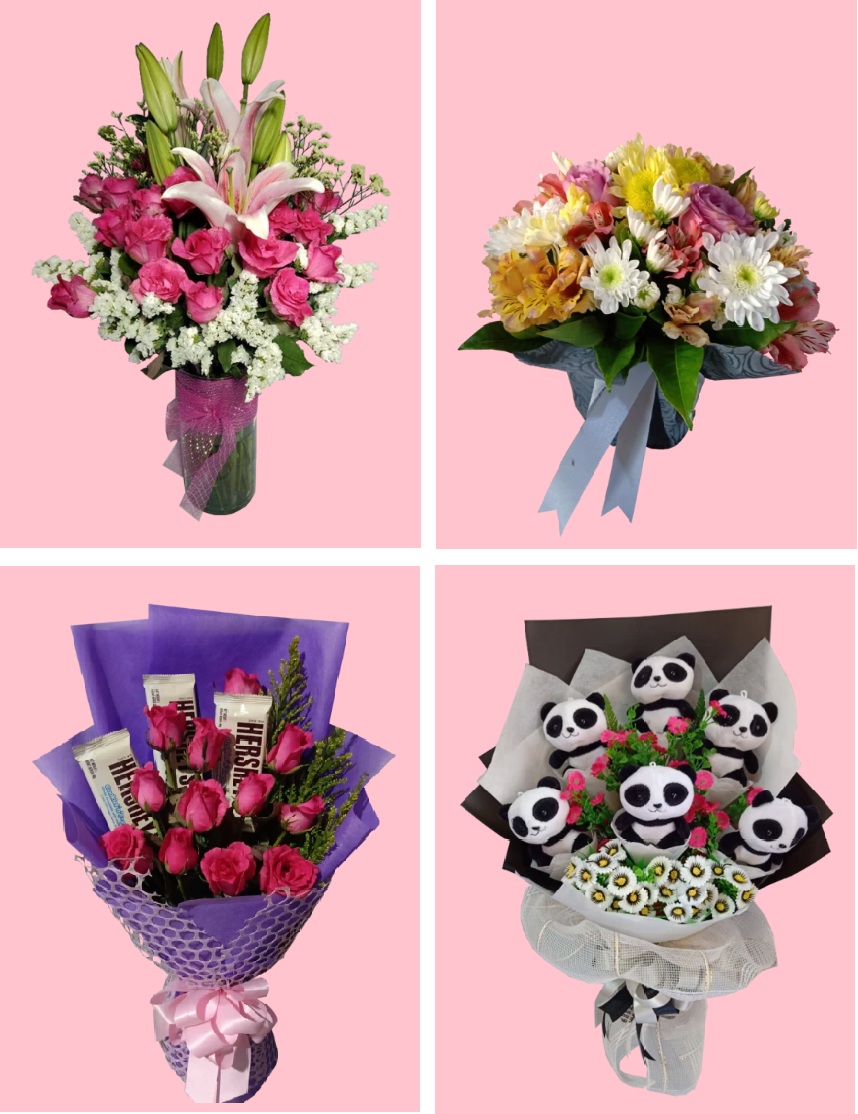 Nicole and Abby Flowers and GIfts is a local flowers shop in Pasay City serving not only the Metro Manila area but nationwide and worldwide, as well. The company is composed of a team of highly skilled and talented professionals with expertise in various fields, one of the reasons why the shop is a continuous success.
Aside from retail flowers, Nicole and Abby Flowers and Gifts also offers bundled products, say a combination of flowers, cakes, and balloons to complete the whole package.
WHAT PEOPLE LIKE
AFFORDABLE ARRANGEMENTS.

Elegant and stunning floral arrangements with affordable prices may seem impossible until you see the collection of NAFG. Regardless of their relatively affordable offerings, the shop never compromises the quality of their products, thus one of your best choices for flower delivery services.
SPECIAL ADD ONS.

Level up your game by availing some add on products like cakes and chocolates. These impeccably delicious goodies will definitely make your choice of flowers even more special.
PRODUCTS
WRAPPED BOUQUETS
WREATHS
BASKET ARRANGEMENTS
VASE ARRANGEMENTS
CHOCOLATES
CAKES
DELIVERY AND PAYMENT
The shop accepts PayPal for payments. Free delivery for the entire area of Metro Manila.
Images taken from each company's official websites/social media.