Probably one of the reasons why some people are hesitant to buy or send flowers to their loved ones is because they think of it as something that does not last long enough. While it is somehow a fact, there are ways to keep the beauty of these flowers and preserving them is one. There are actually lots of shops that make and sell preserved flowers. We have listed 6 of your best options that are located in Singapore.
1.      BLOOMBACK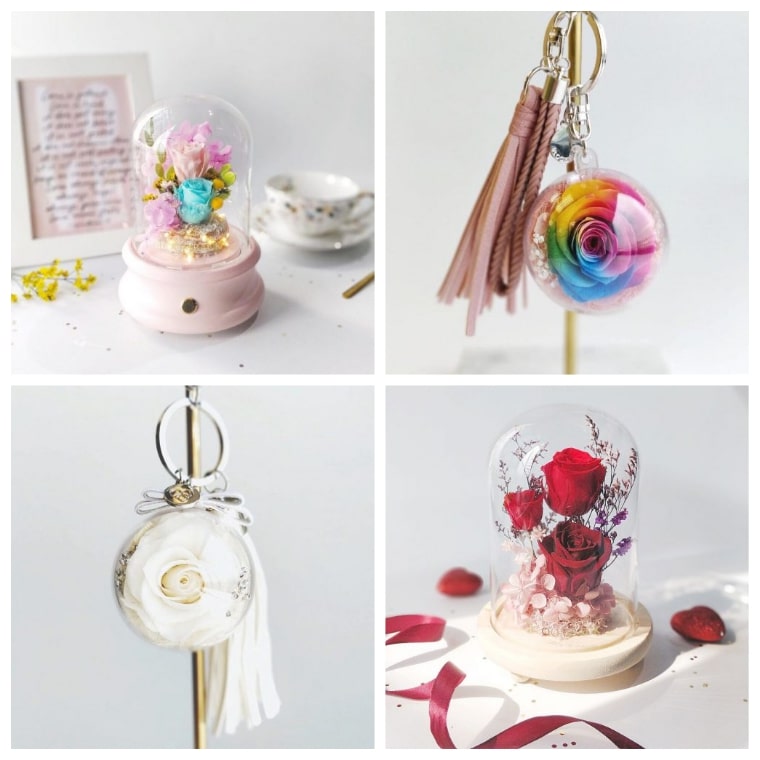 Bloomback was established not to be merely a shop that sells flowers, as a matter of fact, they use these natural beauties to "spread Happiness, encourage Empathy, promote Acceptance and nurture Love."  The shop believes that flowers are capable of healing that is why they work hard everyday to make sure that they deliver the best flower products and everyone is reachable.
WHAT PEOPLE LIKE
CHIC DESIGNS. One of the prides of Bloomback is their unique designs that are best ideas as gift. These flowers in glass containers can be used as display in your homes or offices.
SURPRISE TWISTS. Aside from packaging these flowers in glass containers, these items also serve as speakers and other useful tools so you really get more than what you actually think and paid for.
PRODUCTS
Preserved Flowers – $55 to $240
Preserved Flowers Charms – $42 to $60
DELIVERY AND PAYMENT
Mastercard, Visa, PayPal, Bank Transfer, AMEX
2.      ONE OLIVE FLORAL BOUTIQUE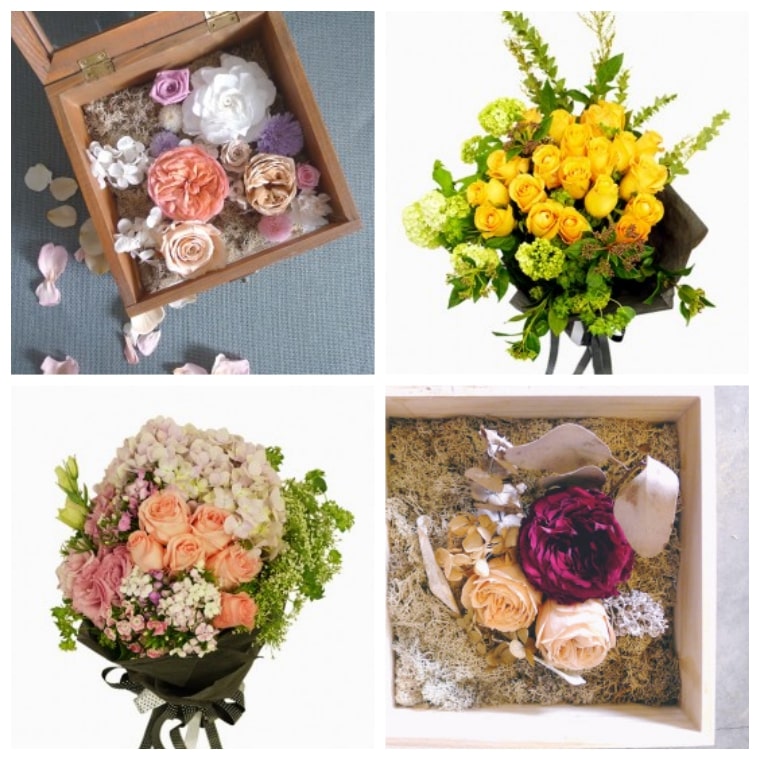 One Olive is an artisanal flower boutique that started in 2009. The team of One Olive is composed of professionals that are experts in different kinds of skills related to flower arrangement and delivery services. The shop promises that they can offer every kind of flower arrangement that you may need and they can deliver it right to your doorstep in a snap.
WHAT PEOPLE LIKE
WORKSHOP. One Olive does not only share to the world their collection of wonderful arrangements, but they also share the knowledge and skills they have about arranging different kinds of flowers to those who are eager to be a successful flower designer.
PRODUCTS
Bouquets – $220 to $380
Preserved Florals – $95 to $550
DELIVERY AND PAYMENT
Visa, Mastercard, PayPal
3.      SIMPLY BLOOMS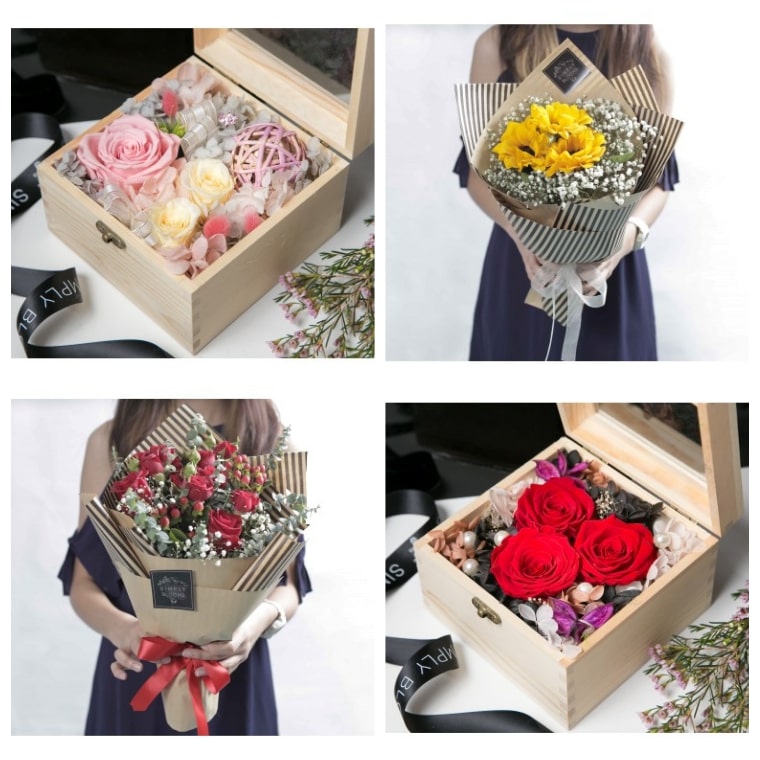 Simply Blooms does not only aim to sell flowers to its clients but they also want to live by the spirit of giving and caring by creating stunning flowers and offering gorgeous preserved flowers that are ideal as gift for family, friends, or special someone.
WHAT PEOPLE LIKE
EXTENSIVE SELECTION. Simply blooms is more than just a flower shop; it also expands its business and reach by offering other items particularly cakes, wines, and gift gourmets that they believe is also appropriate to any kind of occasion.
PRODUCTS
Preserved Blooms – $59 to $93
Hand Bouquets – $55 to $65
DELIVERY AND PAYMENT
Visa, PayPal, Mastercard, AMEX, Discover
4.      MY ETERNAL ROSE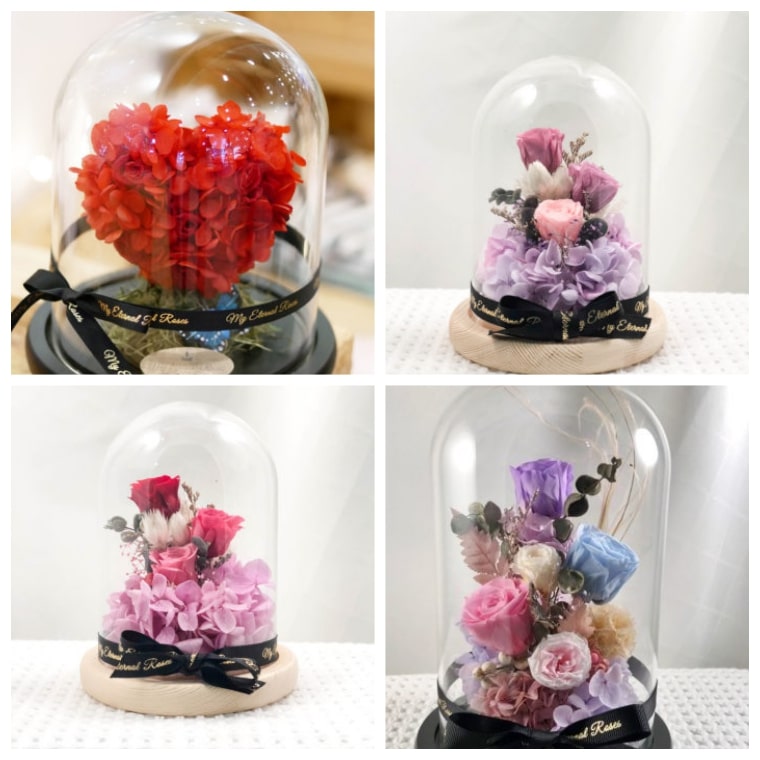 My Eternal Rose stands true to its name by offering 100% natural flowers which they preserve for a long lasting beauty. These eternal or preserved flowers are perfect as a gift or added luxurious decoration in your homes or offices.
WHAT PEOPLE LIKE
FREE DELIVERY ABOVE $150 PURCHASE. My Eternal rose offer some discounts and promos and one of these is a delivery free of charge as long as your purchase has a total of $150 or more.
UNIQUE DESIGNS. The creative team of the shop always strives to create unique and stunning floral designs that will totally awe their beloved clients.
PRODUCTS
Preserved Flowers – $60 to $250
DELIVERY AND PAYMENT
The shop offers Doorstep Delivery, Registered Postage & Self Collection @ Yio Chu Kang MRT.
5.      TIMELESS FLEUR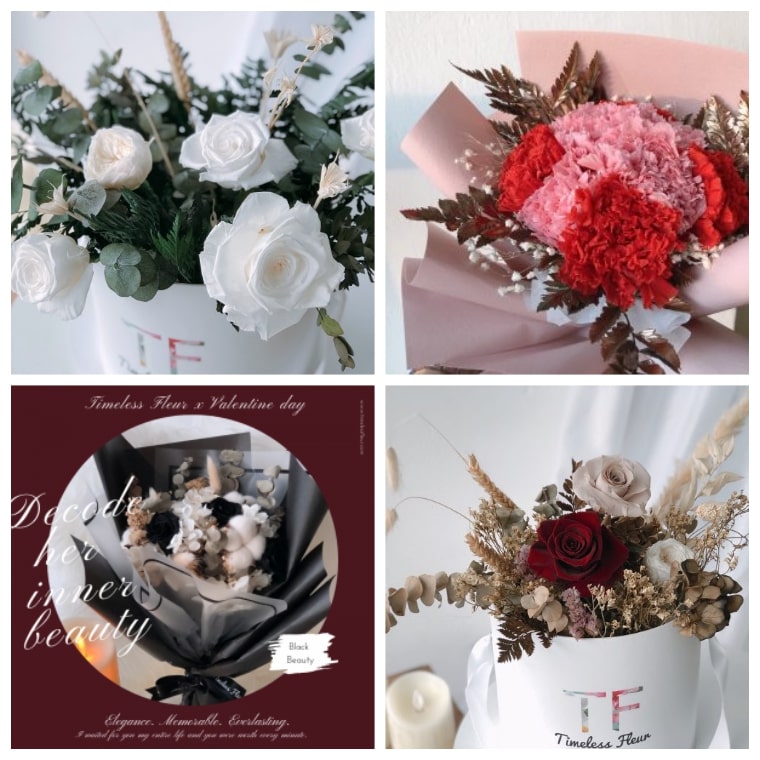 Timeless Fleur is one of the most reliable and sustainable flower shops in Singapore. Their preserved flowers can last for a year and even more when properly taken care of. They are also proud to share that their flower products are environmentally responsible as they create less carbon footprints compared to others.
WHAT PEOPLE LIKE
LONG LASTING FLOWERS. Timeless Fleur offers preserved flowers that are really long lasting especially if you properly take care of them. With a small amount, you'd get more than what you had paid for.
VALUE FOR MONEY. The shop shows their appreciation to their customers by creating truly premium quality products so you are guaranteed that all your investments are worth its price.
PRODUCTS
French Hot Box  – $110 to $180
Bouquets – $39 to $120
DELIVERY AND PAYMENT
Contact the shop for inquiries.
6.      SKFLEUR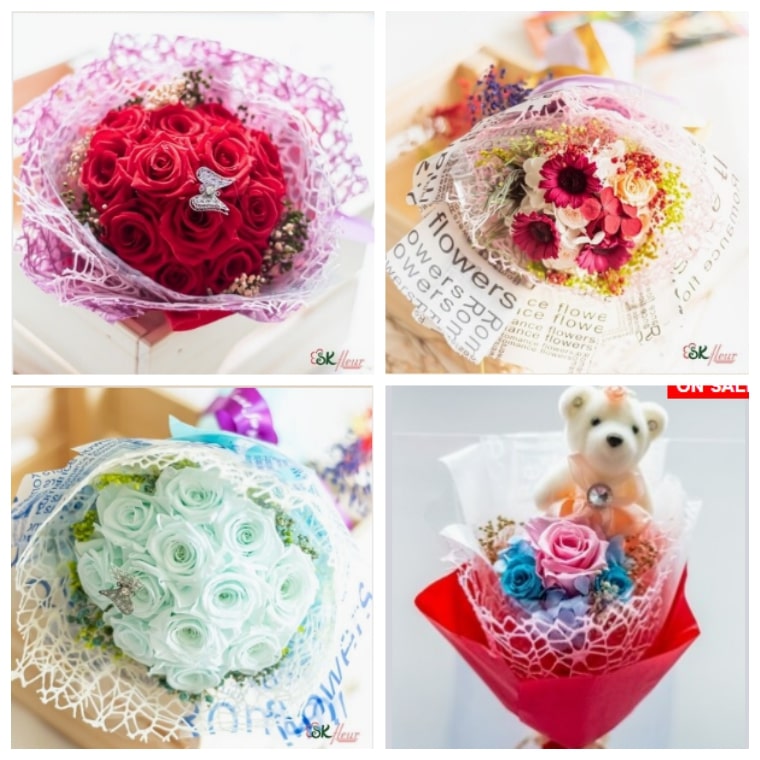 No need to worry if you had a sudden desire for a set of preserved flowers because with SKFleur you can easily place your order through their seamless online shop and they offer delivery services everyday! So, whenever and wherever you are, guaranteed that you will be able to get the amazing preserved flowers that SKFleur creates.
| | |
| --- | --- |
| SPECIALTY | Preserved flowers |
| SELECTION SIZE | Large |
| STARTING PRICE | Starts at $28 |
| DELIVERY FEE | Calculated at checkout |
| WEBSITE | http://www.skfleur.sg/ |
| SOCIAL MEDIA |   |
| CONTACT DETAILS | 65-82656855 – 93399359 |
WHAT PEOPLE LIKE
GOOD CUSTOMER SERVICE. One of the best things that SKFleur has to offer is their good customer service. They always makes sure that they are available to attend to all their customers' flower needs.
PRODUCTS
Rainbow Rose – $99 to $140
Hand Bouquets – $28 to $150
DELIVERY AND PAYMENT
Contact shop for queries.
7. FIRST SIGHT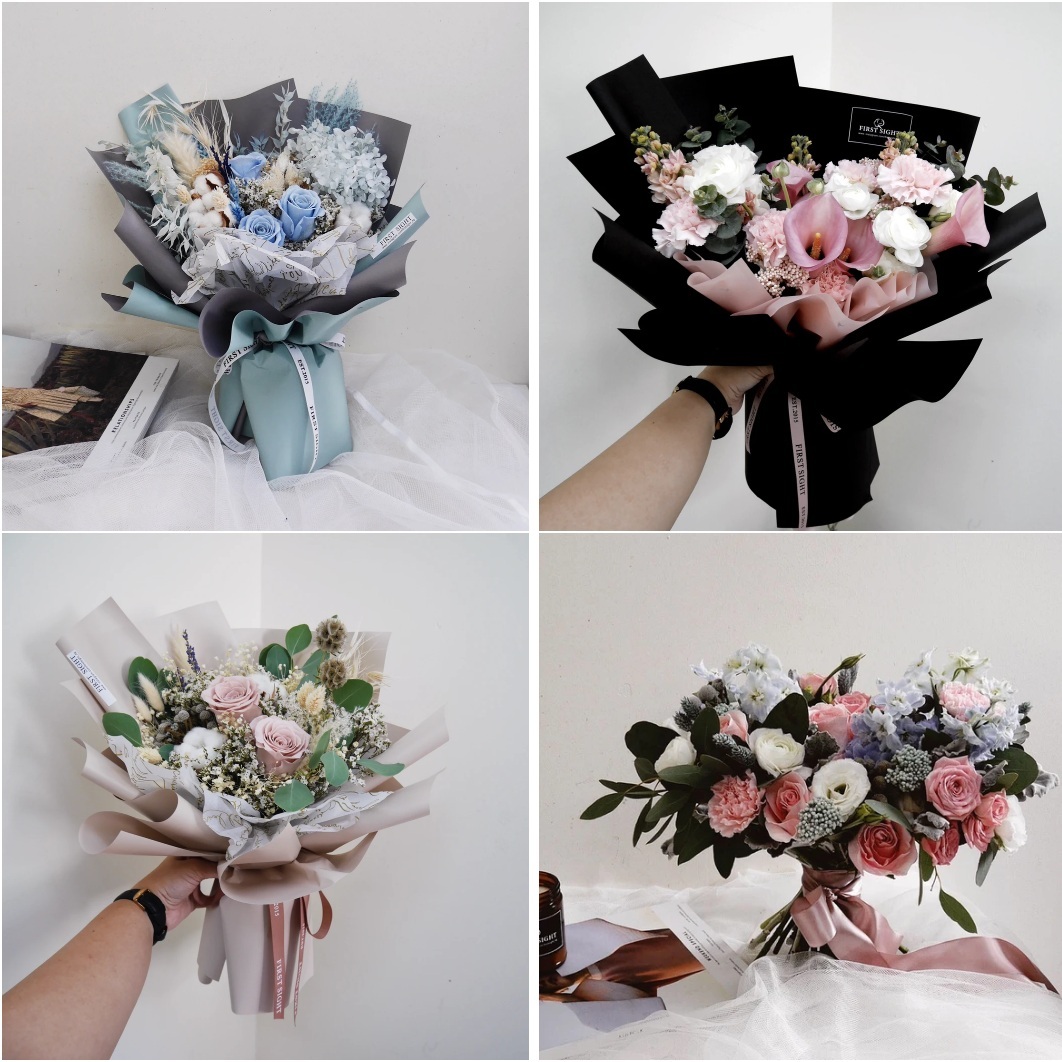 Every flower design that comes out from this little shop is a sight to see. First Sight puts their heart and creativity in making flower arrangements. They also use unique but beautiful materials in arranging the flowers. Flower arrangement from here is distinctive of the creativity and passion of the florist. 
WHAT PEOPLE LIKE
REASONABLE PRICE RANGE.

While they are loved for the chic designed flowers, customers also love how affordable the flowers are. You could buy a small flower arrangement for just $ 25. 

BREATHTAKING FLOWER ARRANGEMENTS.

Their lead florist travelled the world to learn more about the art of floristry and to gather unique materials to create unique and beautiful flower arrangements. 
PRODUCTS
VALENTINE'S BOUQUETS:

$ 38 – 118

EVERLASTING SERIES:

$ 25 – $ 98

FRESH BOUQUETS:

$ 24 – $ 98

WEDDINGS: For inquiry
DELIVERY AND PAYMENT
First Sight accepts bank transfers and major credit cards. You can also pick up the flower at their store or have them
8. GERBIL'S GARDEN
Gerbil's Garden is an online based shop that offers flower bouquet and arrangement to its customers. They have a team of experienced florists which is responsible for crafting unpredictable designs and styles. Their belief is that flowers should be able to portray the message of the sender. And this can only be done when the flowers or blooms are arranged in a proper manner.
In terms of preserved blooms, the shop has particularly used roses and sells them to their customers. So, if you love roses and preserved blooms alike, then this is a place to go. You may contact the shop using its phone number or reach out to them through their site.
Gerbil's Garden have also been collaborating with other trusted brands that specialize in fashion, accommodations, photography, etc.
| | |
| --- | --- |
| SPECIALTY | Wedding flowers; Preserved Roses |
| SELECTION SIZE | Moderate |
| STARTING PRICE | $65 |
| DELIVERY FEE | Calculated at checkout |
| WEBSITE | |
| SOCIAL MEDIA | Facebook: /GerbilsGarden |
| CONTACT DETAILS | +65 92770598 | [email protected] |
WHAT PEOPLE LIKE
FLOWER SUBSCRIPTION.

For those who regularly need flowers, Gerbil's Garden offers flower subscription. This comes with different plans and pricing—so you can choose among their options. For example, if you want to have blooms on a weekly basis, you can sign up for such plans. The shop will then deliver your orders on the day designated.  

EVENT SERVICE.

In case you have an upcoming event, the shop provides service for such. You can ask them to decorate or design your venue depending on your theme. Further, they have a consultation program which will help you decide on what flowers to use. 
PRODUCTS
Flower Bouquet

– $65 to $325

Vase Arrangement

– $65 to $550

Event flowers

– $18 to $550

Preserved roses

– $102 to $300
DELIVERY AND PAYMENT
Contact shop for more details.
9. LAVIEFLO
If you're looking for a hassle-free shopping, then opt for Lavieflo's online flowe shop! They offer a wide range of arrangements. Wanting their customers to maximize the gift items they purchase for loved ones, they're well-known for producing high-quality preserved booms that lasts for over a year. Aside from that, they also offer different kinds of flower sets, one for every occasion.
Consider buying from Lavieflo's if you're in need of get well soon blooms, head to their website to check out!
WHAT PEOPLE LIKE
PRESERVED FLORA ARTISTRY – Lavieflo uses only the best flowers to preserve. The care they put into growing these blooms, from the start to finish, is exemplary, proving just how amazing they are in ensuring the quality of the items they provide their customers. Acquire artistry like no other, Lavieflo is the shop to call.
BELL JARS – Have that Beauty and the Beast moment when you purchase Lavieflo's preserved flowers in a bell jar! They have various sizes and designs to choose from, each beautiful in their own right. Take a look at them on the website.
PRODUCTS
Love & Romance
CHINESE NEW YEAR
For Mom
Get Well Soon
Gifts with Figurines
Grand Opening Gifts
SALE
Black Flowers
Blue Flowers
Earthy Arrangements
Pink Flowers
Purple Flowers
Rainbow Flowers
DELIVERY AND PAYMENT
Bank Transfer or PayNow, PayPal, Stripe
10. BESPOKE FIORE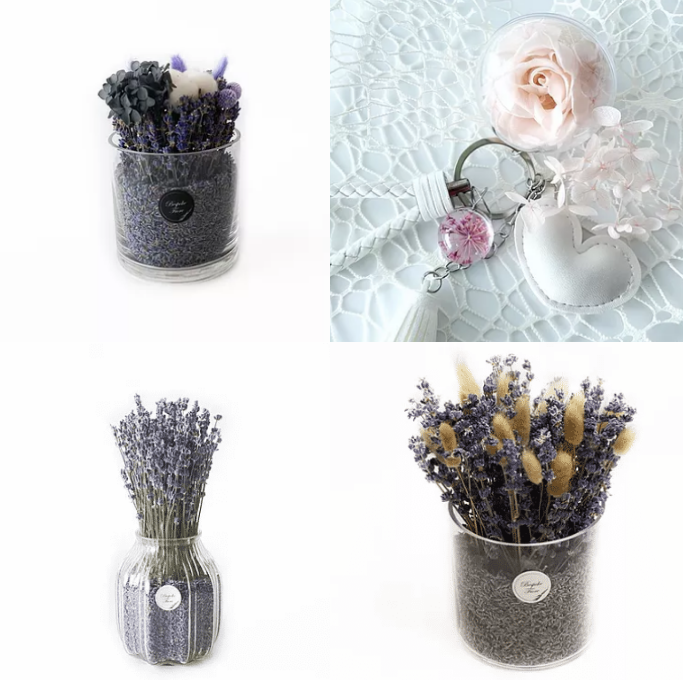 Bespoke Fiore aims to keep the natural beauty of flowers through preservation. While they offer various flowers and bouquets, they're particularly well-known for their dried lavender.
Their flowers are preserved at the peak of their beauty with a special process. You can expect their flowers to last for months, especially if you take good care of them.
Customised creations are also available upon request.
WHAT PEOPLE LIKE
Dried Lavender- Lavender is an excellent antioxidant with antimicrobial and calming properties. Their dried lavender can last 2-3 months, depending on the environment.
Scheduled Delivery- Orders done before 3 PM can be delivered on the next day. Otherwise, you can also specify a later date you'd prefer at the checkout page.
PRODUCTS
Dried lavenders
Hydrangeas
Bespoke creations
DELIVERY AND PAYMENT
Credit card
11. THE WALLFLOWER BUD

If you're looking for simple yet tasteful flower arrangements, of the fresh or preserved variety, then one of your best bets is The Wallflower Bud.
The Wallflower Bud strives to create unique, eye-catching floral pieces that bring a sense of freedom and joy to whoever receives them. Their inspiration is picking flowers through fields. 
SPECIALTY
Dried Buds
SELECTION SIZE
Moderate
STARTING PRICE
$45
DELIVERY FEE

$10 – Flat Rate

$30 – Sentosa Island and Changi Airport

WEBSITE
https://www.thewallflowerbud.com
CONTACT DETAILS

+65 9746 9096 (text/whatsapp/telegram)

Email: [email protected]
WHAT PEOPLE LIKE
FLOWERS FOR ALL OCCASIONS. Birthdays, weddings, anniversaries — no matter the occasion, The Wallflower Bud can create elegant floral arrangements that will no doubt catch the eye and bring joy. These floral arrangements are handled by expert stylists who endeavour to bring out the flowers' natural beauty. 
FLOWER WORKSHOPS. The Wallflower Bud holds several workshops throughout the year, all of which cater to those who wish to try their hand at floristry. Depending on the workshop chosen, participants can work with fresh or dried flowers and create their dream arrangement with the aid of professional flower designers. 
PRODUCTS
Dried/Preserved Buds
Fresh Buds
Autumn/Winter Buds
Corporate/Features
DELIVERY AND PAYMENT
The shop accepts credit/debit card payments (via Stripe).