Ipoh is popular among coffee lovers since they are the home of Ipoh White Coffee. This drink could be traced back to the 19th century where the unique blend and technique all started. Thus, making this a significant part of Ipoh's rich history. However, there are a lot more than just coffee in Ipoh, Malaysia. You could visit the most beautiful temples, natural parks, museums, and many more.
Be sure to also check out their flowers as Malaysia also offers the best flower in the world. Here are our best picks of flower delivery in Ipoh.
1. IPOH FRESH FLOWER FLORIST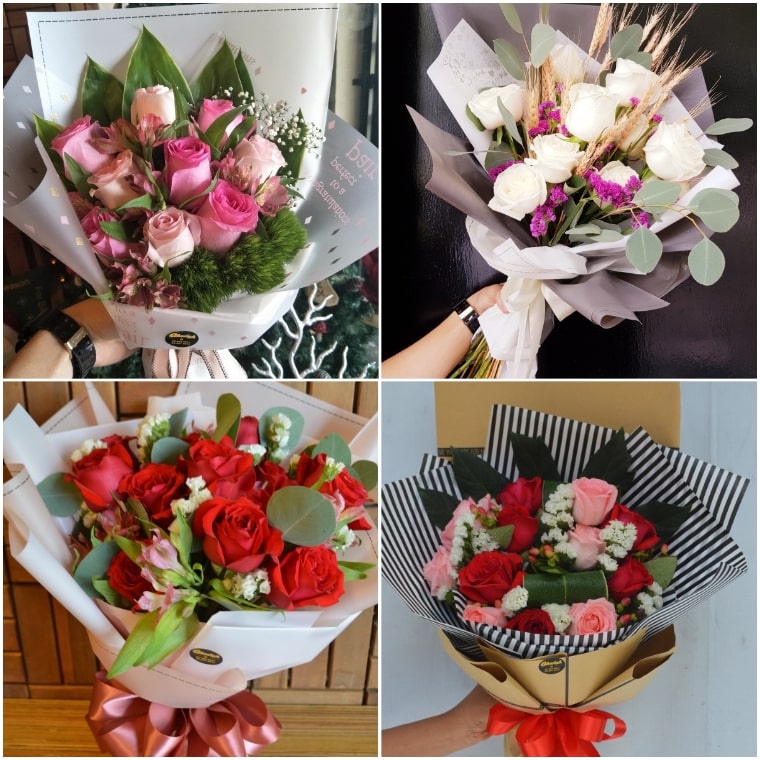 Customers of Ipoh Fresh Flowers kept coming back to them, because of their excellent service. They make sure that ordering is as easy as it could be. They deliver on the same day of your order placement. A customer service representative is dedicated to attend to your needs and concerns. All these to ensure that they meet or even exceed customer satisfaction.
WHAT PEOPLE LIKE
EXCELLENT CUSTOMER SERVICE: Ipoh Fresh Flowers will leave you at peace as they update their customers every time. They will let you know the status of your orders and even send you a photo of the arrangement.
FLOWERS FOR ANY OCCASION: They have a great collection of flower arrangement for almost all occasion. If you're looking for a gift for usual and unusual celebrations, just visit their site and browse their beautiful collection.
PRODUCTS
BOUQUETS: RM 108 – RM 358
GRAND OPENING: RM 188 – RM 468
FLOWER BOX: RM 208 – RM 300
CHOCOLATE BOUQUET: RM 98 – RM 888
CONDOLENCES: RM 185 – RM 1288
DELIVERY & PAYMENT
They delivery same day from Monday to Sunday 10: 00 am to 12: 00 pm. You could pay via Paypal, Visa or Mastercard.
2. IPOH FLORIST CHERISH FLOWERS & GIFTS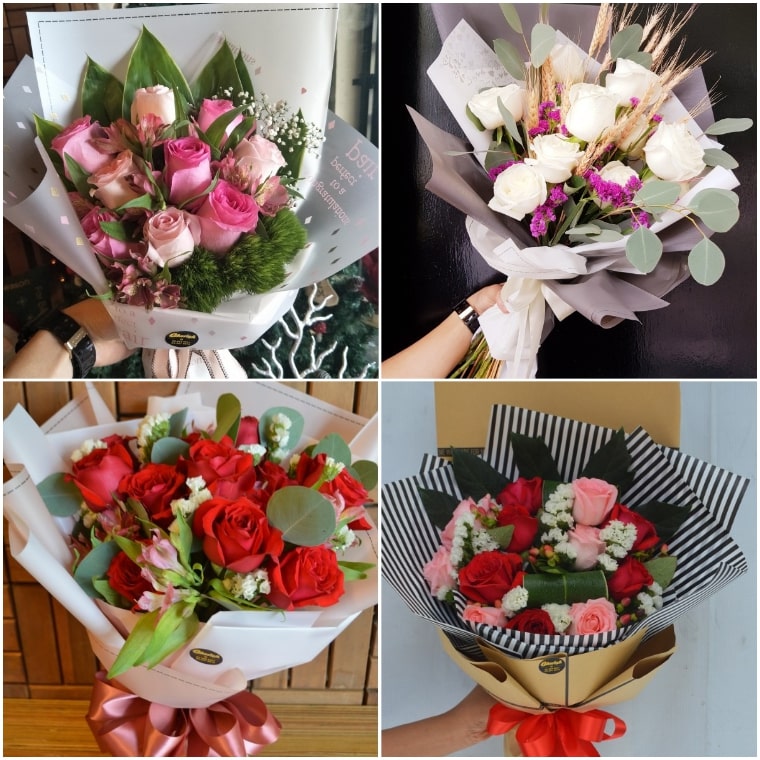 As the pioneer of online flower shop in Ipoh, they have a great deal of customers that kept on coming back. They even have great review in Google with 4.1 rating. They have an easy ordering system that would place your order with only three steps. Choose your favorite product in their website
WHAT PEOPLE LIKE
WIDE COLLECTION OF FLOWERS: They source out high quality of flowers from around the world. That's why they have wide selection of fresh flowers that could be conventional and exotic.
FULL TIME FLOWER SERVICE PROVIDER: Aside from delivering to personal and corporate accounts. They also offer full time service to big events like weddings, corporate events, and others.
RESPONSIVE CUSTOMER SERVICE: Do you have any question? You could immediately contact them through their contact information. They are very responsive to their customers, especially in WhatsApp
PRODUCTS
WREATHS: RM 115 – RM 600
CONGRATS FLORAL STAND: RM 140 – RM 465
HAND BOUQUET: RM 70 – RM 800
FRESH FLOWER ARRANGEMENT: RM 80 – RM 440
FRUITS & FLOWERS: RM 130 – RM 430
DELIVERY & PAYMENT
They offer free same day delivery; they only accept credit card and Paypal as payment.
3. VISAGE DAWSON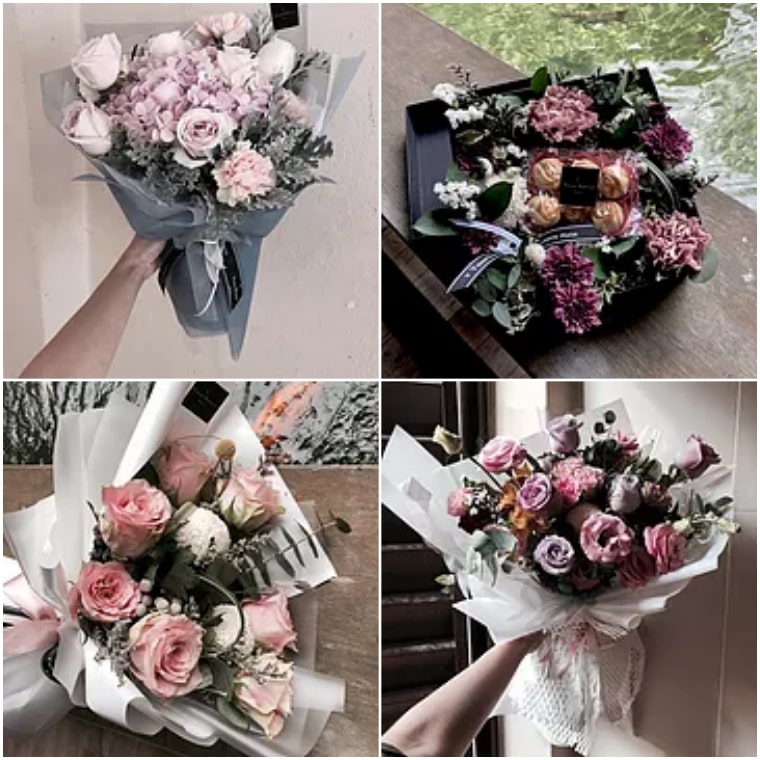 | | |
| --- | --- |
| SPECIALTY | Sophisticated flower designs |
| SELECTION SIZE | Medium |
| STARTING PRICE | RM 18 |
| DELIVERY FEE | Free |
| WEBSITE | https://www.visagedawson.com/ |
| SOCIAL MEDIA | Facebook:Visagedawson Instagram: @visagedawson |
| CONTACT DETAILS | 6010 2202213 / [email protected] |
Looking for elegant flower designs at an affordable price? Visage Dawson could be the right florist for you. They have an exquisite taste on flower designs and they are very artistic. This in turn results to a sophisticated and impeccable flower designs which are perfect for a date or for centerpiece on weddings.
WHAT PEOPLE LIKE
SOPHISTICATED FLOWER DESIGN: Elegant flower designs are their specialty. Their creations are not just chic in appearance, but also impeccable in quality. If you visit their site, you'll be surprise to see this beautiful design come into one.
CUSTOMIZED FLOWER ARRANGEMENT: If you can't find what you're looking for in their website, just send them a message. They are open to customized flower arrangements and they would be more than happy to assist you.
FULL FLOWER DELIVERY SERVICE: Planning for a big event? They'll be here to help. They also offer full flower service for big events like weddings, grand openings, and funerals.
PRODUCTS
HAND BOUQUET: RM 30 – RM 550
BRIDAL BOUQUET: RM 18 – RM 468
PRESERVED FLOWER: RM 358
MINI BOUQUETS: RM 18 – RM 75
CONGRATULATORY: RM 155 – RM 688
DELIVERY & PAYMENT
They deliver from 10:30 am to 7:00 pm. They also accommodate specific time frame of delivery, just send them an email.
4. WHITE ON WHITE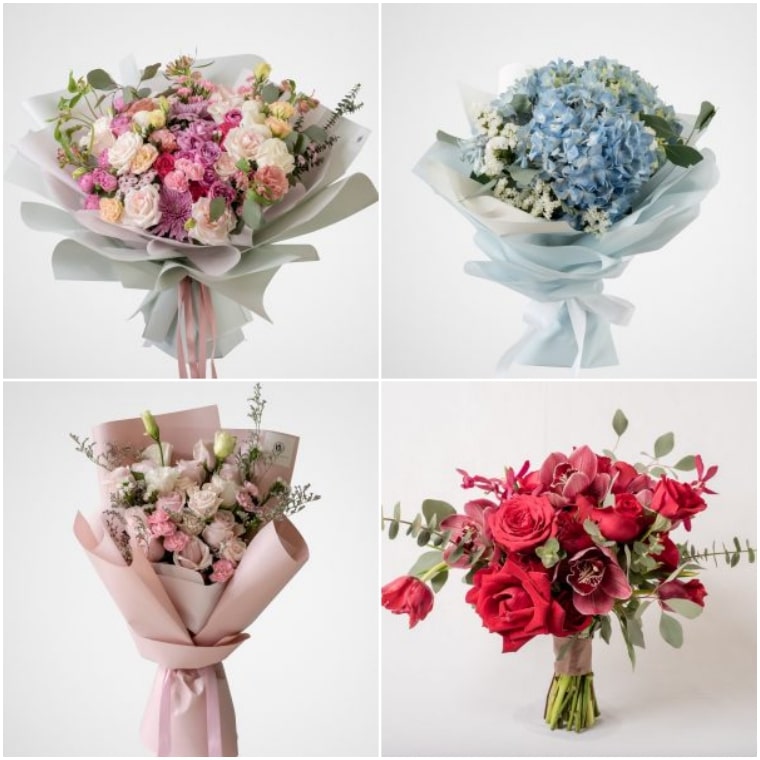 | | |
| --- | --- |
| SPECIALTY | Premium quality flowers |
| SELECTION SIZE | Curated |
| STARTING PRICE | RM 120 |
| DELIVERY FEE | Free |
| WEBSITE | https://whiteonwhite.com.my/ |
| SOCIAL MEDIA | Facebook: @whiteonwhiteflower Instagram: @whiteonwhiteflower |
| CONTACT DETAILS | 60176775783 / [email protected] |
With over 13 years of experience, White on White has mastered the art of floristry. They've also gained mastery of fulfilling orders. That's why they only source flowers that are of fresh and of premium quality. They even ensure customer satisfaction on all parts of the transaction by providing a dedicated line for customers.
WHAT PEOPLE LIKE
PREMIUM QUALITY FLOWERS: Enjoy the best of the best with White on White. The flowers here are the freshest, the most fragrant, and the most excellent quality a flower could ever be. So visit their site now!
CREATIVE FLOWER ARRANGEMENT: All flower designs on the White on White platformis carefully made by the most talented florists in the industry. It is a product of their creativity and passion.
PRODUCTS
FLOWER BOUQUET: RM 120 – RM 320
FLOWER BOX & BASKET: RM 120 – RM 180
BRIDAL BOUQUET: RM 180 -RM 220
CHOCOLATE BOUQUET: RM 150
CONGRATULATIONS: RM 160 – RM 360
DELIVERY & PAYMENT
Make sure to order before 12 noon to enjoy same day delivery. For peak season and weekends, you have to order in advance because they don't deliver on the same day. You may pay through direct bank transfer and Paypal.
5. SUNSHINE FLOWER SHOP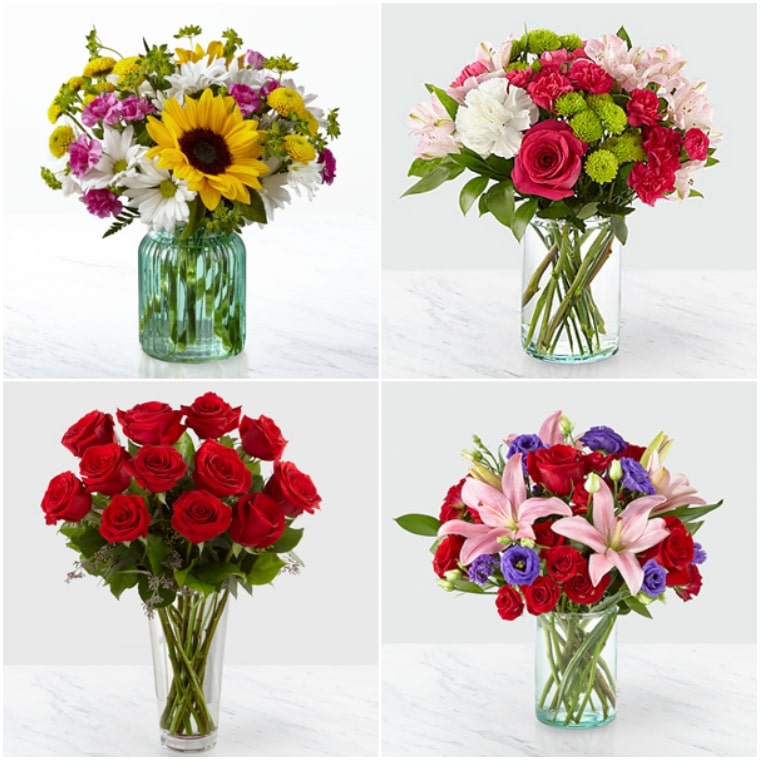 | | |
| --- | --- |
| SPECIALTY | Spring collection |
| SELECTION SIZE | Medium |
| STARTING PRICE | $ 29.99 |
| DELIVERY FEE | $ 7 |
| WEBSITE | http://sunshineflowershoppe.com/ |
| SOCIAL MEDIA | |
| CONTACT DETAILS | 320 532 4132 |
Whatever the occasion you're celebrating, Sunshine Flower Shop will help you find the perfect flowers. They have great array of flower designs that you could conveniently buy through their online shop. They guarantee that customer satisfaction is their #1 priority. This is why they make sure that each flower design is beautifully made and each customer is given the proper attention and utmost care.
WHAT PEOPLE LIKE
QUALITY SERVICE: They strive to provide quality service to keep their customers coming back to their shop. Each service here from ordering to delivery exceeds customer expectation. They make sure to make your shopping experience easy and worthwhile.
COLLECTION FOR ANY OCCASION: They have great selection of flowers that are specifically chosen to fit different occasions. Have the best floral partner during life's most special moments by ordering now at Sunshine Flower Shop.
PRODUCTS
GRADUATION: $ 29.99 – 84.99
SPRING: $ 29.99 – $ 82.99
BIRTHDAY: $ 29.99 – $ 149.99
ANNIVERSARY: $ 29.99 – $ 149.99
NEW BABY: $ 29.99 $ 74.99
DELIVERY & PAYMENT
They accept Visa and Mastercard as payment methods.
6. MITORI FLORIST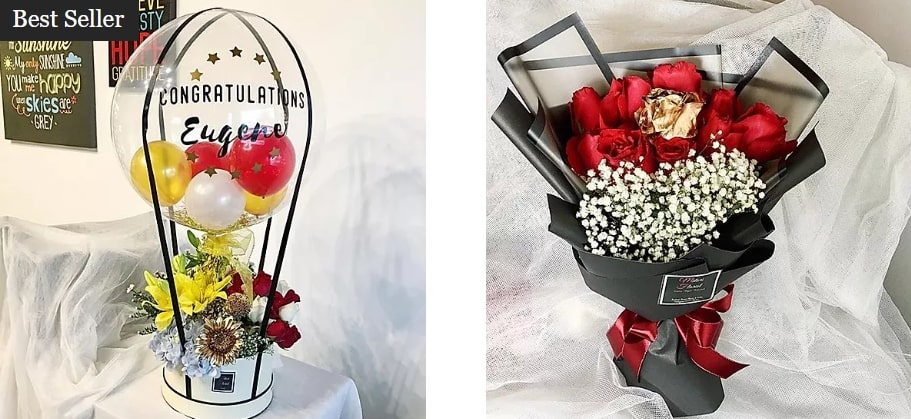 While smaller than most businesses on this list, Mitori Florist holds their own and is considerable as remarkable if not more so thanks to their endeavour to provide only the best bouquet and arrangement for joyful occasions.
WHAT PEOPLE LIKE
BEST BLOOMS. Every floral design that comes from Mitori Florist is guaranteed to last long and remain vibrant and fragrant for quite a while. This is because the flower shop only uses fresh flowers to handcraft each design per order.
PRODUCTS
HOT AIR BALLOON
ONE IN A MILLION
DELIVERY & PAYMENT
Contact shop for more details.
7. BLUSH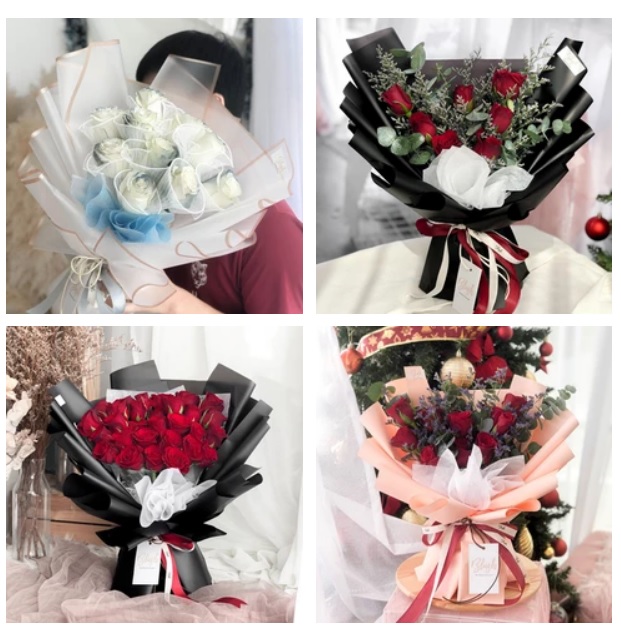 Blush is a company that is founded and operated by Felicia Grace and offers clients comprehensive wedding planning packages and aesthetic flower arrangement needs and décor that is perfect just for any wedding.
WHAT PEOPLE LIKE
CUSTOMIZABLE SERVICES. Their services are highly flexible since they are able to work with real flowers and give sound advice on which is best suited for the said event. Interested clients can readily see a diverse portfolio of what flower arrangements they can offer readily on their website for better information.
HANDS-ON APPROACH. Nonetheless, with extensive knowledge of flower arranging and an excellent selection of flowers readily on-hand we recommend that clients looking for wedding flowers to check them out.
PRODUCTS
Hand Bouquet
Flower Box
Flower Basket
Condolence Stand
Opening Stand
Graduation
DELIVERY & PAYMENT
Delivery fees are based on different locations throughout KL and Ipoh. They do accept full payments through bank transfer to be paid before delivery.