While you explore the island of Singapore, you will be amazed at how blessed the country is with their topography. Visitors can find tropical flowers lingering around the corner or by the house of the locals. It is also home to some hybrid species of orchids like Vanda Miss Joaquim. As a result, lots of great choices for flower shops can be found here. Thus, to make your life easy, we narrow down the list of the best same day flower delivery services in Singapore.
1. LITTLE FLOWER HUT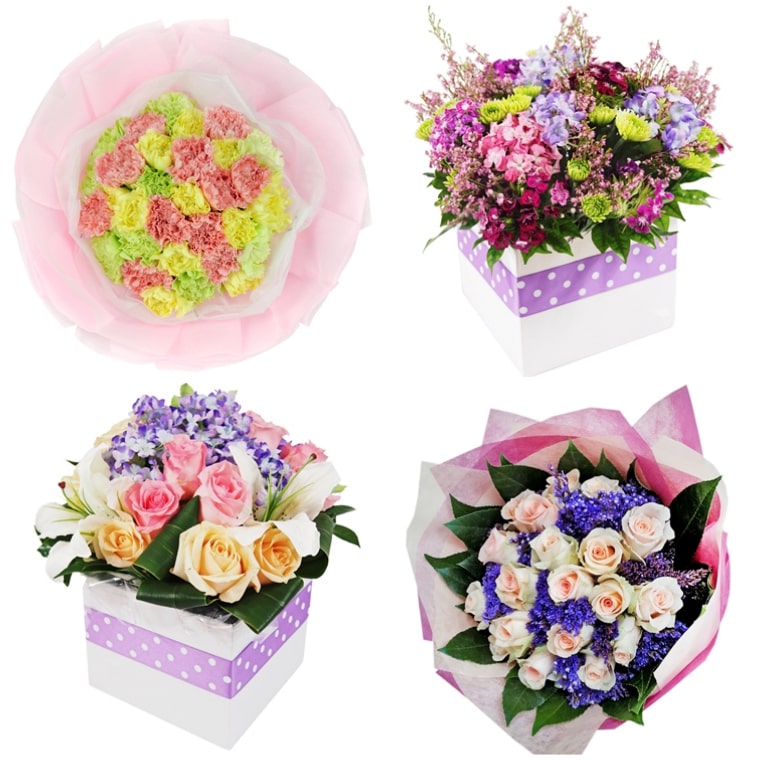 Another flower shop that offers same day delivery is Little Flower Hut. They have a good collection of blooms which are arranged to suit a special occasion. In case you don't have knowledge about flowers, scroll down the page for their written articles about blooms. You can also learn more about flower types, plant care tips, and about world farms. Aside from their alluring orchid flower, they also have other items that you can buy. They have chocolate hampers which are perfect for anniversary. There are also fruit baskets and food hamper within their page.
WHAT PEOPLE LIKE
24/7 HOTLINE. If you need immediate flower service, you can contact Little Flower Hut for inquiry. Their line is open 24 hours a day. Thus, customers can easily reach them and ask for questions or queries.
TRACK ORDERS. For anxious people, Little Flower Hut puts a tracking form for you. It allows customers to keep track of their orders. As such, you will be notified about the status of your flowers and you'll know when to expect the delivery.
EXPRESS DELIVERY. On top of their same day delivery, the shop also offers express delivery. This means that once you ordered from them and you apply for such delivery, your flowers will reach your recipient within 2 to 3 hours.
PRODUCTS
FLOWER BOUQUETS: $49.00
FLOWER BOX: $99.90 – $169.90
TABLE ARRANGEMENTS: $65.00 – $280
GRAND OPENING: $60.00 – $500.00
HAMPERS: $9.90 – $299.90
DELIVERY & PAYMENT
Orders placed before 4:00 pm from Monday to Friday and 12:00 pm on Saturday will be delivered on the same day unless specific time is requested. Accepted Payment: VISA, MasterCard, Discover, American Express, PayPal, and Amazon Pay.
2. HUMMING FLOWERS & GIFTS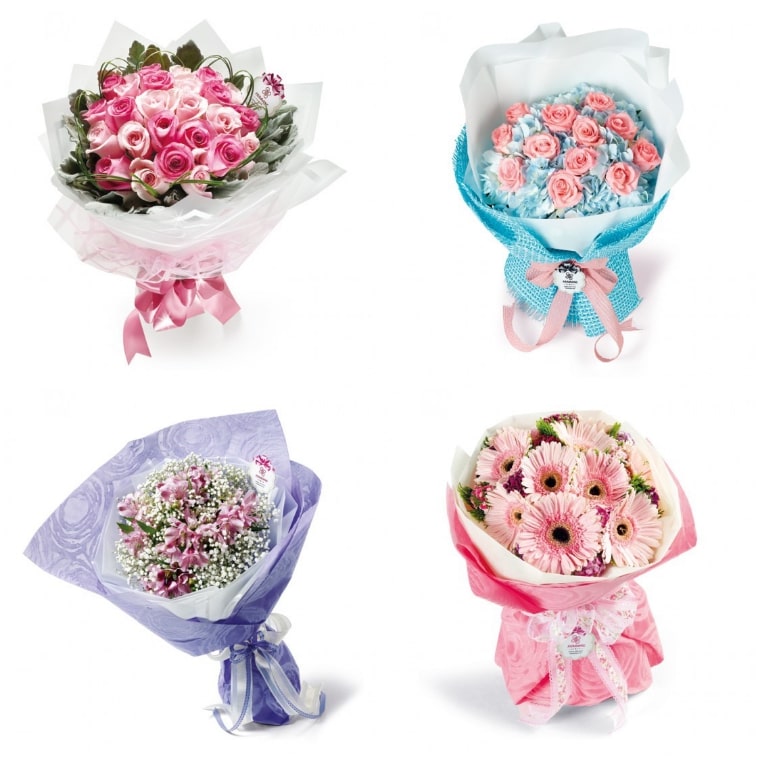 Formerly known as Humming House, Humming Flowers & Gifts was recognized as one of the leading gift shops in Singapore. If you're looking for artificial and fresh flowers, then this is the place for you. They specialize in creating customized floral arrangement—whether artificial or fresh—and other gift items. You will find over 900 flowers and gift ideas which comes with a greeting card. In case you're not yet satisfied with the choices you have, you can coordinate with their local florists to discuss your preference.
| | |
| --- | --- |
| SPECIALTY | Artificial and fresh flower arrangement |
| SELECTION SIZE | Enormous |
| STARTING PRICE | $55 |
| DELIVERY FEE | Free |
| WEBSITE | www.hummings.com |
| SOCIAL MEDIA | Instagram: @hummingflowers Facebook: /HummingFlowersandGifts Twitter: @HummingFlowers |
| CONTACT DETAILS | +65 6844 2222 / [email protected] |
WHAT PEOPLE LIKE
SUNDAY DELIVERY. Although they don't open on Sundays, they make sure that orders placed between 10:46 am – 1:00 pm on Saturdays will be delivered. As such, they set out delivery from 9-12 pm on Sunday. This is a great relief to customers who need their orders for that day. We all know that not all shops can deliver during that time.
REWARD GIFTS. If you love rewards, Humming Flowers and Gifts has it for you. For every $1 purchase, you will have 1 Humming point. Accumulated points may be exchanged for different items such as earphones, tea bottle, travel bag set, blender, ice cream maker, hairdryer, and many more.
PRODUCTS
FLORAL ARRANGEMENTS (ARTIFICIAL/FRESH): $50.00-$100.00
HAMPERS: $50.00-$500.00
HAND BOUQUETS: $30.00-$100.00
BANNERS AND PAINTINGS: $40.00-$338.00
DELIVERY & PAYMENT
Orders placed before 5pm will be delivered the same day. Otherwise, it will be sent out the next day or the time specified. They accept VISA, MasterCard, American Express, Discover, and PayPal.
3. PRINCE'S FLOWER SHOP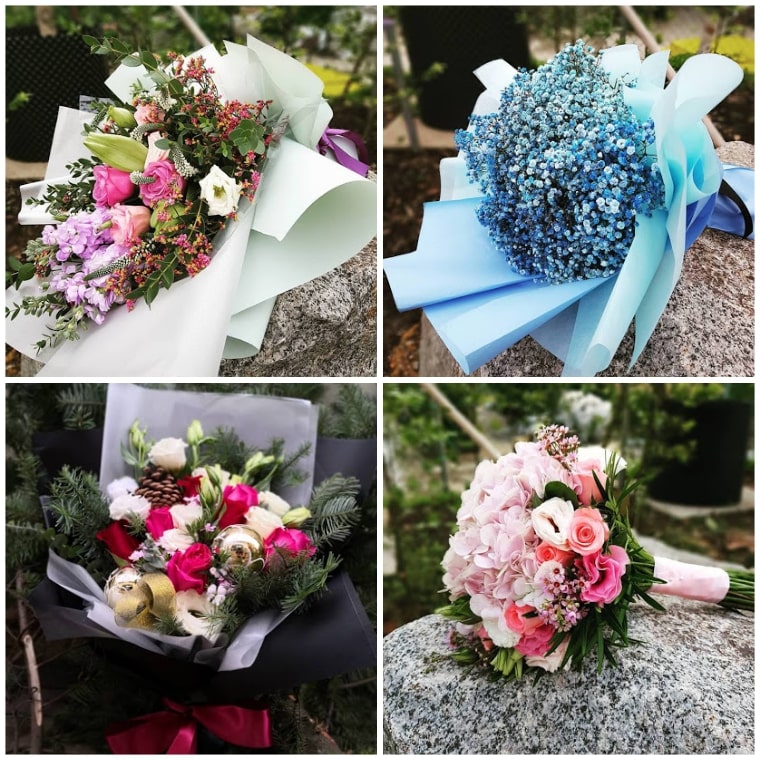 Prince's Flower Shop has been in the flower industry since 1966. And from that time up to this moment, they continue to serve to provide fresh flower delivery in the region. Their florists create beautiful and gorgeous arrangement made from a combination of different types and colors of bloom. From the catalog, you can find bouquets perfect for birthday, Mother's day, Valentine's day and other special occasion.
| | |
| --- | --- |
| SPECIALTY | Traditional bouquets |
| SELECTION SIZE | Large |
| STARTING PRICE | $58.00 |
| DELIVERY FEE | Free |
| WEBSITE | https://prince.com.sg/ |
| SOCIAL MEDIA | Instagram: @princeflowershop Facebook: /PrinceFlowerShop Twitter: @PrinceFlorist |
| CONTACT DETAILS | [email protected] / 6769 7000 / 6892 27000 |
WHAT PEOPLE LIKE
PERKS FOR MEMBERS. Prince's Flower Shop has free personal membership for their customers. You can go to their site and register for an account. Once your profile has been approved, you can enjoy some perks like faster check-out process and updates on promotions. There is also a 5% innate discount for members.
ISLANDWIDE SHIPPING. The shop continues to provide convenience for their customers as they offer islandwide shipping. Thus, you can send your flowers anywhere in Singapore with the help of Prince's Flower Shop.
MIDNIGHT DELIVERY. Aside from offering free same day delivery, they do midnight delivery from 12 am to 6 am. They charge such for $50.
PRODUCTS
FLOWER BOUQUETS: $58.00
FLOWER BOX: $76.00 – $121.50
GRAND OPENING STAND: $88.00 – $132.00
TABLE TOP FLOWERS: $65.00 – $132.00
DELIVERY & PAYMENT
The shop offers free same day delivery if purchased was made before 4:00 pm.
Accepted Payment: VISA, MasterCard, American Express, Diners Club, and Paypal
4. FLOWER ADVISOR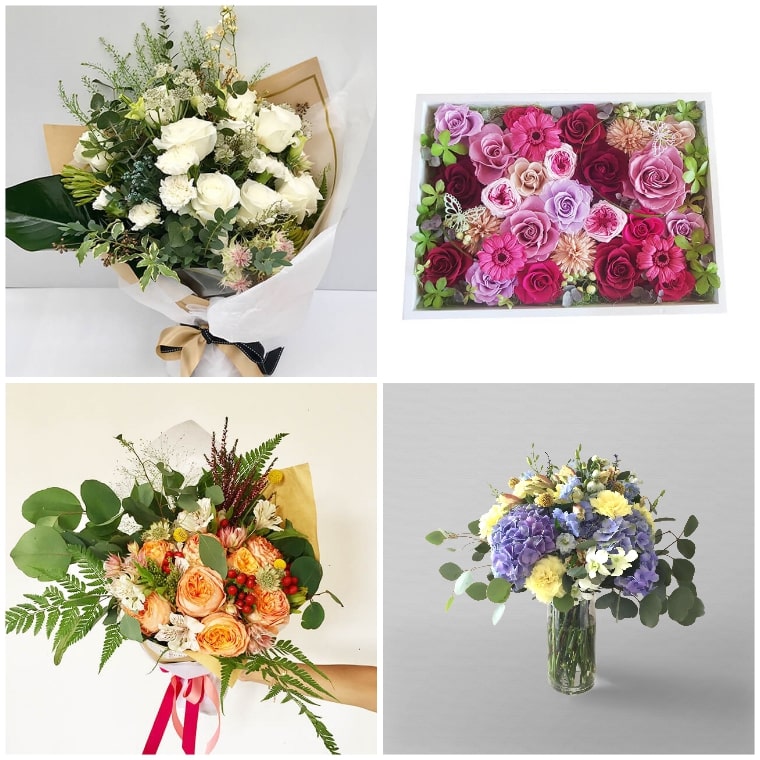 Flower Advisor provides its customers with wide range of selection of floral arrangement. On top of fresh flowers, they have preserved blooms which are available as a gift item. So, customers will have different options when it comes to choosing the perfect bouquet. Their same day delivery applies not only to local delivery but also to international locations. Just make sure that you order within the cutoff time.
SPECIALTY
Preserved flowers
SELECTION SIZE
Enormous
STARTING PRICE
$50
DELIVERY FEE
Free same day delivery
WEBSITE
www.floweradvisor.com.sg
SOCIAL MEDIA
Instagram: @floweradvisor Facebook: /floweradvisor Twitter: @floweradvisor
CONTACT DETAILS
5 6479 1033 |

[email protected]
WHAT PEOPLE LIKE
24 HOURS CUSTOMER SERVICE. Phone line at Flower Advisor is open 24 hours a day. Customers can make inquiry or ask questions/clarifications with their orders anytime of the day. Their staff will gladly accommodate each client and help them with their purchase.
SAME DAY INTERNATIONAL DELIVERY. Unlike other shops, Flower Advisor offers international shipping. On top of that, it applies same day system so long as the orders meet the cutoff time. Thus, you don't have to worry about sending flowers abroad because all you need to do is visit their website or give them a call.
PRODUCTS
FLOWER BOUQUETS: $50.00 – $314.00
GRAND OPENING STANDS: $101.00 – $401.00
FUNERAL FLOWER: $86.00 – $499.00
DELIVERY & PAYMENT
The cutoff time for same day delivery is at 5:00 pm for local deliveries and 2pm for international shipping. The shop accepts payment made through VISA, MasterCard, and PayPal.
5. URBAN MEADOW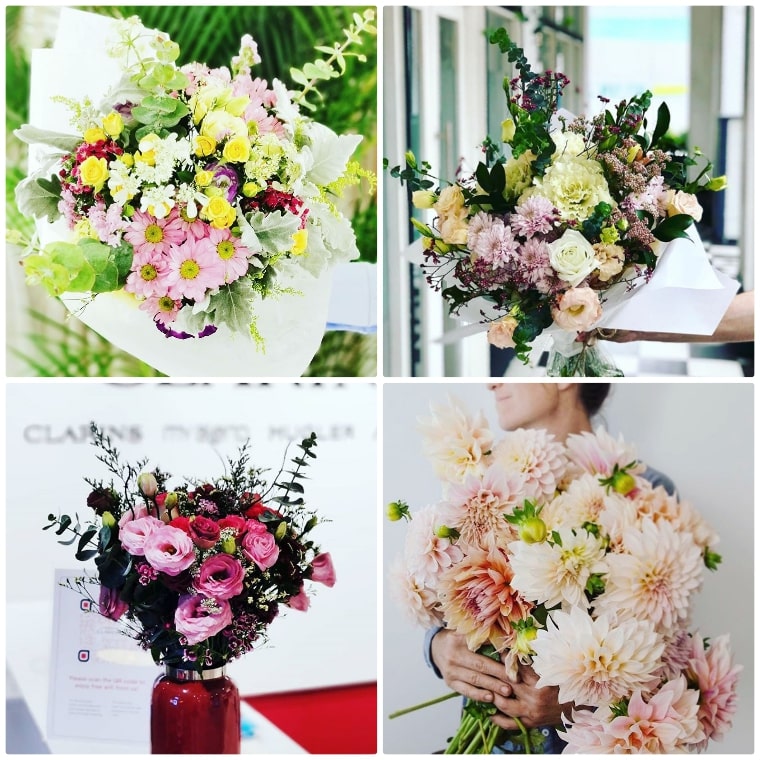 Urban Meadow believes that getting into flower business should not harm the environment and its ecology. Thus, they only sell one design each day which comes at 3 different sizes. Don't worry because their design is flexible as to cater different occasion. Their strategy is sustainable and in long term, helpful to preserve the environment.
| | |
| --- | --- |
| SPECIALTY | Environmentally friendly system |
| SELECTION SIZE | Small |
| STARTING PRICE | $38 |
| DELIVERY FEE | Free |
| WEBSITE | www.urbanmeadoflowers.com.sg |
| SOCIAL MEDIA | Instagram: @urbanmeadowflowers Facebook: /urbanmeadowflowers |
| CONTACT DETAILS | Contact Form |
WHAT PEOPLE LIKE
BEAUTIFUL HAND BOUQUET. Even though the shop does not allow you to choose what flowers will be included in your bouquet, you're 100% sure that a beautiful bouquet will be delivered to your doorstep. Throughout the years of its operation, their florists don't fail to create a gorgeous and satisfactory floral arrangement.
AFFORDABLE AND LONGLASTING FLOWERS. Out of the flower shops in Singapore, Urban Meadow has been considered as one of those who offer budget-friendly bouquets. For as low as $38, you can have a decent flower bouquet with free delivery.
DIFFERENT AND REFRESHING DESIGNS. Their florists come up with a new style of flower bouquets everyday. Thus, their customers don't get bored purchasing the same design over and over. So, if you love fresh bouquets on a daily basis but you don't want the same style, Urban Meadow should be your choice.
PRODUCTS
FLOWER BOUQUET: $38.00 – $98.00
DELIVERY DETAILS
Accepted payment: VISA, MasterCard, American Express, and PayPal
6. FIRST SIGHT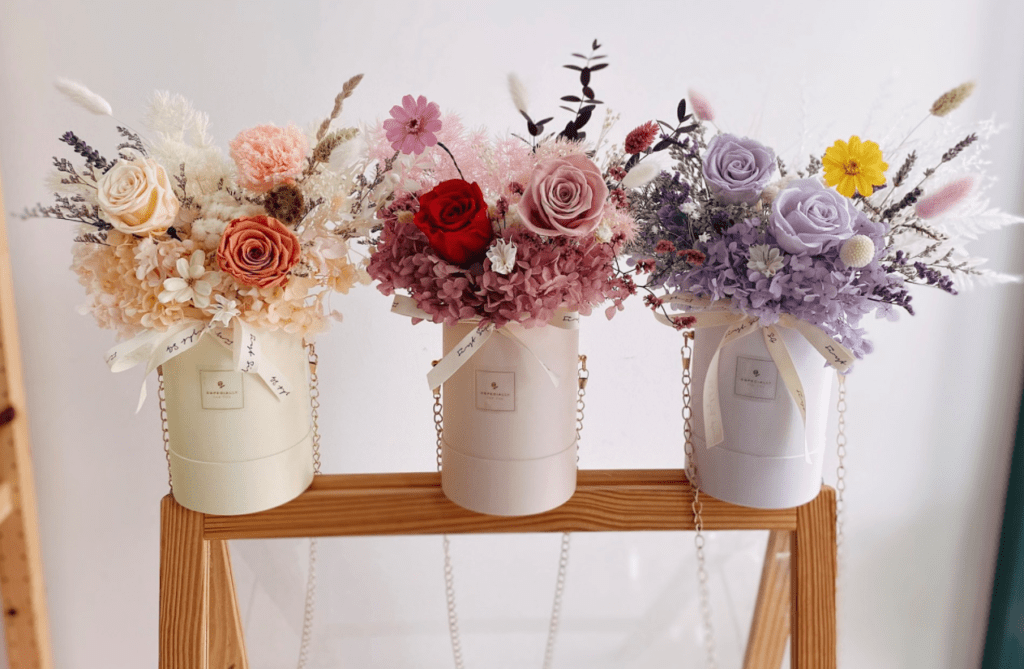 Established in 2015, First Sight is a floral boutique dedicated to crafting unique and beautiful flower bouquets for all occasions. First sight endeavours to make customers happy and satisfied by providing arrangements that feature one-of-a-kind blooms and exquisite materials.
Clients who are interested will also be happy to know that First Sight offers wedding flowers and preserved flowers alongside their regular flower bouqets.
WHAT PEOPLE LIKE
EVERLASTING FLOWERS. Flowers are typically used to express affections, so what better flower to use than those that will never wilt? At First Sight, clients can acquire beautifully crafted preserved flowers for the next special occasion or a "just cause" flower-giving moment.
EXQUISITE DESIGNS. First Sight's founder went out of her way to study floristry in South Korea and London, resulting in skills and expertise that allow her craft arrangements in a way that evokes emotions.
EVENT FLOWERS. Aside from the standard bouquets and arrangements, First Sight also crafts wedding flowers and corporate event flowers. To learn more about these services, clients will need to contact the shop for a consultation.
PRODUCTS
FLOWER BOUQUETS
EVERLASTING BLOOMS
BLOOM BOXES
ADD ONS
EVENT FLOWERS
DELIVERY DETAILS
Accepted payment: VISA, MasterCard, and PayPal
7. FNP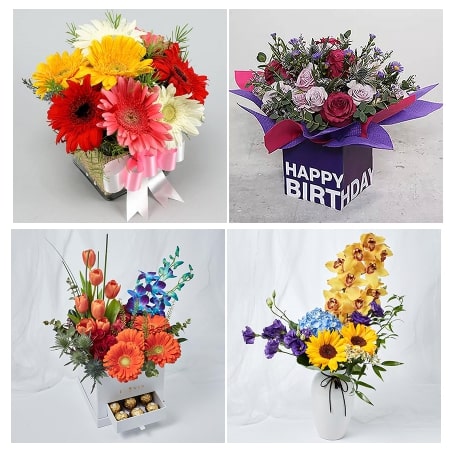 FNP is a company that provides an extensive shop that is able to offer clients a wide range of flower arrangements and gift combinations ideal for any occasion. Established back in 1994, they have since then satisfied around 4 million customers all around the world ever since day one.
| | |
| --- | --- |
| SPECIALTY | Wide selection of flower arrangements for all occasions |
| SELECTION SIZE | Large |
| STARTING PRICE | $39 |
| DELIVERY FEE | Calculated upon checkout |
| WEBSITE | https://www.fnp.sg/ |
| SOCIAL MEDIA | Facebook, Twitter, Instagram |
| CONTACT DETAILS | +65 97279363 |
WHAT PEOPLE LIKE
PROMPT DELIVERY SERVICE. We find impressive is their steadfast delivery service in which could accommodate same day delivery to ensure that the clients get the best and quality products along with various free delivery promotions as well.
USER-FRIENDLY SHOP. We find their website to be user-friendly and accommodating to clients since not only are their selections categorized well but also adequate information is displayed to better help the inquiries of first-time clients.
PRODUCTS
ROSES: $39.00 – $1509.00
FLOWER ARRANGMENTS: $39.00 – $7089.00
BASKET ARRANGMENTS: $69.00 – $219.00
DELIVERY & PAYMENT
They accommodate same-day delivery. For modes of payment, they accept Visa, MasterCard, PayPal, and American Express transactions.
Images were taken from each company's official websites/social media.