Kiev is the proud capital of Ukraine; home to a number of lovely natural and historical attractions. This vibrant city's rich history and outstanding architecture are just some of the reasons they've been popular with tourists. But the most charming aspect of this city is its people. Send some love to the warm and friendly people of Kiev with a bouquet or two. We've listed Kiev's best florists to help you out.
1. FLOWERS.UA

Flowers.ua is a national delivery service based in Ukraine that delivers to Kiev to Kharkov and other regions. As one of the leading flower delivery services in the country, you can trust this company to give you exceptional customer service.
WHAT PEOPLE LIKE
LARGE COLLECTION OF FLOWERS. When we say large, we mean almost endless. From budget-friendly choices to luxury arrangements, you can find whatever bouquet you need here at Flowers.ua.
STYLISH ARRANGEMENTS. We love the neat and clean arrangements and design of Flowers.ua. Although they're a reasonably big company, their designs remain original. You can still see that hint of personal touch. The word tacky has no place in this company.
BUDGET-FRIENDLY CHOICES. This company proudly offers flowers and gifts for every budget. Browse through their huge collection of bouquets to see their reasonable pricing. Look, for just 559 UAH, you can even get a high-quality flower in a box.
PRODUCTS
BOUQUETS: 149 UAH – 20999 UAH
SEASONAL FLOWERS: 359 UAH – 2459 UAH
FLOWER BASKETS: 459 UAH – 6159 UAH
FLOWERS IN A BOX: 559 UAH – 4499 UAH
DELIVERY & PAYMENT
Order by 4 pm for same-day delivery. You can pay by these following methods: Payment with VISA, MC, Privat24 (through the service of Privatbank), Payment with Visa/MC (Portmone gateway), and Payment with Visa/MC (Pay Pal gateway).
2. ProFlowers.ua

ProFlowers.ua offers fresh flowers at favorable prices ready for quick delivery. What else are you looking for? Besides their beautiful arrangements of flowers, they also have a number of gift choices you can partner with your bouquets.
They also offer a 24-hour flower delivery in the entire area of Kiev so whenever you feel like sending flowers to your friends and loved ones, know that ProFlowers.ua is always available for orders and delivery.
WHAT PEOPLE LIKE
DESIGNER ARRANGEMENTS. High-class flowers that are favorably priced are within your reach here at ProFlowers.ua. From classic arrangements to exotic ones, make sure you don't miss out on their creative floristry.
MEAT AND VEGETABLE BOUQUETS. We collectively agree here at flower delivery reviews that this is probably one of the best bouquets you can give to someone. Be it a lover, family member or a friend, this one just wins. We especially like the Meat bouquet "To dear man!".
PRODUCTS
BOUQUETS: From 419 UAH
FLOWERS IN A BOX: From 569 UAH
BASKET OF FLOWERS: From 619 UAH
MEAT AND VEGETABLE BOUQUETS: From 679 UAH
DELIVERY & PAYMENT
Major credit cards are accepted.
3. BUKET EXPRESS FLOWER DELIVERY

Treat yourself or your loved one with a bouquet or two at Buket Express Flower Delivery. There are a plethora of quality choices waiting for you here.  Topnotch gifts ranging from unique compositions to lovely bouquets ready to be delivered on the same day anywhere in Kiev.
SPECIALTY
Creatively packaged bouquets
SELECTION SIZE
Large
STARTING PRICE
30.00 UAH
DELIVERY FEE
Free of charge from 8:00 to 20:00
WEBSITE
https://buket-express.ua/en/
SOCIAL MEDIA
Facebook:@buket.express
Instagram:@buket.express
CONTACT DETAILS
044 545 54 55 | [email protected]
WHAT PEOPLE LIKE
HUGE FLOWER CATALOG. Enjoy a wide array of flowers that would suit your choice of style and budget! From classic to exotic bouquets and from Roses to Hydrangea, you'll never run out of choices at Buket Express.
HIGH-QUALITY DESIGN. If you're expecting generic-looking bouquets coming from a relatively big company like Buket Express, you've never been more wrong. Their style is almost boutique-like ranging from rustic to nostalgic creations.
CLEAN WEBSITE. Not only is it safe to buy flowers online through their e-shop, but it's also super easy to navigate. Don't you just hate it when the website is confusing? Good thing they've put your user experience as their priority when making their online shop.
PRODUCTS
CLASSIC BOUQUETS: 00 UAH – 3562.00 UAH
EXOTIC BOUQUETS: 00 UAH – 3744.00 UAH
BOUQUETS ARE ROMANTIC: 00 UAH – 3744.00 UAH
BOUQUETS CONGRATULATIONS: 00 UAH – 3433.00 UAH
DELIVERY & PAYMENT
Delivery in Kiev is free of charge from 8:00 to 20:00. Payment options include VISA, MasterCard, BitCoin, Privat24, WebMoney, Yandex Money, cash and money transfer.
4. UFL

For the best-priced bouquets and craziest over-the-top arrangements, head on to UFL. Browse through their wide array of flower arrangements sure to get you excited.
SPECIALTY
Roses and Big Bouquets
SELECTION SIZE
Large
STARTING PRICE
166 UAH
DELIVERY FEE
Free from 09:00 to 21:00
WEBSITE
https://www.u-f-l.net
SOCIAL MEDIA
Facebook:@beetandyarrow
Instagram:@beetandyarrow
CONTACT DETAILS
720-934-6438
WHAT PEOPLE LIKE
UNIQUE FLORAL CONCEPTS. From their ready to deliver bouquets to the novelty flower arrangements, you can see how much thought was put into every piece. The amount of creativity and detail they bring is something we really admire.
CRAZY BIG BOUQUETS. If you feel like splurging and you're just waiting for that perfect attention-grabbing gift, your search is over. Just head on to their online shop and browse through their 100+ stem rose bouquets.
HELPFUL CUSTOMER SERVICE. We really need to commend the wonderful customer support team of UFL. They were quick to answer our questions and were very friendly and approachable during the whole process. Kudos to the team!

PRODUCTS
BIRTHDAY: 166 UAH – 26062 UAH
FUNERAL: 322 UAH -1539 UAH
ROMANCE: 256 UAH – 24985 UAH
GET WELL: 252 UAH – 8267 UAH
DELIVERY & PAYMENT
Order by 21:00 for same-day delivery. They accept major credit cards for payment.
5. LAVANDA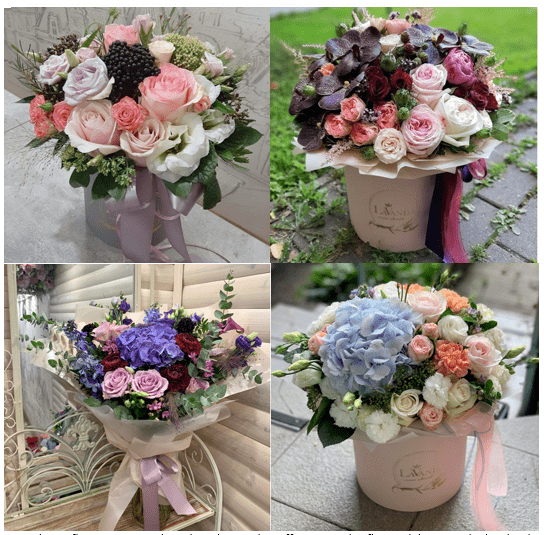 Lavanda is a flower company based in Ukraine that offers same-day flower delivery to the locals. This company has been in the business since 2004 and has then charmed the Kiev locals with their consistent reliable service.
| | |
| --- | --- |
| SPECIALTY | Dramatic bouquets |
| SELECTION SIZE | Large |
| STARTING PRICE | 650  UAH |
| DELIVERY FEE | Free for order 2500 UAH and above |
| WEBSITE | https://lavanda.in.ua |
| SOCIAL MEDIA | Instagram:@lavanda.flowers.kiev |
| CONTACT DETAILS | +38 (067) 2420 721 | [email protected] |
WHAT PEOPLE LIKE
DRAMATIC BOUQUETS. There's no other word to describe their style of bouquets. Sure, they're beautiful but there's just some subtle over-the-top feel over their arrangements that one can only say that they're pretty dramatic. And we love it.
BOUQUETS FOR MEN. We don't really believe that flower giving and receiving should be a gendered activity but this collection celebrates all things men. And what can be more manly than receiving a bouquet of sausages? In this collection, you can choose from Sausage bouquets, Fruit bouquets, and Crayfish bouquets. Yup, that last one is true. Send some love to the lovely men in your life. Better yet just send this to anyone. They will definitely enjoy it.
PRODUCTS
BOUQUETS
FLOWERS IN A BOX
BOUQUET OF CRAYFISH
BOUQUET OF SAUSAGES
DELIVERY & PAYMENT
Order until 8 pm for next-day delivery. They accept VISA, MasterCard, and PayPal for online purchases.
6. UA-SEND FLOWERS

This company has more than 10 branches all over Ukraine and the people of Kiev can easily avail their services since the head floral studio is based there.
SPECIALTY
Creative flower arrangements
SELECTION SIZE
Large
STARTING PRICE
349 UAH
DELIVERY FEE
Free
WEBSITE
https://ua-sendflowers.com
SOCIAL MEDIA
Facebook:@UASendFlowersCom
Instagram:@uasendflowers
CONTACT DETAILS
+38 (093) 575-80-00
WHAT PEOPLE LIKE
CREATIVE FLOWER ARRANGEMENTS. Besides having quality style bouquets, their in-house florists are geniuses when it comes to flower toys and characters. This is perfect for birthday gifts or decorations.
FAST, FRIENDLY AND RELIABLE SERVICE. Whether by phone, through mail or in person, their professional and highly-trained staff can assist you with all your flower querries. That's guaranteed.
PRODUCTS
FLOWERS IN A BOX
FLOWER BOUQUETS
BESPOKE FLOWER ARRANGEMENTS
BASKETS
DELIVERY & PAYMENT
Provides free same-day delivery to Kiev for order made before 17:00. Major credit cards accepted for online purchases.
7.  KIEVDELIVERY
Kievdelivery is an online flower shop that sells blooms, bouquets, or floral arrangements. You can find variations on their site and order it from there. What makes this a good shop is that it has a 24/7 support system. This means that the online shop operates round the clock. So, if you want to place an order, you are free to do so. 
The shop ensures its customers that their blooms are professionally made. This is due to the fact that their florists are all skilled in the field. Further, their experiences in dealing with different kinds of flowers made them more versatile and flexible. 
SPECIALTY

Same day delivery flowers

SELECTION SIZE

Moderate

STARTING PRICE

$20

DELIVERY FEE

$10

WEBSITE

https://kievdelivery.com

SOCIAL MEDIA

Instagram: @kievdelivery/

Facebook: /FlowersAndGiftsDeliveryInUkraine

Twitter: @kievdelivery

CONTACT DETAILS
+380677088480 |

[email protected]
WHAT PEOPLE LIKE
24/7 CUSTOMER SUPPORT.

The shop recognizes that they will not gain new customers if they fail to take due care of their existing ones. So, to lend assistance, they offer 24/7 customer support. This allows buyers to contact the shop and requests for suggestions or recommendations. Further, if there are some clarifications regarding an order, it can be coursed through this support.

SAME DAY DELIVERY.

Since they want to strengthen their reputation, the site also provides same day delivery. This is great news for those who are always busy and have no time to drop by a flower shop. 
PRODUCTS
Flowers for all occasion

– $35 to $129

Plain Flowers –

$20 to $55

Gift items –

$6 to $190
DELIVERY AND PAYMENT
Accepted Payment: VISA, PayPal, MasterCard, and American Express
Images taken from each company's official websites/social media.