Cake is the most important food especially during birthdays. No matter how big or small the celebration is, cakes make everything grand. There are different kinds of cake available in KL but as the place gets bigger and modernized, the highly talented and creative bakers in the city also strive to create more and more unique designs and flavours that consistently wow their clients.
1.      M CAKE BOUTIQUE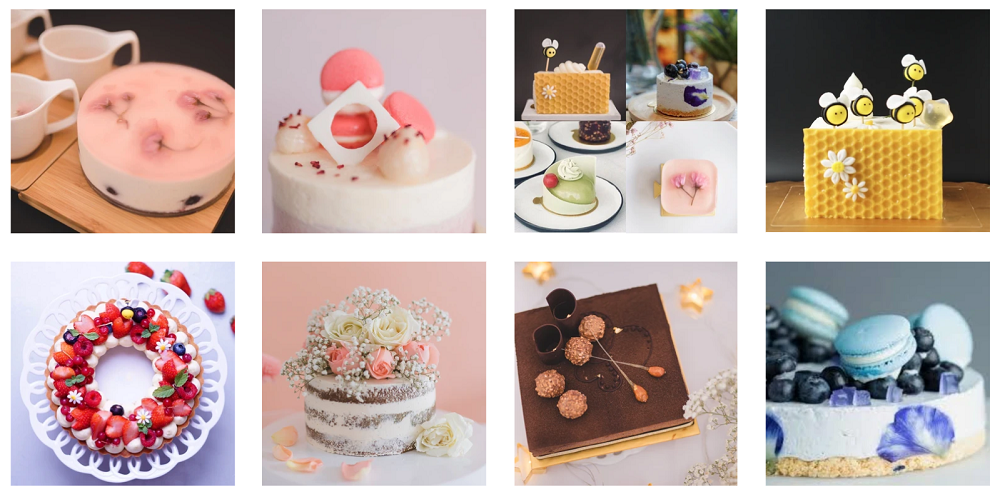 First on our list is a shop that bridges together Eastern and Western culture through their cakes. M Cake Boutique, since the time they first opened shop, has drawn inspiration from both French and Japanese patisserie, resulting in eye-catching designs that are a delight to both your palate and your eyes. 
WHAT PEOPLE LIKE
SAFE DELIVERY. Cakes are some of the most fragile things you can order, which is why M Cake Boutique only takes on delivery services that can ensure the safety of their treats. You can expect to receive your cakes right on your doorstep, as stunning and intact as it left their shop. 
GRAMMABLE TREATS. They say we first eat with their eyes, and this is a philosophy that holds true to M Cake Boutique's cakes. Every dessert they make are instagram worthy, so take out your phones and take a shot before indulging yourself. 
PRODUCTS
Cakes
Wedding Cakes
Dessert Bars
DELIVERY AND PAYMENT
The shop offers 4hr delivery, 1 day delivery, and 3 days delivery. Contact for more information.
2.      CREPES 21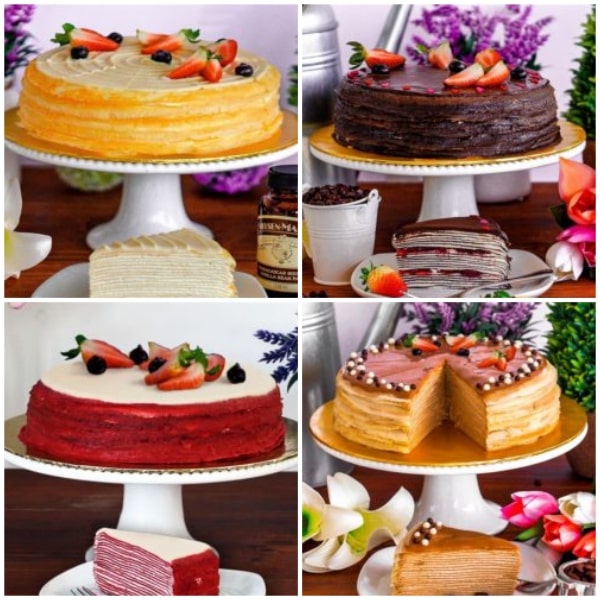 If you want a different take on your favorite cake, why not check the creations of Crepes 21? Instead of making traditional chiffon or butter based cakes, the shop makes these delicious desserts from tasty crepes that come in different flavors. Guaranteed that you will never regret trying out their products.
| | |
| --- | --- |
| SPECIALTY | Crepe Cakes |
| SELECTION SIZE | Large |
| STARTING PRICE | Starts at RM99 |
| DELIVERY FEE | Starts at RM8 |
| WEBSITE | http://www.crepes21.com.my/ |
| SOCIAL MEDIA |   |
| CONTACT DETAILS |  018-2103836 |
WHAT PEOPLE LIKE
UNIQUE TASTE. Many of us are used to traditional cakes, but Crepes 21 wants to make your experience remarkable so they create their cakes out of delicious crepes.
FREE DELIVERY. The shop offers free delivery for orders amounting to RM129 and above.
SAME DAY DELIVERY. The shop offers to deliver your orders on the same day that you place them as long as the delivery address are within KL and Selangor City.
PRODUCTS
Crepe Cakes – RM99 to RM119
DELIVERY AND PAYMENT
Contact shop for delivery and payment details.
3.     BROWN & SUGAR
Brown and Sugar first opened its doors to the public in 2016, born from husband and wife Hariz and Syai's desire to provide their future customers with sweets that they can also eat with their eyes.
Every selection in their catalogue, be it a regular or custom-made, is made only with the finest ingredients. Their macaroons, for one, are simply to die for. The same can be said for the rest of their offerings. 
SPECIALTY
Customisable Sweet Treats
SELECTION SIZE
Moderate
STARTING PRICE
From RM 8.90
DELIVERY FEE
Calculated upon checkout. 
WEBSITE
https://www.brownandsugar.com.my/
SOCIAL MEDIA

https://www.facebook.com/brownandsyai/

https://www.instagram.com/brownandsyai/

CONTACT DETAILS
03-9101 7479 / 016-4818101
WHAT PEOPLE LIKE
COLOUR AESTHETIC. One of the perks of choosing Brown & Sugar for your cake needs is that they allow you to choose the palette for your orders. Have a specific theme in mind? Want something beautiful that matches your chosen colours? Check out their palette catalogue and take your pick. 
WORKSHOPS. They may specialise in making one of a kind treats, but they also offer you the opportunity to do the same with their workshops. There are three kinds as of the moment, with varying levels of difficulty. 
PRODUCTS
Macaroons
Cakes
Pralines
Cupcakes
Sweet boxes
DELIVERY AND PAYMENT
Send the shop an email for you queries regarding delivery. The shop accepts Visa, Mastercard, and iPay. 
4.      JELLY CAKE HOUSE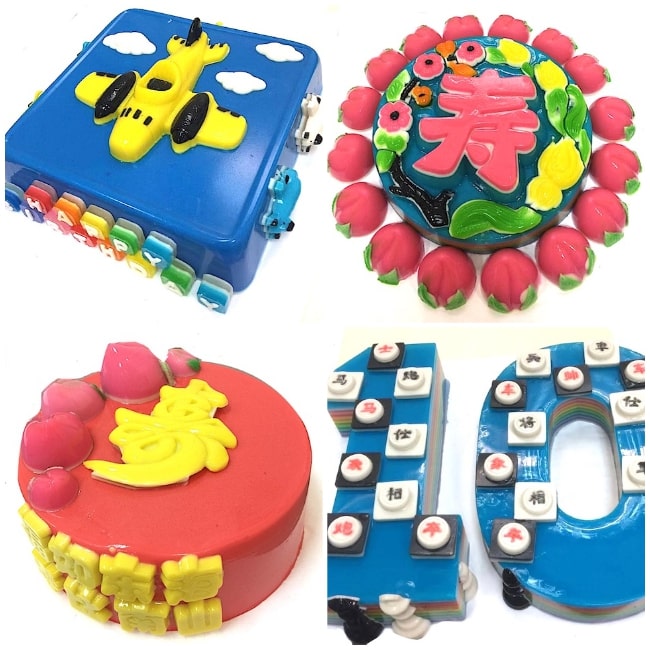 It may come to you as a surprise to know that there is an actual shop that creates cakes out of jellies. But, don't worry these jellies are low in cholesterol and of course they are as delicious as the regular ones. Some even find them tastier! These cakes are ideal especially for kiddie parties or a gift to anyone who has a sweet tooth.
WHAT PEOPLE LIKE
INNOVATIVE. Who would have thought that jellies and cakes can be combined to create a heaven-sent dessert, right? Jelly Cake House ensures you that you will never regret trying out their jelly cakes especially those who love to have some twist on their typical cake products.
GOOD SERVICE. The shop does not only keep their products sweet but also their relationship with their clients. They always try to make them feel appreciated and loved by making sure that they get the best that they truly deserve.
PRODUCTS
Jelly Cakes for kids – RM65 to RM200
Jelly Cakes for Family – RM55 to RM350
DELIVERY AND PAYMENT
Send the shop an email for you queries regarding delivery.
5.      PURPLE MONKEY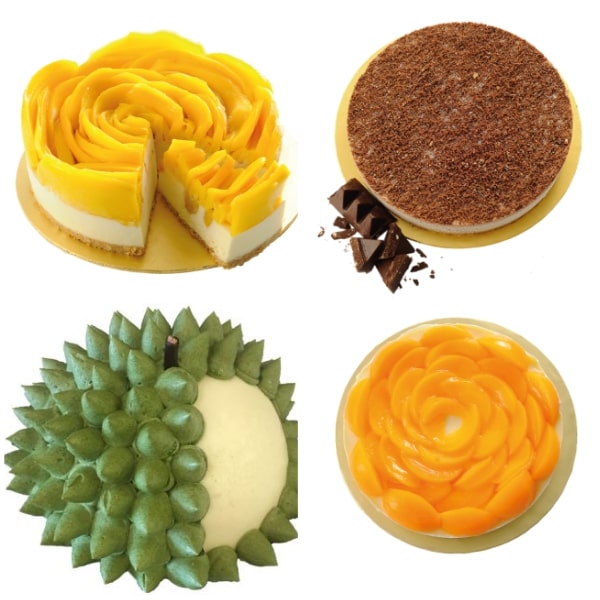 The main idea of creating Purple Monkey is to defy the ordinary and typical taste of regular cakes. The shop believes that their clients deserve something extraordinary; cakes that are oozing with flavor and taste. Everyday, the team tries to create and innovate different flavors and styles of cakes to make sure that there are always surprises waiting for you.
WHAT PEOPLE LIKE
ELEGANT DESIGNS. The shop believes that cakes should not only taste good but look good too. So, with the skills and talents of their creative team, they are able to create their own designs built with elegance and passion.
EVERYDAY DELIVERY. If you are craving for the delicious cakes made by them, you do not have to worry because they offer to deliver everyday for your convenience!
PRODUCTS
Frozen Cheesecakes – RM65 to RM85
DELIVERY AND PAYMENT
Contact store for queries.
6.      EAT CAKE TODAY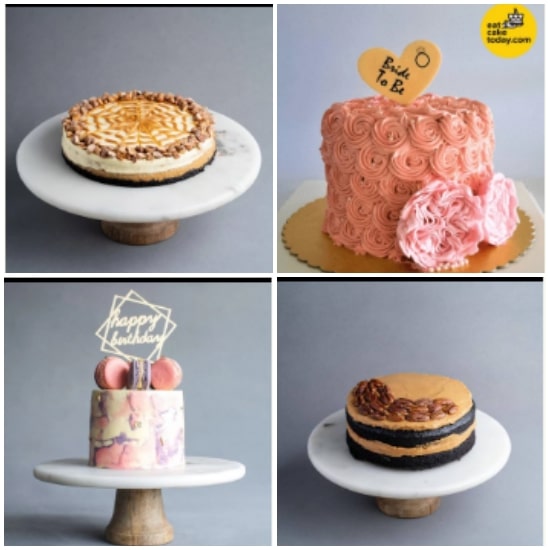 Eat Cake Today has a large collection of premium cakes appropriate for any kind of occasion. They pride themselves with their Caramel cakes that are of course one of their bestsellers. They are known for their great delivery service that go as fast as 4 hours upon placement of order. They also offer to create layered cakes for weddings and other grand parties.
WHAT PEOPLE LIKE
SAME DAY DELIVERY. In just four hours you'd  be able to receive your ordered cakes because of how fast and reliable Eat Cake Today's delivery service is. What a catch, right?
100% CUSTOMER SATISFACTION. From the  ordering process until the delivery service, the customers of Eat Cake Today always give a thumbs up to the wonderful crew of Eat Cake Today.
PRODUCTS
Cheesecakes – RM83 to RM200
Customized Cakes – RM190 to RM500
Designer Cakes – RM70 to RM300
Healthy Cakes – RM80 to RM170
DELIVERY AND PAYMENT
Visa, Mastercard, PayPal, GrabPay, Boost, FPX
7.     SUCHAN PATISSERIE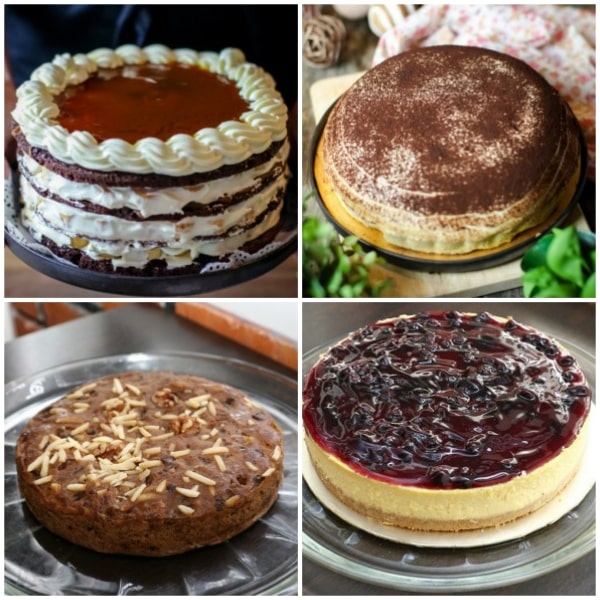 Suchan is best known for their great service and wonderfully tasting homemade cakes, cookies, and teas. The shop was founded back in 1994 so best believe that they are one of the most reliable bakeshops in Kuala Lumpur. They give huge importance to the satisfaction of their beloved clients that is why everyday they strive to remain on the top list of best cake shop in the area.
| | |
| --- | --- |
| SPECIALTY | Homemade cakes |
| SELECTION SIZE | Large |
| STARTING PRICE | Starts at RM80 |
| DELIVERY FEE | Calculated at checkout |
| WEBSITE | https://www.suchan.my |
| SOCIAL MEDIA |   |
| CONTACT DETAILS | 603 79819328 |
WHAT PEOPLE LIKE
KETO CAKES. For those who are maintaining a strict diet but still wants to taste the delicious cakes made by Suchan, don't worry because they offer keto cakes and cookies that you will surely love and most importantly won't ruin your diet.
PRODUCTS
DELIVERY AND PAYMENT
PayPal, Visa, Mastercard, AMEX, Discover
8.    CAKE SENSE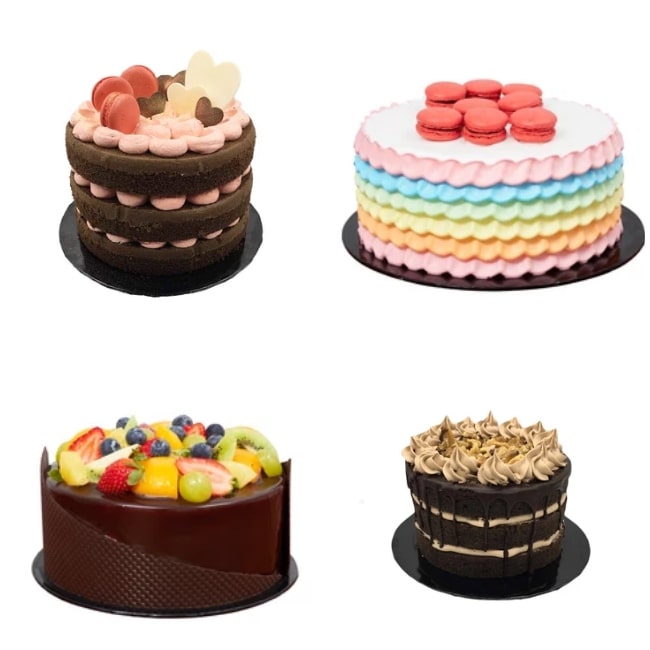 Cake Sense uses unique production and technique in creating their cake products. They even import ingredients from Japan and Europe just to be able to make cakes that are extraordinary and true enough their products never disappoint. Their customers keep on coming back for their Belgian chocolate cakes and premium pastries.
WHAT PEOPLE LIKE
CREATIVE DESIGNS. Cake Sense never wants to settle for less that is why they always strive and make an effort to create something new everyday. They challenge themselves to create cake products that are complex both in appearance and taste.
NEWSLETTER. If you want to be always keep posted on their new cake designs and flavors, make sure to subscribe to the shop's newsletter.
PRODUCTS
Chocolate Cake – RM69 to RM150
Non-chocolate cake – RM69 to RM145
Special Printed Cakes – RM110 t o RM220
DELIVERY AND PAYMENT
Delivery can be done as fast as 1 day.
9.    THE BUTTERCAKE FACTORY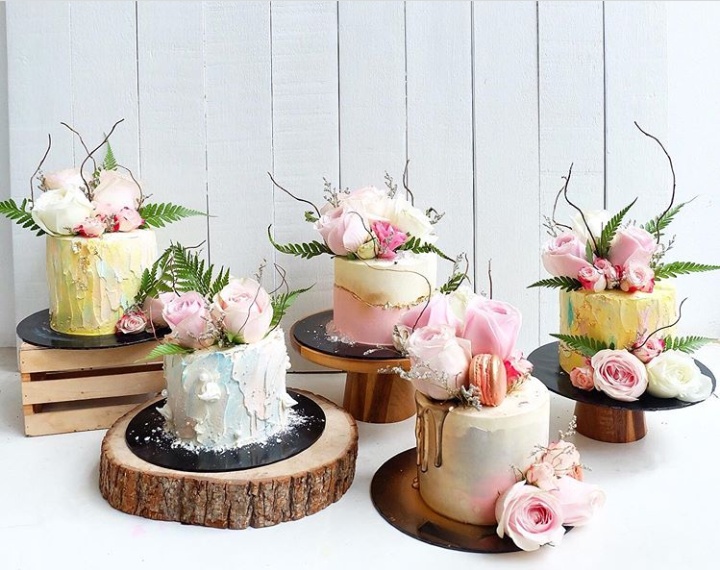 The Buttercake Factory began as a buttercake shop in 2014, but it slowly evolved to include other desserts, like designer cakes, cookies, and cupcakes. Nowadays, while their bestsellers list still includes buttercakes, they're more renowned for their world-class customised designs. 
If you're looking for cakes that can fit the theme that you have in mind, then the Buttercake Factory is the choice for you. Their talented team only makes use of the finest dessert ingredients, while their stylists are in charge of creating an aesthetic that best fits your requests. 
SPECIALTY
Bespoke cake designs
SELECTION SIZE
Large
STARTING PRICE
RM 48
DELIVERY FEE
Starting at RM 30
WEBSITE
https://www.buttercakefactory.com/
SOCIAL MEDIA

https://www.instagram.com/buttercake_factory/

https://www.facebook.com/thebuttercakefactory

CONTACT DETAILS
016 461 5500 | buttercakefactory@gmail.com
WHAT PEOPLE LIKE
SAME DAY DELIVERY. Forgot a special occasion and need a cake asap? You can count on The Buttercake Factory if you're around the Klang Valley area. Just place your order before 2pm and they'll have it on your doorstep in a few hours. 
WORKSHOPS. Want to try out your hand with baking and cake design? Apply for The Buttercake Factory's workshop and learn from some of the best professional cake designers in the industry.
PRODUCTS
Designer Cakes
Darling Size Cakes
Buttercakes
Strawberry Towers
Cupcakes
Cookies
Cake Pops
DELIVERY AND PAYMENT
Contact shop for more details.