Manila is one of the most visited places in Asia not only because of the promising places but also the delicious food that it offers. Filipinos are known for being very hospitable and one way of showing it is by serving tons of food for their visitors. Cake is one of the most common desserts seen on a FIlipino table and no wonder why they are proud of these cakes because they are truly tasty and heaven-sent. If you want to know more about these cake shops in Manila, have a look at the list below.
1.      GOLDILOCKS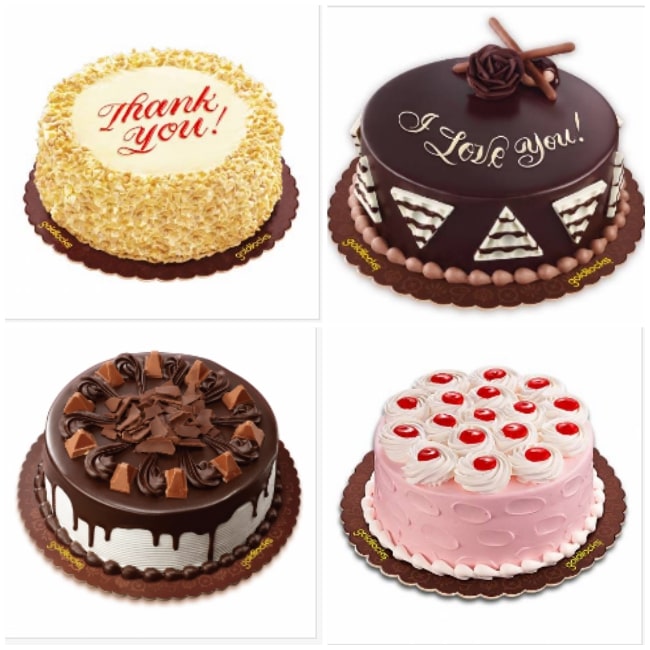 Wherever you are in the Philippines, Goldilocks is really one of the top choices of Filipinos when it comes to cakes and pastries. The flavors that they showcase have the perfect balance of sweetness and creaminess. Aside from their cakes, they also offer other food items that really show off true Filipino cuisine.
WHAT PEOPLE LIKE
AFFORDABLE ITEMS. Aside from the shop's delicious cakes, Goldilocks also offer truly affordable cake products that everyone will definitely be able to get. Their cakes even have an option for half and solo servings for those who just randomly crave for one.
LARGE COLLECTION. Whatever kind of event you may have or maybe just an ordinary day, Goldilocks cake are always appropriate. From chiffon cakes to mousses, the shop is always ready to serve you.
PRODUCTS
Premium Cakes – ₱475 to ₱710
Cakes Rolls – ₱290 to ₱300
Native Cakes – ₱260
Greeting Cakes – ₱490 to ₱500
DELIVERY AND PAYMENT
Major cards and cash
2. MANILA CAKE SHOP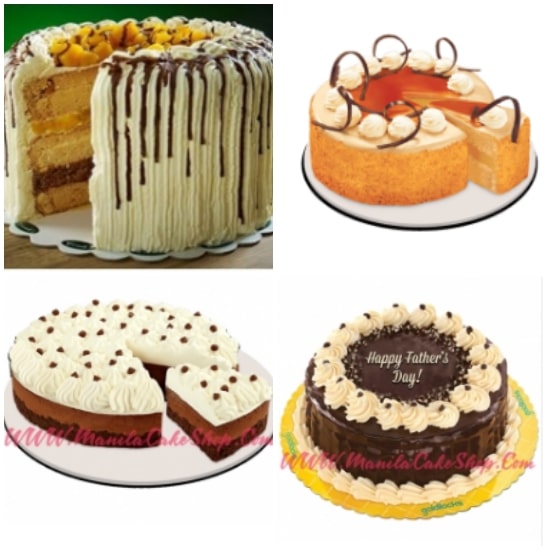 Manila Cake Shop is an online shop that houses different kinds of cakes and brands. The shop is available 24 hours to accept all your cake orders. Manila Cake Shop is equipped with all varieties of cakes applicable to any kinds of events. The shop also offers same day delivery to all areas in Metro Manila.
| | |
| --- | --- |
| SPECIALTY | Cake for all occasions |
| SELECTION SIZE | Large |
| STARTING PRICE | Starts at ₱1080 |
| DELIVERY FEE | Starts at ₱670 |
| WEBSITE | https://www.manilacakeshop.com/ |
| SOCIAL MEDIA |   |
| CONTACT DETAILS |   |
WHAT PEOPLE LIKE
SAME DAY DELIVERY. Manila is a place of busy bees and Manila Cake Shop understands this that is why they offer to deliver your cake orders on the same day that you placed your order. Make sure to communicate directly with the shop to secure your orders and payments.
DISCOUNT COUPONS. The shop does not only offer the best service but they also make their clients' experience better by giving out discounts to some of their products. To know more about this perk, visit their website.
PRODUCTS
Cheesecakes-₱1400 to ₱1900
Chocolate cakes-₱1080 to ₱1700
Blackforest-₱1900
Mocha – ₱1800
DELIVERY AND PAYMENT
2CO, PayPal, Visa, Mastercard
3. RED RIBBON BAKESHOP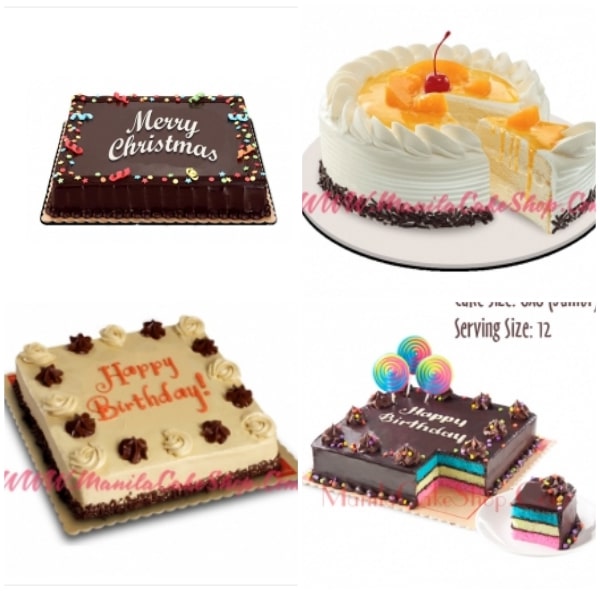 Also one of the bakeshops that has made a name in the Philippines is Red Ribbon. It has hundreds of branches nationwide and the very first one was established in 1979. The shop offers a large range of flavours and delicacies that is why many Filipinos put this shop on the top of their list. Red Ribbon is most famous for their chocolate chiffon cake.
WHAT PEOPLE LIKE
AFFORDABLE ITEMS. For as low as 200 pesos, you would be able to enjoy the shop's delicious local cake. They also offer some bite-sized cakes for less than 50 pesos and other delicacies such as puto, polvoron, brownies, etc.
NATIONWIDE DELIVERY. Wherever you are in the country, Red Ribbon always has a shop that can accommodate your requests and deliver your orders in a snap. They have branches all over the Philippines and all you have to do is order through their phone number and guaranteed that your orders will arrive fresh and in best quality.
PRODUCTS
Roll Cakes
Square Cakes
Round Cakes
DELIVERY AND PAYMENT
Major cards and cash.
4. CONTI'S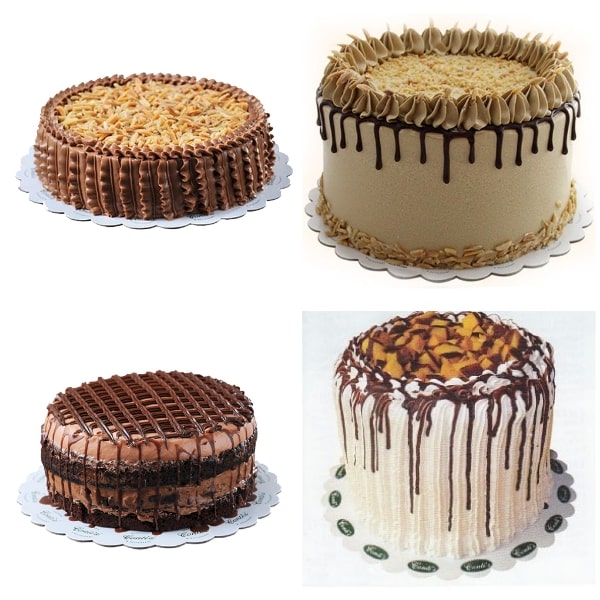 Conti's Bakeshop is a premium bakeshop and restaurant that offers different kinds of creamy cakes. They are most famous for their gigantic Mango Bravo cake. They also offer other food items such as pasta and salad meals that are perfect for birthday celebrations and just some random afternoon snack.
WHAT PEOPLE LIKE
DELICIOUS PRODUCTS. One undeniable fact about Conti's is their collection of delicious products not only their cakes but also their bread and pasta dishes.
EASY TO COMMUNICATE WITH. Wherever you are in Manila, guaranteed that they can serve you. Their shop is also very easy to find as they have multiple branches in Manila alone.
PRODUCTS
DELIVERY AND PAYMENT
Contact store for delivery inquiries.
5. ESTREL'S CARAMEL CAKE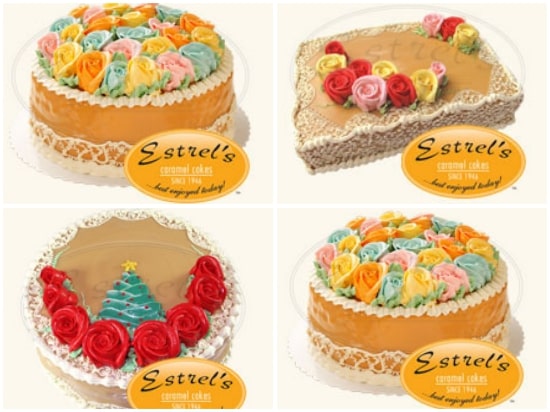 Estrel's specializes in chiffon cakes covered with caramel coating appropriate for all kinds of occasions whether it is for a children's party, wedding receptions, anniversary dinners, etc. Through time, the shop has established its name from generations to generations that is why you can never go wrong with Estrel's.
WHAT PEOPLE LIKE
EXTENSIVE PRODUCTS. Aside from the shop's pride of caramel cake, they also offer other delicious pastry products such as Food for the Gods, Baked Leche Flan, Apple Squares, and Chocolate Chip Walnut Cookies.
LARGE COLLECTION. The shop does not only specializes in caramel cakes, they also create other cake products that are appropriate for all kinds of events. They have simple round cakes, layered cakes, seasonal cakes, and specialty cakes.
PRODUCTS
Round Cake
Layers Cake
Rectangular Cakes
Specialty Cakes
Seasonal Cakes
DELIVERY AND PAYMENT
Mondays to Saturdays, 8:30AM-7PM; Sundays, 8:30AM-5PM
6. CARAMIA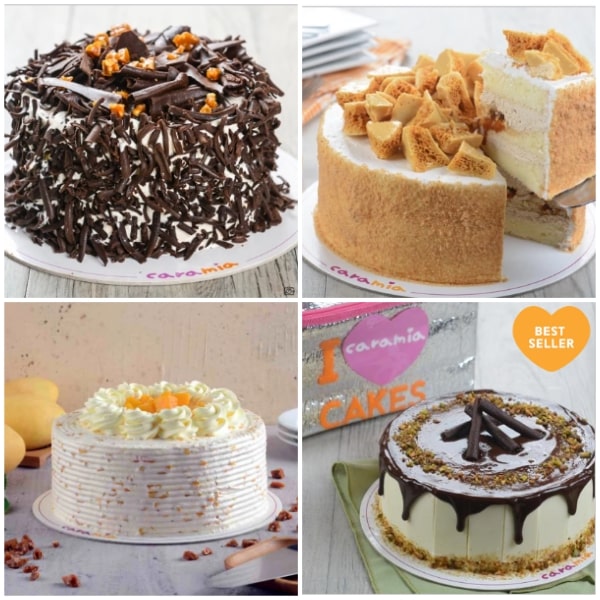 Caramia is known for their refrigerated and gelato cakes. The combination of the creaminess of cakes and sweetness of ice cream are what making the products of Caramia one the best. Their best sellers are their Ube cakes and Pistaccio Cioccolato. They also offer party packages you can have a bunch of Caramia products to make your party better.
WHAT PEOPLE LIKE
EASY TO FIND. Wherever you are in Manila, sure that you will be able to find one Caramia branch. They try to serve  everyone by offering franchises and making more branches to become more reachable.
PRODUCTS
Refrigerated Cakes – ₱690 to ₱1000
DELIVERY AND PAYMENT
Call the shop for inquiries.
7. DECOBAKE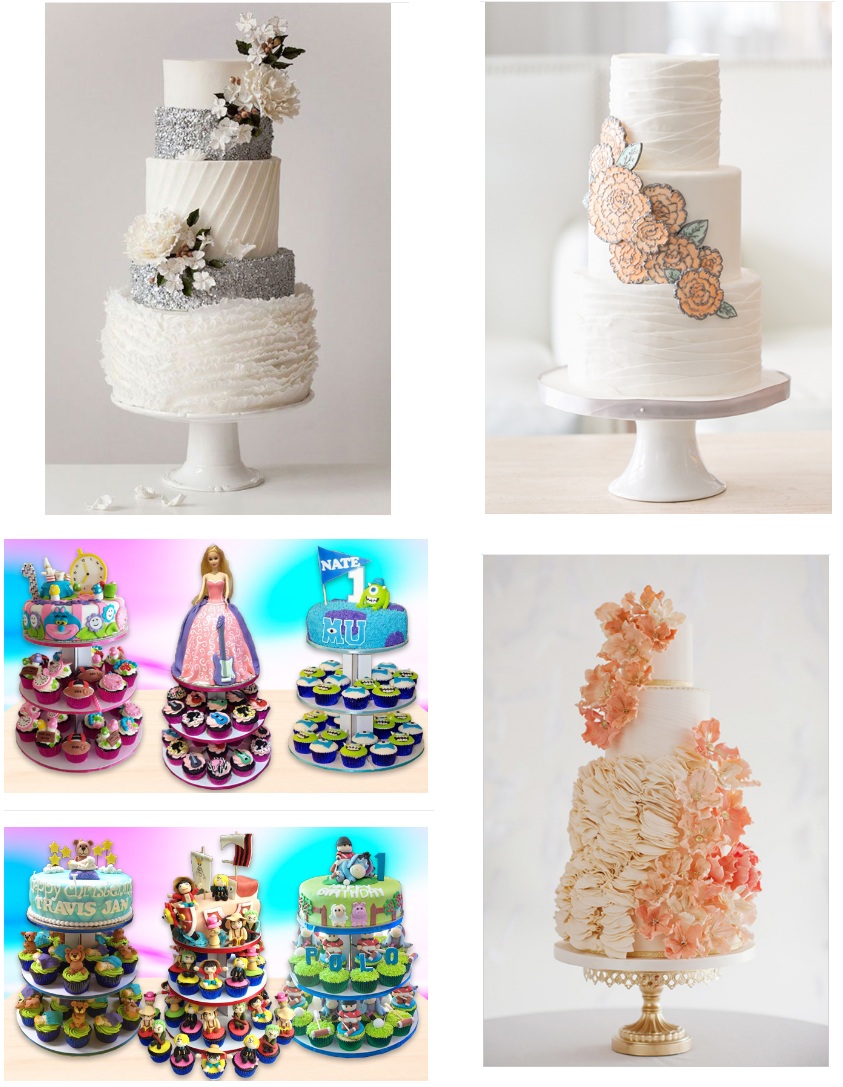 DecoBake is one of the leading bespoke cake companies in Metro manila. Their team is extremely passionate in crafting elegant and customized cakes for any events and occasions. 
You can also contact them if you need a supplier for your corporate parties and their team of expert bakers and cake designers will gladly design the pastries exactly how you want them.
Aside from cakes, they also have a selection of scrumptious cupcakes which you can also have customized depending on the theme of your event. 
| | |
| --- | --- |
| SPECIALTY | Bespoke cakes and cupcakes |
| SELECTION SIZE | Curated |
| STARTING PRICE | Prices may vary |
| DELIVERY FEE | Calculated at checkout |
| WEBSITE | |
| SOCIAL MEDIA | https://www.facebook.com/Decobake/ |
| CONTACT DETAILS | +63 2 2141457/+63 9983078921/+63 9062529887 | [email protected] |
WHAT PEOPLE LIKE
UNIQUE DESIGNS.

The shop believes that each cake should be unique and personalized to make the event extra special. With this, they make sure to always go the extra mile in crafting every cake orders requested from them.

CUSTOM MADE.

If you want to have your company logo or brand incorporated in your cake or cupcake orders, DecoBake will gladly do so while keeping their standards high.
PRODUCTS
CUSTOM MADE CAKES
CUPCAKES
WEDDING CAKES
DELIVERY AND PAYMENT
Contact shop for more details.